Morning all – just a quick note to say that those of you who applied for Luxury Wedding Show tickets, will by now have received an email if you are a winner! 😉 I look forward to seeing you there on the Saturday by the way :)  OK, let's get to the latest, beautiful wedding I'd like to share with you.
Anna and Pav tied the knot on 3 September at Arundel Town Hall, followed by a reception at Ham Manor Golf Club in Angmering.  Most impressively, Anna planned her entire wedding from Dubai in just 6 months and has some great words of encouragement for Brides planning a wedding from abroad at the end of this feature.  She also spent much of her time on Love My Dress gathering inspiration during this period…
"For wedding day inspiration, Love My Dress was my absolute number one inspiration. I found it when I was looking for vintage wedding ideas and spent many happy hours browsing it. It made planning the wedding from Dubai a million times easier because I could not pop down to the shops in England, nor have easy access to all bridal mags, visit suppliers in person, but having it all set out in one place with lots of helpful advice, was invaluable..."
Ahh, excuse me for that, I was so happy smiley when I read it, I just had to share 😉
It's great to see how Anna has lifted inspiration from these wedding blog pages, especially with her exquisite headdress, that I recognised instantly as a Kat Swank design…
Love My Dress Wedding Blog – Photography Copyright (c) 2011, Dasha Caffrey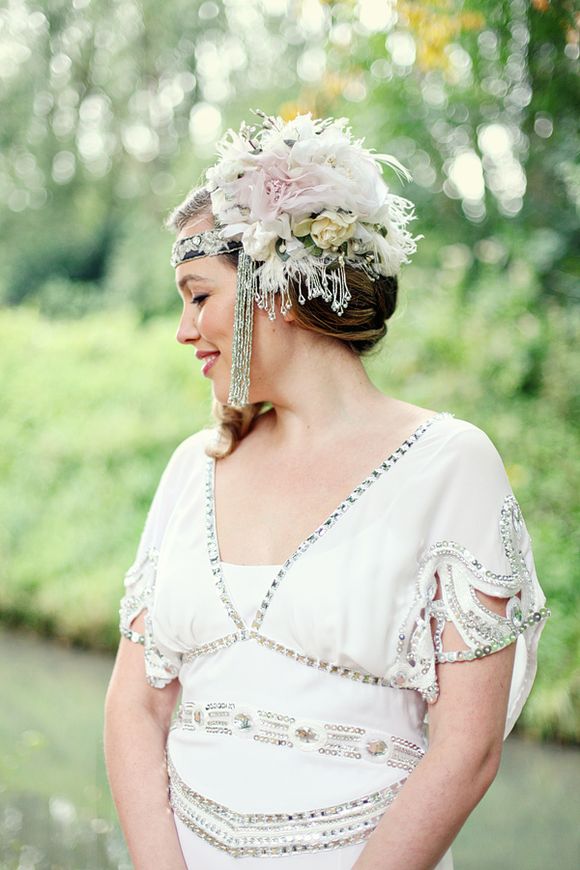 "I wore a Kat Swank headdress, which I confess I ordered straight after I saw Annabel wearing one at her Summer Soiree.  I was looking for something special other than a veil and so I already had a small feather piece ordered from Etsy, but then I saw how beautifully Annabel wore that headpiece and really really wanted it.
….and that was a bit crazy, because my outfit budget was already exhausted as of few months before that, and it was too close to the wedding to be ordering anything from America, especially uniquely designed items, so I just pleaded Kat to create something for me urgently and miraculously she was able to do it!" 
"I would definitely recommend planning a bit more ahead, because the headdress got stopped at customs causing probably the biggest wedding scare because it only got released a day before the wedding! My parents kindly volunteered to ride to the customs depo in Gatwick on Friday morning to pick it up.
I am so happy that I had it, it completed my outfit exactly as I imagined and I will treasure it for years to come ☺"
Anna's dress, which so beautifully compliments her Kat Swank headpiece, is the 'Long Jean' dreass by Temperley…
"I loved the dress because it was different from anything I have seen before. I did not find the selection of dresses in Dubai to be very good and so I came to London in April for a one week holiday to find my dress (and to do as much as possible of wedding ground work as we did not come back to England again until a week before the wedding). But before that I spent  a lot of time looking for dresses online so that I could very efficiently try all shortlisted dresses when I was in London. But online is not the same! Dresses look so different when you try them on! The only dress that looked exactly as imagined it was…"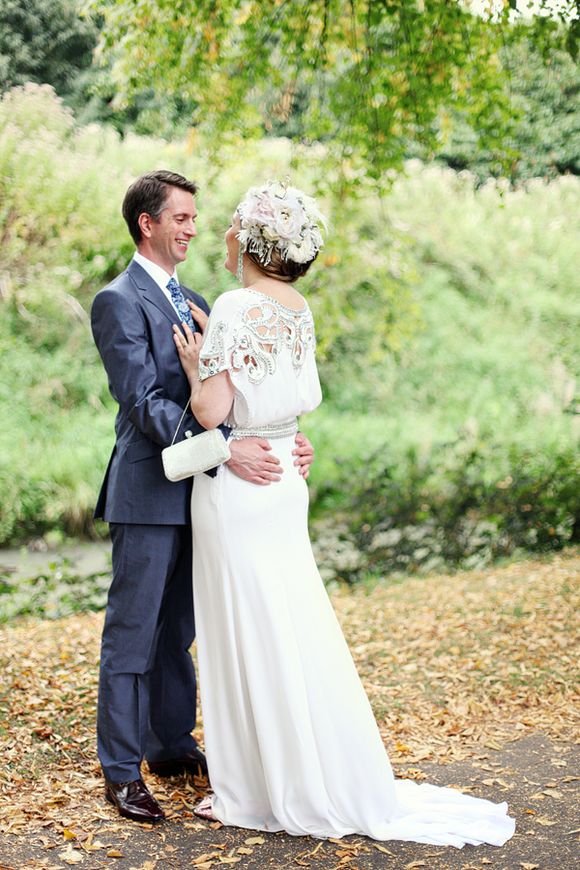 "My shoes were my little pink sparkly fantasy that I was able to put together thanks to Shoes of Prey – the website that allows you to design the shoes yourself and then they make the shoes and ship them you. My mum kept asking me, but why pink? I still don't have an answer to that except… why not ☺?"
What beautiful florals…
"Our florist was Becky of Bo-K flowers in Worthing. She did such an amazing  job, for which we will be forever grateful. We wanted flowers to reflect the vintage theme and I trawled the Internet to find examples of what we had in mind. I forwarded them to Becky and she created exactly the atmosphere that we imagined and even better! We wanted to achieve a beginning of the last century dinner party feel to match the age of the house and so opted for candelabras for guest tables and matching row of single candle holders for the top table plus lots and lots of flowers.
I felt like Ham Manor travelled in time with us! I remember taking a moment during the dinner to really take it all in including colours of the flowers, the shimmer of light reflecting in chandeliers, the warmth of candles and felt transported to another planet… champagne probably helped with that too… "
One of my favourite wedding dresses ever in the world, the 'Long Jean' by Temperley…
"I found my dress mesmerizingly beautiful and meeting all my requirements such as having sleeves, being in 20s/30s style and a little unusual.  My only concern was price and so I kept dithering…and time was running against me as I had to order by the end of the week that I had in London, so I was ready to buy something else, completely different, much less expensive, but Pav stepped in at the last moment and persuaded me that I should by the dress I truly love (even though he didn't know which dress it was – or how much it cost!) and so I did. And really it did feel like it was mine to wear on the day.."

"My hair and make up artist was Jeni Dodson. I don't even know how to begin describing how wonderful it was to have Jeni on board. From the first few moments spent in her delightful studio in Brighton I knew that I can rely on her to make me look the best possible way! The trial was immensely helpful and on the day I felt amazing. Both make up and hair were also so comfortable to wear, stayed the whole day and just generally contributed to the huge happy feeling of the day.
It was absolute privilege to have Jeni's professional touch lent to me for the day. Jeni also did my bridesmaids hair and make up and my mum's make up and was a nice calming influence on us all. Jeni was nominated for 2012 Wedding Industry Awards and I wish her to win it!"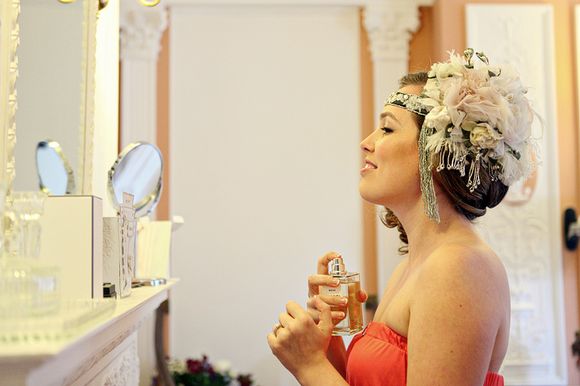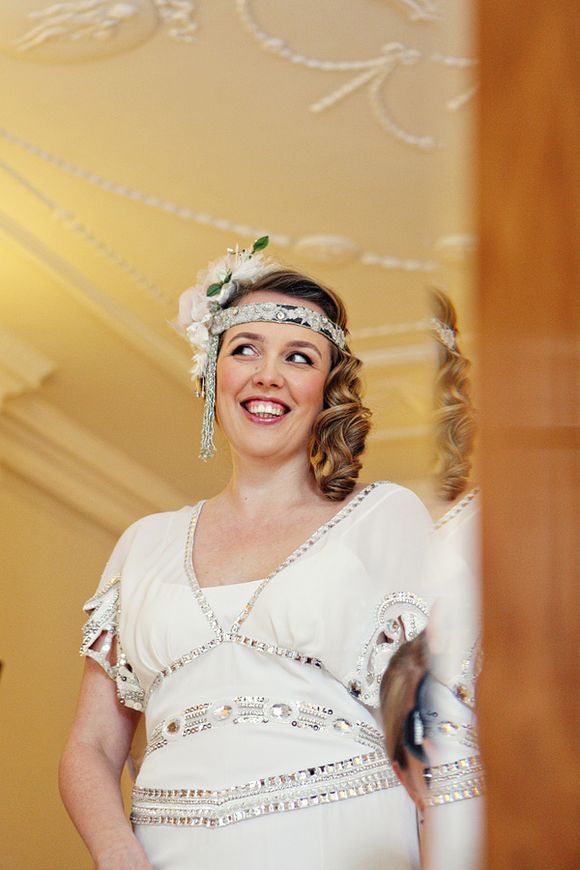 The couple decided to have a 'first look' and see each other before their ceremony.  I always adore the photographs that are captured during this incredibly special moment…
"We had to start our ceremony quite late in the day , at 4.30pm, because of the registrar's availability, and so we opted for a "first look." The original idea was that this will help to get all of the couple photos done before the ceremony, so that we can get to dinner and party as soon as possible. This was a bit of a break from tradition but we grew to really like the idea that we will see each other before the ceremony. On the day it worked brilliantly, it was great to be able to share the experiences of the day so far and relax each other into the rest of it. And I was glad to get the "how do I look?" moment out of the way, so that I did not have to think about it at the time of the ceremony…"
"Pav wore a light(ish) blue Paul Smith suit (Abbey Road series), but his most interesting item of clothing was his shirt. There are many tailors in Dubai that specialise in bespoke male clothing and Pav chose his fabric, colourful flowery lining  for cuffs and collar, his initials embroidered on the cuff AND the date of our wedding hidden in the shoulder lining!  Pav also wore Paul Smith shoes (a maroon colour which went well with the blue colour of his suit), Ted Baker cuff links and a flowery blue Liberty tie…"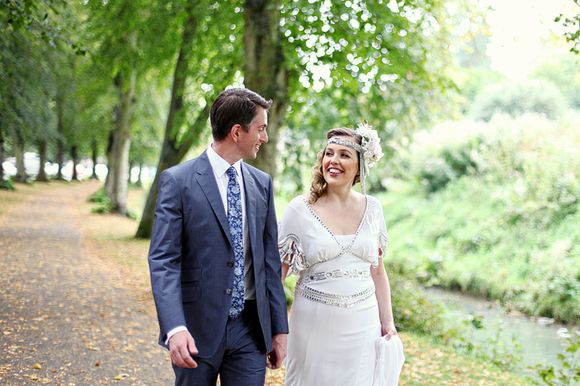 "Our stationery was designed by Johanna from Deco Dezigns who we found online and she was incredibly patient going through lots of our change of mind about colours and design of the  stationery. She printed and posted invitations to us from Canada, but it also worked really well when she sent us PDF files and we had the order of the day and menus printed in Dubai…"
"We decorated the ceremony room in the Town Hall with pom poms from Pom Pom Factory. I loved them! Big and small, they were so ethereal and lots of fun to put together. We had my best friend and my cousin's family volunteering to help us assemble the pom poms the day before and they came up with a better decoration plan than I ever would. Add Becky's flower vases… and the room has been transformed!"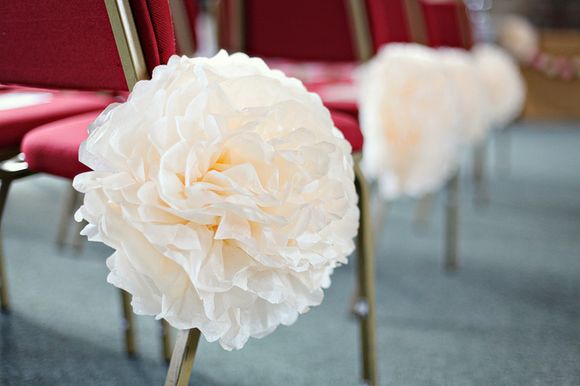 "We hired a lovely Vauxhall car produced in 1934 by Sovreign Cars.  The leather inside was original and it had a wonderful vintage feel to it.  The car only had 40 horsepower but it was perfect for the ride from the ceremony (along the seafront) to the reception.  The car also came with a chauffeur matching its class and vintage. I was sure he came to us for a day from Downton Abbey! Thank you, driver!"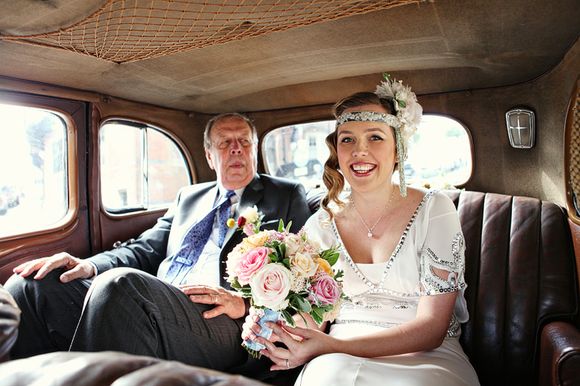 "I decided to give my bridesmaids complete freedom of choice of their outfits and accessories. They both have very strong ideas as to what they like to wear and I wanted to them to choose exactly what each of them liked and in a way wanted to be surprised. Also, we did not have a colour scheme set in stone, so really anything would have worked…"
"We decided to have our reception in Angmering in Ham Manor Golf Club, because Pav's parents live in Angmering and the Golf Club is virtually in their back garden, so the location had more meaning for us than any other venue we could have picked. It is a also a lovely place in its own right. And as a bonus, it has a beautiful civil ceremony venue nearby – the Town Hall in Arundel, the city which has an almost fairy tale style castle in it!"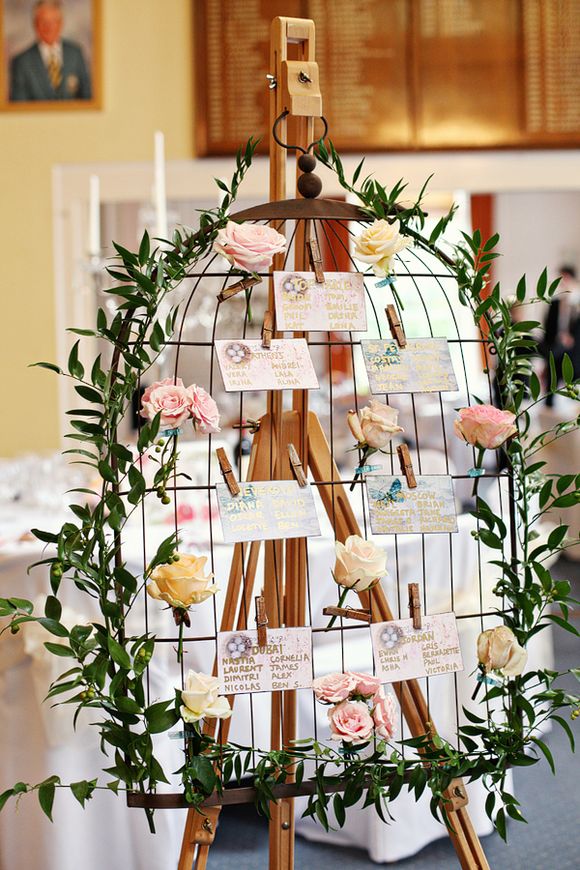 "We found Marilyn's Cakes in the neighbouring town of Chichester. We chose to have cupcakes and Marilyn accommodated everything we wanted from flavours to colours and decorations. We ordered a bit too many though, which was great in the end as we packed them in boxes for guests to take away. We also enjoyed a couple in the days following the wedding, it was like having a bit of the wedding day all over again ☺"
"Unfortunately, we did not do much DIY decorating at all even though we would have liked to. The fact that we live in Dubai meant that it would have been a struggle to transport any DYI pieces with quite restricted luggage allowance, and we did not have enough time in England before the wedding either, so regrettably the only DIY-ish job we did was to create photo albums that we put on the guest tables and table names. We sourced the albums online and we used Etsy to purchase electronic files of vintage post cards that we printed in Dubai and used for table plan and table names.
But because we had to source all our decorations rather than make them ourselves, I got to explore Etsy and all the wonderful creative people who sell their handmade products there. Etsy is a fascinating world and I will definitely keep shopping there…"
"I just love the art deco style in architecture, design and fashion, so that was my original inspiration and guiding compass. But in the end of the day we just went with things that we liked, vintage or otherwise. Sometimes trying to stylize and sometimes just saying – this looks very pretty, let's have it! I also like too many colours, so again I just thought that I should pick the best colour for each particular thing on its own, loosely aiming at all hues and shades of pink from blush pink to raspberry…" 
"I changed into Monsoon dress that my mum and I picked together for the party…"
"Our first dance was a big project for us. We started ballroom dancing as our joint hobby over a year ago and have been taking lessons in Dubai in all sort of dances. For the wedding dance we first picked a song – Feeling Good by Michael Buble, as we liked the lyrics and a jazzy side to it, and then our teachers helped us to prepare the dance. It was our own Strictly Come Dancing moment ☺ It was hard work, but easily the most fun part of the wedding preparations. With gratitude to Hesham and Agota of Arthur Murray Dubai…"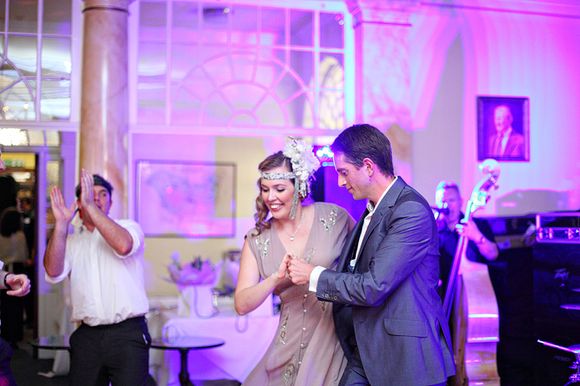 Words of Wedded Wisdom…
"I would say what I enjoyed the most is the discovery and exploration part to wedding planning. I learned a lot about the styles, colours, taste of things, even new music, and what we like and don't like. We learnt lots of things about champagne for example and I discovered the world of niche and vintage perfumes searching for the wedding scent. Working with wonderful creative people to put it together was also a huge bonus. So I would say enjoy it, it's a chance to learn. As I am writing this, I hope it all does not sound too obvious, but I can only talk about our experience, and it really is how we felt about the planning.
And also, try not to get too stressed about things, because the amount of love and support that all your guests and family will give you on the day may be beyond your dreams. It was so for us (and any other wedding couple we know) and we would be grateful for the opportunity to say one more time huge thank you  to everyone for being with us on the day and making it feel so amazing.
We think that our wedding planning story could help others planning their wedding from abroad. Its perfectly doable (we did it in 6 months), but you do need some help on the ground. We were lucky to have Pav's parents in England, but otherwise I would recommend a wedding planner.  Another tip is to check and double check dimensions of things when ordering online… It's so obvious but was particularly important if you are planning from abroad because we only saw our decorations a few nights before the wedding when it was too late to re-order…so yeah, those photo albums were never meant to be so huge…!"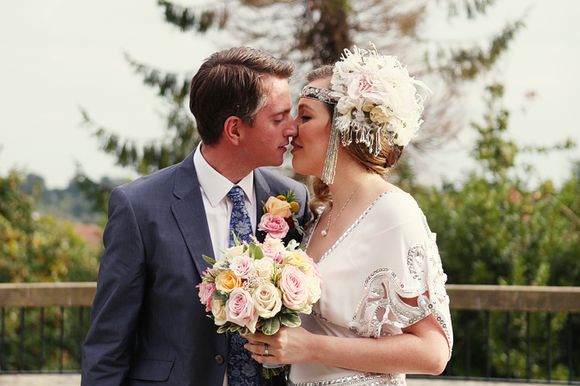 Just wow! And I'm so incredibly flattered that Anna was so inspired by my blog
Thanks to Dasha from Exhibit Emotions Photography for sharing these gorgeous images today…
"Our photographer was the wonderfully talented Dasha of Exhibit Emotions! We chose Dasha to photograph our wedding because we liked how her photos…well…do show the emotions, as the name says! We liked how they feel true and real in documenting the day, but at the same time she manages to capture the most beautiful moments of that reality and photos come out looking picture perfect in every shot. Dasha is also easy going and lovely to work with.
She eased us into our engagement shot and it felt like having a new friend from then on. Also, like me Dasha is from Russia and on top of that she has the same name as my sister, so it felt like fate!Oh, and she is also very organised and helped us out with planning the day from the photographer's perspective, which was great."
You can see more wonderful photography from  Dasha Caffrey on Love My Dress and more from Temperley London Bridal here.
Anyone going for a statement headpiece like Anna?
Much love all,
Annabel xXx
♥
Photographer – Dasha Caffrey
Venue – Arundel Town Hall + Ham Manor Golf Club
Brides dress – Temperley (daytime) + Monsoon (evening)
Brides shoes – Shoes of Prey
Brides headpiece – Kat Swank
Groom – Paul Smith suit + Ted Baker cufflinks + Liberty tie
Bridesmaids – Own choice
Cake – Marilyn's Cakes
Flowers – Bo-K flowers in Worthing
Transport – Sovreign Cars
Stationery – Deco Dezigns
Hair & Makeup Artist – Jeni Dodson
Pom poms in the Church – Pom Pom Factory