Well a very happy but brrrrrr cold Monday morning to you! I am FREEZING! Which is slightly worrying, as the winter has only just set in – I need to up my collection of winter woolies right now. Etsy – I'm on my way later! ;) 
I hope readers got a chance to read my weekend blog feature – a personal, reflective piece about my blog and the success and negativity I have experienced this past 12 months.  Thank you so much to all those who have left a thoughtful comment, it really means a huge amount to me.
This morning's wedding was photographed by one of my fave wedding photographers. I met him at the Love My Dress Summer Soiree, he was accompanied by the lovely Charlie of The Natural Wedding Compan, who's immensely fabulous rustic, eco-chic and DIY wedding he also shot.  The couple you see on this page are Mr and Mrs Hydes, and they tied the knot on 8th October 2011 at The Tithebarn, Browsholme Hall in Cow Ark (near Clitheroe). 
Love My Dress – Photography Copyright (c) 2011, Mark Tattersall
The lovely Bride wore a Mori Lee wedding dress, a purchase from Amelias in Clitheroe, although I have to say, what swung this wedding for me was that beautiful floral, berry headpiece…
"All the wedding dresses I looked at all seemed very samey whereas this one stood out as being different to all the other dresses I looked at. I love the vertical striped ribbons down the entire dress its so unusual.
To compliment my dress and the time of year we were marrying, I asked my florist to make me a band of autumnal rustic flowers and wheat for my hair…."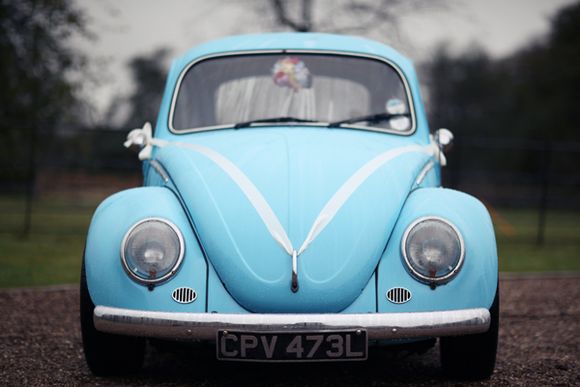 "I love converse shoes and wanted to feel comfortable and like 'me' so it had to be Converse (I very rarely wear high heels). Plus, when you have a big dress on no one sees the shoes anyway…"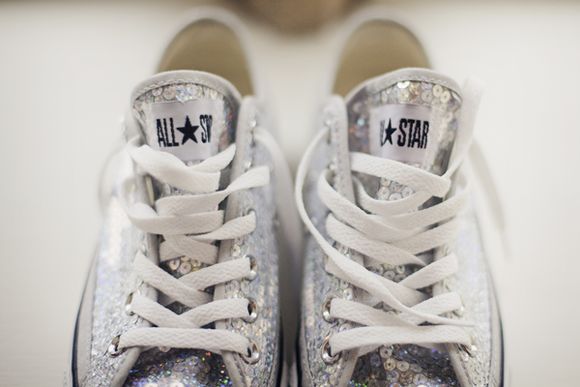 "My old VW Beetle and our friends old VW camper van which he had only just finished doing up from scratch and which he drove all the way from Ipswich for us!"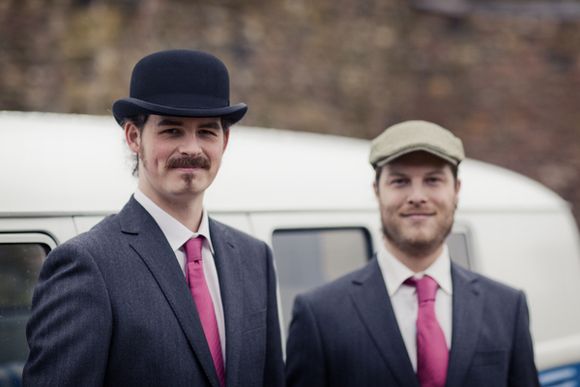 The Bridesmaids wore French Connection autumnal purple berry dresses, which featured vertical pleates to match the Brides dress.  These were teamed with plain silver converse…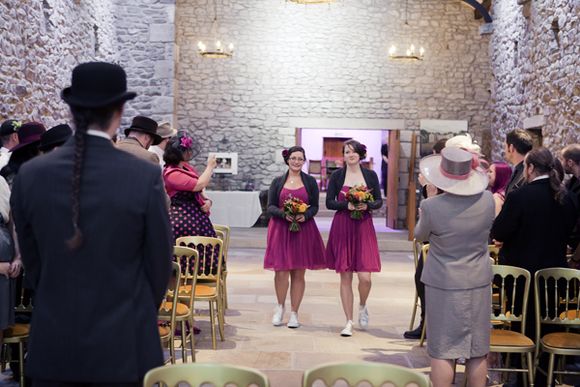 "The Tithebarn was a brand new venue which we stumbled across on the way home from visiting another venue and it took our breath away – as soon as we saw it we knew it was for us! A nice converted barn and unlike the other more traditional venues which we weren't so keen on…"
Huge thanks to Photographer Mark Tattersall for sharing these photographs today...
"Our photographer Mark Tattersall was absolutely amazing – we have received so many good comments from our guests about how he just fitted in and wasn't obtrusive.  He also got some stunning photos and captured the day so well despite the torrential rain!"
Mark Tattersall features other work here on Love My Dress and you can see more rustic charm style weddings here.
That just leaves me to ask (a) are any other brides ditching the heels for something all-together more comfortable and (b) please tell me someone else has worn/is planning to wear a gorgeous garland headpiece featuring florals and berries???
Happy Monday morning ya'll 😉
Much love,
Annabel xXx
♥
Photographer – Mark Tattersall
Venue – The Tithebarn
Brides dress – Mori Lee via Amelias
Brides shoes – Converse
Brides Floral Headpiece – by Passion Florist
Grooms – Austin Reed suit via Boundary Mill + Bowler hat from Christies (cheap off eBay) + Umbrella from local shop + Converse
Bridesmaids – French Connection
Transport – Brides VW Beetle
Florist – Passion Florist, Clitheroe
Cake – Buns of Bowland
Caterers – With a Twist
Entertainment – The Deadbeats band