Good morning all 😉 Welcome to another week on Love My Dress, and seven days packed full of pretty.
I love to start the week with a real wedding, and this morning I've selected the stylish nuptials of Nicki and Matt, whose wedding took place on 1st October at House for an Art Lover, an amazing venue located just outside of Glasgow city centre, and that was designed by Charles Rennie Mackintosh.  The venue has infact featured on Love My Dress several times already.
Nicki and Matt were inspired by the 1940s and their love of music in planning their wedding.  I thought Nicki looked pretty knock-out in her beautiful Jenny Packham dress and 40's style charity shop find birdcage veil…
"I wanted a 1940's style dress, I've always loved that era for fashion and have fond memories of watching movies of that time with my Gran, e.g. Casablanca and Philadelphia Story.
We were recommended Pan Pan Bridal, in Edinburgh and it did not disappoint. The ladies in the shop knew exactly the look I was after and steered me to some options. The Jenny Packham dress was the third dress I tried on. I loved it – fitted like a glove, was the old Hollywood glamour I was after and weirdly comfortable!
We bought it there on the spot and we cancelled all other bridal dress shop appointments…"
Love My Dress Wedding Blog – Photography Copyright (c) 2012, Mirrorbox Photography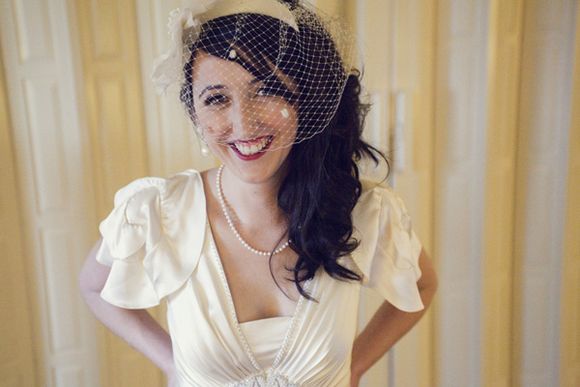 "I wore a birdcage veil from a charity shop for £8. My friend Isla re-worked the flower and my mum dyed it in cold tea bags water overnight, to give it the vintage look.  I also wore a pair of cream and silver 1940's inspired shoes by Rachel Simpson, from the fabulous Melle Cloche shop on Byres Road Glasgow.  I took my shoes on my honeymoon and they looked just as good with a pair of jeans in New York!"
"My 'something borrowed' was my Mum's pearl necklace.   My earrings were from Melle Cloche, large pearls and diamond drop ones, unfortunately they weren't real but they looked the part…"
"It was a real struggle to find dresses in traditional wedding shops and as we wanted the dresses to match vintage was rolled out. After months of searching, I came across two vintage inspired dresses from French Connection.  I also really liked them as they were versatile enough to allow them to wear them again, rather than being at the back of a wardrobe.
My sister currently lives in Vancouver, thankfully the other bridesmaid is only an inch taller so I knew if it fitted her length wise it work for Kim too. Although, it was a bit surreal showing my sister the bridesmaid dress over skype.  Especially trying to explain the colour!  For their gifts we got them bespoke pearl necklaces made. Which I gave to them on the morning of the wedding…"
"My Mum's work colleague Michael did all of the bridal party's hair and make-upo, even the flower girl Connie's lipgloss. For me he went for a flawless face, with red lips and flicks of eyeliner, keeping with the 1940's look…"
"Matt proposed two years ago on holiday in Berlin, surrounded by our closest friends and family who had joined us out there for the weekend to celebrate my 30th Birthday…"
"Unlike most other grooms Matt had an outfit change. For the day he wore a charcoal grey morning suit with tails with paler grey tie and waistcoat. Then for the evening/dancing he changed into a 'Scotland the brave' kilt, from ALD kilt makers in Clydebank…."
"I walked down the aisle to Ediaf Piaf's, Le Vie En Rose. But as it has such beautiful lyrics, and its the way I feel about Matt I went for the English version…"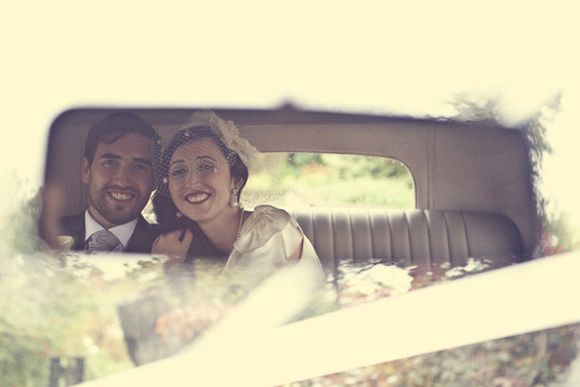 "Our wedding was inspired by the 1940s, and music.  We didn't want the typical 'Scottish' wedding – tartan, loch's and celidh's but we wanted something iconic to Glasgow, which is the city that we live and fell in love in!
When we viewed 'House for An Art Lover', we knew instantly that this was the place for us. Designed by the famous Glaswegian architect Charles Rennie MacIntosh, it has a perfectly balanced interior, set in a public park and with the option of having the meal in the 'Music Room' (which is one of our passions in life) – it was ideal! 
Fiona at the venue was such a fantastic wedding coordinator she was really helpful and very accommodating with our requests,  right from the first day we viewed the venue…"
"As we had the meal in the Music Room, (and of course our love of music) the table names were some of our favourite bands/artists – Nina Simone, Neil Young, Arcade Fire etc. We thought it was really fitting to have CD's as favours, with a track from each table so 'Be My Husband' from the Nina Simone table and 'Harvest Moon' Neil Young e.g. 
As part of the Mirrorbox wedding photography contract, we got a pre-wedding photo shoot, which is a great idea and provided a perfect opportunity to do the cover image of the cd. We re-created Bob Dylan's famous front cover pose on 'Freewheelin' – shot outside our flat…"
"We selected Marks and Spencer's three tired cakes, as it was a simple, classic design and continued the rose theme, with iced roses as decorations. 
The cake suited all tastes, as fruit was the bottom tier (which my sister was happy about), cream and jam for the middle and chocolate was the top tier – which is the slice we had on the night…"
"Our friends play in various bands and they got together to form 'the ultimate wedding band'  and played a handpicked playlist of our favourite songs, including  'Boy with the Arab strap' Belle & Sebastain, 'Fame' David Bowie, 'Boys don't cry' the Cure and some soul classics by Otis Redding and Marvin Gaye.
For our first dance track, we had 'Into my Arms' by Nick Cave – again the lyrics say it all about how feel about each other…"
Words of Wedded Wisdom…
"Make it personal to you both, what's your passions in life and focus it on that. Avoid the standard approaches to wedding planning and get creative!"
How fabulous does Nicki look? I love that she went charity shop hunting and found her perfect dress so soon, she looks a picture of radiance 🙂
Big thanks to Mirrorbox Photography for sharing these images today…

"Sam and Sequoia at Mirrorbox Photography, they were fantastic! Exactly the style of photos we were after as we didn't want too many 'posed' ones, they captured the day beautifully with relaxed, informal subtle and quirky shots…"
I'd love to know what you think of Nicki's style?
Pop along here to see more Jenny Packham brides and inspiration for how to style your own birdcage veil.
Much love all -  competition winners being announced shortly so pop back soon 🙂
Annabel
♥
Photography – Mirrorbox Photography
Venue – House for an Art Lover, Glasgow, Scotland
Brides dress – Jenny Packham, via Pan Pan Bridal
Brides veil – charity shop find
Brides shoes – Rachel Simpson via Melle Cloche
Groom – charcoal grey morning suit + kilt for the evening
Bridesmaids – French Connection
Flowers – Mus' flower stall outside Fopp on Byres Road, Glasgow
Transport – Waterside Weddings
Cake – Marks and Spencer