In a move I've not done before, I'm re-creating one of my very first blog posts today. It is something I've been meaning to do for a while, ever since Bride Vicky, who owns Vintage Teasets, and who has become a friend over the past 2 years, sent me a wonderful selection of photographs to add to the original feature.  Vicky is also a talented Milliner, creating 1920's style cloches hats and headpieces inspired by the 1920s via her Clara Bows brand.  It didn't seem right somehow, tinkering with one of my very first blog posts – I kind of like to be able to look back and see how I did it then!
Vicky and her husband Adam tied the vintage knot in August 2009, at Treowen House in Monmouthshire.  The ceremony was followed by Pimms on the Lawn, a little Croquet and a lavish afternoon tea.
I discovered Vicky's wedding when I was planning my own nuptials and was utterly smitten.  I remember spending around half a day trying to find the web link where I'd seen the images, then dropping Vicky a line to ask if I may feature her wedding on my blog.  The photographs were taken by award winning Devon based wedding photographer, Rosie Parsons, and I adore them to this day.  They represent a wedding that was inspired by the 1920's and the flapper girl fashion of the era, but the images are timeless and classically beautiful and it still gives me a thrill to pour over them even now.
And no, I'm absolutely not tired of seeing flowers in tea cups…
Love My Dress Wedding Blog – Photography Copyright (c) 2012,  Rosie Parsons
Vicky's creativity was evident in droves on her beautiful wedding day.  Just look at these little fairies caught in jars, that she presented her very lucky guests with as wedding favours!  Vicky was inspired by the famous Cottingley Fairies story in creating her wedding favours..
"I first saw those photographs as a little girl and was amazed by those two little girls that managed to hoodwink a nation into thinking they'd been playing with fairies at the bottom of the garden.  I mean, even Sir Arthur Conan Doyle believed it. I wanted to display them and then ended up with the idea that I was holding them captive, my mind just wanders sometimes.  A few weeks before the wedding people were asking me what I was doing and my reply 'trapping fairies' had a few thinking I was going into melt down, I was having great fun!  Brought the little girl out in me!". 
Vicky also hung her trapped fairies in cages, with an assortment of tea cup candles underneath.  Fairy lights were then used to add further prettiness to the venue…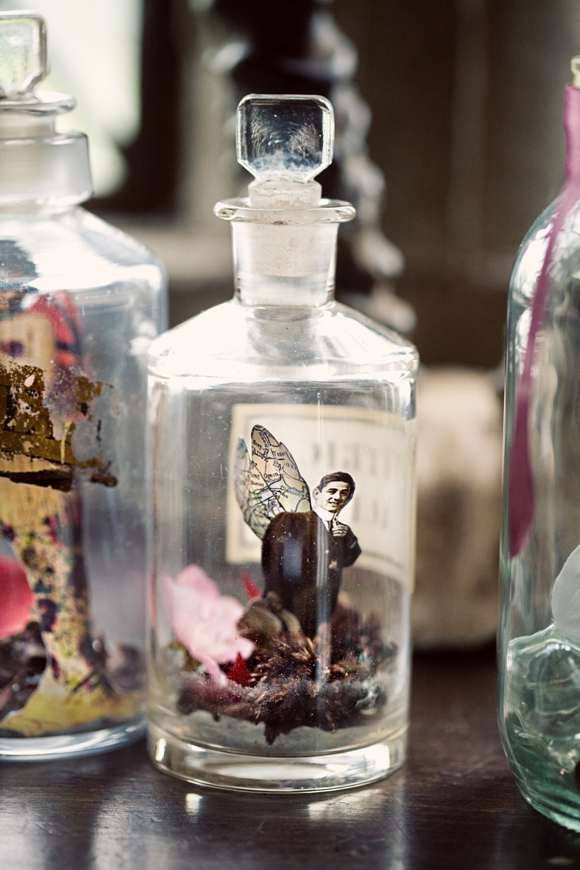 Vicky has several muses from the 1920's and 1930's who influenced her wedding day look, including Coco Chanel, Anais Nin, Louise Brooks and Tamara de Lempicka, but her favoured muse is Clara Bow.  A couple of years ago, Vicky watched the 1920's American movie actress in the film 'It', and became instantly besotted.  "Her life story is incredible…" says Vicky, "…she's one of the most interesting iconic Flappers that lived, grew up in a tenement in Brooklyn witnessed all sorts of hell and sadness and then she ended up in Hollywood films after winning a competition. She was a fighter and life threw her some cruel blows".
Vicky's beaded flapper style wedding dress by LeLuxe Clothing.  She accessorised her dress with pearls from Accessorize and a beautiful art-deco hair clip from EBay
A wee birdy tells me that Vicky might just be working on special project of her own, regarding beautiful beaded 1920's flapper dresses.  You'll hear news about that here first on Love My Dress when it's ready to share!
Vicky got her lovely 1920's style shoes from a small independent shop in Monmouth. Her stunning ostrich feather shrug was from Sasso Bridal Accessories…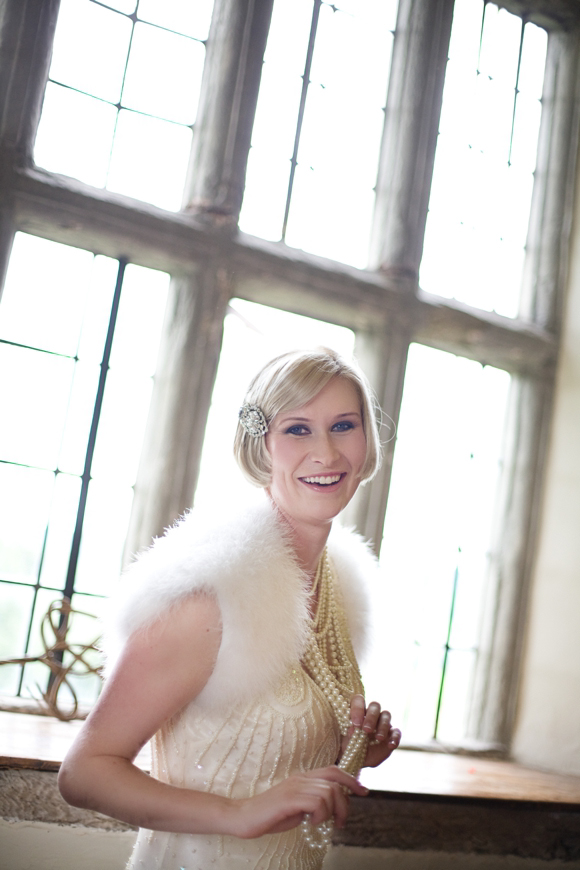 Vicky told me that her Grandmother grew up in the 1920's era, and how the expeirences of the times had shaped her Grandma into being a firm believer that we can all achieve our dreams,  if we work hard enough. 
I love this notion – that anything can be achieved if you really want it and are prepared to work hard enough for it. Love it. I keep telling my 6 year old daughter this….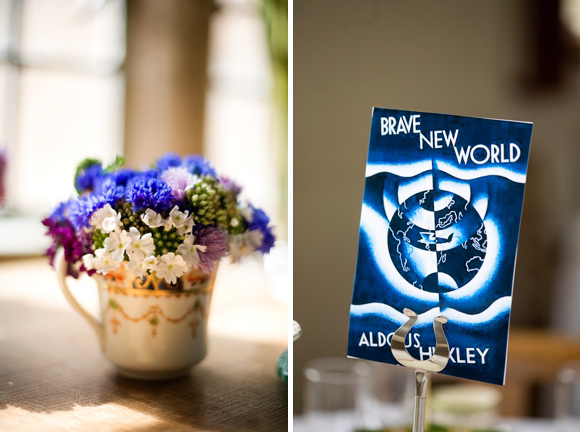 Vicky runs her own Vintage china teaset hire business and used her own Art Deco tea sets to theme the tables.  The top table, was graced with Vicky's Grandma's own precious teaset (what a wonderful touch).  
Vintage teacups and jam jars were cleverly used as vases for pretty flower displays.  The afternoon tea apparenly went down a storm, with Vicky claiming that thankfully, even big burly Rugby fellas got very excited at the prospect of a large pile of scones, jam and clotted cream!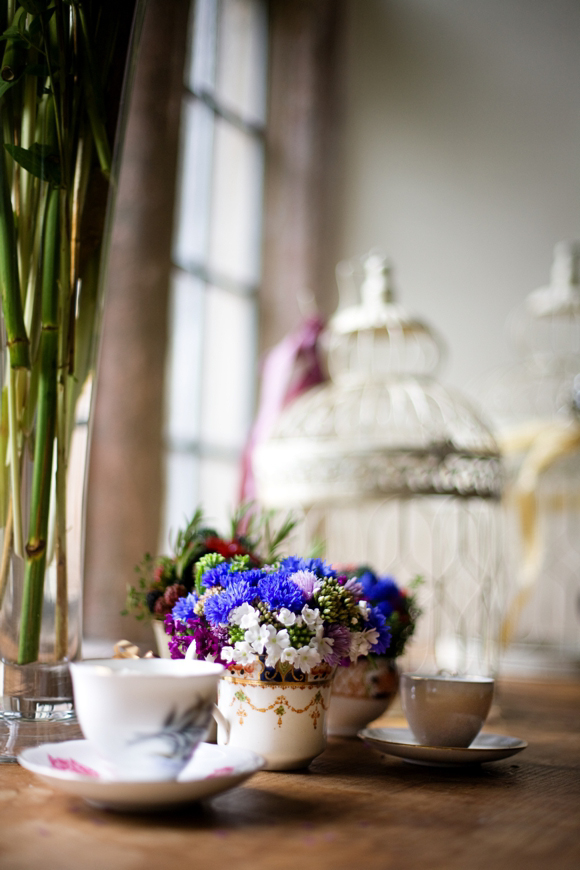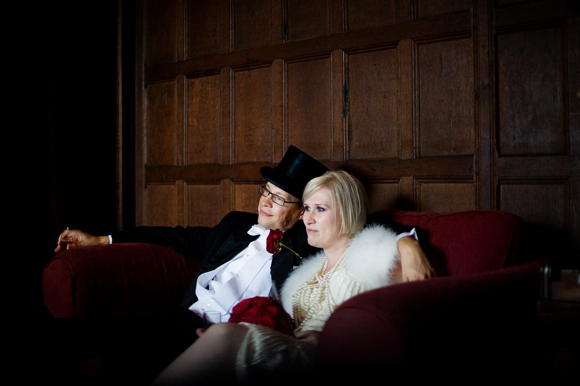 Check out these Flapper Girl Bridesmaids with the very fabulous Bride herself!  What fun! All dresses sourced from LeLuxe Clothing…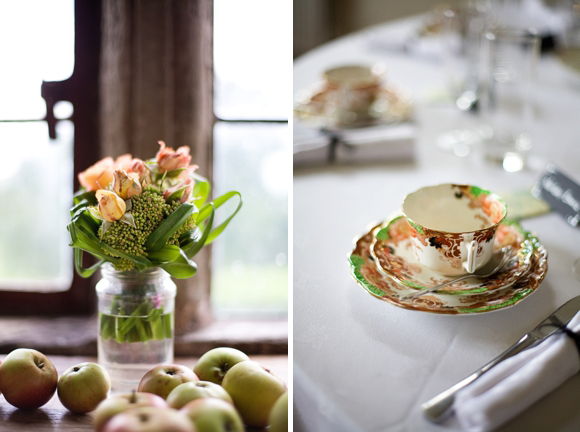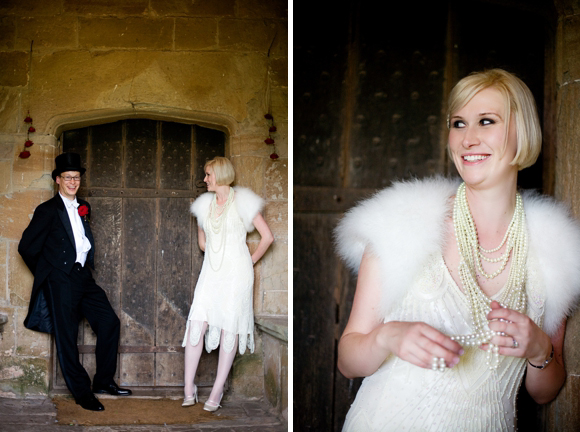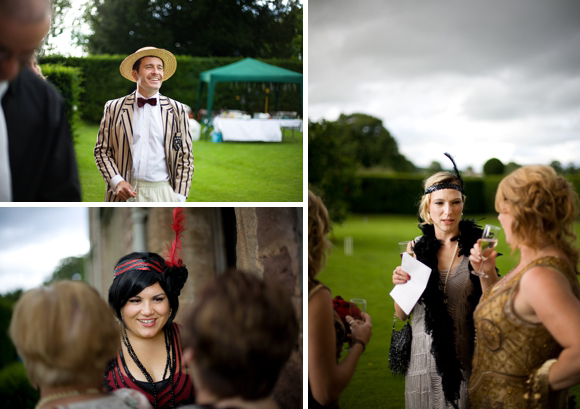 Vicky and Adam's beautiful wedding venue was decorated with vintage style birdcages, sourced from a Florist friend of Vickys, and Vicky pulled off a rather innovative and vintage style table plan – which hung from the ceiling!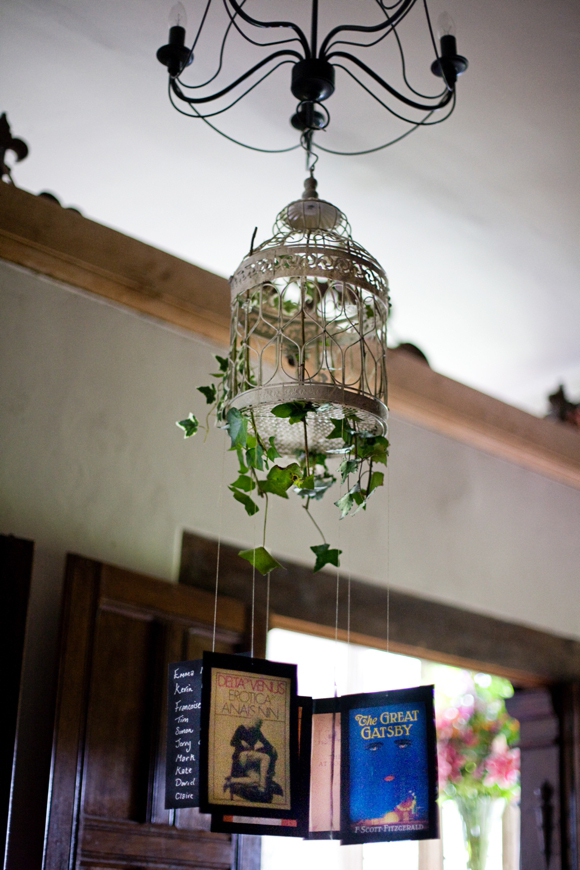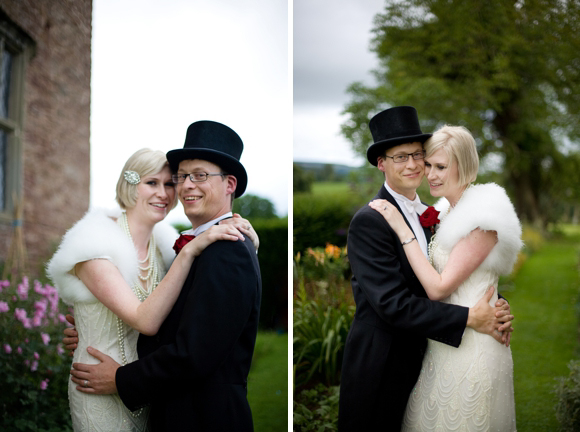 Vicky's stunning bouquet was created by a close friend; "He suggested the roses, we tried out a few bouquets with different flowers around his house whilst sinking some wine and I loved the roses but wanted to give it a twist.  They were big on trailing bouquets in the 20's so together we designed that bouquet and he suggested adding beads and pearls as well.  I really appreciated all the effort he went to for me on it and it brought a tear to my eye when he gave it to me on the morning".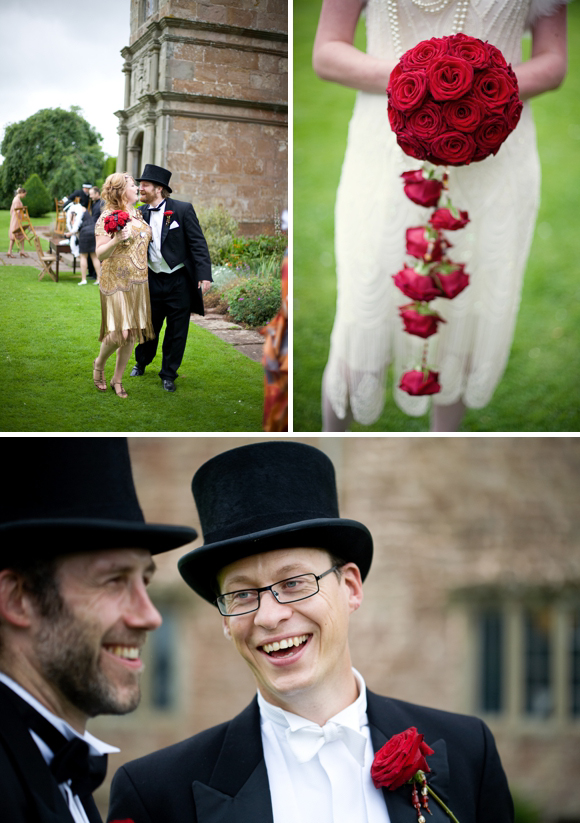 Oh pretty lights….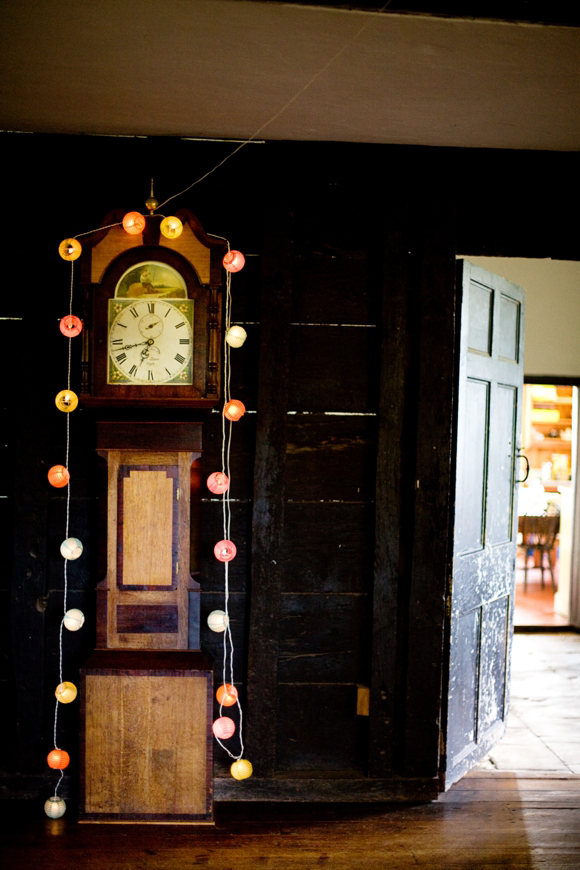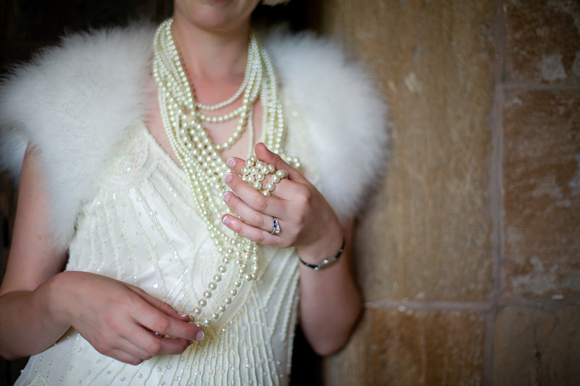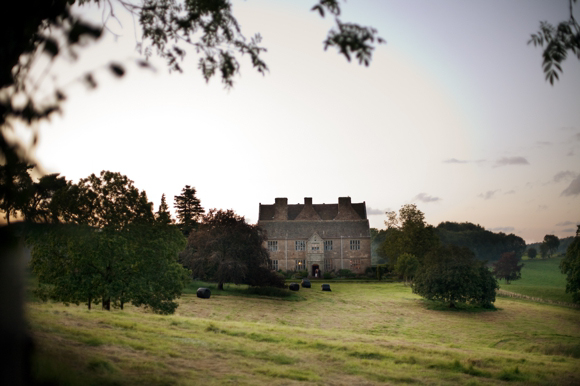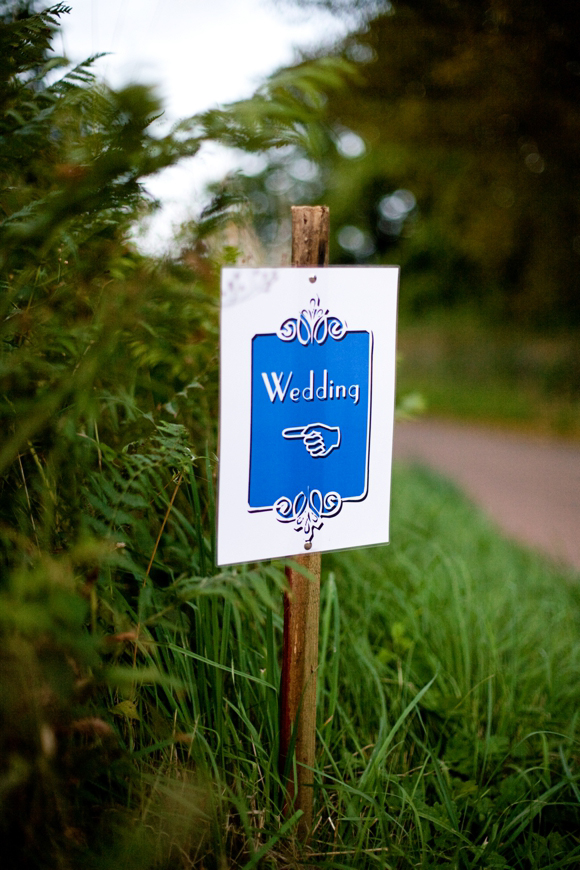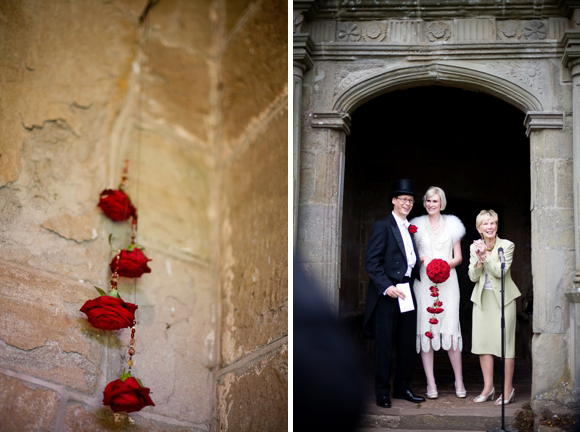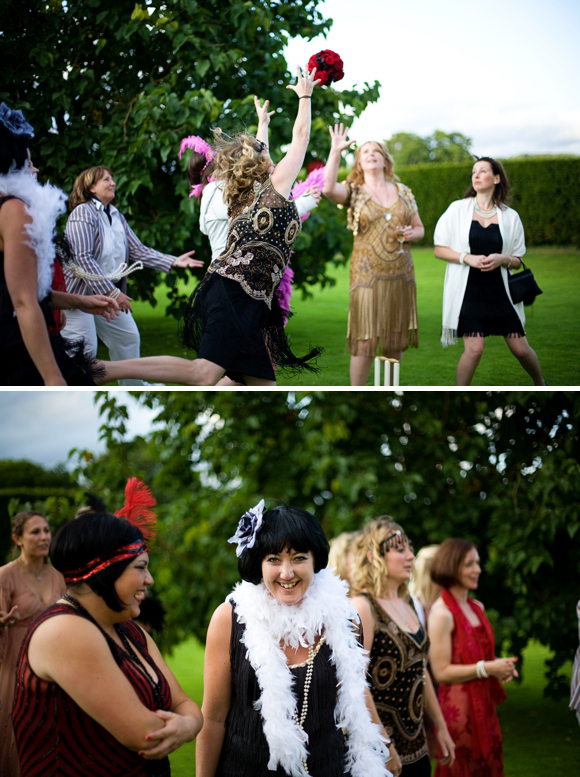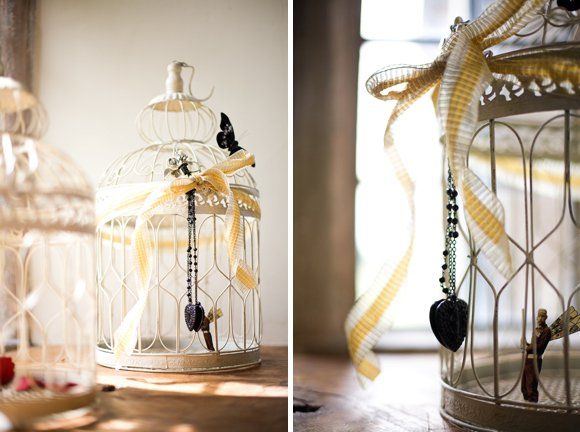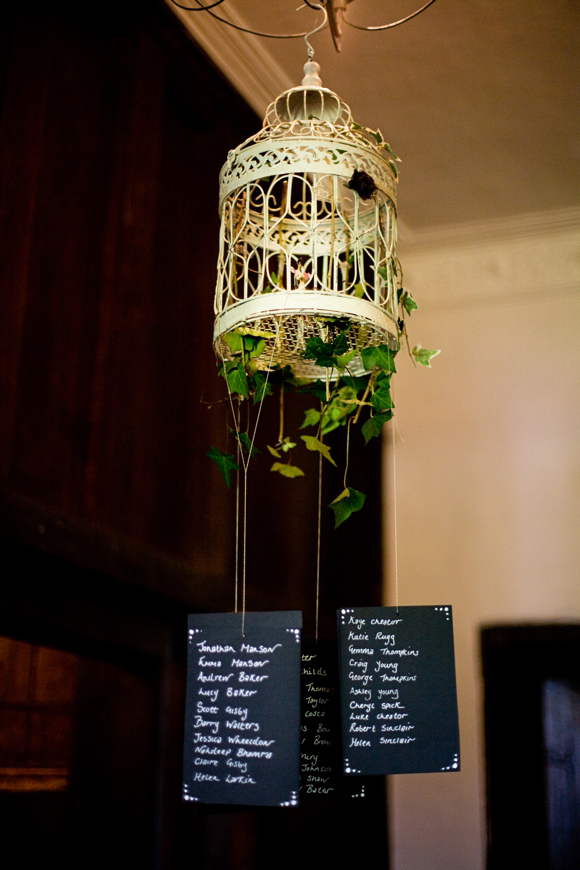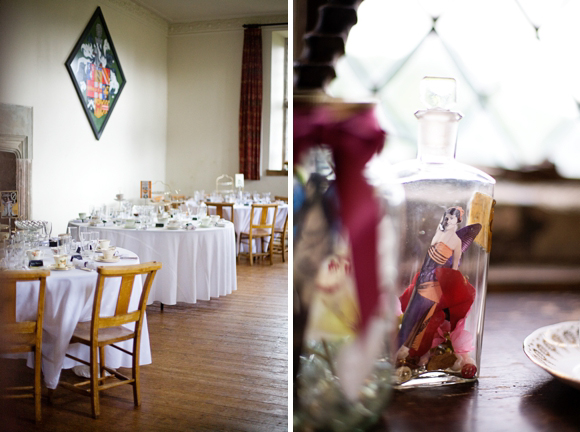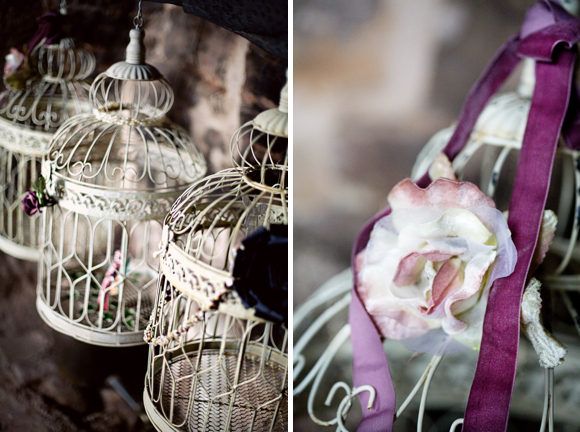 Vicky catered for all her guests by purchasing some flapper headbands and dangling them from her 'Flapper Headband Tree'!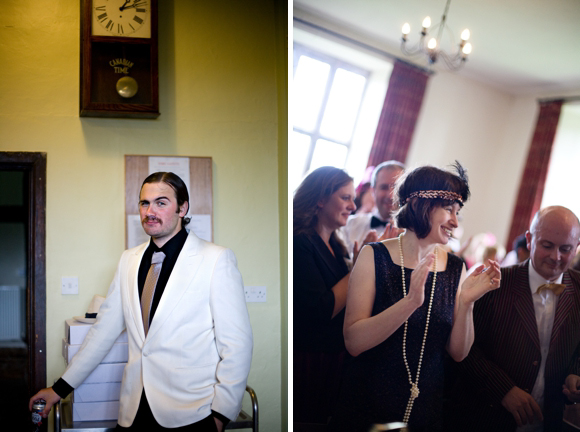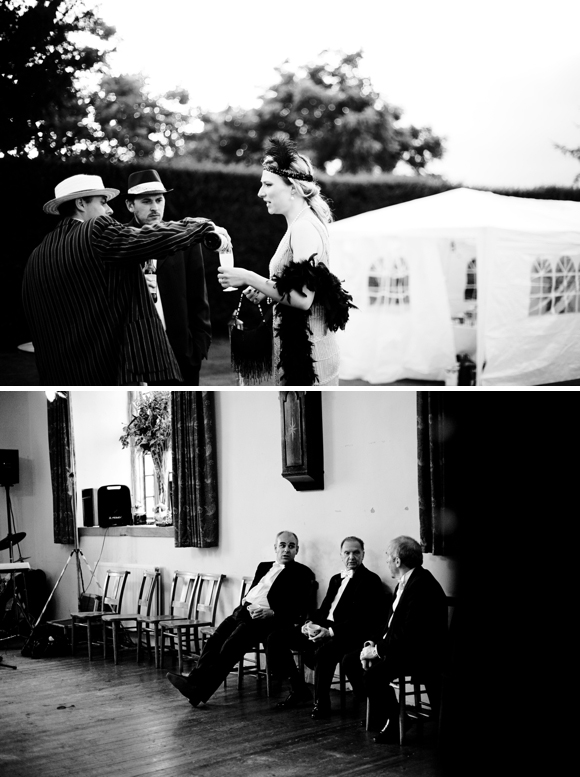 This fabulously fun-filled wedding celebration was finished with a roaring 1920's style knees up. Vicky hired The Charleston Charlies, a 1920's jazz band to provide the very cheerful entertainment….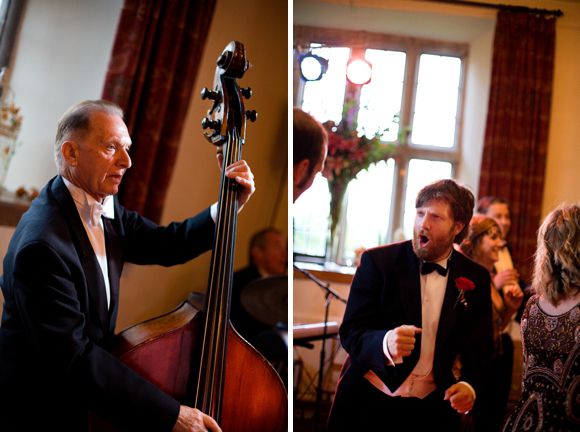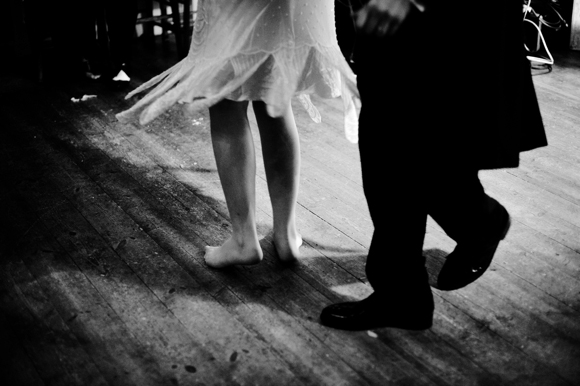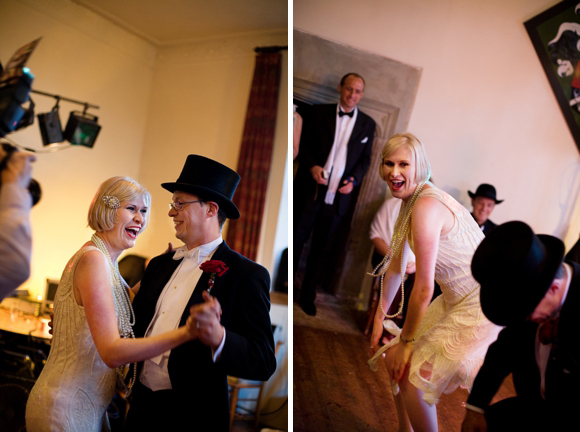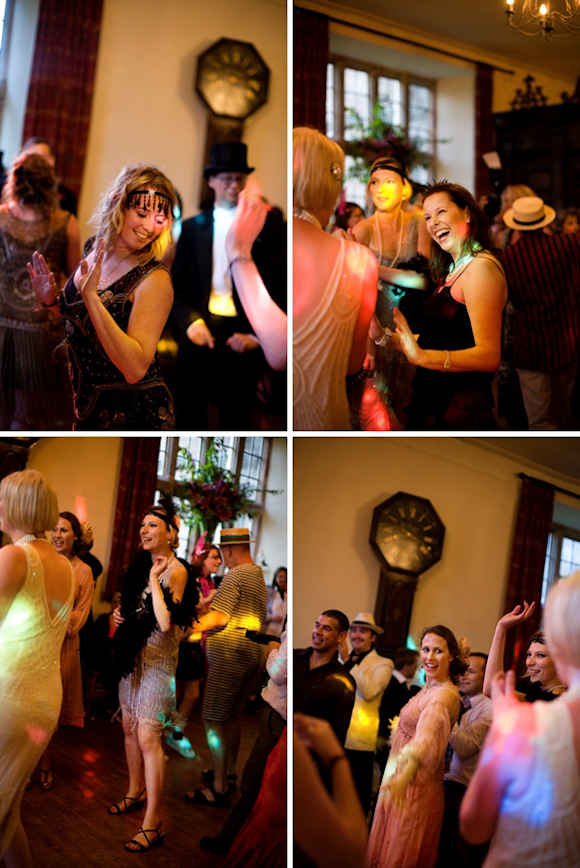 I hope you have loved this revisit to an old but forever beautiful real wedding on Love My Dress today :)  You can see the original feature dated 21st November 2009 right here.

I'd love to hear from any 1920's fans out there and to hear of your own ideas for styling your wedding day.
Take a moment to check out Vicky's Vintage Teasets and Clara Bows websites. Vicky can also be found on Facebook and Twitter.
Much love all,
Annabel
♥
Photographer – Rosie Parsons
Venue – Treowen House in Monmouthshire
Brides dress – LeLuxe Clothing
Brides ostrich feather shrug – Sasso Bridal Accessorie
Brides pearl accessories – Accessorize
Bridesmaid – LeLuxe Clothing
Entertainment – The Charleston Charlies,