You know the most popular colour scheme for a wedding to ever feature on Love My Dress, is pink?  And I'm about to add another wedding to the vaults of pretty pinkness!
Sam & Jerry tied the knot on 22nd July 2011 at Goldbrick House, Park Street, Bristol and their lovely wedding photographs were submitted by Bristol Wedding Photographer, Ria Mishaal.
Sam wore the very glamorous 'Cleopatra' wedding dress, by Jenny Packham… 
"I had in my mind that Jenny Packham was the designer of my dreams, and the Cleopatra was the first dress I tried on! I just loved it and new I didn't need to look anywhere else.
It fitted in perfectly with our venue and the theme I had in my mind; think Hollywood/champagne/1920's/30's glamour!!

Love My Dress Wedding Blog – Photography Copyright (c) 2012, Ria Mishaal

"My lovely friend and business side kick Vicky Rowe was a big inspiration. Her wedding day was simple unbelievable. I love Vintage wares, so knew that I had to include that as part of my theme, but I also have a passion for Old Hollywood Glamour – I swear I should have been alive then! Our venue gave us the canvas to incorporate various touches to pull it all together…"
Sam and Jerry hired Florsit Julie at Floriture to provide the gorgeous explosion of pink pretty…
"Julie completely understood what I wanted from my flowers – more that I did actually – my brief was the vaguest, 'peonies, vintage, country & pinks of all shades!'  From that she created perfection!"
"We gave our guests a cool tea towel which said "Sam & Jerry got married" then the date and venue details. They went down a storm & were really good fun!"
"We chose a two tier cake – one tier was lemon flavour, the second was chocolate orange!Our cake designer Sheona from Cake Matters, was wonderful and created us a really pretty & simple design. It was absolutely perfect and exceeded our expectations. It was/is the nicest cake we have ever tasted. I now find reasons to order cakes for everyone .. birthdays, christmas .. any excuse to order another one!"
"I stumbled across the divine Jo Barnes on Love My Dress ….. And fell in love! I purchased a headdress from Jo's vintage inspired range 'Rita'. Jo was amazing and customised the design so that it worked with my dress. The lady is amazing.
I chose not to wear much jewellery – my dress was the statement. So I opted for 1930's diamond earrings, that belonged to my late Grandma…"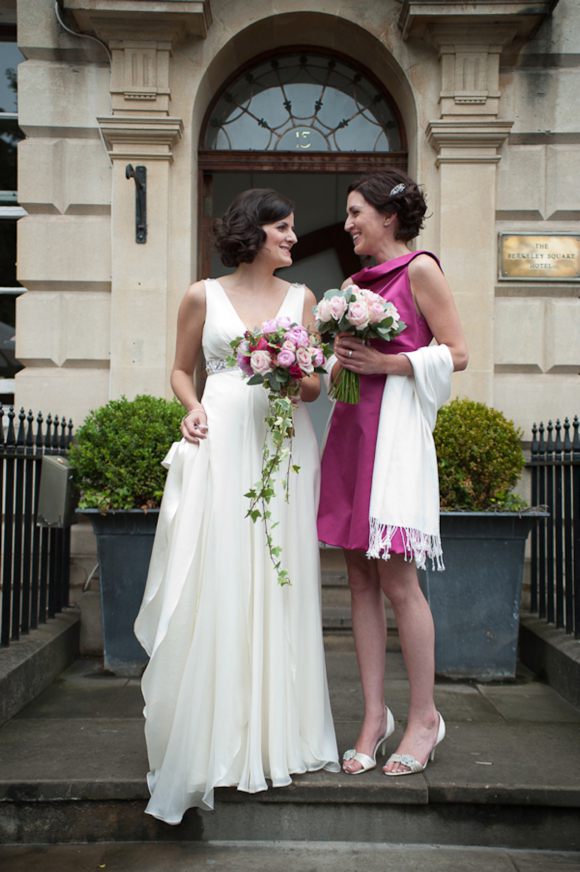 "My shoes were 'Santi' by Rainbow Couture. They were just a classic style & incredibly comfortable  – always a plus point!! Plus I picked them up for the bargain price of £30 on ebay brand new!"
"My 8 year old son Jack, walked me down the aisle – bless him, he was more nervous than me!"
" We didn't really have a big romantic proposal – it was more a conversation whilst peeling potatoes one night and decided that the time was right to take the next step. (we'd been together for 6 years already). Mid planning, I discovered I was pregnant, so our original plans were all postponed!
Once out beautiful baby girl Isabella was born, I went into wedding planning mode and set the date for July.
We decided that it would be lovely to include Isabella in our day, so we held a naming ceremony for her straight after we were married. It was really lovely to share 2 magical moments with our nearest and dearest…"
"We wanted a venue that reflected our personality and Goldbrick House captured everything we love about life .. Quirky but classic, amazing food & champagne cocktails!"
"We had small envelopes for the guests filled with pieces of rock with the words 'Mr & Mrs' inscribed. These were put on the guest place settings. The cute envelopes were from Crafty Pagan – I purchased quite a bit of stationery from them, including our menus, gift tag place settings and escort cards in place of a traditional seating plan…"
"We decorated the venue with lots of flower filled Jam Jars, Birdcages and vintage crockery from Vintage Teasets…"
"The sweets were from Aimees Boutique…"
"My oh my, we found choosing a first dance song sooo hard, we do not have a special song and really didn't want anything too mushy or slow … so we ended up choosing a song that made us both laugh & smile – 'That's Amore' by Dean Martin. (We also took a couple of sneaky dance lessons so it looked like we knew what we were doing!)"
Words of Wedded Wisdom…
"I would say that investment in a photographer has to be top of the priority list … well maybe 2nd to your dress!
Never lose sight of what a wedding day is actually about.
Don't sweat the small stuff!
We also had quite a few children attend, so I hired a nanny for the day and set them up a table in a separate room from the adults. I made them goody bags, filled with everything from colouring pencils, mask making, streamers, bubbles & sweets to bracelet making, disposable cameras and crazy glasses! They all had such good time in the 'play room' and the parents enjoyed an undisturbed meal! I also organised a wonderful candy banquet for the evening – full of retro sweets, liquorice and hand made fudge…"
I just love these weddings, and it's only dawned on me this morning that I've actually met Sam through our mutual friend Vicky Rowe! Hi Sam! 😉
Big thanks to lovely Ria Mishaal for sending me these photographs today…
"We feel so blessed that Ria was able to capture our day … the memories that Ria has been able to share with us are priceless and each time we look at the images it brings back the all the emotions we felt during the day! Thankfully she also captured every last detail that I had spent hour agonising over but had forgotten about on the day! AMAZING, AMAZING, AMAZING Lady."
If you'd like to check out more 1920's and 1930's inspired glamour use these links.  You can also see many more Jenny Packham brides here and more pink colour inspiration as well as features from Photographer Ria Mishaal.
Who's loving Sam's wedding day style?
Much love,
Annabel
♥
Photographer – Ria Mishaal
Venue – Goldbrick House, Bristol
Brides dress – Cleopatra by Jenny Packham
Brides headpiece – Jo Barnes
Brides accessories – 1930s earrings belonging to Sam's Grandma
Brides shoes – Rainbow Couture
Groom – Reiss + Shoes by Jeffery West
Bridesmaid – Karen Millen
Florist – Floriture
Cake – Cake Matters
Entertainment – New City Sound
China Tea Set Hire – Vintage Teasets
Hair and make-up Artist – Kellie Mitchell
Sweets – Aimees Boutique
Favour Envelopes – Crafty Pagan
Wedding Tea Towels – Wedding Tea Towels