This morning, I told you how I'm going to be blogging this weekend about some of the brilliant vintage wedding fairs that have been taking place.  Earlier today, I blogged about Mrs Scoops and Little G's vintage Wedding Fair, and now it's the turn of the Vintage Bride Designer Sale.
The Vintage Bride Designer Sale took place on 25th March at One Marylebone in London, and my lovely friend Naomi Kenton was there to capture it all on camera.
Sadly I don't have any roving reporter write up, but these images speak for themselves and beautifully showcase the work of some fabulous suppliers who were exhibiting.  Again, I encourage you to click through to their sites to learn more about them.
Below right there? Possibly the most beautiful pair of gold wedding shoes ever in the world…
Love My Dress Wedding Blog – Photography Copyright (c) 2012, Naomi Kenton
These designs are by Freya Rose, a multi award winning shoe designer who creates the most exquisite heels for Brides…
Next up, the unbelievably talented Edwina Ibbotson, designer of couture millinery and a master artisan when it comes to wonderfully feminine headpieces, hats and veils including.  The attention to detail with her beaded headdresses and soft tulle and floral designs is second to none.  Her romantic feather headdresses and beautifully designed hats and a hint of vintage glamour for the bride, mother of the bride and wedding guests to.
You won't find a website for Edwina. She is a traditional artisan, who spends her days at her studio hand crafting her designs to absolute perfection.  I did interview her here however and she can be contactable via her email address…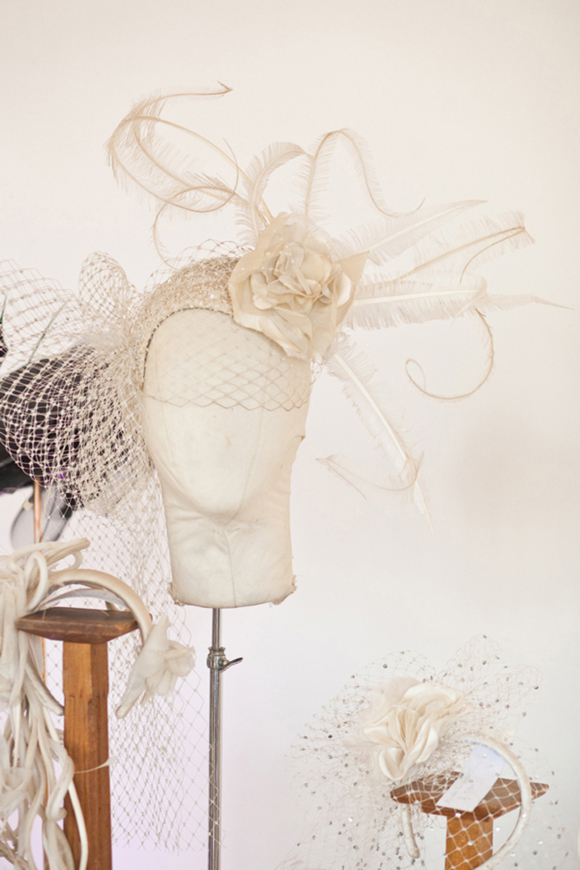 Master Scribe Paul Antonio was in attendance – check that divine rainbow scribe below.
Paul Antonio Scribe produces the most sumptuous wedding invitations, maps & save the dates using delicate flourishes and subtle line illustrations with beautifully hand calligraphed envelopes and place cards.  Paul is a great friend of mine with a huge heart and an incredible talent, watching him write calligraphy before your eyes is utterly mesmerising…
One of the organisers of the show was Kelly Spence Kelly Spence, who designs stunning vintage inspired hair accessories and jewellery.  It's all about elegant touches for the bride with uncompromising attention to detail.
Kelly's designs can often be seen gracing the pages of the top British bridal magazines. Here exquisite collection of bridal accessories includes contemporary, genuine vintage and vintage inspired hair accessories, brooches & jewellery as well as an extensive selection of gorgeous veils in diaphanous silk or synthetic tulle. Each piece is made to order. One of her latest collections includes a range of delicate boleros, shrugs and capelets in fine French lace, beaded tulle and luxurious silk & cashmere and, by popular demand, some delicate freshwater pearl & crystal back necklaces…

Vintage hair trials and make up were available via Elle au Naturel…
Purveyors of fine luxury lingerie with a cheeky vintage twist, Fred & Ginger, were there too…

Charlotte White at Restoration Cake takes great pride in creating cakes that taste as good as they look. And having personally sampled these Charlotte's cakes several times in the past, I can say for sure, these cakes really are fit for a king.
Charlotte is also a really lovely lady – I get the idea she pours her heart and soul into the sugar bowl each time she makes a cake!
Sounds Serene voice and harp duo was formed in 1999 and has given regular concerts and recitals across the U.K. The duo have also broadcast on Classic FM. Sounds Serene has been a popular choice for Weddings, Birthday parties and fundraising events. Sounds Serene have arranged and adapted much of their music to suit this beautiful, but unusual combination…
Everinessence, specialists in providing lash makeovers…
My fellow blogger and wedding planner Sonia from Want That Wedding was exhibiting…
…as were Florists extraordinaire, Wild About, renowned for creating beautiful wedding flowers, and are well known for their vintage influences, from glamorous vintage candelabras to pretty jam jars and vintage bottle arrangements….
Purveyors of fine malts, Dramatic Whisky were in residence. Dramatic Whiskyrun entertaining tasting events, with a youthful lively approach to helping you find the perfect whisky for you – and are ideal for stag (or hen!) parties!
Up and coming bridal wear designer and co-show organiser Sabina Motasem Bride…
It looked like a super show for all who attended and I'm keen to encourage you to visit the supplier websites.
Huge thanks to Naomi Kenton for providing these lovely images.  Tomorrow, it's all about the Most Curious Vintage Wedding Fair. 
Hope you're enjoying the weekend folks.
Annabel
♥