Hello hello! How much sunshine did we get yesterday? Please please let today be the same. I might have been too busy to spend much time out in it but goodness what a difference a beautiful sunny day makes *fingers crossed*….
I am so thrilled that I am getting to feature this wedding here with you this morning, it's just so very beautiful in every way. I've never seen a wedding dress like it! And the little touches melt my heart; those flowers in her hair, the cute bunting, the little espadrilles!  This is Rob and Frances and they tied the knot on 11 June last year at Craswall in Herefordshire with a ceremony at The Church of Saint Mary, Craswall followed by a reception at the bride's parents' that culminated with a barbeque by the river.   Most of the couple's guests actually camped in a nearby field!
Frances is another one of those clever, talented brides who made her own wedding dress…
"I designed and made my own dress. The embroidery was cut from vintage tablecloths and the main fabric of the dress was from MacCulloch and Wallace in London.
I chose to design my own dress because I had originally wanted a vintage dress, but found that the nicest ones were out of my price range. I have always loved colourful things, so I wanted to include some colour in the dress…."

Love My Dress Wedding Blog – Photography Copyright (c) 2012, Aga Tomaszek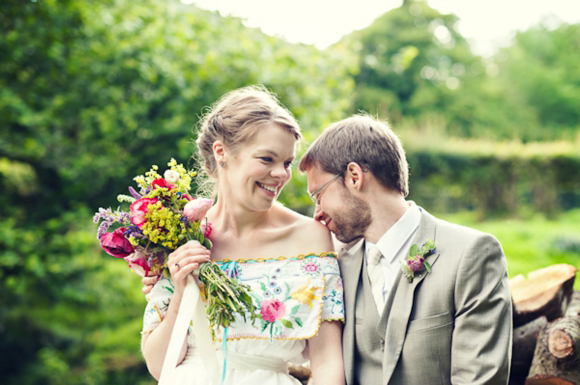 "We hired Charlie Ryrie at The Real Cut Flower Garden.  I think the part of the wedding that I got most excited about in planning were Charlie's wonderful flowers. She was kind enough to show me around her field beforehand, full of all sorts of beautiful, wild looking plants.
The week before the wedding was very rainy, so my bouquet was a surprise on the day, and it was wonderful! Delicate poppies and cornflowers and many others that I don't know the name of. She did an amazing door surround for the church and jugs full of blooms for the tables. The wild looking abundance of them really was special…"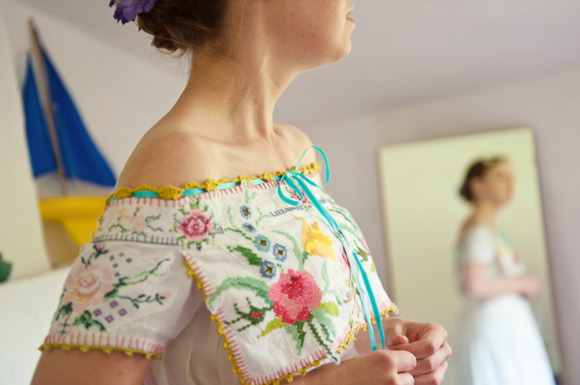 Frances wore real flowers in her hair, prepared by Charlie of The Real Cut Flower Garden…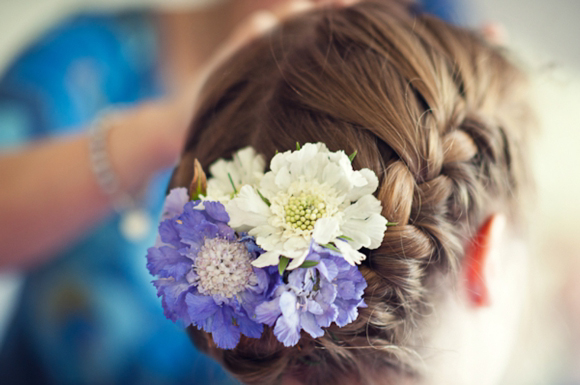 "I saw this dress on a photographer's blog which I absolutely loved  but of course it was vintage and un-repeatable, so I decided I had to make my own, just taking some inspiration from it.
I kept the shape of my wedding dress simple because I didn't trust my sewing to be up to a really complex task (in an ideal world I would have had long sleeves, but these were too difficult). I kept the embroidery in the top area for simplicity and appliquéd embroidery from the old tablecloths in that area. I learned to crochet from You Tube for the decorative borders…"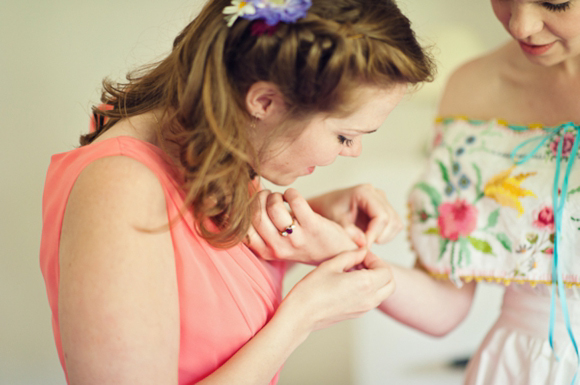 "I wore espadrilles from Kurt Geiger as I didn't want heels to sink in the grass!"
"I was still deciding between two colours of ribbon to thread through the border half an hour before the wedding!
I'm so glad I made my dress as it was a really fun experience, and I got to wear exactly what I wanted. The only thing I couldn't do was the hem and Snezhana from Finiks dressmaking saved the day. She also made my mother's dress and jacket for the wedding…"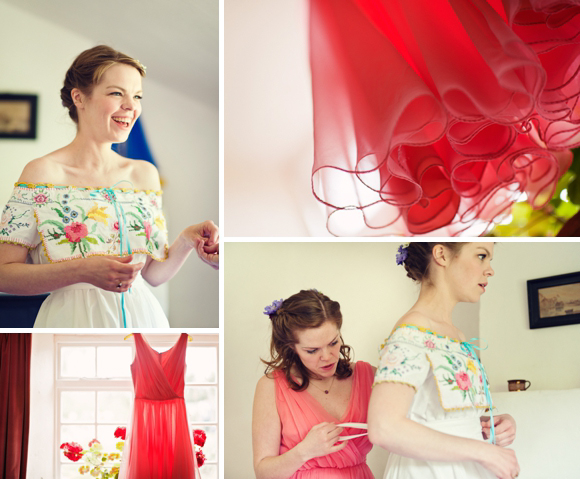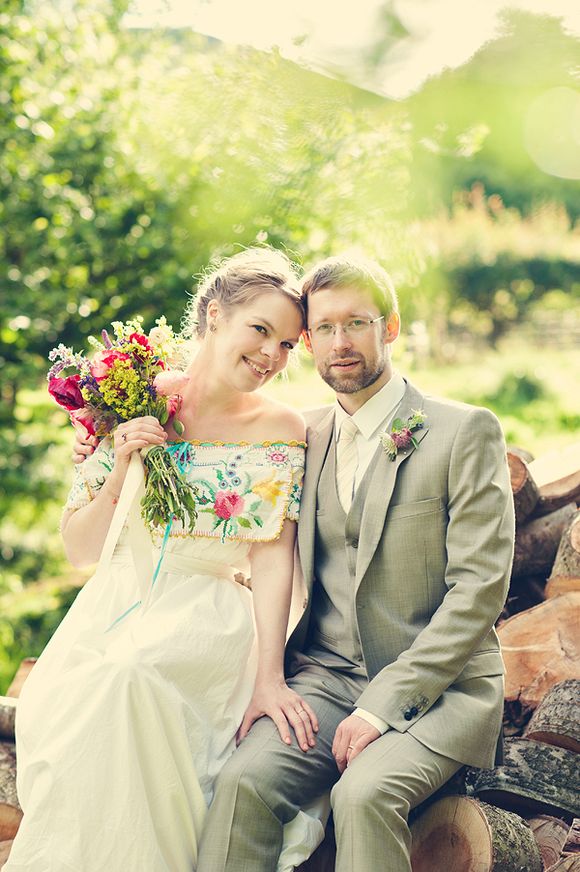 "My Mum and I made miles of bunting for weeks beforehand, which we used to decorate the garden and marquee. We pinned up some baby pictures of Rob and me (worryingly similar looking) and had lots of balloons too, and of course Charlie's wonderful jugs of flowers…"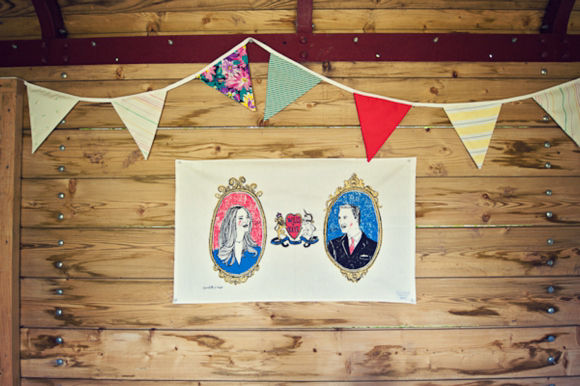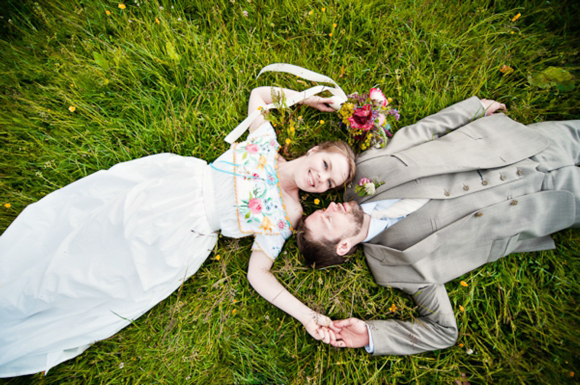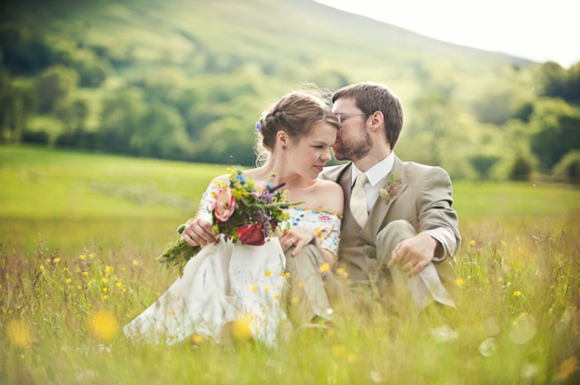 "The cake was a Victoria sponge made by local lady Lucretia Wood-Cole who makes delicious cakes for the WI stall in Hay Market every week. I decorated them with berries and tried to get them to stand on top of each other with cake sticks. It worked fine in the morning, but by the time it came to cut them they had collapsed, which made for some comedy moments with the wedding photos. It tasted lovely, though!"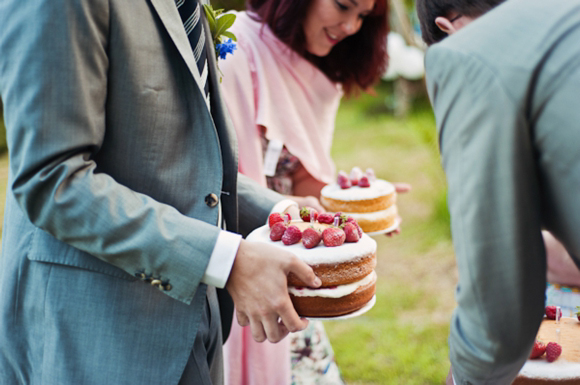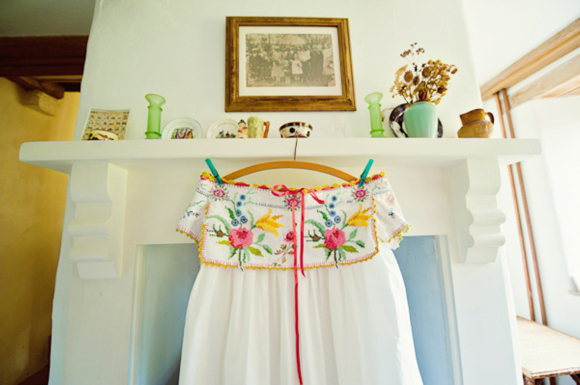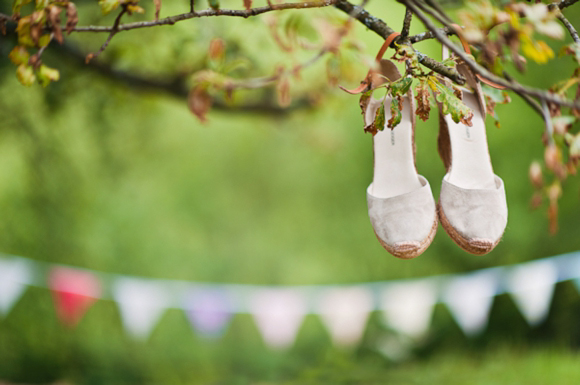 "I wore a necklace – a vintage coral heart on a gold chain borrowed from my sister, which I wore around my wrist…."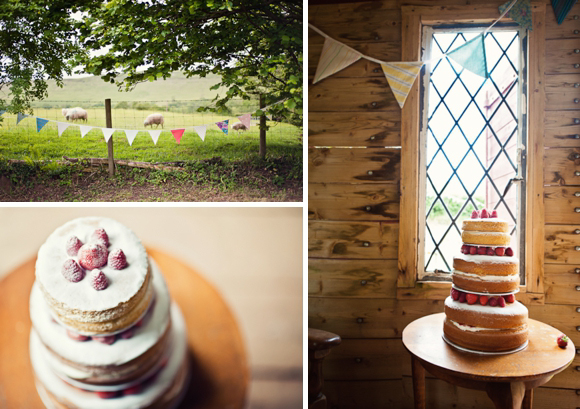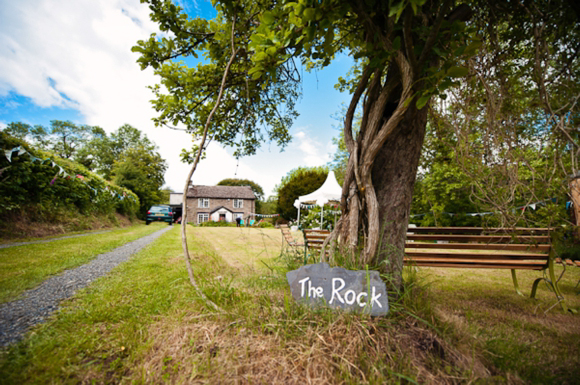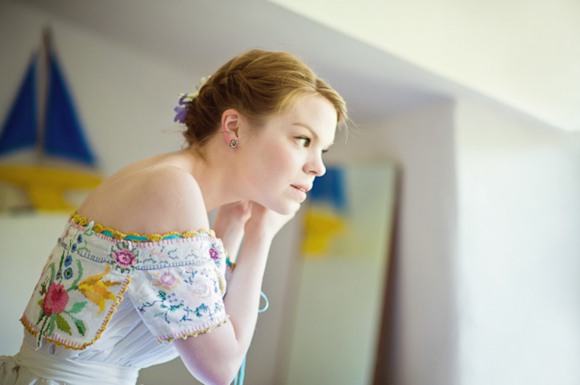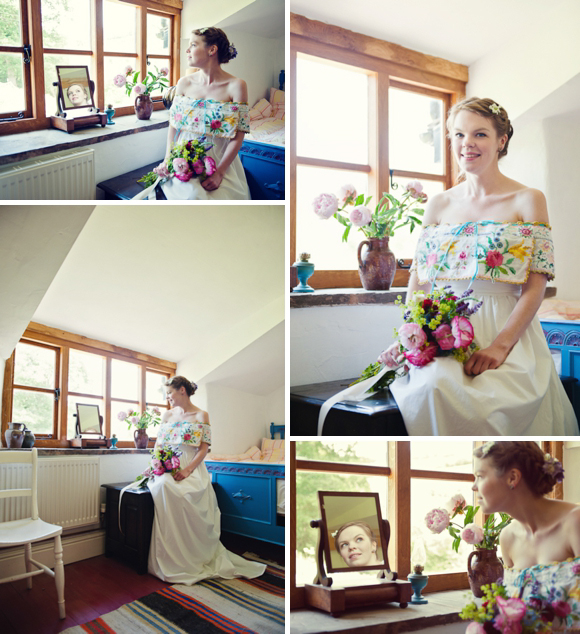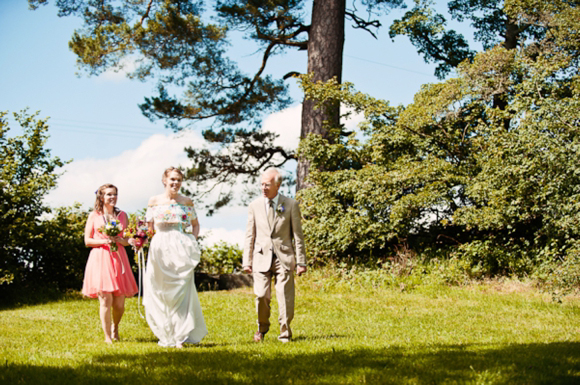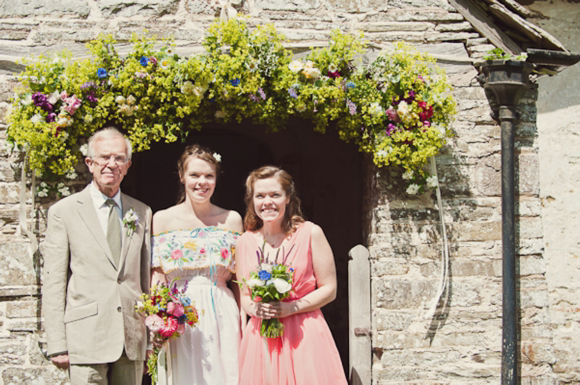 "My Dad walked me up the aisle, but we didn't do the "who gives this woman" bit as it felt a bit archaic and un-feminist.  It was supposed to be the waltz from Swan Lake, but our lovely organist played some other bit from Swan Lake that I didn't even recognise. It probably pays to get them to a least hum it when you're discussing it beforehand so you know you're singing from the same hymn sheet (literally)! It was fine, though…"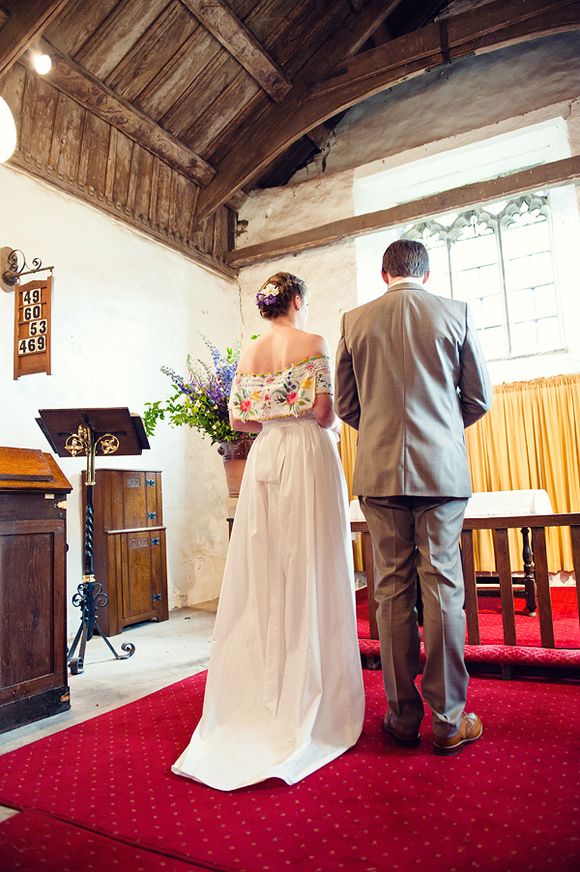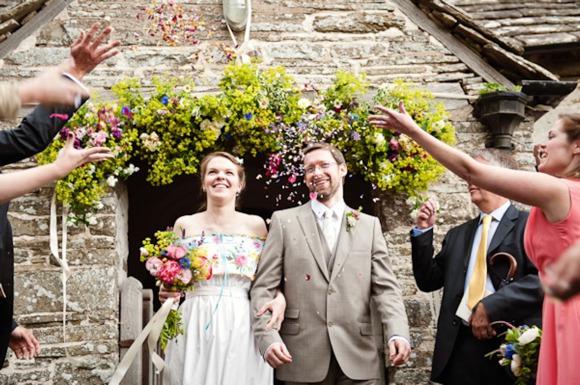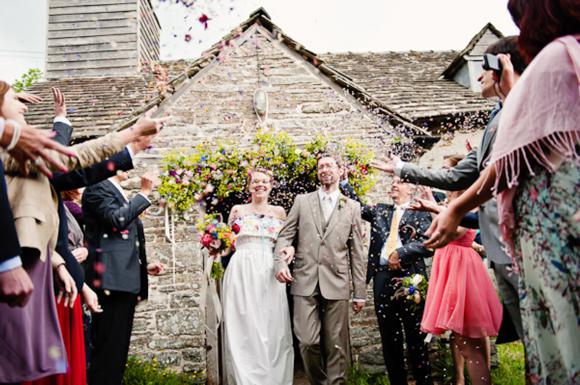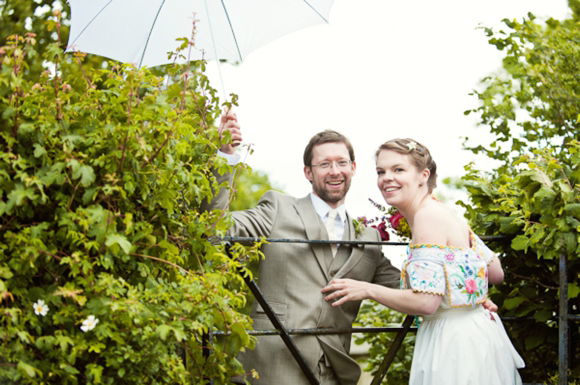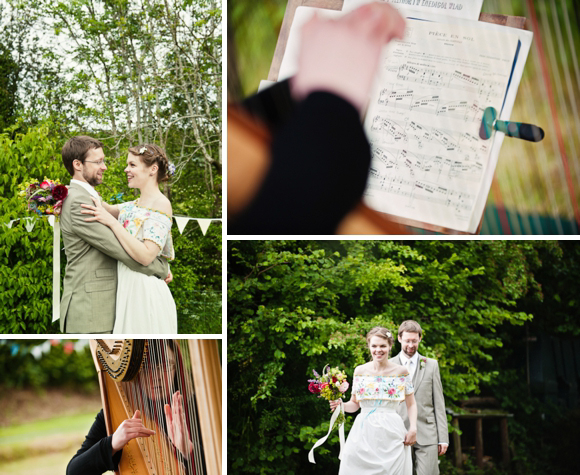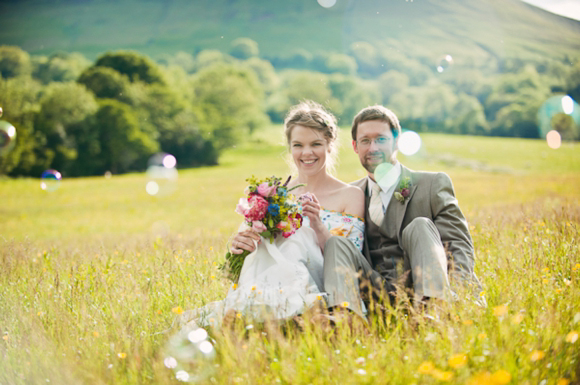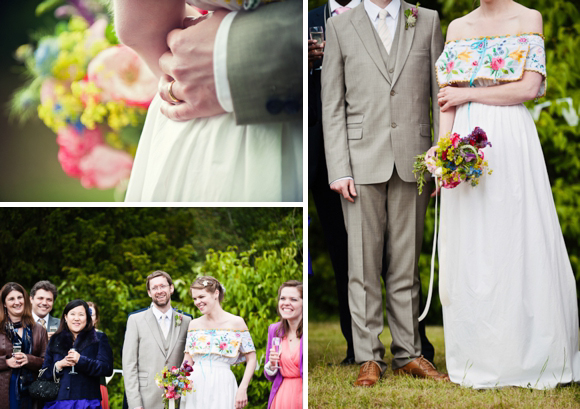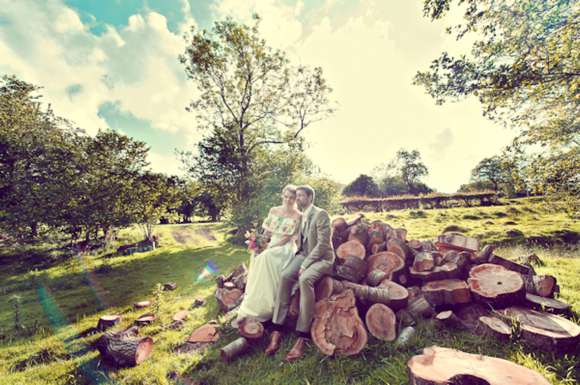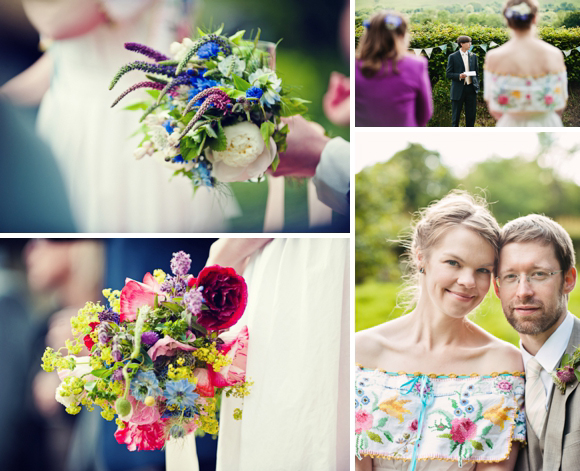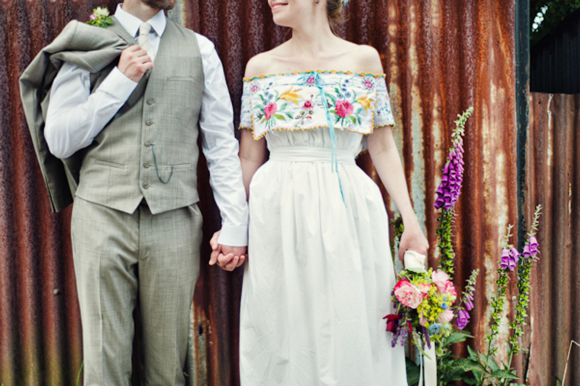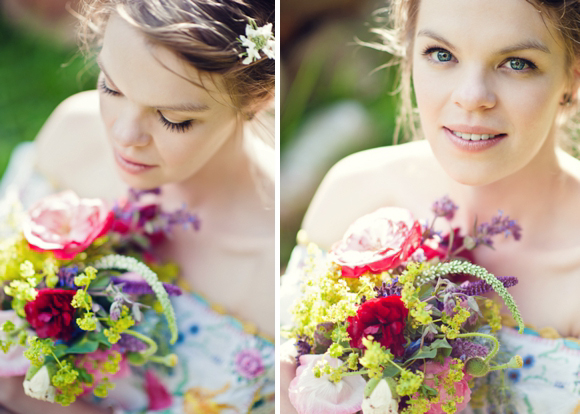 "Our catering company were the White Haywood Farm Restaurant, led by Pauline Goodwin.  She provided a wonderful barbeque, with meat raised on her farm, a mile down the road from us. She provided salads and trifles and strawberries for the guests and her daughter and friends were waitresses. It was delicious and informal and we loved it…"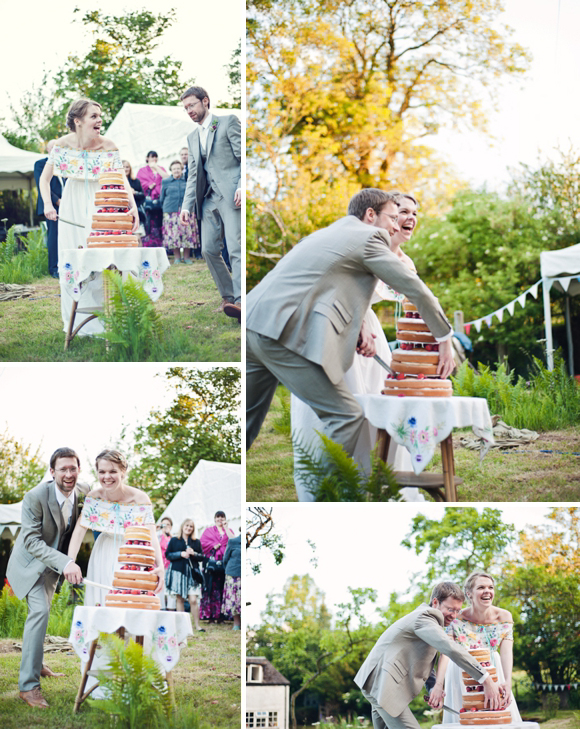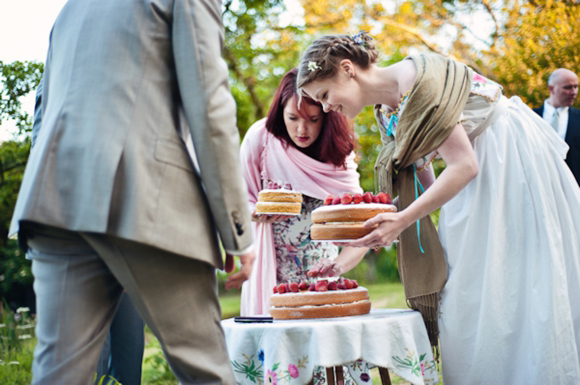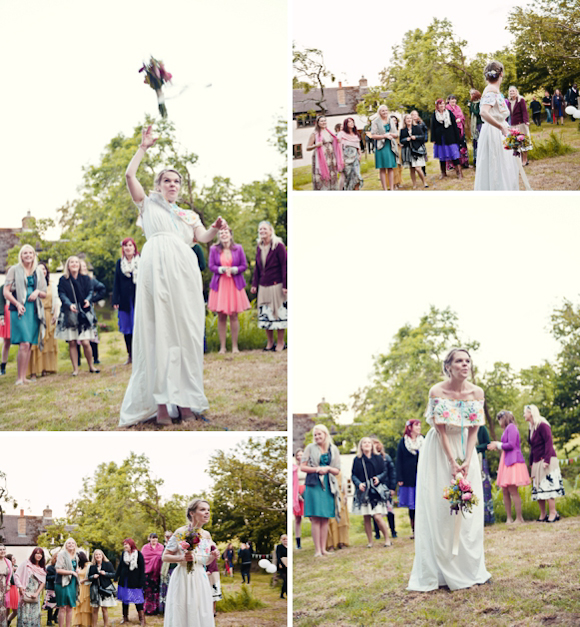 Words of Wedded Wisdom…
"Make sure your guests are comfortable and have enough to eat and drink! If I could turn back time I'd have hired a marquee heater. Try and talk to as many people as you can – I worried afterwards that I'd missed people out in the flurry of it all. Be true to your own style, don't buy everything that the industry says you 'should' have, and enjoy the day!
We wanted the wedding to be beautiful, informal and fun. Family and friends there and enjoying themselves was very important to us. The garden setting was a big feature, and with choosing local people to do the catering and hair, etc, it all seemed to fall into place. I wanted beautiful wedding photographs because they are a wonderful memory of the day, so we chose carefully there. I wasn't too fussed about a theme, so we just chose things we liked individually and hoped for the best!"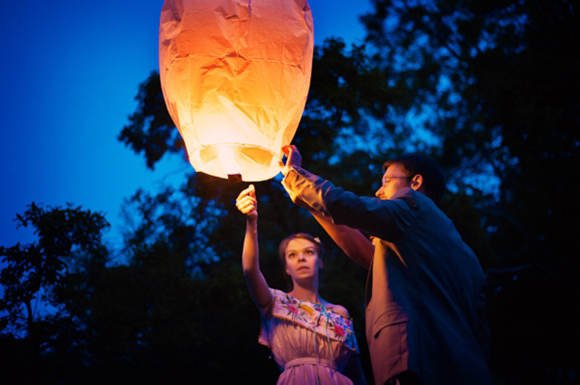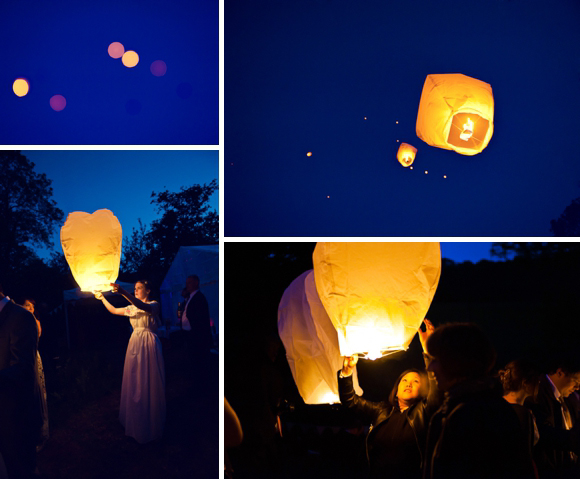 Such a wonderful, delightful email, with the most unique and pretty wedding dress there ever could be!
Rob, Frances, I do believe it is almost your very first wedding anniversary.  Big congratulations to you both! Have a wonderful time and thank you for sharing all this wonderful, inspirational information.  Huge thanks too, to Aga Tomaszek for so very kindly sharing these photographs!

"Our photographer was Aga Tomaszek. We found her by researching on the internet and were instantly captivated by her light filled images and colourful style. She was absolutely lovely to be with and so hardworking, I was amazed by her. Her photos are something we will treasure forever. 
Hair and make-up Artist – Mrs Wigglesworth, a local hairdresser did mine and my sister's hair and we did our own makeup…"
Were to even start on how lovely this all is?!?
Much love all,
Annabel

♥
Photographer – Aga Tomaszek
Brides dress – made by the bride using embroidery cut from vintage table clothes & fabric from MacCulloch and Wallace
Brides Shoes – Espadrilles from Kurt Geiger
Grooms Suit – The Kooples + brogues by Grenson
Bridesmaids – vintage dress
Flowers – The Real Cut Flower Garden
Cake – Lucretia Wood-Cole who makes delicious cakes for the WI stall in Hay Market
Catering – White Haywood Farm Restaurant