"My advice for a Bride-to-be would be to not get too overwhelmed by it all; your wedding is only as big as you make it.  It is easy to get caught up in the stress and worry over whether things will go right, but in the end, all that matters it that the important people in your life were there to celebrate you and your husband.  If you remember this, you'll be able to enjoy it all much more easily…"
Morning guys and gals!  I actually have so much to blog about right now I am quite fit to burst at the seams with it all if I could blog it all in one day, I would, but that would ruin the surprise of having to wait, so I thought I'd start you off with this real wedding feature today set in Portugal.
This isn't a detail heavy wedding at all, it's all about those lovely duck egg blue shoes and that little red cardigan and vintage inspired wedding dress combo – which is just perfect…
Love My Dress Wedding Blog – Phototgraphy Copyright (c) 2012, Piteira Photography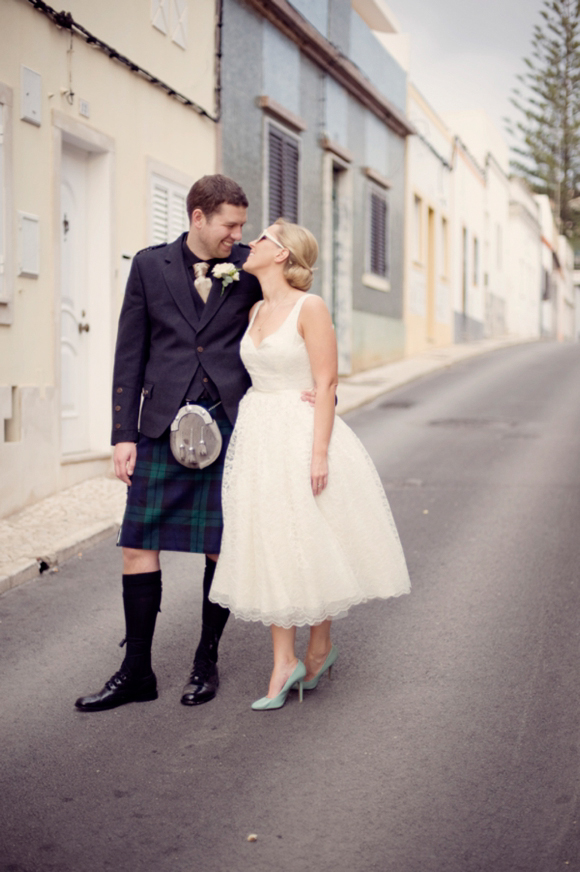 Bride Lindsey is American and her husband Alex is from Scotland.  They chose Portugal for their destination wedding because it was a good halfway point between the two countries – and also for the beautiful 'pretty-much-guaranteed' sunny weather.  So what did it go and do? Rain of course! But what does that matter on your wedding day?!
Lindsey and Alex had a truly intimate wedding with only nine people present in total. I adore Lindsey's choice of dress too – her Mother's original wedding dress, that she had amended and slightly redesigned by a US based seamstress for a pefect fit.  Isn't that wonderful?
"Honestly? Wearing my Mother's wedding dress had never been the plan, but I do love lace and vintage things, so it seemed like the perfect idea.  Plus, this way I was able to have a dress designed to complement my body shape…"
"I hate to give away this secret, but my shoes were actually from New Look and cost £17.99!  But after buying three other expensive pairs that weren't exactly what I wanted, I'm happy to have saved some money and found the perfect shoes!"
"We chose Portugal to host our wedding, because it wasn't Scotland or the US, and it was supposed to be nice and sunny! We chose Tivoli Marina because it looked beautiful in photos, and we wanted to be married outside, and near water…"
"I love the feeling of the 1920's-1940's, but it's hard to pinpoint one decade that I love more than the rest.  I am a very simple and classic person, one who doesn't like sparkle or flash, so I wanted the wedding to reflect this…" 
"The wedding coordinator asked what types of flowers I would like for the bouquet and buttonhole, and I said anything simple, classic, and maybe vintage inspired.  What we ended up with was just perfect, thanks to our Florist Suzannah Collof…"
"My hair accessory was also from New Look and cost £3.99!"
"I walked down the aisle to Coldplay's 'Til Kingdom Come'…"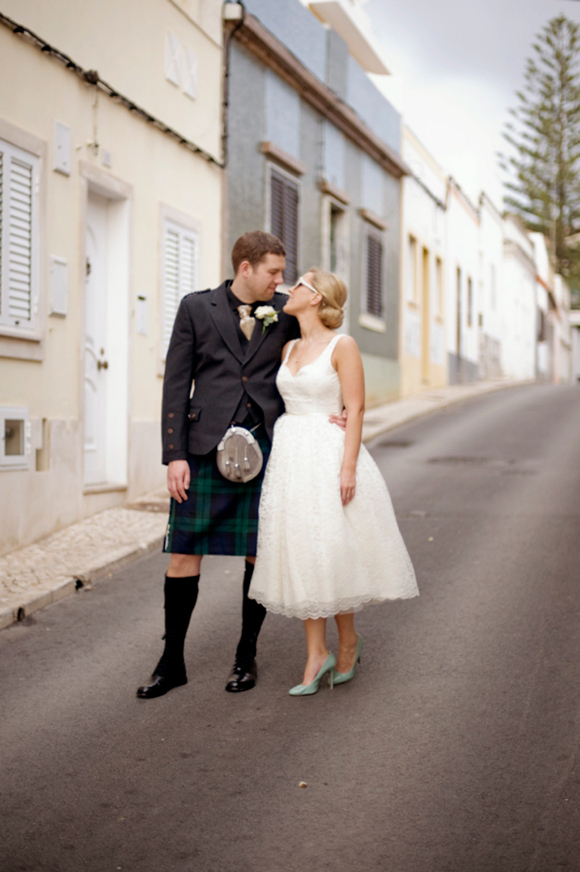 Words of Wedded Wisdom…
"I had planned for our wedding to be as stress-free as possible.  A wedding away would be easier, I thought.  And having two receptions that were more like parties than receptions would be simple.  I've never been more wrong!
I pride myself on being organised and pretty even-keeled, but I was in for a shock with all the planning.  A small wedding away and two 'party' receptions became three separate events to plan, which might be more difficult than having a 'normal' wedding and reception…"
A big thank you to Piteira Photography for sharing these images and congrautations to Lindsey and Alex too on their lovely relaxed if not rainy wedding day – you wouldn't have noticed it had it not been for those brollies guys! And who cares anyway, you look completely fabulous!
"Our photographers were Piteira Photography – this couple have some ridiculous photography talent.  They made us feel comfortable, beautiful, and light-hearted. 
Not only have they have done outstanding work with our photos, but we're also happy to call them friends."
So, New Look eh? I'd love to hear from more brides who may be plundering into the budget bride bucket to pull off a very non-budget and stylish look – let's be having your ideas and experiences ladies.
Lots of love all and see you again mid-morning for our next blog feataz 
Annabel
♥
Photographer – Piteira Photography
Venue – The Tivoli Marina Portimão Hotel, Portugal
Wedding Planners – Sonho a Dois Algarve Weddings
Brides dress – Suzy Zeller, Seamstress based in Indiana in the US
Brides shoes - New Look
Grooms Suit – Kilt via Slanj Kilts of Edinburgh
Florist – Suzannah Collof