Following on from the 1930's vintage perfume workshop I attended recently, Franky writes today on another fascinating session we attended together last month, where we learned all about the scents of the 1940s.  We hope you enjoy reading something a little different on Love My Dress this afternoon and would love your feedback at the end….



The sun was shining on Saturday 19th May, as Annabel and I strolled leisurely along the dusty London pavements to a quiet little street near Marble Arch. We were on our way to the specialist perfumery Les Senteurs  for the latest in a series of perfume workshops hosted by Lizzie Ostrom, otherwise known as Odette Toilette.
Lizzie is the founder of Scratch + Sniff Events , an initiative that aims to take scent appreciation out of the exclusive, niche, luxury world it currently resides in, and transform it into something anyone can come together to talk about and enjoy…
Image Credits:- Pour Une Femme by Caron advert  and Fracas by Robert Piguet advert 
The Vintage Scent Sessions  allow you to immerse yourself in a specific period of fragrance history. Annabel attended the 1930s workshop back in March , and there are sessions relating to the 1950's and the 1960's/70's due to take place in July and September respectively. 
Les Senteurs itself is a bright and peaceful boutique, a small haven of perfume, filled with beautiful displays and friendly staff. My eyes darted about frantically as we walked in, as I tried to take in all the varieties of perfume on display. As a self-confessed fragrance addict, the experience was akin to letting a small child loose in a sweet shop.
Annabel and I were quietly ushered downstairs to the 'scent salon' where the workshop was to take place. Having been handed a generous glass of prosecco each, we were instructed to help ourselves to some rather delicious looking cakes. Naturally we obliged and hastily fell upon the voluptuous Victoria sponge as if we hadn't eaten for hours.
Eventually the room settled into a reverent silence and Lizzie began to guide us on an olfactory journey through the 1940's…
Image Credits:- Femme by Rochas advert and Bandit by Robert Piguet advert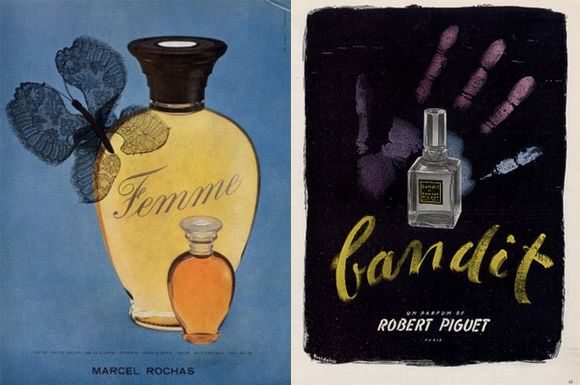 We listened to tales of WWII and its impact on the world of perfumery. Lizzie described the difficulties faced by manufacturers who struggled to cultivate enough flowers for scent production when land was needed urgently to grow food instead. The scarcity of glass affected the ability to manufacture ornate scent bottles and a lack of alcohol led to an increase in powdered perfumes.
Lizzie painted an image of Nazi occupied Paris with fashion houses and perfumers forced to cater for the wives and girlfriends of powerful German men. She also spoke of the American G.I.s who travelled to the US bearing gifts of Chanel No. 5 for the girls waiting back home.
A connection was made between perfume and the rise of film noir. We collectively pondered which scent might be worn by a classic femme fatal as Lizzie played clips from popular Hollywood movies of the time.
Links were also made between fashion and fragrance. A beautiful vintage dress provided by Rebecca Rose from Juno Says Hello provided a stunning visual reference for our discussion. We also pored over numerous vintage perfume ads and discussed the image created by the many marketing techniques at play in them.
Interspersed with all this was the opportunity to sample a range of original vintage and modern day alternative perfumes. Annabel and I inhaled deeply each time we were passed a strip to smell, allowing ourselves to be transported to wherever the scents wanted to take us. The range of perfumes we sampled included Femme by Rochas, Farnesiana by Caron, Ma Griffe by Carven, Bandit by Robert Piguet and L'Air du Temps by Nina Ricci.  
Annabel was initially smitten with Pour Une Femme by Caron, a perfume based on an original first created in 1942. This scent opens with a burst of fizzing aldehydic notes, likened by Les Senteurs to a crisp white wine, before revealing Damask rose and a sensual base of oilbanum, myrhh, ambergris and vanilla.
I, on the other hand, fell deeply in love with Fracas by Robert Piguet, a perfume inspired by Rita Hayworth's iconic performance in Gilda. Fracas stands as the classic tuberose fragrance of its day; a burst of peach and orange blossom opens into waves of gardenia, jasmine and stunning profusions of tuberose. It was love at first sniff if you will, and I've already decided Fracas is to be the scent of my honeymoon to Thailand next month.
Image Credit:- Visa by Robert Piguet advert and Farnesiana by Caron advert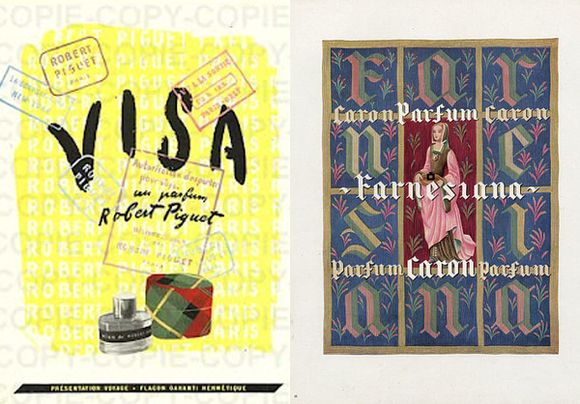 For me, the true beauty of the Vintage Scent Sessions, and the reason I would encourage you all to attend, is that they provide a rare opportunity to sample fragrances that otherwise might not even make it on to your perfume radar.
The delightful manner in which Lizzie contextualises the vintage scents reflects the fact that perfume isn't created or experienced in a vacuum. Although a person's choice of fragrance is deeply personal, Lizzie showed me that to wear scent is a distinctly 'social' act. The world of fine fragrance is bound up with the culture that creates it. Exploring this notion through the workshop was both fascinating and inspiring.
If you are interested in attending any of the future Vintage Scent Sessions hosted by Scratch & Sniff, visit the Scratch + Sniff Events website or email Odette Toilette directly. Odette Toilette can also be found on Twitter.  Tickets are £35 each, but make sure you book quickly as places are limited and fill up very fast:-

  Saturday 14th July 2012
The 1950s: the teen, the blonde and the beatnik.

  Saturday 15th Sept 2012
The 60s and 70s: cold war, space odysseys and the opium barge.
(Booking opens shortly)
All that remains for me to say is this:  Annabel, pretty please may I go to the next one?!

ps – Yes you can!