Morning gorgeous peeps! How was your weekend? Oh boy oh boy, have you been watching the Olympics? The sense of national pride in our house has gone stratospheric! WHAT A WEEKEND! I absolutely love the shared sense of patriotism and love for athletics right now, such inspirational young athletes inspiring so many different generations – the whole world watching at once. It's electric
Anyway, the wedding blogs go on my dear loves, so say hello to Susie and Thomas, tied the knot on 14 July this year and celebrated with a reception Northwood House in Cowes on the Isle of Wight.
Those balloons people!!
"My bridesmaids are all such individuals – it didn't seem right putting them all in the same dress. 
As I knew I wanted things colourful on the day it made sense for them all to take a different colour (the colours they chose themselves}.  Their dresses were from Evening Dresses Now.  It was a bit of a risk using an online company to do the bridesmaid dresses. However, trying to find one dress in four different colours (that I like) was a hard task to do.
Whilst looking through a wedding magazine sometime ago, I had seen a bride with some beautiful pastel coloured balloons.  I scoured the internet for ages trying to find the right ones, and finally discovred www.balloons.co.uk!  They were perfect – and came out in the photos just how I had hoped…"
"My veil was from Wedding Veils Direct.  It was one of the best money-saving measures. I got exactly what I wanted at a fraction of the price.
"My bridesmaid's dresses from Evening Dresses Now were very reasonably priced, came very quickly but just a little money needed for alterations in the UK.  The girls wore one-shouldered Grecian style chiffon dresses in: shamrock, golden yellow, coral and cornflower blue…" 
"Everyone got a hand painted/decorated beach pebble as a favour. We wanted to give everyone a token from the Isle of Wight and our wedding. On each stone we painted the guests name.
It was a painstaking task for my mum, sister and I. We also asked everyone to fill a pink and white sweetie bag with their favourite sweets from our sweetie table to take home. It was these kinds of details that I'd spent months on – so worth it!"
"I wanted the venue to look magical on the day; full of fairy lights, candles, trinkets and colours. Instead of flowers on the tables I wanted to create little trees that would be full of little surprises. I asked Flowers by Nic to create branches that were tall enough so as not to obscure people's eye line and fix it onto a mossy woodland base.
From there she tied little real flowers to the branches. I added scented candles and dangling homemade charms. My Location planner Georgina sourced fairy light netting for the ballroom walls, and a huge black and white dance floor.
The rest of the venue was covered in lanterns and candles. Our table plan was homage to the islands we visited in the Caribbean where Thomas proposed to me last year – with the top table, Tobago Cays, being the very island he popped the question. We asked guests to write us post cards to put in our guest book…"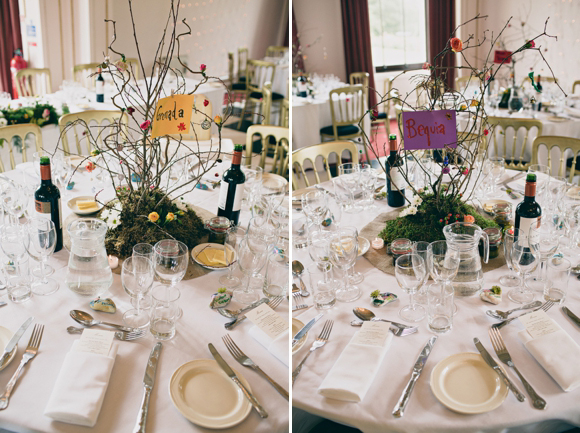 "Nic of Flowers by Nic was the first person not to dismiss my table decoration ideas as 'crazy'. When I told her my ideas (and showed her my amateur sketches) she was on board straight away! I described my theme as almost magical; very colourful, trinkets, alice-in-wonderland style and she loved it.
I wanted my bouquet to be wild, full of colour with lashings of my favourite flowers: gypsophila. As the bridesmaids were going to be in bright startling colours I wanted classic bouquets of gypsophila to unify and compliment them…" 
"Our photographer was Jason Mark Harris.  From the first time we met Jason and saw his previous work, we knew the photographs were going to be stunning. We had an engagement shoot with Jason a month previous to the wedding and this was crucial! It really loosened us up.
We couldn't stop laughing at how silly we felt at first having our pic taken while holding hands or having a peck. By the end we felt totally relaxed and just enjoyed being captured together naturally.
This preparation meant that on the day from the offset we felt happy in front of the camera. We are so happy with the pictures – they capture the day precisely and beautifully…"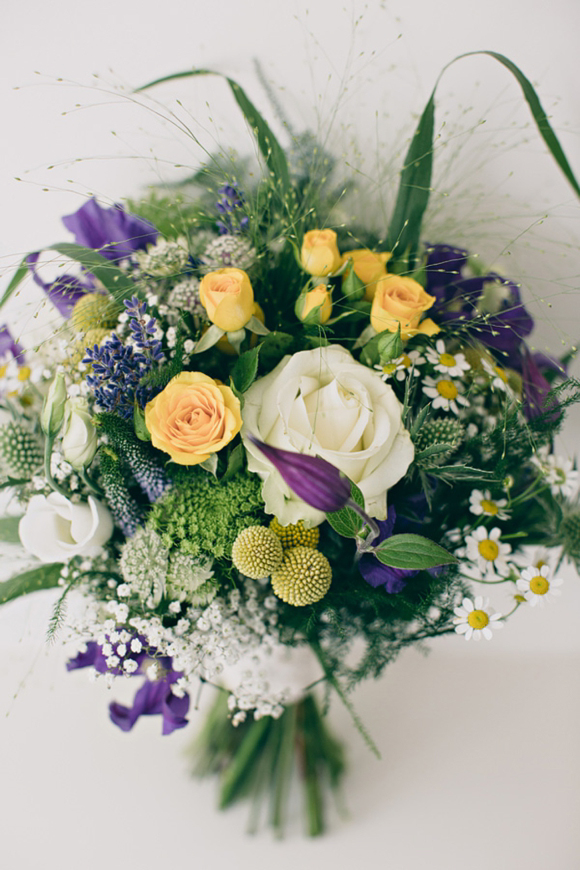 "All my wedding jewellery was a gift from my mother. – It made up my something 'old', 'new' and 'borrowed'. My 'blue' was Emily,one of my bridesmaids, in her dress."
"A friend Edward Day provided us with a beautiful Old Standard car for the day. Ed was the best chauffer ever – which helped as every time I got in and out of the car it started to rain. The car was gorgeous."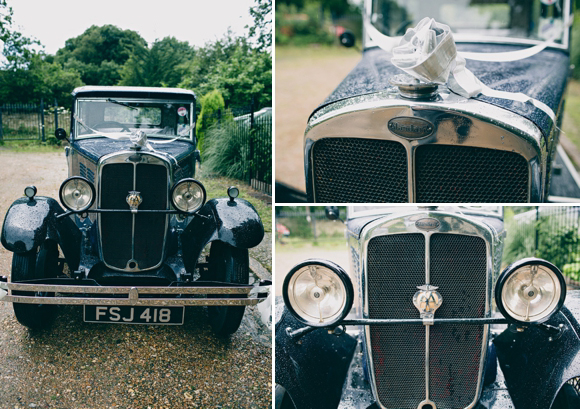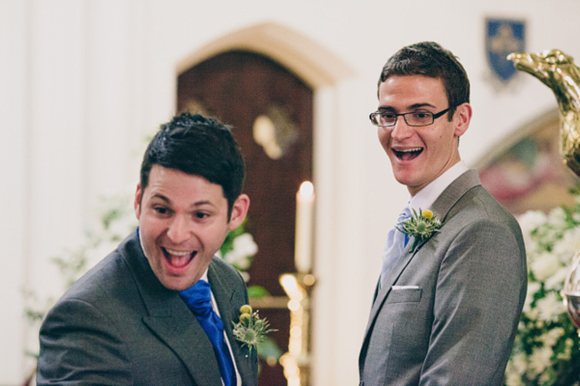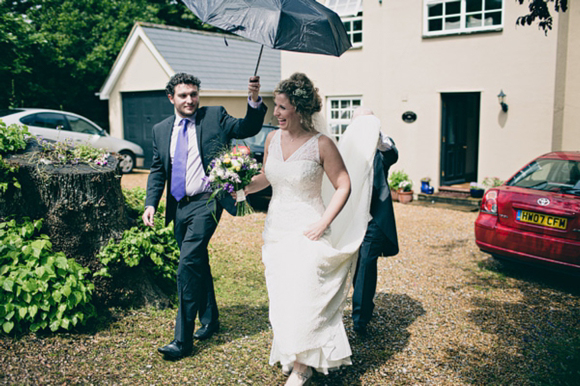 "The most important part of the day for us was in the church. It was important for me that my dress and bridesmaid's dresses were modest and appropriate. The rest of the day just had to reflect Thomas and I as people; fun, colourful and full of love for the people who mean the most to us.
Whether we knew it or not having grown up on an Island and 'island life' has conditioned Thomas and I as people. There were elements of the island throughout our wedding.
St Mary's church has seen family and friends christenings, weddings and funerals; Our caterers use mostly Island produce; even our guests received Liz Earle products in their hotel welcome packs!"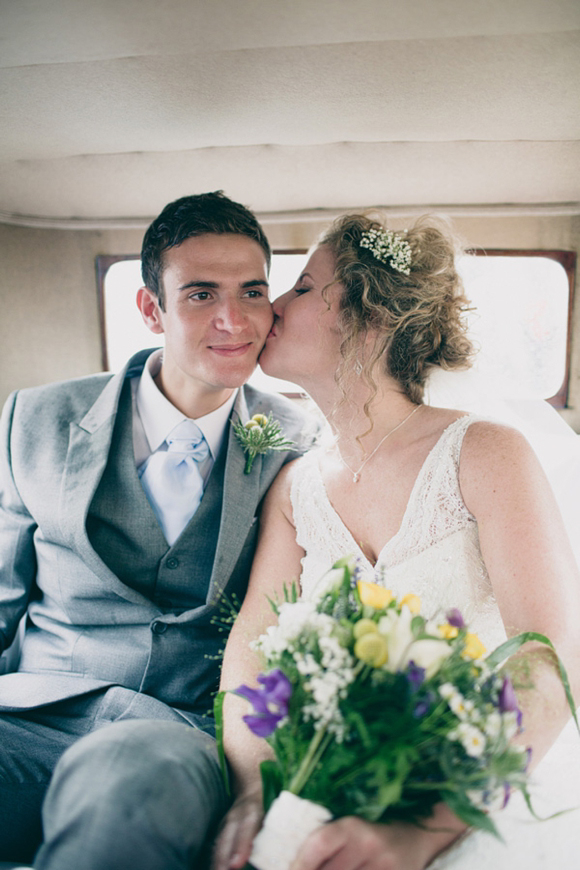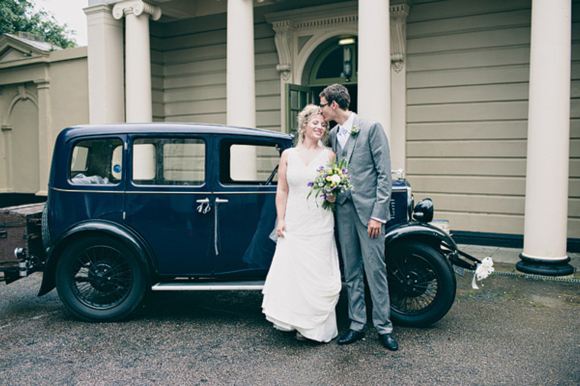 "We asked Alison of Centrepiece Cake Designs to create our vision of a cake that would feed 120 people. We wanted a 3 tier cake, with each tier being in different coloured icing. Thomas's dad Greg loves his marzipan fruit and we thought the colours of marzipan fruit linked in with our day perfectly.
Each layer of colour corresponded with fruit of the same colour. It was topped with a pair of cherries linked together with a stem. We loved it, it was so fun, oh and happened to taste amazing too!"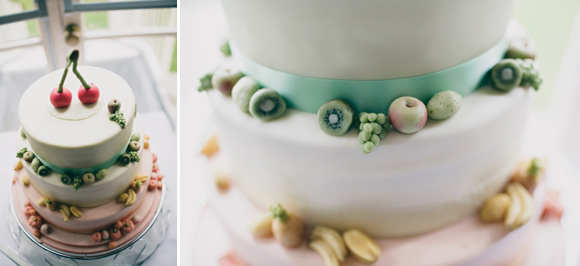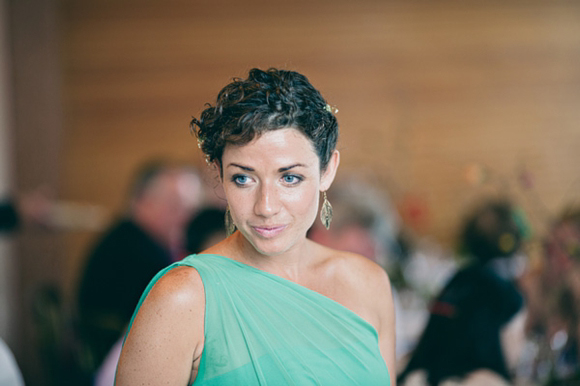 "Our first dance was Hold You by Gyptian. We couldn't literally have any other song because that had been 'our song' for so many years. Whilst in the Caribbean last year the song was played everywhere, it was the theme tune to our engagement! It had to be…"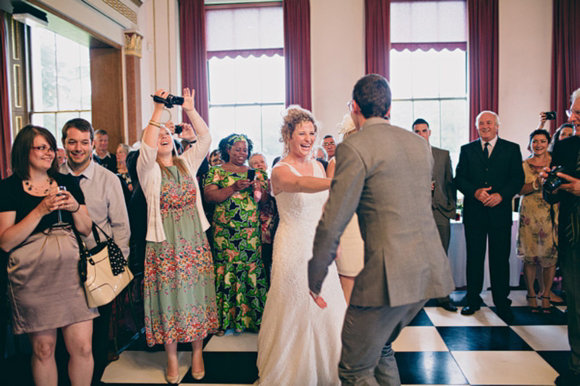 Words of Wedded Wisdom…
"Get the big things planned and out of the way (confirmed in writing) so you can enjoy yourself with decorative ideas in the months leading up. Big things: Registering your wedding, venue, entertainment, catering, transport, invitations, photographer, florist. I had far too many ideas theme wise – if you narrow it down early on, then you are more likely to pick bits and pieces up cheaply and early on. I knew I would always have candles and lanterns at my wedding and in the end probably saved hundreds of pounds picking them up in sales and car boots in passing…"
Plase tell me what you loved most about this wedding!
Much Monday morning love all 😉
Annabel

Credits
Photographer – Jason Mark Harris
Venue – Northwood House in Cowes on the Isle of Wight
Location Planner – Georgina Stead at Casero Cuisine
Brides dress – Perfection Bridal and Menswear – 50 Albion Street, Glasgow
Brides Veil – Wedding Veils Direct
Grooms Suit – A Suit That Fits + cuflink borrowed from the brides father. 
Bridesmaids – Evening Dresses Now
Cake – Centrepiece Cake Designs
Florist – Flowers by Nic
Transport – supplied by a friend
Hair and make-up Artist – Rebekah Terrell
Catering Company – All About Catering
Entertainment – The Soul Lounge
Balloons – balloons.co.uk