Oh I so, so love it when a reader who loves Love My Dress ends up featuring on these very pages. It's like the whole big wedding blog adventure coming full-circle 😉
These lovely photographs were sent in by photographer Rebecca of Rebecca Wedding Photography, after she attended the lovely relaxed, London wedding of Lauren and John, who got married on 26th May at St Mary's Church in Stoke Newington, followed by a reception held at Conway Hall in Holborn.
"I love all things vintage and so this
was a big inspiration on the styling of the venue – Love my Dress was a constant source of inspiration
and I looked at the site every day in the months leading up to the
wedding!
I wanted to create a
feeling of how weddings used to be with a sort of homemade, nostalgic
quality with everyone mucking in. Guests could help themselves to drinks
and even helped us to clear the room at the end of the night. Everyone
really got into the spirit of the day and people said that it had all
the aspects of a grand wedding while being really fun and personal.  Most
of all we wanted our wedding to reflect us as a couple and found that
by choosing things we both love it kept the planning process simple and
really personalised the whole day."
Love My Dress Wedding Blog – Photography Copyright (c) 2012, Rebecca Wedding Photography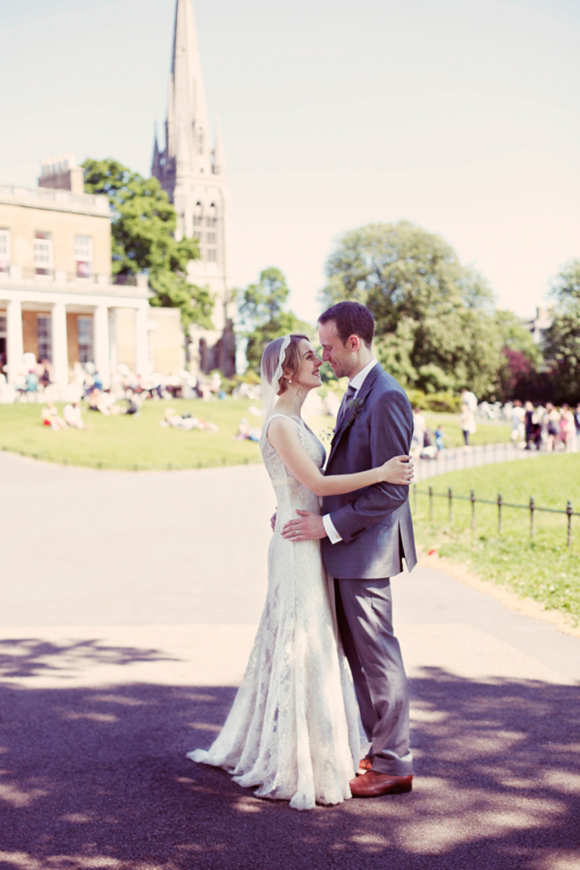 "Travel is also a big part of our lives and we've been to
almost 30 countries together. Our table plan was an old suitcase lined
with a map of the world and filled with postcards of places we have been
together. We also used luggage labels for the place settings."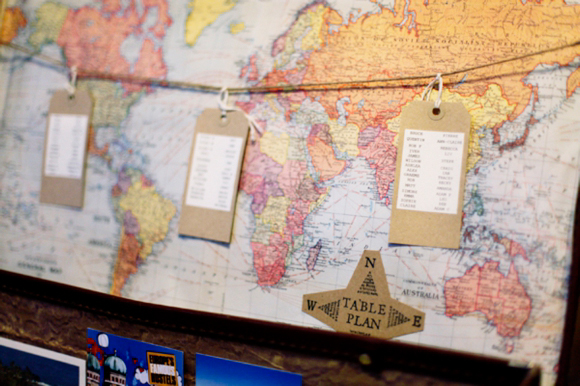 Lauren's dress was the 'Shangri La' design by Caroline Castigliano. Purchased from Brides Dress Revisited, Otford, Kent. 
"My
mum found my dress! I tried a lot of dresses on but none of them gave
me that 'this is the one' moment that people talk about. I was starting
to think that wasn't going to happen for me when my mum sent me a photo
of a dress she'd seen in the window of a small bridal shop called Brides Dress Revisited,
in Otford, Kent.
The shop specialises in preloved and sample dresses so
allows you to get a designer dress at a cheaper price. I instantly fell
in love with the Caroline Castigliano design called Shangri-La. It
fitted my vision of my wedding dress perfectly with its vintage look and
the beautiful antique quality of the lace. I felt it reflected my
personal style which was really important to me. I went and tried it on
two days later and bought it there and then.
John wanted to buy a really nice suit that he could wear again rather than hiring one.  He purchased his suit from Alexandre of Saville Row purchased from House of Fraser."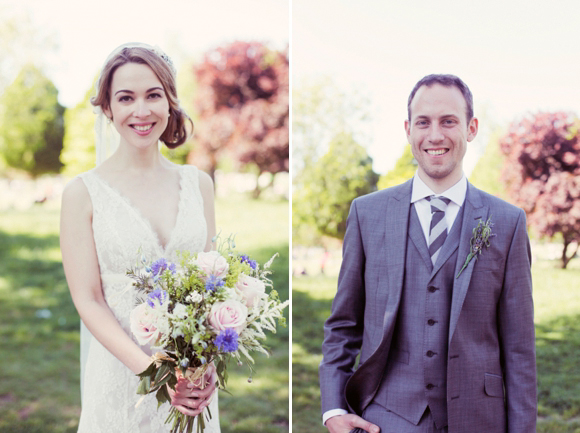 "I bought my veil from Luella's Boudoir
in Wimbledon Village. Rachel, the owner of the boutique, was a
fantastic source of advice and let me take my dress in to try on with
different accessories.
I knew I wanted a simple single tier veil and
felt that the one I chose with its lace trim fit with the vintage look I
was going for. I had the veil dyed to match the colour of my dress."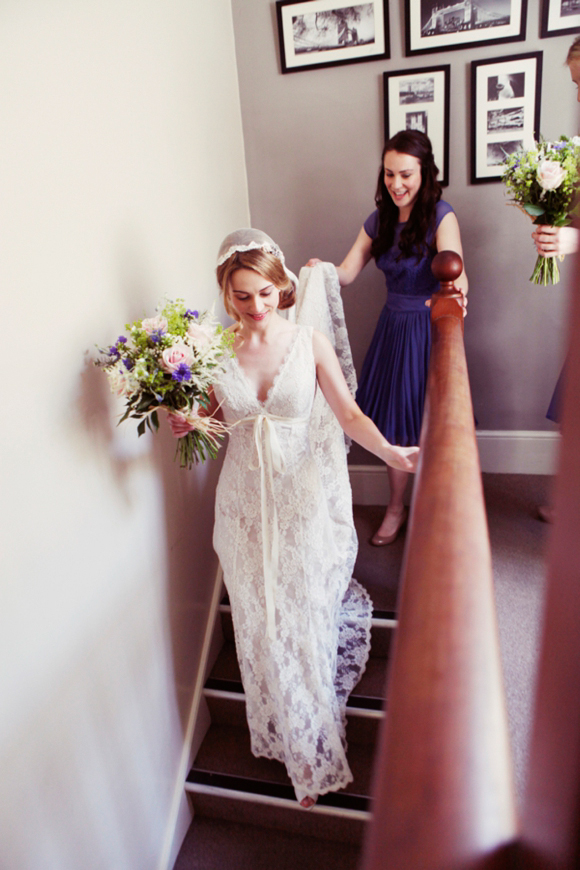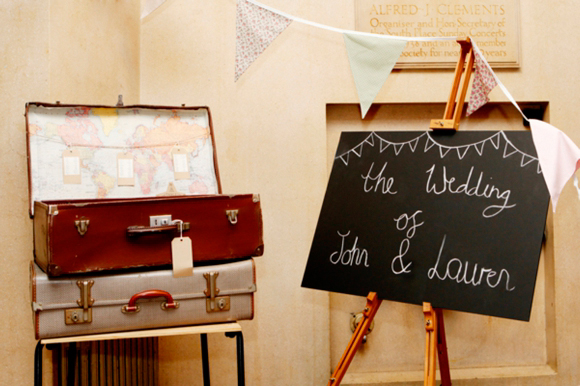 "Our florist was Flowers N16 on Stoke Newington Church Street.  I
wanted flowers that looked as though they'd been picked from an English
country garden but I had no idea what flowers would achieve this! I took
a few photos of bouquets I liked to Oya at Flowers N16 and described
the look I was going for and left the rest up to her.
I was delighted
with the end result! Our florist also filled jam jars that I had
decorated with raffia and ribbon and vases collected from charity shops
with fresh flowers which we used to decorate the reception venue. We had
fresh lavender for the buttonholes and I also used dried lavender to
fill some of the jam jars at the reception which was a budget friendly
way of adding more flowers to the hall."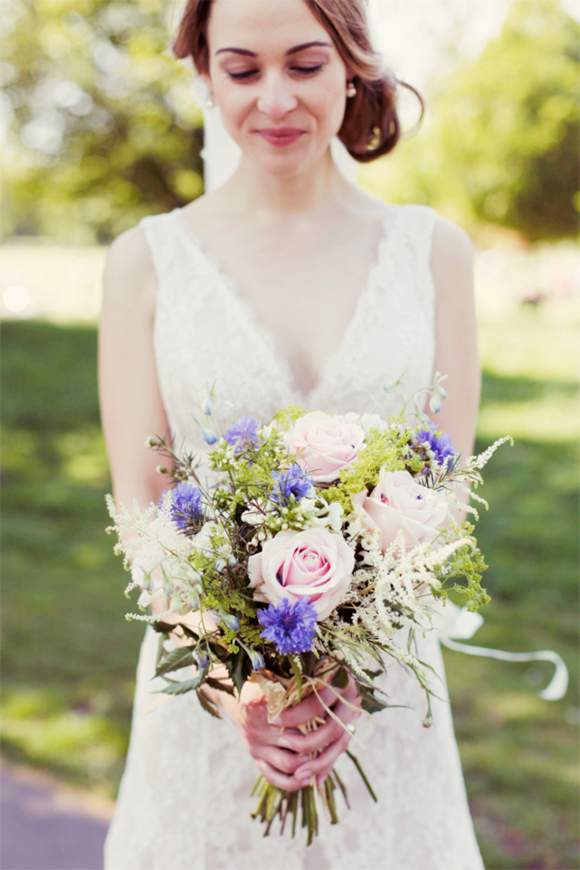 "We really loved the idea of our wedding day being a one off
event unique to us rather than fitting into a template provided by a
wedding venue. Where we live was a big inspiration as Stoke Newington
has a real village atmosphere and we were keen that our reception should
have a relaxed village hall feel. We wanted to do as much as possible
ourselves and this started with the save the date cards which we based
on an old movie poster for 'It's a Wonderful Life'.
We got a rubber
stamp made of the image on the poster of a man lifting the woman into
the air and used this to carry the image through onto the invitations
and order of service which we handmade. It became a bit of a logo for
our wedding day!"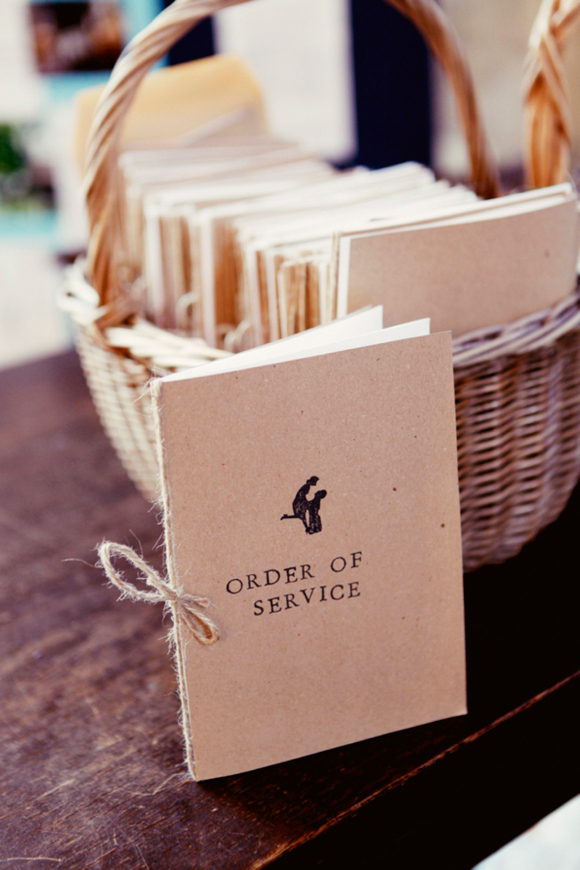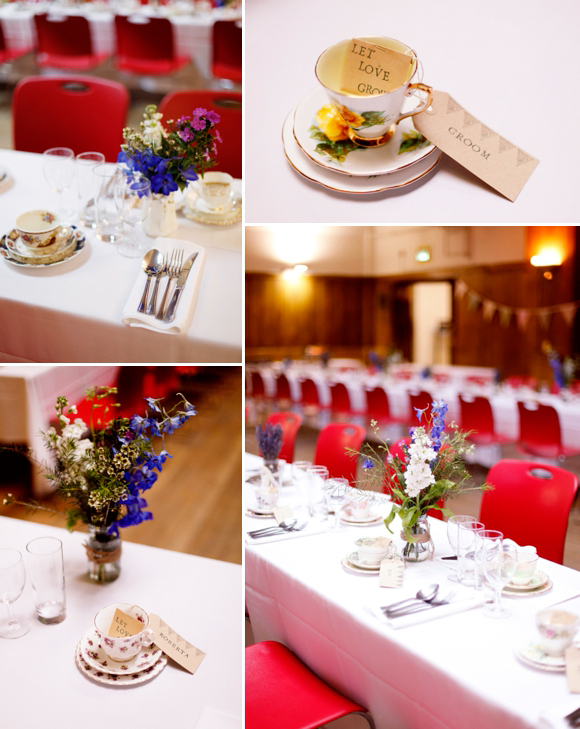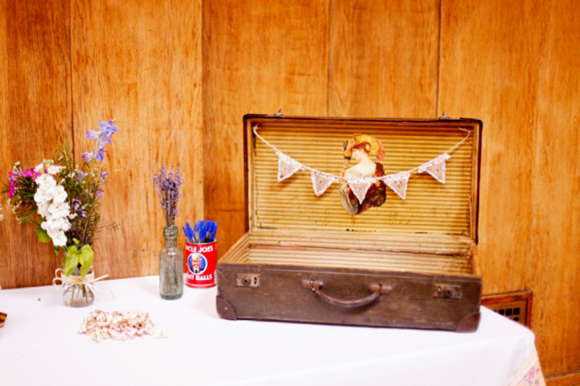 "We hired a 1940s green routemaster from Ensign Bus Company
to take us from the ceremony to the reception venue. It was a fun way
of transporting our guests and fitted in with the vintage feel that we
wanted to create."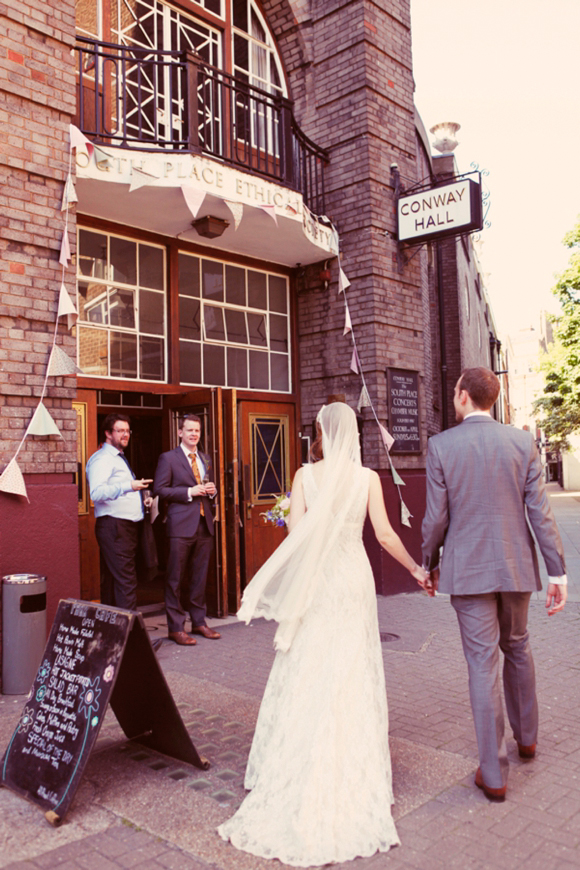 "I found our wedding photographer, Rebecca,
by putting the words 'vintage, relaxed wedding photography London' into
Google and her site came up. I thought her website looked really cute
and her photos spoke for themselves. When I met her we discovered a
mutual love of cats and that was decision made! Rebecca was absolutely
fantastic.
She worked so hard throughout the day and even stayed later
then arranged to take photos of us dancing to the band. She was a
pleasure to have at our wedding, very unobtrusive and has a real passion
and talent for what she does. We are delighted with the photos, which Rebecca sent to us really quickly after the wedding. We can't recommend her highly enough!"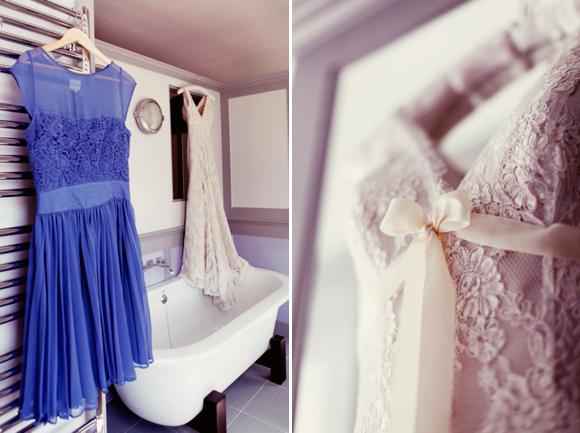 I'll be honest, I LOVE these shoes worn by Lauren's bridesmaids. They are from New Look so won't cost the earth, and they are so classy! Mid to high heeled nude/flesh coloured shoes give the appearance of lengthening your legs you know! 😉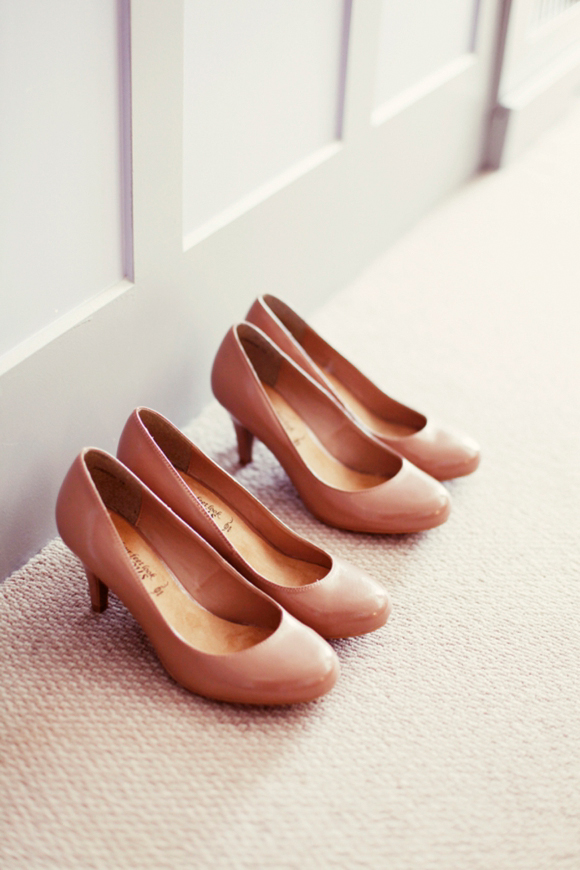 "Gina from The Beauty Queens
did my hair and make up and the bridesmaids hair. I wanted to feel
special, with hair and make up that fitted a vintage look without being
too structured or too different from my every day style. I wanted John
to recognise me as I walked down the aisle! Gina understood this
perfectly and was a really calming influence on the day."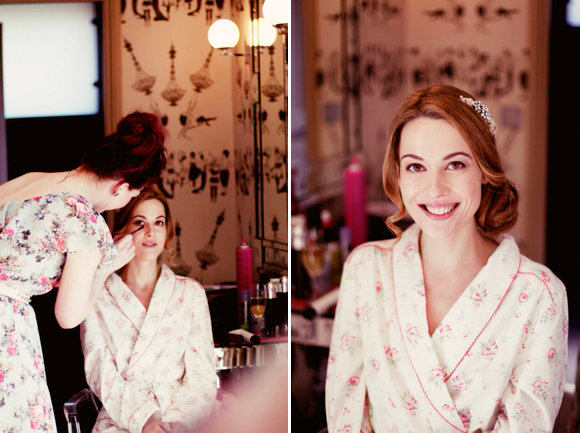 "John and I met when I was temping during the university summer
holidays and John was working in the same office between acting jobs. He
asked me to go to the theatre, which I thought involved a group of us
so I asked a friend to come along. Little did I know that John had put
the other people off coming hoping it would be just the two of us. So I
effectively took my friend on our first date!
John
proposed on the night of my graduation ball from vet school. He took me
up onto Hampstead Heath and popped the question as we looked over
London."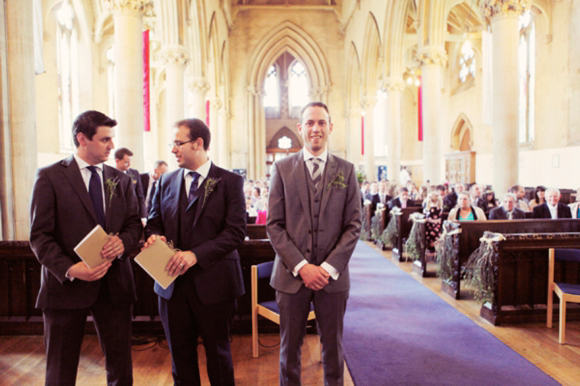 "I walked down the aisle to 'Love Divine, All Loves Excelling'
played on the church organ. We both love this hymn and the traditional
bridal chorus just didn't feel right for me. We left the church to Take
That's 'Greatest Day' which our friend played for us on the piano. It's a
special song to us and the sentiment was perfect for that moment. We
are very lucky to have such talented friends. John's friends from drama
college sang for us and played the guitar during the ceremony."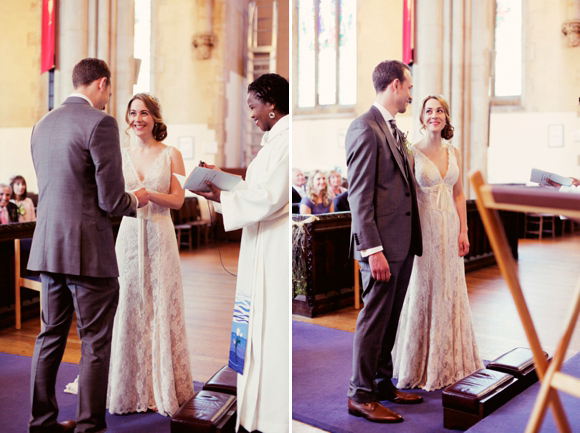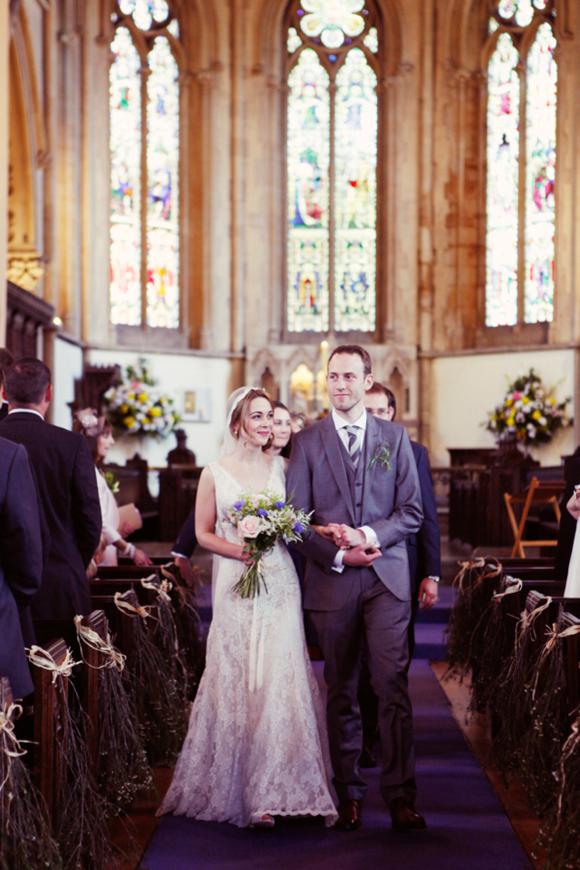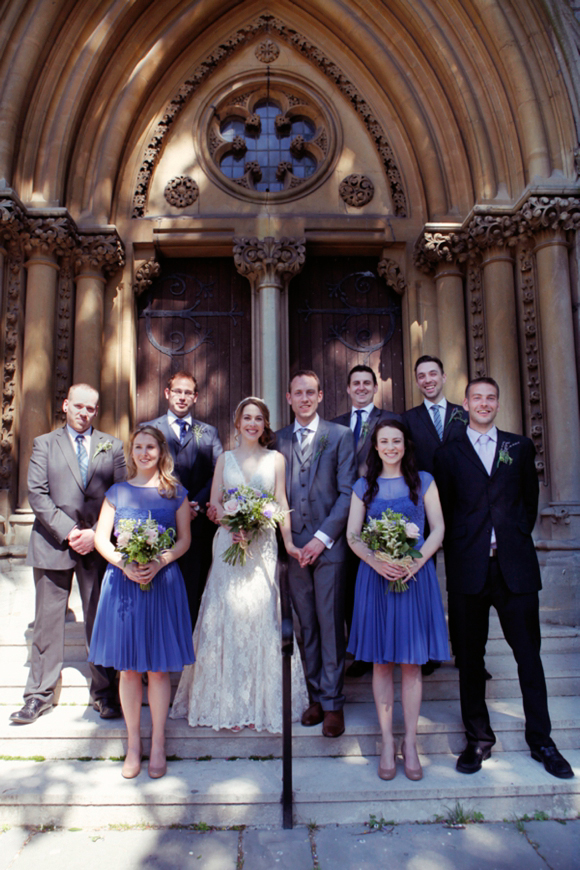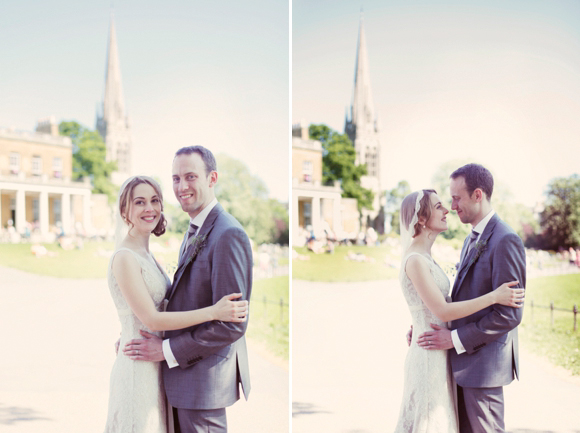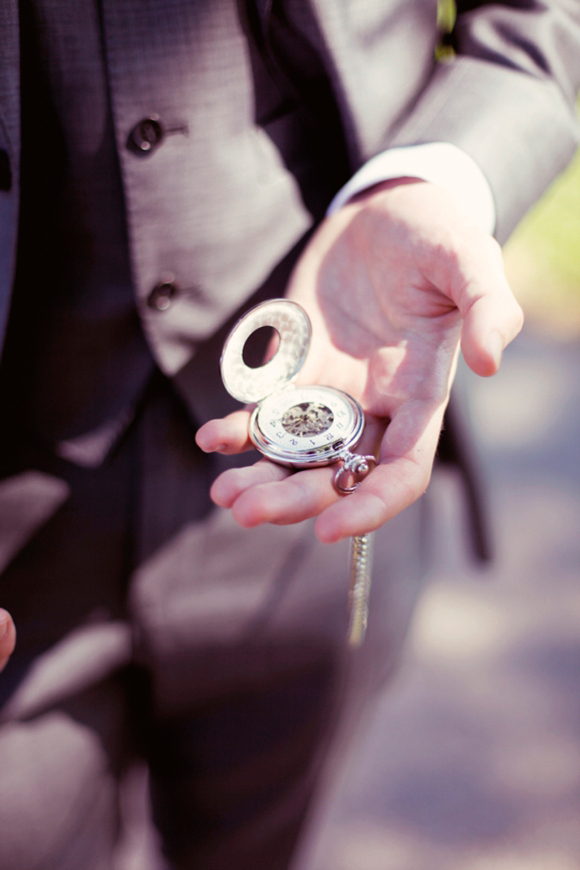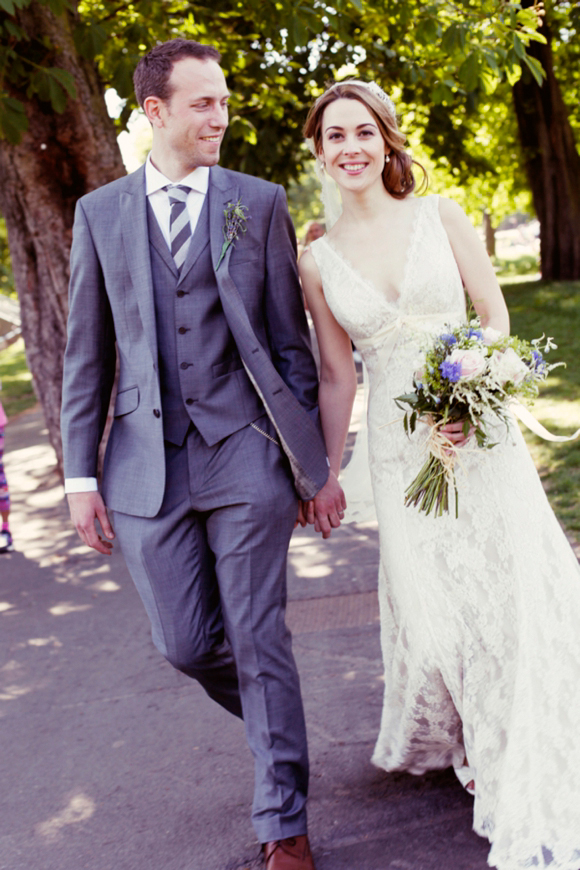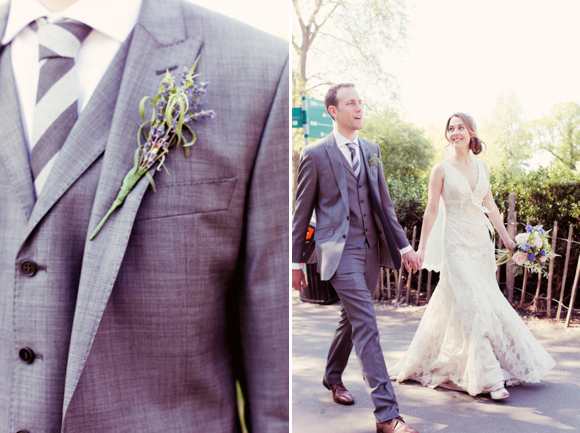 "We love living in Stoke Newington and were keen to hold our wedding
in our local area. We can even see the church steeple from our bedroom
window and it's lovely to be able to see the place where we got married
every day.
We wanted to hold our reception in Hackney
but couldn't find a venue that quite suited our needs. We were looking
for somewhere that would allow us to personalise our day and were keen
that it should have a relaxed village hall feel. We eventually stumbled
across Conway Hall in Holborn; it looks like a grand village hall tucked
away in a quiet square in central London. As soon as we saw it with the
words 'To thine own self be true' above the stage, we both knew we'd
found our venue. Those words reflected our whole approach to our big
day."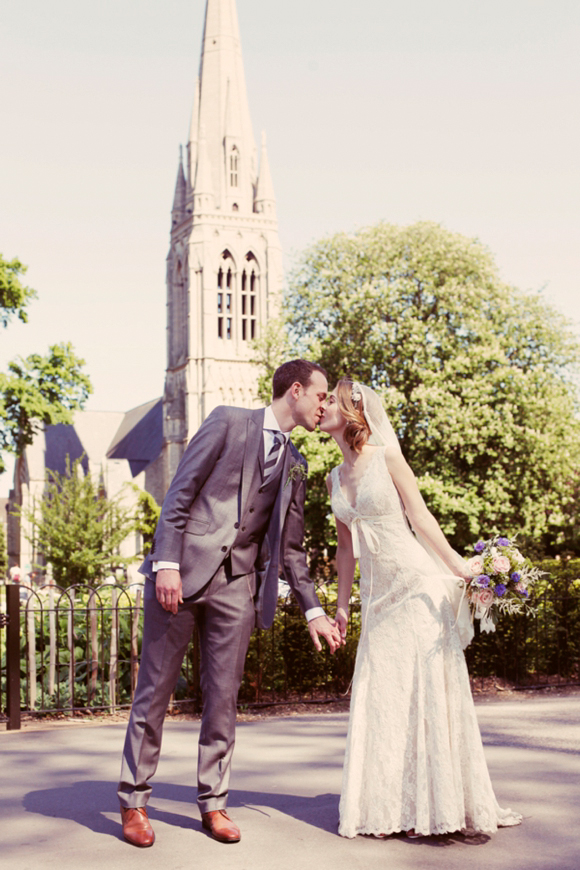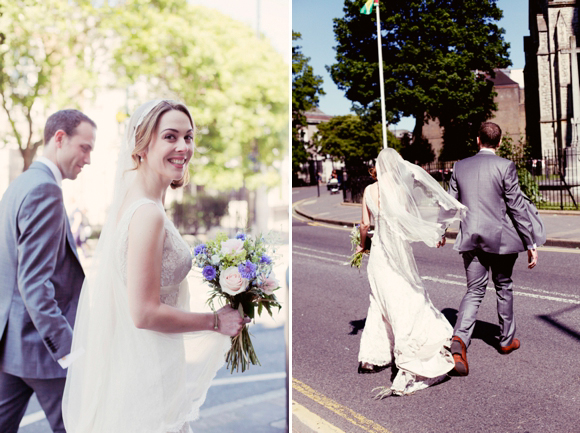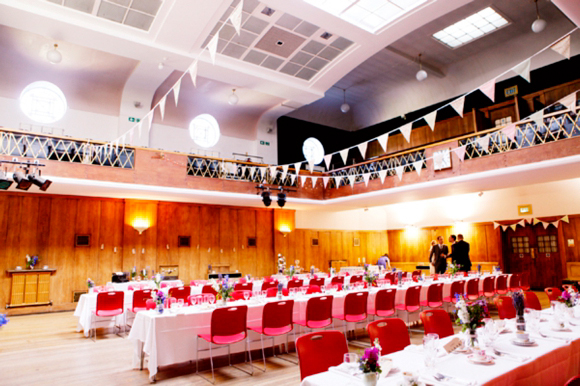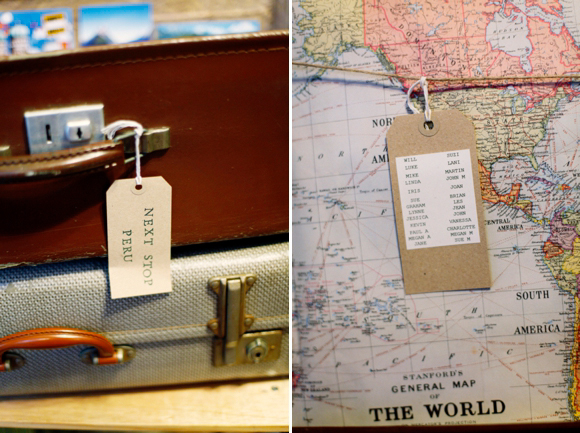 "I have spent many Sunday afternoons choosing which delicious cake to try from The Tea Rooms
on Stoke Newington Church Street and so it was an obvious choice to use
them as our supplier. I imagined a women's institute style cake table
with a selection of traditional British cakes. Our actual wedding cake
was made of three tiers of different sponge cakes which Isabelle from
The Tea Rooms decorated beautifully.
The cakes were served as dessert on
vintage tea plates and went down very well indeed with our guests!
John's mum handmade the cake toppers which even included a model of our
beloved cat Betsy!"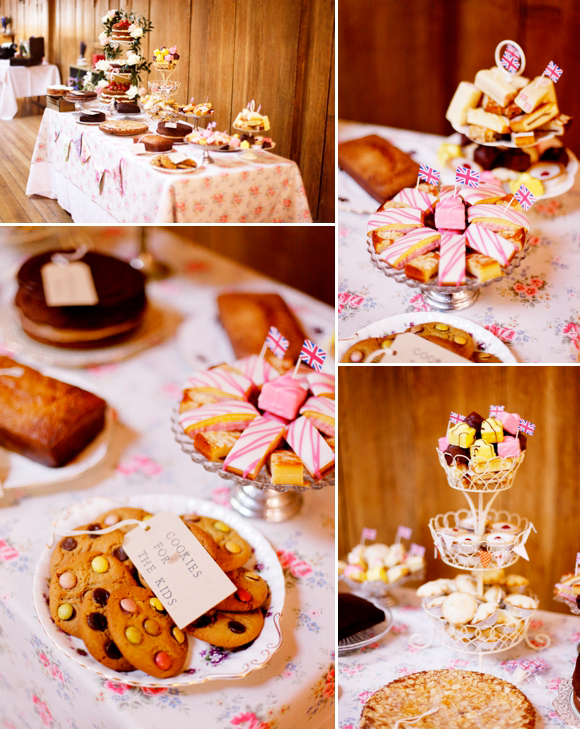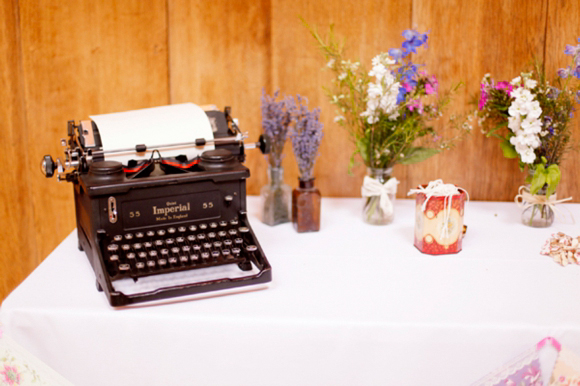 "Our reception venue only came with tables and chairs so
everything else was up to us. This meant that we could really
personalise the venue but be warned it is hard work, although it was
something that I really enjoyed doing. We hired bunting from Jolly Duck Bunting, and my parents made some too, which we strung across the hall and the top table."
"My parents collected tea cups, saucers, plates, vases and cake
stands from charity and second hand shops. We drank champagne from the
tea cups for the toasts during the speeches! I collected jam jars, which
I tied ribbon and raffia round, for the flowers on the tables. We
wrapped fairy lights around the balcony and across the front of the
stage which is something really simple to do but they are very
effective. We had a wishing line instead of a guest book. We used a
typewriter with a note in it asking people to write a message for us on a
luggage label and peg it to the line."
"It looked really cute to see the labels hanging across the room
and as it was quite visual it meant more people wrote a message, as I
think sometimes guest books get forgotten. Our card box was an old
suitcase and I made mini bunting with the word 'cards' strung across it.
It's amazing how much you can do with jam jars, fairy lights and
bunting! They are budget friendly ways of achieving a really cute look.
We made little packs of sunflower and
basil seeds with the words 'Let Love Grow' stamped onto the front. We
liked the idea of giving something that would be a lasting memory of our
wedding."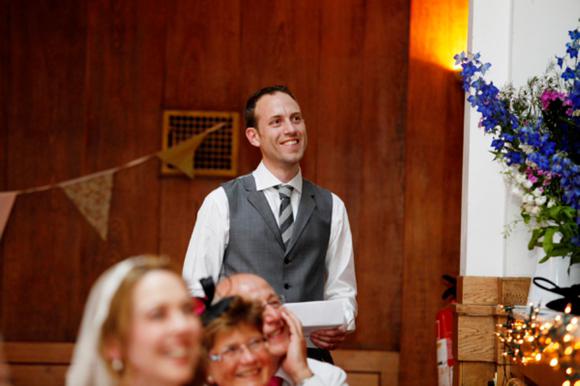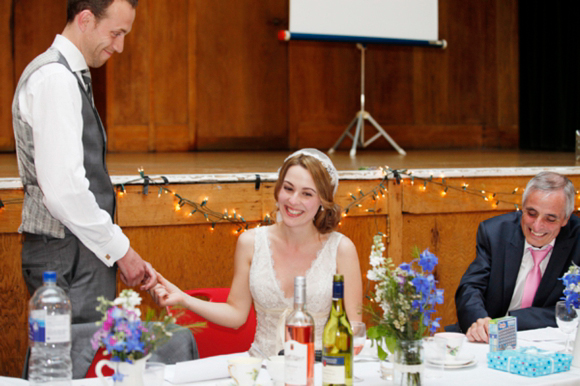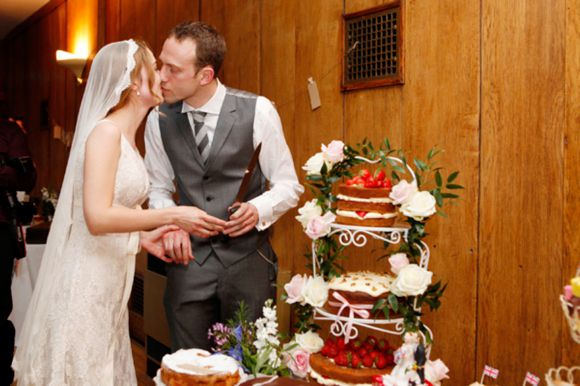 "Our first dance was 'Waiting for a star to fall' by Boy meets
Girl. This song came on the radio once as we were driving around the
Dorset countryside on one of our first weekends away together. John said
he always imagined having this played at his wedding and we sort of
looked at each other with a knowing look. So our first dance had to be
this song. It has a really upbeat feel and was a great moment when
everyone joined us on the dancefloor."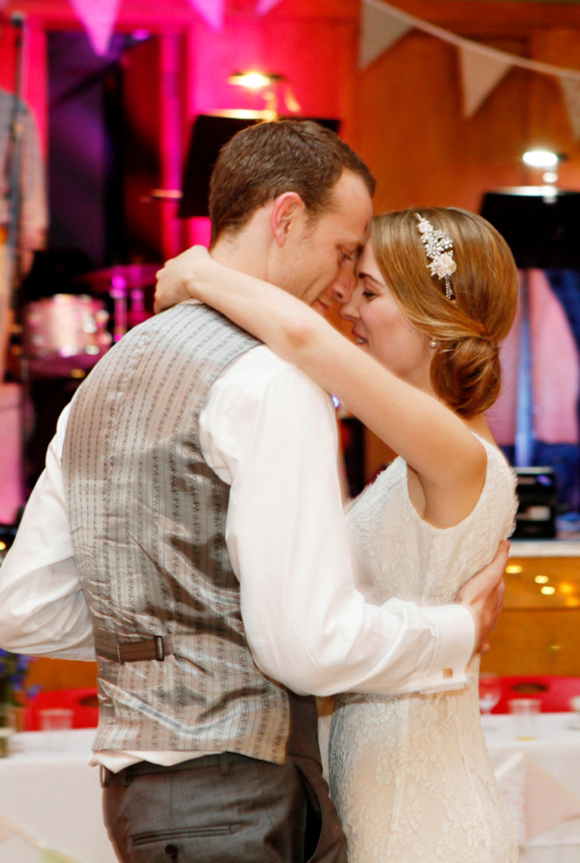 Words of Wedded Wisdom…
"If I could impart one
piece of advice to brides to be, it would be choose things that you both
love and you can't go wrong. It will make your day personal to you and
that is something we found our guests really appreciated.
f you can use local suppliers it makes coordinating things on the day so much easier and it's nice to support local business.
I would also say don't stress about tiny details. Your wedding
day is special because all your favourite people are in one place to
celebrate something wonderful. It doesn't matter if little things go
wrong or something doesn't match. Just enjoy every minute-it really is
the best day of your life!"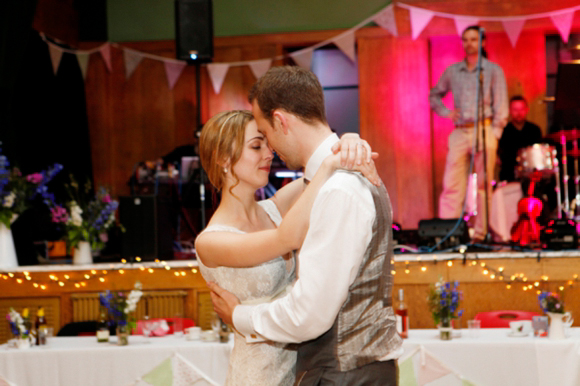 Oh huge, huge congratulations Lauren and John, you make such a lovely couple and these photographs are delightful 🙂
Much love to Rebecca at Rebecca Wedding Photography too for submitting these lovely images.
Who else is having a relaxed London wedding, or donning a Castigliano frock for their nuptials like Rebecca?

Much love,
Annabel

Photographer – Rebecca Wedding Photography
Venue – Conway Hall in Holborn
Brides dress – Caroline Castigliano, via Brides Dress Revisited in Otford, Kent.
Brides veil, headpiece + earrings – Luella's Boudoir
Brides Shoes – Flo by Rachel Simpson
Grooms Suit – Alexandre of Saville Row purchased from House of Fraser
Bridesmaids Shoes – New Look
Bridesmaids Dresses – Reiss
Bridesmaids Hair Accessories – Accessorize
Flowers – Flowers N16 on Stoke Newington Church Street
Cake – The Tea Rooms, Stoke Newington Church Street
Cars/Transport -  Ensign Bus Company
Hair and make-up Artist – The Beauty Queens