Back in July we featured a completely mesmerising film by Roland Mihalszky of an elegant, understated and sophisticated wedding at Kensington Palace.
The response to Roland's work was incredible with many, including
ourselves, branding it the best wedding film they had ever seen…
Love My Dress Wedding Blog – Photography Copyright (c) 2012, Nick Tucker
With this piece, Roland achieved a perfect rendering of a day that
positively overflowed with love. Many couldn't make it through the first
few minutes without welling up; such was its emotive power.
Today, we will add another layer to the tale of this wedding through photographs taken by Nick Tucker
and the words of the bride. It's a long one ladies and gents, but oh so
worth it! So, make yourself a cup of tea and settle in for a whole heap
of love, sophistication and style.
Mr and Mrs Moulding were married on Saturday 12th May 2012…
'I was born and raised in Australia and my husband was
born and raised in England. We met in Sydney, whilst he was on holiday and I
was working. My husband is a keen cyclist and I was a beautician. One fine day he
came in to try out waxing his legs for
(sports reasons of course) and it was
love at first sight. He asked me out to dinner on a Tuesday night and he left
for the UK that Sunday.
rWe spent every minute together that week and then he
was gone… his last words before boarding his flight was "I'll come back for
you."
'He wasn't making it up… two days later
he called when he landed and said he had planned a trip for May if I was
still interested. On May 12th 2007 Jamie flew
out to Sydney for 3 months to see if we could make this work. Little did we
know exactly 5 years later to the day we would be walking down the aisle as
husband and wife.'
The bride was lucky enough to wear two equally exquisite gowns on her wedding day. The first, a classic full-skirted dress by Ritva Westenius, was purchased from the designer's boutique on Connaught Street. The bride's evening dress was by Suzanne Neville and acquired from perennial Love My Dress favourite, Miss
Bush Bridal in Ripley, Surrey.  Both gowns look completely at home in the regal surroundings of Kensington Palace…
'My Ritva Westenius gown was what I
had dreamt of as far back as I can remember… classic, classy and oh so
Hepburn! Chenca (daughter of Ritva) designed my dress and she listened and
gave very good feedback on all my ideas.'
'My Suzanne
Neville dress was very 'Old Hollywood.' Again, it was a dream to have TWO
dresses representing traditional and glamour.'
'Ritva Westenius created my beautiful
mantilla veil. It was hand beaded and as an extra special touch I had our names hand sewn into the edge of the veil.'
Mrs Moulding's first gown was accessorised perfectly with a pair of ivory Manolo Blahnik courts signed by
the man himself. In the evening she opted for a pair of silver glitter Pigalle heels by Christian Louboutin. And yes, I have serious shoe envy…
'After the ceremony I took the veil
off and wore a beautiful tiara which had 15 carats worth of diamonds. It
helps to have jewellers as friends!'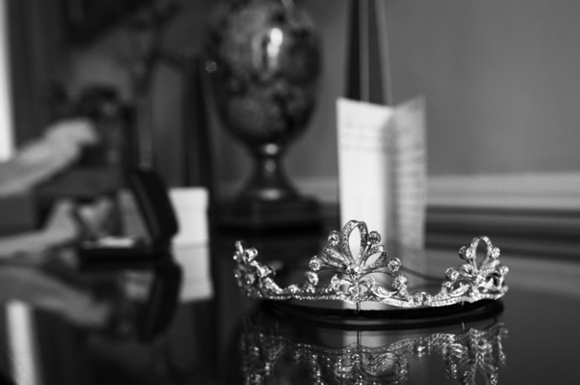 'In the
evening I wanted something simple and classic in my hair so I chose a simple
one row diamanté head band from Glitzy Secrets.'
'I kept my jewellery simple. My mum
and brother gave me beautiful diamond and pearl stud earrings from Mikimoto
which I wore in the day. Then my husband gave me a surprise gift the night
before the wedding… a stunning pair of diamond earrings, which he had made by MDC Diamonds in New York. I wore those in the evening with my Old Hollywood dress.'
The bride found a beautiful way to keep all her family close to her on her wedding day…
'My
something old was a piece of lace from my mother's wedding dress. I attached a
piece of Jamie's nan's lace (which was from her favourite dress), a pendant my
grandmother wore and a blue bow from a handkerchief my grandmother gave to my
mother on her wedding day. My mum then sewed this one big piece of lace to
the inside of my gown. I took a piece of every side of the family and I hope
I made them proud.'
'I also
wore a lace and pearl garter from Pearl and Willow. I wanted to keep this as
a memento so when I changed into my evening gown I put an Agent Provocateur
garter on which is the one Jamie removed with his teeth and threw to the
boys.'
The bride dressed her maids in slate dresses from Two Birds. 'The dresses
were just perfect for each and every one of them. No stress, no fuss, just
simple and elegant.' 
'My girls had to have beautiful shoes on the day. They
deserved a special treat for all their hard work, love and support leading up
to the big day. I chose some nude peep toe sling-backs by Christian Louboutin'. 
The girls also wore hair slides from Pearl and Willow their own pearl
necklaces and earrings. The bride and groom gifted each of them a very dainty Tiffany & Co pearl bracelet, which they
also wore on the day.
 'Jamie and I chose this location long before he even proposed! Jamie has always treated me like his Princess so what better way to start our marriage then in a Palace. The venue was just stunning and the pictures of us coming down the stair case, what can I say…?'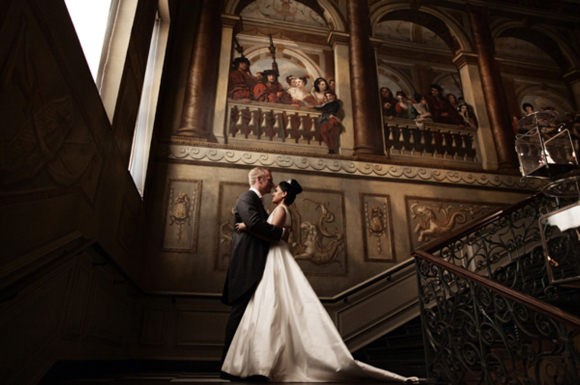 'Peggy was the designer of our stunning 4
tiered, lilac bird cage cake… The lace pattern was inspired by my veil and the sugar flowers were inspired
from the bride and bridesmaids bouquet.'
'We didn't do the traditional
wedding favours. Instead we had a beautiful round
table with tall vases filled with white flowers. Surrounding this we had
cookies shaped in Dresses, shoes and bags as well as silver Louboutin cookies
to match mine! We had a sweetie stall filled with everyone's favourite
childhood sweets and cute candy striped traditional sweetie bags for them to
go in. Then we had Artisan du Chocolat create passion fruit filled round
chocolates with a birdcage image on the front.
Everyone could help themselves before they left and we had gift bags ready for
everyone to put their goodies in as well as their cake.'
 Mr Moulding and his groomsmen wore elegant tails from Paul Smith Bespoke with lilac Armani Collezioni silk ties and
Salvatore Ferragamo shoes. 'John Byrne and Chris Tarling at Paul Smith were truly
fantastic. Even getting a first fitting ready in 2 weeks whilst my brother
was out from Australia.'

In the evening the groom changed into a
Paul Smith tuxedo. He also wore Tiffany & Co 'Atlas'
cufflinks and an IWC Portuguese Perpetual Calenderwatch.    
The couple's beautiful ceremony was held in the Orangery.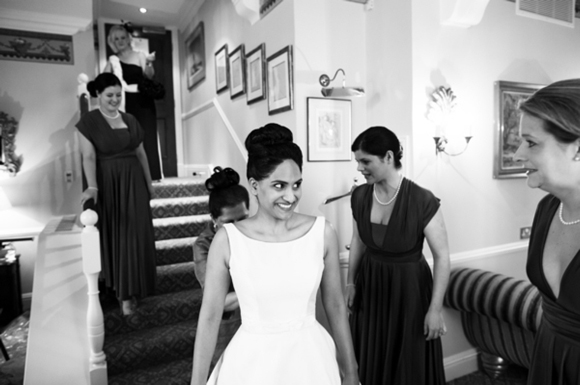 'We
kept things very neutral and in keeping with the traditional feel of the Palace. We
had a white aisle runner made with our monogram in silver by The Original Runner Co.
'My brother gave me away on my
wedding day. As it's only the two of us we are incredibly close. The moment
before we walked down the aisle he held back his tears and told me how
beautiful I looked and how proud he was to be walking me down the aisle. His
little sister was all grown up and he was in charge of giving me away. There
was a brief moment when he handed me over to Jamie and all he asked of Jamie
was to look after me. What an emotional moment that was for us.'
'My brother
also gave me a sixpence (something old, something new, something borrowed,
something blue and a sixpence in her shoe) from the Royal Mint to put in my
Manolo's.'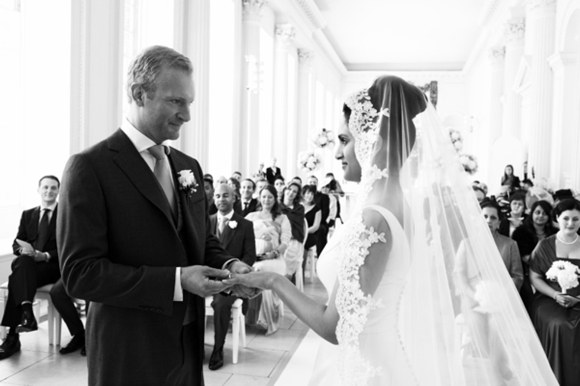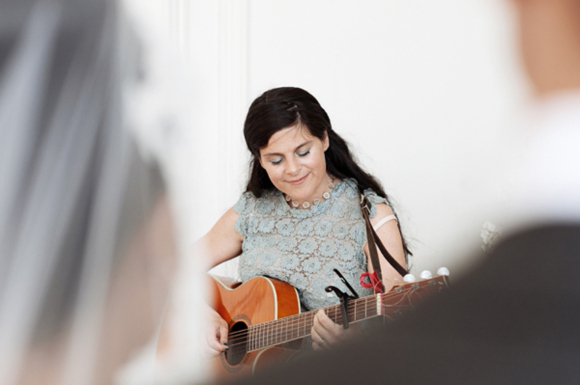 The couple enlisted the help of Amanda Sherlock of Amanda Sherlock Weddings and Events (telephone 07525 761 481)…
'What a god send! Amanda Sherlock
was the true driving force behind this spectacular wedding. She worked night
and day to make sure every little detail was not only taken care of but done
to perfection. She was my 'second mum' through everything. She not only dealt
with the wedding but also the emotional roller coaster every bride goes on.

We can't thank Amanda enough for her skills and knowledge. She is a gem and
anyone would be lucky to have her plan their wedding day. She takes away the
stress and lets you enjoy the fun part!'
Flowers were provided by InWater Flowers, London. The bouquets and other arrangements featured roses and peonies, as well as other stunning white flowers. 
'Claire was the driving force behind our stunning flowers. I love flowers but
for those who know me, I'm far from green fingered! Claire was like the bossy
mother who knows best, loves you and only wants the best for you… She held my hand and guided me in
the right direction and I was nothing but thrilled on the day… She is
such a pleasure to work with and I look forward to using her service again.'
'The theme was birdcages so
Claire created an enchanted garden setting with vintage distressed birdcages.
It was just perfect!'
This theme ran throughout the
wedding from the invites (which were actual mini birdcages filled with fresh
flowers, a bird cookie and a bottle of champagne) to the Peggy Porschen cake…'Most weddings have some kind of entertainment but we
wanted to do things differently. We decided a private tour of Kensington
Palace would be such a treat for our guests. After speeches (which were held
in the Queens gallery) the bridal party snuck away to change outfits and the
guests all walked around the rooms of the palace.'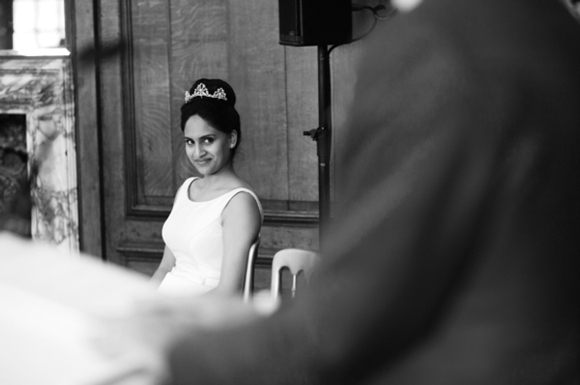 'In the evening we used lighting to
change the feel from day to night. Wise Productions were in charge of this
whole operation and I highly recommend them. They created such an amazing
atmosphere and it was a dream come true.'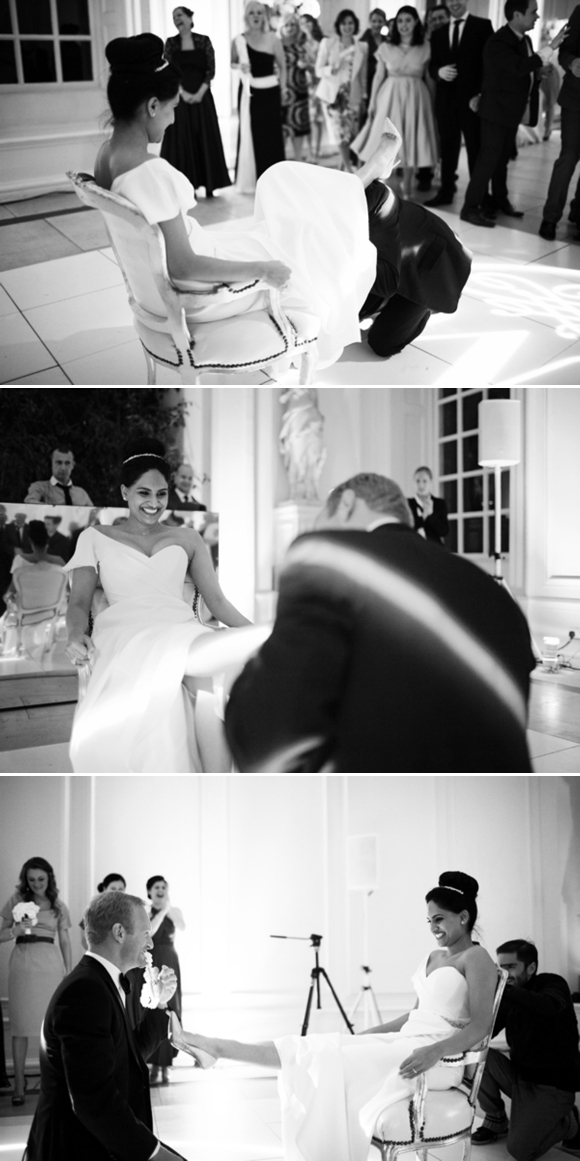 'We did have a fabulous DJ in the
evening. He followed strict instructions of what to play
but also read the crowd like a pro and chose songs accordingly I can honestly
say the dance floor was NEVER empty.'
'We had our first dance to Beyonce's version of 'At Last'. This was such a
special song for us. Jamie's parents were unable to attend our wedding due to
illness (they are in their 80's)… We wanted
to include them in our big day without making it a sad occasion. The song
'At Last' is their favourite song. On their first date 65+ years ago they
listened to this song on a gramophone over and over whilst sipping tea and
eating cake.'
'As they got
married post WW2 they couldn't afford a large enough place to have a
big reception with music etc. We
honoured them by dancing our first dance in memory of them and their love for
each other 65 years later. I hope we will one day be sitting in our armchairs
like them, happily married after 65 years.'
Words of Wedded Wisdom…
'My advice to brides would be relax
and enjoy every moment of the day. The lead up is always stressful and somehow
all the crazies come out the wood work and want to mess with you! But take it
in your stride and remember what you are actually doing… marrying the love of
your life. Nothing and no one can ruin that.'
'We both wanted nothing but happy,
positive and loving people at our wedding. That is exactly what we got. It
was a smallish wedding (65 guests) but each and every person was there
because they loved us and wanted to see us married and happy.'
Wow. Just WOW! Such an incredible couple and an incredible wedding.
Understated, minimalist and effortlessly chic. Thank you for sharing
your day with us Mr and Mrs Moulding, and congratulations on your
marriage!
Thanks are also due to Nick Tucker, whose beautiful and evocative photography has brought this wedding to life for you today…
'Nick Tucker, what can I say?! His work speaks for
itself. I can go on for days about how professional he is, how he has a keen
eye, how he always gets the best shot. But I think I'm wasting my breath as his
pictures tell the whole tale without me having to say a word.'
'Roland Mihalszky was our videographer. He was
recommended to us by Nick and Sara Tucker one sunny afternoon at a BBQ. Never
did I think the final product would be such a mesmerizing film capturing each
and every moment of emotions from the bride AND groom… Roland is a true genius and words do
not describe his professionalism and dedication to his work'
And just incase you didn't see it the first time around, here's that film… 
Love My Dress Wedding Blog, Cinematography Copyright (c) 2012, Roland Mihalszky 
Have you fallen in love with this wedding as I have?
Franky
Photographer – Nick Tucker

Venue – Kensington Palace
Planner/Stylist – Amanda Sherlock Weddings and Events (tel. 07525 – 761481)

Brides dress – Ritva Westenius purchased at their London store + Suzanne Neville via Miss Bush Bridal

Brides shoes – Manolo Blahnik and Christian Louboutin

Brides veil/hair accessories – Veil by Ritva Westenius and head band by Glitzy Secrets

Brides accessories – Jewellery by Mikimoto and MDC Diamonds

Groom – Paul Smith

Bridesmaids – Two Birds

Flowers – InWater, London

Cake – Peggy Porschen

Hair Stylist + Makeup Artist – Bride's friend 

Caterers – Rhubarb
Transport – Lord Cars 
Detail/Decor – Aisle runner by The Original Runner Co.
Other items purchased from NotontheHighstreet.com