Good morning lovers – pleeeease do tell me you saw this glorious wedding yesterday afernoon? (I am absolutely insisting if not).  It's like period drama perfection – and if ever any nuptials truly epitomised what is the perfect vintage wedding, in a very genuine, unique, beautiful and heartfelt way is – it is dding yes. I absolutely adore it.
And so it goes on that I am eeking out every possibly this week (and for as long as possible) of maxing out the summer wedding features.  I mean, you only had to blink this year and summer had gone, so I'm seeing it as a bit of a mission to make up for it on my blog.  This particular summer wedding was full on festival style.  And oh, how I do love a peppering of pretty wedding day pink 🙂
Laura and David were married on 4th August this year, and London based
photographer who adores her quirky style, Laura Babb, was there to
document the day on camera.
"'We had a wedding festival that we named 'Bridestock'! We knew we didn't want a
standard wedding, though we were very definite about having a
traditional church service. We knew we wanted to have a personal touch
to our day and almost everything was home-made by ourselves, or family
or friends…" 
Love My Dress Wedding Blog – Photography Copyright (c) 2012, Laura Babb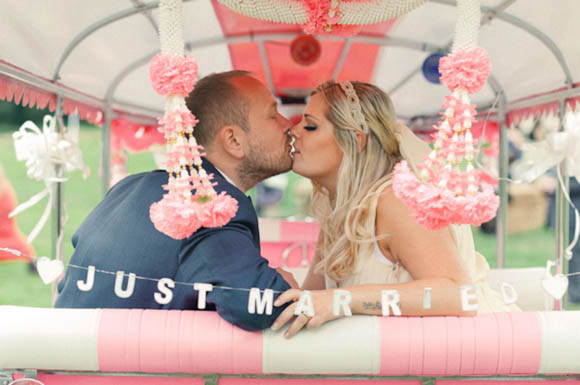 "My dress was made for me by a family friend's daughter. Having
spent a hideous few weekends trawling through many bridal boutiques, and
failing to find something which didn't make me look like a ship in full
sail, I began to think that I would wear a grey Monsoon dress I've
always loved. My mother wouldn't hear of this and recruited the daughter
of one of her friends to re-make the dress for me in cream silk
chiffon. Mary Beton is a student at Exeter university, who makes herself
clothes in her spare time…"
She is, quite literally a miracle worker;
having lost several dress sizes from when I got engaged to when I got
married she coped incredibly well when I casually announced that I'd
shrunk again on almost every dress fitting."
"We booked a 26 acre field, which we decorated with giant
flags, marquees and bunting, and 3ft high letters spelling out
'Bridestock' which took days to make. These were a highlight of the
evening as the drunker people got the more rude words were spelled out
with the letters. We had 12 bands and talented musician friends playing,
singing and entertaining throughout the day – including two of Laura's
ex-students."
The field is the
site of Blissfields Festival…"

"Green Flowers (David's sister's company) provided a selection
of white flowers decorating the marquees in milk bottles, jugs and vases
we collected…"
"My bouquet was made of old jewellery and my mother made it for me…"
Ooh, I love this tree finger-print idea too!

The Tuktuk Hire Company provided the fabulous pink transport!

"My Dad gave me away, and we walked 'down the aisle' to 'I was glad'
by Parry, which was performed by Southampton Choral Society Celebration
Choir. The choir were accompanied by an organ, played by David's old
choirmaster, and the City of Southampton String Quartet. And a trumpet.
Laura's mother runs the City of Southampton Orchestra and totally pulled
some strings…"
"David and I met in a sticky indie club in Southampton called
Lennons, in November 2010. We got engaged after 3 months! Both of us
have been in long-term relationships before without a sniff of an
engagement, but we sort of crashed into each other with an intensity
that you can't explain unless you've felt it yourself. We'd been engaged
for about 18 months when we got married."
"Our venue decor was collected from charity shops, Ebay, and
home-made things. I took my double bass, which I decorated with flowers.
Win created a tree for people to stamp with their thumbprint, and
David's sister Clare brought an enormous easel and paints for people to
create a huge piece of art for us."
"One of my bridesmaids, Delyth, made my cake – a four tier fruit cake iced with coral and white daisies."
YUM!

"Later in the evening we had a fire-eating burlesque dancer,
and we both took to the stage ourselves with our different bands. Laura
even accompanied one of the burlesque acts when the CD failed to work!
We ate a hearty hog roast, drank afternoon tea in the 'Chai Acoustic
Tent' (served in the hoards of vintage teapots and cups and saucers we
collect) and drank home-made sloe gin and elderflower champagne for the
toast. We asked guests to bring a cake, though most of these got eaten
before we could do a 'judging'.
Most of our friends camped, as did we,
in our very own coral-coloured bell tent. We extended the party over a
few days, having a lamb roast on the following Sunday, and everyone
pitched in to help us pack up on the Monday morning."
Words of Wedded Wisdom…
"Put your own stamp on things; our
wedding was not the conventional wedding but everyone who was there
mentioned how personal to us the day was. We called in favours from
everyone; we made as much as we could and some things weren't perfect,
but were home made and quirky."
Hey huge congratulations David and Laura on your festival style, fabulous and fun day 😉
You know ladies – you can pick up some more festival feaures right here.
Who else is braving it outdors for their happy day of celebrations?
Is anyone being brave to have a dress designed from scratch?
Big thanks to photographer Laura Babb/
Much love everyone,
Annabel
Photographer – Laura Babb
Venue – A field in Woodmancote
Brides dress + veil – A friend
Brides Shoes – A selection; ancient no-label glittery heels for the
ceremony, coral flip-flops, and custom-made Converse (pink, with skulls
and my name embroidered on) which were a gift from David
Brides Hair Accessories – Anthropologie
Grooms Suit – Peter ConwayBespoke Tailoring, Bedford Place,
Southampton + Russell and Bromley shoes + vintage rose-gold cufflinks
Bridesmaids dresses – Fat Face coral-coloured maxis
Flowers – Via The Groom's company, 'Green Flowers'
Cake – Made by one of the bridesmaids
Entertainment (remember this was a festival wedding!) – The Real Raj, Steve Picken, Hannah Williams and the Tastemakers, Rayguns Look Real Enough, Tom Crouch, Ruby Rebelle and Eris Eveillier (burlesque acts), Nick Tann, Sargeant Pepper's Only Dart Board Band, Steve Lowis, The Stocktakers (David's band), The Marvels, Charlie McCauley, Becca and Kira (Laura's ex-students), Sean McGowan, City of Southampton String Quartet
On The Day Co-ordination – Emma Kedge
Pink Tuktuk – The Tuktuk Hire Company