My heart actually skipped a beat when I first saw these wedding photographs. And believe me when I say I say it also sang loudly as I sat preparing this feature to share with you…
Love My Dress Wedding Blog – Photography Copyright (c) 2012, Mark Tattersall
This completely beautiful wedding bears all the hallmarks of a classic Love My Dress wedding; a divine original 1950's wedding dress purchased from Elizabeth Avey teamed with an exquisite original vintage wedding veil restored back to its former glory, thanks to the incredibly talented Rachel at Heirloom Couture, elements of eco friendliness (biodegradable cutlery and plates made from leaves!) nestled alongside pretty vintage details – and a bride arriving to wed her groom via a vintage Austin 10, driven through a cornfield on their own farm. This is the type of wedding inspiration I dream about and defines the term 'eco-vintage'.
Lucy and Gregor's wedding took place on 27th July, at their home; West Wood, Park Farm in Somerset and photographer Mark Tattersall, whose work I just adore was there to capture it all on camera…
"I have always loved old things, reusing things from the past
that have character rather than buying new, and together Gregor and I
have learnt the value of taking care of the world we live in so with
these two things combined it was natural for us to create a wedding that
was 'eco vintage'!
It is the way we live our lives anyway and wanted
our wedding day to be a sort of declaration about the way we have chosen
to live our lives; Practical, peaceful, ethical and happy. Choosing to
wear second hand 'vintage' clothes too and longing for the simplicity of
old fashioned living, we decided to ask our guests to join our world
and have a bit of fun dressing 'vintage' too, which added to the
gorgeousness of the day!"
"My dress was an original 1950's wedding dress brought from Elizabeth Avey. 
My maid of honour Ellie, pulled out several dresses to try on as I was
overwhelmed with excitement of all the vintage dresses.
Having tried on
several, when it came to this dress, I found myself almost dancing
around the room and seeing Ellie's face, I knew it was the one- I felt
like Grace Kelly! There were a few tears of joy!"
"We found the veil on a bride and maid of honour weekend away in
Harrogate at the Vintage Wedding Fair. I cried uncontrollably when I
adorned the veil which although embarrassing was a clear sign I wasn't
leaving without it! I bought it from an amazingly inspiring young woman
called Rachel at Heirloom Couture. 
Although Rachel makes the most beautiful veils, which she learnt to do in Paris, this one was an original 1950's
veil that needed some 'TLC'. She had sold the dress that went with it
and due to a few holes in the tulle the veil got left behind, I loved
it – and I wore it with a single corn flower in my hair and I also wore a pair of
pearl drop earrings given to me on my 30th birthday by my late Mum".
"My bridemaids all wore original vintage 1950's dresses, from Vintage Dress
based in Bristol, except my daughters which I made. Our daughter
Winifred's shoes came from Star Child, all made
in England from British leather and perfect for little feet learning to
walk."
"My maid of honours mum Janet supplied the beautiful flowers from
her garden and together with my very talented friend Dorcas they made
all the button holes, corsages and my bouquet in the kitchen downstairs
while I was getting ready! All I really asked the girls is that there be
Corn flower (because I love them), Rosemary in remembrance of my mummy
and lavender, the rest they did themselves. I am very pleased they
included gypsophila, and that they kept things beautifully simple."
"Our flowers to decorate the barn came from a culmination of Merrick's organic farm Mericks Organic Farm,
my friend Emily who grew them especially for the wedding in her garden,
and my friend Jenny who filled all my terracotta pots with flowers she
thought I would like."
"Every single part of the day was my favourite but certainly I shall
never forget the feeling of holding my dads hand as we were driven
through the streets of Langport with people waving and smiling, and
through the county side I have grown up in, on my way to the man I
love.
The Austin 10 belongs to Gregor's uncle and
his one condition for having the wedding in his woodland was that I
arrived in the Austin trough the corn fields, how could I refuse!"
"We met properly in 2004, both our families moved to Pitney in 1992
but it wasn't until Gregor came to work at my family award winning pub
'The Halfway House', where I was managing the bar and we hit it off
straight away! Being nearly Eight years my junior nobody thought it
would last – but eight years and a beautiful daughter later we are still
so much in love.
He proposed in our caravan bedroom in September 2011
standing next to our daughter's cot with her beautiful blue eyes staring
up at us, it was very romantic."
"Shoes were a problem. I ordered a pair of vintage style gold latin
dance shoes a couple of months before the wedding but Two weeks to go
and they still hadn't arrived. One emergency phone call later and I had
bought a pair of very expensive designer shoes that although beautiful, I
wore for 40 Minutes to the registry office the day before my wedding
day, they gave me blisters and I had to wear my very comfortable Greek
sandals instead!"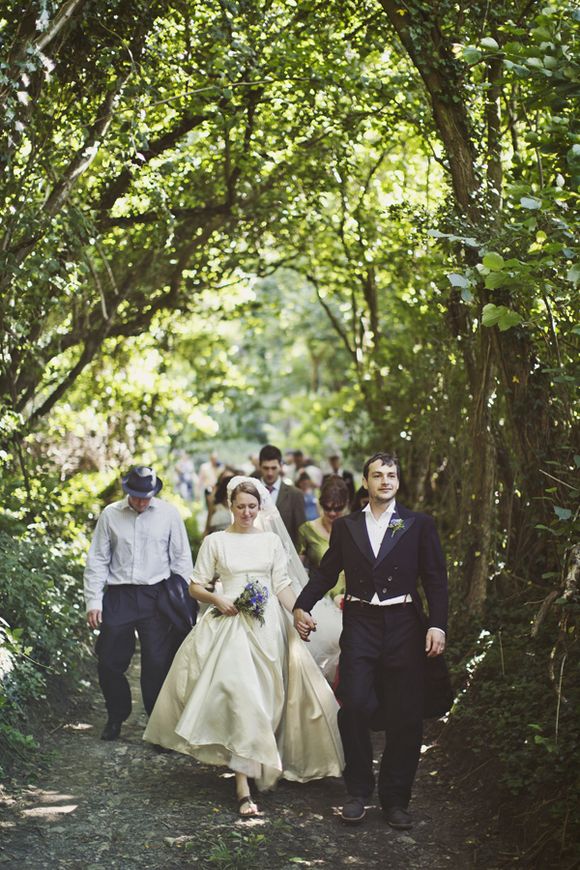 "I created all the invitations and place settings myself. For the
invitation I made a lino cut of the barn and woodland setting which I
printed onto hairy manilla 100% recycled card brought from Eco Craft. 
Having seen other home made invitations on the Natural Wedding Company website,
and being an Art teacher myself I realised I had to make them. I wanted
to create an invitation that would also be the 'order of the day' and a
keep sake for my guests. There was no menu, just the gorgeous aroma on
the day led our guests to the dish or dishes they desired!"
"All the plates and cutlery were biodegradable, plates being made of
leaves we bought from a fair-trade company online and the cutlery from
sustainable Birchwood which we wrapped in 100% recycled paper napkins
and tied with vintage lace and blue trimming." 
"When I saw our photographer Mark Tattersall's photographs on the Natural Wedding Company
website I knew instantly that he was my photographer. Mark Tattersall
was the loveliest, unobtrusive, gentle, and generally amazing person. I
cannot thank him enough for the incredible pictures I now have the joy
of looking at for the rest of my life."
"We live
at the farm and Gregor has worked in the woods, coppicing and making
charcoal and fire wood for years. We always loved the idea of a wedding
ceremony up in the glade and the Dutch barn with its beautiful stone
gable ends was an obvious place for the evening festivities!"
"Gregor wore 1930's
tails that fitted perfectly, bought from Make and Mend in Frome,
Somerset. Where we also found a beautiful pair of Edwardian linen
trousers which we had replicated in black wool to match the jacket. He
wore these with a 1950's pink check shirt and braces which we found at
Poot, also in Frome."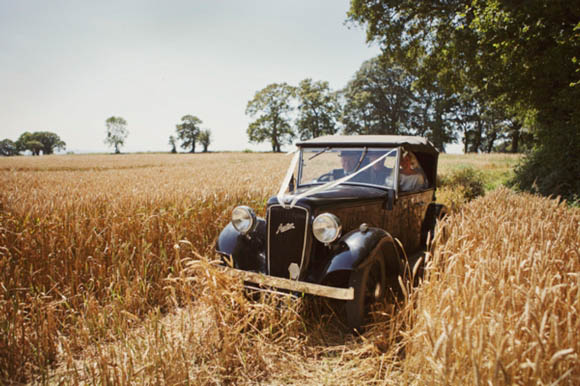 "My Daddy and I walked through an isle of woodland fauna whilst
Chris on his cello played Bach's Cello suite no 1 in G. This tune was
also played at my mum's funeral, I love it."
"Aside from the picnic hampers, a strip of bunting and the odd chair
or log the woodland ceremony needed no decoration as the trees and
woodland fauna was magical in itself, but the Dutch barn (constantly
used for logging and storing straw) needed a little attention.  We
created walls using white tarpaulin which sounds awful but actually
worked brilliantly.
The stage was rigged up by our local builder. I made
bunting from my late mums collection of fabrics as I wanted her to be a
part of our day, it was lovely knowing she was 'wafting' in the breeze
with fabrics she had cherished."
"We made our wedding rings with Julia Thompson, who runs wedding ring making workshops in the heart of Somerset. A fabulous, meaningful day."
"Gregor and I wrote our own vows, neither of us hearing the
others until the moment they were spoken. They weren't really 'vows' as
such, more a declaration of love and thanks.
Our dear
friends Ben and Sarah both read during the ceremony. Ben read an extract
from John Seymour's book of self sufficiency and Sarah read a poem that
Ed (best man) had written at school.  My gorgeous friend Ester sang Two
songs chosen by her and accompanied by our friend Nick on guitar. Ester
and Nick had never met before but had several rehearsal sessions in
their home city of Bristol to make sure it was perfect for our wedding.
She sang, 'My baby just cares for me' and 'Dream a little dream'."
"Our ceremony was conducted beautifully and honestly by Nick Laurie, an independent celebrant who has known our families for a long while."
"I borrowed/hired all the old fashioned wooden trestle tables and folding chairs from local churches, and bought 1930's
mangle linen from Shepton Flea Market to use as table linen. On the
seat of each child was a bag containing a little gift of toys and
healthy snacks to keep them entertained during the speeches. Fair-trade
gifts plus eco party supplies were bought from Little Cherry
.
All my picnic baskets,
vintage tins, blankets,  bunting, teapots and picnic paraphernalia can
be hired from me for any mass celebration or party by visiting Lucy Litchfield for my contact details."
We also borrowed (and sold!) an amazing swing made by the blacksmith, an exceedingly talented young man.
"All my terracotta garden
pots were filled with flowers and placed around the barn. My dad
created the £1 bar, serving real ale, Local cider and wine and our
amazing friend Ross built our cocktail bar which was stocked with the
ingredients for Martinis, a daiquiri and a sangaree. Each of our
cocktail barman friends did a stint behind the bar.
Our guest books were
either my old typewriter or brown paper luggage labels and pens
provided in an old suitcase."
"We had Three willow chandeliers
commissioned by our friend at Abel Willow
which sadly never got put up. The barn floor was covered with second
hand blue carpet and ivy freshly picked that morning hung from the iron
girders. Gregor and Ed installed a 'home made' wood burner borrowed from
our friend Nick the blacksmith,  creating a snug with armchairs."
"Our first dance was to the incredible vocal sounds of Etta James. We chose 'At Last' because it simply says it all.
Our good friend 'Wind up Pete' and his vintage gramophone provided
afternoon atmospheric music and later a Swing Ska band called The paradimes, found through DG Music."   

Words of Wedded Wisdom… 
"Make it a declaration of love for you and your future husband, a day that encompasses all that is you. Be yourself.
I
can't think of a more charming or indeed delightful wedding I have seen in a
very long time!  How exquisite -  every single detail – it makes me want to
dive straight in to a romantic novel and wander through cornfields on a sunny day and have a picnic whilst listening to the sounds of an old gramophone record! Stuff of dreams I tell you.
Lucy, Gregor, thank you so very, very much for sharing your beautiful, unique, moving and absolutely wonderful wedding with Love My Dress today. By the way, you can see more of Mark Tattersall's beautiful photography on Love My Dress here – but also take a look through our eco, rustic, outdoor, farm and 1950's categories for much more beautiful inspiration.  We also have quite a few readers who purchase their vintage gowns from the absolutely wonderful Elizabeth Avey – and you can view their weddings here.
And it is the LAW that you place a visit to the Natural Wedding Company website immediately after you have read this feature – from which Lucy gained so much inspriation for her wedding. It is a beautiful site for anybody who wishes to take the welfare of the environment into consideration when planning their weding.

I take no responsibility for any reader found to have spent an entire afternoon skiving off work and enjoying these images over and over again.  Infact, I positively encourage it.
Favourite part of this wedding everyone? Please let's show some love in the comments box below…
Much love,
Annabel
Photographer – Mark Tattersall
Venue – The couples home/farm
Celebrant – Nick Laurie
Brides dress – Elizabeth Avey
Brides veil – Heirloom Couture
Brides shoes – Brides Greek Sandals (already owned)
Grooms Suit – 1930's Tails via Make & Mend, Somerset
Bridesmaids – All orignal 1950s vintage, via Vintage Dress
Flowergirl – Dress made by her mum, the bride + StarChild Shoes
Flowers – Mericks Organic Farm + friends and family
Catering – friends + Mikes Ices + Ermie & Gertie   
Stationery – all created by the bride using paper products via Eco Craft
Baskets, vintage tins, blankets, teapots + picnic paraphernalia available or hire via Lucy Litchfield
Rings – designed by the bride and groom via Julia Thompson
Entertainment – Wind Up Pete (vintage gramophone player) The paradimes (swing/ska band), booked via through DG Music