I do love Friday afternoon's, don't you? Even though I work for myself now, and I adore my job, I still love the feeling that this evening is one night I can down tools and relax and enjoy myself. This feature is for any of you still slogging it out until home-time this afternoon – these lovely photographs are just the tonic to assist the time left before it's home-time to pass away painlessly 😉
Rosie and Ian tied the knot on 18th August 2012, at Rosuick Organic Farm in Helston, Cornwall.  I really love these photographs of a beautiful relaxed wedding day – but it was Rosie's exquisite two hundred year old wedding veil and those Liberty print bridesmaids dresses and flowergirl frock that won me over!
"I wore a two hundred year old veil worn by Ian's great-great-grandmother
and various family members since. Initially I wasn't sure about wearing a
veil, but as soon as I tried it on with my wedding dress, it seemed like the two had been made for each other."
Love My Dress Wedding Blog – Photography Copyright (c) 2012, Marianne Ford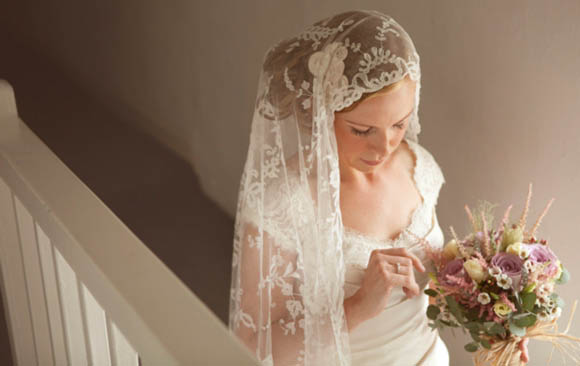 "I wore a  Lusan Mandongus dress that I bought from Morgan Davies
in Islington.  I fell love with this dress immediately, but the only
one in stock was a size 18, so a very patient friend spent several
months altering the dress to fit.
 Cherry basically took
the dress apart and remade it from scratch! Rosie originally didn't want
a traditional dress, but thought this was a lovely mix between vintage
and modern."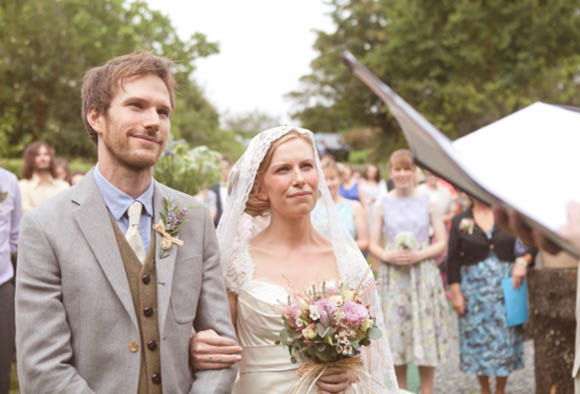 "I wore bespoke from Emmy Shoes
in Islington . A warm, non-matching silk colour and dusty pink suede to
match the flowers. Rosie had great fun designing the shoes, and
couldn't have been happier with them – and they were super-comfortable
too!"
"My bouquet, the posies and buttonholes were created by Jackie Phillips, Falmouth.
They were very patient and helpful, and really spent time talking
through what we wanted. As well as the look of the flowers, we thought
about the smells we wanted – so we included lavender and rosemary."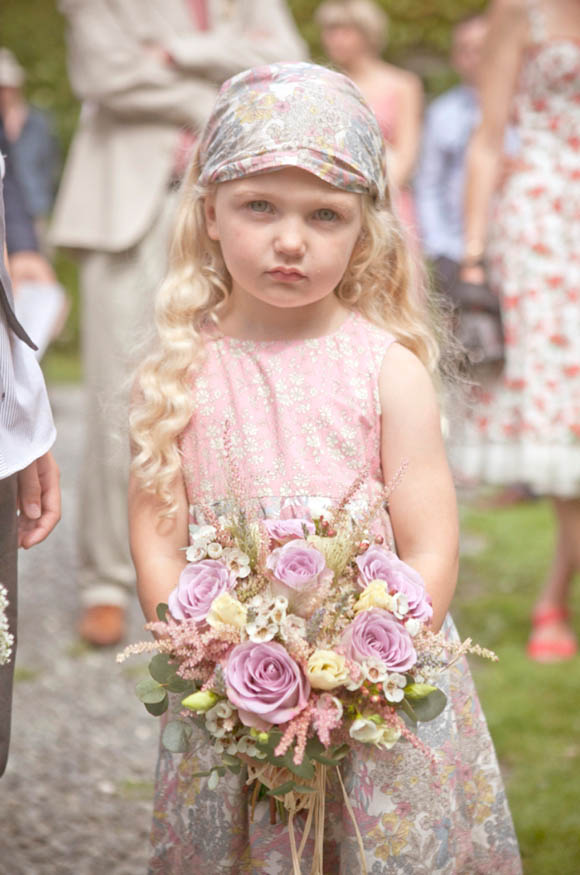 "Though we live in London, we wanted a country wedding somewhere we
could relax and felt a connection to. I grew up nearby our venue, Rosuick Organic Farm,
and when we saw the farm it just felt perfect. The corn chamber we
married in is a stunning building, full of character and very unusual.
We loved the fact it was a working farm, but also had a herd of camels
in the barn!"
"After (very) much deliberation, I decided to buy several metres of
Liberty-print fabric and a Vogue dress pattern for the flowergirl and
bridesmaids dresses. The dresses were made to measure by Cyanide Kiss on Etsy, who was incredibly patient and could not have been more helpful!"
My bridesmaids wore beautiful natural stone bracelets made to match the bridesmaids' dresses – created by my friend Jo at Colour Club".
"Ian's outfit took a long time to piece together – he
didn't want to wear a suit, so we tried all kinds of options from right
across London! Eventually, we went for: jacket, trousers, shirt and
shoes from Liberty. Tweed waistcoat from Sir Plus."
"We wanted a lovely tasty chocolatey home-made cake, so were delighted when Jan from Rosuick Organic Farm
offered to make it for us. The layers were a mix of chocolate brownie
and various chocolate sponges. We served it with Cornish ice cream for
dessert."
"Our reception table flowers were by Caroline Hosken at Cornish Cut Flowers.
We wanted a colourful selection of seasonal garden flowers – nothing
too formal. Caroline was recommended by Jan at the farm, and we were
given a lovely personal welcome. She talked us through all our options
before letting us pick and arrange the flowers ourselves…"
"Our photographer Marianne Ford
was just wonderful – she took a lot of time before the wedding to get
to know us and our tastes and our vision for the day. She was great
company, incredibly helpful, and unobtrusive but not afraid of getting
in the middle of the action when appropriate (dancing etc). We are so
delighted with our photos – we love the natural feel.
Marianne really
captured the day beautifully, with a great attention to detail. The
photos really flow nicely and have a certain style – they look like part
of a set. We would recommend her to anyone."
"My hair stylist was Rebecca Langdon
– Rebecca was very friendly, helpful and patient, and did a great job
of putting everyone at ease on the morning. We loved the natural, pretty
plaits, and they stayed in all day and night with no problems.
My Make-up Artist was Natasha Flower
– Natasha was very friendly and professional, and had an amazing
selection of fantastic products. Rosie's make-up lasted all day and
night with needing topping up."
"Ian's outfit took a long time to piece together – he didn't want to
wear a suit, so we tried all kinds of options from right across London!
Eventually, we went for: jacket, trousers, shirt and shoes from Liberty. Tweed waistcoat from Sir Plus."
"I was working in the music industry, and Ian was a music
collector and writer. We met at a band's aftershow party in London
Bridge in October 2008. Ian proposed to me after an early morning swim
on a rocky beach in Croatia in June 2011."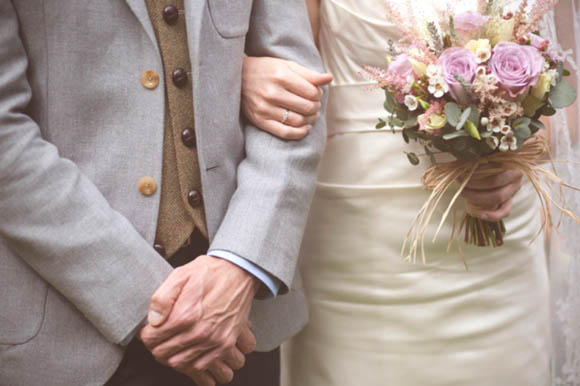 "We are
fairly relaxed, easygoing people, and we wanted our wedding to reflect
that. Our guests had a long way to travel, so we wanted to make a
weekend of it, and to work hard to make sure they had a nice time – we
had a bonfire with jacket potatoes the night before the wedding, and a
trip the beach the day after. We wanted the look of the wedding to
reflect the countryside setting, and didn't want anything to be too
formal or feel staged. At the same time, we wanted it to be special and
meaningful – not just a party on a farm! As a bit of an unusual feature,
the camels were a recurring theme in the invitations and decorations.
Most of our guests stayed onsite, either in holiday cottages or camping in a field full of sheep!"
"We considered writing our own vows, but are quite private people
and felt uncomfortable being too personal in front of everyone. So we
opted for the traditional wedding vows, which we felt added weight to
the ceremony and felt lovely to say and hear.
We had
family read three readings; A Lovely Love Story by Edward Monkton – we
love this story, and felt it was nice and appropriate, and added a bit
of lightness to the ceremony.   We also had Five verses from 'Wedding
Song' by Bob Dylan – we are both big fans of his, and this song is just
beautiful. We had it played while we signed the register.  And we had
The Apache Wedding Blessing – a nice traditional-sounding reading which
added a bit of weight and warmth at the end of the ceremony."
"I made the bunting with friends and family as part of my hen do at a
crafting workshop. The candle holders were made by Ian's dad from wood
from his garden. We decorated tables and other areas with origami camels
made by a friend."
"We ordered two huge trays of fudge from Roskillys, who are based near the farm. We wrapped chunks of fudge in cellophane and tied it with traditional Cornish tartan."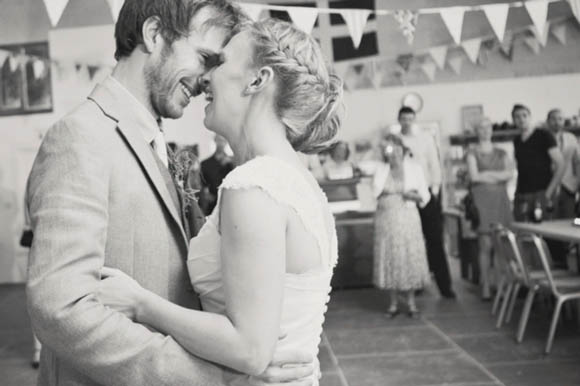 "Our first dance was to 'Fallin' In Love (Lady)' by the Beach
Boys, an unreleased 1970 track. We are big fans of the later, darker
Beach Boys albums, and listened to this song a lot around the time we
met."
"Our entertainment was a ceilidh dancewith live music by the Newlyn Reelers.
The band were charming, and the dancing was fantastic fun – having a
ceilidh meant that everyone joined in. Followed by an iPod playlist
cobbled together by Rosie and Ian!"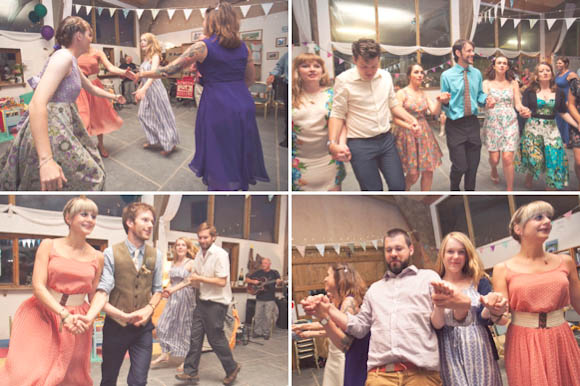 Words of Wedded Wisdom…
"Think hard about what
you want from the day and how you want it to be. Don't just take the
easy option. Try to please each other, not anyone else.  Don't assume anything – do you really want to cut a
cake? Do you want to do a first dance? Do you want bridesmaids? A best
man? Speeches? Why do you want them? Only do what you'll be comfortable
with.  Don't get sucked into the idea that you have to spend a fortune –
shop around, make things yourself where possible, and get friends and
family involved. Buy things secondhand, in the sales and from eBay – and
Etsy is a brilliant place to get lovely handmade items.
Think about what sort of day you want your guests to
have – try to make sure there aren't times when they will be bored or
unsure what to do. Let them relax. If they're in an area they don't
know, help them find accommodation and transport.  Planning and making everything ourselves was exhausting, but it
meant that every little detail was just as we wanted it. That made the
day even more special for us, and our guests appreciated the personal
touches."
Such a lovely wedding for a Friday afternoon and to see us through to the weekend.
Thank you so much Marianne Ford for sharing your beautiful photography, and much congratulations to you Rosie and Ian.
Oh Friday, I love you… *pours wine* (not too early is it?)
Much love,
Annabel
Photographer – Marianne Ford
Venue – Rosuick Organic Farm
Brides dress – Lusan Mandongus
Brides veil – vintage veil family heirloom
Brides Shoes + silk diamante hair comb – Emmy Shoes
Groom – jacket, trousers, shirt and
shoes from Liberty. Tweed waistcoat from Sir Plus
Bridesmaids + Flowergirl – Cyanide Kiss on Etsy, using Liberty print fabric
Flowers – Jackie Phillips + Cornish Cut Flowers
Cake – By Jan at Rosuick Organic Farm
Entertainment – Newlyn Reelers.
Hair Stylist – Rebecca Langdon
Makeup Artist – Natasha Flower