A beautiful late addition to our suite of features today, but you know what, some things are absolutely worth waiting for.
Let me ask you, have you ever just closed your eyes and wished you were…… a fairy? ☺  Paul and Samantha tied the knot on Saturday 30th June this year, with a ceremony at Christchurch Priory, followed by a beautiful and relaxed reception full of DIY touches at Sopley Lake in Christchurch Dorset. But rather than close her eyes and wish, Samantha went all out to style herself on fairies on her wedding day, with a little bit of help from a rather talented florist called Jay Archer…
"I have deep down (ok, not that
deep down) always wished to be a flower fairy, therefore wanted to
create the feeling of a magical world in the depths
of the woods for everyone to enjoy. Luckily Paul didn't even bat an
eyelid when I suggested that we go for a woodlandy inspired 'theme'
which would feature giant strawberries!  I didn't want the styling to
look too twee or Alice in Wonderland-esque so contrasted the toadstools
and the large strawberries with a rustic feel of wooden stumps, moss,
wild flowers and lots of fairy lights." 
Love My Dress Wedding Blog – Photography Copyright (c) 2012,  Amie Herriott
"Another big factor in everything
we designed and chose was budget and the fact that I wanted to recycle,
reuse and make things as much as possible from the making recycled paper
stationery to stripping most of our house of its décor such as jugs,
lanterns and signs to feature in one way or another, the list is endless
as most things that featured in our wedding fell within at least one of
these categories.  We wanted the day to be a relaxed and fun reflection of who we
are, with not too much fuss and frill."
"I have Jay Archer Floral Design
to thank for my absolutely magical head piece – a gorgeous gypsophila
floral circlet. Despite not knowing what it would look like on me, I
gambled and about two weeks before the wedding, and after many exchanged
emails withJay,
I asked if she could possibly make me one – when else can you were a
flowery crown!
She didn't hesitate and I knew I could trust her
completely, I wasn't disappointed the second I put it on the morning of
our wedding it was the defining, last element of my outfit (I felt like a
fairy bride) and it received endless compliments!"
"Where to begin with the flowers!?  Jay's
arrival with the bouquets and buttonholes to our hotel evoked the first
tears of the day. They were stunning, more beautiful than I could have
even imagined daisies, grasses, herbs and hues of lavender and soft pink
and even a hidden little strawberry in mine. I know I am biased but I
just thought they were the most beautiful things I have ever seen.
We
found Jay when searching for a florist who would understand a natural,
'handpicked out of a meadow' look, and loved the fact that most of the
flowers that Jay uses she homegrows or forages for. I knew from Jay's
website and pinterest she would know exactly what I was after, and upon
an excited meeting over tea and cake exchanging ideas the deal was
sealed. Her service and enthusiasm is beyond superb!"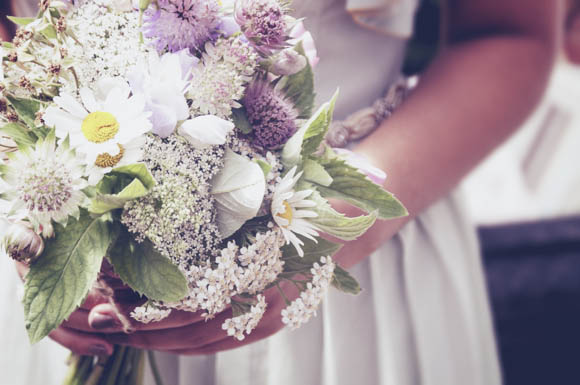 "I incorporated the place settings and favours as one. I made every
guest a wedding lanyard that included 8 pages, like you would get at a
festival, which included the plan for the day, the menu, the music, a
photo game and a map of the venue. For the front page and the place
setting, for the girls, to reflect me, I adapted Cicely Mary Barker
Flower Fairy illustrations, trying to select each fairy to resemble the
guest. For the boys we chose playing cards, as Paul is an avid poker
fan.
Most guests wore them right into the evening and they were a little
memento for them to take home."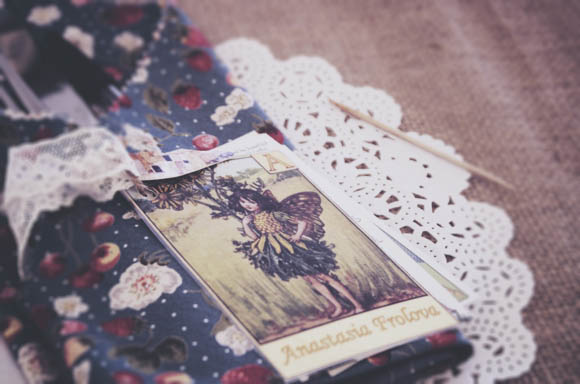 "I adored my mint green bridesmaid dresses, it was a dress I
owned myself before getting engaged. It didn't hurt that they were an
absolute bargain too at £10 each from T.K. Maxx.
I loved the pleated chiffon skirt, and scalloped detailing around the
neck! I didn't want anything too bridesmaidy and knew that none of my
girls would be particularly happy in anything strapless, I wanted them
to be comfortable and able to prance around all day and into the
evening."
"We made the bridesmaid belts from beaded gold and pearl Primark
head bands, removing the elastic and replacing with lace ribbon to tie
at the back, they worked great with the dresses.
I had ordered personalised lockets from etsy for each bridesmaid
but unfortunately there was a problem with the postage and they didn't
arrive in time. I sent Paul on a mission the day before the wedding and
he saved the day choosing the sweetest little gold leaf shaped necklaces
from Accessorize that matched perfectly with our wedding and the girl's
outfits! Knew I was marrying him for a reason."
"Jay
designed gorgeous buttonholes that Paul requested to be 'manly' from
wheat, strawberries, thistle, lavender, honesty and astrantia."
Samantha wore a design by Benjamin Roberts (2228) which she purchased via Special Occasions in Poole, Dorset…
"I
absolutely loved dress shopping, getting to spend endless Saturdays
with my mum and sister, proper memorable girly time, but struggled to
find anything that was 'my style'. In my head I wanted to have something
that I felt I could dance bare foot in a daisy field in but also wanted
something that I hoped Paul would think I looked not just beautiful in
but 'hot'!
I absolutely love the whimsical style of Claire Pettibone
dresses but massively out of my price range, so sought out something
that I felt came close with a bit more structure."
"After eleven dress shops I unexpectedly found my dress in a local
bridal shop. It was made of the prettiest lace, it fit to my frame in
all the right places, and had a gorgeous train. However, in it's
original form it was a strapless dress, a very pretty strapless dress
but not what I wanted. Luckily for me the shop owner used to design all
her own dresses, so after asking her if we could add some sort of
sleeve/neckline, lower the back, add flowers to the base of the back and
remove the belt she answered yes to all, pinned me about to show me, my
sister cried and I purchased it."
"I will admit that I didn't get 'the
one' feeling, I even cried tears of 'I have chosen the wrong one' after I
bought it but after going back for another try on I stuck to my
decision and so glad I did. Once I had all the alterations completed for
the final fitting about 4 weeks before the wedding I finally got 'the
one' feeling I LOVED it, my stomach flipped again – always trust the
stomach flipping ☺!!"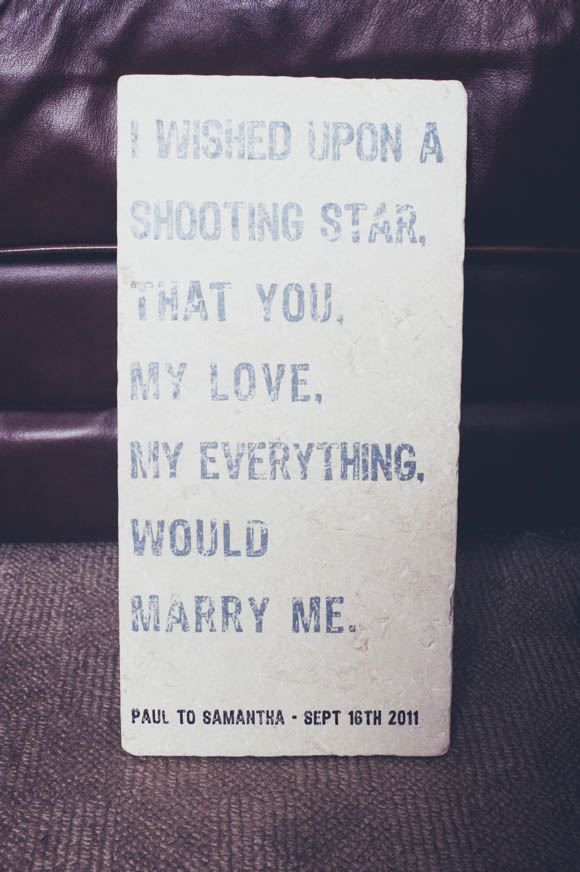 "We hired Rachel at RSVP Weddings & Events
to help us plan and style oru wedding. Rachel's services range from
full event planning to helping with set-up and co-ordination on the day.
Rachel's help before, during and after the wedding was completely
invaluable! She understood and shared our vision and it was fantastic to
know that on our wedding day we didn't have to worry about a thing, as
she was so enthusiastic about helping to create the most perfect day for
us"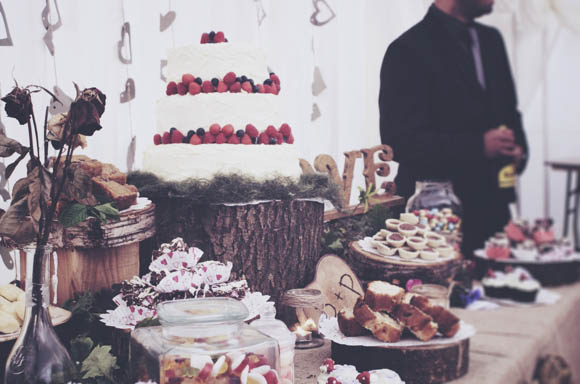 "I tried to make as much as possible for the wedding decor, I love
making things so was in my absolute element! The venue was gorgeous
anyway, so created décor to compliment it all. I made massive papier
mache strawberries to hang in the trees (inspired by a Thumbelina
inspiration board found on a wedding blog), directional signs from
broken down wooden palettes, fairy light wreaths made from branches and
hula hoops to hang that from the ceiling of the marquee."
"My sister's
boyfriend kindly made the big LOVE sign and our initials for us as a
wedding present– they were amazing for people to have photos with. For
the tables my mum cut hessian squares set with napkins I cut from
different floral fabrics, then for centre pieces we used moss as the
base, then tree stumps, lanterns, little toadstools and silver birch
bark vases I made from fallen birch mum collected from the woods and
burnt our initials in them, they were perfect for Jay's gorgeous
handpicked flowers. Numerous old apple and veg crates were used to
create a whole display for our table plan and hay bales were used to
create our seated 'chill out area'."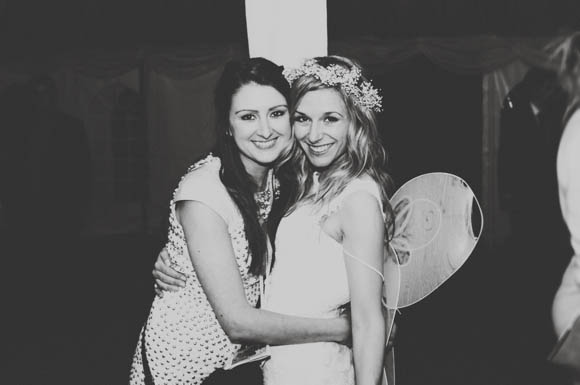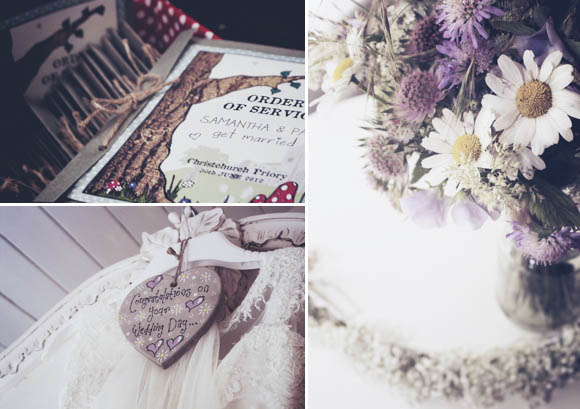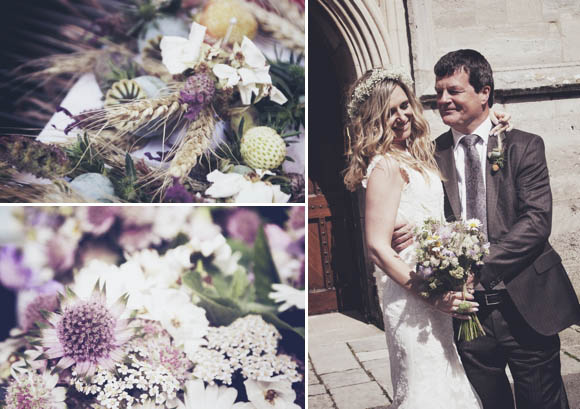 "I kept my jewellery simple – opal earrings that my mum gave me for
my 21st birthday and an opal bracelet that my mum also gave me the first
evening of my hen do, that matched my earrings perfectly. I also made
the decision to wear my lip ring later on in the evening at the
reception as Paul said he would love it if I did.
My mum did my make-up. My mum has been a beauty and
alternative therapist for the last 30 years so there wasn't really much
of a decision to be made about who would do my make-up. She did fake
eyelashes a week before the wedding and kept the rest of the make up
quite natural with a slight smokey eye and nude lip. I did my own hair, I
wanted something very relaxed and natural so curled it the night
before, slept on it, topped it up in the morning and used a good dose of
strawberry smelling hairspray!"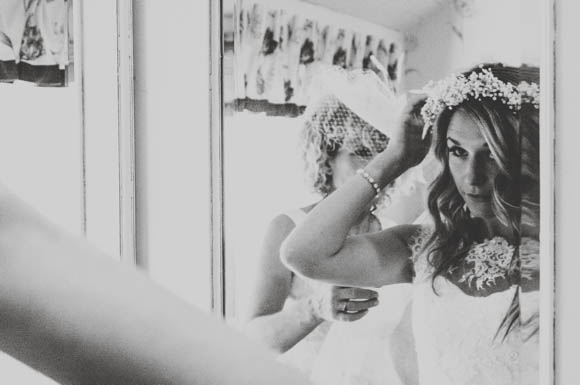 "I went for a simple finger length scallop edged veil from the same
bridal shop. I was determined I wanted a veil as it is the only time you
get to wear one, but as my dress was backless I didn't want anything
that would distract from it too much and I needed something that would
work with my floral circlet. Anyway, my veil fell off when we kissed in
the church and it didn't make it back on to my head!"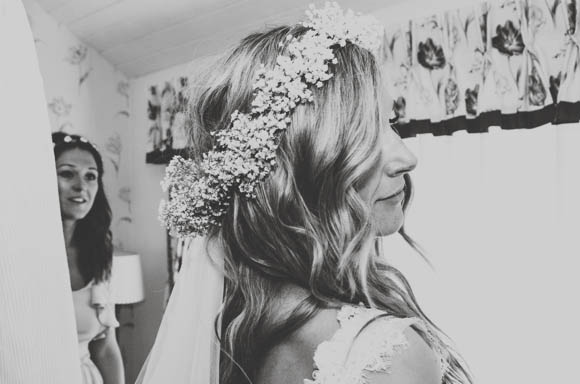 "Paul picked his tan brogues from
Office, a tan and dark green paisley tie and finished his outfit off
with a pocket watch I had bought him for his birthday and had engraved
for the big day as a surprise…"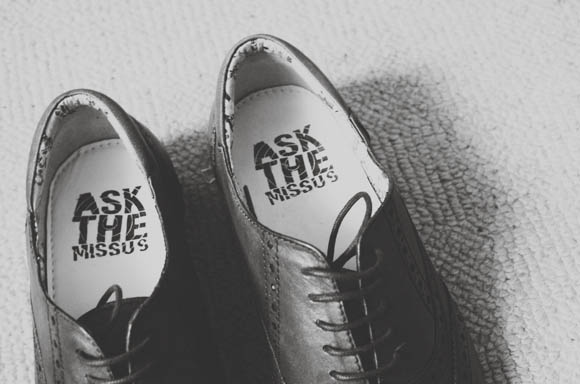 "The proposal – it was our Friday night date night and we walked to
our local little pub for a drink before heading to our favourite
restaurant for dinner. After our dinner, we went for a walk through the
ruins and gardens in Christchurch, as we approached the Priory gardens
there was an archway covered in fairy lights (that he had got his mum
and stepdad to set up whilst we were eating, then ensured no one entered
the gardens before we got there), as we got nearer he asked if I wanted
to know what a tattoo he had done in elvish a couple of months ago
meant (it can be found on his ass in the shape of a heart 😉 ).
With
that he got down on one knee under the arch, and quoted his tattoo ' I
wished upon a shooting star, that you, my love, my everything would
marry me' and produced my beautiful sparkly ring! It was so perfect!"
"My Dad walked me down the aisle – it was one of the most special
memories that will last me my lifetime.  Our musical backdrop was Ave Maria by Schubert sung by the full Priory Choir.
I wanted something that would create an atmosphere and set the tone.
Having a choir was the only thing throughout the whole planning process
that I had to convince Paul about. He was so glad I did, as he said it
was one of his favourite, most memorable moments of the whole day when
the choir starting singing and I began to walk down the aisle."
"Before I got engaged I had always thought that I would get
married in the local church to my family home in Surrey so that I could
have a relaxed garden reception at my mum's house as it is situated in
the woods.  This all changed the day that Paul got down on one knee in
the beautiful grounds of Christchurch Priory, our stunning local church."
"With the church now having a sentimental meaning to us I made an
enquiry and found out that as we live within the Parish we were
eligible to get married there. My stomach literally flipped with
excitement at the thought we could be wed there and the decision was
made. Just a problem of finding a venue then that matched up to how I
had envisaged a relaxed garden reception that was purse and poket
friendly.
After a google search, I managed to find a wedding and event
planner, Rachel at RSVP Weddings & Events , who
had exclusivity over a secluded lake venue situated on a farm no more
than 10 minutes away from the Priory. As luck had it she had an open day
two weeks after our engagement, Paul and I fell in love. The venue was
stunning and so perfect, and Rachel was completely flexible on pretty much everything, which lent itself to having the laidback homely feel we wanted to create."
"I know they don't really get much of a mention but one of the
most personal parts of our day was a reading that my sister did in the
church. She had written it herself, a quirky touching poem that she
initially read out at my hen do whilst we were all huddled in a tent
dressed as fairies drinking out of willy straws. All us girls were
reduced to blubbering messes. It was so sentimental and beautiful I
asked if she would read it in church, she was so nervous about it as it
was her own work, but needn't of worried she got a massive round of
applause, a testament to how clever she is (big proud sister here)!
Even
though the girls and I knew what was coming we all said we couldn't
hold back the tears again (photo of me crying at the registrar table)
and apparently my dad was balling it. Anyway it is the things like this
that make your day so special and not always the little details that you
meticulously plan and create to style your day…"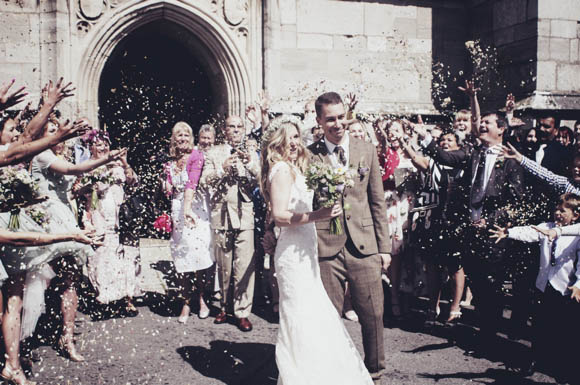 "Paul originally bought a smart three piece, taupe Ben
Sherman Camden fit suit, but upon me playing around with ideas for the
groomsmen, he decided he much preferred what I had styled for them,
resulting in Paul being the proud owner of two suits. The one he chose
for the day was a tweed skinny fit suit from the Heritage range at Topman, with a light grey waistcoat. Paul's style is slightly
alternative, with a love for tattoos so he never wanted anything too
formal.
Although I knew what he was wearing as I had picked it, he
wouldn't let me see him in it until the day, I am so glad he didn't when
I saw him waiting for me at the end of the aisle – Oh.my.god he looked
amazing!"
"I wasn't going to have a proper car and was just going to use my
friends cream convertible mini until my dad pointed out that did I
really want to try and scramble out the back of a 3 door in my lovely
dress. Point taken we booked a light grey 1961 Jaguar, with red leather seats. I'm not really fussed by cars, but we both loved it!"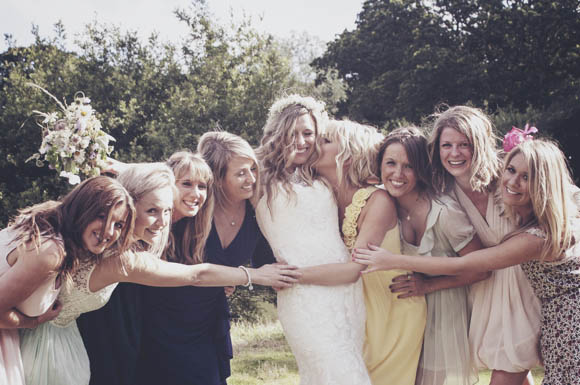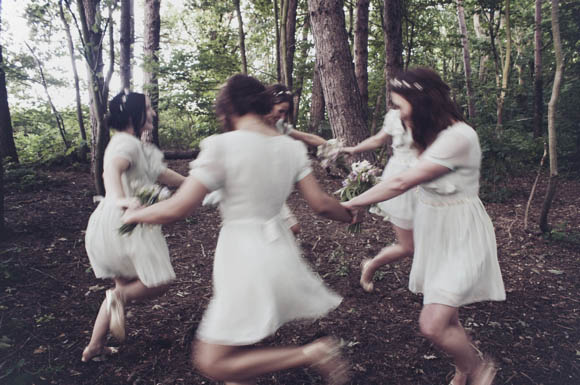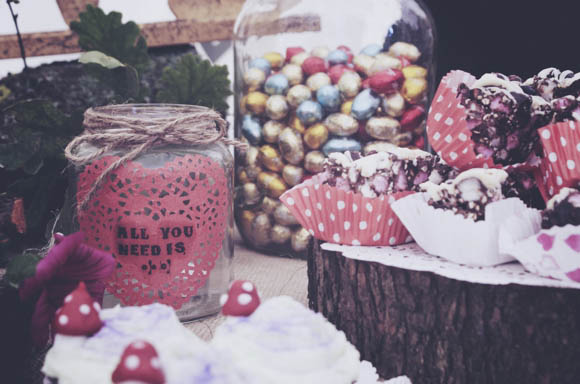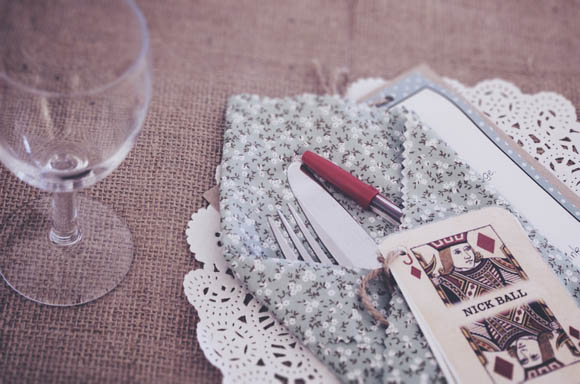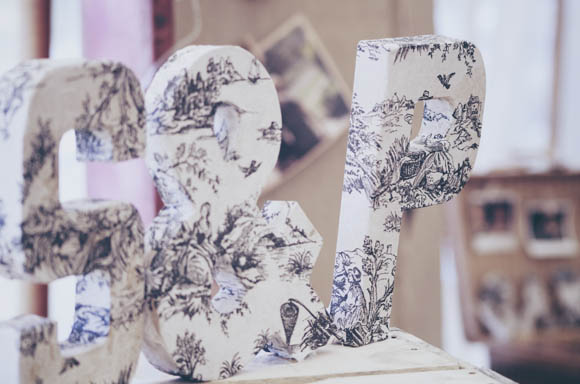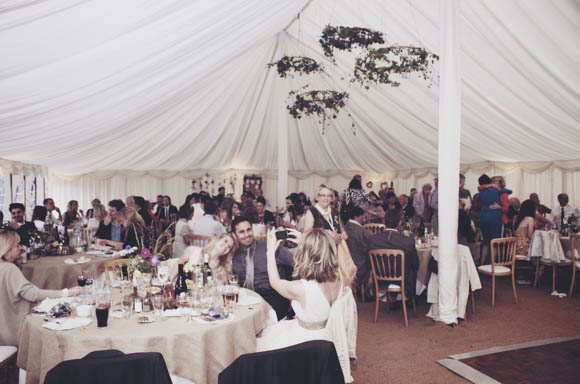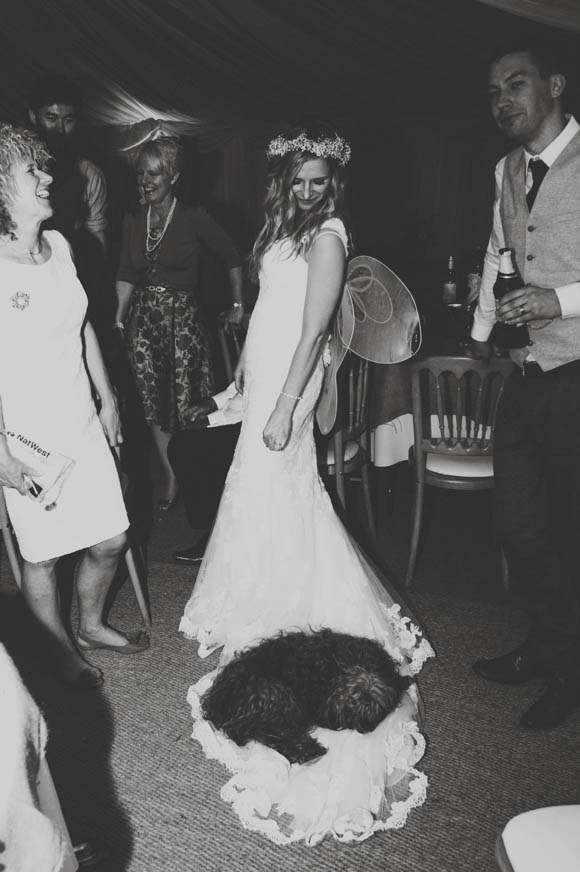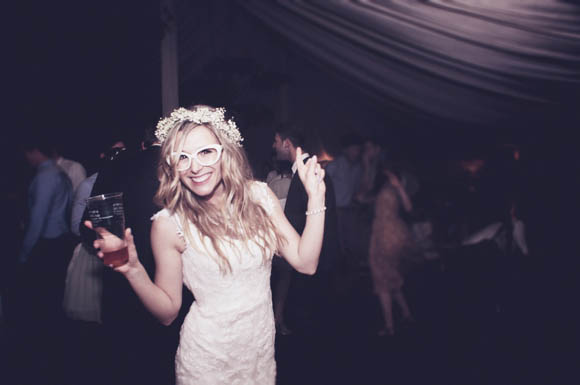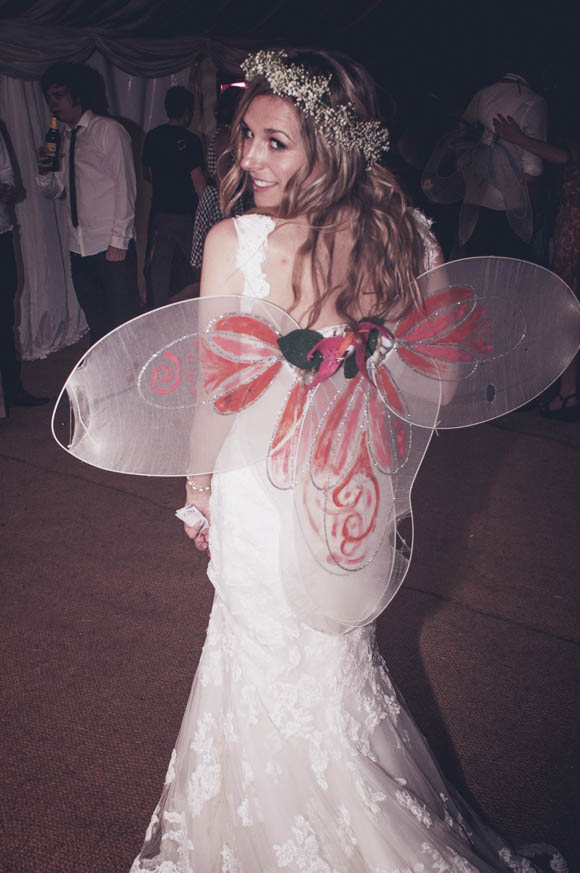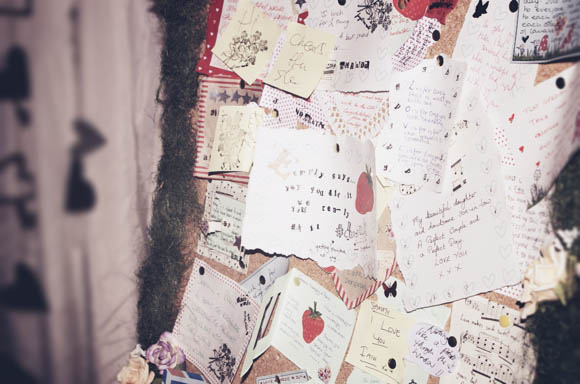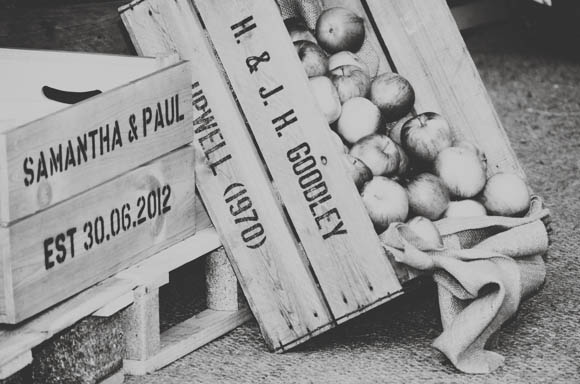 "I made the girls little daisy chain
hair bands to tie in with my gypsophila floral circlet. I told them they
could wear their hair how they wished, on the day they all decided they
wanted to wear it in a similar way, apart from my sister (maid of
honour), which worked perfectly."
"Our first dance was 'Manhattan' by Kings of Leon.
There was never any doubt about what song it would be. Not a love song
in the slightest, but completely encapsulates our love. I get choked up
thinking about it let alone each time I hear it. The reason why this is
'our song' and why we chose it…on our travels 3 years ago we were
staying on a tiny, beautiful island in Fiji. One evening a heavy
tropical thunderstorm hit the island, and everyone gathered in the main
beach hut for the evening.
With the DJ playing music, Paul had
unbeknownst to me gone and asked if they would play a Kings of Leon song
(his soundtrack of our travels) they selected 'Manhattan'. Paul grabbed
me by the hand and pulled me outside, where we danced together on our
own in the torrential rain, under the moonlight, on this idyllic
tropical island! Sounds so cheesy, but was the MOST magical moment, one
that should only happen in movies and Paul created that for me! I admit I
shed a few tears of happiness during our first dance."
"My sister's boyfriend's (one of our groomsmen) brother is in a band
called The Brackets and kindly said that for a nominal amount they
would perform a couple of sets for us with songs ranging from the Arctic
Monkeys to The Clash. Firstly for when people were arriving to the lake
to create a festival atmosphere then after dinner to get people up on
the dance floor. Throughout the meal and as evening guests arrived we
had a chilled out playlist on our laptop of songs that meant something
to Paul and I, then later in the evening a whole selection of tracks to
get the party going.
As additional entertainment for
adults and kids alike we used an empty hut at the venue as a 'photo hut'
with fairy and festival themed props, had garden party games such as
sack races and giant jenga, and we made a scrap book table with
different papers, post-it notes, stamps, stickers and decorations for
people to create and leave messages pinned to a cork board that I will
use to create a wedding scrap book combined with all the photos from the
day."
Words of Wedded Wisdom…
"Try to love every minute
of the planning and make the most of additional time you will get to
spend with your friends and family! Obviously there will be stressful
moments but remember that hopefully this will be your once in a lifetime
opportunity to enjoy this exciting time, so take in every moment and
try not to let it stress you out. I revelled in every single part of the
planning, but don't lose sight of the reason behind it all.
Choose
suppliers carefully and go with those that you feel share your 'vision'
and understand how you wish your wedding day to be. We were very lucky
that many suppliers were friends, but those that weren't felt like
friends and have since become so. It created such a wonderful atmosphere
for the set-up and on the day and knowing you can completely trust
people with all aspects of your day is a massive stress reliever!
Obviously it is a given that the whole basis of a wedding is
love, but what we couldn't have been prepared for was all the love that
surrounds you from your friends and family as well! From the moment we
got engaged to our wedding day the excitement that everyone else had for
us blew us away, and the effort that people will make for you, we had
family fly in from Australia and America just for that week of our
wedding. My mum was my fairy godmother and just made things happen,
working tirelessly on jobs I didn't have as much interest in like
trawling the internet for hours searching for things like the most
eco-friendly petal confetti.
I know it is a given but it
truly was the happiest, most special day of our lives and not only are
we are truly blessed to have each other but to have the most wonderful
family and friends that one could wish for."
It's whimsical, it's wonderful, it's absolutely ruddy beautiful and I just adore it.
Huge, huge thanks to the very talented Jay Archer for bringing this beautiful celebration to our attention.
Have gorgeous dreams filled with fairy love everyone 🙂
Annabel
Photographer – Amie Herriott
Venue – Christchurch Priory + Sopley Lake in Christchurch Dorset
Wedding Planner – Rachel at RSVP Weddings & Events
Brides dress – Benjamin Roberts (2228) purchased via Special Occasions in Poole, Dorset
Brides floral headpiece – Jay Archer Floral Design
Groom – Tweed skinny fit suit from the Heritage range at Topman
Bridesmaids – T.K. Maxx
Florist – Jay Archer Floral Design
Transport – a light grey 1961 Jaguar
Catering Company – Cheese and Alfie's