I feel so privileged in my position as a blogger, to be able to share and promote the talents of some of what I consider to be the UK's very best independent designers.  Anyone who knows me properly knows that I am fiercely supportive of the independent designer – there is a reason for that, perhaps best described here.  I appreciate that I am in a position to promote these creatively very skilled people and I take pride in using my blog as a vehicle for doing so.
One of my very favourite independent designers is a lady who goes by the name of Dana Bolton.   London based Dana is the first lady I turned to last year when I realised I would be needing a rather special new frock for a little soiree I threw for the 250 members of the UK wedding industry.
Today, I'd like to share some details about Dana, because I want all my readers to know about her.  The images in this feature by the way were shot by the fabulous Kirsten Mavric, who I very highly recommend for wedding and portrait commissions (Kirsten accepts commissions from all over the UK and beyond).
Dana tells us about her signature bridal style and what draws her to this aesthetic…
"I am and always have been a complete romantic and lover of beauty, expressed through nature, colour, textile and texture.  There are quite a few wafty, bohemian elements in the dresses in my new collection – seen pictured here today. This romance is showing up in with irregular layered floaty hems and cascades of silk flowers, lace, lace and more lace!
I do love working with lace and pride myself on using some very lovely soft French laces – some of the best available in the world…"
 Love My Dress Wedding Blog – Photography Copyright (c) 2012, Kirsten Mavric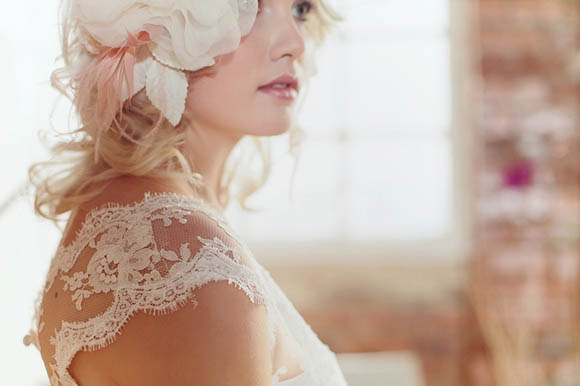 "To describe best what I do would be to say I am a designer creating bespoke garments, but with a current collection of designs that can be developed individually. My label is Dana Bolton, and my business has developed over the years in a very organic way – that is to say, without a definite plan.  This has allowed me to be flexible and to learn from my brides what they really want.
 I am based in North London Muswell Hill (N10), working from a studio in central Muswell Hill surrounded by cafes and shops."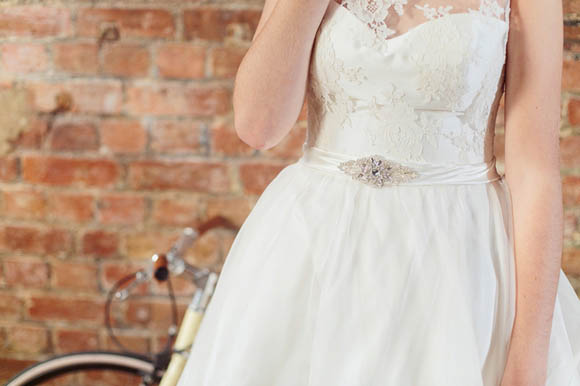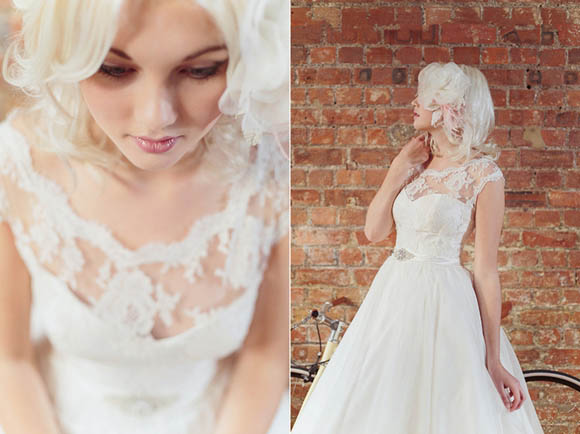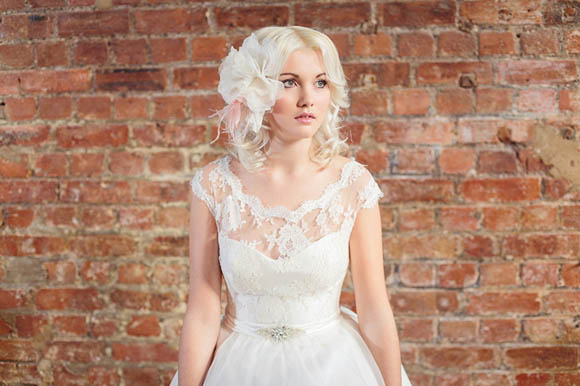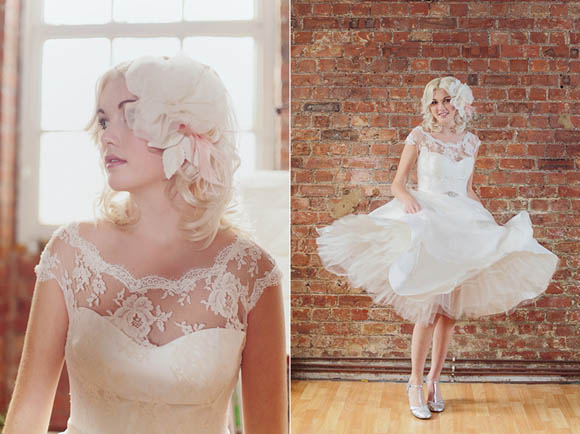 "I have been through a bit of a watershed summer, developing a collection of dresses that reflect my personal favourite  looks. Over the last few years I  have concentrated on the shorter tea length dress, being a popular choice of my brides. This look has developed to a softer version of the fifties dress using soft French Laces and soft Polka dot layered over silks and silk Organza. 
I am so happy to now have a studio full of lovely dresses to chose from. I do still offer a full bespoke service and love to hear brides wish lists of dress elements in order to design the "one".  However, the looks I have covered reflect current contemporary style whilst, I hope, adding a little more of me and my signature style in to the design process."
"I have been working with bias shapes of late and include a few slinky silk crepe satin samples. Thirties movie star glamour informs the bias designs, with elegance and flattering, flowing fabric
I tend not to use too much in the way of embellishment and surface decoration, keeping a strong design but with simplicity. 
My brides come to me from many walks of life. Many shapes and sizes and ages. The one thing in common is the desire to find a dress that is a little more individual but still beautiful."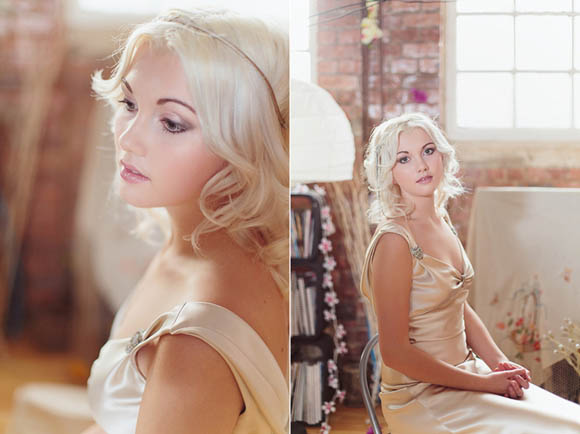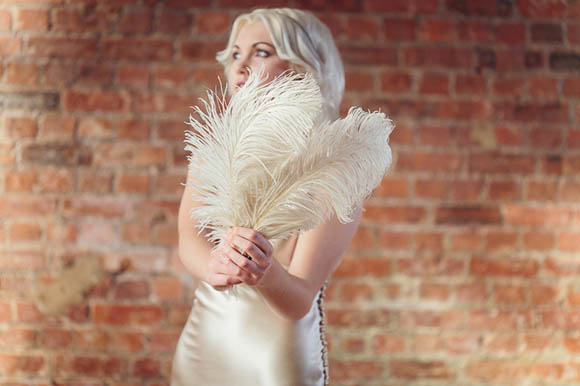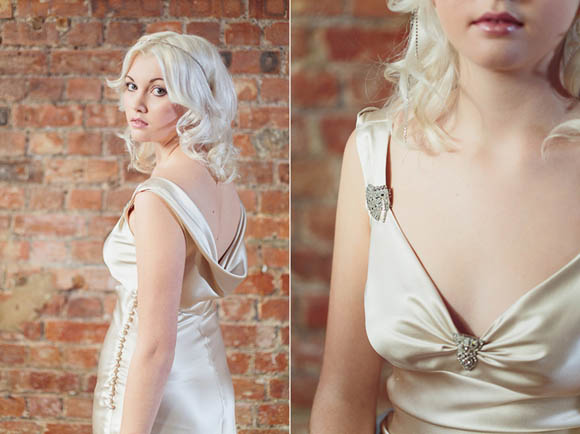 "My vintage shapes and the designs I have developed come from a wealth of experience in cutting shapes from past eras. I try to combine this with a contemporary update of the looks. My brides can look through the samples from different eras and looks.
The process of commissioning a dress starts here, with any changes or style development  discussed and decided. I do not at present supply a range of dress through shops , although this is something I would like to lead into soon. I am looking foreword to expressing more of  the whimsy and bohemian romance that really inspires me."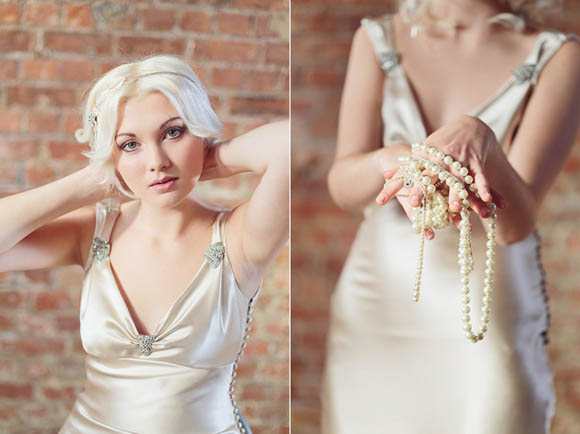 "I was so privileged to have worked with the amazing team of people who created the images you see on this page today. This shoot was to be a gorgeous and creative event whilst focusing on my dresses and the utterly beautiful models we were so lucky to have.
The idea was simplicity and beauty – something I believe our photographer Kirsten caught perfectly – she is such a talent!
Our beauty stylist Lucy Jane worked her magic to transform the girls beautifully. Working flat out I might add! hair and make up three girls- alone! a complete star."
"I discovered headpiece and accessories designer Donna Crain through Love my Dress – I really love her hair pieces, they are stunning and work so well with the designs in my latest collection.  
 These dresses are just some of the samples from my collection – there are more beautiful designs available for brides to view via appointment. I ended up adding a bit of a fantasy theme with silk butterflies to one of the lace dresses just for the shoot but I love them so much they are going to stay.
I made the long silk tulle veil with a lace Juliet cap at the last minute and simply adore how this looks with a long, soft, unstructured, lace dress."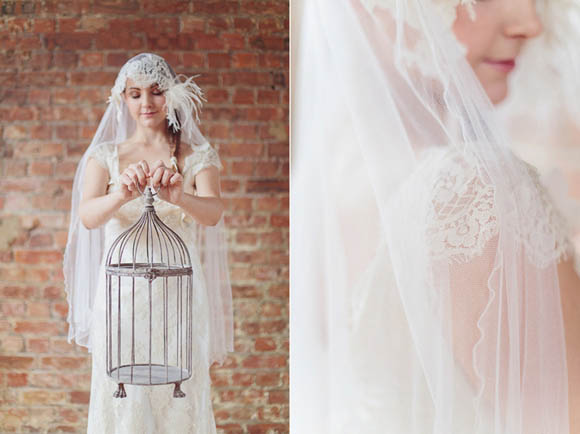 "We have named the shoot Pearl, reflecting not only the delicate, femininity of silks and pearls but also the luminosity of the beautiful photographs, and elegance of the models."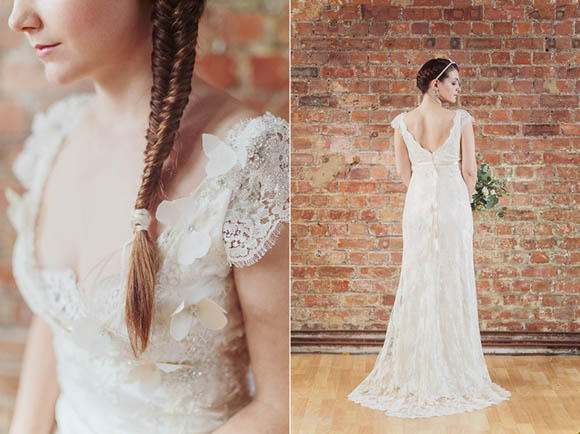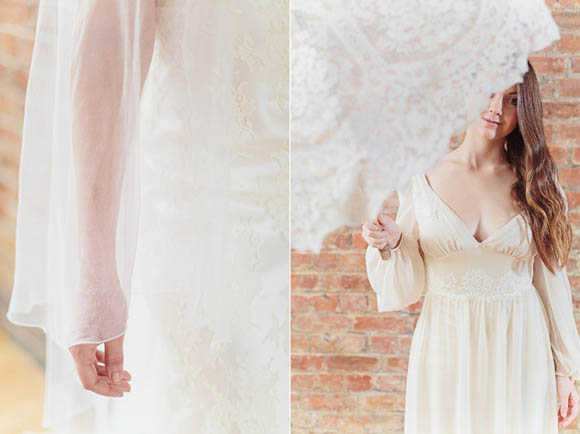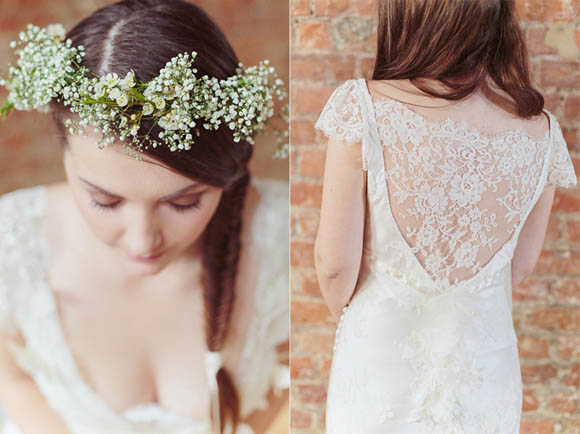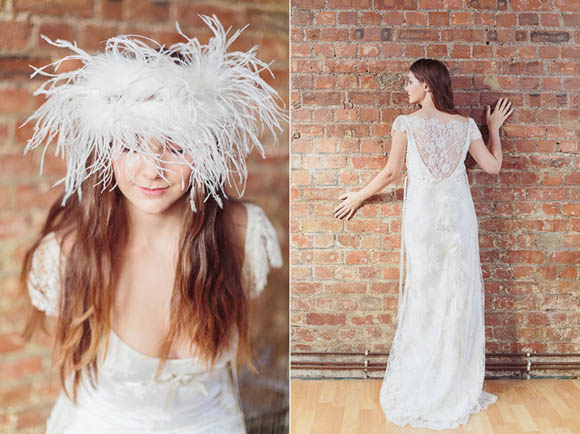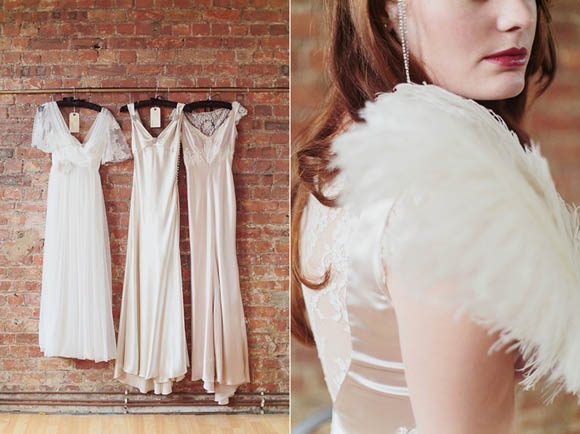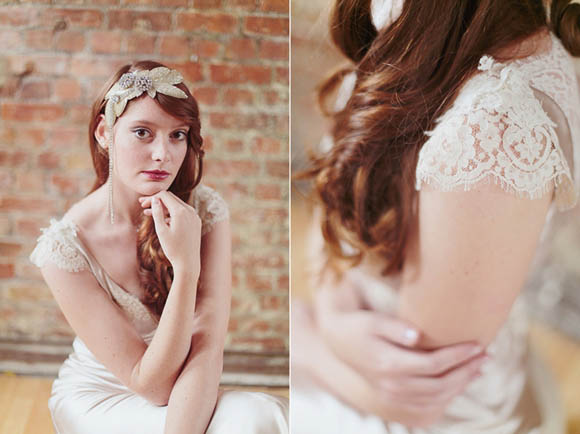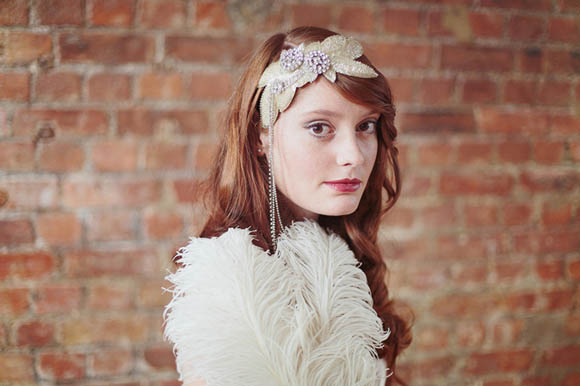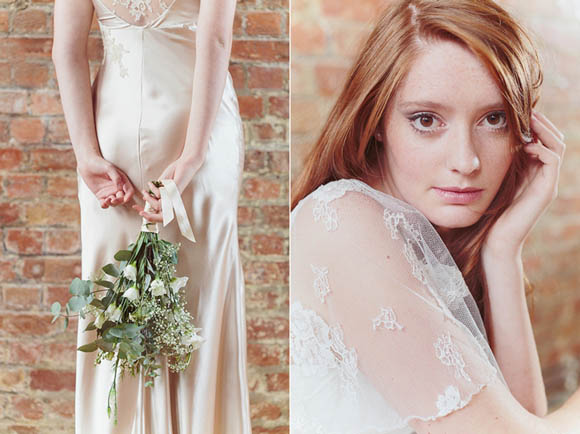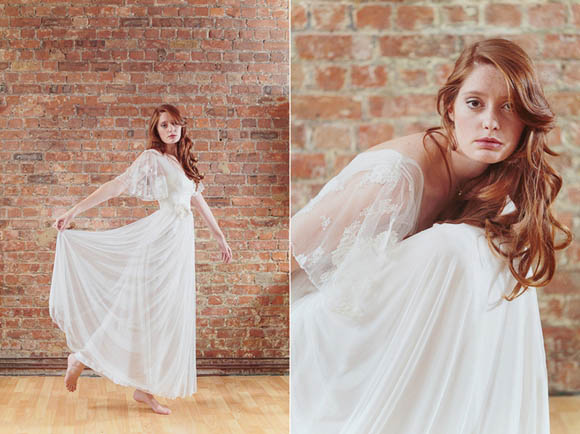 I think you will agree, these are pretty darn gorgeous images, and representative of the talent and skill that 
Dana
 possesses as an independent dress designer.
If you would like to find out more about Dana and her wedding dress design services, please visit the Dana Bolton webesite for contact details and further information – Dana would be absolutely delighted to hear from you and make a booking for a no-obligation consultation, where you will be able to talk through your wedding dress ideas in a comfortable environment and browse through Dana's designs and portfolio at your leisure.
Much love all,
Annabel

Credits
Location – North London warehouse apartment.
Juliet cap veil / floral headdress/ hair flower – Dana Bolton
Models – Kimmy Spreadbury Rosie Gregory, model mayhem and Helena Bonner 
This
is a sponsored post. If you would like to learn more about
our readership, visitor data and analytics and the various advertising
and sponsorship options available, please do not hesitate to get in touch
via

[email protected]

.  We look forward to hearing from you.  Annabel, Franky and the Love My Dress team.