Morning everyone. Well, I'm hoping this really beautiful, and emotion packed wedding day will lift the spirits if anyone who like me, is looking outside and seeing a sea of 'grey' today.
Lauren and Matt tied the knot on Saturday 8th September 2012, at St Mary's Church in Olveston, Bristol, followed by a beautiful Woodland Blessing at Memorial Woodlands, Earthcott Green.  I so enjoyed looking through these images for the first time, but on reading Lauren's words about how she and Matt had crafted their wedding day around Lauren's Father, who sadly passed away eighteen months earlier, really brought a lump to my throat.  Franky has written about what it meant to her to not have her Father present at her wedding earlier this year, so this really touched me…
"There were a few things that swayed our decision in the venue in the end, but essentially, it was about being able to have a blessing by Dad's tree on the day of the wedding.
We knew the day would be emotional
without Dad there, this was inevitable. But we couldn't spend the day
feeling sad and empty because of his absence , instead we made him part
of it by being influenced by all the things he loved as we carefully
crafted our day. He definitely would have encouraged us to do things our
way and to do things differently if that's what we wanted."
Love My Dress Wedding Blog – Photography Copyright (c) 2012, Julie Anne Images Photography
"We had two page boys – our gorgeous nephews, Roo and Jed.  They each wore lovely bow ties made by a family friend…"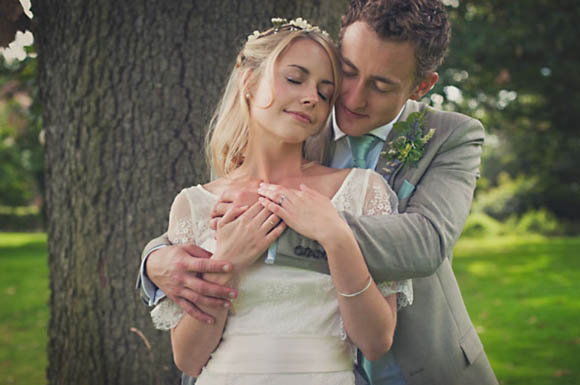 "I especially enjoyed the styling aspect and the planning – it's all about the details! We were inspired by the countryside and camping holidays, wild-flower meadows, rustic details and
everything that happens in September, for example, the hay making going
on in nearby fields, corn-fields and blackberry picking!
We used wicker wreaths, decorated with wax flowers to decorate the church and outdoor space, and jam jar pew ends filled with meadow flowers.  My Brother-in –law made us a wooden swing (see top image), to hang from the tree
and we decorated it with ivy. He also sourced hay-bales from a local
farmer.  We used Dad's wooden step ladder to house the seating plan.
There were so many other lovely details I had admired on wedding blogs and sites such as Pinterest."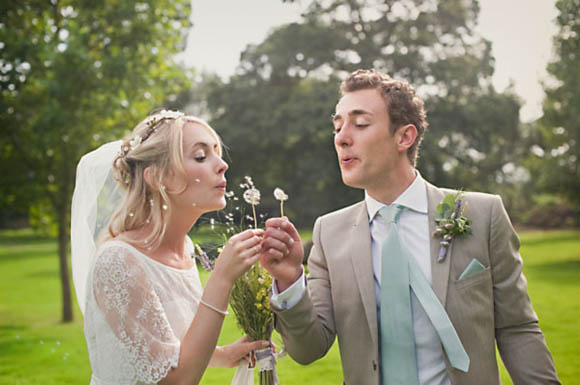 "We made all the stationery ourselves – Matt designed it, having been inspired by the stationary Charlie at The Natural Wedding Company made for her own wedding, that featured on Love My Dress.
Matt made
little luggage tag inspired place names and my Auntie tied  together all
the cutlery and napkins with raffia and lavender."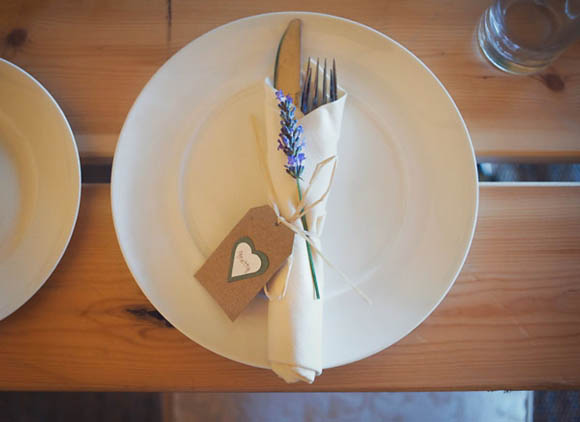 "My Dad had always loved Nissan Figaro's and had been keen for me
to drive one . We decided to hire one for the wedding day and found a
great little company called Retro Hire
that were able to supply us.   Mum drove me to the church in it and Matt
and I used it for the rest of the day and took it on our trip to
Cornwall after the wedding.
It was great fun, every time
we drove it we re-lived the day and even the colour was perfect for our
theme! We are hoping to hire it again to celebrate our anniversary."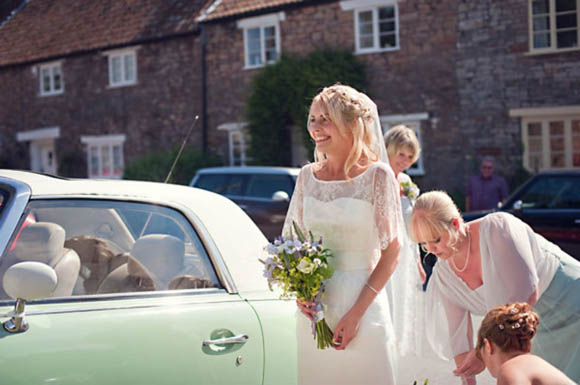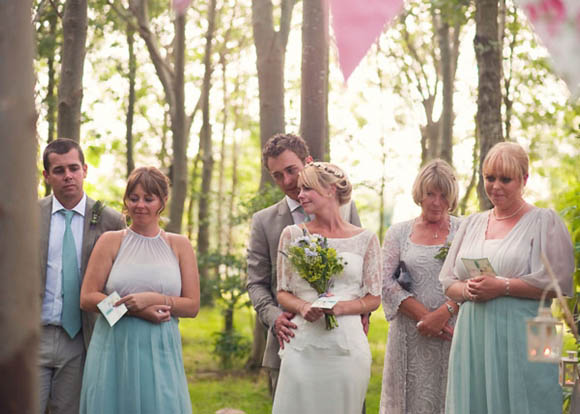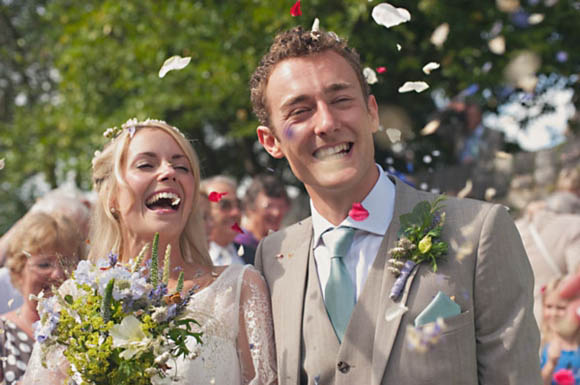 "I collected milk churns  and glass bottles to be used as vases.  We
also used old apple crates planted with lavender, pansies, violas, rosemary
and grasses to decorate the area outside the tipi and now have these in
our gardens as a reminder of the day.
The colour palette that inspired me involved greens/blues of the sea, soft pastels and natural colours. I also adore lavender (from vibrant purple to chalky grey) as well as the scent – which we tried to incorporate into the day."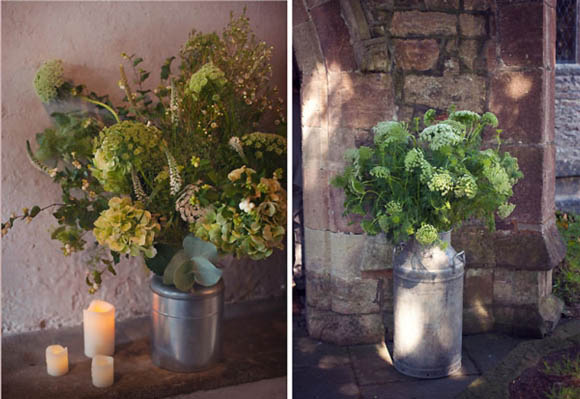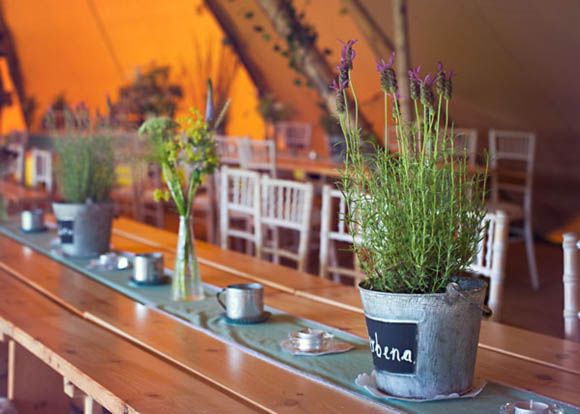 "Choosing the right 'venue' for us was really important in
creating the relaxed, outdoor wedding we were dreaming of.  We knew that
we would enjoy the day most if we felt relaxed so we decided to keep it
very informal.  We looked at a few countryside
venues both at 'home' and in Cornwall, both places were sentimental so
it was hard to choose between the two. Having recently moved away from
the area where we first met and both grew up (although both of our
families still live there) we love and appreciate it even more.
In the
end we decided to be married at home and have a holiday (mini-moon!) in
Cornwall after the wedding."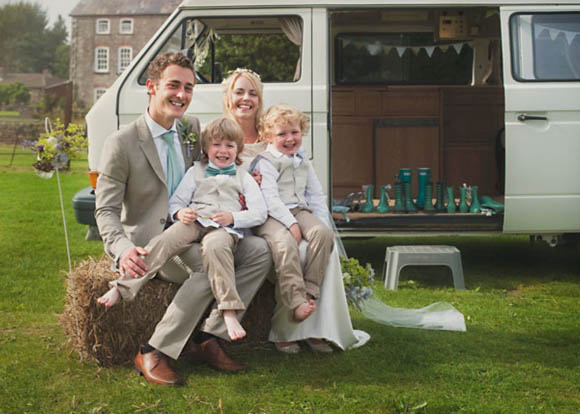 "We are very lucky to have a wonderful family friend who is a
florist.  I knew I wanted meadow style flowers and Sue guided me to
choose flowers that would work well together and let me help with the
arranging the day before. It was great therapy – her home was an oasis
of calm in amongst all the chaos of the preparations.
We went to a local
grower, Organic Blooms, to  buy seasonal
flowers such as scabious and knautia . We also choose lots of Ammi which
we used both as a filler and on mass in silver milk churns outside the
church. This gave it a beautiful country feel.  We also chose wax
flowers ( to wear in our hair) astrantia and rosemary  and
eucalyptus(for the button holes and to signify 'remembrance)  bridal
anemones  (my favourite flower) wheat sheaves and snowberries ( to
reflect the season) which we bought from a flower market.
A neighbour
came to the rescue and provided us with lots of fresh lavender!"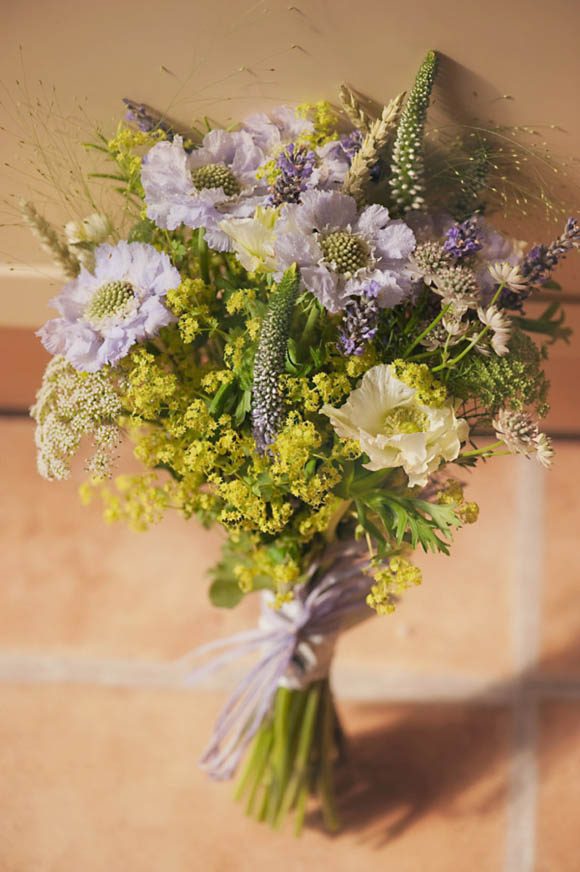 Lauren wore a dress by designer Jessica Charleston, that she purchased from Carina Baverstock Couture in Bradford on Avon…
"I tried to do a bit of ground work, researching
different styles online before we went out dress shopping as I had heard
from other brides to be that it can be confusing if you try on too many
different dresses.  I really wanted a dress with sleeves, something
quite delicate and floaty.  As soon as I tried this dress on I knew it was 'The One'.  I
didn't want to take it off and didn't feel the need to try on any
others. I surprised myself with how decisive I was. I loved that it was
so comfortable in it and I could envisage myself skipping barefoot
through fields with flowers in my hair! 
Afterwards I found out that it was made by a local designer and
the collection was very aptly named Fleurs Sauvages  – 'Wild flowers!'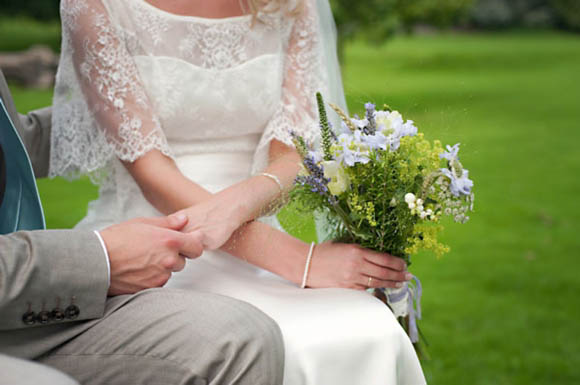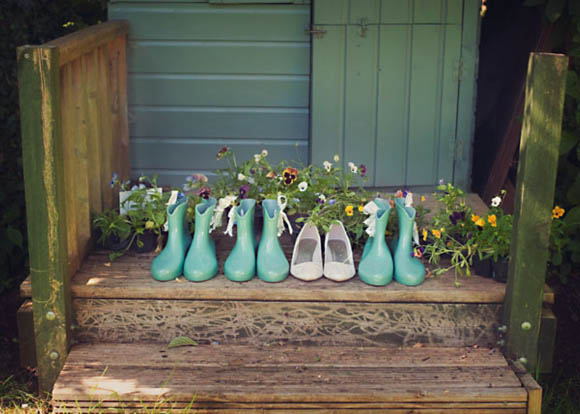 "Our photographer was a very special lady called Julie of Julie Anne Images Photography. We spent a lot of time searching for a photographer that would be right for us and feel so lucky to have found her.Before we met Julie, we hated having our photo taken but she made us feel at ease. 
She took time to get to know us before the wedding and fitted in
perfectly on the day – everyone felt like she was part of the family and
they all loved her.
The wedding day is over so quickly
so it is really important to have some beautiful photos to help you
remember the day – we couldn't wait to see our pictures and re-live the
day again. I love little details and was so excited when the photos
arrived, packaged beautifully with lots of thought and care.
We
would recommend her to anyone who wants beautiful, natural wedding
photos and a photographer who's fun, creative and thoughtful."

"I wore an accessory from DeLoop on Etsy in my hair, that I styled with  fresh wax flowers on the morning of the wedding. 
I kept the rest of my accessories simple – I didn't need to wear a
necklace with the dress. I choose a pearl bracelet and studs from John Lewis and I wore the bangle that Matty had designed as a gift for my 21st birthday."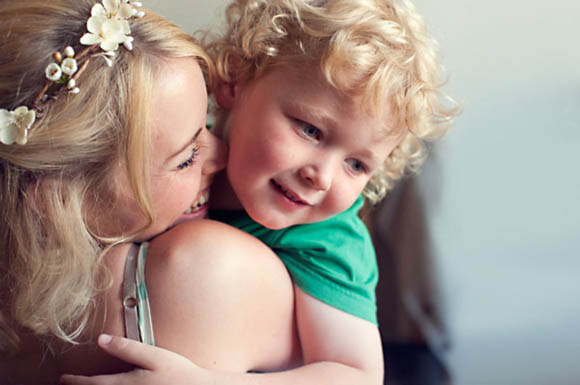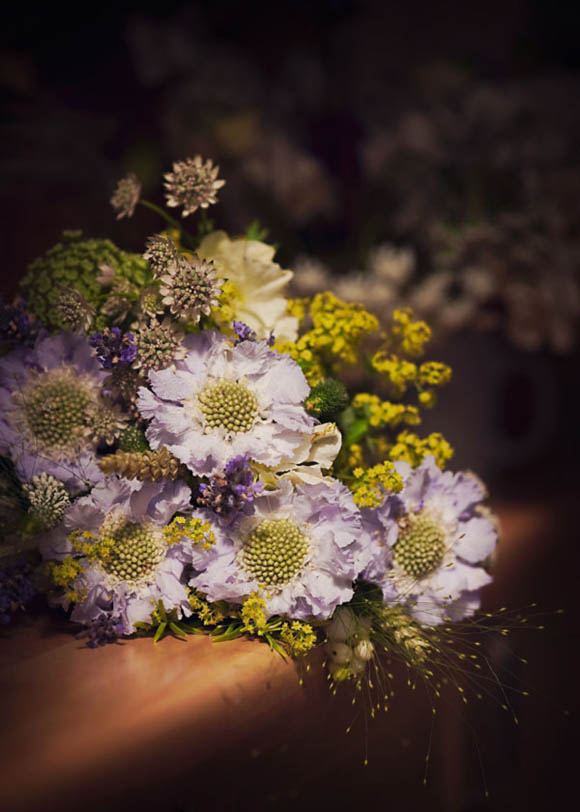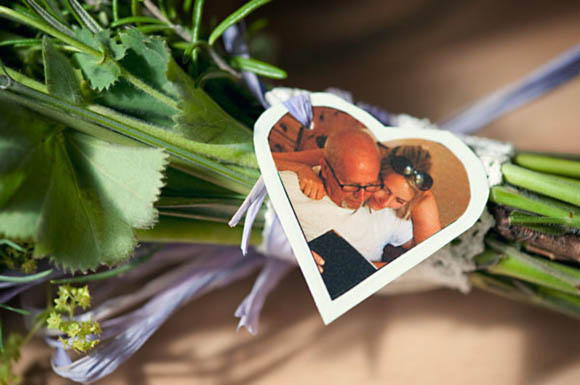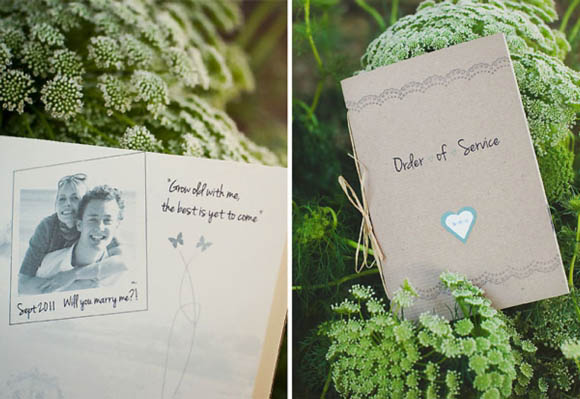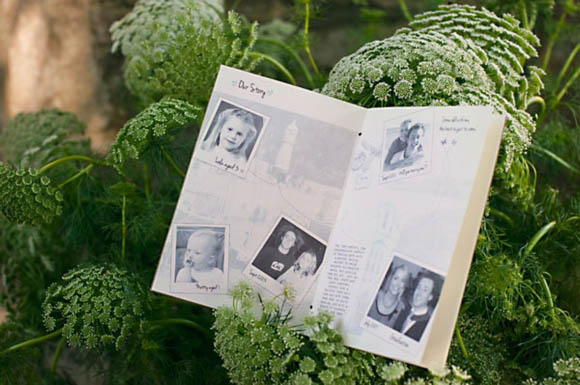 "My brother in law drove our family camper to transport Matt and
the boys to the church and also collected the bridesmaids and pageboys. 
As parking was limited, we asked the local farmer Jonny Crier if he
could use his tractor and trailer to transport our guests between
venues. He's bit of a local hero and amongst other things, he is often
the main character in the (fictional) village stories originally started
by my Dad and now carried on by the rest of us at Roo and Jed's
request!  He also rescued me (aged 4) and my Mum when our car got stuck
in  a ditch!"
"My Mum gave me away.  We had originally wanted to walk down the
aisle to either 'Everything' by Lifehouse ('our song') or All I ask of
you from Phantom of the Opera (a family favourite) but decided that
these might be a bit tear inducing a moment when we might not be feeling
particularly strong.  We decided on a piano piece by Brian Crain
instead – it had no previous sentiment but it is very pretty  and floaty
and just seemed to perfectly mark our wedding day  and capture how I
wanted to feel when I walked down the aisle."
"We met at a village carnival in June 2003 and we were
together eight years before matty asked me to marry him. He proposed to
me on a beach in Cornwall. He'd bought a picnic hamper and inside was
all my favourite foods, some lovely flowers and a wedding magazine. He'd
chosen a ring himself and it was the perfect fit!
After
being together so long, we didn't feel too rushed to  a date but we then
quickly got swept up in the excitement and by Christmas we decided to
get married the following September – only 8 months away! It was a very
busy time but totally worth it in the end."
"During the church service, my six year old nephew Reuben
read the Owl and the Pussy Cat, by Edward Lear. He was very keen to
play a play a special part in the day and we were so proud of him  - 
it's quite a long poem and he read it beautifully!We did struggle to find appropriate readings that were meaningful for us so we put together our own with the help of our family; my sister Maddie read some words of reflection that Matt and  I had pieced together ourselves."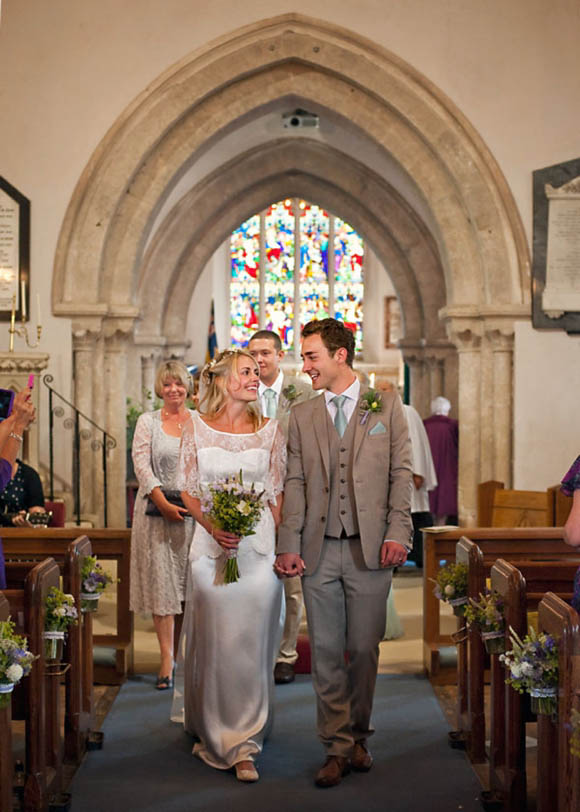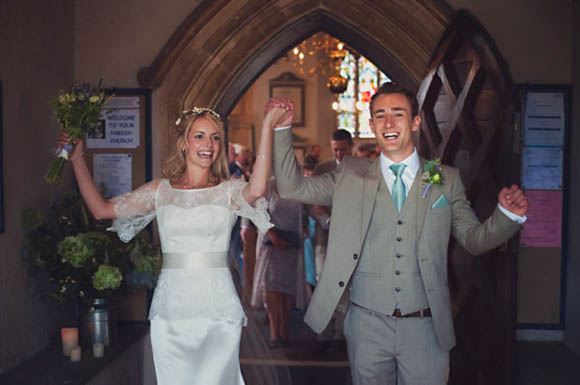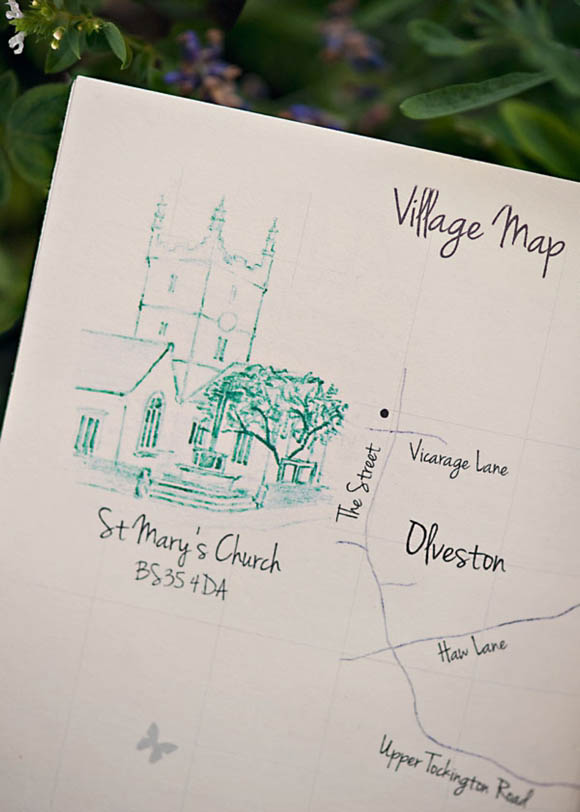 "When it came to decor,  a friend who runs a company called 'Pink Hannah Creations' made the 'Matty and La' bunting as a surprise!  My mum made sixteen lace edged table runners and cloths and we found a small easel in the charity shop for £3 to display our engagement photos.
We
decorated the cake table with photos to celebrate the marriages
grandparents, parents and sisters and used my Grandma's lavender
embroidered table cloth to cover it."
"Louise and her team from caterers Berry Blue
helped us devise seasonal, locally sourced menu that could be made and
served from the very small kitchen on site as we weren't keen on hiring
an additional catering tent and didn't want any clutter inside the tipi! We had an informal buffet style afternoon tea with little cakes and sandwiches after the ceremony. 
In the evening, they served antipasti sharing platters so no one would
go hungry during the speeches, this was followed by a main course and
then homemade ice-creams and sorbets with lots of lovely toppings
including popping candy!"
"Matt and I also agreed being able to style and arrange the
day our way was high on the priority list. We love being creative and
hoped that all the little details would be our own work, so we had to
find somewhere that didn't restrict us to only setting up on the morning
of the wedding. The tipis gave us  the perfect blank
canvas to create an outdoors/indoors space and made for a very magical
atmosphere in the evening. We felt that we had the best of both worlds
–  the freedom, adventure and relaxed atmosphere associated with our
holidays along with the comfort and familiarity of our home."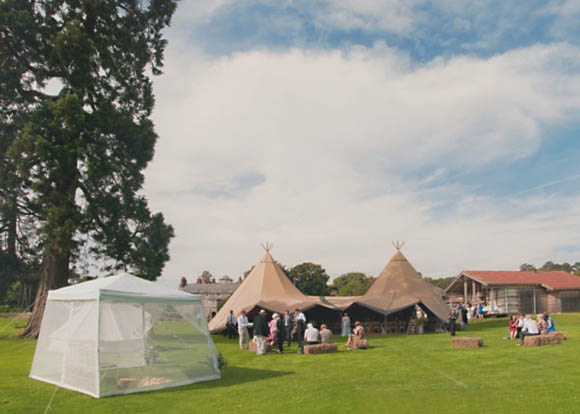 "My wedding ring was a surprise from Matt a few weeks before the
wedding. I wanted a really narrow band but couldn't find one despite
hours of searching! In the end I planned to use my Grandma's ring on the
day and get a ring made in Cornwall on our mini-moon. One evening a few
weeks before the wedding, Matt appeared in the kitchen with a ring box
looking nervous! I was a bit confused seeing as he had already proposed
to me! He managed to have a wedding band made for me as he knew I would
be disappointed not to have one on the day – I'm so grateful that he
found one and its extra special that he chose it as a surprise."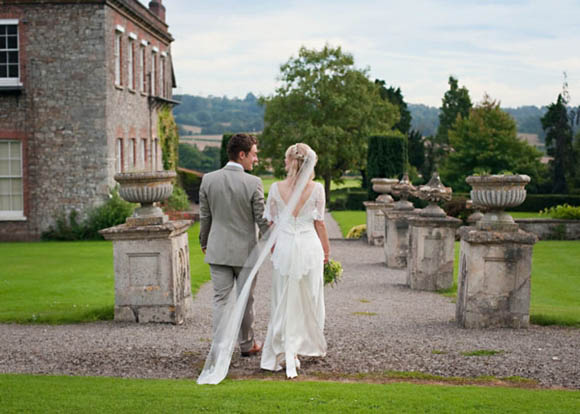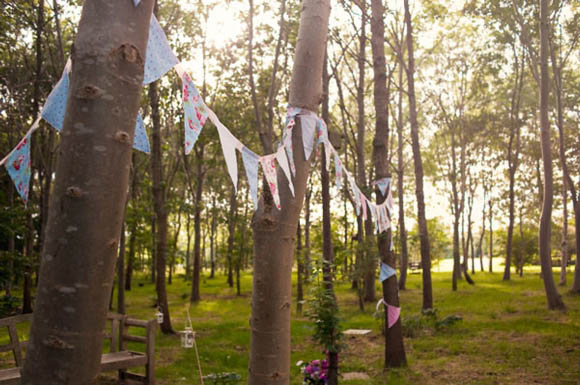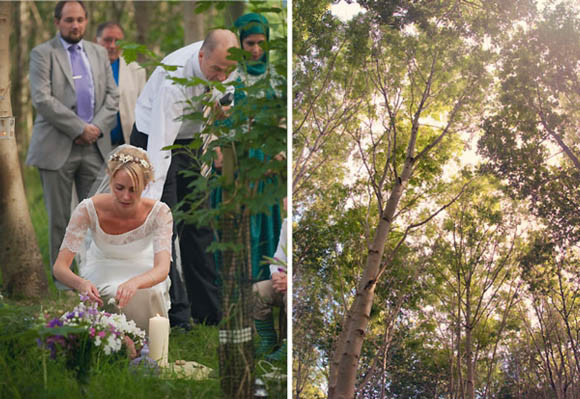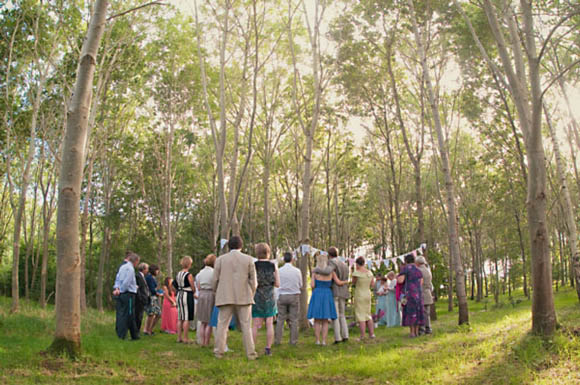 "We
are lucky to have a family friend who is also a vicar and knew Dad
well. Happily, she agreed to take our wedding ceremony and lead the
blessing for us."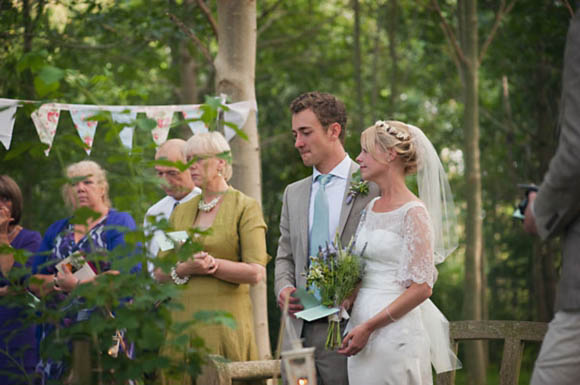 "During the woodland blessing my cousin Abi read a lovely poem that she had written and our friend Erin Stolarczyk wrote a beautiful song which she sang and played on guitar."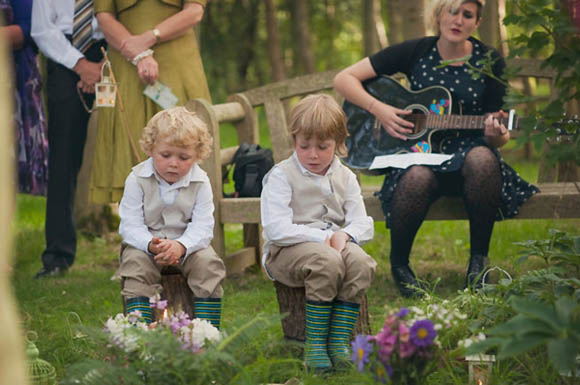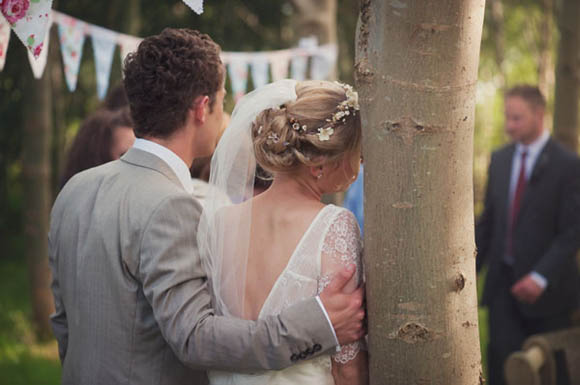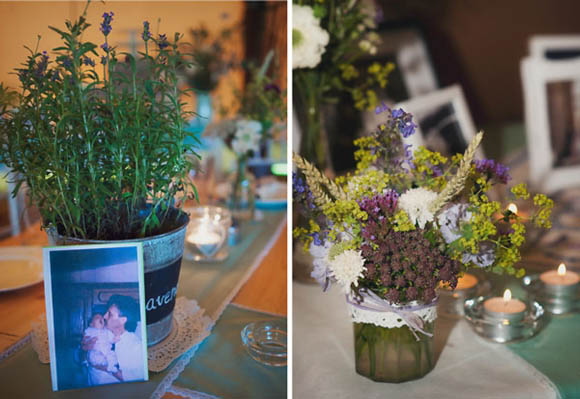 "My lovely Mummy made a beautiful and delicious tiered victoria sponge cake, and decorated with icing sugar and crystallised violas from Eat My Flowers"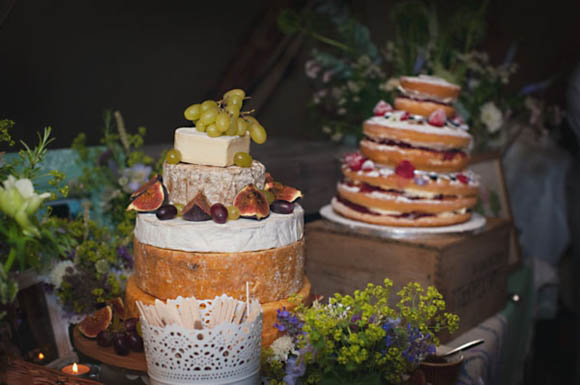 "We had an afternoon reception and evening party using Tipi's provided by Tipi Events, in the grounds of Tockington Manor Pavilion.  Tipi Events did a fantastic job and were a calming influence on us in the
days before the wedding. Friendly, down-to-earth people with a genuine
passion for their job."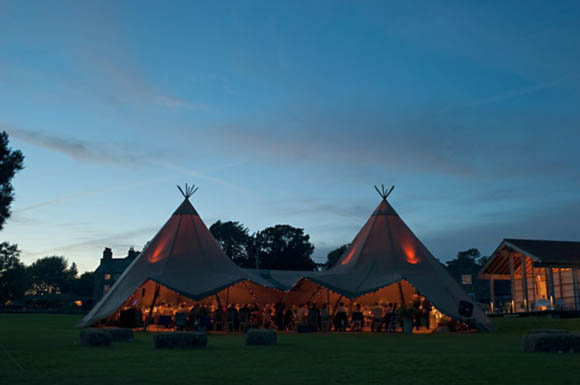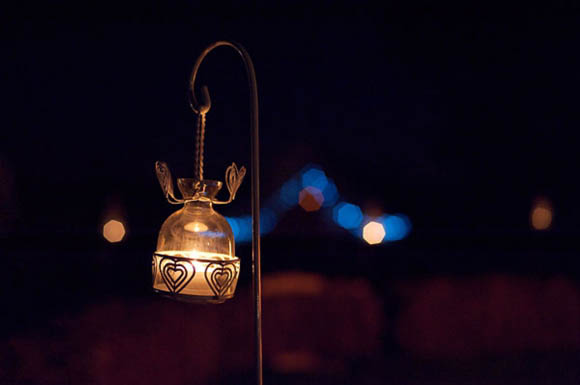 "We didn't want the usual wedding disco so after months of searching
we were so pleased to come across Alex of Alex Taylor Music.  On the night he played some of
his own music and some well-known covers. He set the scene with some
chilled out music and the atmosphere was really magical, he was amazing.
Some people  danced, others relaxed by the fire, toasting marshmallows
and reflecting on the day."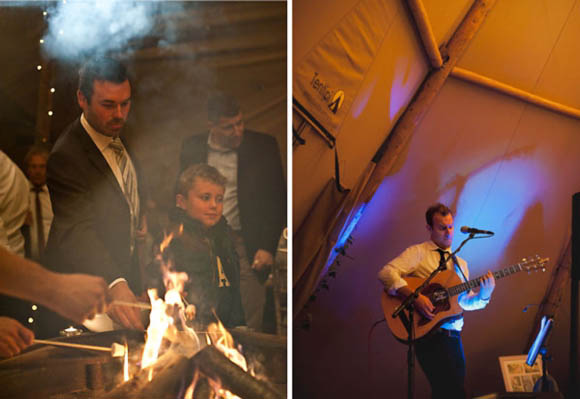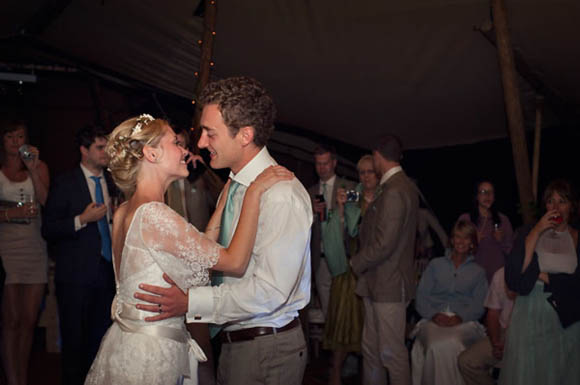 "It was all wonderful – we really can't believe how dreamy it
all was, we feel very lucky. It was great that everyone played a part. A
few moments that stand out were saying our vows,  feeling proud of my
nephew reading to a packed church, driving off in our cute little car together.
Lighting the fire in the evening and the feeling of calm, the
sense of achievement and total happiness that  I was now married to the
love of my life and we had managed to pull off a lovely day for everyone
to enjoy.
The day was a fairytale  – I really wouldn't want to change a thing."
Perhaps
I would have tried to enjoy the build –up a bit more. It is very busy
and at times a little too much to cope with! In a ideal world, we would
have booked a week in the sun to relax before the big day!"
Words of Wedded Wisdom…
"You can do anything but not everything! Prioritise the things
and ideas you love most – it is hard but you will not have
time/room/money to include everything!"
It's weddings like this that I just adore featuring on Love My Dress – so much home grown, a completely relaxed and loving environment and wonderful pictures and ideas to inspire my readers.
Thank you so much to photographer Julie Skelton of Julie Anne Images Photography for sharing these images, and of course, huge congratulations to Lauren and Matt, I'm so grateful to you for taking time to share so much with my readers.
You can see more outdoor weddings here on Love My Dress.  You might also want to check our woodland weddings, rustic weddings and tents pages for more similar inspiration.
I'd love your thoughts on this beautiful day, please take a moment to leave this lovely couple some kind words below, and take a moment to check out some of the websites of the amazing suppliers they worked with too (see below).
Annabel
Photographer – Julie Anne Images Photography
Venue – Memorial Woodlands, Earthcott Green + Tockington Manor Pavilion
Brides dress – Jessica Charleston at Carina Baverstock Couture, Bradford on Avon
Brides Veil – Nieve Couture, alterations by Carina Baverstock Couture
Brides Shoes – 'Kitty' from BHS + Wellies from The Boot Room, Park Street, Bristol (no website)
Brides Hair Accessories – Deloop on Etsy, styled with  fresh wax flowers on the morning of the wedding
Grooms Suit – The Kooples
Bridesmaids Dresses – Maids to Measure
Florist – Family friend using flowers purchased from Organic Blooms
Cake Designer – Baked by the bride's Mum & decorated with crystallised violas from Eat My Flowers
Make-up Artist – Laura Anderson Make-up Artist, email [email protected]
Bell tent provided by Tinkerbell Tents
Catering Company – Berry Blue
Entertainment – Alex Taylor Music
Nissan Figaro – Hired via Retro Hire
Tipi hire - Tipi Events + Belltent hired via Tinkerbell TentsTinkerbell Tents