** Oh My Honey is offering Love My Dress readers 10% off any purchase until the end of October. Simply enter LMDOCT at the checkout. **
Picture the scene. I am stood in a queue outside The Baltic Centre in Gateshead, Newcastle. It is a balmy August evening and I am surrounded by an eclectic crowd of hugely talented people from the wedding industry. I, on the other hand, am just a bride, a humble reader lucky enough to have been invited to the ever-so-glamorous Love My Dress Soiree.
As I waited patiently to go in, my eyes wandered to the lady stood behind me in line. Her otherwise blonde hair was set perfectly in victory rolls and featured flashes of vibrant turquoise through the fringe. She wore a beautiful full-skirted, 1950's style dress, complete with frothy petticoat and huge bow to the rear.
Not only did she exude grown-up glamour, but her look had an air of playfulness about it. When she revealed she was the talented creative behind Oh My Honey it all made sense. A woman with such style had to be responsible for such a perfect range of 1950's inspired dresses…
Louise O'Mahony, a fashion and costume designer, started out making burlesque costumes and bespoke bridalwear in 2008.
'I was
also always making my own clothes, and my 50's style dresses received so much
attention when I was out and about, it wasn't long before I set up an online
store to give women the chance to own them for themselves.'
'I started Oh My Honey in 2009
selling day dresses, then in 2010 I released an Oh My Honey Couture collection,
in 2011 my first wedding dress collection and in 2012 I put together my first
Haute Couture collection for Brighton Fashion Week.'
'I design all of the
dresses, then they are made up by me or one of my Brighton based
seamstresses. As well as the dresses I have listed on my website, I also offer
a custom service, where women can have my signature style dresses made up to
their own measurements, in a fabric of their choice. I can even design a completely unique dress just for them.'
Where
are you located/where do you ship to?
'I am based in Brighton, and my dresses are mostly
purchased online by customers all over the world. They are particularly popular in the
UK, USA, Australia and Canada.'
What
do you love about your work?
'Getting an email from a customer to let you know how
amazing I made them feel on their wedding day, or how special they felt
wearing one of my dresses at an event is the biggest drive to keep designing
and making! I pride myself on giving great customer service and producing beautifully made garments
that are affordable, so when I know I've made a woman feel amazing and
confident through creating her a dress she loves, it makes me really happy!'
What
inspires you when it comes to your work? Are there any designers/artists you
particularly admire?
'It goes without saying that the 1950's are a big
influence on my designs, but I try not to restrict myself by keeping my designs
too authentic to that decade. Yes, the 50's shape and classic elements can all
be found in my work, but I try to mix it up and keep the designs fresh by
incorporating modern influences. This could be by simply using a modern printed
fabric that I think works with the designs, or by being inspired by designers
and artists that I love the work of.'
'If I like it, I can find inspiration in
it, from the wings of a 1950's Chevy Classic incorporated onto my Alexia dress
to scallop shells on the skirt of Millie. Anything from Lady Gaga's latest red
carpet outfit to a piece of vintage furniture can inspire me!' 
How
would you describe your signature style? What is an Oh My Honey bride like?
'Oh My Honey's signature dress is a simple, structured,
full circle skirted halterneck dress with a sweetheart neckline. These very popular
elements, seen in so many dresses from the 1950s, suit every figure,
accentuating the wearer in all the right places! It is available in cotton, satin,
prints, tulle, or any fabric that you want!'
'An Oh My Honey bride is a woman that has a playful edge
to her personality. She doesn't take herself too seriously, and she not afraid
of a flash of colour – be that the shoes, hair piece, petticoat or even the
dress itself!'
Can
you provide a price guide?
'My ready to wear collection features 1950's style dresses
in a variety of prints and fabrics, the prices of which range between £85 – £150. My couture range is priced between £290-£360, and my wedding dress collection between £250 –
£1,200.'
Now, I know a pretty dress when I see one, and Oh My Honey has an abundance of them! Love My Dress is thrilled to announce that Louise will be launching her new wedding dress
collection on November 22nd, and there will be a party to celebrate! It will be
an evening of entertainment with a fun fair twist, with cocktails and canapés
at an amazing new Brighton venue. If you would like to attend this event and be
one of the first to see the new dresses then email Louise at [email protected] to receive your
invitation.
Sunglasses and jewellery below, by Bubblegum Vegas

So, whether you're looking to kit out your bridesmaids, bag the perfect wedding gown for yourself, or simply find a pretty frock to wear to your engagement party, I insist you take a moment or two to browse the Oh My Honey range. Louise is offering Love My Dress readers 10% off
everything on the Oh My Honey website for the rest of October.Simply enter LMDOCT at the checkout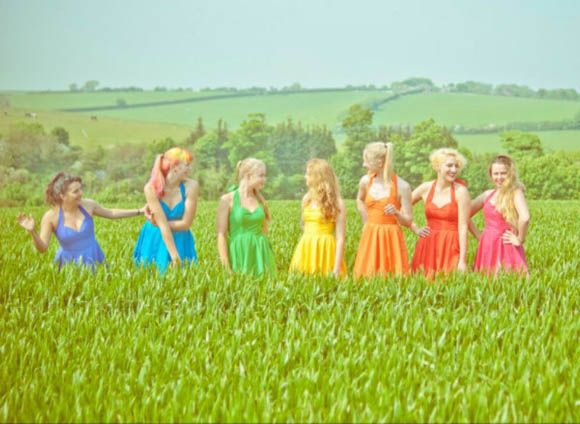 You can keep up to date with the world of Oh My Honey via the website, facebook, twitter and on Louise's blog.
Franky
Photo credits
* pink and white: Kat Hill
*  rainbow: Gab Wulff
*  Brighton beach: Hannah Mia
*  Picture with balloons: Marshal Gray
*  Green dress yellow petticoat: Julian M Kilsby
*  Fed/white/black: Tino & Pip
*  Black and white tulle dress: Emy Harris
* Pink and white dress with yellow wall: Miss Aneila
*  Laura Wedding dress: Kat Hill
* Girl with dark hair in red hawaiian and blue birds pics: Rei Bennett (glasses & jewellery by Bubblegum Vegas)
* Midnight blue dress: Julian M Kilsby
This is a sponsored post. All sponsors receive an introductory feature
like this, as well as ongoing support that has been proven to lead
to enquiries, bookings and sales. With a readership leaving a trail of over
half a million page hits behind them every month, and 70% of these readers
being brides planning a wedding, Love My Dress provides the perfect platform
for you to promote your wedding day product to a large number of savvy, stylish
brides. If you are interested in becoming a sponsor, please email [email protected]
and request a media pack to discover the different ways you can work with
us.  We'd be delighted to hear from you.  Annabel and Franky x