Good afternoon fine friends, moving from the sweet afternoon tea and ice-cream wedding to an uber-cool city-chic affair at The Groucho Club in London this afternoon, with photographs courtesy of the very talented Jodie Chapman.
Salma and Simon got married on 26th November 2011, but not everything had gone to plan and Salma has quite a serious story to shar.  I want to encourage anyone planning a destination wedding to read this feature carefully, and, as Salma recommends at the end – always check the small print when working with any supplier…
"We
were originally planned to get married at a villa in Lake
Maggiore,
Italy on 10th September 2011. Unfortunately, six days before our wedding
day, we learned that our wedding planner who had taken our deposit had
not actually booked our venue or arranged our licence to be married,
despite assuring us that everything was sorted, and even after visiting
him and the venue in June 2011."
We learnt that this had also happened
to another couple that were due to get married the weekend after us at
the same venue with the same planner…"
Love My Dress Wedding Blog – Photography Copyright (c) 2012, Jodie Chapman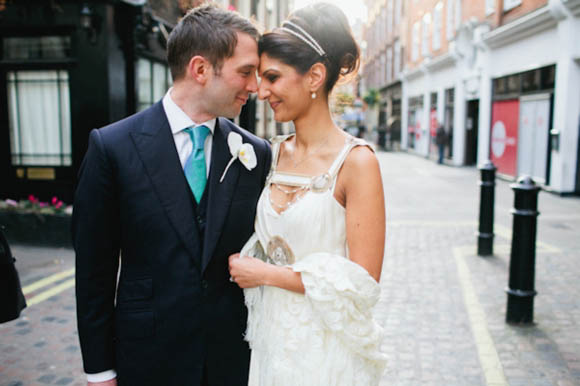 "After seeking
advice from the
British police and British Consulate in Milan, we decided to inform our
guests that there was not to be a wedding, we felt so bad as the venue
was also where all our guests were planned to stay.
We went out the Lake
Maggiore but unfortunately, adding to our bad luck on the day, Italian
airport staff went on strike the day we were supposed to fly!  We were
assured that our flight was still scheduled to depart. After a two hour
delay, we were then told our flight had been cancelled and we had to
stay
a night in an airport hotel!"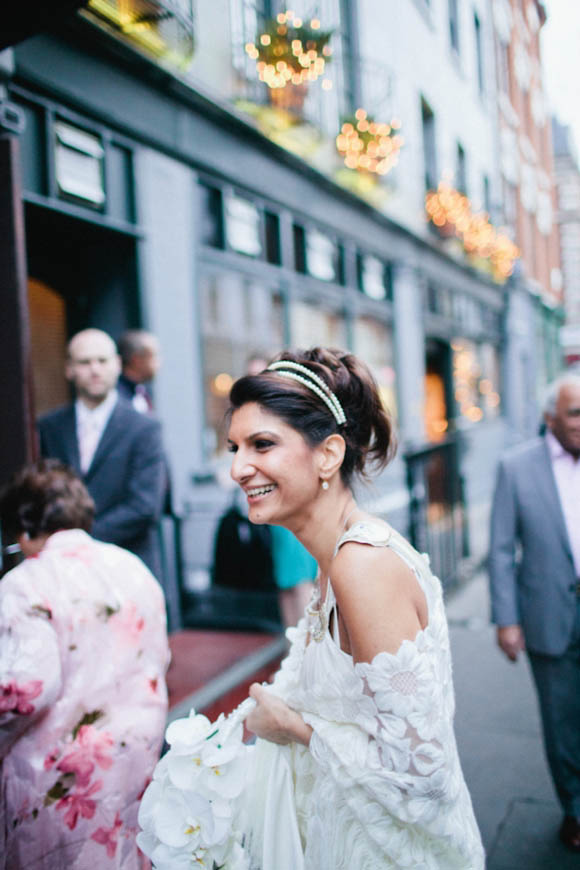 "Once we finaly got to Italy, we met some really
helpful people including Anna our interpreter and Laura from Varese
weddings. We spent what was due to be our wedding day, in the police
station in Verbania. We where then told that according to Italian law,
it was a British matter, and told there was nothing more they could do
and advised us to discuss the matter further with the British police.
Whilst on
what was meant to be our 'mini-moon', we discussed whether we should
carry on planning an Italian wedding afterall. Feeling very confused and
unable to
trust anyone, we decided to get married at home in London.
Our ideas
were always about making it a small intimate relaxed and fun wedding. We
came across the Groucho Club, and immediately thought that is just so us!"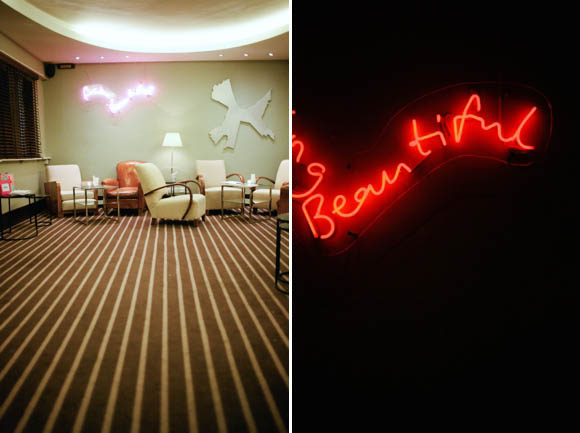 Salma wore a beautiful Temperley wedding dress and a pretty shawl that belonged to her Mother – her 'something old'…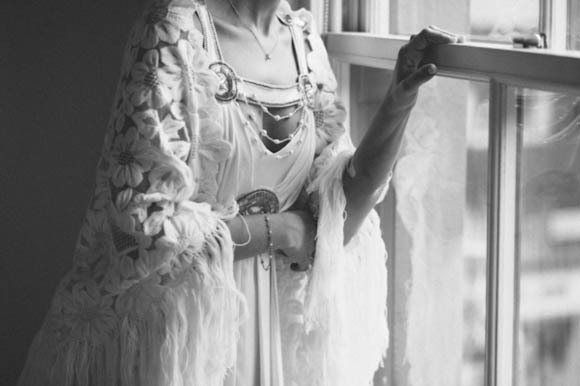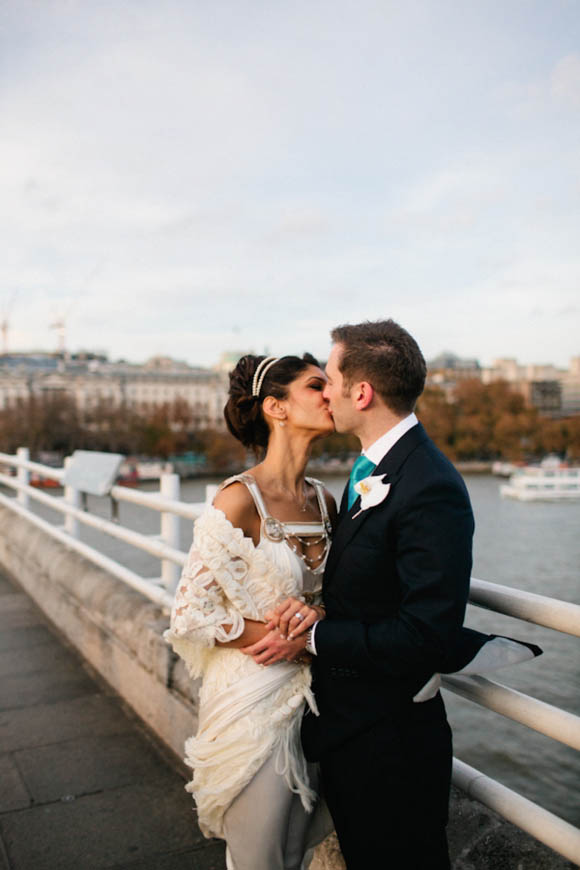 "We didn't hire a planner – we just couldn't
face that after everything that happened in Italy, but Neda Tootoonchi
from the Groucho Club helped us get everything sorted in a very short
space of time and was supremely helpful."
"Our original Italian florist had proposed the idea of a
bouquet with orchids. Rachel Morgan was brilliant trying to help recreate that
idea. My Bouquet was perfect and went so well with my dress.
The Groucho Club didn't require much dressing up with flowers due to its amazing
art work around the place.  We decided to keep with the colour scheme
based from some of the art work already up, we wanted a bright and
colourful feel to complement the venue…"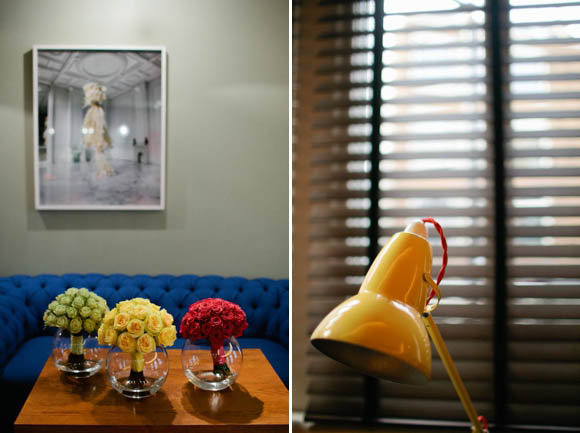 "We didn't provide formal wedding favours, however for a little bit of fun
we gave everyone a jokey wedding themed badge. Also we gave all the
guests some paper and pencil to write down a song that they associate
with either of us, so that we could put
together a wedding album.
It was good fun reading the tunes and their
stories the next day!"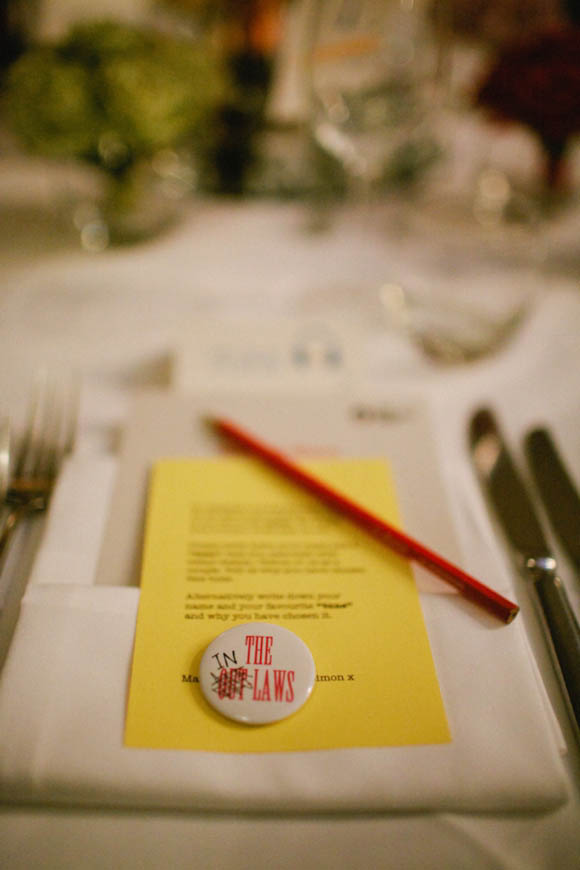 "Our theme both in Italy and
London was all about the tunes – hence the idea with the stationery.  Vici-Jane and Richard from Artcadia stationary were
amazing in putting our ideas into reality. We just wanted a fun wedding,
more of a party sharing it with our close friends and family…"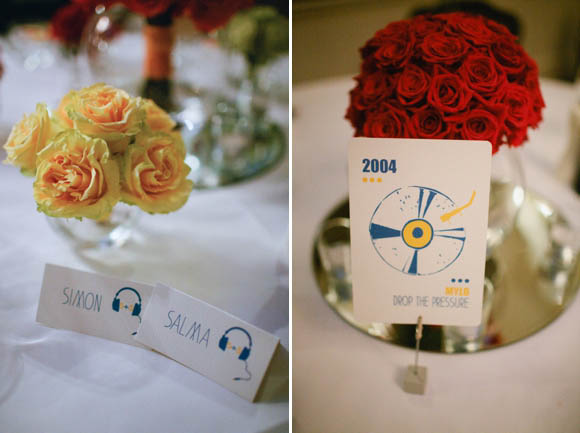 "We used a City of London black taxi to escort us to The Groucho Club –
our driver was fantastic in taking us to some great places in London for
some great photo opportunities!"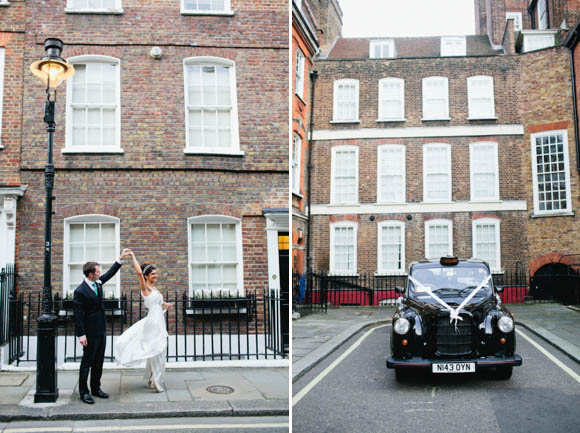 "When
we were researching for a photographer, we came across some pictures of a
previous wedding that Jodie Chapman had taken at the ICA in London and we just loved
her work.
We didn't want traditional wedding photos and her style just
suited our style and what we wanted from our wedding photos…"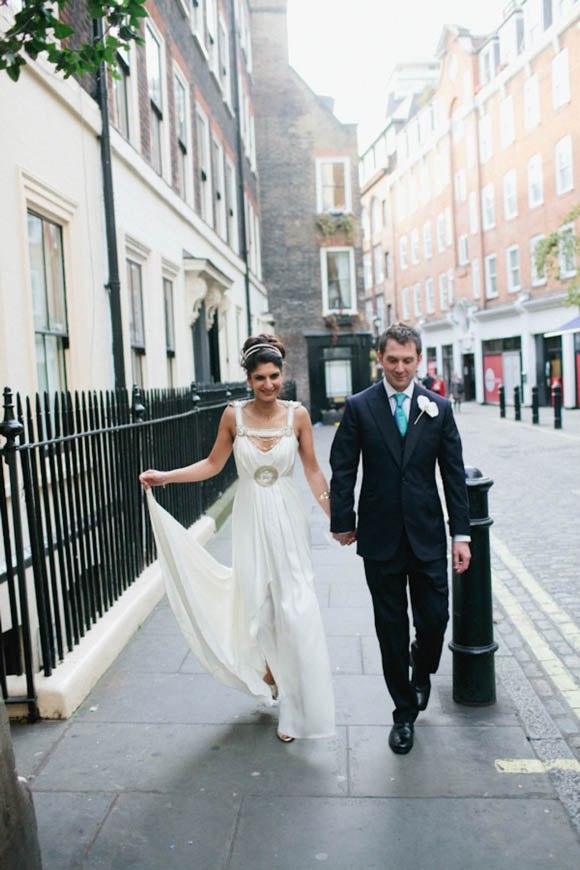 "With the
idea of having an Italian wedding, I had originally wanted my dress to
be something simple,  but elegant. I love Grecian style gowns and once I
saw this dress by Temperley, I just fell in love
with it…"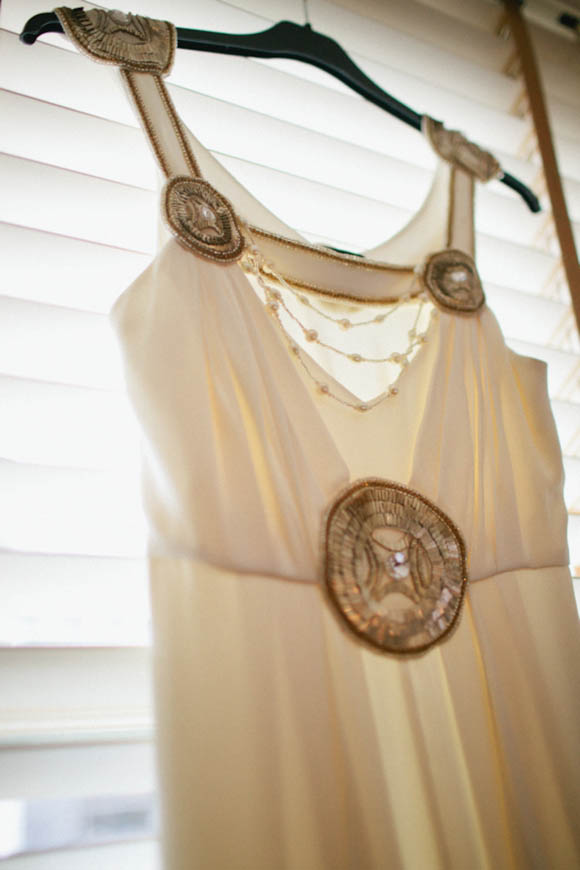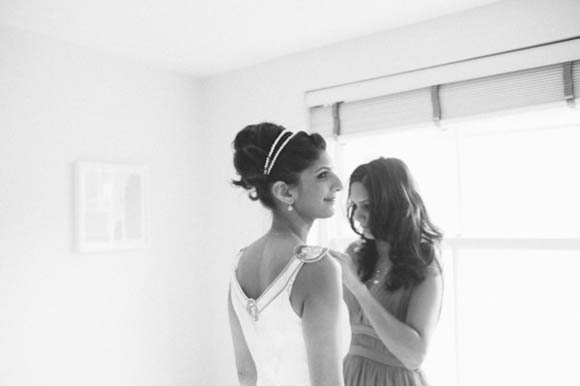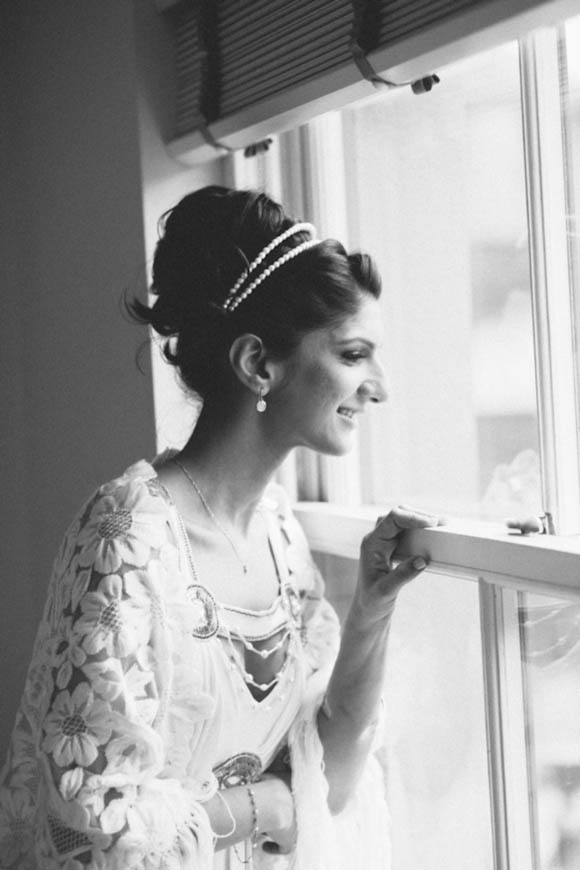 Salma and
Simon met in Leicester in a bar whilst out with their friends and lived in Leicester together for three years….
"We then moved to London where I am from originally, and have been in London for six years now.
Simon
proposed to me in December 2010 in Battersea park, London. We knew right away that we wanted a small,
intimate wedding and decided to marry in Italy as simon's ancestory is
from lake Como."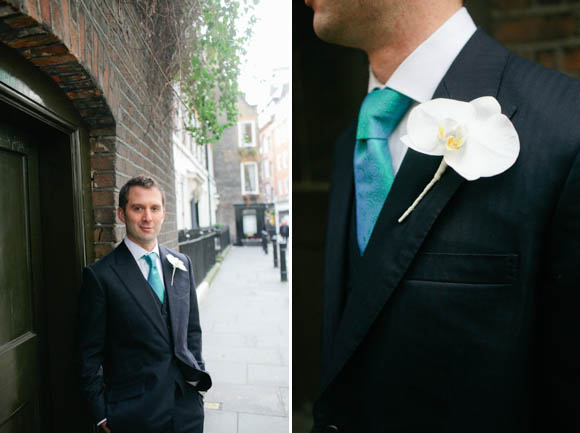 "In January that year, we met our wedding planner (would not
recommend him now, however he was recommended to us – be warned!) and he showed us
some venues in lake Como and Lake
Maggiore, when we saw the villa in Maggiore, we thought it was so us and planned to have a 'wedding festival
weekender' at the lakes, As that didn't happen, we still wanted an
amazing day in London, and everything about the Groucho Club seemed to
reflect us as a couple – it was fun and vibrant!"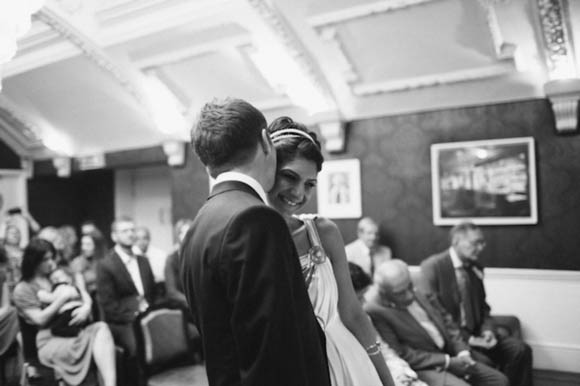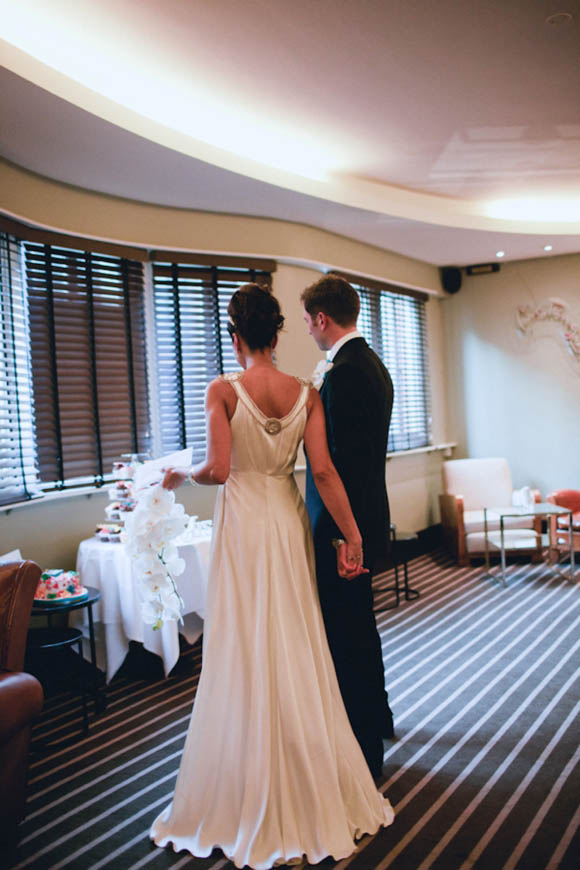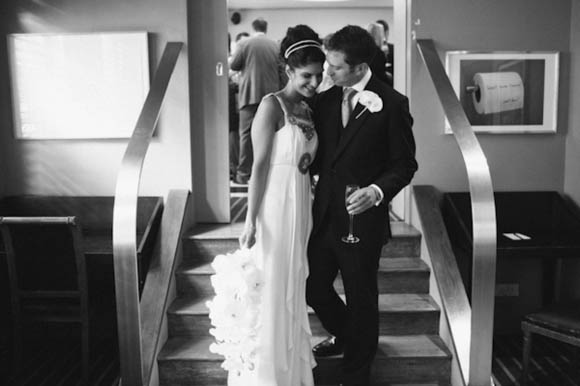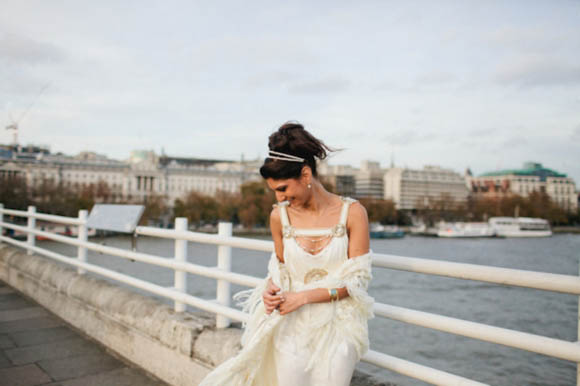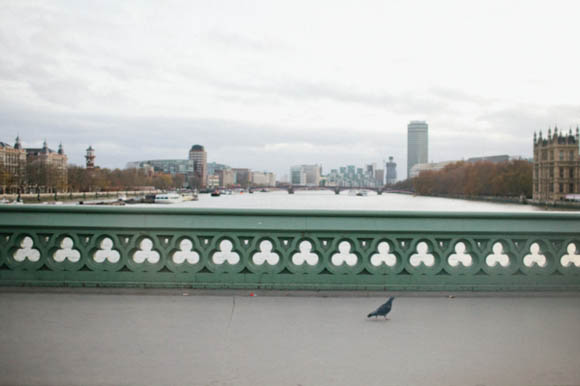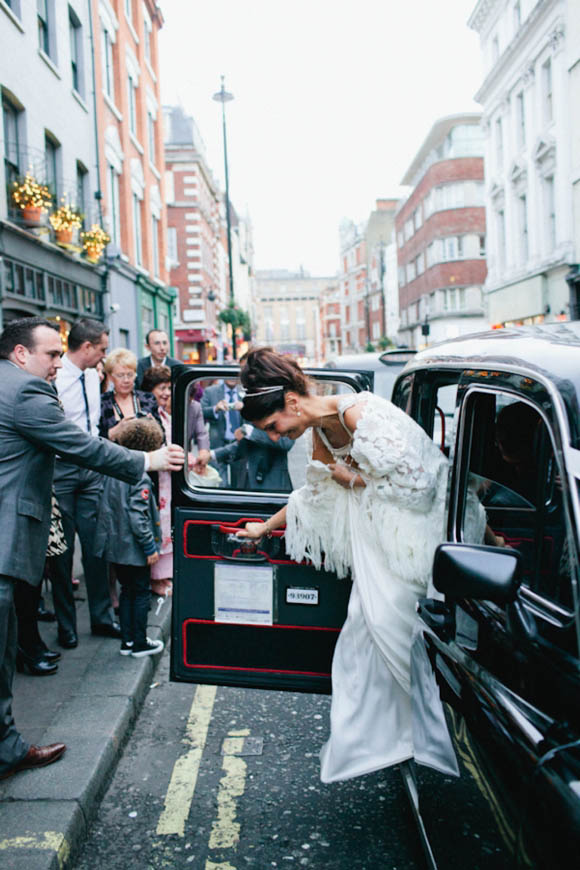 "Emmy made my shoes and they matched so perfectly with my dress…"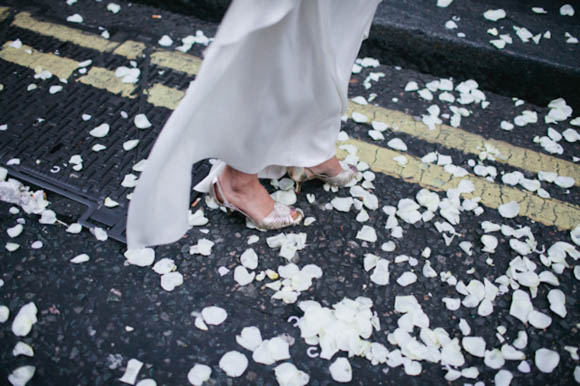 "Robin's Cake shop is based where we live so we decided to keep it local and she
helped us create our amazing cake and cupcakes. The top cake matched our
stationary idea it was so good we didn't want to demolish it…"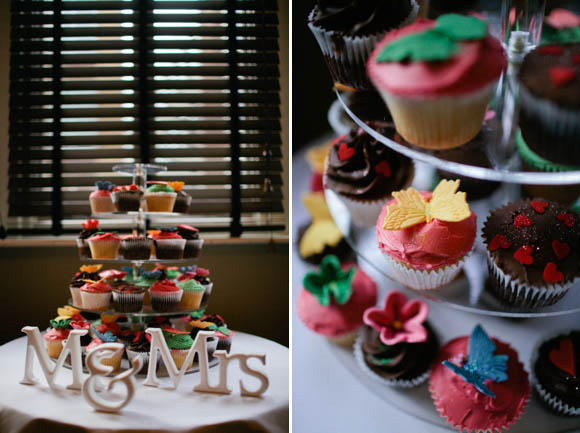 Words of Wedded Wisdom…
"Check the small print – consider planning yourself, and what will be, will be!" 
Wow, that's one heck of a story, but a real lesson to be learned and warning for any couple I guess, looking to work with any supplier at all, not just overseas – work with people you feel comfortable with and always check the small print and terms!
Salma and Simon – huge congrats to you both, it's been almost a year since your wedding now, so I wish you a very lovely first wedding anniversary next month.  Huge thanks to to the fabulously stylist Jodie Chapman for so kindly sharing these photographs.
Groucho Club love all,

Annabel

Photographer – Jodie Chapman
Venue – Groucho Club
Brides dress – Temperley
Brides shoes – Emmy
Brides accessories – Aye Do (headband)
Grooms Suit – Cad & the Dandy + Thomas Pink tie + Barker shoes
xx (the couple's daughter) –
Jack (the couple's son) –
Florist – Rachel Morgan
Transport – City of London Black Taxi
Bridesmaids – Reiss
Cake – Robin's Cake