Good morning my lovely wonderful readers, how has your weekend been? Oh my, what a rollercoaster of a weekend it's been in my world.  A lovely birthday celebration in my spiritual home of Whitby, with my husband and friends on Friday evening, followed by a weekend of deep discussion with the husband about potentially moving house to a completely new area.  Now my head is spinning! This beautiful wedding is just the tonic for me this morning.
I posted a sneaky little image preview of on our Facebook page recently – I couldn't resist bride Nat's style. Nat and Gav tied the knot on 11th August this year at York registry office, followed by a beautiful ceremony and garden party, set in Nat's parents garden.  Anyone who knows her beautiful work may recognise these photographs were taken by the wonderfully talented Eliza Claire…

"We built our wedding around the amazing space we had; my parents
have a gorgeous garden, so there wasn't an awful lot of decorating
required, but the look we were going for was a relaxed, rustic, English
garden party, style thing with hay bales and bunting, where we just
happened to be getting married! Nothing too weddingy, and if someone
said we 'had to' do something it made us not want to do it!
We ended up
picking a blue and yellow for the few decorations we did have, just to
pull everything together."
Love My Dress Wedding Blog – Photography Copyright (c) 2012, Eliza Claire
The wedding was a weekend-long event…
"We had campers arriving from
friday morning, a BBQ & bonfire on Friday night and more BBQ'ing and bonfires
on Sunday night, along with letting off of wish lanterns to mark the
end of the celebrations. And all that week we had the most perfect
weather for our (almost) entirely outdoor wedding celebrations!
This gorgeous floor length antique lace silk tulle veil and headpiece were made by Gillian Million…

"The garden was going to be so pretty that we decided we didn't need
extra flowers. We planted loads of wildflower seeds and bulbs in the
garden four months before the wedding and happily they all grew well and
flowered in perfect time for our day. We lined the aisle with pots of
lavender and my bouquet was picked for me by one of my old friends who
was helping me get ready, and the men's button holes were picked by
another friend.
All this as I was finishing getting ready and feeling a
little disappointed that I ran out of time to pick some flowers! Just
one example of my amazing, thoughtful friends!"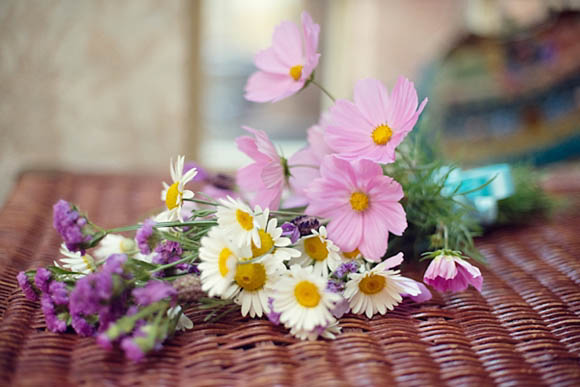 This is the first time I've ever featured a bride wearing a TwoBirds
dress – originally designed as bridesmaids dresses that can be worn in a
myriad of different ways, this just goes to show the diversity of this
fabulous little gown.  Nat's TwoBirds dress was a purchase from Gillian Million on Teddington High Street…
"I walk past Gillian's
shop all the time and always used to see this dress on a dummy in the
shop & I knew it'd be my first stop when it came to trying on
wedding dresses. Once I put it on I knew it was the one for me, even
though it was the first one I tried, although I did try on others just
to be sure (plus I really wanted to try on a big pouffy princess dress
too!)."
"The
flowy slinky fabric of my dress, and the fact that you can wear the dress in many
different ways really appealed, and the style was just really me and
suited our garden wedding perfectly.  I also didn't want to spend
thousands on a dress I'd really only need for one day, so the fact that
it was only £400 was a really lovely surprise!  And it turns out that
it's so versatile with all the different tying options I really do think
I'll be able to wear it again after all!"

"One of the points we had to stick to our guns on was the fact that
we wanted to camp on our wedding night. Lots of our guests were camping
in the orchard at the end of the garden and we didn't want to have to
leave the party early to get to a hotel, so we decided to buy ourselves a
bell tent to spend our honeymoon night, which met with some questions
and raised eyebrows amongst friends a family! We now are the proud
owners of a lovely bell tent that will last for years and will bring
back special wedding memories every time we stay in it!
It was
especially lovely since we got engaged in jan 2011 whilst staying in a
yurt in the snowy Scottish highlands, so the bell tent reminds us of
that too!"
"Our wedding was a communal effort, a celebration of love,
rather than just a wedding.  We had so much help from friends and family
to make things, set up and organise on the day before the wedding we
were quite overwhelmed with love and support we received!
Even on the
day, which started out quite manicly with us both rushing around the
garden in our pjs, people stepped up to organise, set tables, make
cakes, pick flowers, move hay bales, tie bows, hang jars.  The list goes
on and we couldn't have done it without them! Even our photographers
helped set some things up as it was still quite chaotic when Eliza &
Rich arrived!"
"My brother is a musician and wrote a piece of music for me to enter
the garden and walk down the 'aisle' to. It had a melody from a song by
one of my favourite bands (Finnish metal band Sonarta Arctica)
disguised in there so no-one but me and him would know! It was beautiful
and perfect!"
"We've been together for over 8 years now and were engaged for
1.5 yrs, planning our wedding over a year. This was only out of
necessity for our travelling guests that needed so much advance warning.
Gavin is a kiwi and we met in NZ, where I lived for 8 years so
lots of our friends and his family travelled to come to our wedding. We
had guests travel from New Zealand, Australia, Canada, Korea, Oman and
Dubai as well as all over England and Scotland.
We didn't really find
the wedding planning stressful at all once we had decided on the
location – it took us 6 months to decide whether England, New Zealand or
somewhere in between would be best place for it and that was the
hardest part as we knew wherever we did it, some people we love were going to miss out – the peril of being in an international couple!"
"As we had done the boring legal bit at the registry office on the Thursday, our ceremony, conducted by our awesome celebrant David Abel,
was all about us, our love and how we feel about each other and we were
able to tailor make the ceremony to suit ourselves, including a
hand-fasting. None of our guests had ever seen this before and really
enjoyed watching us literally 'tie the knot'."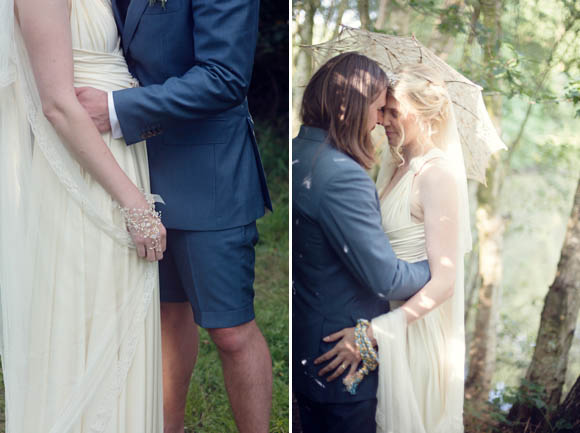 "Regarding decor, we used Bunting made by my mum, Mother in Law,
& Gavin's Auntie.  We also had paper pompoms made in the weeks
running up to wedding by helpful friends in return for cake &
wine!".
"Ged and James from our catering company The Hog & Apple
were amazing! Cooking our pigs on a spit over a pit we dug in the
garden! They worked so hard to bring this idea of ours to life and it
turned out perfectly, the piggies were delicious! They also thought of
everything and nothing was too much bother."
"Our first dance song was Float On by Modest Mouse. There were so many of our fave songs that we had to rule out as they were
a bit too emotional and we didn't want to blub on the dance floor! This
tune reminds us of when we first got together in Wellington, New
Zealand. A happy, dancey song!"
Words of Wedded Wisdom…
"Our motto for the day and for the time leading up to our wedding
was "if it feels right, do it". Stick to your guns and you can't go
wrong if it's something you care about. And as I tell so many of my own
brides – don't sweat the small stuff – so long as you end up married,
the day's been a success and if something didn't go entirely to plan
don't let it spoil the overall awesomeness of the day!"
I love a wedding like this, completely relaxing, unfussy, a beautiful gown (ladies you need to go and check out the incredible Twobirds for the most versatile dress in the whole world, I truly think I need one in my life – for those moments I'm prancing around my room playing dress-up, you know).
You can see much more from the lovely Eliza Claire here on Love My Dress.  Also look up our Twobirds, garden party weddings and tents.
I'd love your thoughts on this wedding – much love everyone,
Annabel
Photographer – Eliza Claire
Venue – The bride's parents garden using Papa Kata tents and teepees
Brides dress – TwoBirds via the Gillian Million store
Brides Veil – Floor length antique lace silk tulle veil by Gillian Million
Brides Shoes – Melissa Campana Papel II Gold Glitter from Coggles Boutique in York
Brides Hair Accessories – Hair band, chiffon flower, wrist cuff, and broach all hand made by Gillian Million
Grooms Suit – 3 piece suit with tailored suit sorts from Suit Supply on Vigo St, London
Cake – Friends and Family
Entertainment – Live music by Slim Lightfoot got everyone dancing
Hair and make-up Artist – Hair by Hannah from 3D in York
Makeup by me!
Catering Company – The Hog & Apple