Morning lovelies, did you catch our latest life and love post from regular contributor Jess yesterday? Take a peek if not, it addresses ones of the more emotional aspects of planning a wedding, and we do so love to hear from our readers.
This morining, it's all about Caroline and Angus, and how they tied the knot on 4th August this year, with a ceremony at St Margaret of Antioch, Alderton, Gloucestershire, followed by a reception at Deer Park in Eckington, chosen for it' amazing views.  What I love about this wedding is the colour and fun! Sassy Lafford of Assassynation has done such a lovely job of capturing these details and projecting some of that fabulousness so clearly evident on the day through her wonderful photographs. And doesn't that dress really, really suit Caroline?  I'm so excited too to be featuring the work of designer Alexandra King'…
"I had spent a lot time trying to find my dress but was getting a
bit fed up of going to lots of wedding shops, who didn't stock any 1950's
dresses and there only suggestion was to buy a longer one and change it!
My Mum happened to be looking on a website and found Alexandra King's
blog, she shouted out with excitement and I came running to see all
these fab dresses.
I truly never thought I would want a dress made for me, but it was such a magical experience; my dress is amazing and so was Alexandra and Anna who made it…"
Love My Dress Wedding Blog – Photography Copyright (c) 2012, Assassynation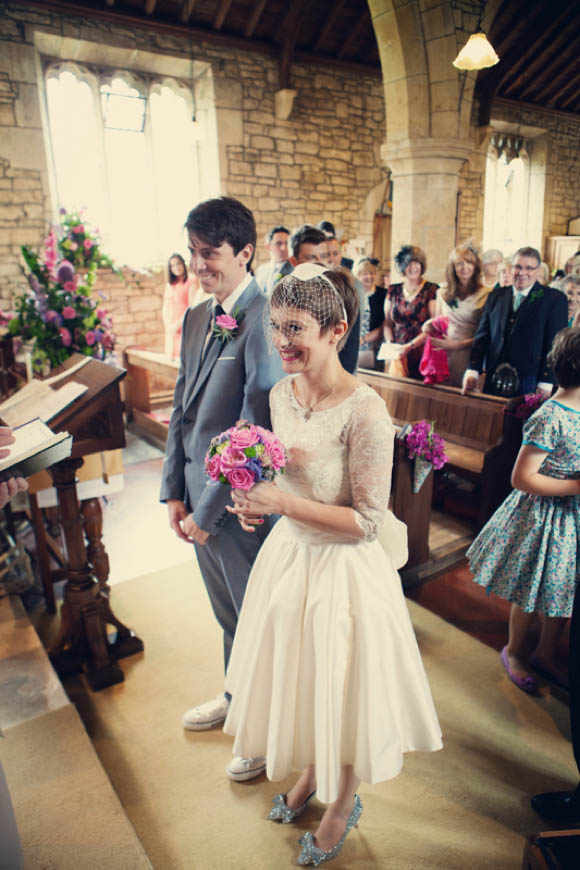 "We wanted something that had the wow factor when people walked into the room. Hans Haverkamp was
amazing to work with because he was happy to go along with our crazy
ideas. We also felt it was important to have a lot of colour in the
room.
To go along with our brightly coloured flowers, we had made small
pom poms for napkin rings, paper flowers, we painted many 3D numbers to
be the table numbers (the table numbers were based on pantone numbers
for the colours we were using in our colour scheme). At my hen party we
made fabric flowers, and we purchased larger pom poms from decopompoms.
We also used a family veil to cover the cake table." 

"It was so much fun designing with them both and
all the trips down to see the dress. I love my dress so much that I'm
currently having it changed so I can wear it again! Would recommend
Alexandra to anybody wanting a fabulous dress, she listens to everything
you say and gets so excited about the whole process."
"Our photographer was Sassy from  Assassynation.
Sassy was absolutely amazing! The photographer was one of the most
important aspects of the wedding for us a couple, as it's the only think
you have after the big day apart from the memories. So we want someone
extra special and that person was definitely Sassy.
Her photography is
completely out of this world. Everyone who has seen the photos says how
beautiful and different they are."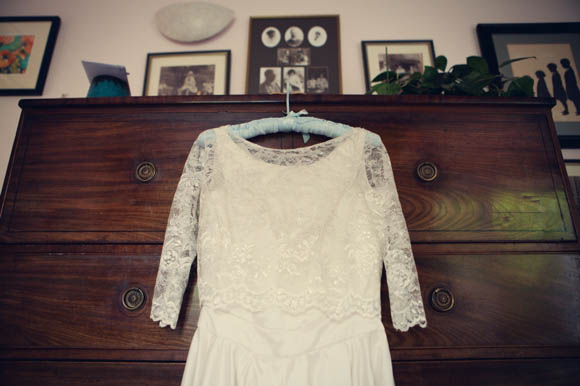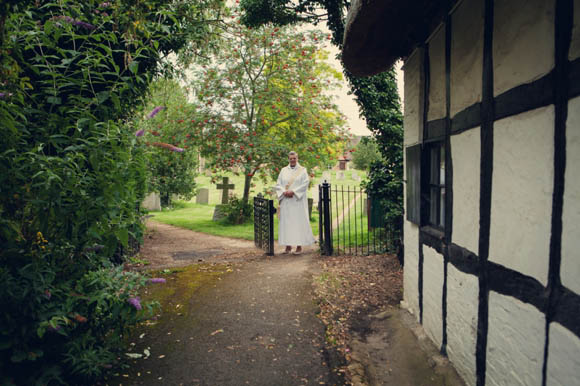 "We walked down to 'La valse d'Amélie (Orchestra Version) by Yann
Tiersen from the film Amelie. We exited the church to 'All I Want Is
You' by Barry Louis Polisar from the film Juno. We entered the wedding
breakfast to 'Home' by Edward Sharpe & The Magnetic Zeros."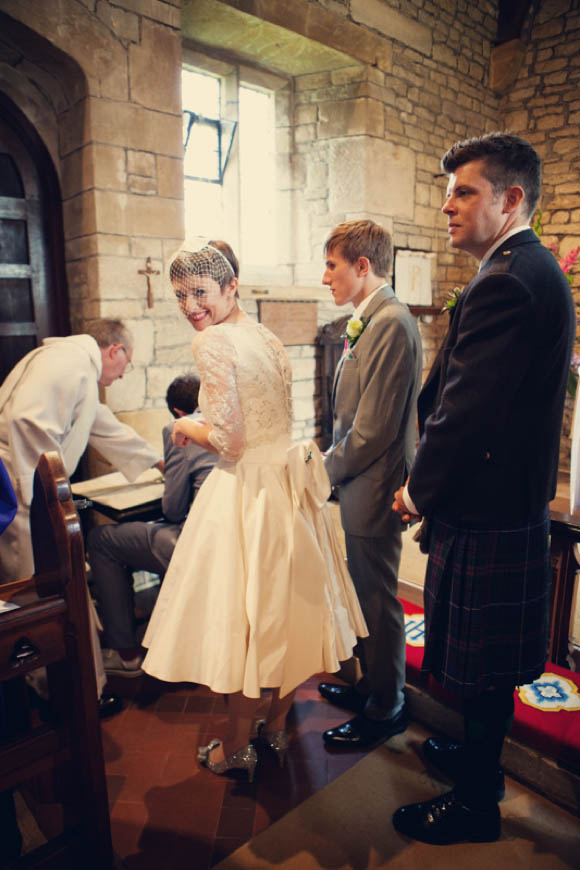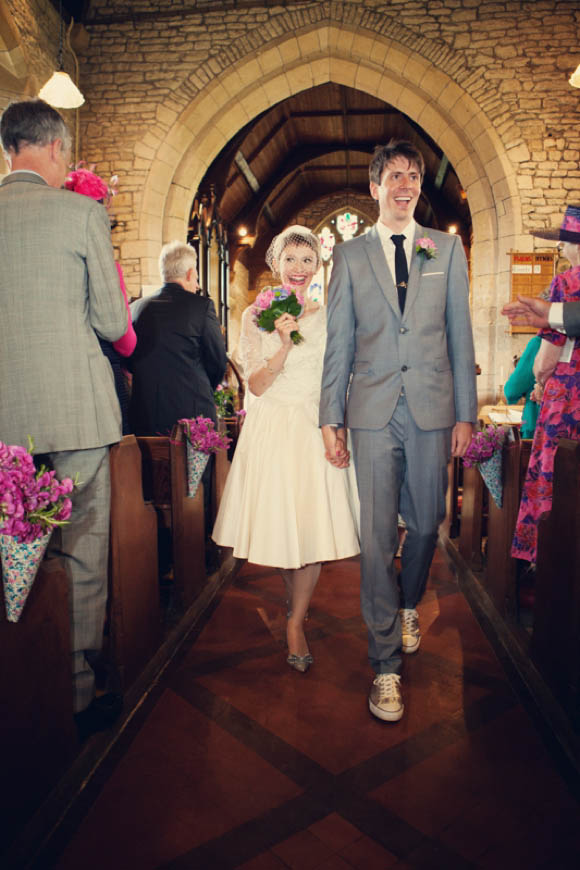 "Our cupcakes were made by Caroline Hammill who is a very close family
friend (mum to one of the Bridesmaids) We had carrot, Guinness and
elderflower cupcakes with handmade sweet peas. Caroline went on a course
to learn how to make them!"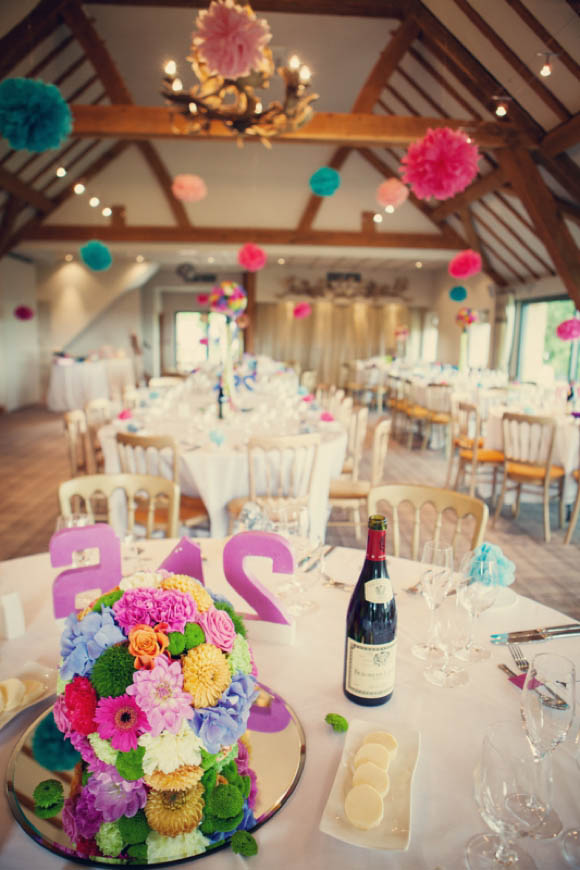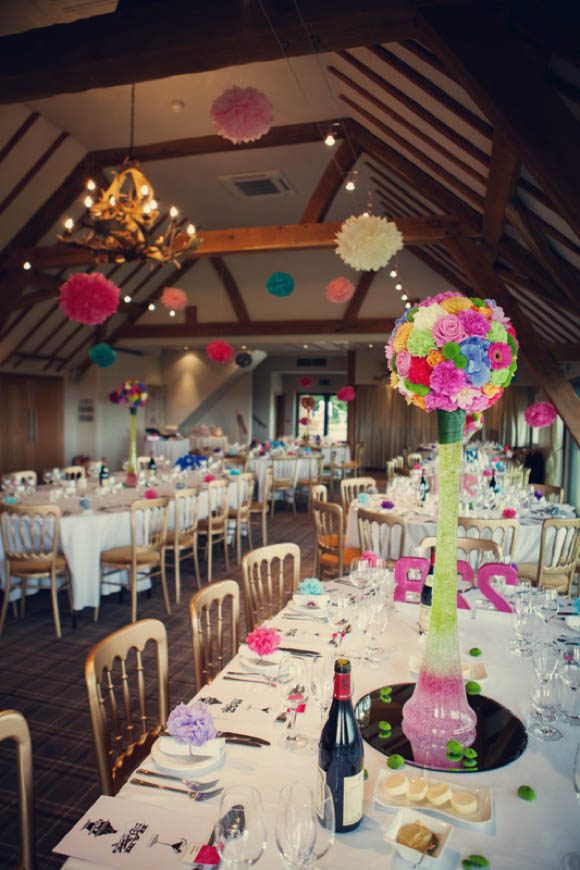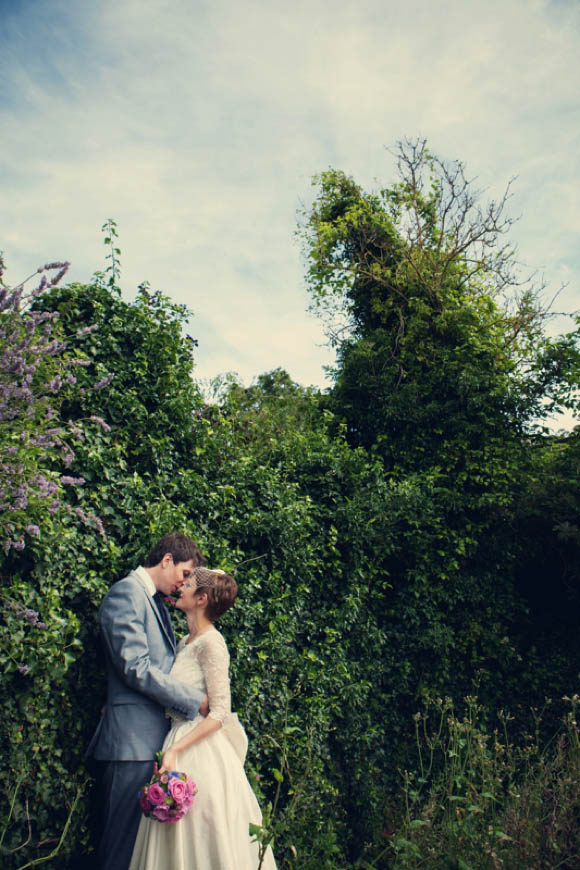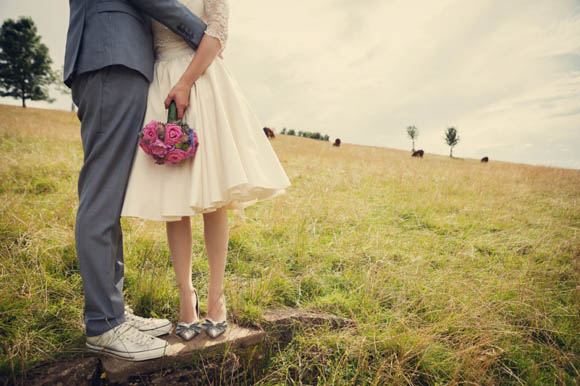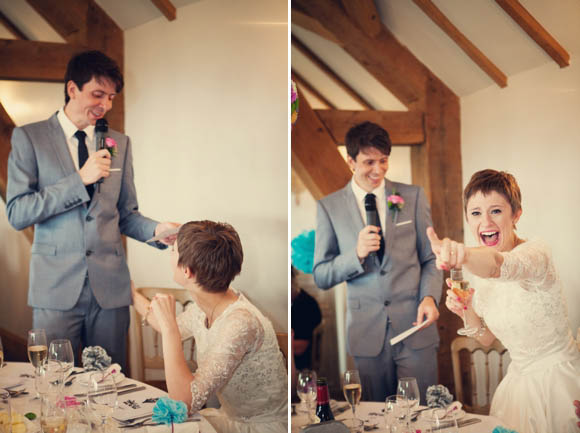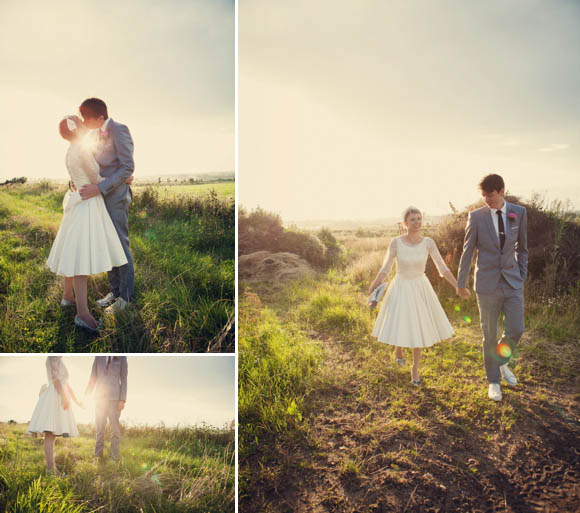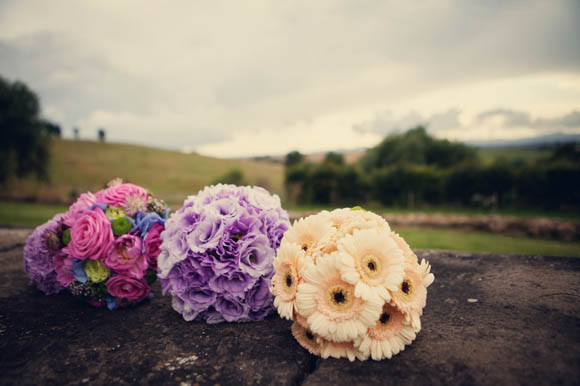 "We danced to 'Otis' by Jay Z and Kayne West feat Otis Reading. We
spent along time choosing our first dance, as we didn't want a slow
song. We finally settled on 'Otis' because we loved dancing to it in the
kitchen and we knew it would get all our friends we come and join us on
the dancing floor.
The music at the Church in some way was more
meaningful to us as Amelie is our favourite film!"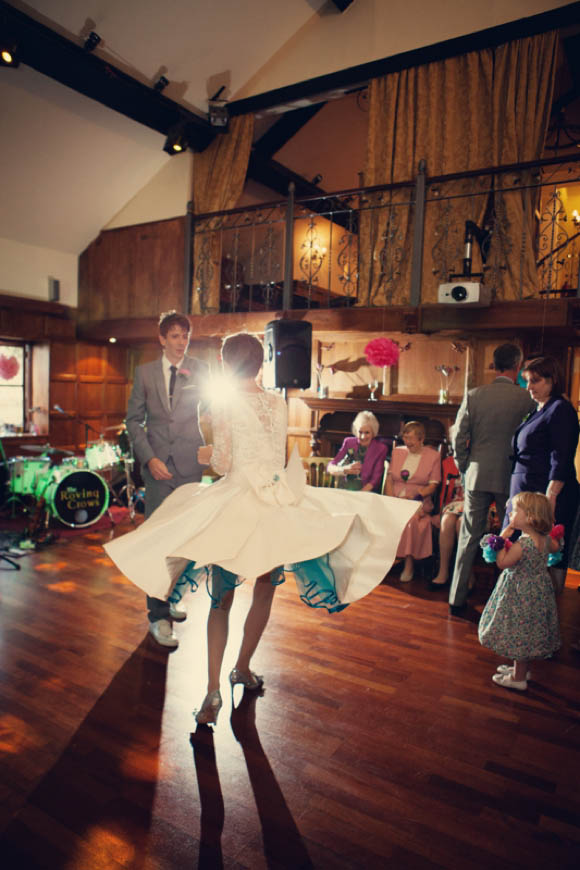 Words of Wedded Wisdom…
"Probably very clichéd but just enjoy the planning side
because that is half the fun and involve your future partner as much as
possible as it is about both of you! Also remember to not spend all
your spare time doing 'wedding things' and go and spend time together
doing normal activities.
I had decided early on that I wanted a fifties dress, but I
didn't want that to be a theme. The main thing we both wanted was it to
be colourful. Angus designed the save the date cards, invitations, table
plan, and menus.
We were married in the Church that it is behind my family home
and so as a village girl that was very important. It was lovely to
arrive at the church with lots of familiar faces watching."
Love love LOVE a bright and fun wedding to kick start my Thursday, don't you? 🙂
You can see lots more beautiful colourful wedding like this one right colour. Also take a look at more of photographer Sassy's work, and other short and sassy wedding dresses like this one.
Please leave a lovely comment below to remind everyone involved in this
wedding just how much we love them for sharing these photographs,
details and inspiration – thank you so very much everyone.
Back soon with more good stuff.
With so much love all,
Annabel
Photographer – Assassynation
Venue – Deer Park in Eckington
Wedding Dress – Alexandra King
Wedding Veil – Alexandra King
Brides shoes – 'Anna' Carvela Kurt Geiger (silver)
Bride's accessories – Antique necklace from her Grandmother
Groom – Suit + Braces via The Kooples + Silver leather Converse All Stars  & vintage tie clip from eBay
Bridesmaids – Alexandra King  using 'Claire Aude A Tana Lawn' from Liberty fabric + 'Anna' Carvela Kurt Geiger shoes in lilac and pink
Flower girl Dresses    Alexandra made the older flower girl's dress.
The younger flower girl's dress was made by her Grandmother.
Florist – Hans Haverkamp
Catering Company – Belle House, Pershore
Entertainment – The Roving Crow!