Good morning my loves, it's another week full of wedding day and related yumminess after a bonkers, crazy weekend in the Beeforth household; my daughter's 7th birthday party (12 children ice-skating then back to ours for a party, then children's christmas parties. And what a dreary Monday morning – well, if you look outside the window that is! I hope any of you who were subject to the terrible weather and flooding this weekend are safe and well.  And I hope that this wedding feature brightens up your morning.
Immy and Michael tied the knot on 8th September in an Indian tent hired from Wild Rose Tents and a ceremony and reception that took place in Immy's parent's beautiful garden in Abberley, Worcester.  Would you believe, that Immy spent only £30 purchasing her wedding dress – a beautiful, original 1940's tea length style silk gown…
"I bought my dress from a charity shop for £30 and then had it altered by 'All Bone and Trimit' in Crystal Palace, London.  Catherine there makes beautiful wedding dresses." 

My
dress is 70 years old, in perfect condition, fitted me like it was made
for me and is made from beautiful satin jacquard material. It is a beautiful 1940's
shape with beautiful buttons all down the back. Catherine
and I worked on shortening it and added the bow to the back and deepened the neck line."
Love My Dress Wedding Blog – Photography Copyright (c) 2012, John Barwood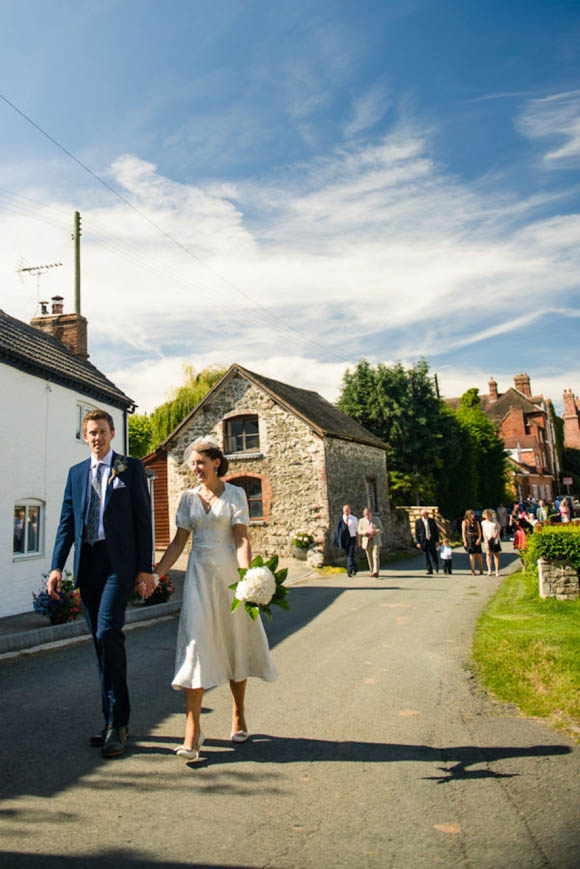 "I had a wrist tie and hair piece made from vintage lace, felted wool, tiny buttons, beads and French knots, by designer Jayne Hewison – who made it especially for me – a totally one-off design."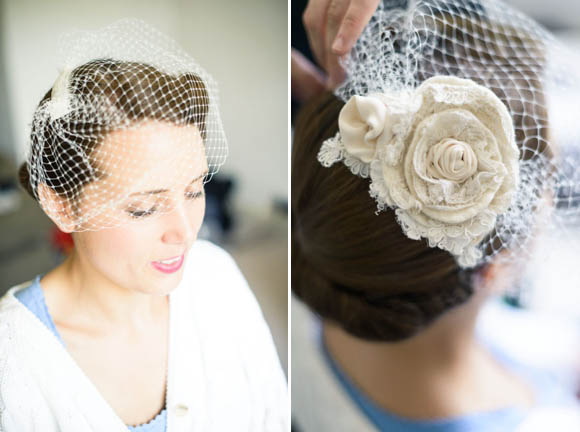 "Our neighbour who is also very good friend did all our flowers for
us, we used hydrangeas and rosemary from our gardens, I wanted the
bouquets to be really simple and look like 1960's swimming caps."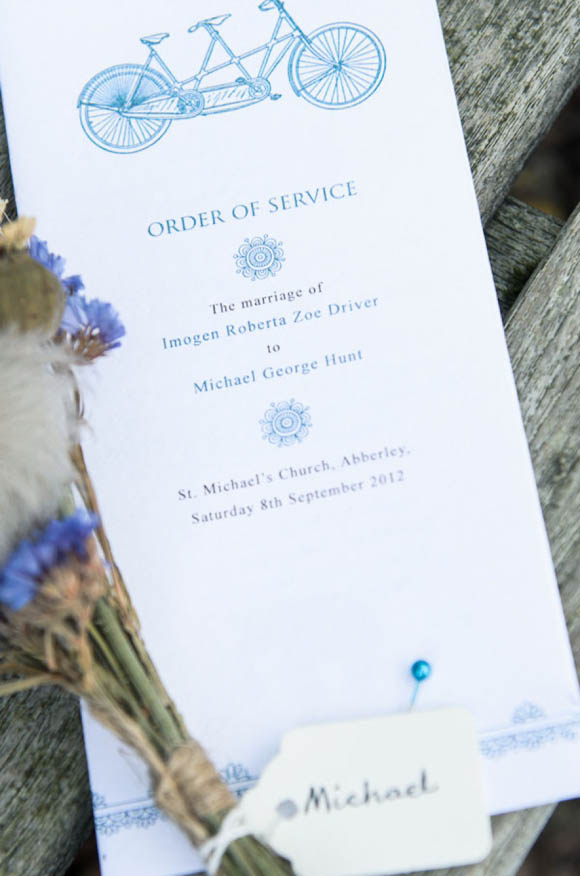 "My hair was styled by Helena Sinclair.  She did a lovely 1940's hair style to match my dress and it was exactly
what I had hoped for. She fitted in brilliantly with all my crazy
sisters and we had a lovely morning getting ready together."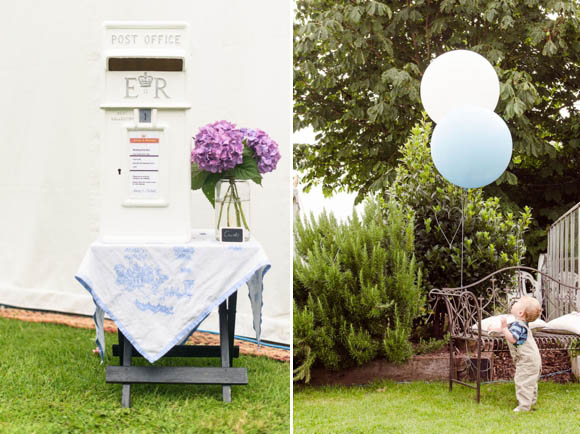 "We enjoyed the DIY and handmade aspect of our wedding day, though the backdrop of our gorgeous indian tent provided by Wild Rose Tents, was the amazing view over
the Worcestershire countryside so we didn't need many decorations.  We
made paper tissue pom poms, my friend made metres of bunting and I hung
crochet circles outside on twine.  We made our place card holders out of
a branches of a Silver Burch we chopped down in the garden.
Our table
was laid with metres of hessian with liberty style print runners (which
was just metres of fabric cut in two lengthways.One of my best friends made us  a fabric congratulations banner which went behind the top tables.  We used jelly moulds filled with rice for tealight holders, vintage glass candle sticks."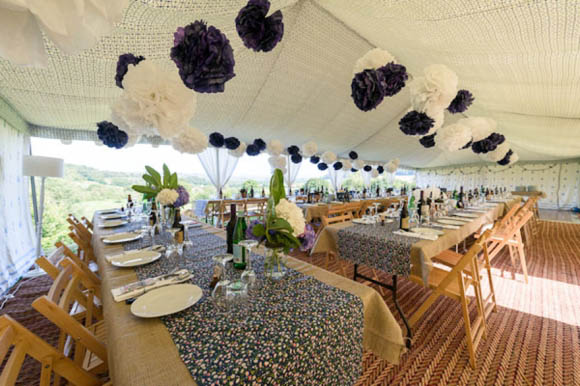 "We love my parent's garden – there are lots of happy memories
and a beautiful, stunning unbroken view for miles and miles over the
beautiful Worcestershire countryside. My tent was from Wild Rose Tents.
My love for the 1920's to 1950's  fashion and music. We also had a
bit of an Jndian theme with a beautiful Indian marquee and curry for
lunch. We both have travelled there many times for work and pleasure. 
We both love it there."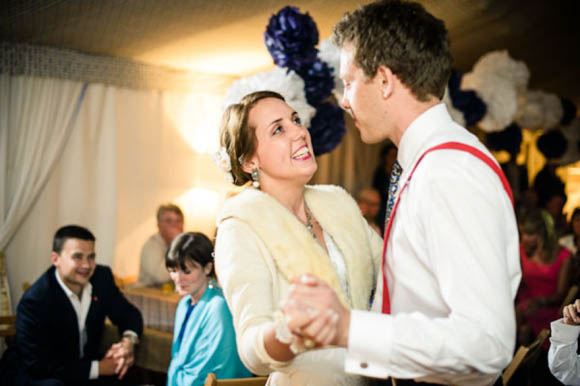 "Our photographers were John and Sophie from John Barwood Photography. 
They were like family by the end of the wedding, everyone adored them
and everyone has said that ours are the best wedding photographs they
have ever seen. The photos are absolutely stunning and better than we
could ever have imagined.  I have been recommending them to anyone I
can."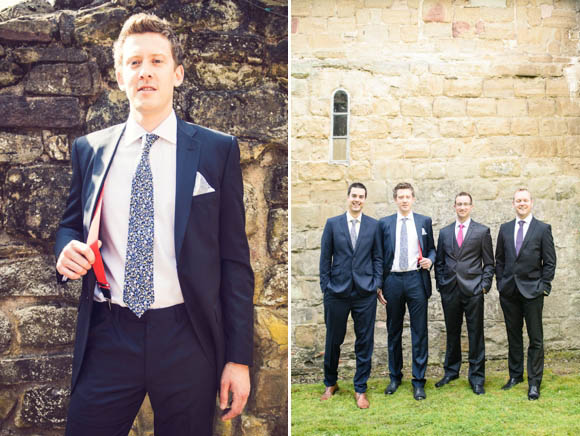 "I wore a pair of silver and marcasite earringsand necklace and my grandma's old gold bracelet…"
"For our readings during the ceremony, we had ' A lovely love story'
by Edward Monkton.  It is a light hearted, funny but heart felt reading
and the story really reflects our personalities so would have amused
guests who know us well."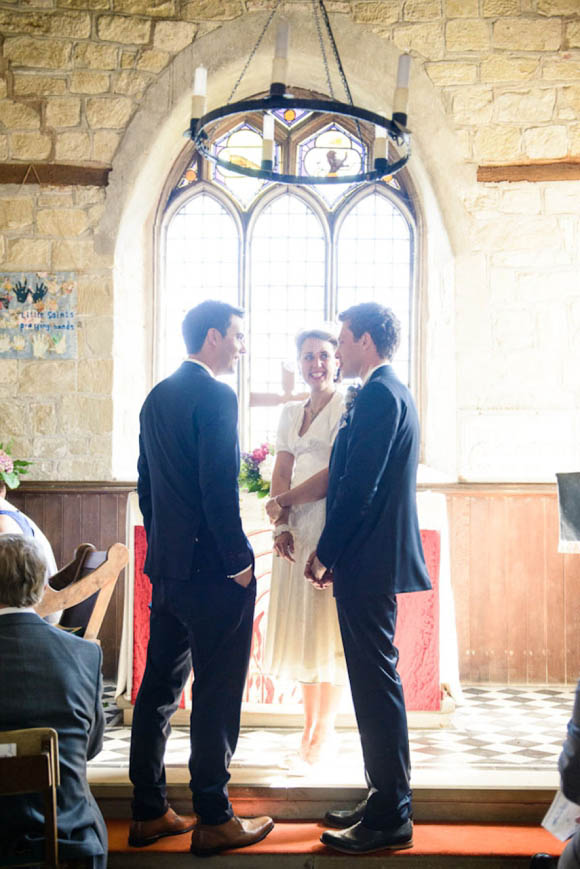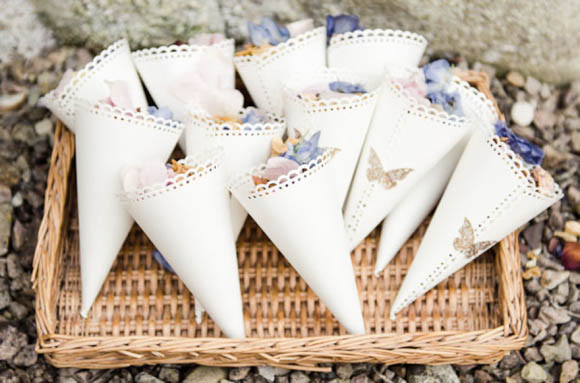 "We both met at work in the buying team at Marks & Spencer
and got together at a Christmas party four years ago.  We got engaged
on holiday in Skiathos in May 2012 and married in September 2012.  Only 3
months from engagement to wedding day (I am better organising under
pressure and love a challenge)."
"My Mum, I wanted a simple but striking cake so we stuck lots of
little icing dots over 3 layers of fruitcake, added blue crochet ribbon
that I bought in India and at the last minute added white hydrangeas
between the layers and on top."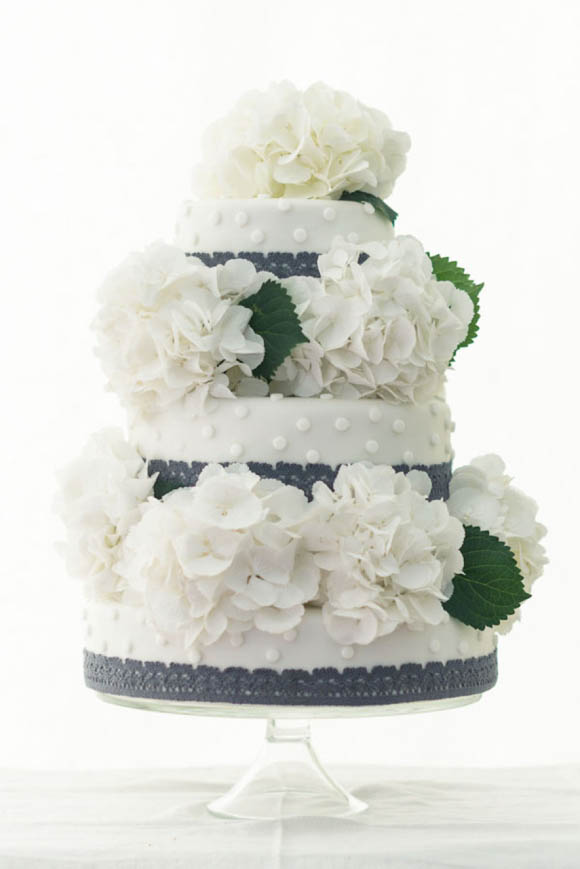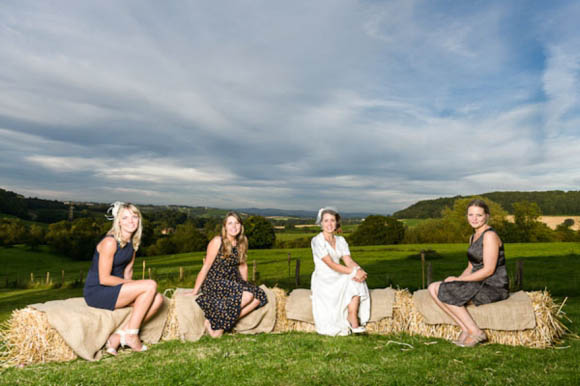 "We danced to The Beach Boys 'Darlin', it is one of our favourite
songs and I often make my husband dance around the kitchen to it."
"We hired the best wedding band ever – The Ten Pound Suit Band! We didn't stop dancing all night, modern songs in a swing/50s/Rock style. Everyone loved it and all ages were dancing."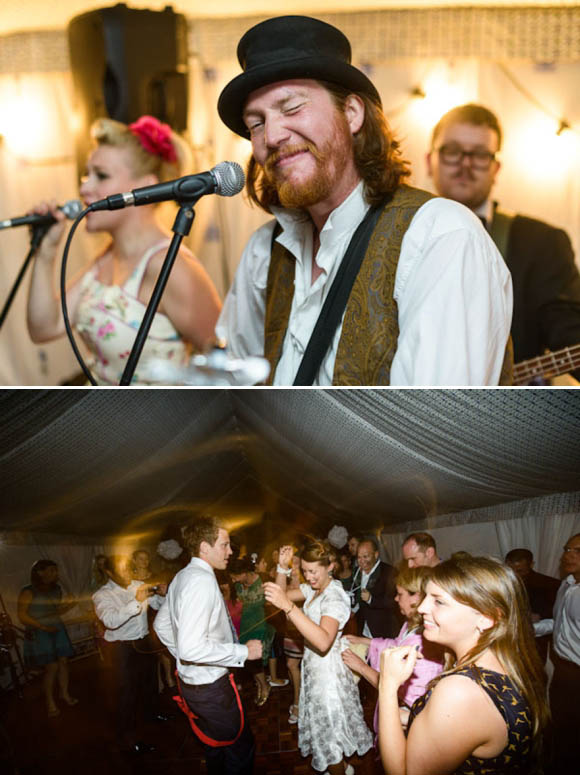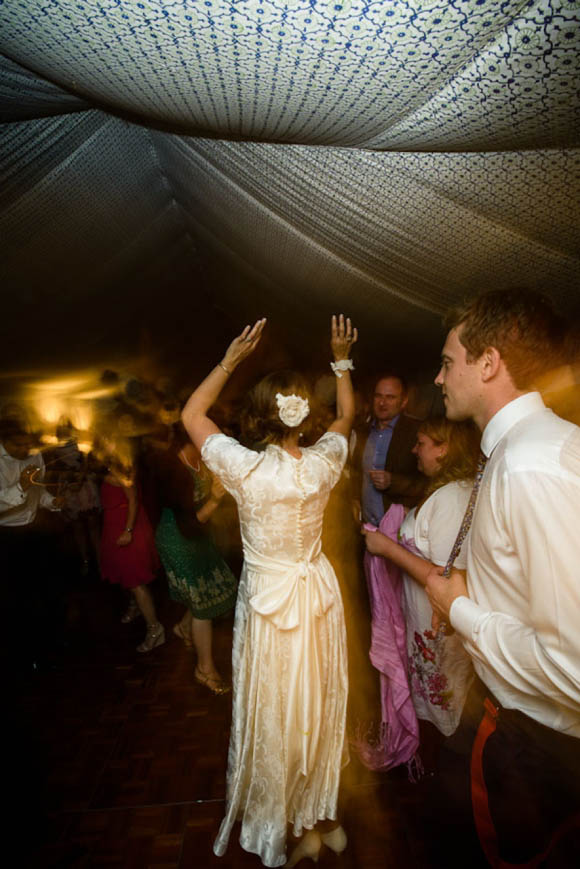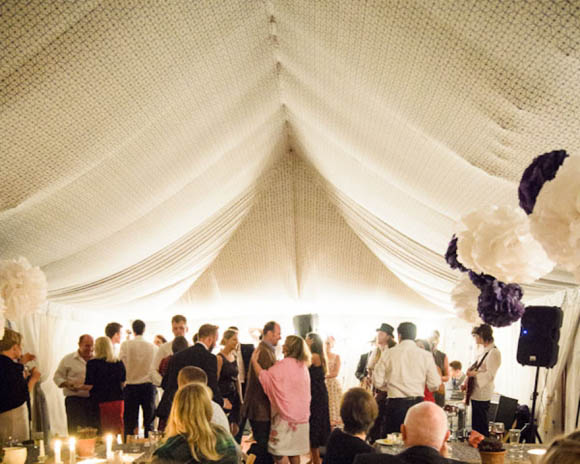 Words of Wedded Wisdom…
"We had fun things going on all day – a steel band after lunch, a
quiz during the meal, a gramophone dj when we got back from the church, a
bubble maker for the children,  Mojitos in the evening, a photo booth, a
late night bonfire.  There was no chance for guests to get bored as
there was always something going on.  Make your day as fun as possible
and steer away from tradition.
I would have invited
everyone who just came to the evening do to the whole day and I would
have bought another barrel of local beer."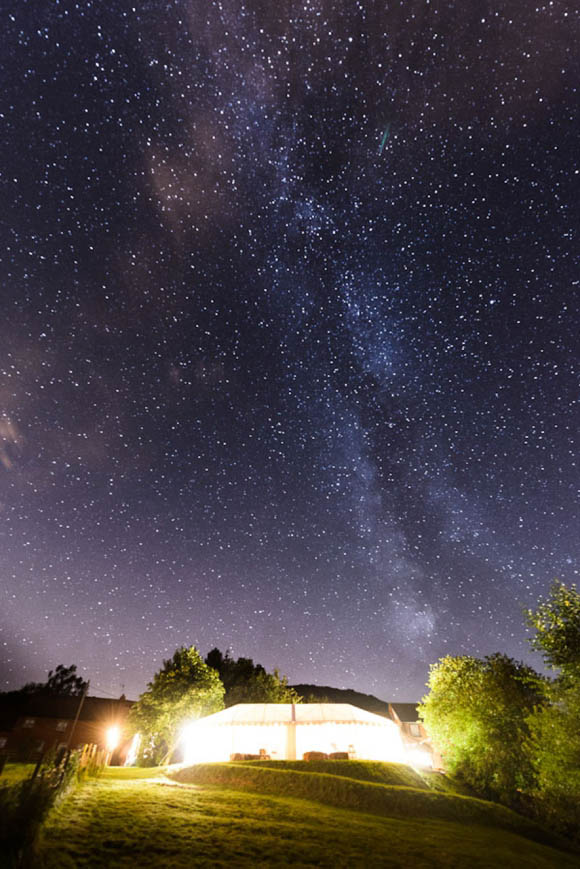 How beautiful is that night sky? What a spectacular way to end such a lovely wedding day – congratulations Immy and Michael.  Immy, I adore your dress, and your experience is a wise lesson that beautiful finds can be discovered with a little charity shop TLC – lucky lady you!
I love the pared down elegance of 1940's style wedding dresses – what about you?
Big Monday morning love all,
Annabel
Photographer – John Barwood
Venue – The bride's parent's garden, using Wild Rose Tents
Wedding Dress – Charity shop find, 1940's original, costing just £30
Brides Shoes – Freya Rose
Brides Hair Accessories – Jayne Hewison + Birdcage veil from Ebay
Grooms Suit – Marks & Spencer
Bridesmaids – own choice dresses
Florist – A neighbour
Cake – the bride's Mum
Entertainment – The Ten Pound Suit Band