If you didn't know it already, you really, really need to know now, that I'm the biggest Claire Pettibone fan in the world.  US based Claire designs the most beautiful, ethereal, fairy and outdoorsy, dreamy inspired wedding gowns I have ever seen. Ever.  And when I met her in New York last year when I attended Bridal Market, I had a total fan girl meltdown and told her I was from London – which is totally untrue. My tongue was actually that tied with excitement. Total nerd.
You also need to know if you don't already that I'm a big big supporter of small design businesses, artisan crafts people and makers of extremely beautiful, pretty things, and so when Chloe, the owner of The White Room bridal boutique in Sheffield submitted these images that feature Claire Pettibone dresses and exquistie bridal headpieces by Debbie Carlisle, I melted just a little bit.  This is the stuff my wedding blogging dreams are made of.
Love My Dress Wedding Blog – Photography Copyright (c) 2012, Jess Petrie
The new Claire Pettibone 'Windsor Rose China' Collection features Claire signature sheath dresses with lace overlays featuring antique patterns which are stunningly stylish for the vintage and bohemian bride.  Chloe from The White Room tells us more…
"At The White Room, we are huge fans of Claire's designs, not only is her love to all things vintage and a unique approach to dressing the bride amazing, her "non-traditional" looks are being chosen more and more, showing brides really are experimenting with their looks and styles…"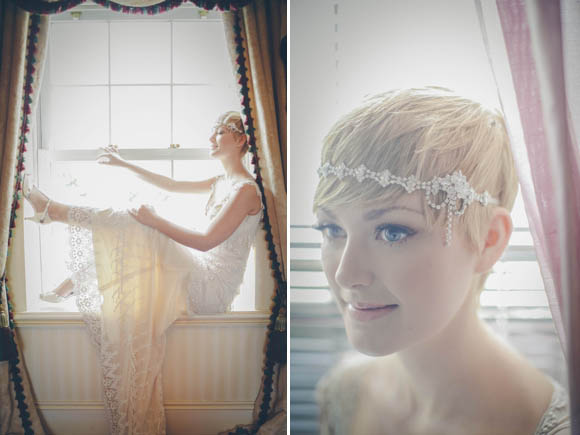 Chloe also says: "I am a huge fan of Claire's gowns and am honoured to be a
northern stockist and can't wait to spread the word and show off her
amazing gowns to fashion forward and modern brides willing and looking
to make a statement with their wedding gown. Her love for all things
individual and inspirational is evident in every gown, so beautiful,
feminine and unique." 
The dress above and below is called Kristene, and features layers of English lace embroidery create the Victorian inspired
Kristene gown.
This was the first bridal gown Claire Pettibone designed. With a
perfect blend of vintage romance, the embroidered "fringe" creates
playful movement for dancing.  For the purposes of this photoshoot, it was paired with soft Chantilly lace edged
and silk tulle veils for movement and to encapsulate the vintage vibe,
so often associated with Claire's designs.
I love how Claire talks about how she has been inspired by her Grandmother…
"My Grandmother was quite the 1920's bohemian – her first husband was a
rum-runner during prohibition, and was mysteriously killed in a
"motorcycle" accident. She never talked about him, and I was a grown
woman when my mom shared the scandal that my grandpa (her father) was
not grandma's first love. I've been thinking about Anna Mae, and looking
at the photos of her second wedding that we all thought was her first.
She
wore a beautiful mauve scalloped silk dress with a velvet sash at the
hip, round spectacles and stylish Mary Jane's. Grandma has long passed,
but I have her wedding dress, the intricate embroidered linens she made
by hand, her gold rimmed china with delicate painted roses…and a good
dose of her free spirit.
The sweet and simple details of our heirlooms:
lace linens, golden lockets, fine china, don't they make lovely
inspiration for a wedding dress?"
All the headpieces used in the shoot are by Debbie Carlisle and are all from her brand new 2013 collection of headpieces, called 'Divine Deco and Floral Fantasy'.  Debbie tells us more…
"The 'Divine Deco' pieces draw their glamorous high-shine inspiration from the elegant opulence of the 1920's and 1930's
while the six 'Floral Fantasy' designs combine delicate floral fabrics
with intricate beadwork and subtle flashes of colour for an ethereal
look that works seamlessly with the colours and textures of the latest
bridal gown designs.
The six 'Divine Deco'
headpieces were inspired by the sumptuous glamour of Baz Luhrmann's The
Great Gatsby and also by Downton Abbey and Boardwalk Empire. Like these
on-screen dramas, all the headpieces combine elegance with a slightly
decadent edge that is perfect for brides who want to make a stylish
statement on their wedding day."

"The six 'Floral
Fantasy' pieces are my take on the blowsy flower crowns favoured by Lana
Del Rey but with an ethereal twist inspired by the fantastical images
conjured up by Shakespeare's A Midsummer Night's Dream. This collection
mixes dreamy textured fabrics with colour, warmth and beading which are
perfect for brides looking for individual glamour without full-on
sparkle and shine.
While there is a strong vintage feel
to the new designs there are also modern touches with forehead bands
and off-centre headpieces set on my trademark organza ribbon which gives
them a slightly relaxed festival-chic edge as well as making them very
comfortable and light to wear."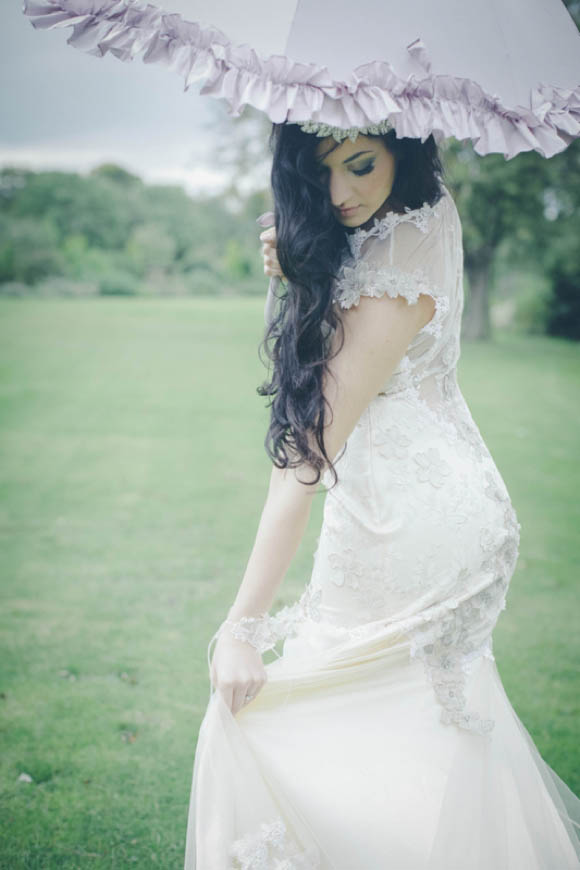 The 'Divine Deco and Floral Fantasy' Debbie Carlisle 2013
Accessories Collection is available to buy now online from the Debbie Carlilse website, or via The White Room in Sheffield, as is a selection of designs by Claire Pettibone – prices start at £1,800.
Which one of your stylish ladies is going to be first and purchase a Debbie Carlisle design having seen this feature? Please make my day and tell me it's going to be YOU!
Annabel
Photography – Jess Petrie
Accessories – Debbie Carlisle
Wedding Dresses – Claire Pettibone, via The White Room in Sheffield
Hair & Make-up – Erika Swinn
Venue – Butterfly Grange Mansion, Derbyshire
Models – Amy & Jaleh