Oh my GAWD! Well, today has knocked me for six!  Since voting went live at 12.30pm today for the Zoe Lem competition, we have actually been inundated with votes. I'm genuinely gob-smacked, but also absolutely thrilled that everyone is getting in to the spirit of things!
I was going to keep this wedding until tomorrow, but as a way of saying 'THANK YOU' for being such great sports and partly because we have so many gorgeous, gorgeous weddings to share with you right now, I've decided to slip this one in to the schedule as a bit of a late Tuesday treat for you.
This is Cristina and Andy, who both live in Australia, but who decided to tie the knot in Andy's parents (obviously rather large!) back garden and woods in Essex on Sunday 26th August 2012.  There are so many things I love about this wedding, the dress, the location, the tenderness with which Cristina talks about her wedding.  These beautiful photographs were submitted by Hampshire wedding photographer, Stephanie Swann…
"As Andy and I live in Perth Australia, we decided to have two weddings, one first in the South West of Australia in May with friends (the legal one) and a second one (the 'official' one, albeit symbolic) in the UK with UK friends and family. We wanted a relaxed semi-formal wedding in the UK (the Australian one was a ceremony on the beach followed by a BBQ) so decided to have the ceremony and reception at Andy's parents house in Stock, Essex."
Love My Dress Wedding Blog – Photography Copyright (c) 2012, Stephanie Swann
"We both love what we'd call 'modern vintage' styles and based on the fact that my wedding ring is a lovely tangerine sapphire, we decided to use orange and green on the invite and bright colours throughout the day.
We're both relaxed people and because we live so far away we wanted the day to be as much about spending time with all our friends and family as it was about our love. We therefore planned lots of time during the day for just chatting to people.  The ceremony was at 1pm and we had champagne and canapés before and after it. The ceremony which was in Ruth and Nigel, Andy's parents beautiful garden, and was presided over by Andy's uncle Jonathan Clark who is a Reverend."
"One of the main things that drove the direction of the wedding was the desire to have a relaxed day with as much time together with our friends as possible.  We really wanted to keep everyone together and avoid that thing where people have travelled a long way to see you but then you barely get to say hi. We built a camping village in the garden.  We hired a couple of giant Tipis with long tables to eat at and the food was a hog roast with salads. The seating plan was designed to mix everyone up and our table had all our siblings and best friends on it. We then had speeches, a disco and fireworks (because we both love fireworks!).
Hiring the tents meant that no-one had to rush off, no designated drivers and most importantly everyone enjoyed a stack of pancakes together the next morning which was really nice.
The Tipi company had their own décor items that we hired and they were great. It also included a fire which was well received once it started getting a bit cold. We also hired our own fancy wedding tent with a four poster bed for our wedding night which was put up in the woods at the end of the garden and was amazing!"
"My dress was the 'Wicked' design in champagne, by Dana Mathers, bought from the Perth shop. It's traditionally a dress shop for school balls so the girls in the shop were surprised and delighted when I told them it was for my wedding!
I didn't want a traditional white dress and fancied something simple but that was also glamorous and special, that wasn't your typical simple beachy white dress but that was maybe a subtle colour but glitzy – a bit more me. Traditional bridal shops only had enormous dresses or boring chiffon straight dresses. Online I loved Johanna Johnson and Jenny Packham but I couldn't justify spending so much money so when I found this dress it was perfect!
I made the neckline more 'sweetheart' and lowered the back for the UK wedding to make it a bit more special. I did the alterations myself which was a little scary but worked out well!"
"We both like unusual perfumes.  I was wearing 'Omniscient' by Yash Hann, and Andy was wearing Sepia by Mandy Aftel – both are really rich and interesting scents…"
"All the flowers used on the day were from Andy's mothers allotment and Andy and his Mother prepared them together. It was her idea to sprinkle lavender down the aisle and it smelt amazing!"
"I originally bought these shoes to be a bridesmaid for another friends wedding but changed plan at the last minute so never wore them. I bought them from Instyle shoes in Perth.
 As the wedding was going to be on grass I bought these brilliant 'starlettos', which were brilliant and saved the day!"
"I had the veil custom made by Wedding Veils Australia. They were brilliant and fast (hand made veil posted to me in 3 weeks!), they sent me some free swatches and recommended the ivory glitter tulle which I went for with stuck on glittery crystals on the edges. It was floor length and had a cut edge.
I had my hair down with three simple crystal pins to hold a few bits of hair off my face. They from 'The Glitter Co' in Perth.
My 'something blue' was an aquamarine antique ring I bought at the Portobello Road Markets in London in 2009 as a reminder of my Godmother who died of breast cancer that year."
"As Andy has a sweet tooth and I'm more savoury his mum Ruth made three amazing baked cheesecakes for 'his' wedding cake and I had a stack of cheese wheels as my 'cheese cake' wedding cake from The Cheese Shed."
"We met years ago at my best friend Jenny's wedding in the UK and were friends for a few years via email/skype/Facebook as I lived in Perth and Andy lived in London. On a trip back to the UK in 2009 we caught up and started a long distance relationship for a year and a half. Although I'm English I couldn't move back to the UK as I was finishing Medicine at a university in Perth following a career change so Andy moved over in early 2011 to be with me.
I started work as a Doctor in 2012 and as I was working in Emergency on Valentine's day Andy suggested we celebrate it down south in Margaret River a few days later as we were going down there for a long weekend with his parents who were over from the UK.  We hired a house facing the beach and on the first morning Andy suggested he and I have breakfast on the beach by ourselves to celebrate a belated Valentines Day. He pulled out a chilled beautiful bottle of cava, chocolate dipped strawberries and salmon and cream cheese sandwiches (which I later found out had been a work in progress all week with his parents helping!). We then exchanged valentines presents, I gave him his valentines present of a massage voucher(!) and he then asked me to close my eyes for mine – when I opened them he was on bended knee with a ring! 
We were engaged for 3 months before the Australian wedding and 6 months before the UK wedding."
"Our photographer, Stephanie Swann, was really important to us and pretty much the first thing we looked for when we decided on our date. We wanted someone who was creative and relaxed but who would also not be too intrusive or constrain us to a few hours. Stephanie was amazing!; more than we could have hoped for – she arrived early and was there until the end (we had to tell her to go home!), relaxed and professional. Everyone has commented on how amazing the photos are and we are unbelievably happy with them  as we feel like they totally captured the day."
"My Dad gave me away, Andy's friend Rhodri arranged a piano rendition of my favourite song by Tiffany 'I think we're alone now' for me to walk down the aisle to as a surprise for Andy! It was AMAZING."
"We wrote the ceremony ourselves with a strong focus on the importance of being friends above everything. The reading by my best friend Jenny was all about friendship and love…
It is often said that it is love that makes the world go round.
However, without doubt, it is friendship which keeps our spinning existence on an even keel.
True friendship provides so many of the essentials for a happy life –
it is the foundation on which to build an enduring relationship,
it is the mortar which bonds us together in harmony, 
and it is the calm, warm protection we sometimes need when the world outside seems cold and chaotic.
True friendship holds a mirror to our foibles and failings, without destroying our sense of worthiness. 
True friendship nurtures our hopes, supports us in our disappointments, and encourages us to grow to our best potential.
Andrew and Cristina came together as friends, they pledge to each other not only their love but also the strength, warmth and, most importantly, the fun of true friendship."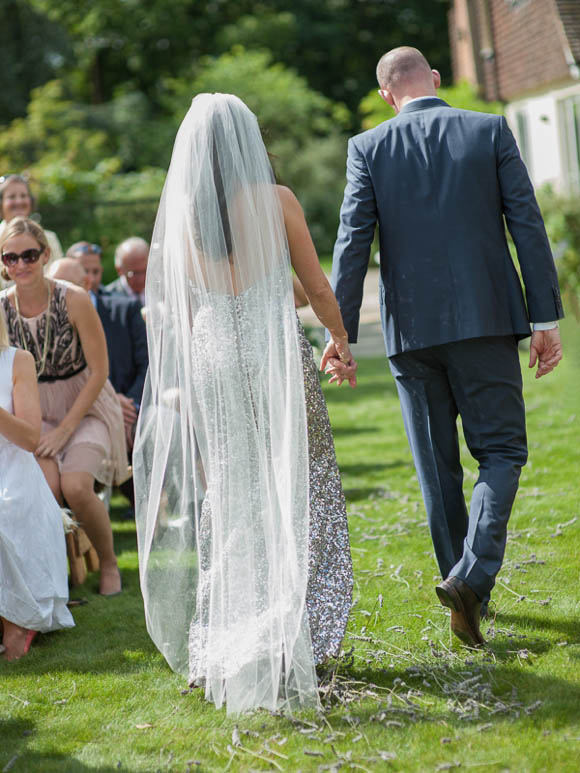 "Andy decided to wear a suit he already had rather than getting anything new but bought a really nice new pair of new shoes from the wedding.  Like a lot of things at the wedding , hey were smart but slightly retro. They remind me of 1920 style American prohibition era shoes."
"We danced to 'Draw your swords' by Angus and Julia Stone. We got the album just before a road trip up north in Western Australia when Andy first moved out and this song seems particularly poignant, particularly the chorus. It is a beautiful tune but does have a few expletives in it however even the sense of those seemed very 'right' -  I am yours, you are mine, lets not F#$% around"
Words of Wedded Wisdom…
"While it's important to consider
family dynamics, remember that it's your special day so do what will be
most special to you on the day.
Remember to spend time with your
new spouse on the day as it's too easy to be swept up catching up with
people and before you know it it's over -  if there is a way to build in
some down-time into the day where you can slow the pace down a bit I
would strongly recommend it. Some of my favourite memories are being
with Andy delighting on how amazing the day is.
My favourite part of the day was spending time alone with Andy in
the middle of the day during the photos and when we got to do our first
dance and watching the fireworks together as it felt so perfect and it
had been such a happy relaxed day. I also really enjoyed the lead up to
the wedding with both our families pitching in together helping to
prepare and being able to spend several hours with my mum doing all the
flowers together."
Andy also told us about his favourite part of
the day; 'I also really enjoyed time alone with Cristina and Stephanie
(photographer) in the middle of the day just hanging out and getting
some pictures. For me one of the most memorable parts was also the long
period in the middle between the ceremony and the dinner where people
slowly realised that there was a few hours to kill and rather than
having the same 5 minute conversation with everyone at the wedding
actually relaxed, chatted and enjoyed the champagne and canapés. We were
of course very lucky with the weather."
Told you I was treating you to something lovely didn't I? 🙂
It's not often you see a bride dressed fully in sequins like this, but I absolutely adore Cristina's style and their simply wonderful, relaxed wedding. What a fantastic day it must have been in that garden, surrounded by their bestest family and friends. 
Huge congratulations Cristina and Andy – thank you so much for sharing your beautiful day with our readers, and thanks also to photographer Stephanie Swann for this gorgeous submission.  See more gold and sequins, outdoor or tent/tipi weddings if it takes your fancy.
Big love, 
Annabel
Photographer – Stephanie Swann
Venue – The Groom's parents garden, using Tipis4Hire + Magical Camping Tent Hire
Wedding Dress – 'Wicked' in champagne by Dana Mathers
Wedding Veil – Wedding Veils Australia
Bride's shoes – Instyle Shoes in Perth, using starlettos
Bride's accessories – crystal hair pins via The Glitter Co + earrings also from The Glitter Co
Grooms Suit - Terracemen
Perfume – 'Omniscient' by Yash Hann (her) + Sepia by Mandy Aftel (him) 
Florist – Flowers direct from the Groom's parents alotment
Cake – Cheese Cake via The Cheese Shed
Entertainment – The bride's best friend Jenny as DJ