Morning all! How was your weekend? We finally picked up the keys to our new house! It all feels a bit like a dream at the moment. We spend the next four weeks actually moving in (and planning for Christmas, and my daughters birthday. Infact, if my head is stil on the top of my shoulders by Christmas time, I will be pretty impressed! #headlesschicken).
There's nothing like kicking off the week with a healthy dose of red carpet style glamour I say – this is Carla and Tom tied the knot on my birthday this year! (for those of you who
don't have the date in your birthday books, that's 28th September) at
the very elegant Buckland House in Buckland Filleigh, Devon.  The couple had had a civil wedding ceremony inside Buckland House (with no
photographer present), the day before this event. They then had a church
blessing the next day at the church in the grounds of Buckland House and hired Sarah Falugo to take these photographs… 
"We chose Buckland House because it was the perfect venue and
setting for the wedding we had planned, and it catered for all our needs.  Our Best man and one of our Bridesmaids had also got married there eight years prior and highly recommended it
I also love the 1920's and 1930's and so the styling and decor at Buckland House was perfect for this. Colour wise
there is a strong Green influence as it's also my favourite colour."
Love My Dress Wedding Blog – Photography Copyright (c) 2012, Sarah Falugo
Love that photo above – in fact, one thing I love about all of these photographs is how they capture Carla and Tom's laughter and happiness. JUST how a couple should be on their wedding day…
Carla wore a Jenny Packham wedding dress, that she purchased via White Mischief in Henfield.
"I
chose my dress because it has a lovely vintage look & feel to it,
as it's 100% silk it just moves so gracefully with my body. I love the
style & shape & the bead work is so pretty, also the revealing
back detail.
Our Florist Jacky from JG Floral Design,
was brilliant, so lovely & helpful. I chose the flowers we had as
they had a vintage look & matched perfectly with our dresses etc."
"Tom and I met in Brighton through friends; I lived in London at
the time, but moved back and we moved in with each after a pretty
short period of time. Tom proposed in Dorset at Moonfleet just near to
the manor, which he remembers fondly visiting when he was younger."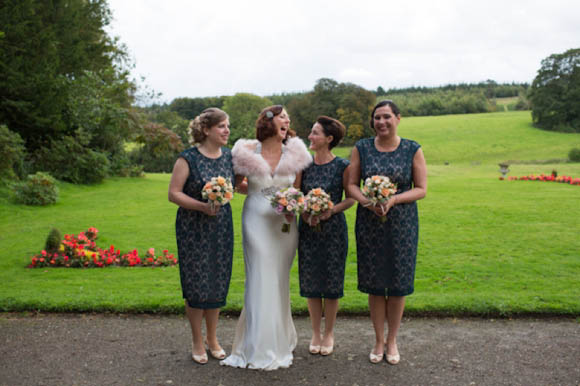 Now I recognised those dark green lace dresses that Carla's bridesmaids
are wearing in an instant, because I own one in coral colour!
"My bridesmaids dresses were a sale purchase from French Connection.  They were exactly what I had in mind, so we were so lucky to find them.  My Bridesmaid Jess wore her hair up with a beautiful vintage style hair clip".
Readers,
if you are after your own vintage style hair clips, make sure you visit
the following sites;  Glitzy Secrets, Queens and Bowl, and Liberty in
Love…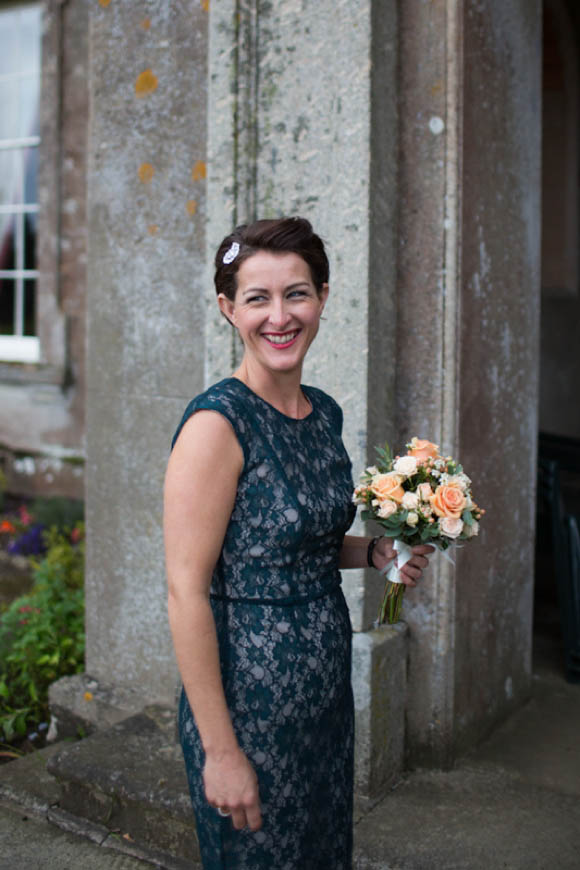 How pretty is this lovely pink buttonhole?
"I collected all the glassware for the tables, from the vases,
candle stick holders, water jugs etc and the table numbers were in
vintage looking picture frames.  We used lots of fairy lights to decorate Buckland House, round the sweeping staircase & round the Ballroom balcony. Also Jess decorated the rest of Buckland house with tea
lights."
"I bought my shoes from Ebay – they perfectly matched my dress & were a fraction of the price of shoes I originally liked!"
"I wore a very pretty brooch in my hair – my mum picked up in a
charity shop.  The only other jewellery I wore was a pair of very pretty
earrings, that my mum lent to me & has since given to me, she
bought them from the Isle of Wight, years ago & as my hen weekend
was there, there was a lovely connection. They are art deco style, which
fitted perfectly with our wedding theme."
Words of Wedded Wisdom…
"Start planning
early if possible, as the time flies! Take everything in your stride,
try to be calm & not get to stressed, ask your friends & family
for help if you need it, as it's hard doing everything on your own,
write lists, so you can keep on top of things & tick them off once
done, which is a lovely feeling. Make sure you enjoy you day, try not to
worry & make sure you have 10 minutes alone with your husband
before the party starts.
Enjoy every minute, the day will whizz by so
fast. Leading into your marriage make sure you make time for one
another, have fun and lots of laughter, especially straight after your
wedding as it can be a bit of a shock that it's come and gone!"
I love that; 'Leading into your marriage make sure you make time for one
another, have fun and lots of laughter'. Some of the best words of wedded wisdom I've ever read, bravo Carla!
So folks, who else is channelling their inner red carpet screen goddess for their wedding day. I *need* to hear from you if so!
Big thanks to photographer Sarah Falugo for sharing this elegant day with us all. I'd encorage you to check out Sarah's (who also took these photographers) new website, she's a little bit good!
Big Monday morning love all,
Annabel
Photographer – Sarah Falugo
Buckland House in Buckland Filleigh, Devon
Brides dress -  Jenny Packham, via White Mischief in Henfield
Bride's shoes – EBay purchase
Grooms Suit -  Made to measure via Hugo Morris
Bridesmaids Dresses – French Connection (sale purchases) + BHS shoes
Florist – Jacky Gooda, from JG Floral Design, Devon
Cake – 'Cheese Cake' – a wedding gift/supplier unknown