Good morning beautiful people, well, the week is moving along gently in the right direction – Christmas, of course. I can honestly sense a whole nation just dying to take a bit of time off and relax for a few days over some festive cheers! Talking of Chrimbo, did you get chance to view these gift list boards of yesterday? I can't believe the number of click-through's Franky sent to the Peacocks website for *that* red Pearl Lowe dress – (might have secretly ordered myself one this very morning!). 
This morning's rainbow coloured wedding is all about Helen and Sam, who  tied the knot on 18th August at Leatherhead registry office, followed by a reception at Sam's Mum's 'beautiful' garden.  Having met at a party through  mutual friends, the couple got engaged on Brighton beach, 11 months prior to their 1950's inspired wedding day and Alexa Loy was there to capture it all on camera.

"I was partly inspired by the 50's era, my dress from Elizabeth Avey was an original 50s dress, my bride's maids wore swing dresses designed by Oh My Honey, and we had a Cadillac.
I chose the dress because it wasn't long and I wanted something summery. I also liked the high neckline and the lace.  I made my own veil…"
Love My Dress Wedding Blog – Photography Copyright (c) 2012, Alexa Loy
Oh how i Love how Helen chose for her maids to be so colourful! I love these dresses by Oh My Honey…
"My ring was a Victorian Mizpah ring made into a wedding band by
Frida in Brighton. My mum had given me the Mizpah ring and I wanted
something that had belonged to someone else. My husband's ring was from a
jewellery shop in Stamford. He wanted rose gold."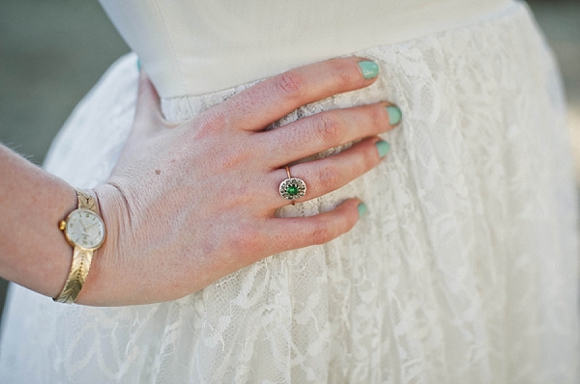 "I made felt heart garlands, bunting and collected pressed glass vases for the flowers from charity shops…"
"Our photographer was Alexa Loy. We both really love our photos and received a fantastic service from Alexa. She was really friendly and helpful."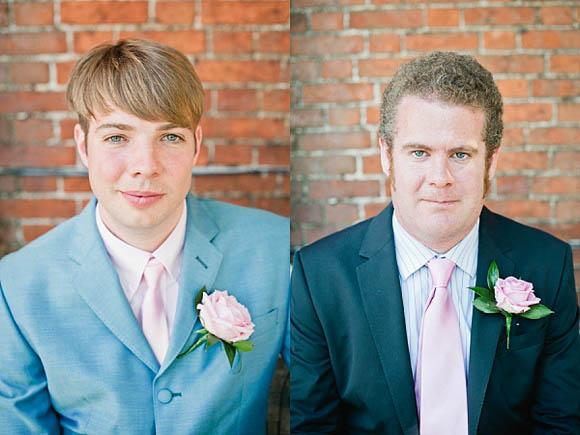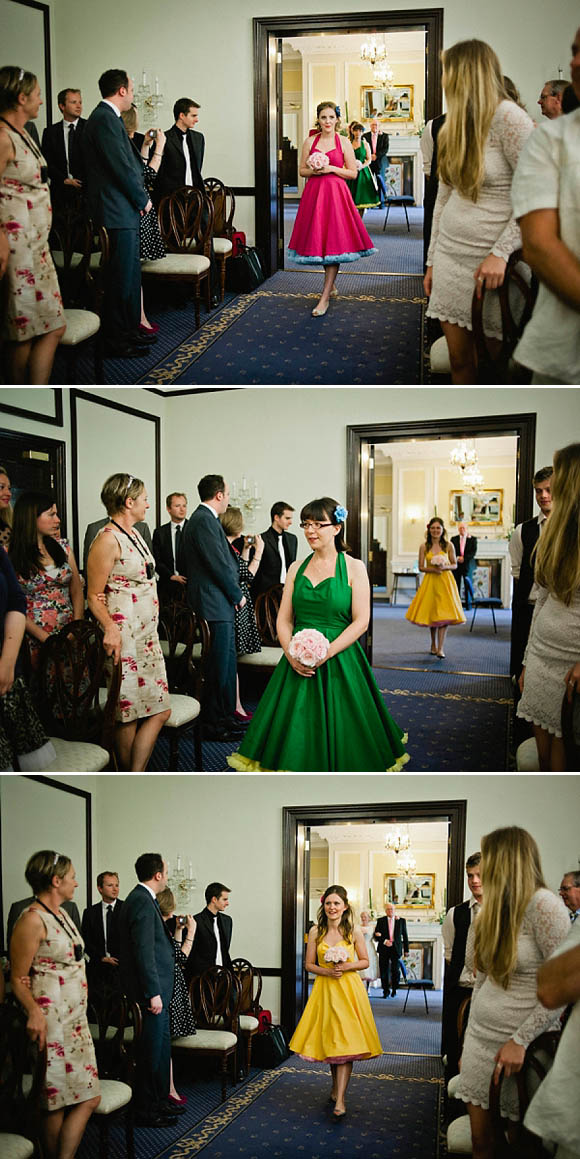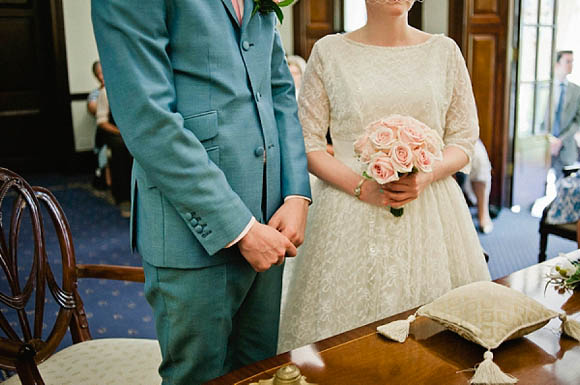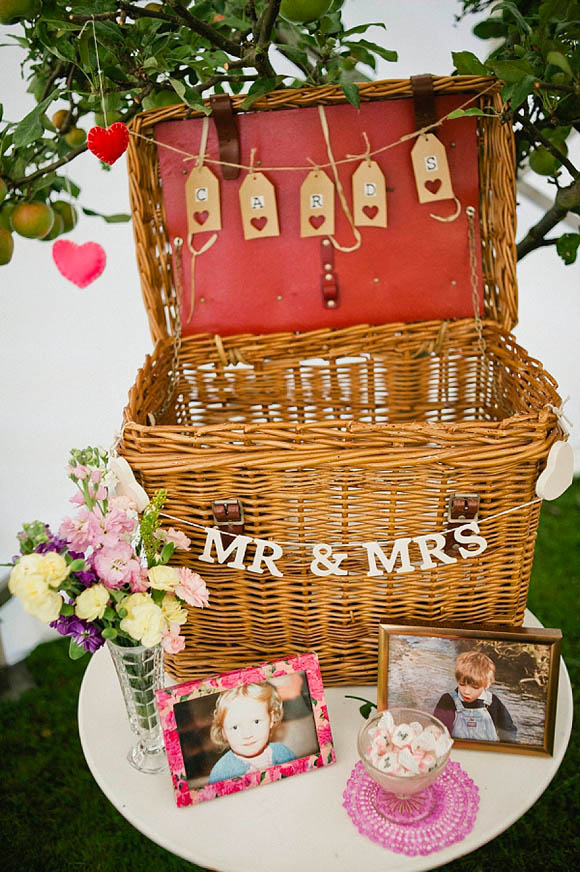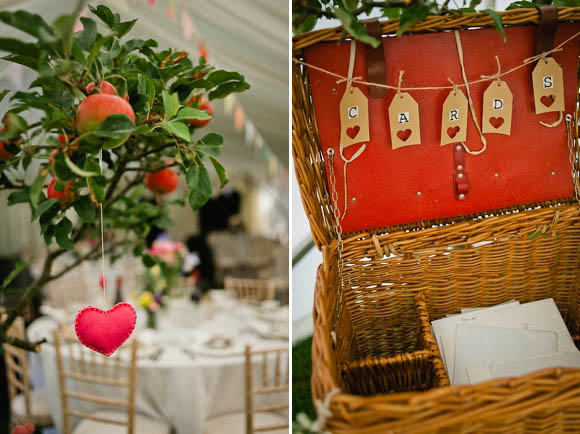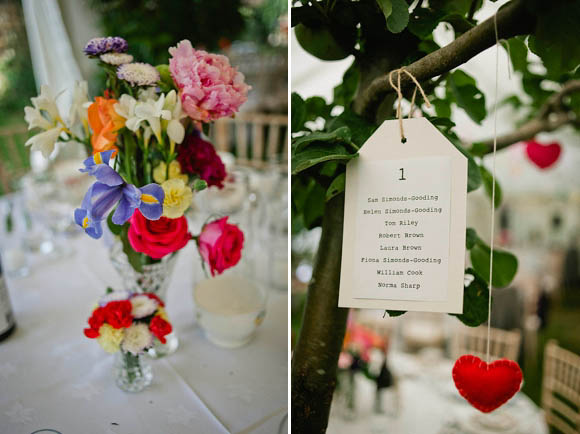 "Our friend Jackie made the cake. She is a great cook and loves
making cake. Our only specification was for it to be sponge. As it
happened, it matched perfectly with the pink icing and roses."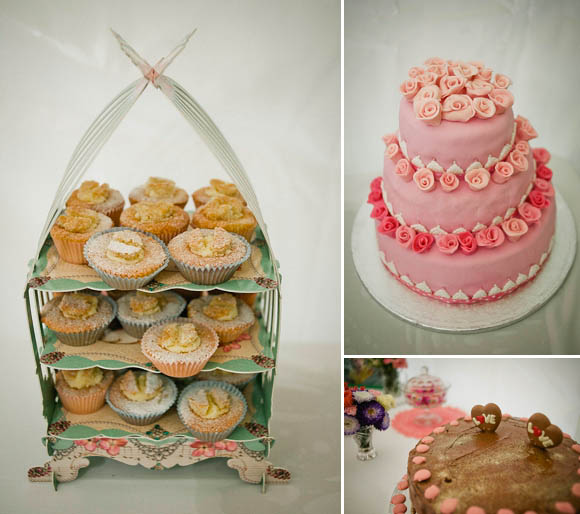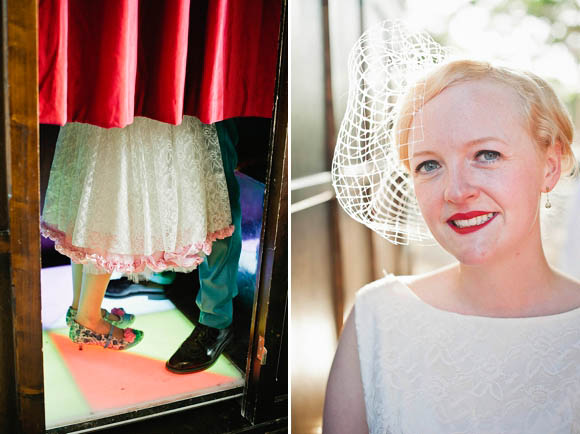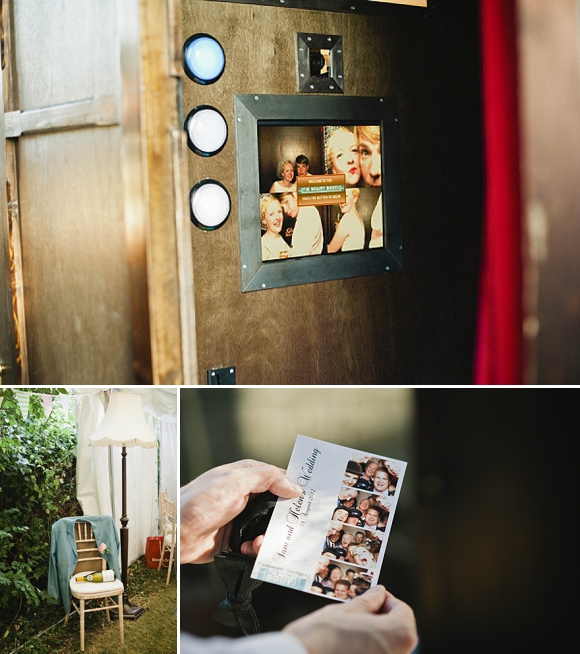 I love the colour burst in this wedding! See more colourful weddings here and as normal, you can use the drop down menu at the top right of the page to discover more 1950's inspired weddings too.
Right now, I am also deepening my love affair with Elizabeth Avey – whilst London based, she really does stock some of the very best vintage wedding dresses in the UK – you must pay a visit if original vintage bridal wear is what you're after.
I'd love to see some sweet comments on this wedding, who's going to be the first to leave one?
Much love,
Annabel
Photographer – Alexa Loy
Venue – Registry Office + Groom's parents garden
Wedding Dress – Elizabeth Avey
Birdcage veil – made by the bride
Brides Shoes – Irregular Choice
Bride's accessories – Earrings, antique emerald via Grandma. Gold watch loaned by the brid'es sister
Grooms Suit – Jump the Gun in Brighton
Bridesmaids – Oh My Honey 
Florist – Fleur Amanda, Weybridge
Cake Designer – A friend
Catering Company – The Happy Buffet
Photobooth Hire – The Mighty Booth
Cars/Transport – Cool Classic Cars (white Cadillac)