Morning all 😉 *chink coffee cup/looks out to beautiful view across the moors from new house*
I do adore the colour pale blue. We're working on incorporating it within the kitchen and living area of our new home and it's a colour that's featured lovingly throughout these pages over the past year or so (and one I chose to wear to the Love My Dress Summer Soiree last year), so this lovely wedding submitted by photographer Sara Reeve makes me smile. 
Tom & Emily tied the knot on 13th October at Wadhurst in East Sussex, with a ceremony at the local church, and a reception back at Emily's parents' garden.  Emily wore a pretty made-to-measure gown with pockets from the Sassi Holford Couture Collection that suited her so perfectly. I love Sassi Holford, I spent Wednesday last week with her and the other judges on the Wedding Industry Awards Panel working hard to decide the national winners of the 2013 Wedding Industry Awards…
"I loved the neckline of my Sassi Holford wedding dress, and the surprise of the low back combined
with such a demure front. The pockets were inspired! The box pleats at
the front meant it held its shape beautifully and gave it a very clean
line. It was a very happy dress.
I chose not to wear any jewellery with the dress, I loved the clean lines of the design – it just didn't need anything else…"
Love My Dress Wedding Blog – Photography Copyright (c) 2012, Sara Reeve
"Tom is an old friend of my older brother. He and I re-met as
adults after university – there were actually 10 months between Tom
proposing (in Stockholm) and our wedding day.
We wanted
the wedding to involve our families fully, and to be in East Sussex as
we both grew up there. We were also keen to have touches of Swedish
tradition to reflect where we got engaged.  Tables were decorated by both our mothers, using flowers from the garden and coloured fabric.  And taking the location of the proposal in to account, we had a Stockholm inspired the table plan, with
tables named after the islands of the archipelago.  We also had candles
hanging in the trees and lining the steps between the drinks and the
marquee where the dinner and dancing happened."
"Our photographer was Sara Reeve, who was fantastic. She took hundreds of photos, and looking through them takes us back through how every step of the day felt."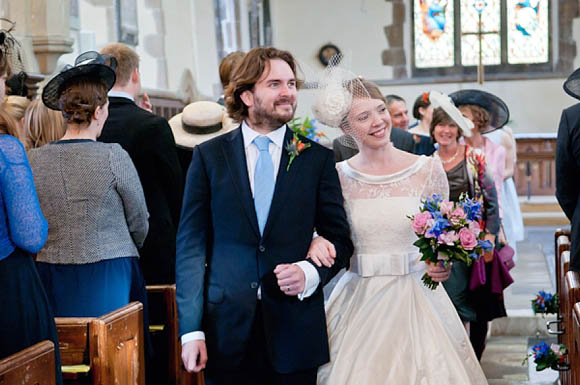 "For our first dance, we did a rumba to Slide Away, acoustic version by Noel Gallagher…"
Congratulations Tom and Emily and thanks so much to photographer Sara Reeve for sharing these photos. You can look up Sara via her website, or on Facebook and Twitter.
Loving the pale blue in this wedding? You can see a Christmas sack full of other pale blue pretty ideas right here.
Is anyone else loving pale blue and a bit of Sassi Holford?  You can see more brides looking beautiful in Sassi Holford dresses here.
Much love all,
Annabel
Photographer – Sara Reeve
Venue – Emily's parents garden
Brides dress – Sassi Holford Couture Collection, made to measure + Paola and Paola jacket 
Brides birdcage headpiece – Jane Taylor Millinery
Brides Shoes – Rachel Simpson
Groom – Dunhill suit
Bridesmaids – Dessy dresses in dove colour + pink and orange freesias in their hair
Florist – Wadhurst Flowers
Cake – Chocolate cake in 3 layers made by Tom's sister, Alice
Entertainment – Captain Redeye and the Hoods (swing band)
Catering Company – Chicks That Chop, who are local caterers and friends of Tom's family