It's Wednesday people, how on earth did that happen?!? That's 6 days until Christmas.  No flippin way!!! I really hope you've already had a moment to catch up on the latest in our 'Confessions of a Disabled Bride' series, as well as this sumptuous 1920s inspiried shoot.  This afternoon's real wedding was submitted by Emily Coleman, the lady behind Blink Photography and a rather fabulous dress from the ever delightful Candy Anthony.
Photographer Emma was present to capture the nuptials of Laura and Dan on camera, when they tied the knot on 8th September 2012 at Brownsover Hall Hotel, Rugby.  I think Laura looks fabulous in her   Candy Anthony gown and those frankly amazing made-to-order Manolo Blahnik heels…

"Being a fairly curvy girl, I knew a waisted dress would suit my
shape better than anything too clingy… And I had a morbid fear of
wearing anything that would make me look like a massive cupcake or a
human toilet roll cover.  I also love the 1950's look – it's one of the
few eras from which the clothes still look put-together, stylish and
beautiful today.  And I wanted to be able to look back at my wedding
photos in a few years' time and not ask myself what I'd been thinking! 
Over
and above that, I wanted to be able to move on my wedding day – dance,
run and walk around freely. I'd heard too many horror stories of brides
who needed assistance to go to the toilet to opt for a massive, unwieldy
dress!"
Love My Dress Wedding Blog – PHotography Copyright (c) 2012, Blink Photography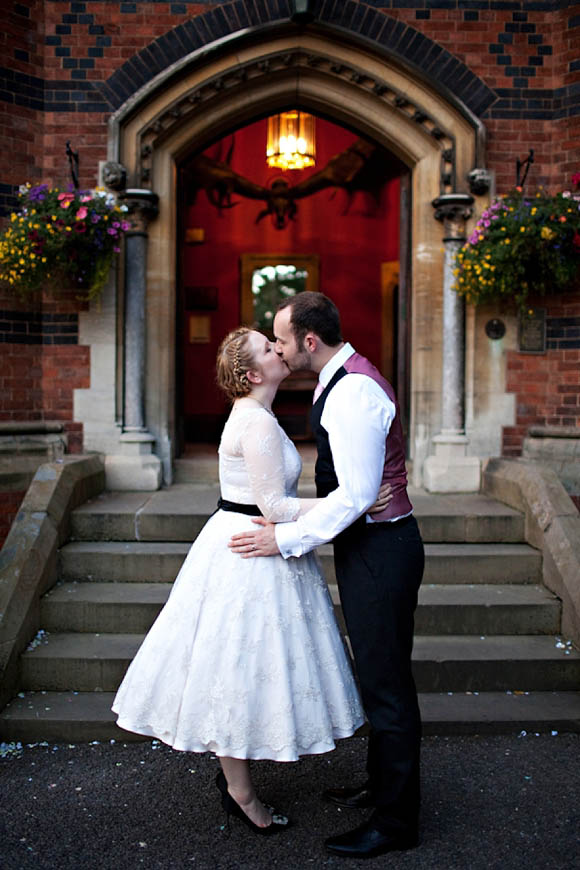 "My headpiece was also made by Candy Anthony, to match the dress, with identical lace and a black bow..."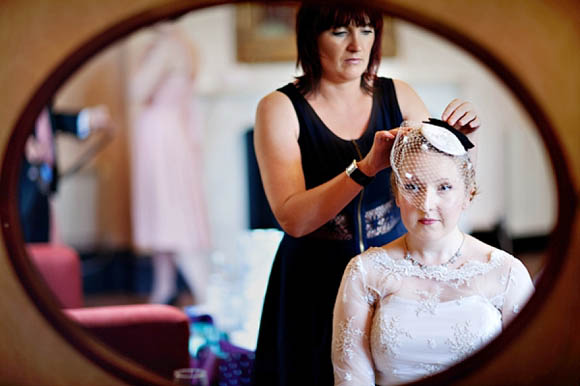 "It was the only dress I tried on that felt really 'me' – and I
tried on a LOT! I loved the style, the shape, the colour and especially
the lace overlay – it was demure without being too austere. And the
black flashes on my feet and at the waist were different, flattering and
interesting. Rachel, who looked after me at Candy Anthony, was
absolutely amazing."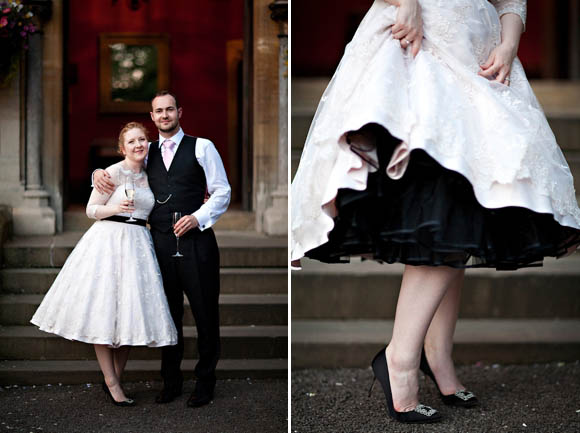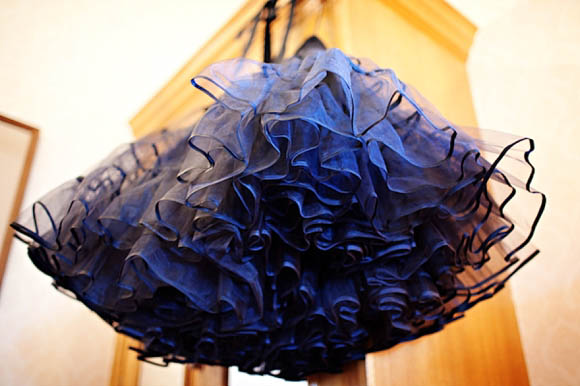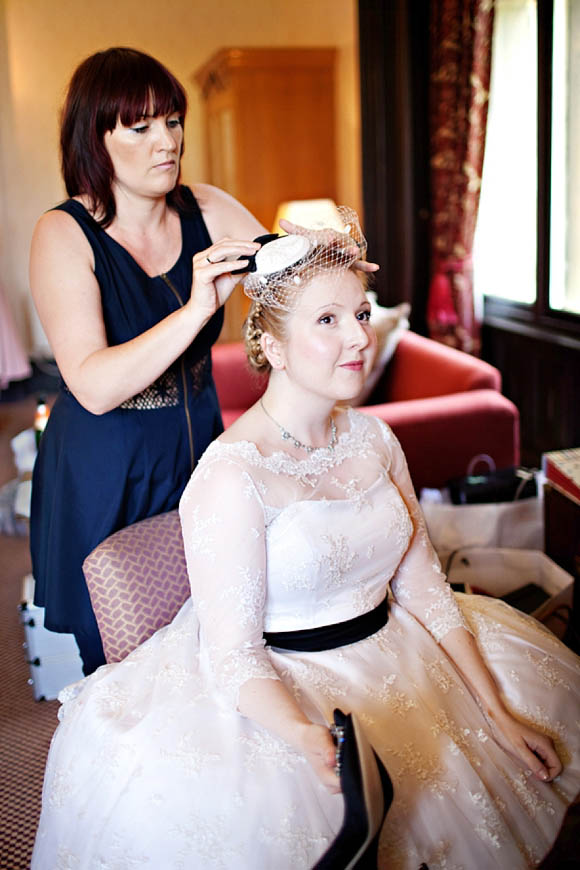 "My Manolo Blahnik shoes were my 'Something Blue' shoe from the SATC
film, but in black! I had to have them made in Italy and sent over as
they aren't normally made in black for the UK market. The people at
Manolo were also kind enough to shorten the heel on the shoes by a
centimetre so there was less chance of me toppling over on the big day!
In the end I managed to walk and dance on them for about 12 hours!"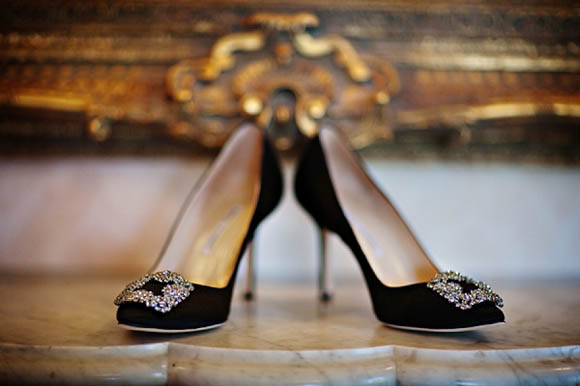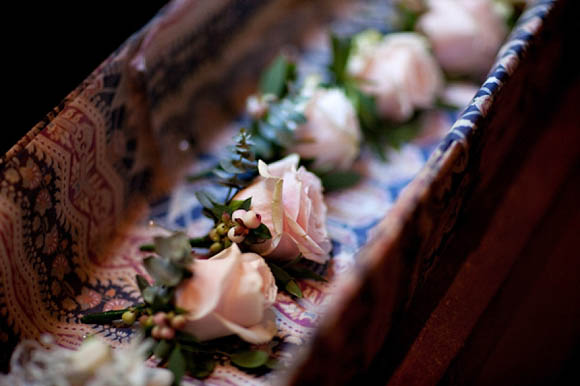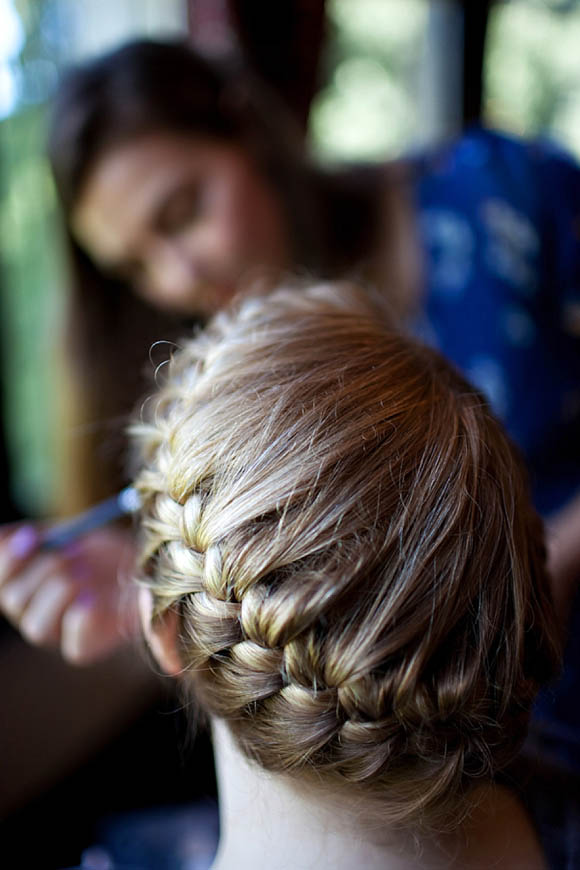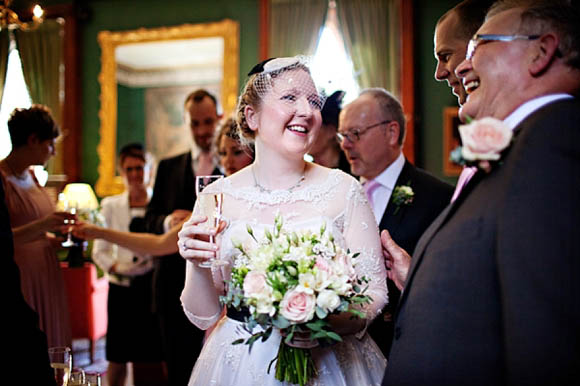 "We went for romantic, fragrant flowers that were in season, in pale pinks and creams. Our Florists Black Orchid made our venue smelled absolutely amazing!"
"Dan wore a MadMen-style three-piece suit that was custom made by Roderick Charles,
and the flowers were kept simple and seasonal, and placed in old tea
cups, glasses and vases we sourced from London markets like Portobello
Road. Some of the smaller items were stacked on books, and our table
centres were quotations from our favourite books, poems, songs and
movies.
Dan also wore a pocket watch, which was a gift from his big brother the best man on our wedding day."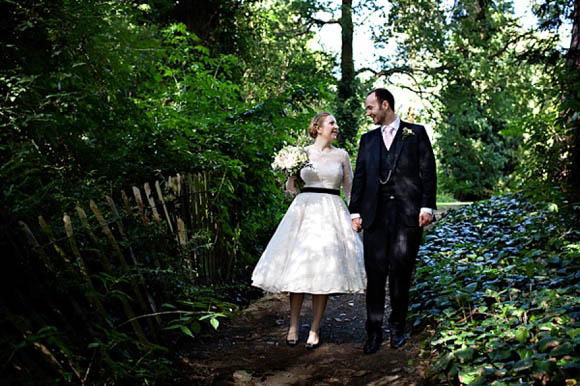 "Our photographer was Emma Coleman of Blink Photography. 
She was absolutely fantastic and I can't recommend her highly enough.
We'll treasure her images of our special day forever, and everyone
commented on what a fantastic job she did on the day. She was never
intrusive and always up for a giggle!"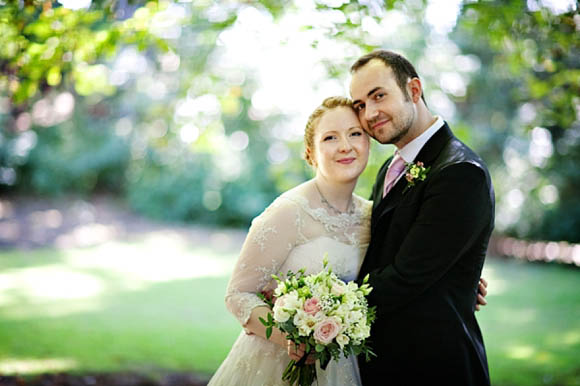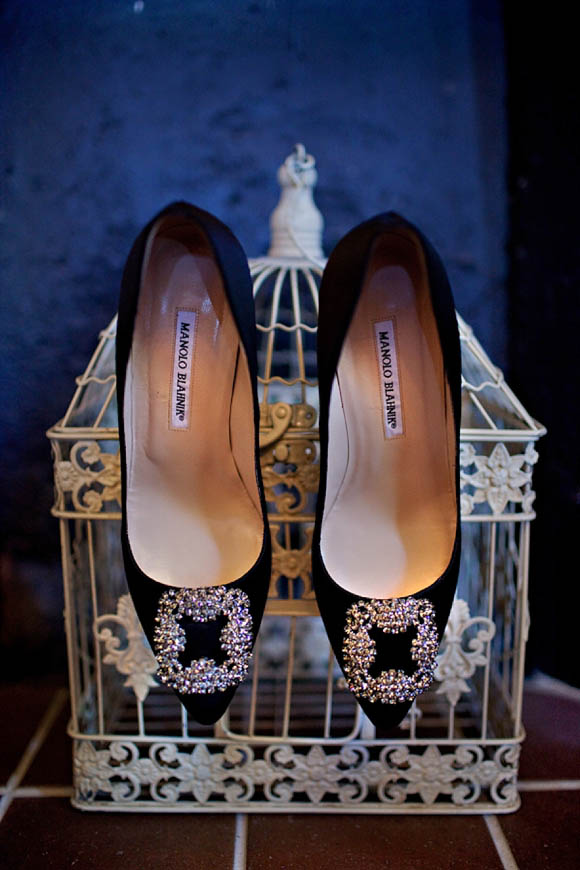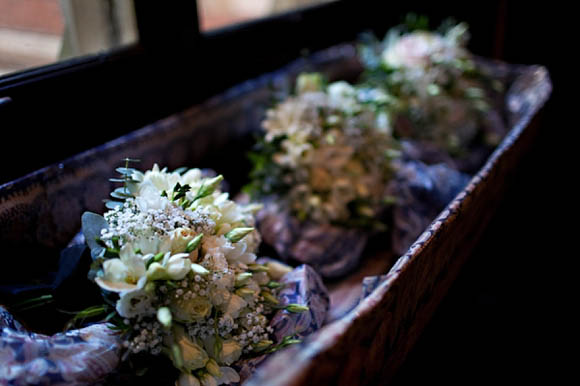 "Twobirds Bridesmaid provided a fantastic service and were incredibly helpful after my original bridesmaids dress provider badly let me down."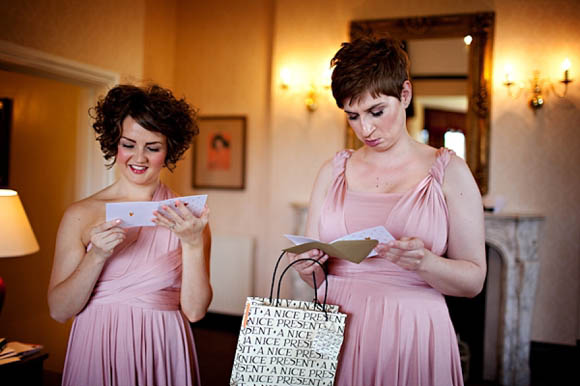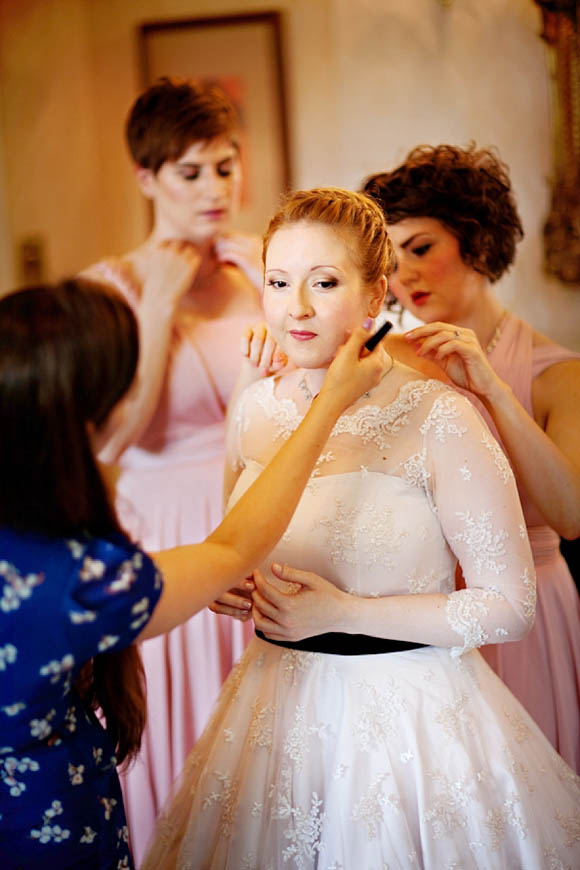 "We met on a tube platform – Embankment, to be precise – in 2003. We
were both at a very large fancy dress party with friends who were part
of the same 'group', though I hadn't been properly forewarned I would
need a costume.  Dan, on the other hand, had gone all out and hired
proper leather lederhosen from a shop in Camden. When I spotted him on
the tube platform as the whole party group changed venues (from a boat
to Hammersmith Palais, which was still open at the time!), I couldn't
resist walking up to him, cracking a few jokes and – yes, I admit it –
singing him a few songs from The Sound of Music."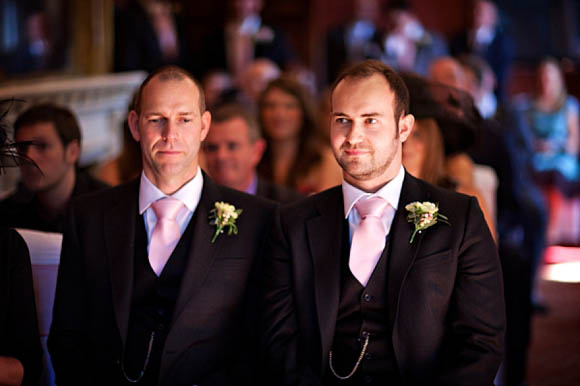 "My Dad walked me down the aisle -  somewhat tearfully I
think! It was a strange sensation after two years of planning the
wedding… It almost didn't feel real, to either of us!
I
walked own the aisle to Canon in D by Pachelbel, played by the Nero
String Trio. We then had 'God Only Knows' by the Beach Boys played as we
walked back down the aisle a married pair!"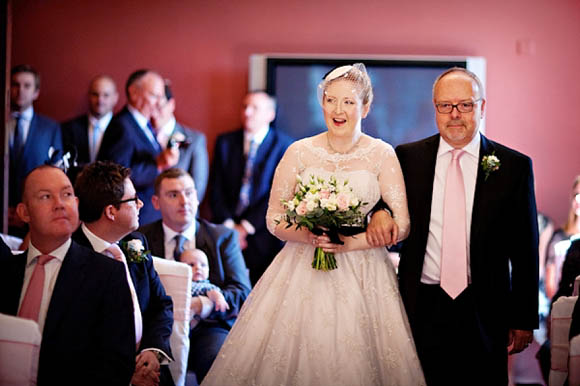 "Once
I'd labelled him a Von Trapp Family singer, taken the mick out of his
degree subject (Maths, ugh!) and ribbed him about being from Dudley, I
demanded he buy me a vodka and Coke. He foolishly agreed and we've
basically been together ever since.
At that stage, I was
just graduating from York University and had decided to move to London
to do a PGCE. Dan was studying at Imperial College. So things just
worked out in such a way as it was nice and easy for us to stay
together…"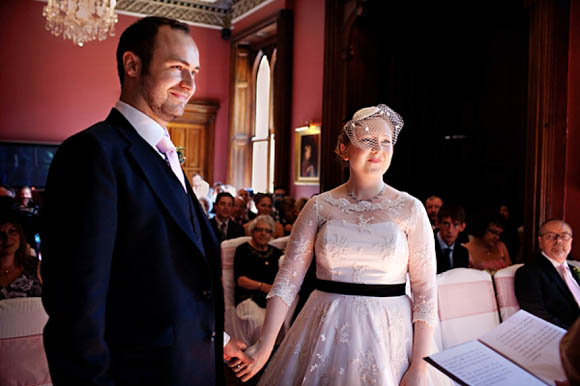 "We went for a humanist wedding ceremony with a tiny civil ceremony
(with just parents) the day before, followed by a lovely lunch. The
humanist ceremony was really beautiful and we were able to write it
ourselves – so it really reflected our relationship and how we feel
about each other. Ours is one of the only weddings I've been to where
people have really laughed out loud."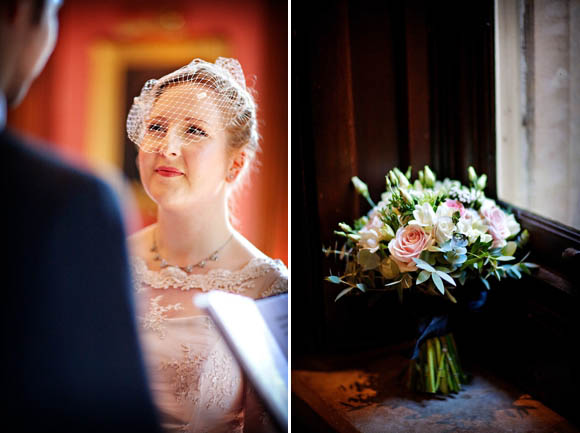 "We wrote almost our whole wedding ceremony ourselves. We promised
to walk through life together as equal partners, and to always laugh
together – really important points for both of us! What was quite
special about our wedding day, too, was that we knew we already had a
baby on the way – though lucky for me this wasn't obvious to anyone
else! It felt really lovely to make those promises to one another
knowing how important they would be for our little family."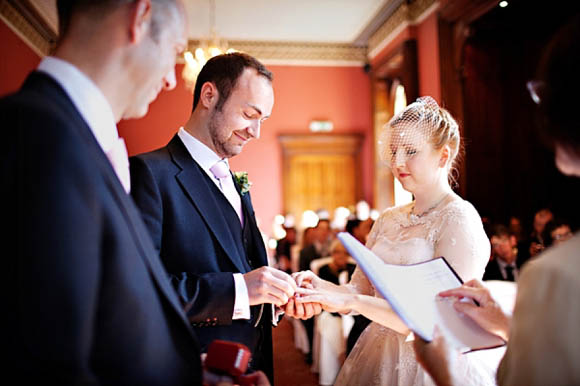 "We
had three readings; 'The Confirmation' by Edwin Muir, which really
sums up how we each felt when we settled into our relationship. It opens
with the line 'Yes yours, my love, is the right human face'. My friend
Mel read this for us.
We also had 'After the Lunch' by Wendy
Cope, brilliantly read by Dan's dad Pete. This poem is a brilliant
summation of how powerful but random falling in love feels –
particularly when you're falling fast, which we both did!
We
also had a prose reading from Jane Eyre, read by Dan's sister Jo, which
is from the very end of the book and describes the perfect happiness
Jane and Mr Rochester find together."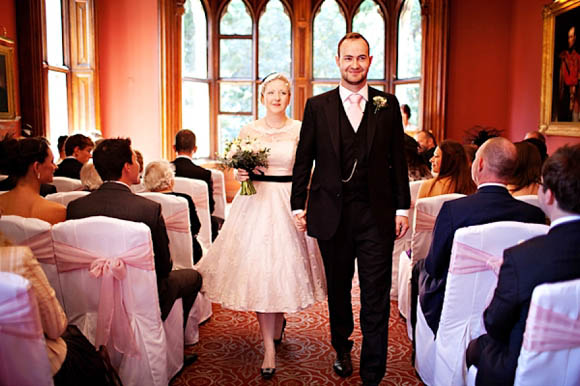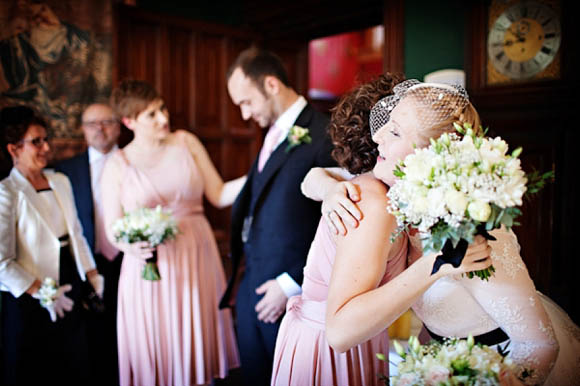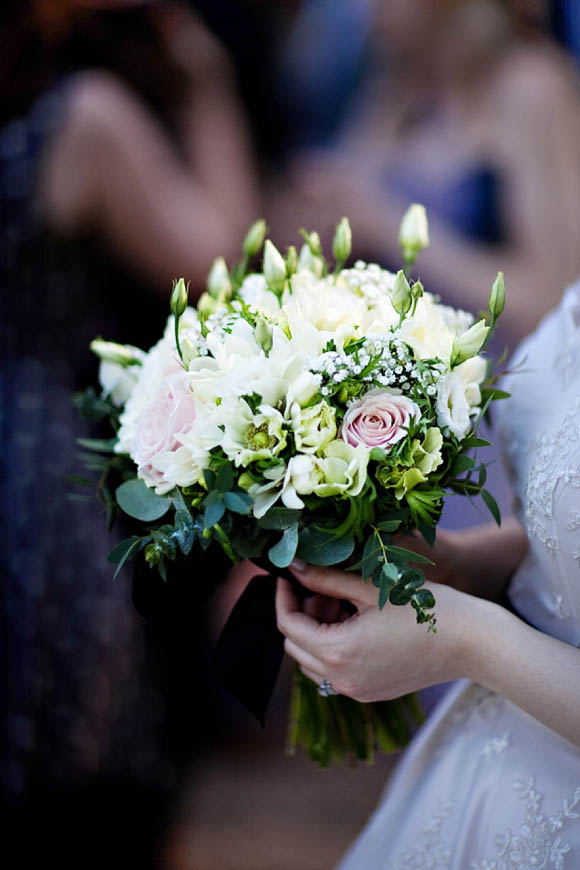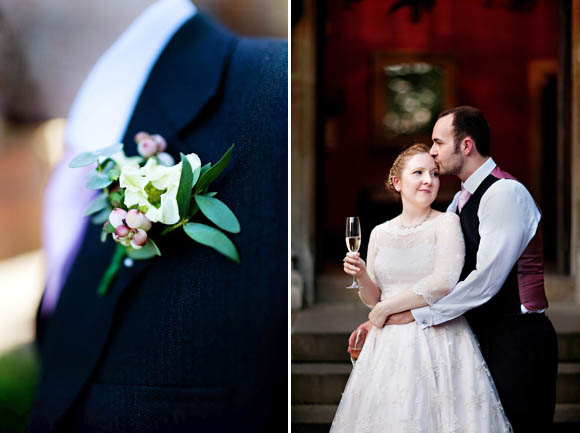 "We chose our venue,  Brownsover Hall Hotel, Rugby, because it was
close to friends and family. Dan and I are both originally from the
Midlands and wanted to make it easy for our loved ones to attend, even
though we lived in north London at the time. (We've moved out to the
country for a life of domestic bliss since our wedding – great as we have a baby on the way too!"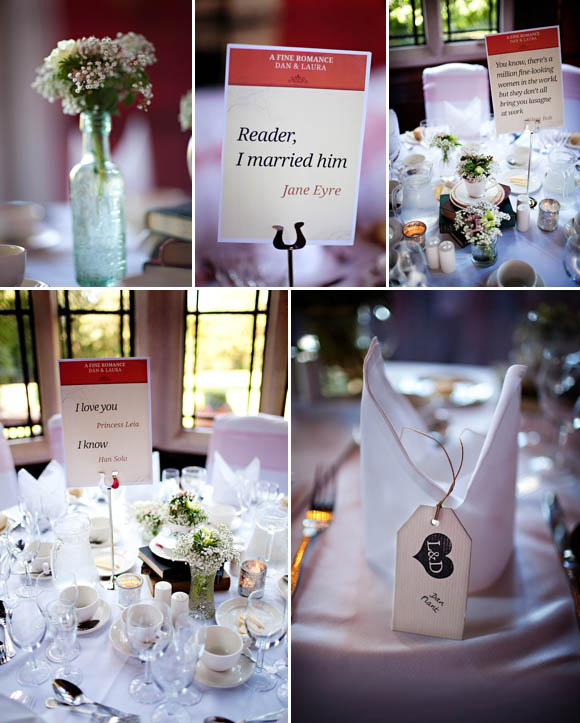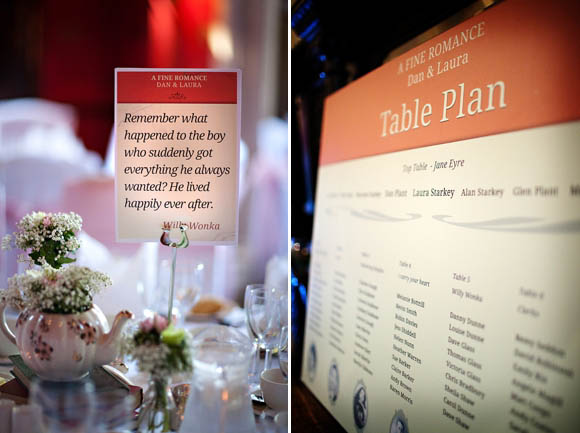 "We had a Choccywoccydoodah
'All You Need Is Love' wedding cake – to fit in with our quotations
theme, and simply because it was so brilliant and bonkers. We fell in
love with it, and it was actually the first thing we 'booked' for the
wedding when we happened to be on a random day trip to Brighton.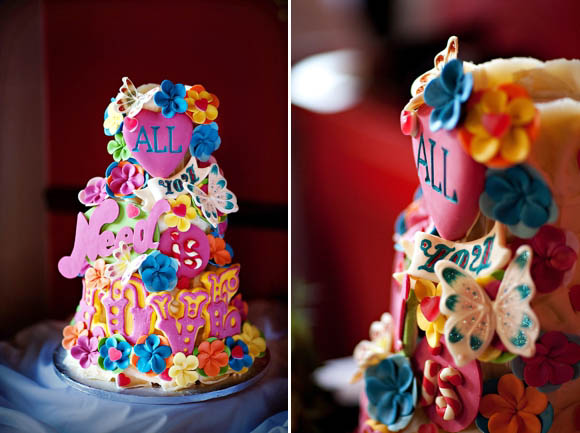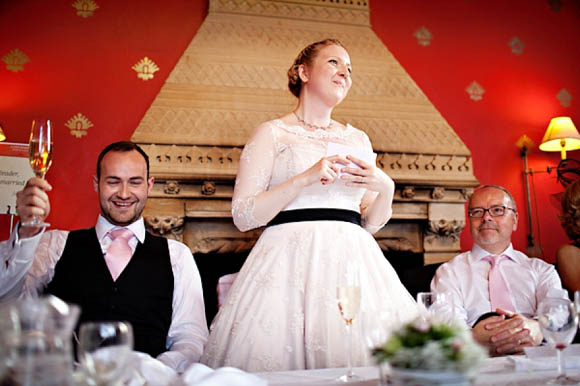 Words of Wedded Wisdom…
"Be a relaxed as
possible. Until three pretty major things in a row unravelled on me
towards the end of the organisation process (including hair and
bridesmaids dresses!), I was as cool as a cucumber – and even those
scary crises got solved in the end!
Give yourself time to
save, to plan and to enjoy life outside of the quest for the perfect
wedding in the run up to the big day – or you'll just feel bereft when
it's all over.
Do what feels right for you. We didn't
spend thousands on flowers, for example, but went for a fairly modest
budget which we made the most of with cheap touches like the vintage tea
cups. I just couldn't bear the thought of blowing too much hard earned
cash on blooms that would be dead within a few days – whereas we spent
more than average on photography as we knew beautiful pictures really
mattered to us.
We did things our way despite the fact that our choices didn't
always make absolute sense to other people, and immediately after the
wedding (and even on the day itself) it was incredibly gratifying to
have people telling us what an amazing time they were having, and how
brilliantly the day matched our personalities."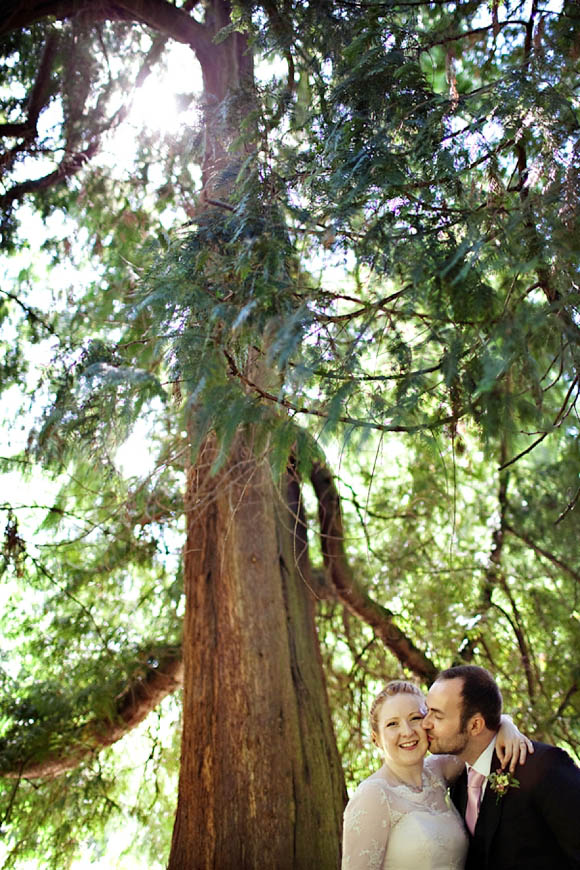 Just another lovely wedding to inspire you all. Please show your appreciation by taking just a few moments to leave a lovely comment below. That woud really make my day 🙂 You can catch loads more Candy Anthony brides and 1950's inspiration too.
With much love,
Annabel

Photographer – Blink Photography
Venue – Brownsover Hall Hotel, Rugby
Brides dress + Veil – Candy Anthony
Brides Shoes -  Manolo Blahnik  custom made in black
Brides necklace – vintage from Fur Coat No Knickers + diamond stud
earrings – borrowed from my mum. Garter – from Agent Provocateur.
Grooms Suit – Made to measure, Roderick Charles
Florist – Black Orchid
Cake – Choccywoccydoodah
Bridesmaids Dresses – Twobirds
Entertainment – DJ from Storm Entertainment. Nero String Trio
Transport – Dan's Lotus
Hair Stylist – Marie Cutler
Makeup Artist – Helen Brady at Nora Walker Make-Up (an old family friend)