Hey all you Downton Abbey lovers – have you set the Sky+ for 8.45pm on Christmas day for the Downton Abbey Christmas special? I can't wait!
It's no secret that I adore 1920's style.  There have been many attempts across the blogosphere to inspire wedding blog readers with this era look over the past couple of years, some, in my experience very successfully, others, not quite so.  The whole look has been influenced by popular culture including TV programmes like Boardwalk Empire and of course Downton, and movie releases including The Great Gatsby…
Love My Dress Wedding Blog – PHotography Copyright (c) 2012, Joseph Muscat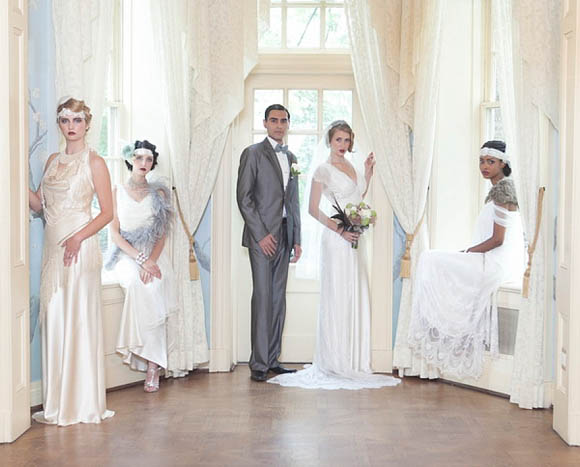 But the 20s look can be a tricky one to execute when it comes to
styled shoots and indeed pulling off in inspired bridal style – it's so
easy to end up putting models straight in to flapper dresses regardless
of their body shape and risk creating a scene that looks more like fancy
dress than early 20th century secret Prohibition party inspired
glamour.  But 1920's fashion was more than the beaded flapper frock (as my upcoming book explains), and this shoot submitted by US based wedding designer and stylist, Magdalena Czerny, does it just right. 
I adore the headpieces by Posh Veils and Blair Nadeu Millinery and the beautiful dresses by Lana Lowon
in this feature…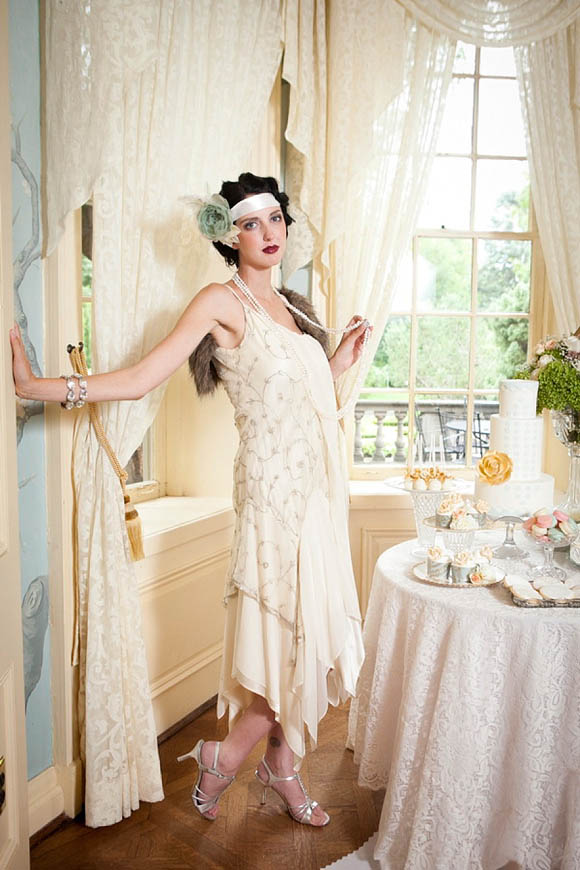 Stylist Magdalena Czerny tells us a little more about how she pulled this look together…

"I focused on 'high tea' in styling the shoot – and so chose to work with some non-traditional color including teal ivory and gold.  The coloring and styling is perfect for a small, intimate style wedding – it's light and airy, which is perfect for any time of the year.
The food also reflects the high tea occasion, with different kinds of tea's, mini sandwiches, scones and fruit served beautifully on a vintage 3 tiered plates and chargers.  The mismatched china plates and tea cups give a whimsical and vintage feel that feels perfect for such a soiree – smaller tables seating only 4 people at at time but positioned closely to one another allow the guest to mingle and take in the décor and gardens.
The feel of the 1920's would not be right without the stylish
dresses that were  vintage inspired – some of those used int his shoot are made from
vintage shawls and lace by designer Lana Lowon. The dresses look beautiful with the hair
accessories that have been crafted using both original vintage and more contemporary elements by Posh Veils and Blair Nadeu Millinery who both ship internationally…."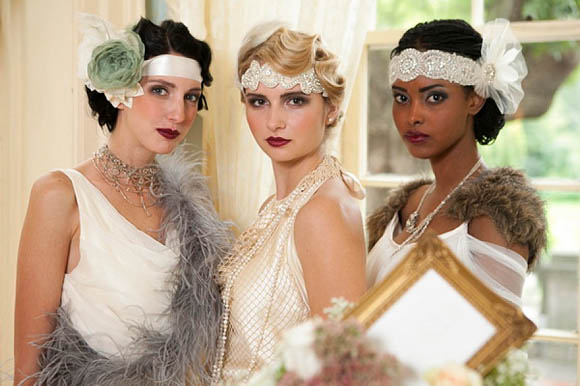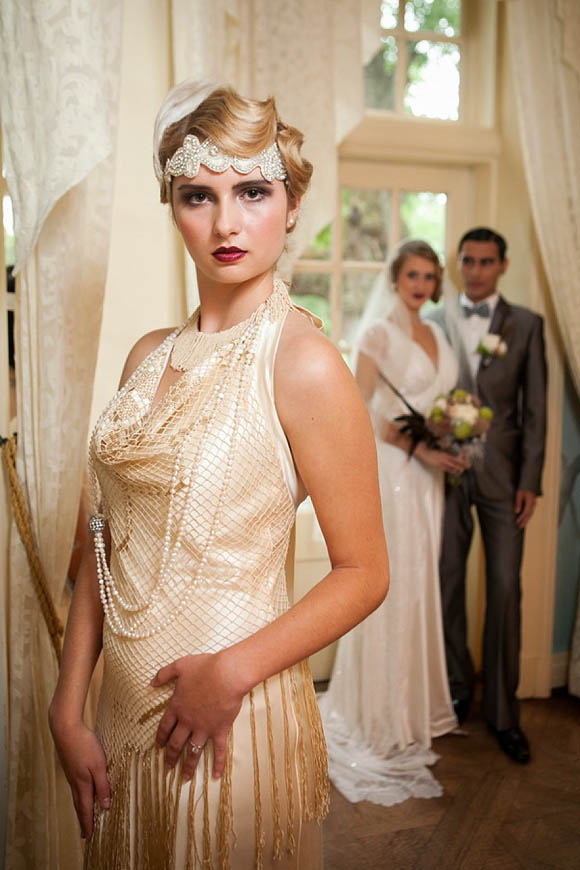 Who else is adoring the 20's inspired style right now and who is working to incorporate some 20's influence in to their wedding day? I'd love to hear from you and I really hope that these images might inspire you just a little bit.
Huge thanks to my friends across the pond for asking me to share these images – please take a moment below to check their websites – you must take a look at Posh Veils – it's a site I've had my eye on for sometime now!
Much love,
Annabel
Creative Team Credits
Concept and styling – Magdalena Czerny
Photography – Joseph Muscat + Asistants Cathy Caicedo, Melo Rivera, Heather Robinson Roles
Make up Artist – Presley Foskett
Hair Stylist – Irina Lavrega
Dresses – Lana Lowon
Hair accessories:  Posh Veils
Teal rose fascinator – Blair Nadeu Millinery
Jewellery – Tanya Vidoni Designs + Lana Lowon
Flowers – Heather Robinson Roles
China, glassware, linens, silverware, frames and tea cart: Vintage Vignettes
Tea cups, 3 tired plates, serving plates, gold bird cages and hankies: Vintage China Hire
Stationary – Lulliloo Paperie
Cake – In the Village Cakes
Cookies – macaroons and cake pops – Periwinkle Sweets
Cupcakes and meringue cake – Oh So Chic Sweets
Location – Graydon Hall Manor
Catering – Couture Cuisine
Vintage Car – Picture Car
Female Models – Alexa Lawrynowycz Kristina Jovanovic, Robyn Francis, Samira Rayso + Deepanshu Mehta