In order to ease you back in to a sense of normality, I thought I'd run a gentle couple of days of lovely real wedding inspiration for you.  This is the second post for today, you can see the first right here.
As 2013 arrives, it would seem the fashion for wearing 1950's inspired bridal wear is going nowhere ladies and gents. And would would be surprised at that? The fifties offered so much fun with their full circle twirly skirts – a silhouette that flatters most figures. 
Gemma and Alex got married on 5th October 2012 at Alfresco, The Milkmaid Pavilion, Kings Road, Brighton and Gemma had her 50's inspired gown made especially…

"My dress was by the award winning Brighton based designer, Joanne Fleming, who makes the most beautiful dresses I have ever seen. I
have always love big 50's dresses but I fell in love with Joanne's
style immediately.  It felt so special to have the dress specially
designed and made for me.
The dress was called Annie and made of lace
and ivory silk organza, over silk dupion. She has a wonderful
collection of special occasion dresses, I hope I will own another one
some day!."
Love My Dress Wedding Blog – Photography Coypright (c) 2012, Jacqui McSweeney
"We met whilst working ski seasons in the French Alps in November 2004. I
am from Doncaster but after six months, we came back to the UK and I moved
down to Brighton, which is where Alex is from.
We had a few ups and
downs but during a very special trekking trip to the Moroccan mountains
in October 2010, Alex proposed at the summit of a 4000m mountain called
Mount Mgoun."
"My Bridesmaids all wore dresses from Coast. I also gave them some personalised silver necklaces as gifts. I bought them from Etsy – they were so pretty with a small angel wing together with their initial stamped onto a small silver disc."
"My wonderfully talented mother-in-law Cathy Potter made the
cake, including all the sugar flowers, which people couldn't believe
were not actually real!"
"I think our wedding was a total mix of different tastes, but I do
love big 50's skirts and dresses which was the inspiration for my
wedding dress…"
"We hired Flowers Unlimited to provide our flowers.  We
felt blue and yellow would give a nice bright beachy feel. We used
Thistles for the blue because Alex is half Scottish, from his Mum's
side. I like a lot of greenery in the flowers, which we achieved with
Eucaliptus and Gypsophila. I wanted quite a natural look which was not
too structured. We had the bouquets and pin-holes made but then bought
the same flowers from a flower market and put them in vases on the
tables – a great money saver."
"Walking into the venue and seeing my future husband along with
all the people I love together in one room. Another very poignant moment
was walking to the front of the ceremony and being met with the most
wonderful view of the sea, I used the sounds of the waves to help me
hold my nerve!  Alex's favourite part of the day were our vows."
"After a huge last minute panic at not being able to find what I wanted,  Joanne Fleming also made my veil. It was just perfect – she definitely came to my rescue.
"As favours, we provided mini buckets and spades filled with
jellybeans. They doubled up as a place name because I propped up small
flags with people's names stamped on. They were all hand made by me and
some good friends. Most of the equipment was sourced from www.etsy.com."
"I knew I had to book our photographer Jacqui McSweeney
as soon as I saw her photography, the style and colours have such a
warm feeling. She captures so much emotion in her pictures and they are
all so natural.  I felt I could just trust her so I didn't need to brief
her on what photos I wanted and I felt really relaxed about the
photography. She was so much fun to have around on the day and made it
all so easy." 
"My old friend Gemma Caroline Smith did my hair – we used to work together in a laboratory believe it or not!
My hair was based on Jessica Ware hair in her music video for 'Wildest Moments'.  Gemma did a fantastic job and I LOVED my hair! She also did the bridesmaids hair.
My bridesmaids helped me with my makeup."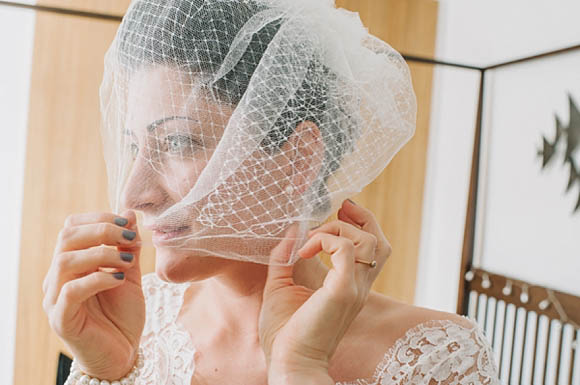 "My plan was to jump in a taxi but Alex organised a surprise VW camper, which was beautifully restored.
It was the best surprise ever. We ended up making quite a dramatic
entrance in the end so I was so happy that Alex had organised it. There
was a lot of traffic on the seafront and I was already 15 minutes late,
so the driver mounted the pavement and we drove straight down the
promenade dodging all the pedestrians and cyclists. All the guests could
see us coming through the huge glass fronted building!"
My Dad Chris 'gave me away' – we walked down the aisle to an
acoustic version of 'Dog Days' by Florence and the Machine. It has the
prettiest beginning to it."
"We tailored our wedding
vows by adding a reading, which we both read parts of. It was 'I
Promise' by Dorothy R. Colgan. It was a brilliant way to add some
emotion without the heavy responsibility of writing your own vows.
'I
promise to keep myself open to you, to let you see through the window
of my world into my innermost fears and feelings, secrets and dreams.'"

"We
had another two readings at the wedding. My favourite, an extract from
Margery Williams' The Velveteen Rabbit. It was read by Alex's sister
Rachel Potter.
 
'Real isn't how you are made,' said the Skin
Horse. 'It's a thing that happens to you. When someone loves you for a
long, long time, not just to play with, buy REALLY loves you, then you
become Real."……..
……."Generally, by the time you are Real,
most of your hair has been loved off, and your eyes drop out and you get
loose in your joints and very shabby. But these things don't matter at
all, because once you are Real you can't be ugly, except to people who
don't understand.'"
The 2nd reading was read by Alex's father Roger Potter. FOR YOU BOTH – Anon
May the path you walk together be the quiet path of harmony
Respecting each other's differences
May friends and children gather at your table
May life be long and, at its human end."
"The Velveteen Rabbit has humour in it at the same time as being really emotional.
I chose For You Both just because I was so captured by the words that I have added above.
Did
you choose a 'first dance' track? Please share what it was, and why,
only if you are happy to do so…     Stand By Me by Ben E King. It was
an old favourite of mine after watching the film many times as a child.
It was also easy to dance too without being too smootchy!"
"Our venue, Alfresco,
is a restaurant set in beautiful art deco building. It is one of very
few venues which is right on Brighton beach and has an amazing view of
the derelict west pier."
Words of Wedded Wisdom…
"Hang on in there – it is a lot
of hassle and gets quite stressful at times but all that melts away on
the day and you will feel like everything you went though was all 100%
worth it! Something I did which enabled me to totally relax on the day
was write out an itinerary, which I gave to the grooms party and my
bridesmaids. It had the times of when everything was meant to happen,
right from the morning of the wedding until what time we had to leave.
It detailed when things were meant to be delivered and useful phone
numbers. It included lots of little things for them to check on and
organise throughout the day. Bit fastidious but it was worth it!
We
had three dancing lessons from a lovely guy Cain.  It sounds a bit cliché,
but it's definitely worth it. We just learnt a couple of easy moves that we could
alternate just to avoid just swaying to the music for what would seem
like an eternity. Our guests loved it – it was my sisters favourite part of
the wedding."
A big thanks to Brighton based photographer Jacqui McSweeney for sharing these lovley photographs.

See more from Jacqui McSweeney on Love My Dress here and why not also take a look through the 1950's, pink, yellow and seaside wedding pages.
Lots of love all, may this afternoon not be too harsh on those of your back at work already.
Annabel
P.S. I updated our 'About' page earlier today. What do you think? Anything missing? 🙂

Photographer – Jacqui McSweeney
Venue – Alfresco, The Milkmaid Pavilion, Kings Road, Brighton
Wedding Dress + Veil – Joanne Fleming
Brides Shoes – Kurt Geiger
Grooms Suit – Hugo Boss + Loakes shoes from Jones the Bootmaker
Bridesmaids Dresses – Coast
Florist – Flowers Unlimited
Cake – Brides Mother in Law
Entertainment – Wedding Smashers DJ
Transport – VW camper
Hair Stylist + Makeup Artist – Gemma Caroline Smith