Good morning sweet people, thank you so much for allowing us a little break over Christmas and the festive period. We are so delighted to be back today with the first of our real weddings for 2013 – though please note that the blogging schedule will remain semi-normal until we're back in full throttle on Monday 7th January 2013. It will be worth the wait, I promise.
Now, as is proving a pattern now for the year, our visitor stats have gone through the roof, which is brilliant news, and presumably, this is happening because there is an influx of you visiting who are newly-engaged. Congratulations guys! My now husband proposed to me on Christmas Eve too – Christmas Eve December 2007 infact, and we got married 15 months later in Whitby. My, what a story I have to tell since then too! It's funny how life ends up taking turns you never would have thought possible at one time.
This morning's wedding is all about Nina and John, who tied the knot on 1st September 2012 at Rhinefield House in The New Forest, Hampshire.  The couple's wedding photographers were the fabulous We Not Me Collective (whose other work you can see on Love My Dress here)…

"We were really keen to create a Midsummer Night's Dream theme,
delivering simple muted nude colours with a vintage romance feel. I
was also inspired by my chinese roots, so we had a traditional tea
ceremony and a lion dance to entertain the guests. We chose very simple
colours – muted blushes, purples and reds." 
Love My Dress Wedding Blog – Photography Copyright (c) 2012, We Not Me Collective
John and Nina met ten years ago but didn't get together
until six years later. After a year, they both moved to New York for work.
A
year later, John proposed to Nina in their Brooklyn home a few weeks
before Christmas before taking her on a day of Christmas themed
activities – ice skating in Bryant Park, The Nutcracker at the Lincoln
Center, lunch at the The River Cafe in Dumbo and sightseeing down Fifth
Avenue.  We were engaged for 9 months.  Oh the romance!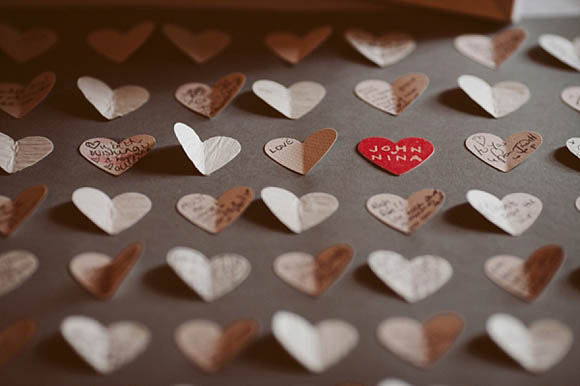 Nina's dress is by New York based designer Robert Bullock, who has a showroom in the city.  She also donned her cousin's Chinese red wedding gown during the day…
"I chose the Revi dress by Robert Bullock, I just loved the lace and beading on the dress, the sweetheart neckline and the simplicity of it."
"I loved our florist! We went with Maria at Simply Flowers – also a recommendation from a friend. I had these grand ideas and used Pinterest
to convey them across to Maria.
I wanted tall centrepiece arrangements
and chose gypsophilia/baby's breath balls to cfeate a lighter look
against the talk oak panelling of the Grand Hall. For bouquets I wanted
muted roses – sweet avalanche, amnesia and quick sand roses. Maria also
created the most beautiful arch using roses, gypsophilia and willow."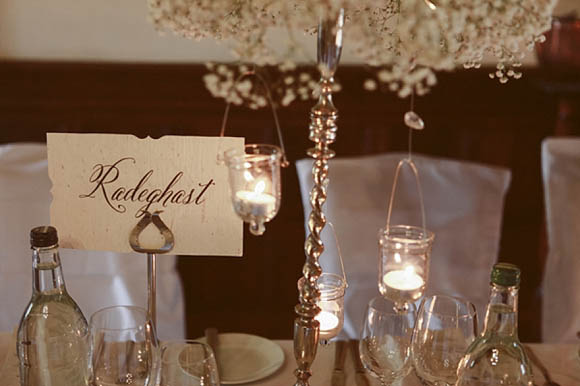 I love the table plan idea below…
"We were fortunate to hold our wedding outdoors in fine weather. My
sister's partner, Duncan played two prelude songs (Le Cygne and Ava
Maria Prelude) and I walked down to Sea of Love by Cat Power."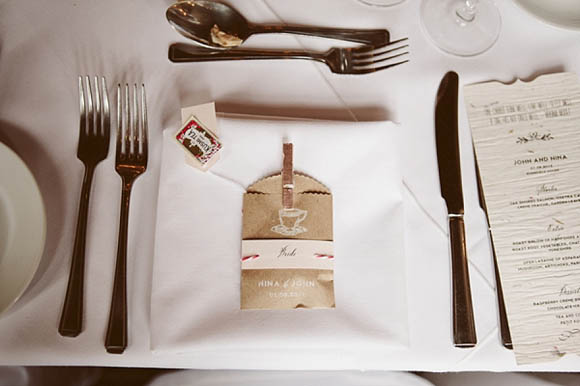 "Our most ambitious project was a self-standing photobooth wall.
John went into B&G and sought advice on how to make a stand, while I
scoured Ebay for a set of authentic wall antler and vintage floral wall
paper. We also went to various flea markets in Brooklyn for old picture
frames. It must'e taken us two full days to make from John's parent's
back garden."
"As favours,  we used the left over stamp from the letterpress mould
to make tea bag favours (Kusmi tea) which came in mini Kraft bags. The
'Nina and John' stamp was dipped in white ink and printed onto the kraft
bags for a vintage effect. The Kraft bags and tea stamp were bought
from Etsy.
I took a letterpress course at The Arm in Brooklyn and created own
thick invitations. We also scoured stationery shops for distressed paper
which was used to create the order of service and the menus. Nina used
the Belluccia font."
"Our minister gave us the opportunity to focus on any particular
faith or religion but we chose to emphasis ours on family. My
grandmother, who is 93, always says that we should look towards our
ancestors as higher entities – offering respect to them during our vows,
as well as the tea ceremony (a huge symbol of this) meant a lot to us."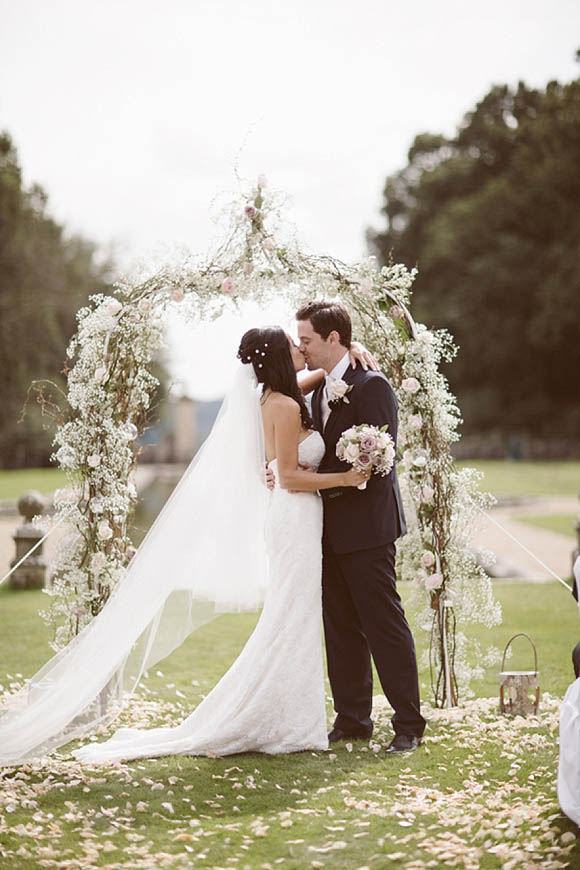 "We hired the Brightside Band, a local band from Bournemouth. John's
friend, Charlie Lang, who is a respected DJ, provided a dance mix for
the last hour of the evening. We also hired the Waterside Lion Dance troupe for the lion dance…"

"I searched high and low for a cakemaker who could create a beautiful ruffled cake with sugar roses, then I found Cakes by Suzanne.  Suzanne didn't disappoint. Despite never having created a cake like this, she produced such a stunning wedding cake!"
"Our photographers were Tom and Vicky at We Not Me Collective
– we loved their style.  Tom photographed our friend's wedding and we
were impressed by the level of detail and the post treatment. Gorgeous
visuals."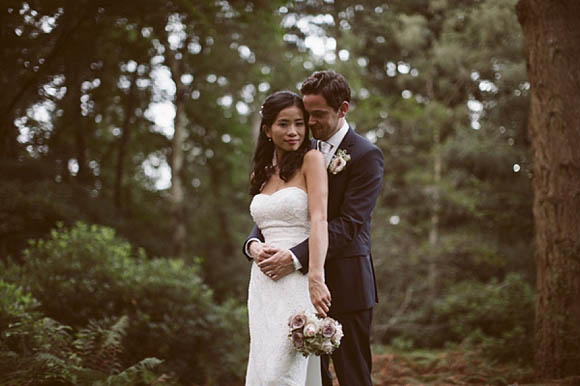 "When it came to my hair and makeup, I was inspired by Chanel's runway
hair from two seasons ago. I bought some hair pins and made my own pearl
grips out of Swarovski pearls purchased from a wholesaler. 
The diamond necklace and earrings were a gift from my parents as a
bridal gift. My Tiffany bracelet was the gift given to me by my husband
on our wedding day."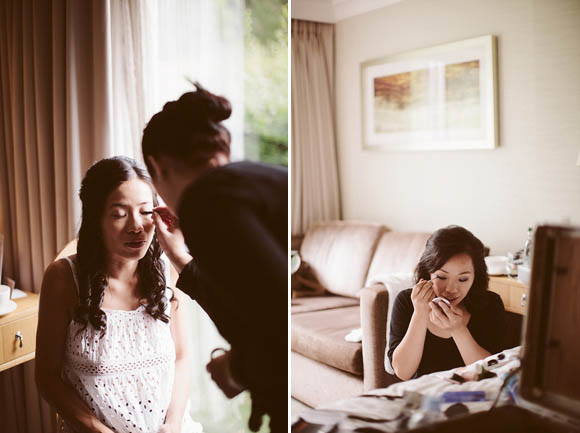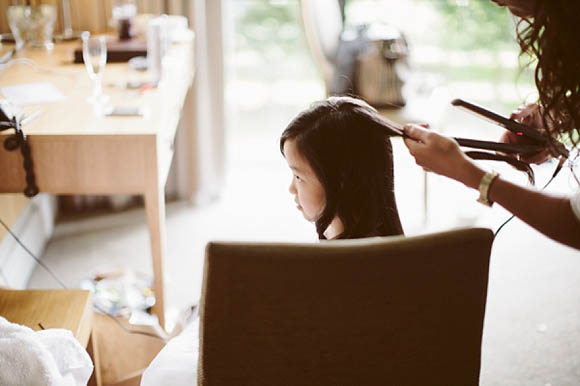 "My bridesmaids dresses were from Amsale, a New York bridal designer.  I loved the silk chiffon although it takes 3 months to measure and deliver."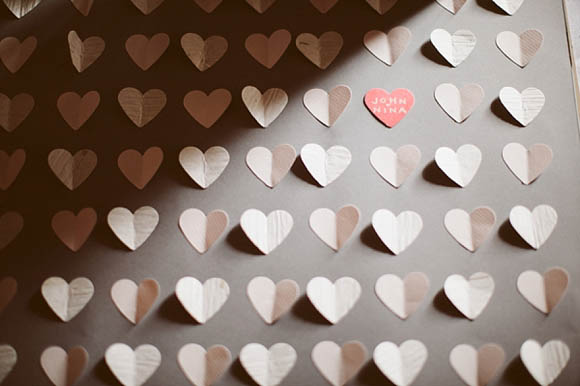 "We bought festoon lights in America and converted them to use in the UK. We also used Save-On-Crafts.com (a
wholesaler online for party planners) to purchase mercury silver
votives. I also went to the Flower District in New York to buy these
too. We shipped them back to the UK!  We also created our table
plans out of Georgian windows bought from Ebay. I wrote the names of
each table on each window pane and decorated with preserved moss and
ivy."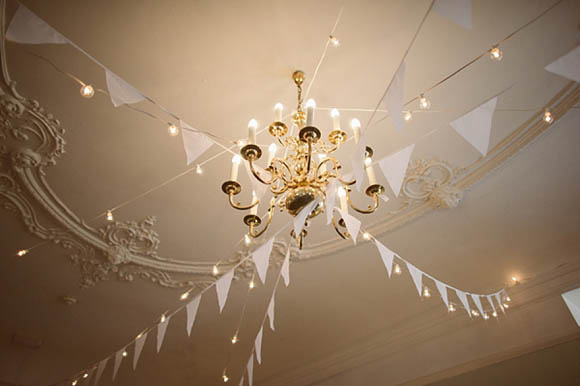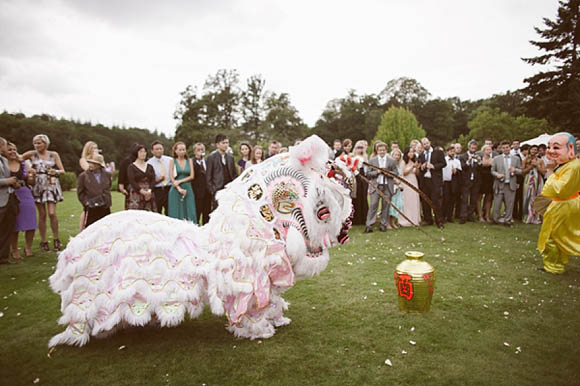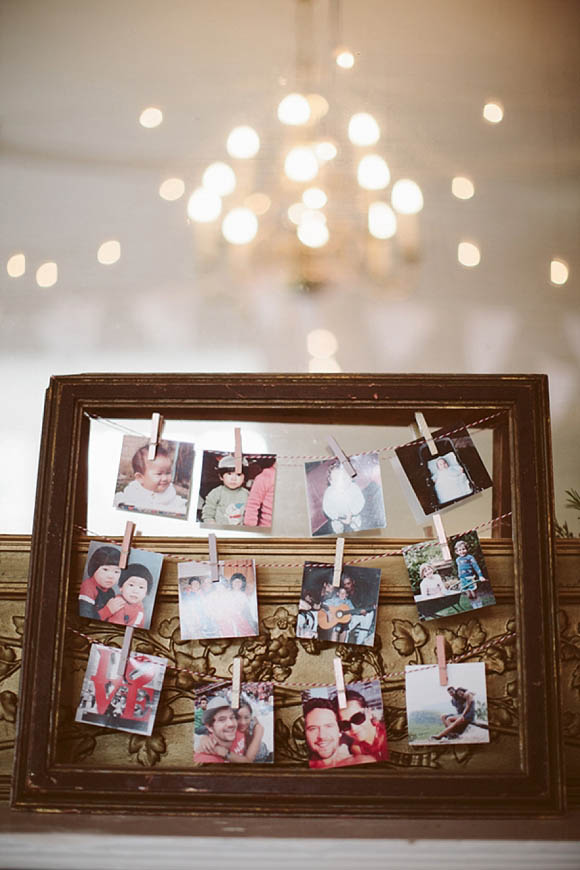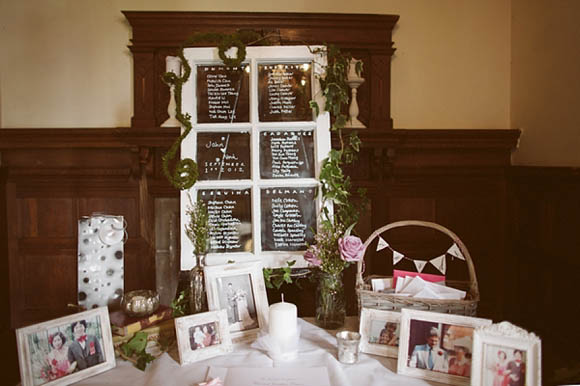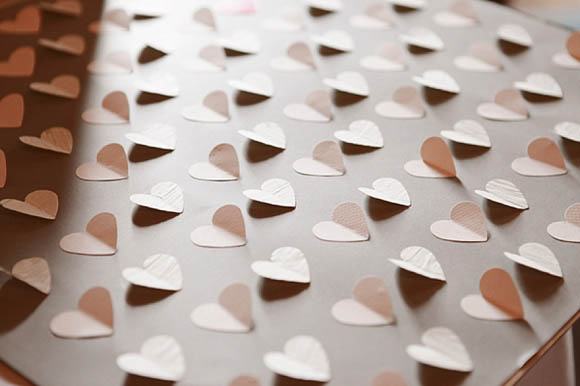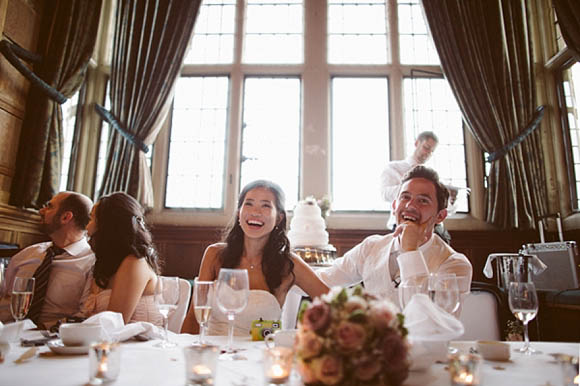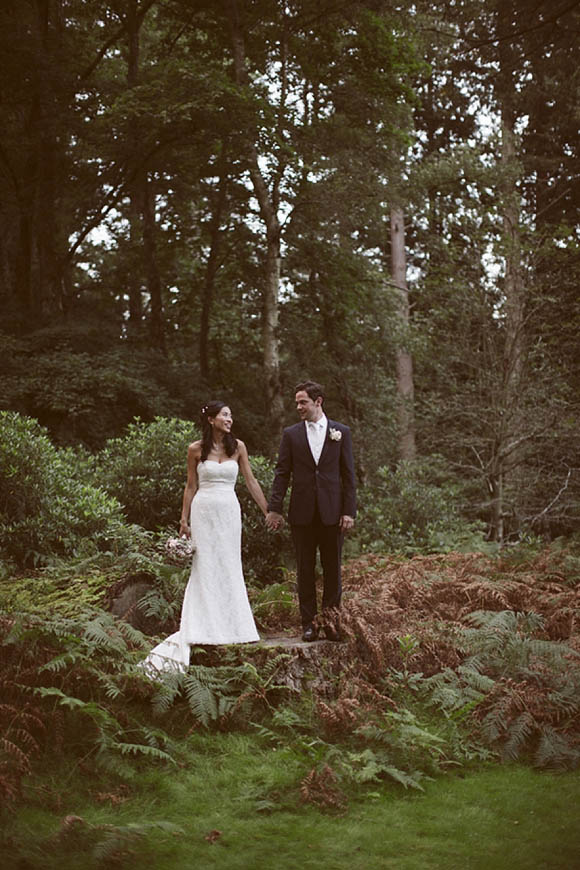 "We chose a stripped down version of Use Somebody (Kings of Leon), sung by Pixie Lott to have our firt dance to…"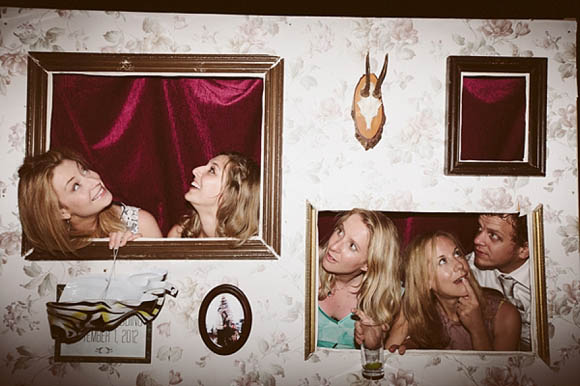 Words of Wedded Wisdom…

"Make sure you leave time for yourself
and your husband throughout the day. It's so easy to get caught up in
conversations and posing for pictures that you forget to even talk to
each other! Luckily we made sure we had a lot of time together. Not
everything goes to plan.
The zip of my dress broke ten minutes before
the aisle time – I had to be sewn in by the event manager! There was
also a bit of drama getting into our bridal suite moments before the
ceremony, but don't let this panic or stress you. These things happen
and you forget it as soon as you walk down the aisle."
A beautiful way to start the day, I hope you'll agree.  Ladies and gents, here's to a 2013 filled with many more stunning weddings.
Newlyweds, you can see many more real weddings right here, also use the drop down menus to the top right to navigate your way around the many pages of inspiration here on Love My Dress.
I'd love to hear your thoughts on this wedding – I love those little heart shaped table escort cards, don't you? Huge thanks to photographers We Not Me Collective for sharing these images – you should take a peek at the exquisite wedding photography books those guys produce.

With much love,
Annabel
Photographer – We Not Me Collective
Venue – Rhinefield House in The New Forest, Hampshire
Brides dress – Robert Bullock
Brides Veil – Vera Wang
Brides Shoes – Badgley Mischka
Grooms Suit - Van Gils, Fifth Avenue
Bridesmaids dresses – Amsale (New York)
Flowergirl Dresses – David's Bridal (New York)
Pageboys – M&S
Florist – Simply Flowers
Cake Designer – Cakes by Suzanne
Favours – DIY tea bags
Entertainment – The Brightside Band + Waterside Lion Dance troupe
Hair and make-up Artist – Elke (hair) and Ceri (make up) at Amazing Face