Happy Friday lunch time lovers.  Here's something to make you smile and inspire you, though do pop over to say *hello* and introduce yourself today if you haven't already!
Louise and Dan tied the knot on 4th August 2012 at Porters, the mayoral residence in Southchurch, Essex.  There's was a completely relaxed day involving ice-cream and a little frolicking about on the beach.  Well why not if you're so close eh?
"The reason we opted for our venue, Porters,
was because it had a maximum capacity of 55 people. This was in keeping
with the small, intimate ceremony that we wanted. It also appealed to
us because we could hire it for three hours, and after the ceremony we could
have a garden party in the grounds with just our close friends and
family.
The reception and wedding breakfast took place at Roslin Beach Hote Southend on Sea, Essex which was not far from Porters, We
chose this venue because when we went to view it Dan absolutely fell in
love with it and booked it immediately. The venue is stunning and has
beautiful views of the sea. It also allowed us to have a very informal
setting which was imperative to the overall feel of the day."
Love My Dress Wedding Blog – Photography Copyright (c) 2012, Helena Amor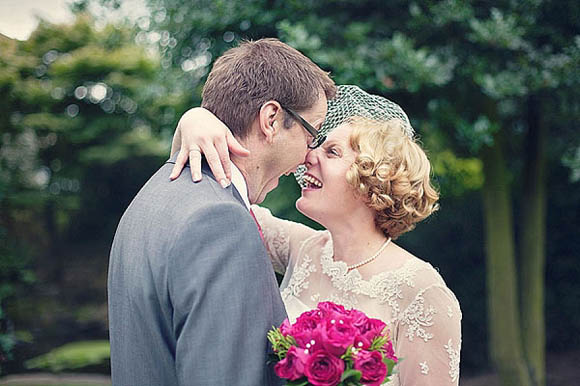 "I did all the planning myself because I had a very fixed idea about
what look I wanted and because we wanted to keep the costs down. I also
had a lot of help from our families who did much of the leg work. We
did however, have an event's organiser at the Roslin called Amy Kelly
who was awesome and helped to create the exact day we wanted.
We decided to have Dan's best friend, Vikki, as our matron of
honour and I found some beautiful fabric in raspberry which became our
accent colour. We found ties in the same colour and all of the groom's
party wore matching ties. The younger bridesmaids had red sashes to
match Vikki's dress, and I had a matching bouquet.  My mum made my bridesmaid Vikki's dress from an original 1950s pattern. The other bridesmaid's dresses came from John Lewis and my mum made the red sashes in the same fabric as Vikki's dress."
"I saw my shoes on Love My Dress, and I knew they were exactly what I wanted. The designer was Chie Mihara and she does half sizes so I was able to get them to fit perfectly.  I also bought a pair of silver Hunters wellies to wear on the beach; however, I was still wearing these on the dance floor during the evening reception!"
"I always knew that I wanted to have a 1950's inspired
dress as I wear a lot of 50s inspired clothes normally because this
style suits me. The 50s style also seemed appropriate as this was the
jubilee year and everyone was having street parties and tea parties.  As
the plans developed we saw that we could follow this theme and have
some real fun with it. All our families and friends bought into the idea
and were more than happy to dress up in 50s inspired outfits.
I went to a few different vintage wedding shops to try on some 50's styles including the fabulous Fur Coat No Knickers and brilliant Cutting Edge Brides, but in the end, I fell head over heels in love with a dress from Candy Anthony. However, I could not afford £2,500 for the dress. With this in mind I went on line and found the same dress on sellmyweddingdress.co.uk. 
I went to try in on and bought it for a fraction of the original price
which really suited my budget. It had only been worn once and looked
amazing."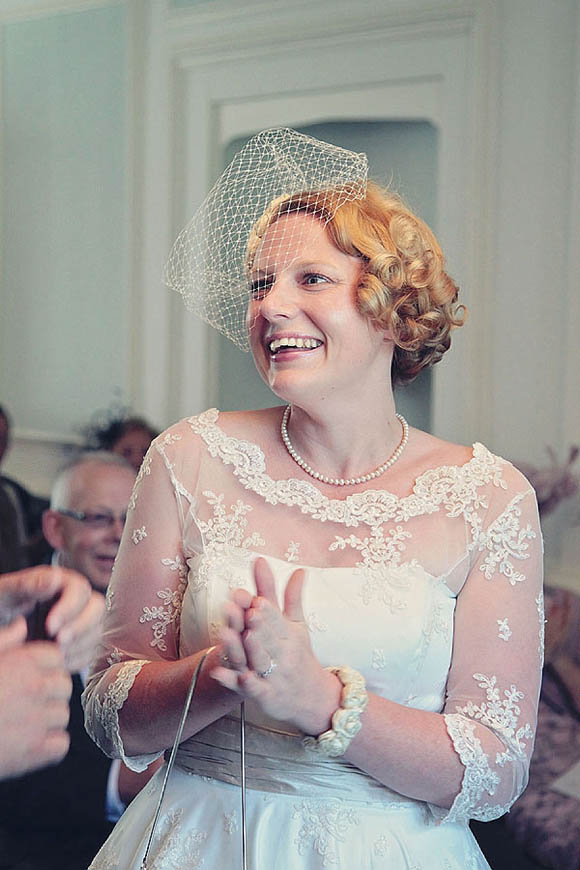 "I loved the fact that my
wedding dress was so different and made me feel fabulous. To start with
the dress was knee length and had a full shirt with lace over the top of
the dress which made it look vintage. The style suited me and it had
red netting under the dress which you could only ever catch glimpses of
every now and then. I didn't want a traditional long wedding dress as I
was getting married in August and this dress fitted the bill."
"My self and Dan saw these unusual cake stands in the sale at Callie & Finn
after Christmas and decided that these would become our centre pieces.
We would fill them with cupcakes and pastries for the guests to eat
after the meal.
Each of the cake stands was made up of mismatched china
and looked incredible! My future mother-in-law then spent the next few
months collecting vintage cups and saucers from boot sales and charity
shops which we used as place settings for each of the guests. We filled
them with candle wax and tied luggage labels to each of the handles with
the name of the guest on it…"

"I borrowed the pearls from my mother and I wore fully fashioned stockings. My pearl handbag came from Coast and was one of the first things I bought!"
"I bought my accessories before I even brought my dress. This is
because I knew exactly what I wanted from the start. I wanted a bird
cage veil from the beginning and I trawled the internet looking for the
right design. The problem was that most of them came from America. I
finally found one from Victoria Millésime
collection, which was perfect and actually matched the lace on my dress
even though I hadn't bought it yet! There was a matching bracelet which
I just had to have too!
I saw an advert in the local paper for a new alternative styling salon that had opened close to our house in Leigh on Sea. It was advertising for 50s hairstyles
so I booked a trial and was so impressed that I booked to have both my
hair and Vikki's hair done there the morning of the wedding. The salon
is completely themed for the 50s with a 50s inspired shop. The woman
suggested pin curls and they looked fabulous.
As I don't wear lots of makeup I didn't want to hire a makeup
artist to do my makeup. Instead, Vikki did my makeup and it was
perfect!"
"Dan and I saw The Ice Cream Tricycle
at a wedding fair, and after trying some of their scrumptious flavours
of ice cream, decided that we had to have it at our wedding!  It also
fitted in well with our 50s theme…"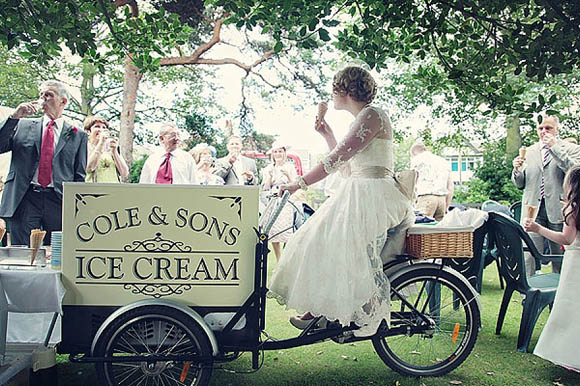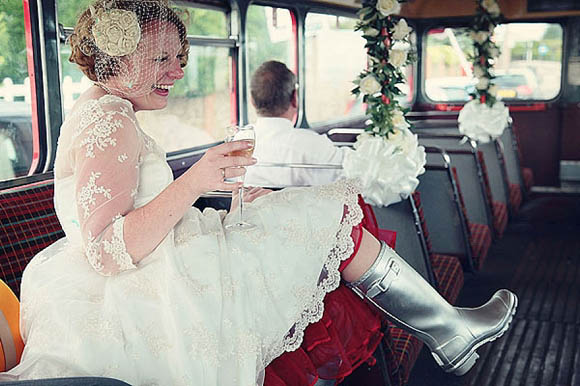 "When we saw our photographer Helena's
work we fell in love with it immediately and knew that she was just
what we were looking for. Her style is informal and not intrusive.
During the day she effortlessly captured all of the little details that
were important to us. We didn't want lots of formal photos during the
day but the few we did have were lovely. When our photos came back, we
had difficulty choosing because there were so many that we adored. In
the end we got our selection down to 220, chose 50 must haves for the
album and left it to her to choose the rest."

"A friend of ours, Southend based florist, Alison Rowton
did our flowers and this helped to keep the cost down. We only wanted
flowers for the tables in the marquee and for inside Porters, button
holes for the groom's party and a bouquet for myself and Vikki. We
discussed that we wanted old fashioned jugs for inside Porters and for
the tables in the marquee so she suggested traditional wild flowers to
fit in with the typical English country garden setting at Porters.
I
also knew that I wanted a bouquet of roses in a similar colour to
Vikki's dress and she suggested David Austin Roses because they are beautiful and
fragrant. They also do a rose, the Darcy classic rose, which is the
exact colour of Vikki's dress so it was the perfect choice. I found a
piece of lace that matched the lace on my dress to wrap around the stems
and she pinned it with a pearl. We also used the same rose for each of
the button holes for the groomsmen. For Vikki's bouquet she used a few
of the roses and some of the wild flowers that she chose for the jugs.
The jugs were later given as gifts to thank friends and family for their
contributions to our day."
"We asked two of our friends to read at the ceremony and we left
it up to them to choose what they wanted to say. I didn't want to know
anything about the readings until the day because I wanted it to be a
surprise. Both Anthony and Nathan knew Dan and me very well so I trusted
them to choose suitable readings.
My best friend Nathan is a professional actor and chose to adapt
his reading from Love by W H Auden and it was lovely because it was
specific to me and Dan. Anthony is very religious but was constrained by
the fact that it was a civil ceremony so he chose to read 'The key to
love'."
"In theory Dan and I should not even be together let alone
married. Let me explain; to start with I never actually met Dan before
our first date. He saw me dancing in our local bar one cold Sunday night
in January 2009 and with Dutch Courage decided to put his number in my
coat pocket, an act that I now know was totally out of character for
Dan. Dan is actually very shy and retiring unlike me. As I was leaving
the bar the number actually fell out of my pocket. A passer-by picked it
up and handed it to my friend who passed it to me. As we got outside I
opened it to reveal his number and a short message asking me to call
him.
In normal circumstances I would have binned the note and thought
nothing else of it. However, I had made a New Year's resolution to go
out with everyone who asked me so the die was cast. I went and met him
in the same bar a week later and we've never looked back!
We got engaged
last Christmas (2011) but it had been Dan's intention to propose to me
on New Year's eve in Paris. This plan was scuppered when Dan was
wrapping my Christmas presents and realised the similarity between the
Apple iPod nano box and the ring box. Not wishing to disappoint me on
Christmas day when I opened the box to reveal the iPod nano and not the
engagement ring I would have been expecting, he brought the proposal
forward a week, although he did give me the iPod nano first and the
engagement ring later in the day!"
"One of the main reasons why we chose to have our ceremony atPorters  was because you have the option to remain at the manor house for
3 hours in total. This gave us the opportunity to have a garden party
after the ceremony with champagne, drinks and canapés. We hired a
marquee from Bees Knees Marquees
in case we had a normal British summer's day but were very fortunate
that it only rained in the morning. However, the marquee did set the
scene for the garden party. We decided to have the ice cream tricycle at
this point in the day as it was a welcome addition to the garden party
and it went down a storm with our guests! Originally the tricycle was
intended to replace the canapés, although later it was decided that we
should have both and we sourced these from Waitrose and Marks and
Spencers.
As it was a garden party, I decided that I wanted chocolate
strawberries so a friend of mine, who loves baking, made about 200 for
the day…"
"Dan didn't want him or his party to be in formal morning suits as
this was not the look we were aiming for. Instead he asked all of his
groomsmen to wear a suit of their choice and they were all coordinated
with a matching tie which we bought from Debenhams. He decided that we
wanted to wear a three piece suit as he has always liked this look and
often wears a waistcoat when we go out.
This also meant that in the
evening, when he took off his jacket, he still looked smart and
coordinated. He and his best man, Ian both chose matching three piece
suits from Moss Bross and as they bought two
suits at the same time, they managed to get a discount too."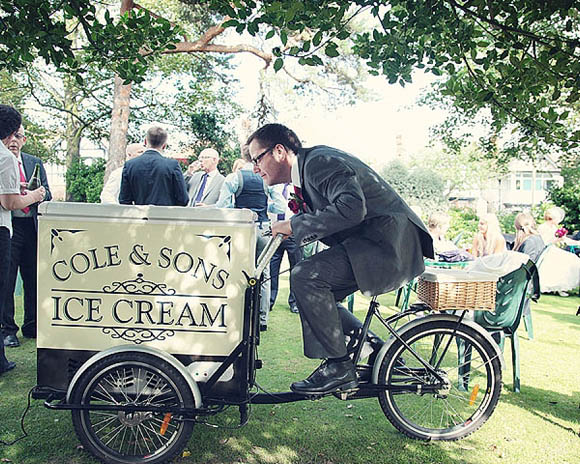 "Originally we chose a 1951 Wolseley 6/80 police car
because it was perfect for our 1950s theme and I fell in love with it.
However, on the way to collect me in the morning of the wedding it broke
down, so Arrow Vintage Cars
sent a 1949 Humber Pullman Limousine in its place. The company sorted
everything out without any stress to me or Dan, and the Limo they sent
as replacement was a perfect choice. They even refunded the money!
We
also hired a 1950s Route Master bus
to transport all of the guests between the ceremony and the reception.
This meant that no one needed to drive during the day and it also fitted
in with our 1950s theme. Dan and I even got to ride on the bus
ourselves when we arrived at the Roslin and even had some photos on the
beach outside the beach huts!"
"Dan's favourite part of the day was when we got to ride in the
limousine together after leaving Porters (where the ceremony was held).
For Christmas one year I bought him a Veuve Clicquot champagne carry
case complete with champagne flutes, and he had brought it with him
complete with a bottle of chilled champagne, which we drank on the
journey.
I think my favourite part of the day was when we went on the
bus ride possibly because I wasn't expecting to get to ride on the bus,
and we ended up going on the beach where we had some fantastic photos."
"We used luggage labels for the
seating plan and Dan's brother Ian made the board which we bought from T
K Maxx. My husband is crazy about Lego and wanted to have a Lego bride
and groom as the centre for the wedding cake. I also bought him Lego
cuff links to wear on the day. At the ideal home exhibition I bought
bunting to decorate the room and I bought novelty cards which we framed
and placed around the room. For the top table I bought birdcages from
Boots after Christmas and filled them with cups and saucers and pearls
I
chose the table number because they looked vintage and I could order them individually via 'Not On The High Street'.  Dan's mum bought 10 vintage Babycham glasses on eBay for the top table and we drank champagne out of these for the toast."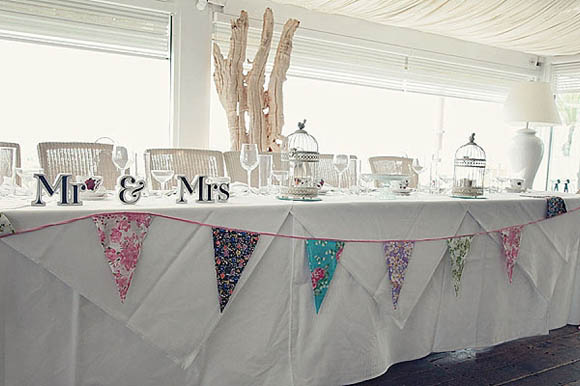 "Dan wore Converse baseball boots for the evening reception with Lego cuff links."
"After we had organised somewhere for the ceremony we went hunting
for a suitable venue for the reception. We went to look at the Roslin Beach Hotel
because it was close to Porters and we fell in love with it as it was
opposite the beach and has stunning views across the estuary, and
instantly we got a good feel about the place; however, the main room was
already provisionally booked.
As there are two function rooms at the Roslin Beach Hotel
we opted for the smaller room. However, at the end of January we were
informed that the larger room had become available so we chose that
instead as this meant we could invite more guests for the evening
reception."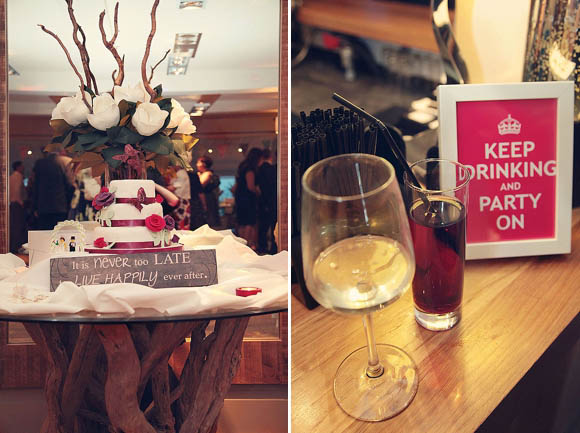 Words of Wedded Wisdom…
"I think the
main thing I would say is that you need to know what it is that you both
want and don't want right from the beginning. Your wedding will change
as you progress but it is important to remain true to yourselves. Both
Dan and I knew we wanted to have a small intimate wedding so we
deliberately chose to have the ceremony at Porters because there was a
maximum number. This meant that we couldn't invite anymore people as we
didn't have space. We also knew that we wanted to keep the price down so
we did most of the work ourselves. This included going to charity shops
and boot sales.
Although we knew that we wanted a 50s theme, we
weren't sure of the décor for the wedding reception so I spent a lot of
time looking at websites and exploring possible themes and ideas. When
we saw the cakestands we knew that they would become our centre pieces
and then we designed the wedding around them and the garden party theme.
This meant discarding anything that didn't fit. We have been to
weddings in the past where it is clear that the couple have tried to
include everything and it has made the wedding look cluttered and
disjointed. Remember that you don't need to spend a fortune to get the
look you want; you just need to shop around and be smart.
You can get
everything you want if you look hard enough. Small inexpensive
well-chosen touches can create an impressive overall effect without
costing the earth. Also, look to your friends and family to help in
whatever way they can as this is a really good way to keep costs down."
"Find out whether there is anyone who can do the stationary or make the
cake as this will save you money which can be spent on other things.
Lots of our friends and family contributed their time and expertise
which helped to keep the cost down. Do plenty of research so that you
know exactly what you want and don't want, and be careful when you go to
wedding fairs as they can often encourage you to buy things that you
don't need and spend more than you intended. You must have a budget and
sick to it as these things can escalate out of control if you're not
careful.
You can have a wonderful day without breaking the bank.I don't think there is anything I would have done
differently because Dan and I were very clear about what we wanted from
the start. Also, we had realistic expectations and when small issues
arose, we didn't let it ruin our day. Things will go wrong but it is how
you deal with them that will make the difference to how you remember
your day. For example when the car broke down I was just happy that they
had managed to sort out a replacement so that I could get to Porters on
time. I wasn't concerned that the car I had ordered didn't arrive
because in the grand scheme of things it didn't really matter, and the
company dealt with it professionally and efficiently." 
Sweet seaside love. I loved reading Louise's account her her big day, it makes preparing these features so much fun and such a pleasure to share with you all.
Who else is planning their nuptials beside the sea? I'd love to hear from you.
Have a lovely Friday afternoon everyone,
Much love,
Annabel
Photographer – Helena Amor
Venue – Porters, the mayoral residence in Southchurch, Essex + Roslin Beach Hotel

Wedding Dress – sellmyweddingdress.co.uk
Wedding Veil/headpiece – Victoria Millésime
Bride's shoes – Chie Mihara + silver Hunters wellies
Bride's accessories – Pearl hangbag via Coast
Bridesmaids – made by the Bride's Mum using an original 1950s pattern
Florist – Alison Rowton using David Austin Roses
Cake Designer – Brides Auntie Joyce!
Transport – Arrow Vintage Cars + Ensign Bus Vintage Fleet
Hair Stylist – Punked Up Barbie
Ice Cream – The Ice Cream Tricycle
hire