'Tom, I envisage our future as a continuation of our past and of
our present; I promise to comfort you when things are uncertain, I
promise to be generous when times are lean, I promise to love you
endlessly without condition.'
'Laura, we have shared the kindest
and the warmest of moments together. I pledge every part of myself to
you in the hope that I may spend every day beside you.  Just as I always
have, I always will love you: without envy, without fear, without
condition, without end.'
Love My Dress Wedding Blog – Photography Copyright (c) 2013, Hudson Nichols Photography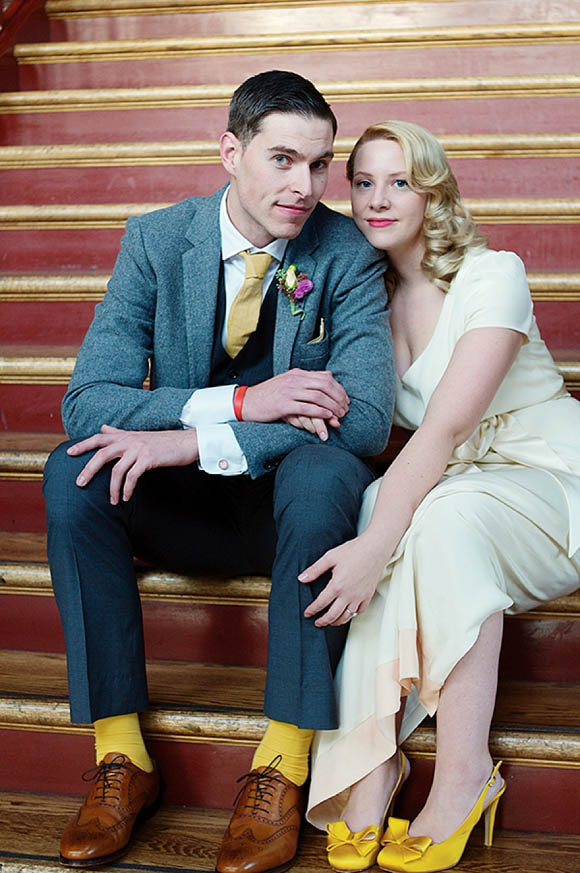 Aren't those vows sweet and simple yet really very touching?  Regular
readers of my beloved wedding blog will know that on Saturday last
weekend, I published a feature about Jolly Edition (which I also add entitles you lovely readers of mine to a nifty little 10% discount on orders placed before April – look at this fabulous portrait that illustrator Laura created based on a black and white image of her Grandparents wedding in 1910 – just beautiful). 
Jolly Edition
founders, Laura (from Baltimore) and Tom (a native from Cambridge), had a pretty darn beautiful wedding themselves back 7th October 2011 – the same day Laura's Grandparents
married 61 years earlier, and I'm lucky enough to be able to share some of it with you
today, including details of Laura's divine BHLDN wedding dress…
"We were heavily inspired by the aesthetic of the Aviator (A biopic of
Howard Hughes from the late 1920's to the mid 1940's.) mixed with bits and
pieces of our favourite films and music. We love the vintage feel but
like to pick and choose those accents to create a modern feel. In fact
our music ranged from the 1920's, from the beginning of our ceremony
(starting with some Edith Piaf and Django Reinhardt) to present day
music at the end of our reception (ending with Phoenix and the
Futureheads)…"
"Laura created twelve painted portraits as favours to our wedding party and close relatives as thank you gifts to take home.  We also provided macarons in chocolate, pistacio, raspberry and vanilla flavours, in a
paper box with a sticker of our drawn portrait (thank you Elizabeth) at
the bottom."
Laura's dress is the Crepe De Chine Column Gown, from BHLDN (and currently in the sale for $700/approx £446, down from $1,400/£890!).
This beautiful gown, described as effortless and classic, with a feminine silhouette that hints at mid-century glamour, is just a little bit fabulous, don't you think? And it suits Laura perfectly.. 
"I
loved the simplicity of the design and cut, it was a gorgeous
foundation which allowed my hair and accessories to stand out. The
fabric was luxurious and draped beautifully, I also appreciated that
there is a subtle blush accent at the bottom of the dress and felt it's
those sort of details that make the dress so special."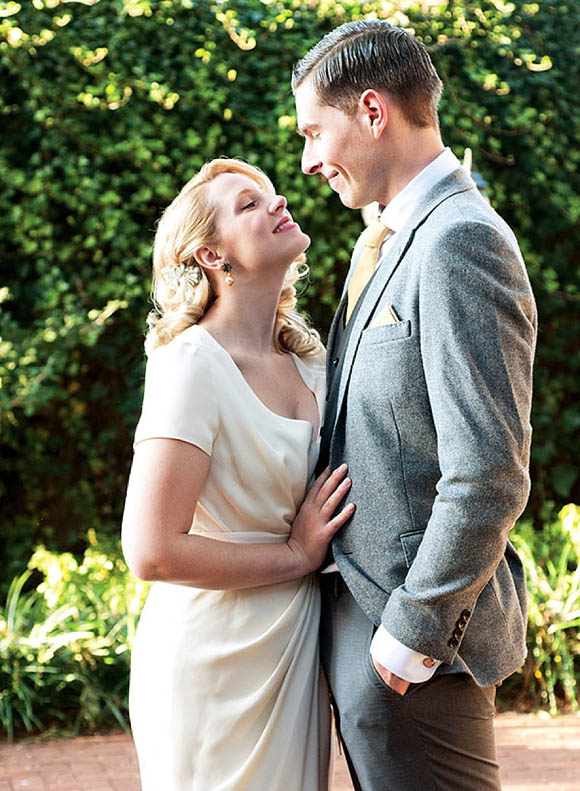 Tom wore a pick 'n mix ranging from a shirt, waistcoat and jacket from J. Crew, a yellow tie from Mohawk General Store, a handkerchief from Hickorees, and a pair of saffron colour socks from John Lewis.
"We love our brides maids! We felt that their individual
personalities should shine through, so we encouraged them to wear what
they wanted as long as their footwear were in similar colour palettes.
We weren't keen on a strict dress code, we prefer coordination to
matching.  Our only guidelines were to wear neutral colours and
the dresses should be around their shin's in length. So the first time
we saw their attire was on the day! We were very proud of our ladies.
 We
also thought it would be sweet to give them all gloves, each of our
girls has a different set of gloves that best represents their
personalities. We found the gloves at one of our favourite antique
apparel shops, Joan Eve in Ellicott City, Maryland."
Spot the resemblance?!
"We hired Fleur de Lis Florist
because they use flowers that are local and in-season. The flowers were
a mix between soft blooms and more rustic elements. Laura's mum is a
collector of antiques, we used several of her antiques as vessels for
our flower centerpieces."
"We were married in Baltimore in the US.  Baltimore is my hometown
and where most of our family and friends are. We had some (very good)
friends from England come to our wedding! We were married in a former
museum that is now called the 1840's Ballroom.

We chose the 1840's because it has the most beautiful architecture,
complete with sky-high windows, intricate moulding throughout the
building, and a gorgeous view. We had the ceremony on the first floor
and the reception on the ground floor. Having the ceremony and reception
at the same venue was a relief knowing we couldn't lose any of our
out-of-towners!"
"We hired a wedding planner because we live in England and were planning a wedding in America. Jennifer Grove from Sky Blue Events. She is smart, stylish and our wedding could not have come together without her expertise and organisation." 
A
wise word referring to the huge benefits that can be gained from
working with a professional event/wedding planner – see Love My Dress
this afternoon for more of that!
"We met when we were 17 and 18 years old and were immediately
smitten. We really admired each other, and had a great friendship but
our lives were too different to come together. After eight years, when I
was 25, I found myself living and working in New York City when Tom
(26) was freelancing there – we were finally in the same place at the
same time!
After six months in New York together, Tom's Visa was going
to expire and we couldn't bare to be separated again. Tom popped the
question during a quiet moment at home when we were contemplating the
end of those six months. We decided to move to England together and
start fresh…"
"We were so happy to find a gorgeous pair of quality shoes at A
Fine Pair of Shoes, they are Tom's once -in-a-decade shoe splurge!  I wore saffron coloured Bow Tie sling-backs from a company called Something Blue. I love these shoes, they absolutely glow! They made me feel glamorous."
Tom's cufflinks were a birthday present from Laura, one is a map of Baltimore, the other of Cambridge…
"We felt it was so important to involve our family,  so we set up a
table lined with generations of family photos, quite a few of them were
wedding photos…"

"My hair and makeup artists were Belle Soeur – they are local to Baltimore. We adore how they styled my hair. Tom's hair was done in around 20 minutes by his best man (my brother) Steven! He was going for a dapper gentlemanly look!"
"Our wedding photographers were Kristen and Nic Nichols of Hudson Nichols Photography.  They
are such a talented couple!  In fact, our officiant had left the
building before signing our Marriage certificate and to our relief Nic
Nichols is actually ordained as a wedding officiant. He was kind enough
to sign and thanks to him we have been officially married!
Kristen and Nic are a true renaissance couple, and very much inspire our own small business. We love them so much we wrote a blog post on them!"
"I wore a A beaded, double-winged silver hair clip. It is another BHLDN buy, but it's no longer available, sadly."
Laura walked down the aisle to the sound of La Vie en Rose, sung by Edith Piaf – she was accompanied by her Father Dwight…
"One of my favourite parts of the day
was being escorted by my dad, walking up the aisle towards Tom.  Tom
was backlit and I could only see his eyes and his smile. It felt like I
was floating, it was a warm and exciting feeling. It felt like slow
motion but I was later informed that I had walked quite briskly!"
"Our wedding vows (see top of this feature) were tailor made, short,
sweet, and sincere.   They are really similar vows, but oddly, we didn't
share them with each other until reciting them during our ceremony.

We did'nt have any readings at our ceremony, we wanted our ceremony to be streamlined and for our reception to last for ages!"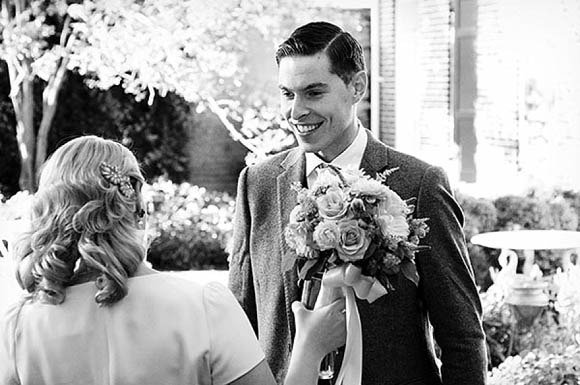 "Our wonderful wedding photographers are also the people behind Milkmaid Press – who created our wedding stationery. We hadn't started Jolly Edition at that point but we did design our own Save the Dates."
"Our favourite kind of cake is ice-cream cake and had
discussed if we could actually make that happen, as it's certainly not
traditional but ice cream cake is so delicious!  We decided to buy a few
ice cream cakes from our local ice cream shop. They were kind enough to
create a simple, white frosting, that could be decorated with our
wedding flowers..."
"We wanted the mood of our celebration to be
overtly relaxed, we knew our guests would love the lack of formality as
much as we did. Many of our guests commented on how fun the evening was
and looking back I realise this was a part of why our day was special..."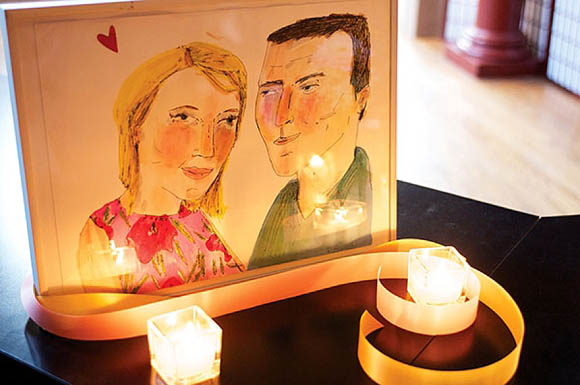 "We included a bunch of extra touches from friends, my
bridesmaid and great artist friend, Elizabeth Graeber created signs for
us, and a portrait of us. My maid of honour and great artist friend, Kim
O'Brien, made faux hats, bow ties, glasses to take photos with."
"We danced to Moonlight Serenade by Glenn Miller. As a fan of Audrey
Hepburn, Laura was especially partial to Moonlight Serenade in Sabrina –
we felt that it fit the mood of our courtship."
Words of Wedded Wisdom…
"Keep an open mind with
advice from  friends and family but always trust your instincts, taste
and comfort. On the wedding day, whatever happens is going to happen
and  there is no use stressing over anything so eat (not too little),
drink (not too much), and dance, dance, dance!".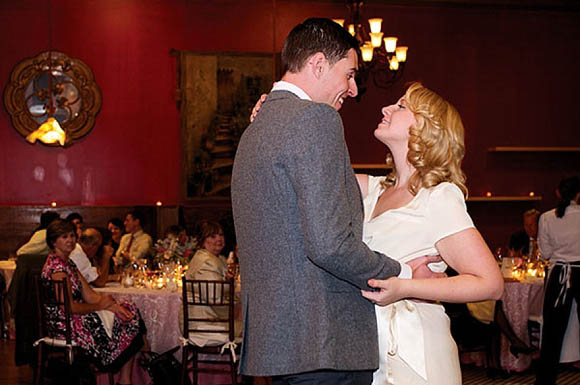 This really is the perfect Love My Dress wedding; a swoon-worthy dress, a handsome dapper Groom (yes Tom, I'm talking about you!), a love of beautiful vintage styling, lots of lovely sweet illustrations and lots and lots of love and fun – thank you so very much Tom and Laura for allowing me to share your very special day – my readers will love it, I know.  Talking of whom, please let me remind you all of the kind 10% discount that Laura and Tom are offering for any olly Edition orders placed before April this year.  Read all about it here.

I adore BHLDN and love Laura's dress choice – the epitome of elegance and glamour!  Are there any more BHLDN brides reading this today?  Lovers of yellow might want to go here too for lots more wedding day inspiration.
Let's see some love for this stylish couple an their relaxed, vintage inspired wedding day.
Love always everyone,
Annabel
Bride and Groom – Laura and Tom of Jolly Edition
Photographer – Hudson Nichols Photography
Venue – 1840's Ballroom, Baltimore
Wedding Planner/Stylist – Jennifer Grove from Sky Blue Events
Wedding Dress – Crepe De Chine Column Gown, from BHLDN
Brides headpiece – BHLDN (style no longer available)
Bride's shoes – saffon coloured bow tie sling back heels from Something Blue
Bride's accessories – Earrings that Laura's mother gave her, with a silver/bronze bobble at the top attached to a pearl drop
Groom – Shirt, waistcoat and jacket via J. Crew  + yellow tie via Mohawk General Store + handkerchief from Hickorees + saffron colour socks from John Lewis
Bridesmaids – own choice dresses
Florist – Fleur de Lis Florist
Favours – Jolly Edition illustrations + Macarons
Hair and make-up Artist – Belle Soeur
Stationery – Milkmaid Press