Wow, who hasn't had any snow in the UK today – anyone? Whilst paying
homage to the wonderful wintry weather earlier today, I also want to
remind you Summer brides what it's all about today, with this lovely
wedding that took place in July last year, at Hotel La Chance in Pila, part of the beautiful Valle de Aosta in Italy, where Stu and Steph tied the knot in elegant style.
These photographs were sent in by Christopher Currie
who we're quite big fans of here at Love My Dress.  Steph's wedding
dress was by Enzoani Range – a purchase she made
via Opus Couture,  a bridal wear specialist in West Kilbride…
"Stuart
and I got engaged the November prior to our wedding.  The following
January, my sister, Natalie and my best friend, Gemma – my bridesmaid –
voiced their concerns that we had organised absolutely nothing.
 We
decided to have a day bridesmaid dress shopping, as my sister was only
over for a few days, and had to return to Madrid where she was working. 
We spend a day in Glasgow looking in various shops but found no
inspiration.  The day before Natalie was due to fly home, we decided to
visit Opus Couture…"
Love My Dress Wedding Blog – Photography Copyright (c) 2012, Christopher Currie Photography
"Opus Couture is situated in West Kilbride, the village next
to ours and we had all heard nothing but great things about it.  Again,
our intention was to find a bridesmaid dress as Natalie had no other
firm plans of when she was due home again.  Whilst in Opus, Natalie
asked that I try on a few dresses as she was going to miss this.  My
mum, Natalie and I went through the extensive range of dresses Opus had
to offer.  Again, nothing jumped out.
However, when walking back to the
car, a dress jumped out at me from the window.  I had never seen a
wedding dress like it – ever.  I turned to my mum and sister and said,
'I think that's the one'.  My mum and I arranged a formal appointment at
Opus to try on dresses.  After again selecting various dresses, the
wonderful Brenda came behind the curtain with THE dress saying, 'I think
this would be perfect for you!'  I tried it on and immediately felt as
though a celebrity had let me borrow their dress for the day.  I will
never forget that feeling." 
"I am not what you would
call a 'girly-girl' and could never understand the big deal about
wedding dresses and the lengths people go to, to find their perfect
dress – I now totally understand.  I will never forget how I felt – even
thinking about it makes me smile from ear to ear.  I felt like an
absolute princess and knew immediately that that was the one.
I
however, did not want to decide until my 'very important people' had
seen it.  I contacted my sister and told her, she organised another trip
home and we all trooped back to Opus.  My Mum, bridesmaids and best
friend Sheena came along.  I tried on the dress and walked out, nervous
about what they would all say.  I was told to stand in the middle of the
room and do a spin…"
"As I stooped, the light caught the chandelier
about a certain way which cast a rainbow across me and my dress.  At
that moment, my sister burst into tears and as a result, the entire room
did, staff included.  We had lost a very close friend not that long
before who had had a passion for rainbows, naming his house after them.
We were all saddened that he could not be here to spend this special
time with us; however this rainbow was like a sign – his approval of the
dress from above.  When the tears stopped, we all agreed that this was
the perfect dress as I had hoped.  Brenda then turned, this time crying
with laughter.  'You'll never guess the name of the dress?', she said. 
It was called 'Ginger'.  There could be no better fitting name for it
considering the colour of my hair!  My perfect dress with the most
perfect name!"
"My head piece was a one-off piece designed by the incredibly talented and absolutely wonderful Corrine Smith at Corrine Smith Designs. 
I showed Corrine my dress and we had a chat about the feel I was
looking for.  Corrine came up with this incredible head piece which
incorporated a piece of vintage jewellery.
My earrings and bracelets were again designed by Corrine Smith. 
She adapted a style in her range to suit exactly what I was looking
for."
"Stuart had his kilt suit tailor made by the family run Houston Traditional Kiltmakers in Paisley. 
He was keen to have a tweed based kilt suit as opposed to the more
traditional tartan, and Houston's had a lot to offer.  Stuart ended up
with the most exceptional kilt suit and sporran, which was exactly what
he was looking for and suited him down to a tea.  I couldn't believe my
eyes when I walked down the aisle and saw him!  He looked incredible. 
We had arranged to get two bow-ties tailor made by Beverly Currie at the delightful company, 'Hello In There – Bell & Belle Bow Ties' –
a small design label located in the heart of Scotland, creating unique
hand crafted garments, incorporating vintage fabrics and tartans.
Stuart and I found a vintage, floral fabric on Etsy which was very in
keeping with the colour of the bridesmaid dresses.  This along with
samples of the tweed and tartan of the groom and best-man's kilts formed
the basis of the most dashing bow-ties we have ever set eyes on.  They
looked wonderful on the day!"
"My 'Heidi Lace Wedding Parasol' was purchased via the same place I got my shoes – via Melle Cloche in Glasgow. This turned out to be an invaluable item on the wedding day!
"The flowers at the wedding were arranged by Tasha.  She had asked
what style of flowers we were looking for, the rough quantity and
informed us that she would sort it all.  We sent her a few pictures and
photographs and styles we were thinking of and the style we were looking
for.  Tasha and the florist absolutely excelled themselves.  I could
not have picked a more beautiful bouquet for myself or my bridesmaids.
The colours were perfect which was remarkable considering neither Tasha
or the florist had seen the colours or designs of the dresses.  The
choice of flowers was absolutely perfect also.  My bouquet was very
classic and my bridesmaids bouquets very country-garden, exactly what we
had been dreaming of!
"I wore the 'Tilly' shoes by Rachel Simpson.  These were purchased at the most delightful bridal accessory shop called 'Melle Cloche'.  This is on Byres Road, Glasgow."
"My bridesmaids dresses were also purchased at Opus Couture.  When I
first went into Opus, they informed me of the ranges of Bridesmaid
dresses that they stocked and advised me to have a look at them on the
internet and tell them of any that we liked.  When I saw this dress, I
knew it was the one.  I phoned Opus about the dress but unfortunately
they did not stock this particular one.  Without hesitation they offered
to phone their supplier to get one for us to try but unfortunately
there was not on available.
Desperate for this dress, I decided to
contact the main office and pleaded with them for a dress that we could
try.  They very kindly offered to send a stock dress to Opus Couture for
24 hours for us to try and return in perfect condition.  When the girls
tired it on, they immediately fell in love with it too.  It was an
absolutely stunning dress, beautifully made and looked divine on both of
our Bridesmaid.  With a lot of courage we ordered the dusky pink, with
our fingers crossed that they would look perfect as it's very hard to
tell from the tiny colour swatches that are provided.  They did!"
"Stuart and I had the most wonderful photographers.  We were extremely fortunate to have Christopher Currie Wedding Photography
capture our day.  I had attended a Vintage Wedding Fayre held in the
West End of Glasgow.  This was being run by the Glasgow Wedding
Collective, a group of handpicked and very talented wedding suppliers
from across Scotland.  I walked
past Chris and Gillian's stand and instantly fell in love with their
work – I could have sat all day looking at it.  I turned to mu Mum, Dad
and Stuart and said, 'I would love our day to look like this'.
I had no
idea how quickly photographers were booked up for weddings, however,
despite being near-enough fully booked for 2012, the wonderful Chris and
Gillian managed to squeeze Stuart and I in between weddings and aren't
we glad they did."
"Not only are Christopher and Gillian Currie two of the nicest people we have
ever met, they are also extremely dedicated and exceptionally talented. 
We met with them on several occasions to discuss what we were wanting
from our photographs, what ideas we had and then they passed on their
words of wisdom to us from the many weddings they had worked at before. 
During the wedding day, you wouldn't have known either of them were
there – and if you did, you would have thought they were guests.
This
put both Stuart and I and all of our guests at ease, which I think is
very apparent when you look at the photographs.  They captured our day
just as we had hoped and our photographs totally surpassed our
expectations.  We are absolutely thrilled with them and would strongly
recommend anyone getting married, to seriously consider the dream team
that is Christopher Currie Photography.  I think the photographs speak
for themselves – but just wait 'til you meet them!"
"My 'something old' was a brooch which was attached to the front
of my bouquet which my Bridesmaid and best friend, Gemma kindly let me
borrow on the day.  My 'something new' was absolutely everything that I was wearing – my dress, shoes, jewellery etc.  My 'something borrowed' was the same brooch.
My
'something blue' was a personalised charm which mu Mum and Dad gave to
me – it had the detail 'S&S' on it and the date of the wedding."
"One of our close friends Jennifer Murray is a very talented
hairdresser who kindly offered to do the wedding parties hair on the big
day.  After travelling up to Scotland from Norwich on two occasions
prior to the wedding to practice, Jenny worked her magic on us all
before she nipped off to get herself ready on the day.  We can't thank
her enough for being such a great help!After
getting our hair done, Gemma, Natalie and I all huddled round a mirror
to put our make-up on.
Natalie then introduced Gemma and I to the world
of 'fake-eyelashes' for the first time which was a real eye-opener, and
fortunately a great success.  This most definitely caused lots of
giggle that morning!"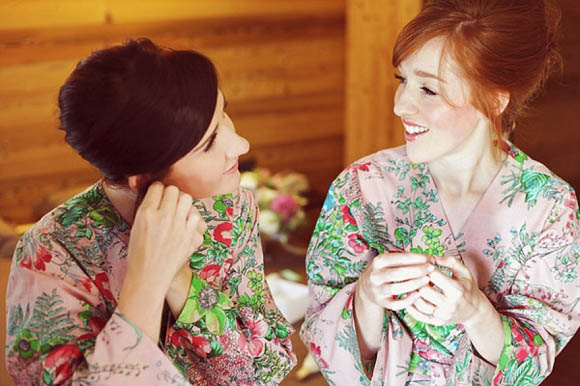 "Stuart and I were keen to get married quite quickly – for no
reason in particular; we just felt that we had no real reason to wait! 
We decided that we would try and get married the following summer.
When
Stuart left school he moved out to Italy to follow his love of mountain
biking.  He moved to the Valle de Aosta, which is in the North of
Italy.  During his three years there, Stuart's made a huge number of
friends.  This included Tasha and JP, a brother and sister dream team,
who took Stuart in and made him feel like part of the family.  Stuart
and I have visited Aosta every year as and therefore the area meant a
lot to us both.  Tasha and JP had built a hotel – Hotel La Chance – a couple of years before
and when we first saw it we were blown away.  It was the obvious choice
and was the perfect host for the most incredible week.
When January came, we decided to give Tasha a call to see if she
could squeeze us in.
She had a week free in July, so with no further
consideration we agreed and that was it.  To us Italy meant great
weather, great food, a good excuse for turning the wedding into a
holiday and made having a small wedding a lot easier.  The standard of
the hotel is outstanding, it has the most incredible spa, spectacular
views and an extremely talented chef.  The perfect venue for any
wedding!"
"I wasn't particularly bothered about getting a
veil, however my Mum was keen that I got one.  I tried my hardest to
convince her that it was not necessary however, she would not give in so
after a 12 hour night-shift and only 3 hours sleep, my Mum and I went to
Opus Couture
to find my veil.  Half asleep, I asked my Mum to simply pick a veil. 
However once we started to look through their beautiful and wide
collection of veils, I knew my opinion was starting to change on them.
My Mum and I then noticed the veil I finally chose – it was absolutely
perfect!  The girls in Opus then insisted (not that it took much
persuading) on me trying on my dress with it and it gave the dress an
entirely different look.  Yet again – Mum's know best.  I was absolutely
delighted that we had gone along that morning, and it changed my entire
day – that was not what I was expecting from veil shopping.  The team
at Opus came up trumps again with the veil too as I chose it only 4
weeks before the wedding with no idea that it took months to get a veil
normally – however, the girls at Opus made it happen…somehow!"

"Stuart and I decided on the eve of our wedding that I walk down the
aisle to 'Love Theme' from the Godfather.  Up until that point we had
never considered it, therefore we sat and flicked through our IPod and
this jumped out at us.  Stuart and his friends are big fans of the
Godfather films, and given that we were in Italy, we thought that it
would be quite fitting.  The timing worked out perfect too, as I arrived
by Stuart's side just as the song finished."
"Stuart and
I got engaged on the 5th November. We had taken a trip to Tighnabruaich, an area on the West coast
of Scotland.  We often visit this are whenever we got any time of work
together, and therefore it was nothing out of the ordinary.  When
walking on a beach very special to Stuart as he spent a lot of time
there growing up, I walked over find Stuart standing next to a patch in
the sand, marked out to say, 'Will you marry me?'.
I was absolutely
gobsmacked – but after nipping off for a quick wee, I came back to say
yes!  It has to be the easiest question I have ever been asked, and
after seven years of being together, I felt like the luckiest girl in the
world."
"Stuart made his own way to Italy.  He sailed from Largs to
Ballycastle on the north-east of Ireland with some friends, cycled down
the east coast of Ireland to Rosslare.  From there he got a ferry to
Cherbourg, on the north-west coast of France.  Here he started his cycle
through Normandy, the Dura Mountains, Switzerland, Lake Laman, then
over the Great St Bernard pass into Italy.  The 1500 miles cycle took
him 2 weeks and meant that he was waiting on us all arriving.  Stuart's
world revolves around cycling, and he states that this is the most
beautiful tour he has ever been on.  I'll stick to flying however!"
"Stuart and I were very lucky when two of our best friends, Tom and
Lorna, told us that they were going to drive out to Italy with their
beautiful daughter Sadie.  They offered to take everything they could
out for us and because of their kindness we were able to transport all
of our decorations, favours and Stuart's kilt-suit.  Each table was
decorated with old books, a vintage jug bursting with flowers and a
selection of vintage milk jugs and sugar bowls. 
Each guest had a
name-tag and menu – these were made by the very talented Nicky of 'with
love wedding stationery'. 
We were immediately attracted to her vintage-inspired, delicate floral
designs and she couldn't have been more helpful in helping us design our
perfect stationery."
"We spent several weekends rummaging through Glasgow's West end
vintage shops for traditional tea-sets.  We ended up with an assortment
of delicate floral designed tea-sets.  The tables were set with a
teacup, saucer and side-plate per guest which had a beautiful name-tag
tied to the handle.  Each of our male guests were given a bottle of
nocciola, an Italian liqueur home-made by JP.  Each bottle was dressed
with a hand-made tag, thanking them for making it out to our big day. 
Each of our female guests were given a small pot a raspberry jam,
home-made by one of our closest friends.  There were dressed with
personalised labels from 'Vintage in a Teacup', vintage floral material
and twine.  Fans were also placed on the chairs that had been set out
for the ceremony to help people manage in the heat.  These were
decorated with a vintage lace."
Words of Wedded Wisdom…
"Enjoy every minute of
your engagement and have the time of your lives organising your
wedding.  Remember it is your day and therefore all that matters is what
is important to the two of you.  It's only polite to take into
consideration the thoughts and feelings of your friends and families and
in fact, they will have some fabulous ideas that you may never have
thought of.  However, what it important to the two of you – the bride
and groom to be – is really all that matters.  Stuart and I stuck to
what was important to us, and as a result, there is absolutely nothing
that we would change about our day.  Stuart and I are both blessed with
big families, however, we both wanted a small wedding, with only our
closest family and best of friends – and that is what we had.  With a
total of 35 people at the wedding, Stuart and I got married in front of
the most special people in our lives and had the opportunity to
celebrate with everyone else on our return to Scotland when we had the
most wonderful ceilidh in a barn in the village we live in.
It
doesn't have to cost you the world.  Stuart and I were shocked when we
heard what a wedding could potentially cost and promised ourselves that
we would not get sucked into this.  We had the most spectacular day and
because it was a small wedding, we were able to spend our money on what
was important to us.  Stuart and I still cannot believe how Tasha and JP
did not run at a loss!"
"Consider getting married
abroad.  We all flew out to Italy on the Monday and that is where all
the fun began.  We were met by a coach at the airport in Italy which
transferred s seamlessly to the hotel.  Tuesday was the day of our
'Hen-do' and 'Stag-do'.  We both had the most incredible days lasting
from 9 in the morning until the early hours of the next.  Wednesday was a
day of rest and allowed Stuart and I to sign all of our official
documents in front of our witnesses.  Thursday was our big-day and the
weather didn't let us down at all – we were greeted by clear skies on
wakening and this continued all day.  We all flew home together on the
following Monday which allowed us all to relax and enjoy the remainder
of the holiday together.  Stuart and I both believe that we would never
have managed such an amazing week in Scotland.
What, if
anything, inspired you to style your day the way you did? Eg, a
particular era, muse, colour, place, or were you guided by religious or
cultural values and preferences.    Stuart and I were both keen for an
old-fashioned, vintage-inspired wedding.  We both love muted colours and
wanted it to be very in keeping with our surroundings, the Italian
Alps.  We think this worked absolutely perfectly!
 
Another delightful wedding to add to our gallery that's already bursting with inspiration.
Stu and Steph, I'd like to congratulate you on your beautiful day,
and Steph, thank you so very much for the kind words you wrote about
Love My Dress in the questionnaire we sent you! I'm so happy these pages
were able to inspire you.
Huge thanks to Christopher and Gillian of Christopher Currie Wedding Photography for supplying yet another gorgeous set of images for us to enjoy too – you can see more from Christopher Currie on Love My Dress here.
Now, is anyone else planning on looking fabulous in a Benjamin Roberts gown on their wedding day?
Annabel
Photographer – Christopher Currie Wedding Photography
Venue – Hotel La Chance
Wedding Planner/Stylist – Tasha via Hotel La Chance
Bride's Dress – Enzoani Range, via Opus Couture
Wedding Veil – Benjamin Roberts, via Opus Couture
Brides Shoes – Rachel Simpson – 'Tilly' in silver satin, via Melle Cloche
Bride's headpiece, earrings and bracelet – Corrine Smith Designs
Groom – Kilt via Houston Traditional Kiltmakers in Paisley + bow ties in vintage fabric via Bell & Belle Bow Ties
Bridesmaids – Bridesmaids Dresses    Sophia Tolli – BY11223, via Opus Couture
Florist – Hotel La Chance
Catering Company – Hotel La Chance
Parasol – via Melle Cloche