Oh my wooorrrrddd!  At least, that was a bit like my reaction when I saw these photographs for the first time, when my lovely friend Caroline of Candysnaps shared them with me.  Caroline was lucky enough to be chosen to photograph the very glamorous wedding of Claire and Eamon, who got married on 10th November last year at The Caves in Edinburgh.
Love My Dress Wedding Blog – Photography Copyright (c) 2012,  Caro Weiss
I LOVE this wedding, it epitomises just about everything I adore about Love My Dress; the glamour, the smiles, the relaxed wedding just as the couple wanted it and a slick of fantabulous red lipstick thrown in for good measure. And it goes without saying that I recognised that slinky Jenny Packham number Claire is wearing in an instant -  doesn't she carry it off with absolute perfection?  Read her story too my friends – it's proof that sometimes, the very first wedding dress purchase isn't always the right one (I was that bride too!).  That marabou cape by the way is by Biba…
"Ahh, the dress (bit of a long story!).  I had always imagined that the dress would be the easy part of organising a wedding – I love dresses and I know what dresses I like, so how hard could it be?! How wrong I was!?
The first wedding dress shop I visited in Glasgow specialised in vintage dresses. I always imagined myself in a short wedding dress a la 1950's but surprisingly didn't feel as I had hoped when I tried those styles on.  Then I tried on an original 1930's dress, it was long, halter neck with beautiful beading & detail – I am a big fan of the 1930's era and loved the detail of the dress, and the story that went with it – 'this is the one!' I thought, and paid the deposit."
Check out that snazzy petrol blue, British wool tailored suit by Adam Waite…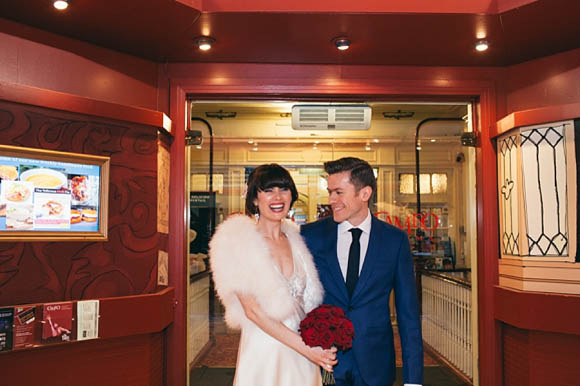 "A few weeks later my mum was over visiting from Ireland and I took her along to see the dress. When I tried it on again it felt and looked different to how I had remembered it, mum took a few photos of me in it which were not how I imagined myself to look on my wedding day and we left – I was in turmoil!
Eventually mum asked what was wrong and I burst into tears telling her I think I had made a mistake about my dress! It was such a beautiful dress but unfortunately it just didn't suit me as I had hoped. So there I was 4 months to go and still no dress! Luckily both of my sisters who were also planning weddings were on hand with magazines and ideas."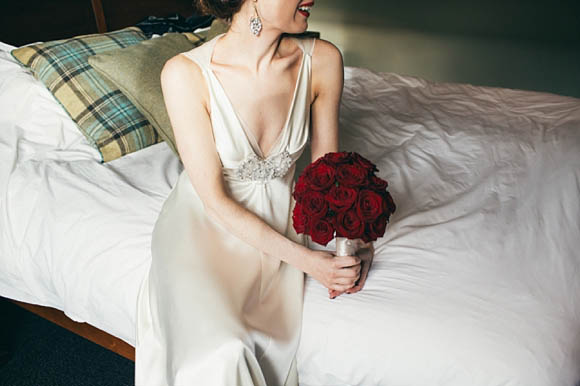 "As I resumed the search I realised that all the dresses I liked in the magazines were all Jenny Packham, however  when I realised their price tags I thought "typical!" I couldn't  justify spending so much on a dress especially after losing my deposit on the first one! So that is when the wedding dress fairy must have took pity on me! I had made a few phone calls to see who stocked Jenny Packham dresses in Scotland. One shop in Troon happened to have a half price sale on, so off I went! That is where I first saw my dress the Jenny Packham Isadora.
They only had it in a size 14 and even at half price it was still a lot of money, however I couldn't stop thinking about it. I loved the simplicity of the dress combined with the luxurious silk material, jewelled detail and the sheer back. As soon as I tried it on I felt like a movie star! So imagine my delight when a few weeks later I visited Anne Priscilla in Glasgow with my friend Sonia and saw Isadora once more – this time in a size 12."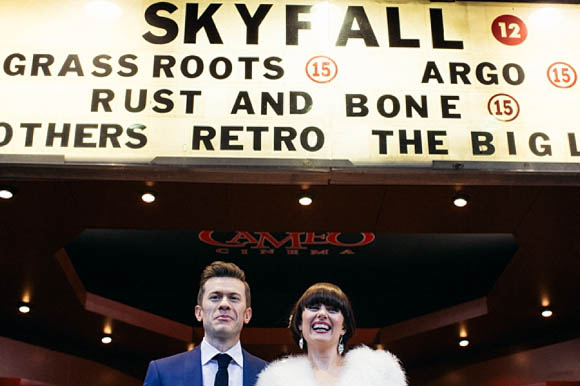 "That's the dress I told you about!" I said, to which Sonia said have you seen the price tag?! It was reduced to £320!! As it was a sample dress it was in need of some TLC, one of the shoulders was ripped, a few buttons were missing but I knew it was meant to be! I tried it on for Sonia and that was that -  decision made!

Now I just needed someone to restore it to its full glory and to my size. I was recommended the Alter girls in Glasgow who did such an amazing job. They were very experienced and professional and I would highly recommend them to anyone."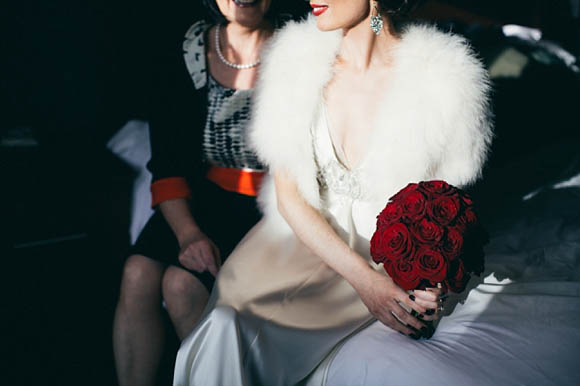 "Eamon and I met on the dance floor of Glasgow School of Art union bar, 'The Vic', in 2006. We had both been students in Glasgow and had remained in the city to start our working lives. Despite us both hailing from Northern Ireland it seemed I had to come all the way to Scotland to meet my perfect Irish man! 
When we first started to discuss the idea of marriage we both agreed that we wanted something non religious and low key. We had decided to head off on a 3 month adventure around Asia and Australia in April 2011 &  discussed the idea of getting married while away. We organised all the paperwork told our closest family and friends of our intentions and off we went!"
"However we quickly changed our minds when we reached Bangkok, we began to think of all the people who would not be there to help us celebrate and it just didn't feel right  My mum had also sent me a parcel in the post with the precise instruction 'to be opened on your wedding day'. As soon as I read it I burst into tears & needless to say never opened it on our trip!
Eamon still needed to propose however – which he did in style in a hot tub in Tokyo in June 2011! We then drank cocktails in the Park Hyatt hotel bar just as Bill and Scarlett had done in Lost in Translation and flew back to Glasgow the next day."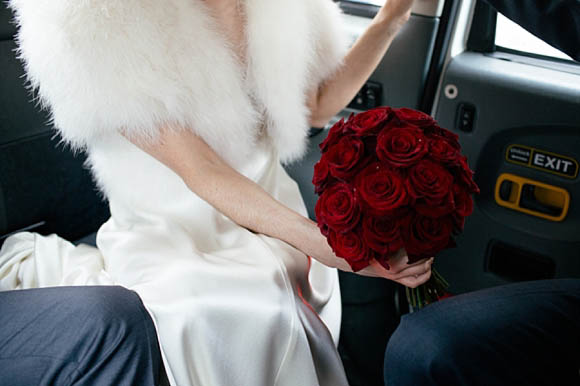 "A few weeks later we travelled home to Ireland where my mum and Eamon's dad were delighted with our news and admitted to being relieved that we had decided not to get married abroad. I was given Eamon's mum's engagement ring which meant the world to me, it is such a beautiful and unique ring and I feel so honoured that Eamon's family wanted me to have it. Once back from our travels the wedding plans were put on hold for a while as our job security was under treat, but we enjoyed our time being newly engaged.Then once work started to pick up again we began planning and booked The Caves in May 2012!
Despite living in Glasgow, we both loved the idea of getting married in Edinburgh. It is such a romantic city, especially in the winter. We had enjoyed many trips to Edinburgh during our courtship, and thought it would be the perfect city for all our wedding guests to enjoy a weekend break as well as a wedding! As soon as we saw the Caves we knew we had found the perfect venue! We loved the vaulted ceilings, cosy little corners , the 'Cow room' with a chesterfield sofa which was a great quiet space for the younger guests & of course all candles…it also had a license until 3am! As a venue it perfectly encapsulated Edinburgh for us; old, romantic, cosy and a great place for a party! The only available date left for that year was Sat 10th November: 10/11/12 – such a great date we thought and also an easy one to remember for future anniversaries!"
"My hair was styled by the super talented Sara Graham-McCombe from Martin Brown Hairdressers in Glasgow. Sara completely understood the look I wanted for me and my bridesmaids. I loved the classical elegant style she created and the Jenny Packham hair piece kindly borrowed from my friend Janine finished it off perfectly.  My bridesmaids hair styles were all slightly different but equally elegant, they all looked so beautiful.  Make up was done by the Eamon's brother Paul's  girlfriend Shabs. She very kindly offered her amazing make up skills and it meant so much to me to have her there on the morning of the wedding. 
We had a few trial runs while on a family summer holiday in Spain during the summer, where she was able to advise me on colours & what products to use on the day. Always discussed with a few glasses of Prosecco in hand! I realised the importance of a good primer especially for photographs, Shabs recommend Smashbox which I have used ever since aswell as the Nars illuminator for that dewy finish.
I deliberated for a while about the red lips as I wasn't too sure if it would be too much but Shabs recommended Mac's Ruby Woo & as soon as I put it on I knew it was a perfect red. My only wish is that I could have Shabs on hand to do my make up every day!"
"Once I had decided on the red lips I thought I should go with red roses as well!  Erin at Narcissus did such an amazing and professional job. I didn't throw my own bouquet on the day, instead I borrowed one of my bridesmaids. I wanted my red roses to be sent back to Ireland to lay on Eamon's mum's grave."
"My bridesmaids wore navy strapless knee length dresses from Coast. It was a much easier task finding my bridesmaid's dresses! My two sisters Jenny and Cathy (the Brunettes) and Eamon's two sisters Orla and Julie (the blondes) were my beautiful bridesmaids.
My bridesmaids also wore faux-fur capes made by the very talented and speedy Little Deva in Glasgow. After trying on a vintage mink fur cape in Mr Ben's vintage store in Glasgow, Marianne the proprietor came up with the clever idea of getting Little Deva to copy the pattern in a faux fur – they were perfect and a lot cheaper than Mink!"
I just adore these Lulu Frost for Whistles Art Deco Earrings that Claire is wearing…

"My two brothers Kevin and Paul gave me away and thankfully had cash on them to pay the taxi to the caves – it was one thing I had overlooked as I had no purse with me!"
"We decided to have a Humanist ceremony and were very lucky to have been recommended a celebrant called Sheena Johnston. She made the ceremony a very personable & relaxed experience with spontaneous clapping and laughter!"
"Our table plan, along wiht our 'save the date' cards,, invitations and table settings were all designed by the Groom! They were quite minimal and rendered in various shades of grey, you can tell he is an Architect!
We also had a stamp made by Etsy with our names, venue and date on it, which we used to personalise a lot of our wedding stationary."
"Our cake designer, Patisserie Maxime in Edinburgh, created a macaroon tower arrangement. It was delicious & so colourful! They even came & assembled the tower @ 7pm as there was no room in the Caves fridges for them all! I am a little obsessed by Macaroons after a few trips to Laduree in Paris & London. However despite numerous attempts to make them myself I gave up and left it to the professionals!"
"The amazing Caroline of Candysnaps was our photographer – she is such a talented, sweet and enthusiastic lady! We both loved the natural, spontaneous style to her photographs and felt very lucky to have her as our wedding photographer. Eamon had the idea of having some photos taken at the Art house Cameo cinema in Edinburgh, which Caroline captured magnificently. The surprised employee very kindly let us pose in front of the popcorn stand and sweeties! These are probably some of our favourite photos of the day."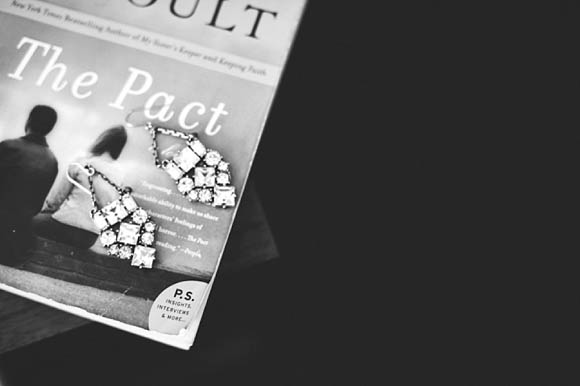 "I walked down the aisle to 'There is no greater love' by Billie Holliday.  I am a huge fan of all the music from that era sang by such strong women such as Billie Holliday & Ella Fitzgerald in the 1930's & 40's. Although it not a very well known song I thought it perfectly encapsulated the era of my dress & my feelings for Eamon. We then walked back down the aisle together as Mr & Mrs to "Baby I love you" by the Ronettes."
"We used the poem 'A Vow' by Wendy Cope, from which we each read each other alternate lines.
Our friend Steve read Epithalamium by Liz Lochead. A fitting Glasgow love poem.  Eamon's Aunt Terry read 'There will be no end' by Anne  Mac Leod. Another beautiful Scottish Poem which we chose for it's joyous imagery of singing & dancing under the stars."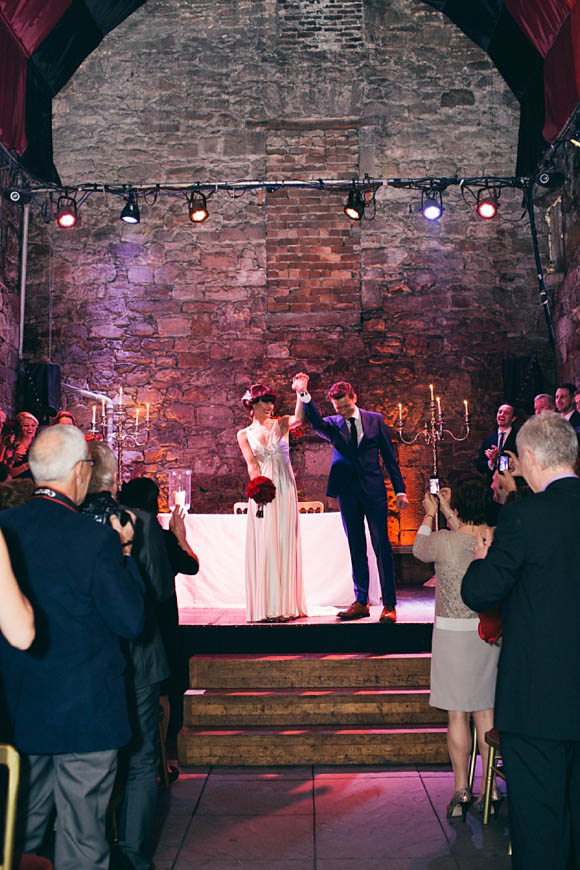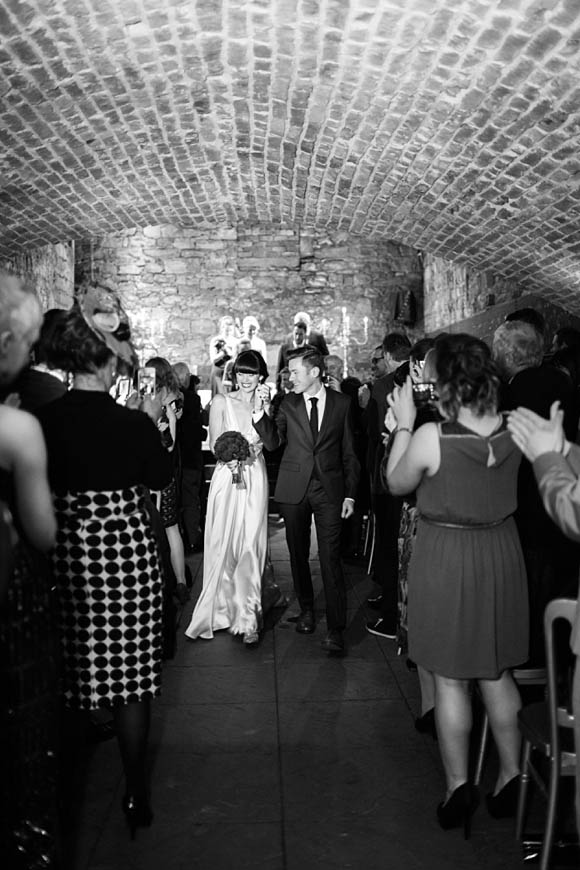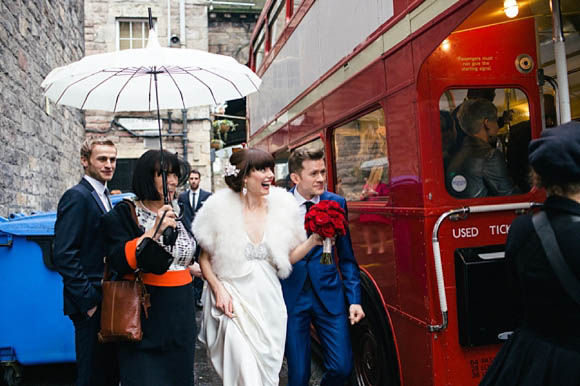 "We didn't have traditional favours per se, but each guest received a vintage bus ticket on arrival for their surprise vintage Red Bus tour around Edinburgh! We bought these on Etsy & my sister Cathy lovingly stamped each one with the aforementioned personalised stamp!"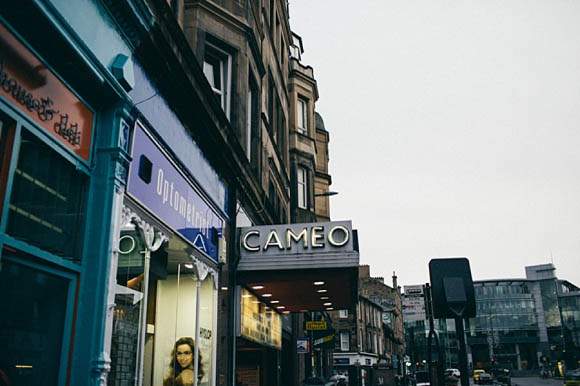 "We had our first dance to one of our all time favourite Northern Soul Tracks – 'Do I love you, (Indeed I do)', by Frank Wilson. It reminded us of all the great nights spent dancing on the Old Vic black and white checkered dance floor during our courtship! We had joked about trying to learn a few Northern Soul moves & had a few giggles watching a few videos on You tube, however we ran out of time. On the day we were actually a little nervous about it but as soon as the song started to play we just went for it!
What was your very favourite part of the day and why."
"We both agreed that we enjoyed every part of our wedding day, despite some parts being more nerve wrecking than others! Those once in a lifetime moments like seeing your future husband/wife for the first time, walking down the aisle, saying " I DO", hearing such loving & heartfelt words during the speeches & all the dancing!! Most importantly it was having everyone you love in the one room & seeing everyone having such a good time.
We would not have changed anything about our day, we were incredibly fortunate that everything turned out perfectly!"
"We hired a band, 'The Easy Orchestra DJ's', who were John D and Iain O.C., from Pin up nights.  We are both huge music fans and the music was such an important part of our wedding. The Easy Orchestra had played at a few of our friends weddings over the years and we loved their style. They got everyone up on the dance floor with their unique renditions of great classics! John D & Iain O C from Pin up nights continued to keep everyone on the dance floor & the stage! I will never forget ending the wedding with LCD Soundsystem's.
All my friends" being played as all our friends lifted us up & carried us around the room!"
Words of Wedded Wisdom… 
"Never lose sight of what the big day actually means to you both. There will always be stressful times in the planning and organising, but try and work as a team – you may even find it brings you closer and you will probably discover some new skills neither of you knew you had!
Trust your own instincts and never feel you have to conform to outside pressure. But most importantly HAVE FUN! You will probably never have so many of your dearest family & friends in the one room again, it is incredibly humbling and special, so enjoy it. Everyone tells you how quickly the day goes and it is so true.
From my own personal dress experience I would advise all brides to be to not rush into buying one of the first dresses they try on! Take your time & try lots of different styles you may not necessarily have imagined yourself in."
"I had visited Love My Dress on numerous occasions, in fact that is where I discovered The Red Bus, so thanks for that!   I found Love My Dress to be a constant source of inspiration – it is always beautifully composed with stunning photographs and personal stories. Everyone is always keen to pass on their advice to other Brides and grooms, it really does feel like a wee wedding community! You should be very proud of it! 
I also loved visiting the Etsy wedding site.  I am an avid user of Pinterest and found it very useful for compiling & organising  images for wedding inspiration. The Glasgow Wedding Collective was also a great website for sourcing local and creative suppliers and we attended one of the fayres. Candysnaps, Adam Waite & the Pin up Djs are all part of the collective & what a talented bunch they all are!"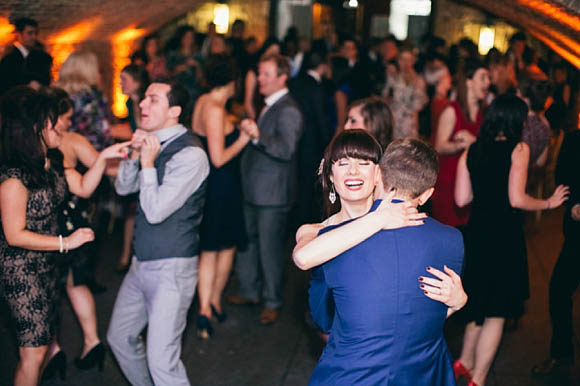 Doesn't get much more glamorous than this eh?
Huge huge congrats Claire and Eamon – you both look incredible on your day, and I absolutely loved reading all about it Claire, thank you so much for taking the time and effort to share so much with our readers.
And massive thanks to you too Caro Weiss – more from whom you can see on Love My Dress here – she's pretty much been furnishing us with fabulous nuptials since the start of Love My Dress back in 2009!  Also, those of you adoring the red lipstick look absolutely must look at this brilliant red lipstick tutorial we created just for you.  Jennny Packham brides can go here too!
Thoughts people? Let's show some adoration for the pure glamour and gorgeousness of this wedding. Hooray for Claire and Eamon! 😉
Have a great evening everyone – not 'too' snowed in, I hope!?
Annabel
Photographer – Caro Weiss
Venue – The Caves in Edinburgh
Brides Attire – Jenny Packham Isadora via Anne Priscilla in Glasgow with alterations by The Alter girls in Glasgow + Marabou cape from Biba + Lulu Frost for Whistles Art Deco Earrings
Brides shoes – Karen Millen
Brides Hair Accessory – Jenny Packham hair piece very kindly borrowed from my friend Janine
Grooms Suit – Petrol Blue, British wool tailored suit by Adam Waite + Shoes by Loake c/o the Groom's dad shoe shop,  McGarrigle's shoes in Strabane (no website). Tie from Cos, shirt from Reiss, braces from Retro vintage shop in Glasgow.
Bridesmaids – Coast dresses + fur capes made by Little Deva in Glasgow
Florist – Narcissus in Edinburgh (classic, luscious red roses)
Cake – Patisserie Maxime in Edinburgh
Entertainment – The Easy Orchestra, via Pinup Nights
Transport – The Red Bus
Hair Stylist – Sara Graham-McCombe from Martin Brown Hairdressers in Glasgow
Humanist Celebrant – Sheena Johnston
Respect to The Glasgow Wedding Collective for helping Claire source many of her suppliers