Morning beautiful.  Now, I don't know about you, but I'm noticing more and more brides opting to wear a coloured dress on their wedding day of late, and I dare say I spy a little trend in the making.  And sure as chips is chips, blue is right up there with the best of them, boasting it's popularity as one of brides favourite hues. And I love that.  For blue is a favourite of mine also…
Love My Dress Wedding Blog – Photography Copyright (c) 2013, Sam Gibson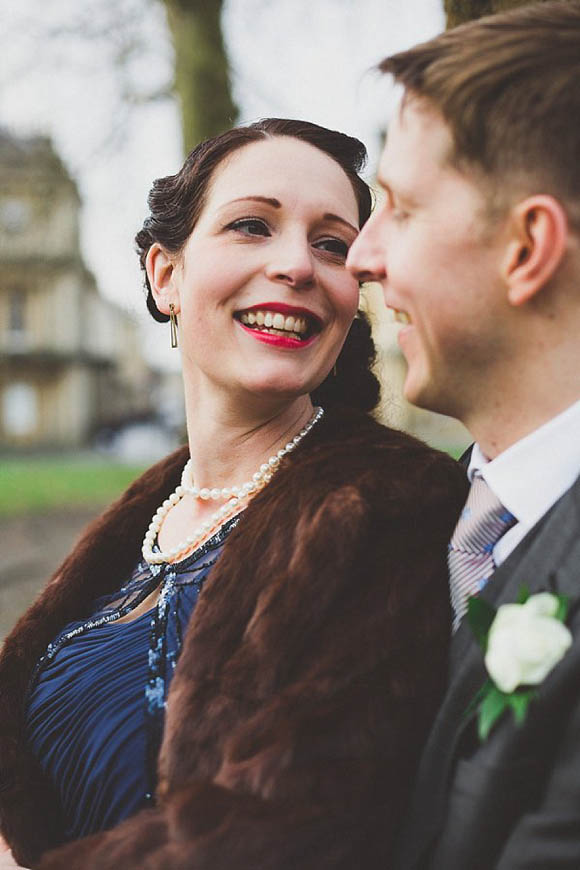 We've already had Ruth and Al
earlier this week, and right now, it's time to ring the ding dong
wedding bells for Caroline and Anthony, whose wedding took place on 15th
December last year at
the Guildhall in Bath followed by lunch at Casanis Bistro and
Restaurant, and then drinks at The Queensbury Hotel.  These wedding photographs were taken by the obviously very talented Sam Gibson.
Caroline wore a striking dark bue dress from Biba at House of Fraser
on here wedding day – a thoughtful choice of colour that she pulls off
with effortless style and panache (looking gooooood lady!)… 
"I've always loved all things glamorous from the 1920's, '30s and 40s –
they were a time when women looked at their most feminine. It made sense for me
to opt for this style for my wedding day!
This
dress captured the style I was after, whilst offering flexibility with
my post-pregnancy shape (it's made from a stretchy fabric with gathering
around the middle which hides a multitude of sins!). I also love the
colour, as I have very pale skin, most white/cream colours make me look
washed out. I also needed to find an off-the-peg dress that was long
enough on me – I'm 5ft11!"
Loving those sparkly gold shoes too (Kurt Geiger Carvela).  Blue and gold, a winner every time I say.  And a bride with a GOLD headpiece – I'd love love to see more brides opt for this colour in their hair – so many go straight for silver without even contemplating it (like I did, I mean, didn't!).
This particuar headpiece is by he Little Things In LIfe…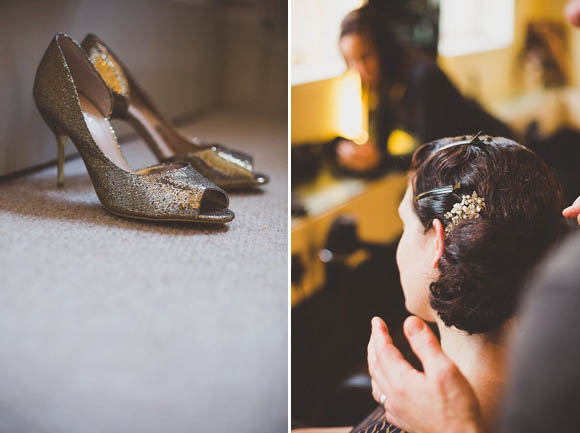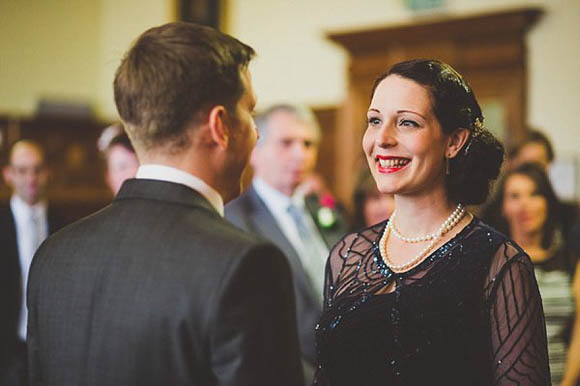 "We used Anemone in Bath.
To be honest, little consideration was given to the flowers due to time
constraints (and lots of sleep deprivation!), so Anthony popped into
Anemone on Milsom Street to organise (and choose!) my bouquet at 4pm the
day before the wedding.
The first time I saw my flowers was when I
arrived at the Guildhall to get married. I think he chose very well,
don't you?!"
"We met through a mutual friend, on a sunny spring bank holiday in a
country pub garden. Anthony proposed to me, 3 ½ years later in that
very same pub garden, on an equally sunny day. This time I was unable to
drink as I was 8 months pregnant with our first child! We were married three months later."
"My beautiful fur jacket was an original 1930s, which used to belong to my late grandmother. This accounted for my 'something old' & 'something borrowed', of course!
I also wore a pearl necklace, which was a gift from my husband for my first birthday with him, from Milleperle – and a pair of pearl and diamond earrings – a wedding gift from my parents-in-law, from Nigel Milne"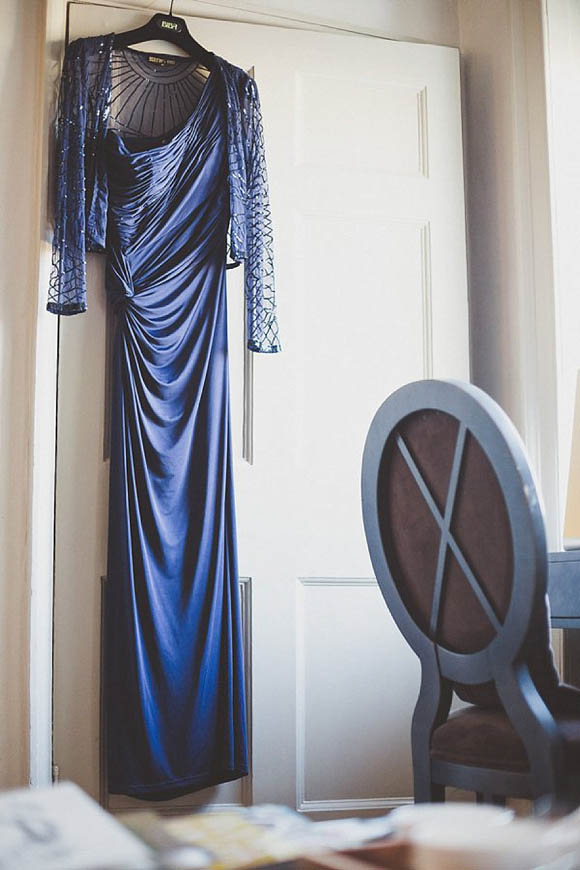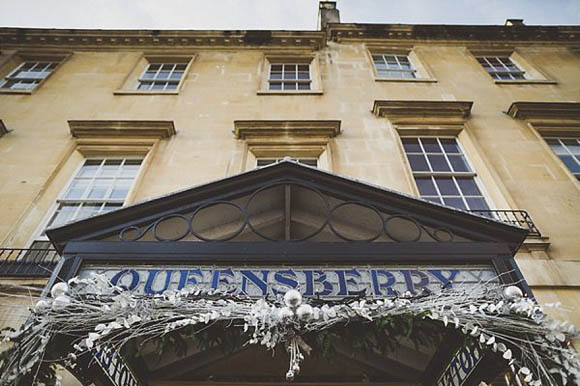 "Our photographer was Sam Gibson – biHaving the right photographer to capture our day was of paramount
importance to us. Candid pictures that represent all the emotion and fun
of the day, act as the greatest aide-memoir in years to come. Rather
than looking at a set of posed pictures and remembering how my feet were
hurting after standing around for so long, and how hungry we all were
whilst we were waiting for all the formal pics to be taken – we can look
at Sam's wonderful shots and think "I remember exactly what that person
said in that very moment when everyone erupted in laughter!".
ou only
capture true emotions with documentary style photography, and Sam is
incredibly talented at just that. He has an unbelievable ability to spot
something memorable, right before it happens, so he never misses a
thing! He was a true pleasure to work with."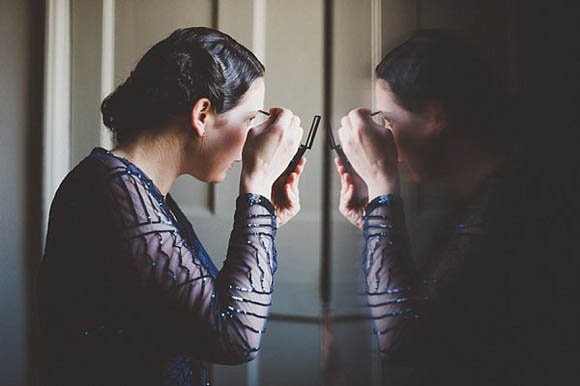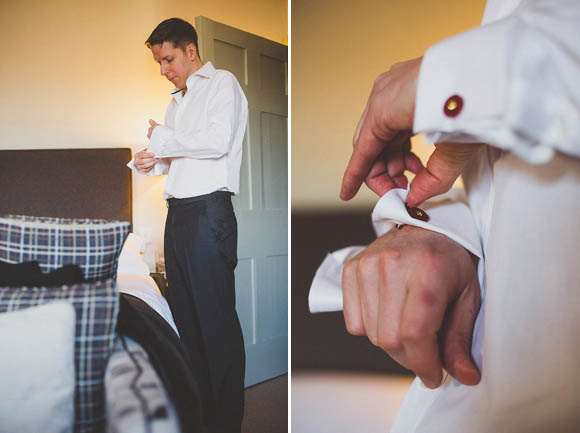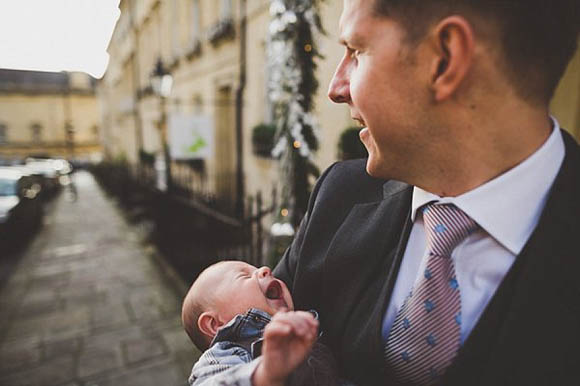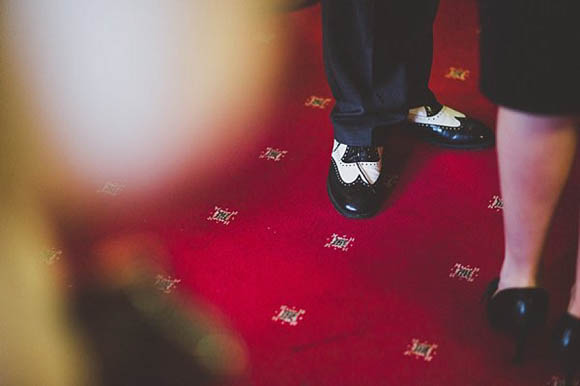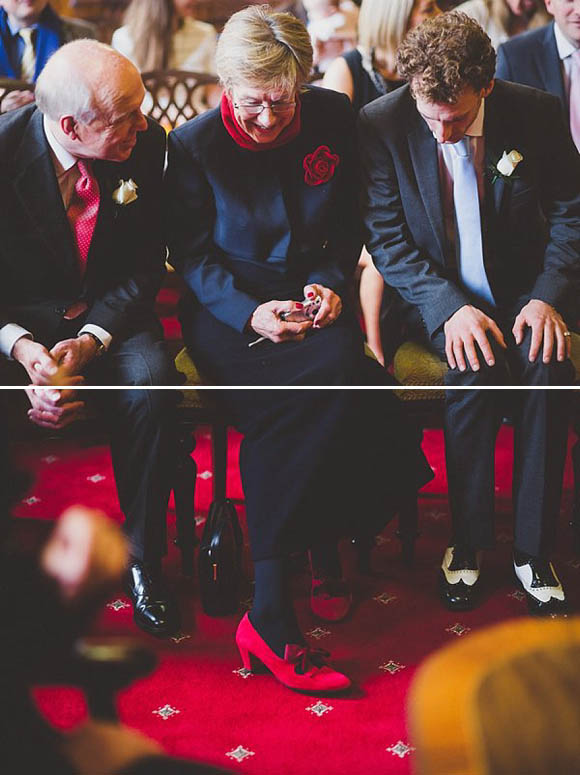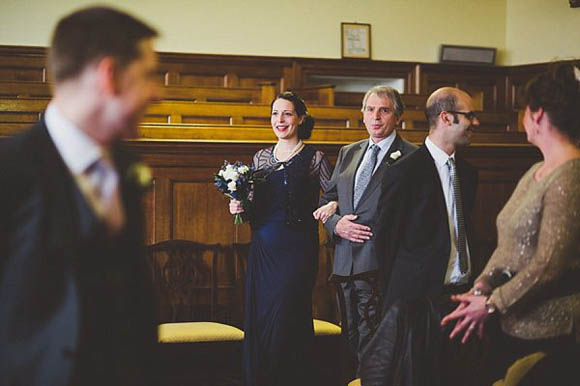 "We didn't
choose our readings. We chose the friends we wanted to read at our
ceremony, and left it to them to choose whatever they wanted to read on
the day. We heard them for the first time, during our ceremony, which
was
We had two readings, the first was from Captain
Corellis Mandolin – 'Love is a Temporary Madness', a truly beautiful
reading. The second was a very personal emotional, and humorous reading,
written and read especially for us by our good friend Wendy (from
Funtastic)."
"No, but we walked out of the ceremony
to Bobby Darin's 'Beyond the Sea'. The ceremony was by far our favourite
part of the day. It was genuine, heartfelt, and very emotional to
declare our vows to each other, in front of our nearest and dearest."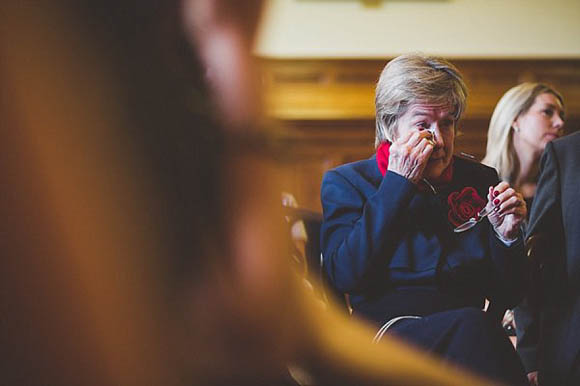 I used my late mother's wedding ring, but had it altered to fit me
at Liz and Lee's Jewellery in Bartlett Street Antiques Centre. Anthony
also got his ring made to match the style of my ring, at the same shop.
They're very amenable to special requests, and have one of the best
selections of antique and vintage fine jewellery in the area."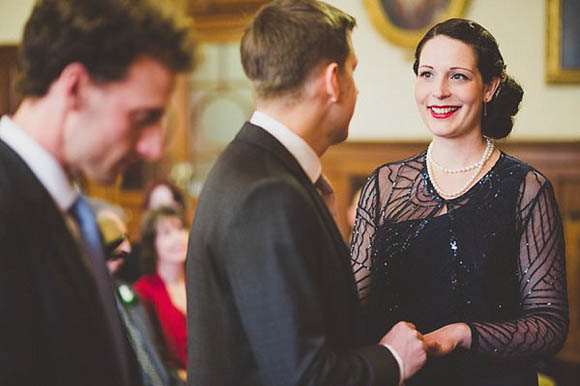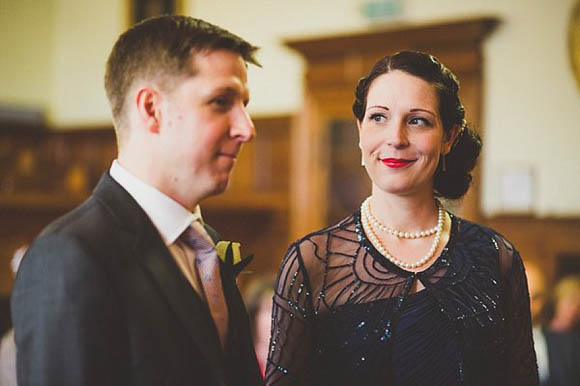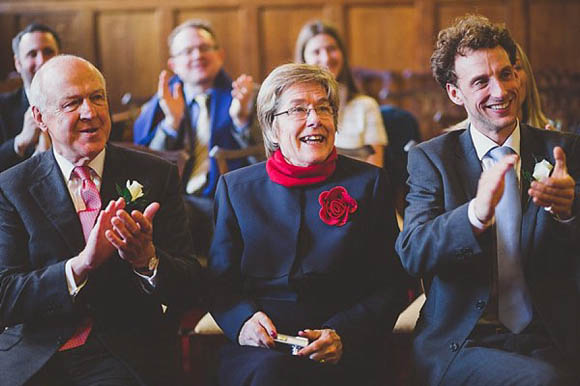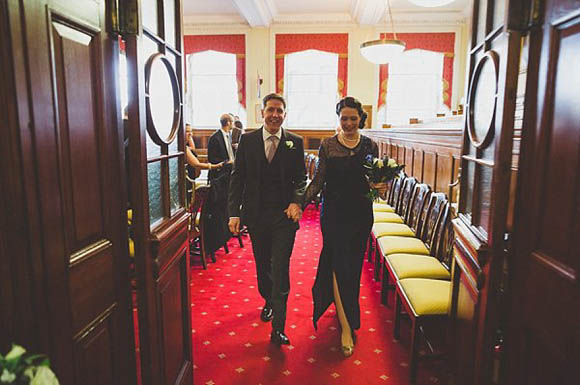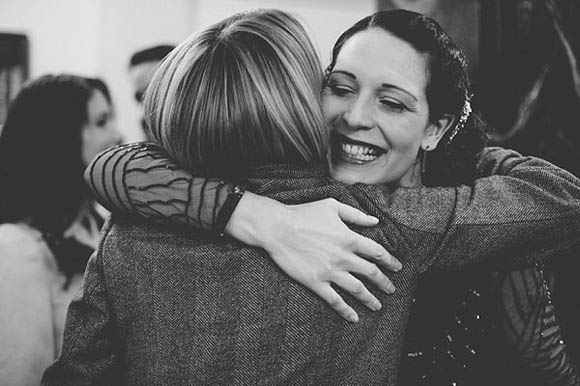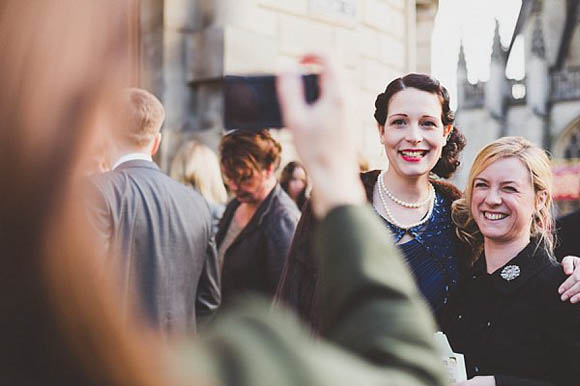 "We had our reception at Casanis Bistro in Saville Row, Bath
The food and service was outstanding. Uncompromised quality, in
stylish, informal surroundings. Perfect for a small, intimate wedding."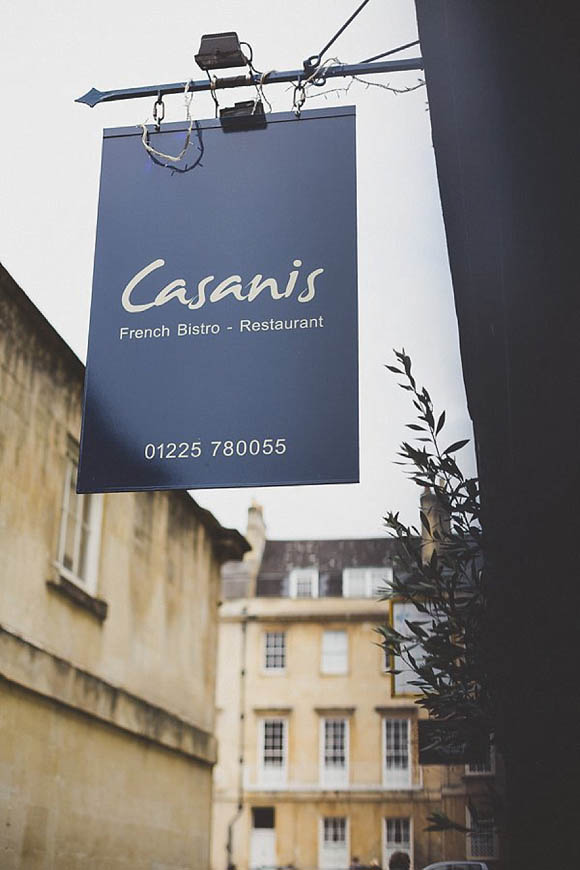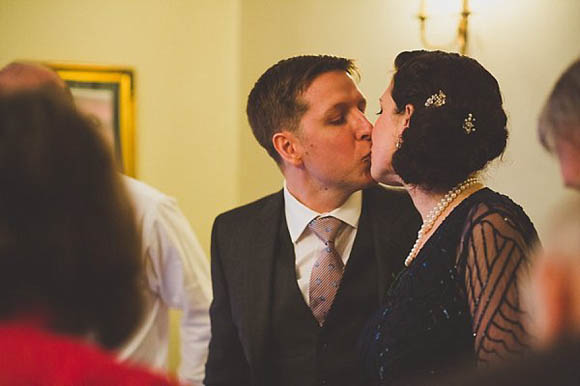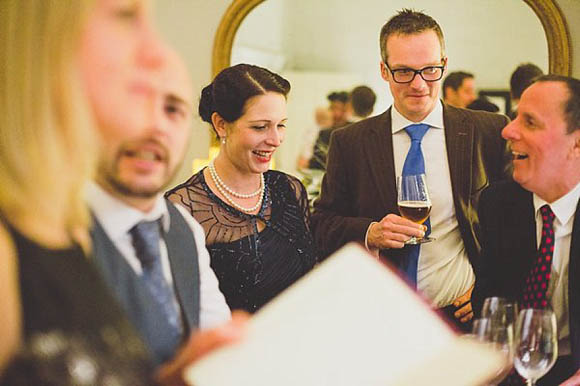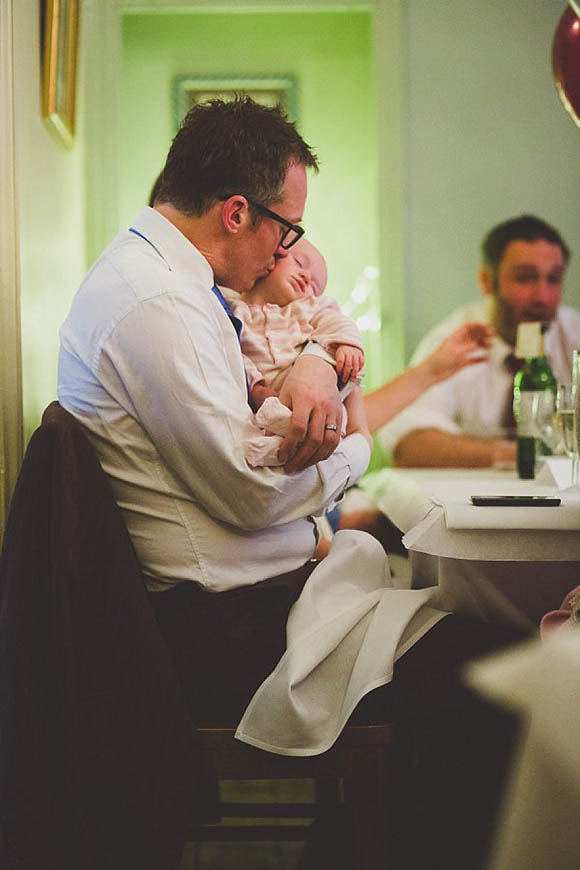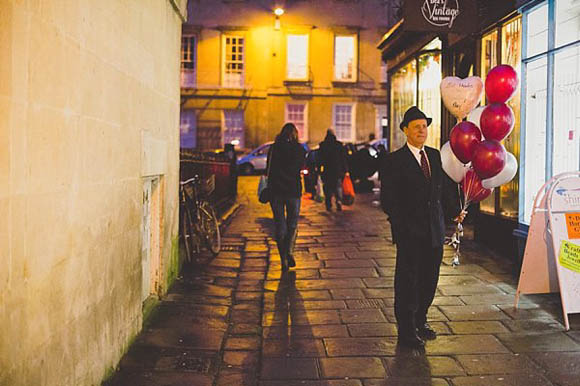 Words of Wedded Wisdom…
"I forgot to order a wedding cake!  …but if I had
more time (and a bigger budget), I would have ordered a croquembouche
from Bertinet's Kitchen. My mother was French, and this is a traditional
'wedding cake' for French weddings. My maternal grandmother used to
make them for all the French family weddings when she was alive – she was
a professional chef, and even Richard Bertinet would struggle to make a
croquembouche as good as hers! I reckon he'd have been the next best
thing though
Classically elegant and beautiful and also, I hope, encouraging of those brides who really really wan't to, but aren't sure about wearing a non-white wedding dress.  Ladies, WEAR WHAT YOU WANT ON YOUR WEDDING DAY! Stick to tradition or toss it aside with the practice confetti.  I'm all for doing something a little different like lovely Caroline did – she doesn't look any less bridal afterall, does she? She looks darn right knock out glamorous and gorgeous if you ask me.  Huge congrats to you Caroline and thank you for sharing your wedding day with us today.
Big love to Sam Gibson too – one fine talent behind the lens.
Readers, are you going for a non-white dress? If so, what cololour have you, or would you plump for?
Annabel

Photographer – Sam Gibson
Venue – Guildhall in Bath + Casanis Bistro and
Restaurant + The Queensbury Hotel
Wedding Dress – Biba at House of Fraser
Brides Shoes – Kurt Geiger Carvela
Bride's accessories – The Little Things In LIfe
Grooms Suit – Austin Reed + Church's Shoes + Paul Smith tie + Cufflinks via Nigel Milne
Florist – Anem none in Bath
Hair Stylist – Phil at Artizan hairdressers on Bartlett Street, Bath