Morning beautiful people.  Now before I forget, I wish to let you folk who didn't have a chance to log in to Love My Dress over the weekend, about this Jolly Edition feature and the lovely 10% saving they are offering to all Love My Dress readers before April. 
Have you had a lovely weekend? Is it back to the grindstone for you today? Let us help ease you in to a world of escapism, joy and celebration if that's the case, with the first of our real weddings this week, something truly elegant, a little decadent and glamorous through and through;  Ruthie and Alistair tied the knot with a Humanist ceremony on 17th of November 2012 at Prestonfield House in Edinburgh.  I love that Ruth opted for an entirely non-traditional wedding dress, in my favourite shade of blue in the world, a design by Ghost at John Lewis, and how elegant does she look in her original vintage fur?
"Wedding dress shopping was my least favourite part of wedding
planning by a mile. I just felt a little awkward in 'bridey' dresses;
like I was playing dress up. My sister nailed it on the head one day –
she said that I just wasn't one of those girls who would burst out
crying in front of a mirror in my wedding dress.  After that it took the
pressure off and in the end I chose the navy dress because I felt more
comfortable in it than in the more traditional dresses.
Believe it or
not I wouldn't say I really I loved my wedding dress but it was quite
elegant and simple which meant I could indulge my love of accessories.   Al loved that I hadn't chosen a typical wedding dress."
Love My Dress Wedding Blog – Photography Copyright (c) 2012, Christopher Currie Photography
"I borrowed my Mum's diamond tennis bracelet for the day – I was a wee bit sad when I had to hand it back. SOB! 
The little clutch bag was bought at a car boot sale in Hampshire about
10-15 years ago for a £1. I think it's from the 1930's so it was very
fitting for my dress.
I bought the fur cape at The Glasgow Vintage Co.; it was so lovely and warm."
"We wanted to have a relaxed day with a decadent dinner party vibe as we, and a lot of our guests, are 'foodies'.  We
wanted a day that reflected who we were and didn't want to stick to
tradition for tradition's sake. We chose the ones that meant something
to us and ignored the rest. Thankfully our families were pretty
understanding which made it a lot easier.
From
early on we wanted the day to be a reflection of the things we love –
there were lots of little nods through out the day from foraging to art
deco design, our love of Carl Sagan, Lillet aperitifs, stinky cheese boards and even cheesier music."
"Al and I met at a life drawing class in Edinburgh over 7
years ago. He proposed 4 ½ years later under the stars when we were
trekking in the Atlas mountains in Morocco. I was wearing thermals so I
certainly wasn't expecting it! We didn't start planning until March 2012
but it was plenty of time for a small wedding.  Initially we had planned on getting married under the
cherry blossom in New York but the reality of not being able to have our
wonderful grandparents there soon made us reconsider Scotland. We only
looked at one other venue before choosing Prestonfield House in Edinburgh, the city where we met and live.
Prestonfield
is a 300 year old house converted to an opulent 5 star hotel which
somehow manages to maintain a very comfortable old country estate type
feel.  Ayesha, the wedding coordinator at Prestonfield was beyond amazing.
She was so accommodating of our quirky ideas and really went above and
beyond the call of duty to make sure things were just right on the day."
"Al went all out and had a bespoke tweed jacket and family tartan kilt made by 21st Century Kilts.
Literally hundreds of little decisions were made by Al to personalise
it. It even had a Paisley pattern silk lining which was a nod to his
hometown.
He also had the sporran made to order.
He had our favourite star constellation punched into the leather as
well our wedding date marked inside. No excuses for forgetting our
anniversary!  Al's shoes were from Camper as he didn't fancy the more traditional options."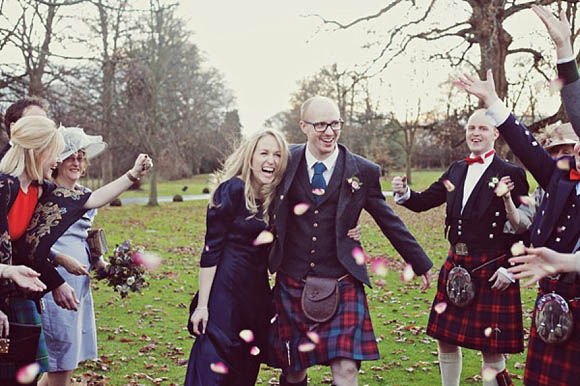 These gorgeous shoes are a Jonak design, a wee purchase Ruthie made whilst holidaying in Paris…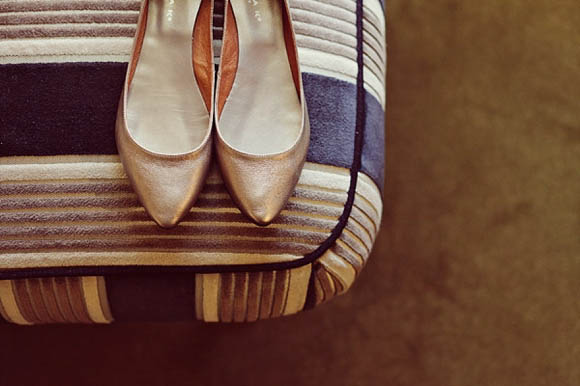 "I absolutely love flowers and it was probably the detail I
had spent the most time researching. I had hoped for an unusual loose
wintery hellebore bouquet but there was an issue with the order and
essentially a very 'wedding' tight rose bouquet arrived instead. I was
gutted. In the end the florist re-did all the flowers about an hour and a
half before the wedding which were much closer in feel to what we had
originally discussed."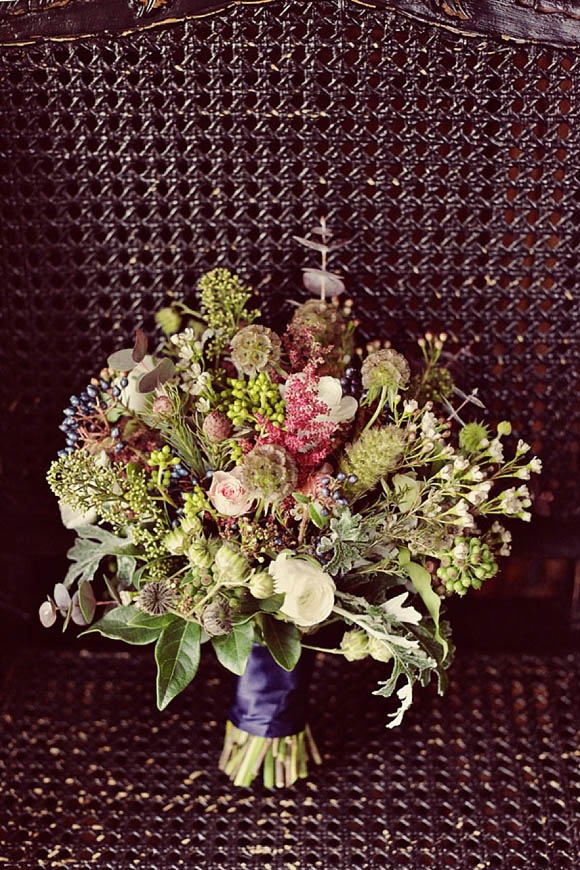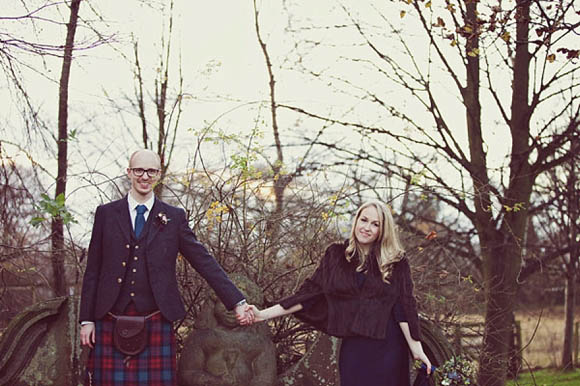 "Alistair and I did all the stationary. Al
painted a gorgeous invite complete with us and peacocks! We used a
black and white version of this image for the cover of the ceremony
programs too…"
The following image was painted by the Groom himself and can be found on his blog – isn't it super gorgeous?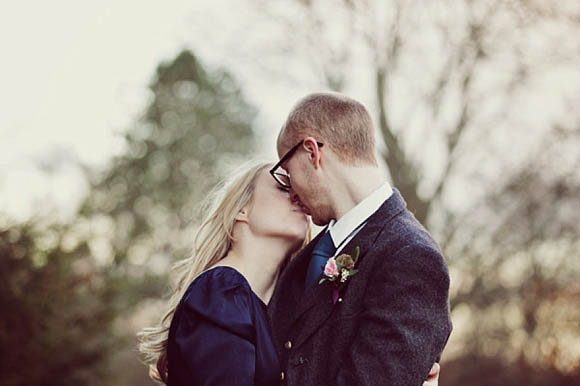 " We love nature so I made little envelopes with 'bee friendly' wild flower mix.   As
a lot of our guests were staying over I made little welcome bags for
their rooms. There was a wee note, a guide to who's who at the wedding,
tissues, Edinburgh Rock and hangover cures…"
"Our photographers were Chris and Gillian of Christopher Currie Photography.
Their style is relaxed and a little quirky which suited us down to the
ground. They were also a genuine pleasure to have around on they day –
they were really friendly and managed to blend in great with the small
group."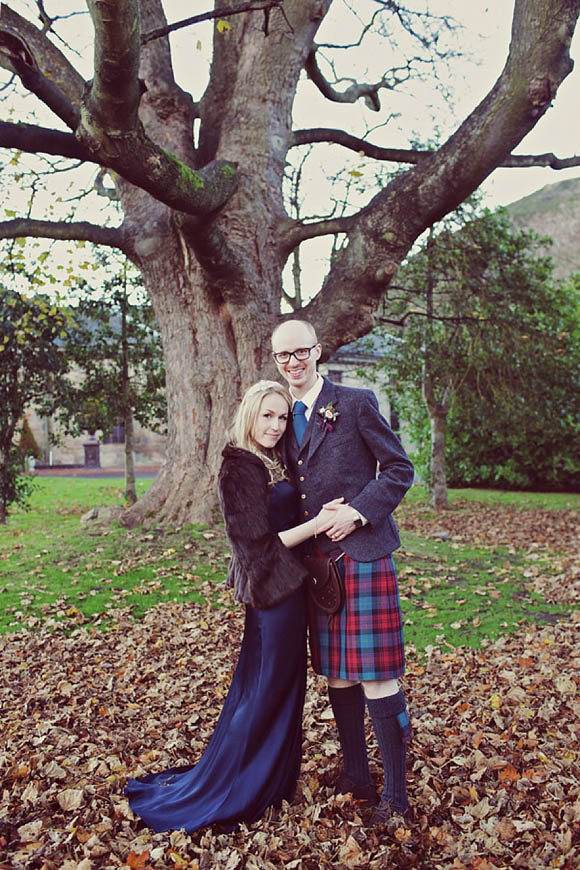 "I hadn't planned on having someone to do my make up but about 6 weeks before I booked Rosie Fraser
and I'm so glad I did. I don't think my nervous, shaky hands would have
managed to apply the liquid eyeliner without it looking a bit scary!"
"As we only had a very small wedding, 21 of us in total, I didn't
want to have bridesmaidy bridesmaids. My sister and bessies were fab
throughout the planning process and were there to get me ready and drink
champagne on the morning of the wedding. My friends Ali and Moira
bought me a gorgeous vintage compact with they got engraved at Al's
Uncle's shop – it was a really touching moment."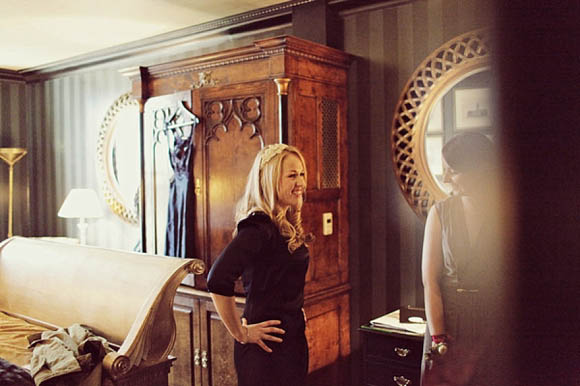 "We love our own open fire at home so the thought of getting
married in front of a log fire really appealed to us. When we visited it
was really easy to imagine an intimate, cosy, winter wedding. When we
saw the peacocks wandering around the grounds we were totally sold!"
"We loved having the freedom to personalise our ceremony which
was positively encouraged by Brian, who was our Humanist celebrant. We
wrote personal promises to each other that were a surprise until the
ceremony. We also said our own version of the more traditional vows.  I remember looking around the room at one point and almost everyone was crying!!! I'm hoping it was in a good way…"
"Al's best friend Neil read an excerpt from 'the Pale Blue Dot' by
Carl Sagan, Al's sister Gail read 'Marriage Joins Two People in the
Circle of its Love' by Edmund O'Neill and lastly my friend Moira read an
excerpt from the movie 'Before Sunrise'.  All the readings
really meant something to us. The first is how Al and I try to see the
world, the second reading is about our feelings on marriage and the last
reading is about how we feel about love.
We
really did have a great time all day – I think I'm smiling in most of
the photos. Our very lovely and talented friends Alison and Max sang
'Wouldn't it be Nice' by the Beach Boys during the ceremony – it was
amazing standing there with Al, soaking it all in.  Another highlight
was after everyone else had gone to bed Al and I went and relaxed in
front of the fire. Al was so happy and wouldn't stop talking about how
great the day was!! Although I had done most of the legwork, all the key
decisions were made together and all the small ones I kept trying to
think what Al would like. It just such a great feeling knowing all had
gone well and my new husband was so happy – it felt like a great start
to married life."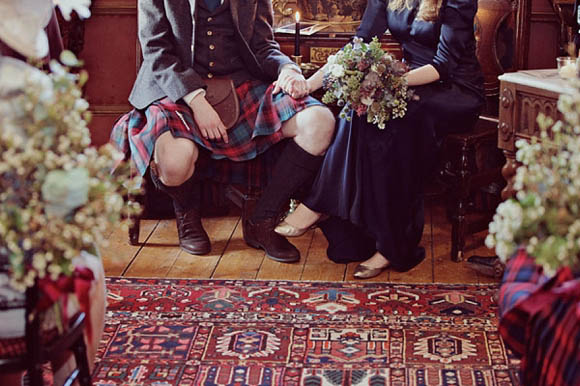 "Prestonfield is pretty plush so it didn't need much in the way
of decoration. The majority of the decoration that we added we already
had in the flat or we found!! I didn't really like the idea of buying a
lot of things that wouldn't necessarily be useful after the wedding.   We
found the chalkboard that we used for a table plan in the street and
then repainted it. The wishing tree we gathered when we were out walking
in the woods.
 I painted old wine bottles with
blackboard paint for the table names (both of which we already had). We
also already had the old picture frame which I used to string up some
photos of us and our families.   I'm a big fan of posh candles
so we used the ones we already had and dotted them around the hotel.
It's lovely remembering the wedding every time I smell them now.   I
think the only things I bought were the dried rose petals for confetti
and the little luggage tags used for name places and to write messages
for the wishing tree."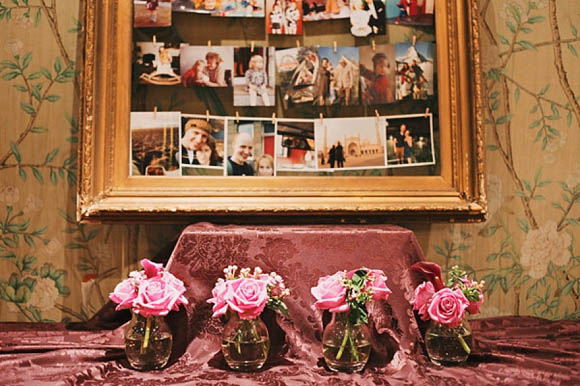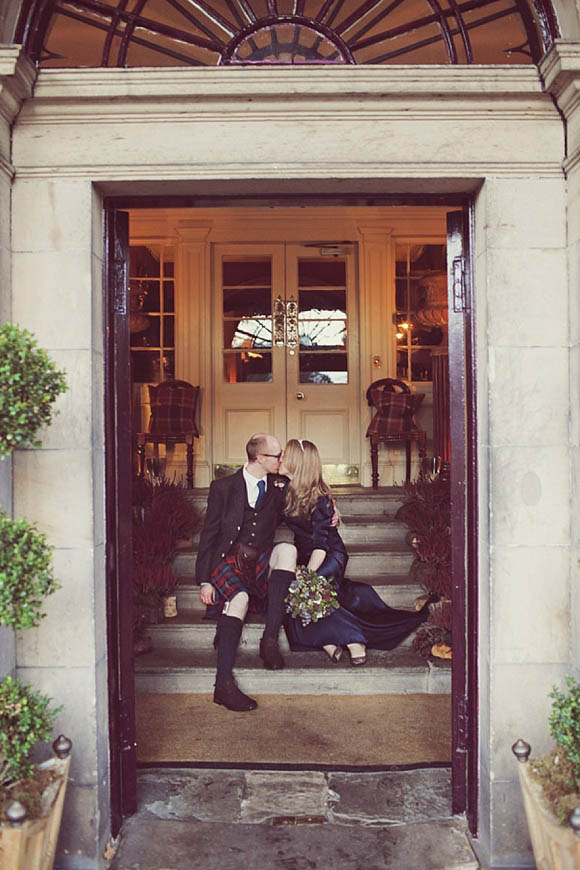 Words of Wedded Wisdom…
"The night before the
wedding 20 of us went out for dinner and in hindsight I should have
delegated the logistics to someone else. I was knackered by the end of
it!
We stayed together the night before the wedding and had
breakfast in our room in the morning. It was nice to have that time
together and to share all the excitement. It was a really lovely start
to the day. Don't be afraid to break with tradition to have the day you
want.
Although planning the wedding was WWWAAAYYY more work
than I ever imagined it would be I wouldn't change a thing. The little
details that personalise the day ARE important and help make the day
your own. That being said it does help to remember 'if at the end of the
day you are married then the day has been a success'. Thinking that way
helps keep it all in perspective!
 Love my dress
was a fab help during the planning process – it was great to read the
advice from past brides and to see less 'traditional' weddings that you
wouldn't see in all the usual wedding magazines."
Love it when a bride doesn't feel pressured by tradition and does her own thing. Anyone else wearing blue on their wedding day? Check this bride out that I'll be featuring very soon.  You can also follow other brides that favoured blue hues on their wedding here.
Huge thanks to Christopher Currie Photography for sharing these photographs, please take a moment to visit this talented photographers website, you can see many more weddings shot by Christopher Currie right here on Love My Dress.
Back around lunch time my loves,
Annabel
Photographer – Christopher Currie Photography
Venue – Prestonfield House in Edinburgh
Wedding Planner/Stylist – Ayesha, the wedding coordinator at Prestonfield House
Wedding Dress – Ghost at John Lewis.
Brides Shoes – Jonak (bought on holiday in Paris)
Brides Hair Accessories – Millieicaro from Etsy
Grooms – 21st Century Kilts + Sporran Nation + Camper shoes
Cakes – patisseries and macaroons
Entertainment – Alison & Max via The Muswell Hill Sessions
Hair Stylist – Neil Barton
Makeup Artist – Rosie Fraser