Morning gorgeous! How are you? This week is full to bursting with weddingy goodness, including a wedding photography package giveaway, worth over £1,500.  We have a reputation for running the most fabulous promotions and competitions here at Love My Dress – so brides, if you're still looking for a wedding photographer for your own nuptials, be sure you don't miss out on this opportunity to secure yours for free, by checking in first thing on Wednesday morning.
As usual, I'm opening up the week with one of the most fabulous real weddings we have to share over the next few days. Kate and Ben Smith tied the knot on 15th September last year, at Sudeley Castle in Gloucestershire.  I really do love these photographs, taken by David Jenkins, they are light and beautiful and capture couple Kate and Ben at their most relaxed and joyous.
Kate's incredibly elegant wedding dress was a Vera Wang design, a purchase from Browns Brides…
"I
always wanted something different, and quite simple in fit. I am quite
short and a big dress would have drowned me. My mum actually saw the
dress first.  Off the hanger, it didn't look like much – but as soon as I
tried it on and saw the back of it – I fell in love! It was so beautiful…"
Love My Dress Wedding Blog – Photography Copyright (c) 2013, David Jenkins
"Legally we were married in a civil ceremony in May
2012 – we did this because my Father was diagnosed with cancer in
Janary 2012. I wanted my Dad to be at my wedding so I brought the
legalities forward. I was very lucky I did as he died on 24 August 2012, just three weeks before the wedding at Sudeley. We then had a blessing on 15th
September 2012 and the celebrations as originally planned."
"My
sister is married to Ben's best friend, so we met that
way.  It is all rather neat now that Ben and his best mate are now
Brothers-in-law!"
"My bridemaids all wore dresses by
Belle & Bunty – At our legal marriage in May, I actually wore a  Belle & Bunty dress. I adore them so much I wanted my bridesmaids in them!  They
chose their own style and I chose the blush pink colour."
"My shoes were L.K. Bennett – I found them online, last pair in my size reduced from £250 to £50 – they were meant to be!"
"We chose Sudeley Castle in Gloucestershire because Ben is from the area. It is such a beautiful part of the country we felt lucky to have a connection with it.
We
just wanted it to be an English Countryside wedding. And England didn't
let us down. We had the perfect summer's day. English Sparkling Wine,
and in one of the most beautiful parts of the country."
"One of our favourite parts of the day was having the quiet time after the
drinks reception and before the meal when it was just me, Ben and David, our photographer walking around the grounds having our photos taken in
the warmth of the sunshine – enjoying the peace and quiet."

"My veil was also by Vera WAng.  I just loved the simplicity of it and the way it hung – the
piping made it. Plus you could still see the detail of my dress
underneath"
"Ben and I absolutely loved our photographer David Jenkins
from the second we met. I really wanted to have a good relationship
with the photographer as you spend so much time with them on the day.
David's pictures were perfect, and I never once felt like I had been
taken away from the wedding or my guests – he managed it all so well."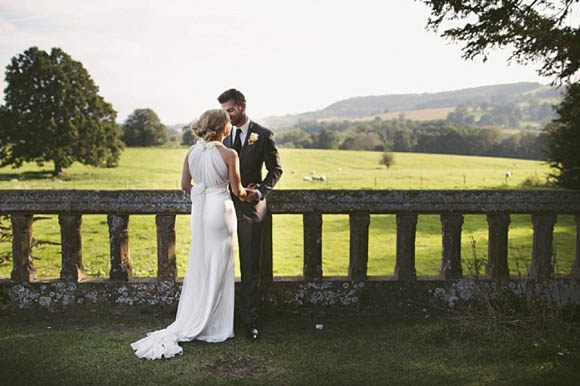 "My brother Justin gave me away – this was a very emotional experience, considering it was meant to be my Dad…"
"I walked down the aisle to the sound of a string quartet playing The Verve's, 'Bitter Sweet Symphony'…"
"We got our wedding cake from Wedding Cakes Gloucestershire.  We wanted a very simple cake. No fuss. Margaret helped us have exactly that."
Ben
loves his music – so we created a CD for everyone. It incuded a
selection of cool music that we thought our guests would enjoy driving
home from the weddding. We called it 'Ben & Kate' (It's all about the love (wedding favour mix).  Some example tracks from the CD are listed below;
All That You Give – Cinematic Orchestra

Easy Things To Do – Shirley Bassey and Nightmare On Wax

I Don't Want Love – The Antlers

You've Got the Love (The xx Remix) Florence And The Machine

Red Socks – Pugie Foals

Heartbeats – Jose Gonzalez

Bloodstream – Stateless

Floating – Jape

Back Of The Van – Ladyhawke

Home – Edward Sharpe & The Magnetic Zeros

Will Do – TV on the Radio

99 Problems – Hugo

Little Bit – Lykke Li

Maps – Yeah Yeah Yeahs

Love Cry – Four Tet

Tainted Love/Where Did Our Love Go – Soft Cell"
Guys, you have impeccable musical taste, I must say! 😉
"Years
ago when Ben and I were driving somewhere the song The Source Ft. Candi
Staton-You've Got The Love came on. I said to Ben if we ever got
married this would be our first dance – and he loved it so much we used
it! We did not want a slow slushy cringy first dance – so this worked
perfectly, because it's a cool song, but the lyrics are still about
love! We hid behind a back drop and the music started playing….everyone
went quiet and then the side of the marquee dropped to reveal the dance
floor – we were both under a huge disco ball dancing to 'You've Got the
Love' – cocktails in hand!"
Words of Wedded Wisdom…
"Try
and enjoy every second of it. Don't get caught up in being a
Brideziller! Enjoy the fittings, the decisions, the time spent with your
bridesmaids and Mum. Every aspect – make it a lovely year long memory
(or however long you are planning your wedding for!)"
Just marvellous – and elegant and so, so chic.  Kate, I adore your dress, it's looks like it was designed with you in mind, it's perfect.  I'm so sorry your Father could not make it to your beautiful wedding, I know he will have been there in spirit, beaming from ear to ear no doubt 😉
Huge thanks to David Jenkins for once again furnishing these pages with wedding day elegance. See more from this hugely talented photographer on Love My Dress here.
Fans of those gorgeous Belle & Bunty bridesmaids dresses absolutely *must* view this (their drop dead gorgeous new collection of wedding dresses) and this (all links featuring Belle & Bunty on Love My Dress).  And if you're a fan of Vera Wang, go here.
Any Vera fans in the Love My Dress house this morning?
Much love,
Annabel
Photographer – David Jenkins
Venue – Sudeley Castle in Gloucestershire
Wedding Planner/Stylist –
Wedding Dress – Vera Wang from Browns Brides
Brides Vei – Vera Wang veil
Brides Shoes – L.K. Bennett
Earrings – diamond earrings of my mum's. My Dad gave them to her
Gooms Attire – Reiss
Bridesmaids – Belle & Bunty
Flowers – Broadway Florist
Cake – Wedding Cakes Gloucestershire
Entertainment – Derek Winter/Knight Light Events
Cars/Transport – One Man And His Jaguars
Hair and make-up Artist – Di McDonald
Caterers – Wesley House
Marquee – Mudway Workman