I'm sure all of you romantic souls out there will already have next Thursday circled in your diary.  Yes, that's right, Valentine's Day is just round the corner and with that in mind, today we are bringing you our normal injection of inspiration, tailored to the hopeless romantic…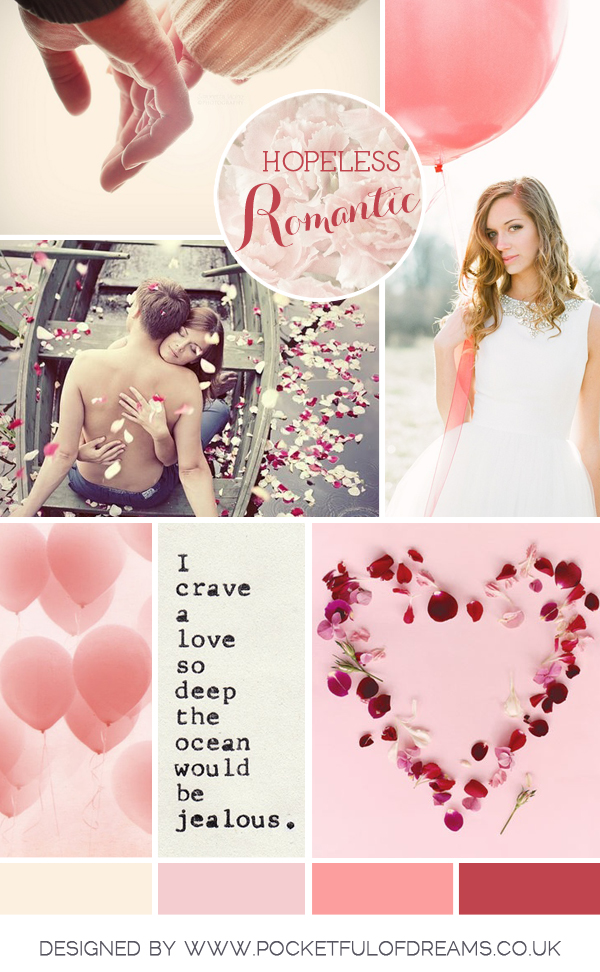 Image Credits: 1. Flickr 2. Coordinately Yours 3. Hipster Core 4. Center Blog 5. We Heart It 6. Sille Parn Pern 7. Tatiana Rorigues
In today's society, Valentine's Day may conjure up images of mass consumerism but we are stripping away the cynicism with this look and focusing on what it's really all about – unashamed, unadulterated romance.
Think floating, diaphanous fabrics paired with natural textures and the most delicate of florals to create a soft prettiness which embraces your very own love story at it's purest form.  And who could resist the lure of pretty balloons, ribbon streamers and perhaps a few ruffles, thrown in for additional texture and interest.
Brought together with a delicate palette of water colour shades: soft cream, blush and dusky pinks.  This is love.  But in soft focus.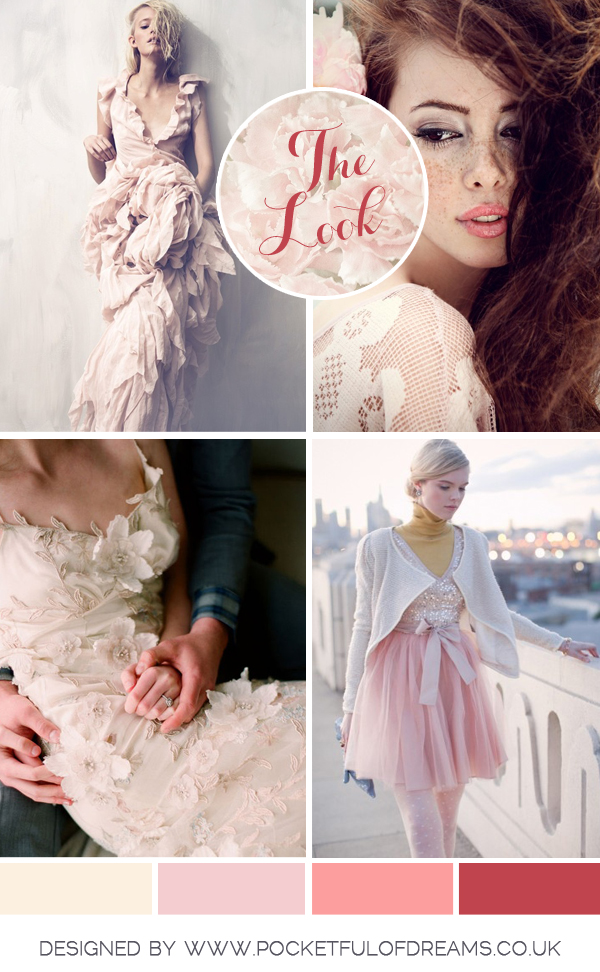 Image Credits: 1. Mikael Schulz 2. Woohair 3. Hipster Core 4. Claire Pettibone 5. Shop Ruche
The hopeless romantic bride embodies this look with the most delectable of gowns.  Look for dresses in light, floaty fabrics and delicate details such as Claire Pettibone's signature embellishments.  Avoid anything too big or structured in style but consider dresses with lace or ruffled detailing.  And don't be afraid to experiment with colour; a blush dress or a hint of the softest pink would be divine.
This look is all about stripping back to beautiful, simple love so complement your dress with a pared back look.  Make up should be gentle and understated; a nude face with a delicate defined eye and a splash of pink across the lips is all you will need to shine.  Wear your hair loose and tumbling or if you want to draw your hair back from your face then opt for loosely tied plaits or add a blowsy flower.
Keep jewellery to a minimum and what could be more romantic than walking down the aisle barefoot?
Dress your maids in dresses of gorgeous tulle in blush pink, matched with cream tights.  Stop the look becoming too saccharine sweet by accessorising with oversized bows and no-nonsense heels in a deep pink.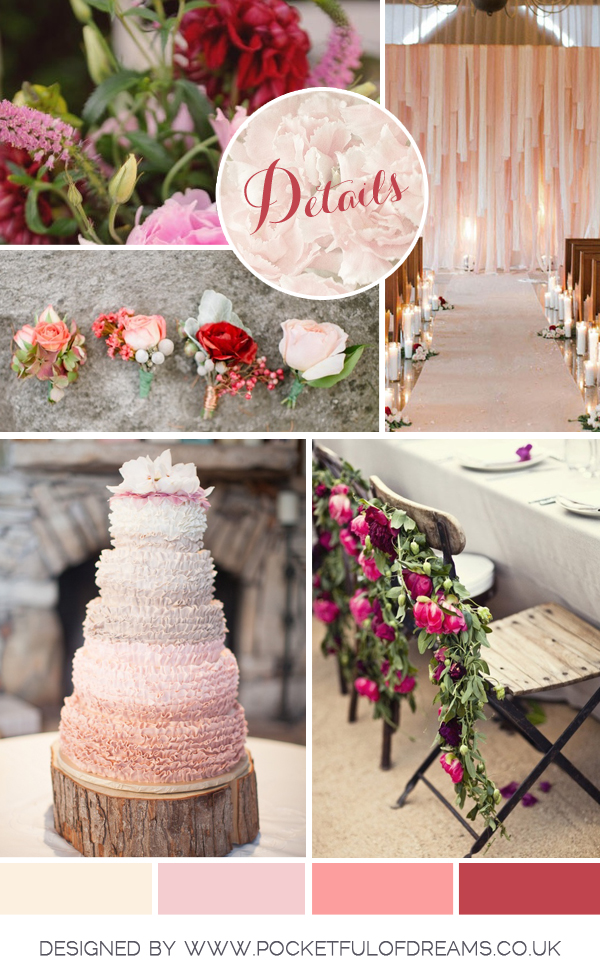 Image credits: 1. Dasha Caffrey 2. Paperweight Weddings 3. Hipster Core  4. Ruffled 5. Blog Luxo de Casa 6. Mayhar Design
  Your florals should be soft and delicate but high impact.  Nothing says romance like the rose, add green foliage and present voluminous centrepieces in cut crystal vases.
  For the ultimately dreamy table setting, complement your florals with coloured glassware; blush water glasses or glass charger plates would add a stunning and unusual twist.  And of course, bath your tables in soft candlelight for the ultimate soft focus finish.
   Consider other exciting floral displays to up the style stakes.  A wall of roses would look breathtaking and we adore the simple but oh-so-effective idea of draping rose garlands from stripped back chairs which would be just perfect for the bride and groom.  And don't forget to use petals for confetti and to add decorative accents to your set ups and displays.
There is huge potential with this look for a range of stunning stationery.  Opt for luxurious stock featuring a washed out floral pattern or for a slightly less polished look, dip dye a rougher stock in watercolours for a simple but highly effective look.
Drape delicate fabric wall hangings in delicate pink to create a delicate but impactful backdrop to your ceremony or wedding breakfast.  Look for ribbons or ruffled fabric to create garlands which add depth and textural interest when hung from the ceiling or chandeliers.
This romantic look is ideally suited for those with a sweet tooth.  Create an eyewateringly beautiful cake table featuring a tall tiered centrepiece cake with delicate sugarcraft embellishment, surrounded by delicate sweet treats such as meringue kisses and of course, the odd rose dotted about.
And finally, go to town with cute personal favours presented in heart shaped presentation boxes.  Or for the children (or big kids), we love the idea of bubbles, presented in a stylish personalised metal tin of course.
A classic, soft and beautiful look just perfect for the romantic soul.  Whatever you get up to next Thursday, have a fabulous and love-filled Valentine's day.
Michelle & Vicki xx
Event Designers and Stylists at Pocketful of Dreams.
Pocketful of Dreams is a duo of creative event designers, passionate about creating beautiful experiences. They design, style and deliver unique weddings tailored to your own personal story.  Email [email protected] to find out more.