Afternoon my loves. My inbox has exploded with votes coming in thick and fast (a bit like the snow that started to fall around an hour ago) and I couldn't be more excited! I'm so looking forward to sharing good news with one of these five fabulous ladies on Saturday that they have just won a £1,550 wedding photography package!  
For today however I'm keen to introduce you to a lady whose name I've known about for a good while now – she being one of the owners of those stalls at the Designer Wedding Show that was always crammed with visitors all prying to take a closer look at her exquisite wedding accessories for brides – and, if they were lucky, try them on too.
Gillion Million creates unique jewellery and headdresses not only with a sense of vintage elegance but also a contemporary appeal to for those brides seeking a more modern look…
In fact, so busy is her show at the Designer Wedding Show – I've never actually been able to even get in to say hello! So, what is it about this lady and her designs that so draws the crowds and adoring legions of bride-to-be fans?
"We recycle antique pearls and vintage jewels and pieces of
jewellery bringing something old into something new. We even hide a
little blue Swarovski crystal into the jewellery to tick the box of
"something blue"! Faux pearls, vintage glass beads and semi
precious-stones are intricately wired together, creating the most
beautiful and precious designs that somehow feel that you are holding
onto a family heirloom, quite magical and completely unique and
personal.
Our clients really love their customer experience and often say it is the best part of their wedding planning."
The two images below are taken from this Love My Dres wedding. Image Copyright Jason Mark Harris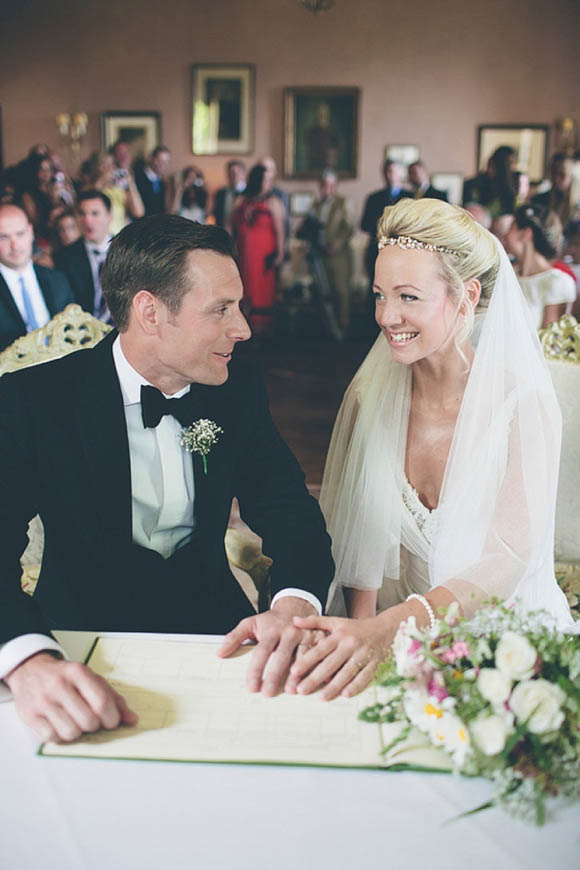 Fashions are of course, forever evolving and Gillian Million's collection moves with the times whilst maintaining an air of inherited beauty…
"My collection includes, exquisite fascinators, chic birdcage veil headdresses, jewelled headbands, replicated 1920's beaded caps, hair pins, cuffs, elegant veils, necklaces both subtle and magnificent, fur stoles, forehead jewellery and back jewellery and all the unimaginable brought to life in her breathtaking shop in Teddington which must be seen to be believed!" (see the video above!)

"It is extremely rewarding to create hair accessories that are unique and individual to each bride; we always have such a lovely time together and I am so proud to be involved in such a special part of their wedding planning. I receive the most amazing and delightful comments from each bride; I even receive communication with further orders of jewellery for 1st year wedding anniversary presents, photos of new born babies and updates on house moves and travels abroad!
So wonderful and special and that is why I simply can't just sell through retailers – you just have to come and visit me and make the choosing of your accessories a truly memorable and special part of your wedding planning."
"I set about designing my own headdress when I found that I couldn't find the right hair accessories to compliment my wedding dress for my New Year's Eve wedding in 1999. Excited by the result and encouraged by the enthusiastic response of others, Gillian Million was launched in February 2002.  Now, my team and I are all about providing fast and efficient delivery of more than 400 exquisite designs are available to online customers."
The beautiful headpiece below was used on the Jenny Packham and Rosa Clara photoshoot, featured on Love My Dress here.
Clients booking bespoke appointments will benefit from the very special, unique and valued relationship which Gillian builds with her clients as she aims to exceed the expectations of every bride. 
"I offer a warm welcome to each client into my boutique, where they can sit with a cup of tea, fabric swatches, magazine cuttings, sketch pads and discuss accessory needs in as much detail as she pleases, for her wedding day. My clients then spend time in my studio, surrounded by countless examples of Gillion Million creations.
Gillian tells me that lately, she's been receiving a number of calls from the husband to with requests to redesign the bridal headdress into another piece of jewellery for the bride's 1st year wedding anniversary present as a surprise – isn't that the ultimate in romance and thoughtfulness!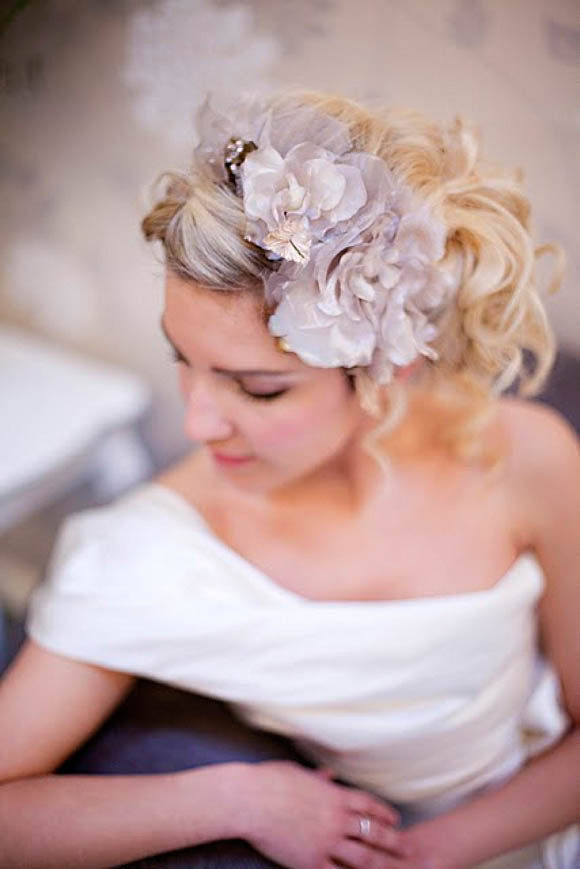 "We have developed a diverse
collection over 15 years to suit the requirements of all brides.  We
listen to all our brides and if we don't have exactly what they are
looking for, we create it and it becomes a new product offering.
I'm really am confident in saying that we can design everything and anything a stylish bride might want by way of accessories – from hair accessories including tiaras, combs, pins, feathers, embroidered skull caps, vintage headbands, forehead wraps and jewellery.  We also create and design veils, boleros, capes and shrugs, faux fur stoles.   We even sell wellington boots, umbrellas and parasols and we design and create everything that is not a hat for our mother of the brides.  We provide all bridesmaids accessories including beaded ballet shoes and we have a fine jewellery collection and a range of beautiful accessories from Andrew Prince which we sell in store.
I'm really proud to say that all designs are created in our Teddington Studio."
"We work within our clients budget however small.  This is so important to us that we stay within the acceptable budgets and expectations of our brides.
We also hire accessories, recycle accessories into something to
be worn after the wedding day, and we offer a buy back option where a
bride returns her accessory after the wedding in her own time and upon
resale, we offer 50% of the sale price back to the bride.  So there are
some excellent choices for brides with a limited budget who may fall in
love with a Gillion Million design."
The images below are taken from this wedding that features in full on Love My Dress here. Image Credit Eliza Claire.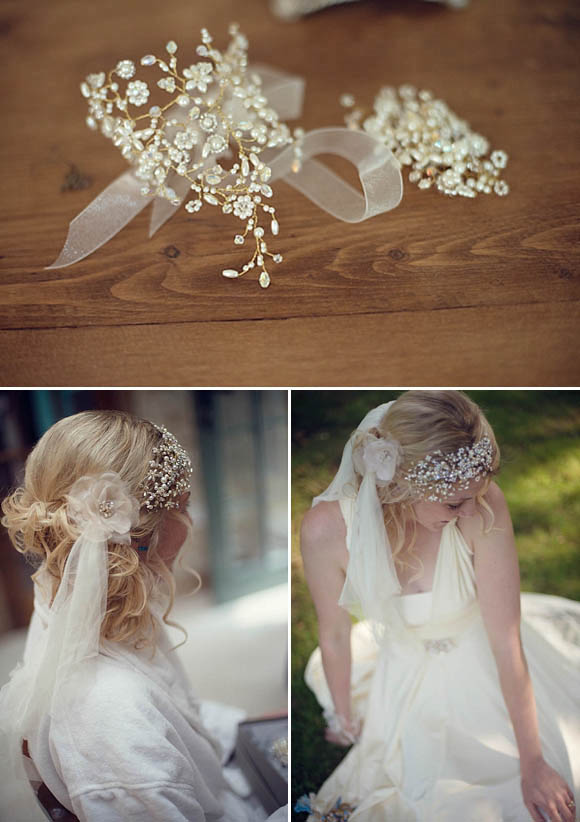 "We use the best of materials from freshwater pearls, antique faux pearls, silver plated wiring, swaroski crystal, silver lined bugle beads. I believe that the unique nature of our brand is our personal bespoke service and a wealth of experience spanning 15 years of designs and creations and the fact that we have a beautiful shop which provides a very special and valued experience to all our brides.  Customer service is what our brand is all about."
"With each in-store appointment, we deliver a personal and knowledgeable hour that is focused on the bride.  We have over 400 designs that we can try on and explore but first we spend 20 minutes understanding the feel of the wedding, the personality of the bride, the venue, the dress and the budget.  This important time ensures that we get it absolutely right every time…"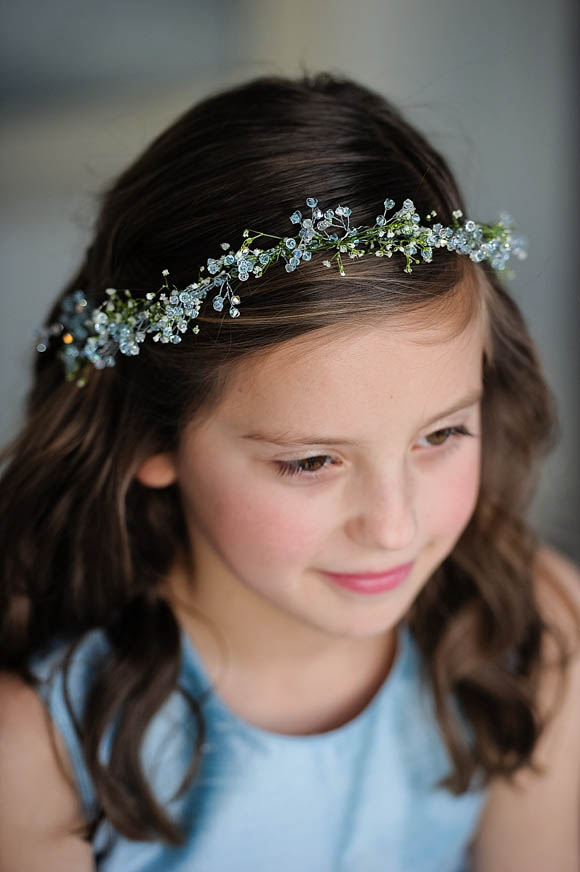 Beautiful, I mean, really, isn't it? And don't you get the feeling reading through this that Gillian hugely cares about the experience each and every one of her clients receive? And that gets the Love My Dress endorsement for sure.
Gillian Million is exhibiting at The National Wedding Show at Olympia this and next month.  To view a handy question and answers list, click here and to learn more about Gillian herself, click here.
The Gillion Million boutique can be found at 34 High Street, Teddington, Middlesex, TW11 8EW – and is open 7 days a week, by appointment.  For those who will find it difficult to make a visit to Teddington, Gillian holds Skype sessions with customers all over the world!  Alternatively, you may want to telephone Gillian on 020 – 89770588 or email [email protected]. Gillian Million can also be found on Twitter and Facebook.
Do we have any Gillion Million brides (already or due to be wed)?
With much love,
Annabel
This
is a sponsored post. If you would like to learn more about
our readership, visitor data and analytics and the various advertising
and sponsorship options available, please do not hesitate to get in touch
via [email protected].  We look forward to hearing from you.  Annabel, Franky and the Love My Dress team.