Well well, since she last wrote a cute little DIY feature for us, Erin Hung of Berinmade has only gone and won a fancy pants national award! Congratulations Erin – we knew you'd do it!
Erin has a brand new DIY craft project for you brides today and it's the sweetest thing ever – something fun for your guests to enjoy on your wedding day…
What better way is there to amp up the romantic atmosphere at your celebration than a playful little match-making game? Combine your favourite love story characters to origami items. Ask each  of your guests to pick up an origami bow tie (for male) and heart (for female) and when you open up the dance floor, ask them to find and share a dance with the characters' matches. Let fate take its course and who knows what kind of sparks will fly! Your friends may find you a little cheeky but will thank you later!
All photographs courtesy of Belle and Beau
Photography and styling by Mimi Nicole Events for Berinmade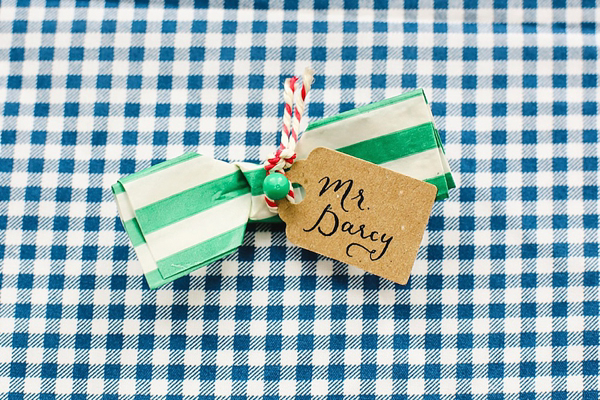 Here's what you'll need:
Candy Stripe Paper Bags in 2-4 colours
Cute thumb pins
Some fabric wrapped around a foamboard
Card tags and twine
Take a stack of candy stripe paper bags, and cut them into squares. Taking individual bags, fold into origami hearts or bowties.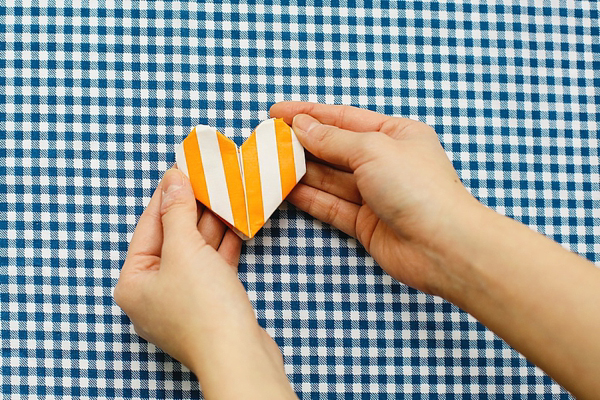 Here are some great origami tutorials for shapes and things you can make:
Hearts, Bow Ties, Neck Ties, Stars, Cranes and Butterflies.
Print out your instructions and paste onto backing card or a greeting card so it'll stand up right.
Lay each shape onto the fabric wrapped board, and take your thumb pins to pin them onto the board.
Attach the name tag onto the origami.
For ideas of love story characters, think of your favourite movies, books and childhood stories together; romantic ones, classic ones, and even cartoon ones! Be sure to know that when your friends pick up characters they identify with, they may be pleased to find that their dance partners have done the same.
Click here to download a PDF version of this tutorial.
You can see many more DIY and 'How To' features on Love My Dress here.
Erin
Berinmade
www.berinmade.com
Berinmade is an award winning UK based wedding stationery and paper goods designer, who ships her beautiful products worldwide.  Please visit www.berinmade.com for further information.  You can also follow Berinmade on Facebook and Twitter.
Erin
Berinmade
www.berinmade.com
This DIY tutorial is written for Love My Dress,
and as such, reproduction on other publications online and in print
is strictly prohibited unless written permission is obtained from www.berinmade.com /

[email protected]

.Berinmade is one of the UKs most exciting up and coming stationery companies. Visit www.berinmade.com for further information.  You can also follow Berinmade on Facebook and Twitter.
– See more at: https://www.lovemydress.net/blog/tag/berinmade/#sthash.KpCtchXv.dpuf