There appears to be a distinct bohemian vibe present on Love My Dress this week.  First of all there was beautiful bride Saria in head to toe Chloe with that pretty flowers circlet in her hair, then I introduced you to Daughters of Simone who specialise in the supply of 1970s original vintage bohemian style wedding dresses and today, Bride Maddy looks fabulous in her bohemian style wedding dress by the fabulous Minna – who is dedicated to creating ethically produced bridal wear.
Maddy and Ankur tied the knot on 8th September at a farm in the glorious countryside surroundings of Somerset and I love how Maddy's dress is so perfect a choice for their laid back, outdoor tipi wedding.
"I wore the Shannon design by Minna – a wedding dress designer who specialises in using eco-friendly design and production techniques…"
Love My Dress Wedding Blog – Images Copyright (c) 2013, Sarah Falugo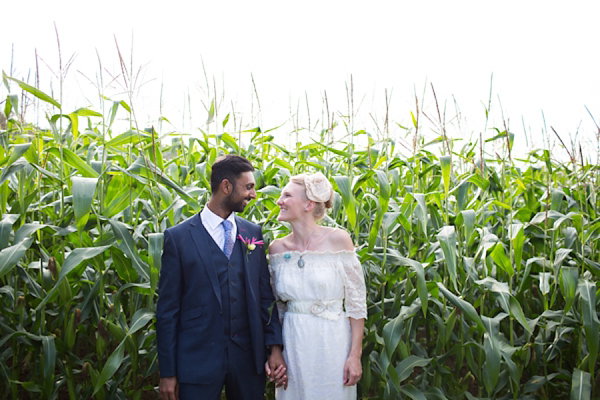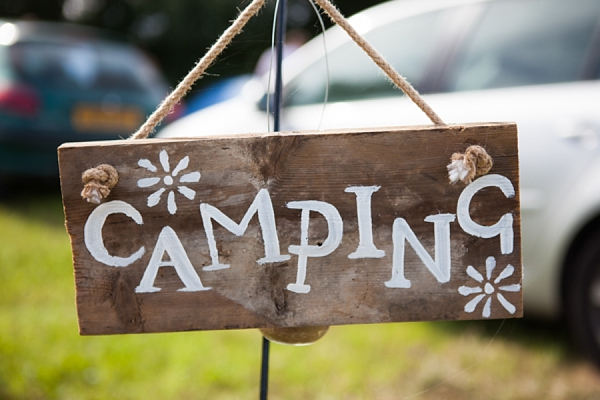 "I loved that my wedding dress was ethically made, using local lace with a
slightly gypsy rural feel to it which very much reflected the aesthetic
of our wedding. The dress would look great with shoes or wellies too, which was great givein
our choice of location was weather dependent. It was very comfortable
and easy to wear but still had that something special. It was just a
beautiful lace dress that fitted well to my shape as it was personally
tailored."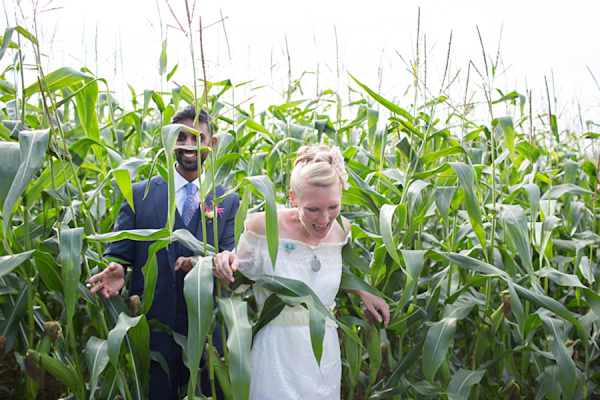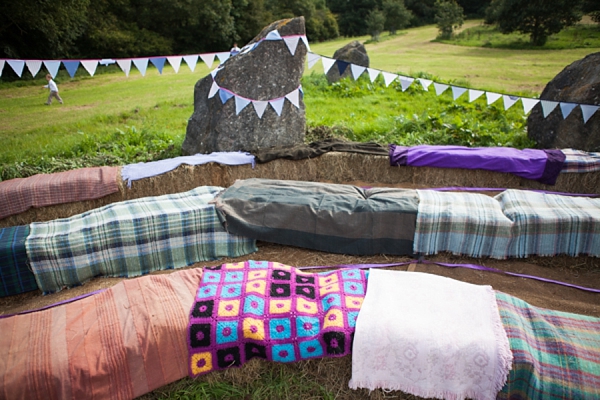 "We did the flowers ourselves by going out to Somerset levels and
cutting some of the marsh rushes and collecting a few wild flowers and
placing them in wine bottles. Our Indian garlands were made of white and
red carnations by Ankur's Mother and friends…"
"We met
at university in Leeds and got engaged 18 months before getting
married.  Ankur proposed in Brighton whilst on impromptu weekend away,
sitting on the beach together. 
Somerset is a special area to both of us, because of the
stunning countryside.  Getting married in a field also reflected our
love of the outdoors. I also grew up nearby.  We used World Inspired
Tents.  Our style of wedding very much reflected our humanist values and our love of the outdoors – we wanted to
create a relaxed atmosphere for us and our guests which was personal
with minimal formality."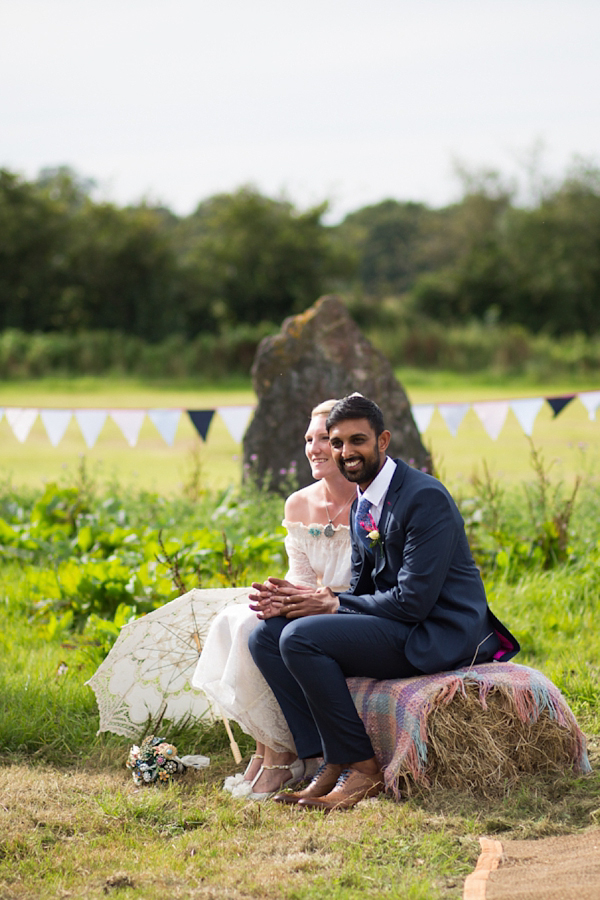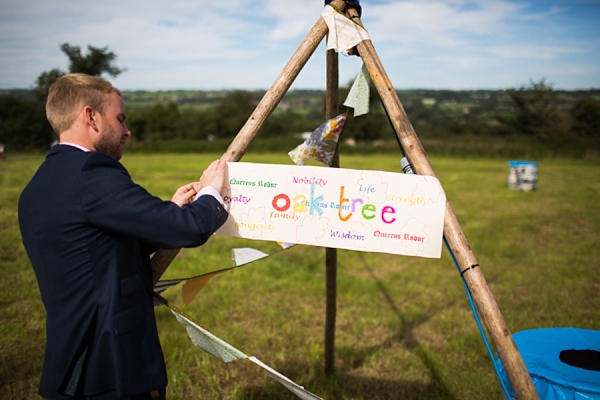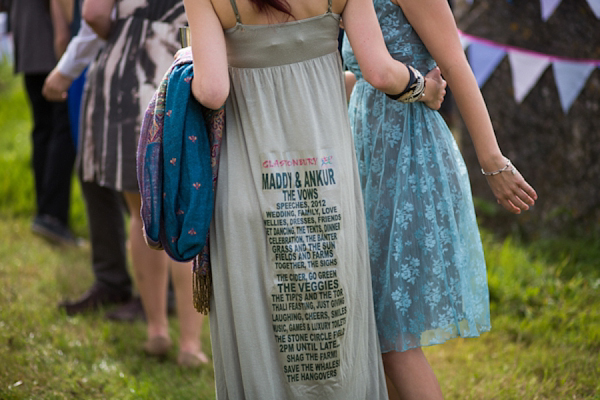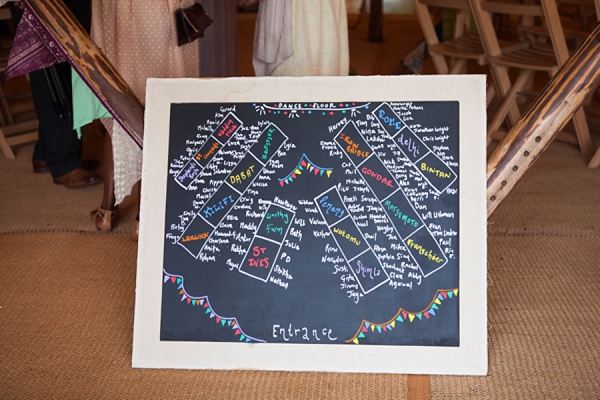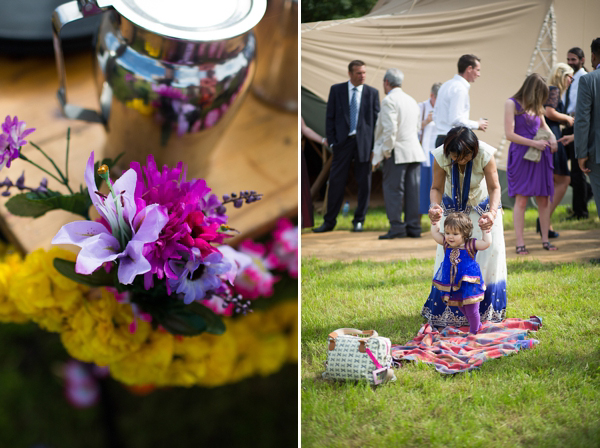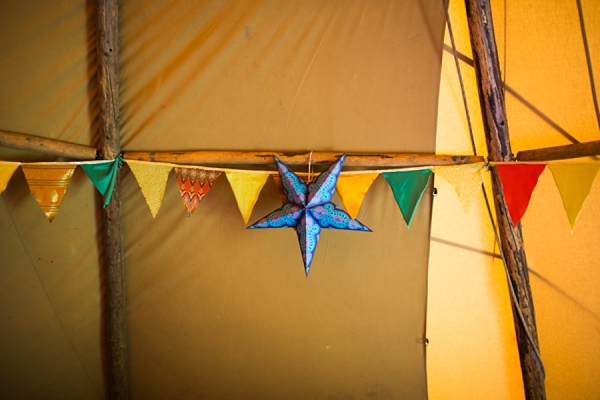 Maddy made her own vintage brooch bouquet by using a variety of different elements gifted from different female friends and family members. How beautiful and what a clever lady!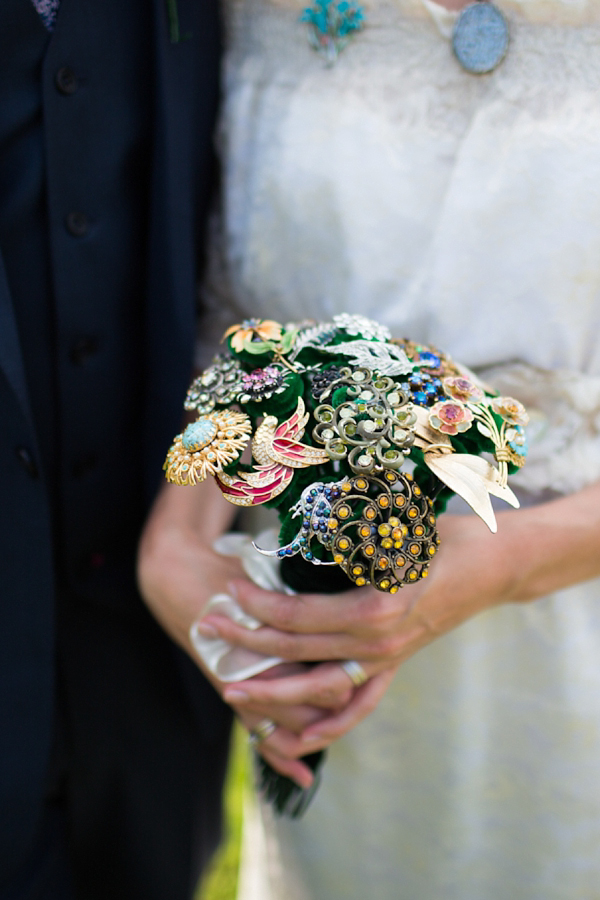 "I wore Irregular Choice
cream satin slimline wedges with a lace and satin flower on the front
and Grecian looking cream and gold twisting strap and buckle over the
top of foot."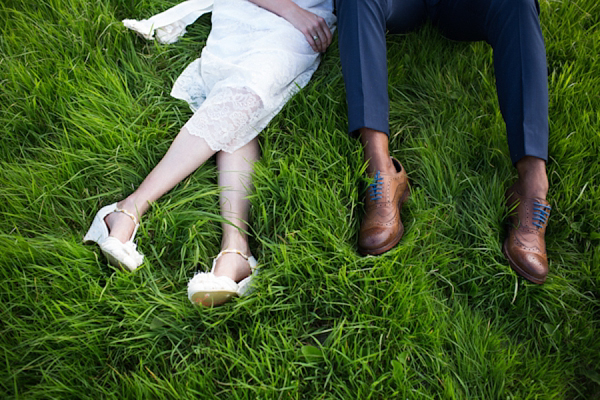 "My necklace was a 1940's silver rose engraved locket found in an antiques stall in London.  My earrings were from notonthehighstreet.com
and were vintage silver metal studs. I also wore my Nan's old brooch –
something old, new to me, borrowed from my mum and blue! I also carried a cream lace parasol.
I wore a large satin flower cream slide in my hair that was handmade by Minna too…"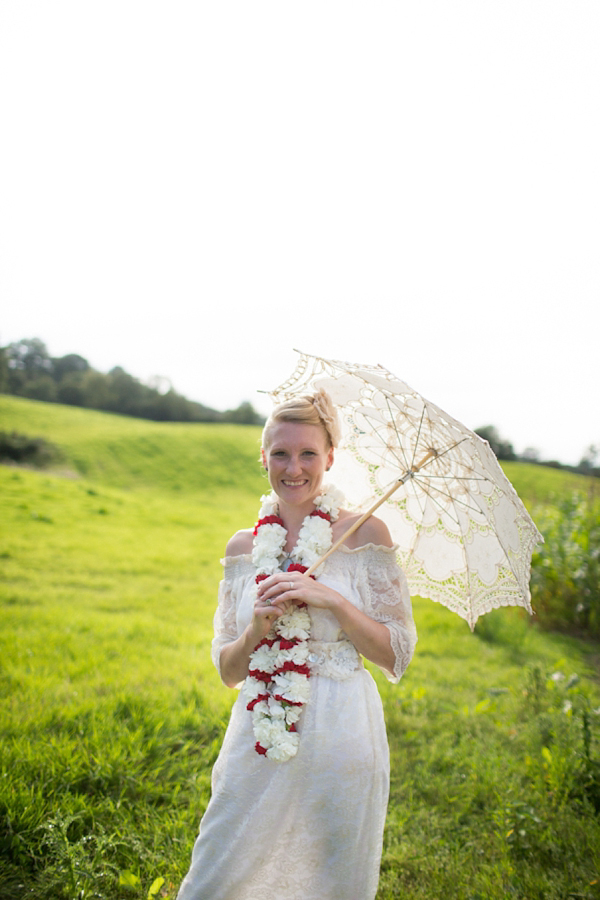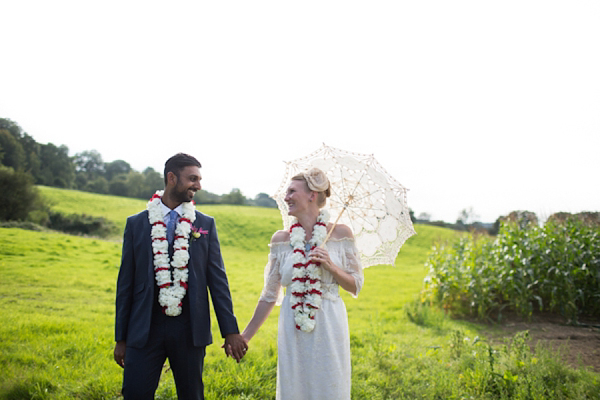 "We handmade lots and lots of
bunting and table runners from multi-coloured indian sari material and
used hanging paper lanterns and star lanterns to decorate the inside of
the tipis. In the snug area we left blankets and brightly coloured
indian textile cushions. Handmade recycled jar lanterns with glass
paints and beads filled with sand and tea lights were used to light up
the tables and hang on shepherd crook stakes in the ground outside and
either side of the rattan path going up to the tipi."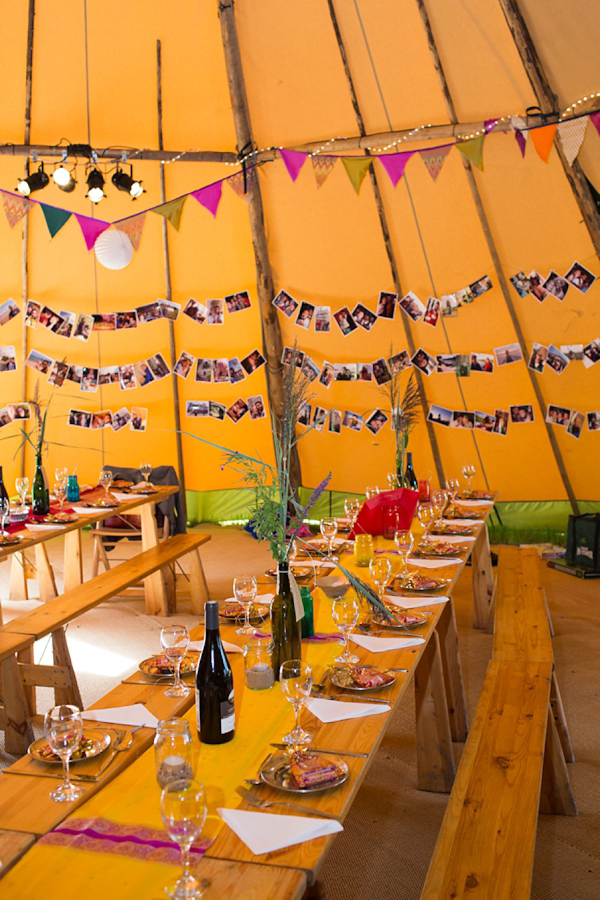 "We had 10 cakes – a mixture of styles each made by a
different one of our friends, whom we asked as we know they loved baking and
they were a wonderful creative collection of masterpieces each reflecting
something we love as a couple…..an amazing gift from our friends. We made the
cake stands from old plates and glasses found in charity shops…"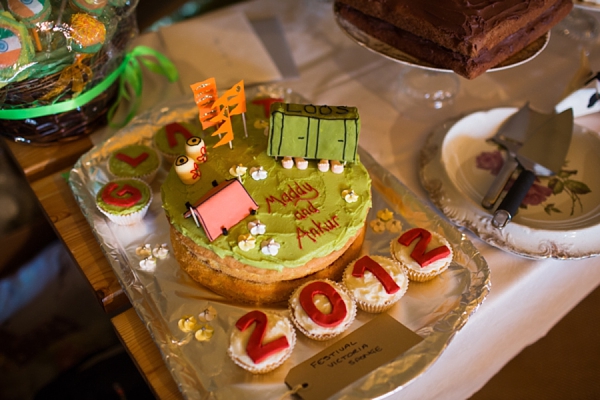 "Our photographer was Sarah Falugo – Sarah
and her husband Bear were so good at putting us at ease about being
photographed and also understood our desire to have non-intrusive
approach to photography to capture natural shots of friends and family
and only a few posed shots. We absolutely adore our photos – they provide such great memories and everyone looks sooo happy!"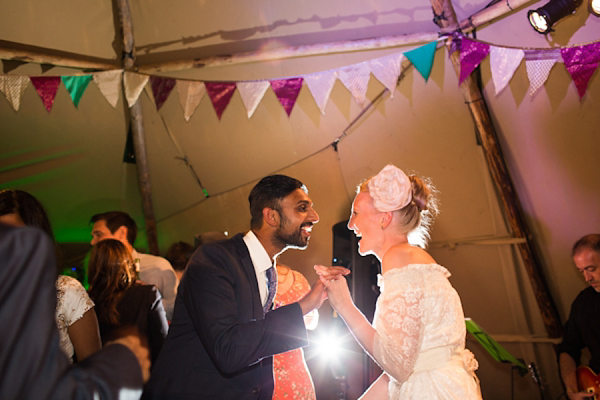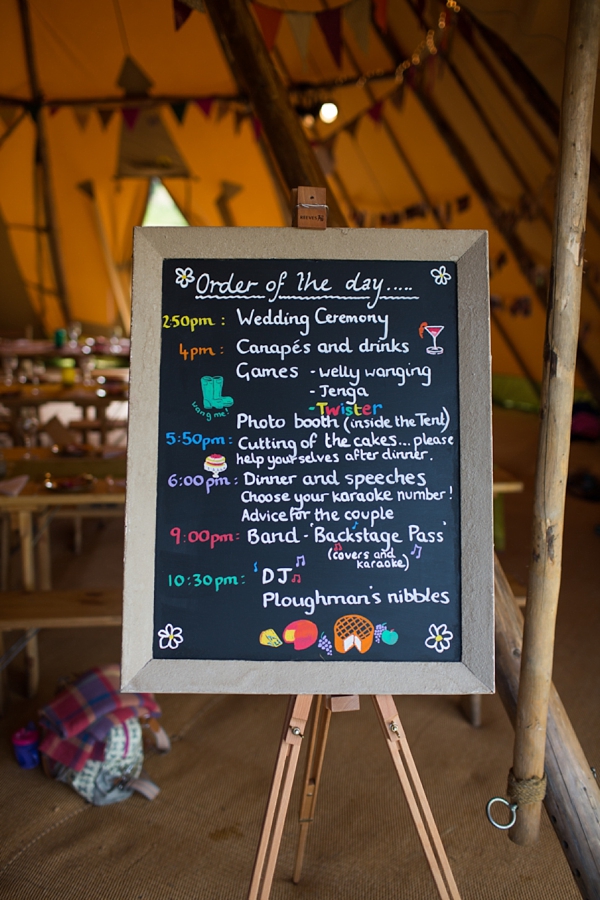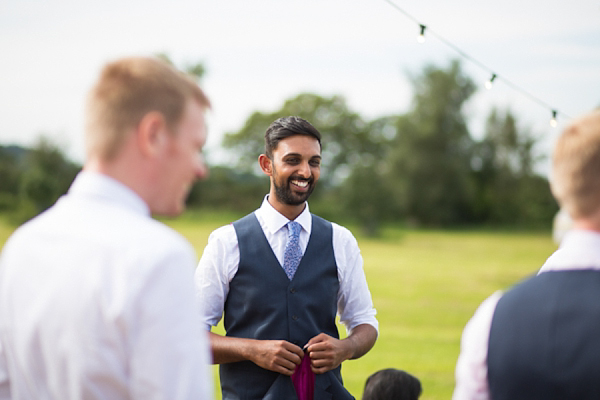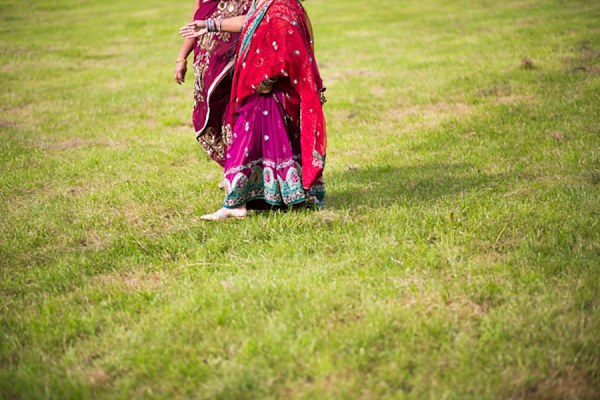 "Both our fathers gave us away – we each walked with our fathers
and small procession of bridesmaids, best man, Maddy's older nephew
carrying the Indian wedding garlands, up the field and round the stone
circle to the music before the ceremony began.  The song we walked to was 'Hoppipola' by Sigor Ros – we love these Icelandic wonders! And this song makes us feel so happy."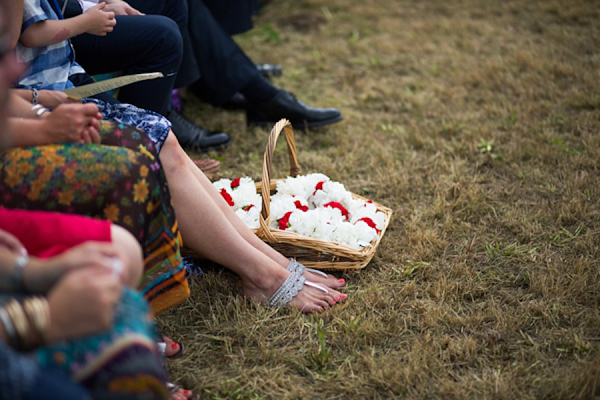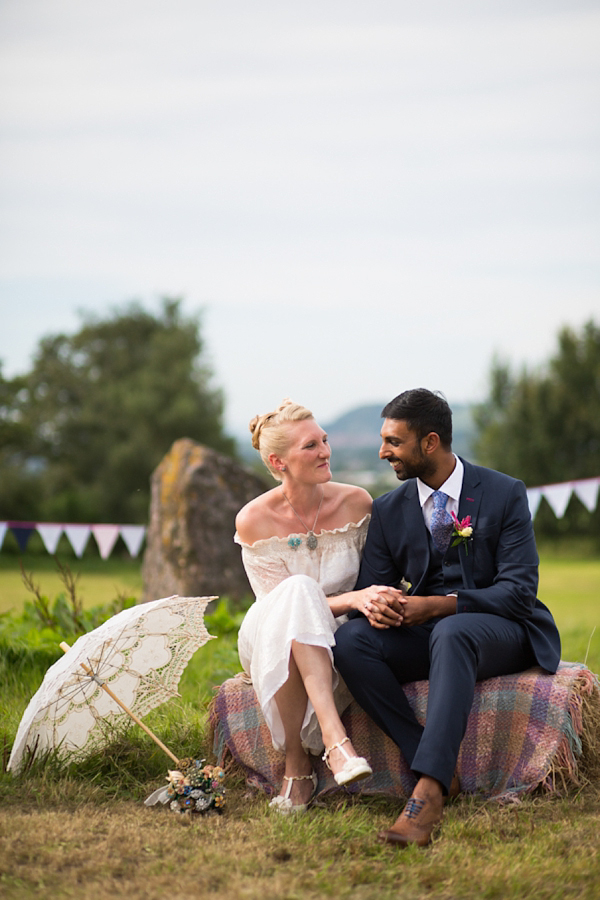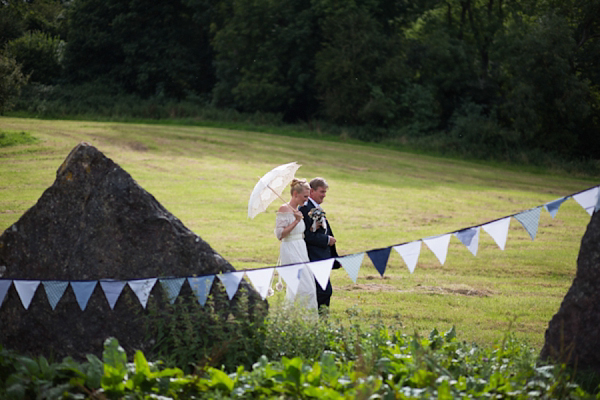 "The ceremony was a humanist ceremony conducted by Maddy's mum (Julie Wright) who is a member of the British Humanist Association. She was fantastic on the day, but also put in a lot of work before the day guiding us through the process of writing our own ceremony. Everybody loved the ceremony, especially how personal it was and how it reflected us as individuals and a couple."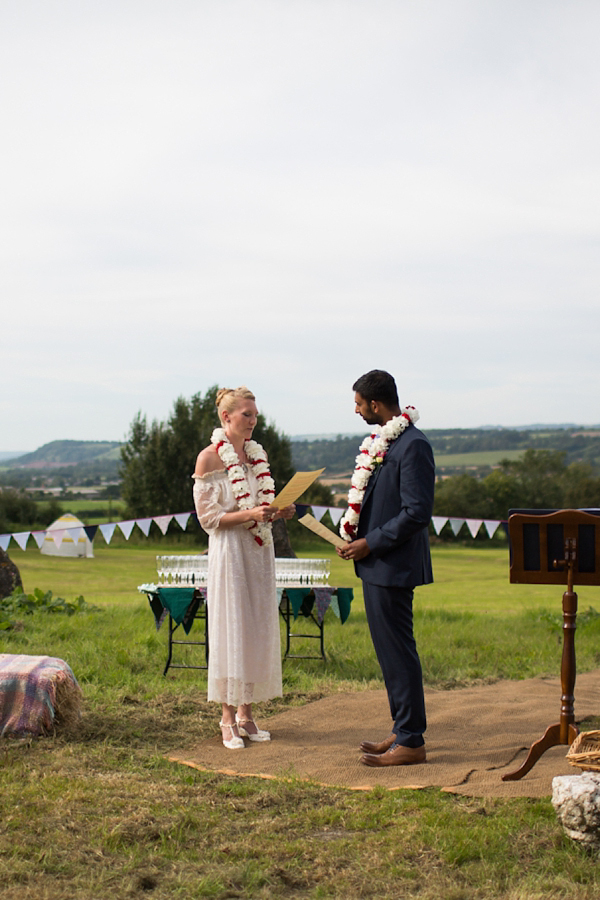 "Our readings included 'Lovely Other Dinosaur' by
Edward Monkton and 'Marriage doesn't come flat packed' by Slim Garwood
and 'Invocation to the Dawn' by Kalidasa read in English and in Hindi."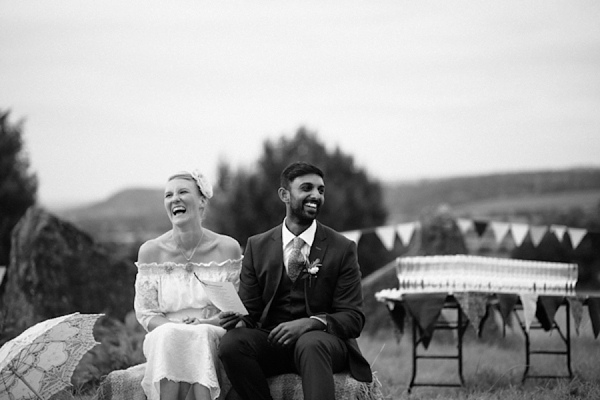 "Our rings were ethically made and were from the same company as my engagemetn ring.  The gems are sourced from ethical sources and recycled metals used to make them. Simple but unique designs."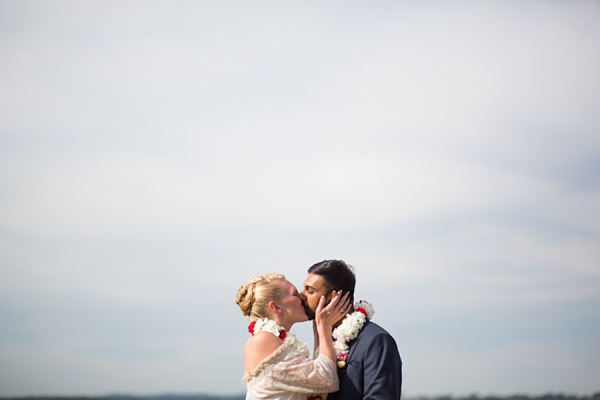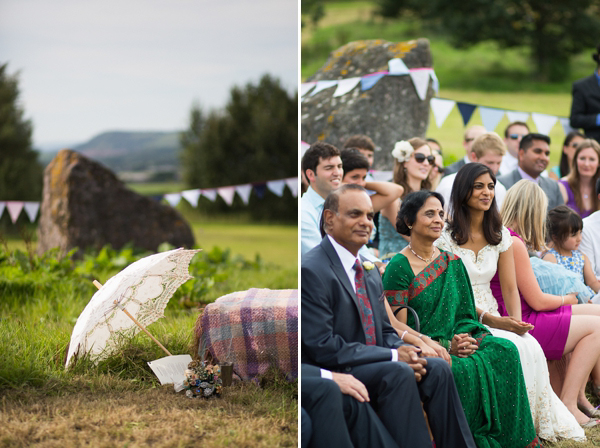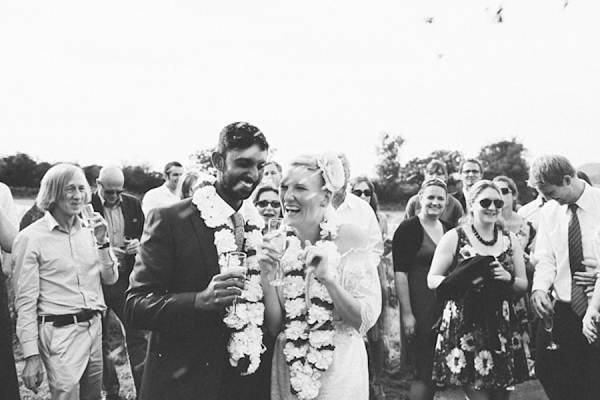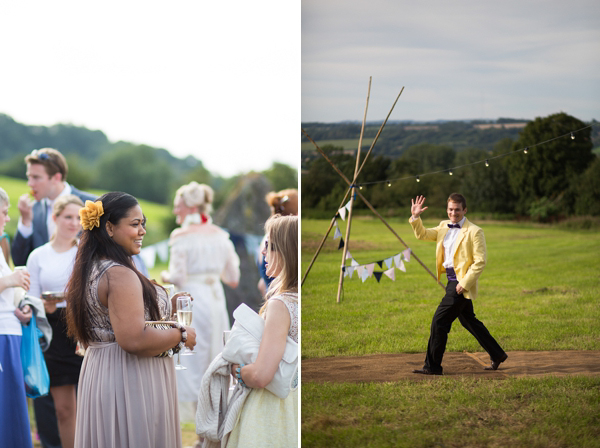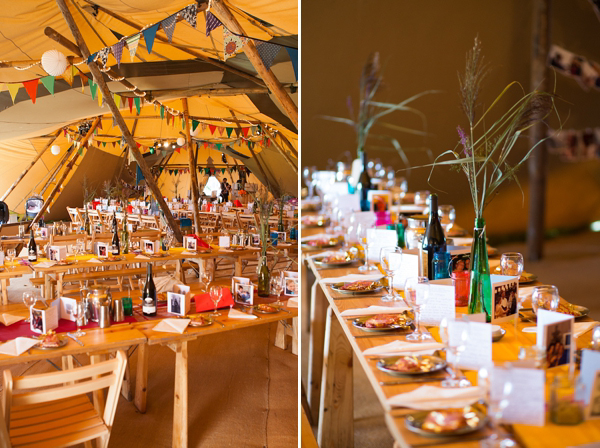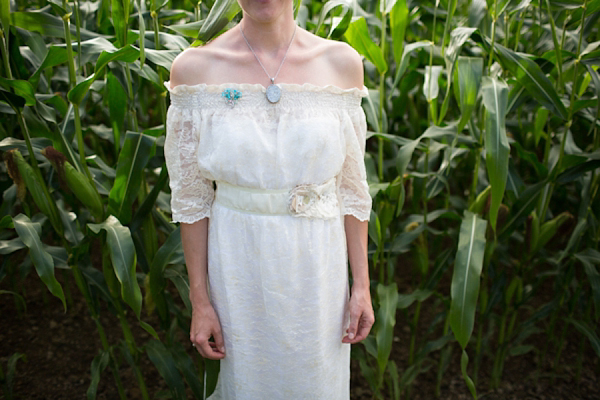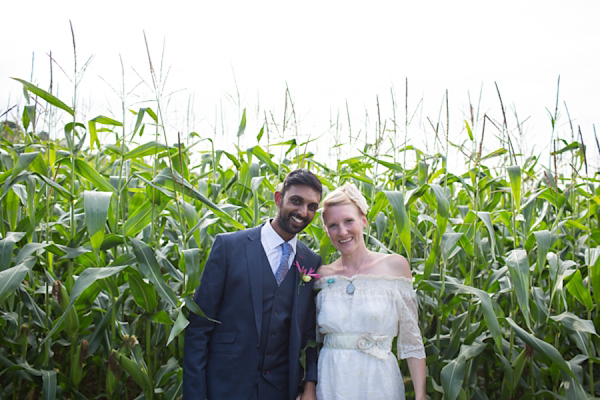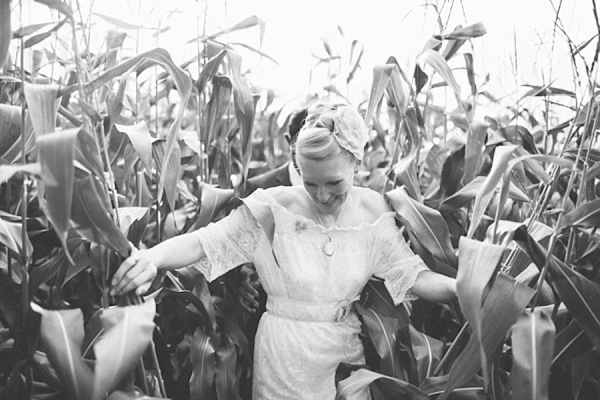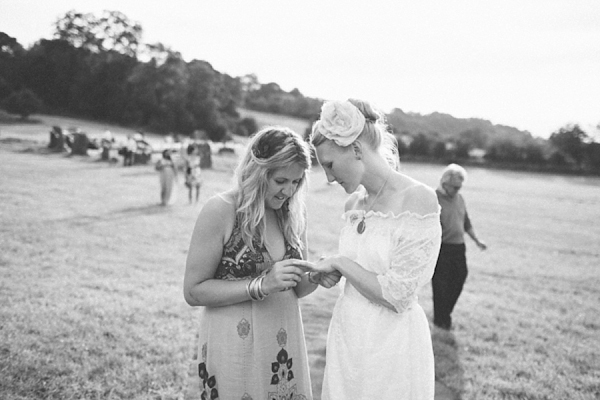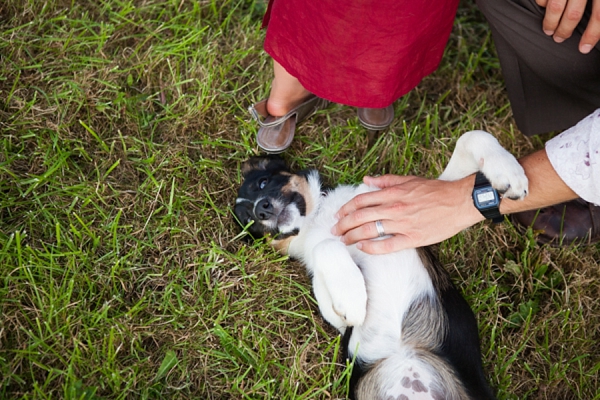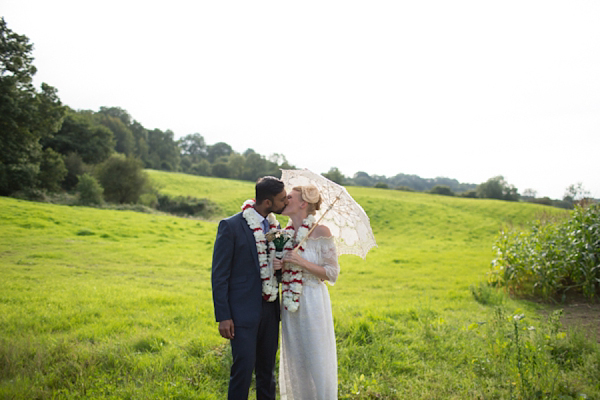 "As favours to our guests, we gave small indian gift bags with mixed wildflower/English meadow seeds and Love Hearts/Parma Violets sweets…"
"We hired The Thali Café and had food served from their Gold wedding menu.  It was
absolutely delicious food, locally sourced ingredients, eco-friendly
ethos of company, wonderfully friendly and down to earth service.
Nothing was too much trouble for them.  They were so kind and accommodating. They even did delicious cooked breakfast in the field the next day for the campers – amazing!  They also joined in the party at the end of the night – brilliant!"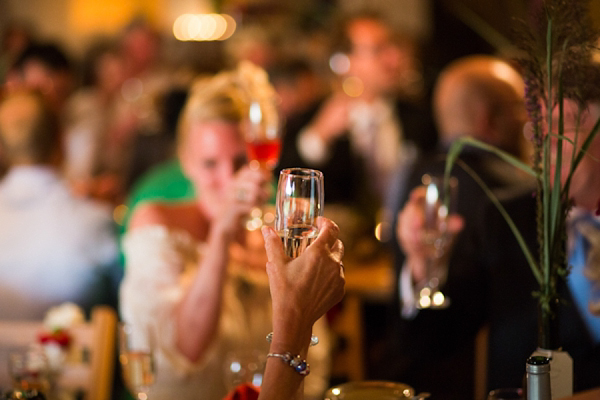 "Our first dance was to 'Make My Dreams Come True',  by Hall and Oates – just an upbeat song we have always loved to dance to together…"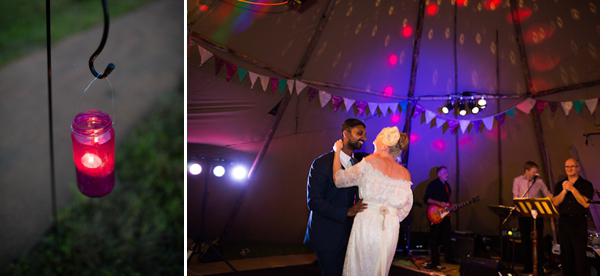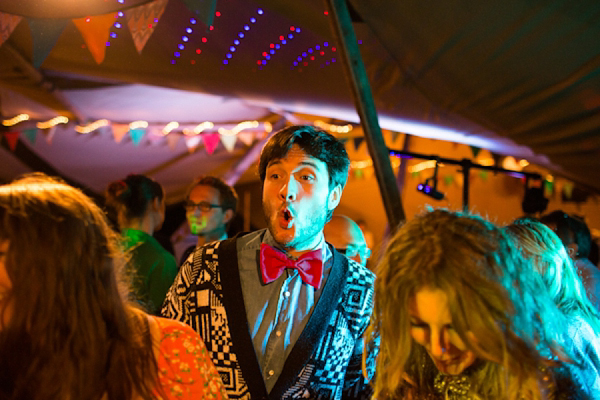 "My Dad's band does pop hit covers of 60's tracks through to 00's music and played on our wedding day. We also had a
DJ – a friend of my sister, who played our favourite in indie old,
guitar and electronica, world-inspired, soul and funk music. A real
eclectic mix with the occasional Bangra track!"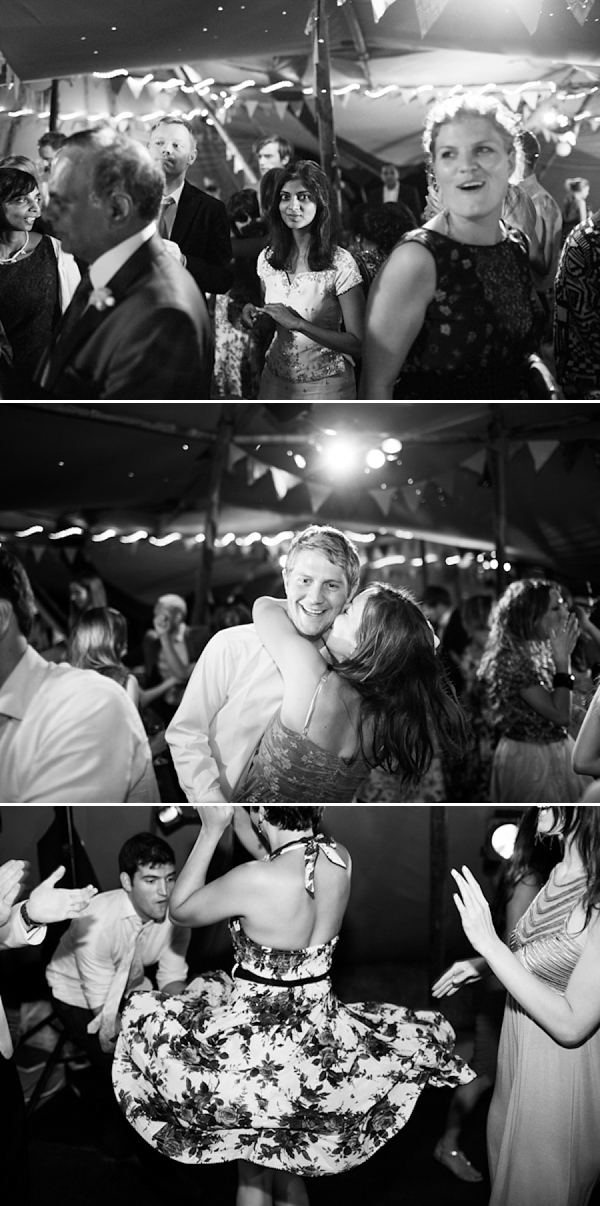 Words of Wedded Wisdom…
"Enjoy the preparations –
if you stop enjoying them at any point the thing you are trying to
organise is probably not worth the effort….we drew the line at doing
anything that we didn't enjoy to prepare for the day. And we had such a
blast on the day too. We were so lucky that so many of our friends and
family wanted to be involved and helped us out so much….everyone seemed
to enjoy themselves and we have marked the beginning of our married life
with an all-round beautiful and smiley day had by all that are special
to us as a couple."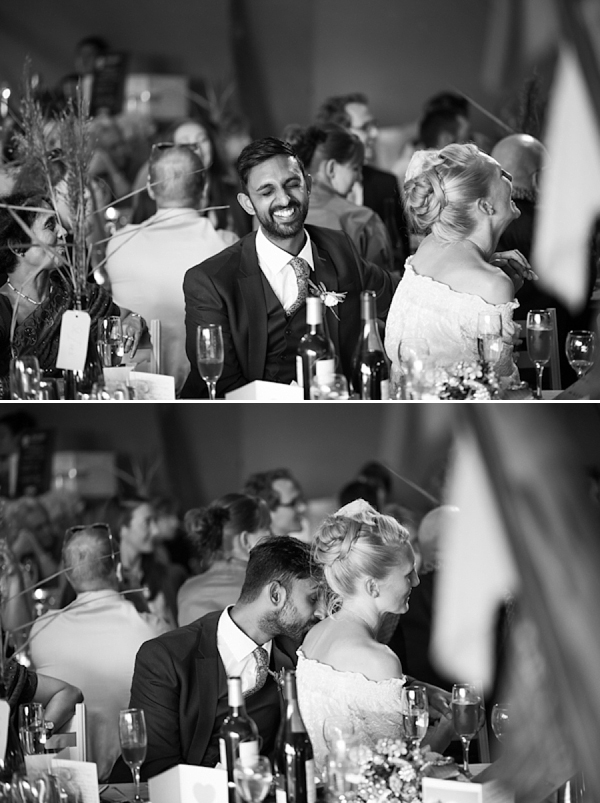 How very lovely is this – so beautifully relaxed and I love that Maddy and Ankur were so committed to the environment when planning their wedding.  Thank you so much Maddy and Ankur for sharing your day, and huge thanks as always to the talented Sarah Falugo for sharing her work to inspire our readers today.
You can find out more about ethically produced bohemian style wedding dresses by visiting the
Minna website.
With much love everyone – do leave a lovely comment to put a smile on Maddy and Ankurs face – thank you so much,
Annabel
Photographer – Sarah Falugo
Venue – Somerset (field not usually hired for weddings, so no link)
Wedding Dress + headpiece – Shannon design by Minna
Humanist Celebrant – Julie Wright
Tent/Tipi Hire – World Inspired
Tents
Bride's shoes  – Irregular Choice
Grooms Suit – Bespoke 3-piece tailored suit from Dress 2 Kill
Bridesmaids – Asos
Flowers – Picked & prepared by the bride and groom
Cake –
Entertainment – Bride's Fathers cover band
Favours – indian gift bags with treats inside
Additional Styling –
Rings – Chocolate Couture

Catering Company – The Thali Café