Good morning lover, now if any of you are feeling a little flat this morning, let this wedding be a reason to cheer you up.  Bride Gemma's smile is infectious, don't you think?  Love My Dress reader Gemma tied the knot with Craig on 29 December last year at Dodford Manor in Dodford, Daventry, Northamptonshire.
"Craig and I are basically childhood sweethearts – we met at
'Tubes Nightspot' in Melton Mowbray – where all great romances begin,
well something like that! I was 17 and Craig had just turned 18 and we
have been together ever since. In fact the day that we got married was
exactly 12 years since the day we met…"
Love My Dress Wedding Blog – Photography Copyright (c) 2013, Beccy Goddard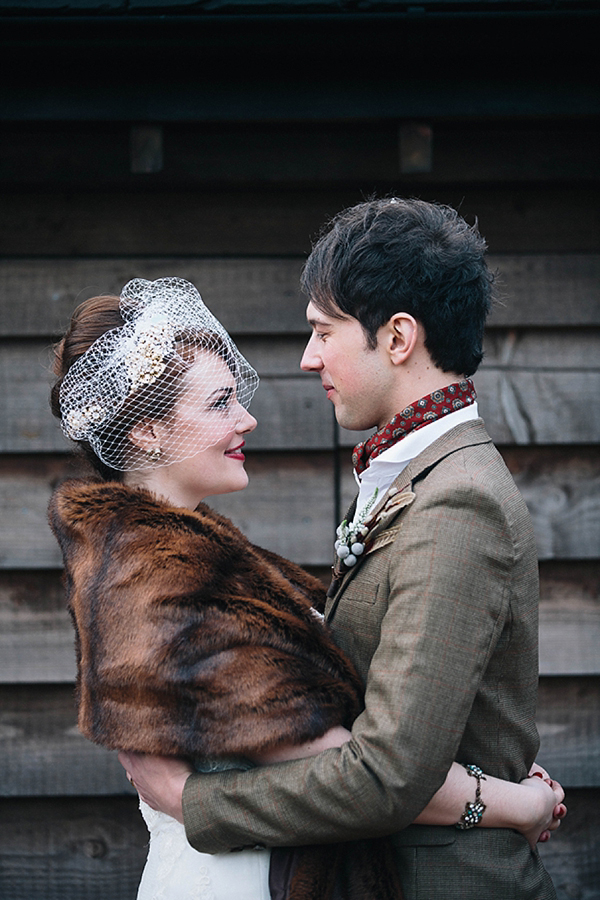 "Craig proposed on
1 July 2011. I had been baking a cake in the kitchen, so was in my
scruffs, with flour all over the place (I am a very messy chef!) It was a
nice evening, and so when I was done Craig suggested we go and sit
outsider. I went out and he had filled the garden with candles and had a
bottle of champagne at the ready – I was completely shocked and had not
suspected anything. What I hadn't realised was that while I was busy
baking he had been secretly squirreling past with loads of candles up
his jumper!!
It was a really special night and very
'us' We completely renovated our home together and have worked really
hard, so it means a lot to us – it was the perfect place to start our
journey towards married life..."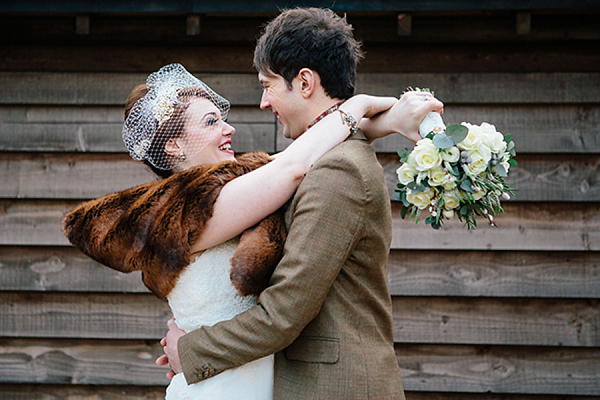 "We love all things old, that a full of character and
rustic.  We also both knew that we wanted a winter wedding, with lots of
greenery, candles and warmth and that this was the kind of feel that we
wanted. We also both loved the Narnia books as kids, and the films
since we have grown up so decided to use this as a loose theme.  
I am also a massive fan of all things vintage – I swear I was
born in the wrong era, so I also knew that this look would feature
heavily on our day."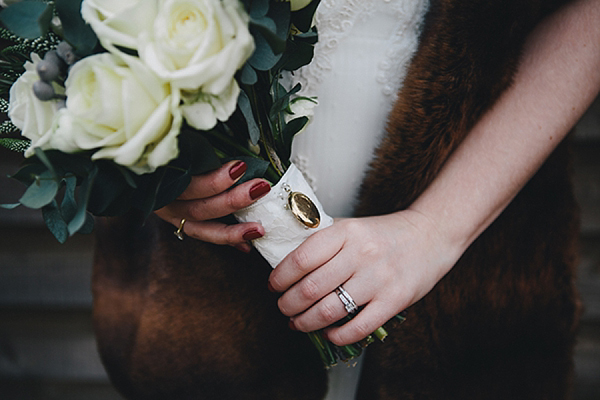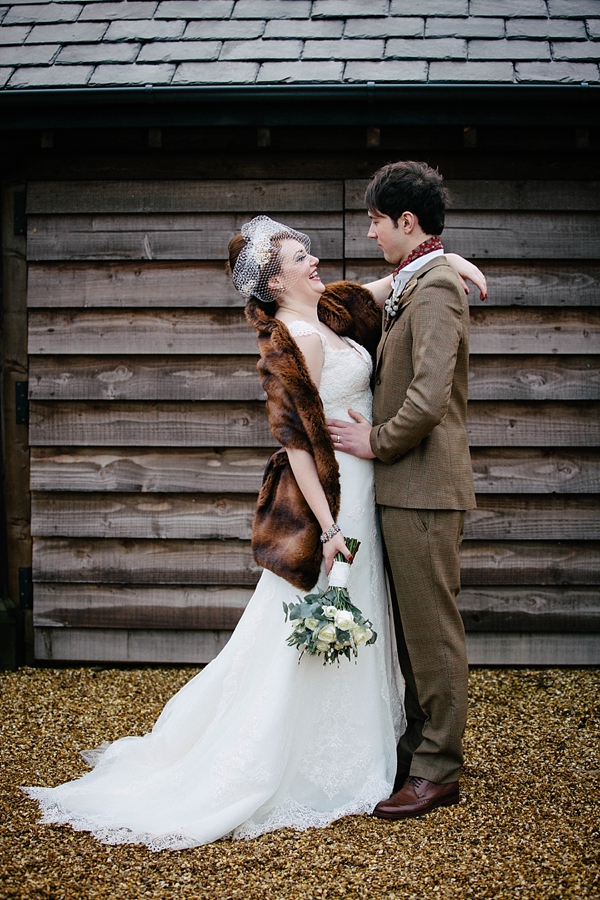 "My dress was Pronovias, Adela and I bought it from Serendipity Brides in Weedon. I really cannot praise Lisa and her team at Serendipity enough – they were fantastic from start to finish.
I
tried on loads of dresses and was really struggling finding the type of
thing that I wanted. All of the dresses I tried on were gorgeous, but I
quite often felt a bit like I was playing around in the dressing up box
and that they were not really me. My dress was one picked out by Lisa
actually and as soon as I had it on I was in love! My sister balled
which was a good sign, but I just felt absolutely amazing in it . I just
loved everything about it, the shape, the train but especially the lace
it is really different to the other dresses I had tried and I loved the
delicate lace straps."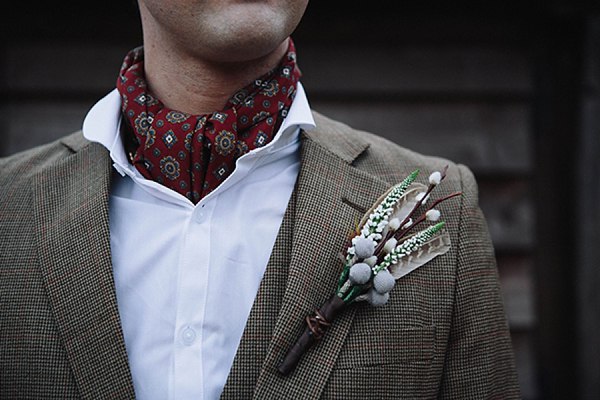 "Our florist was Charlotte Ayre from Olney in Milton Keynes.
Charlotte is an absolute babe, we had such fun working together and she
completely understood what we wanted. I met charlotte at Milton Keynes
wedding Fair and I instantly liked her.
We went for a consultation and
it sounds corny but we just clicked, and it was really important to me
to pick people who we got on well with."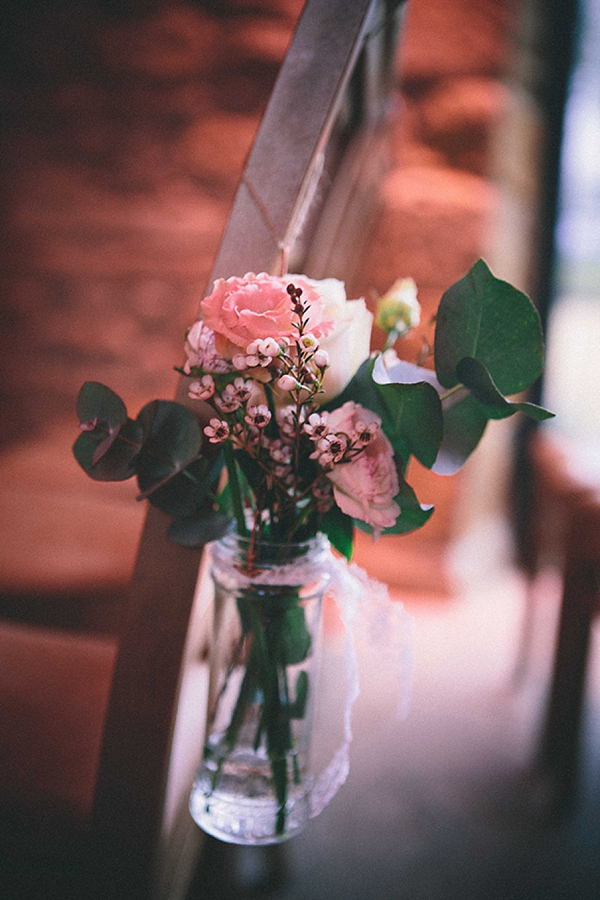 "My mum passed away a
number of years ago and so I wore her engagement ring and also her
locket, with her picture in, was attached to my bouquet. The bracelet I
wore was actually a gift from a friend as a thank you for me making her
wedding cake – it looked perfect with my dress and included that
"something blue…"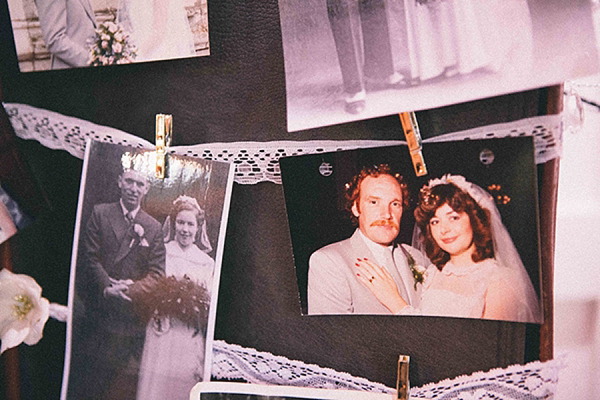 "I got my headpiece  and birdcage veil from Vintage
Headdresses. I knew the kind of
thing that I wanted, but couldn't find a headdress that incorporated all
of the ideas I had so got in touch with Chris at Vintage headdresses
and asked for her to create a bespoke piece. I explained my ideas, and
Chris sent me some photos of a gorgeous gold vintage pieces that she
had, I loved them and that was it – we went from there! I was so chuffed
with the final piece.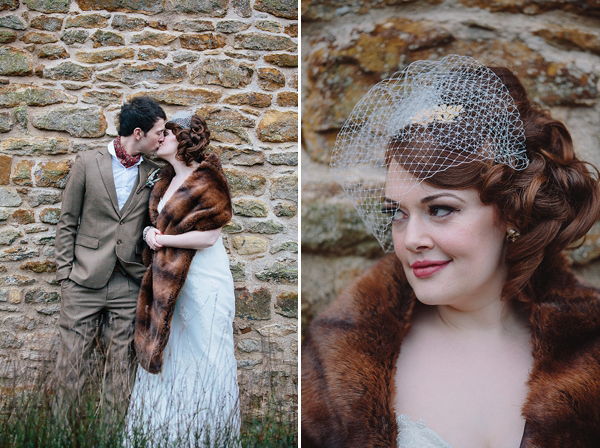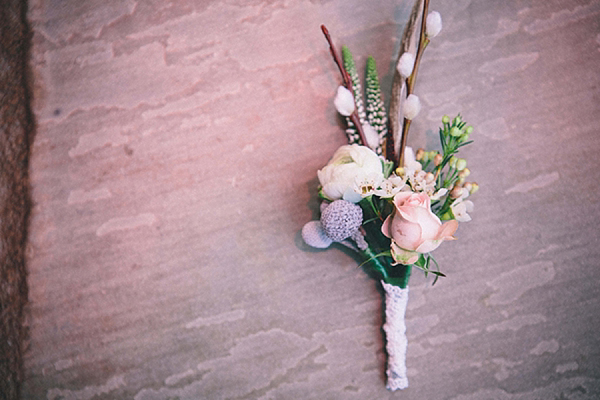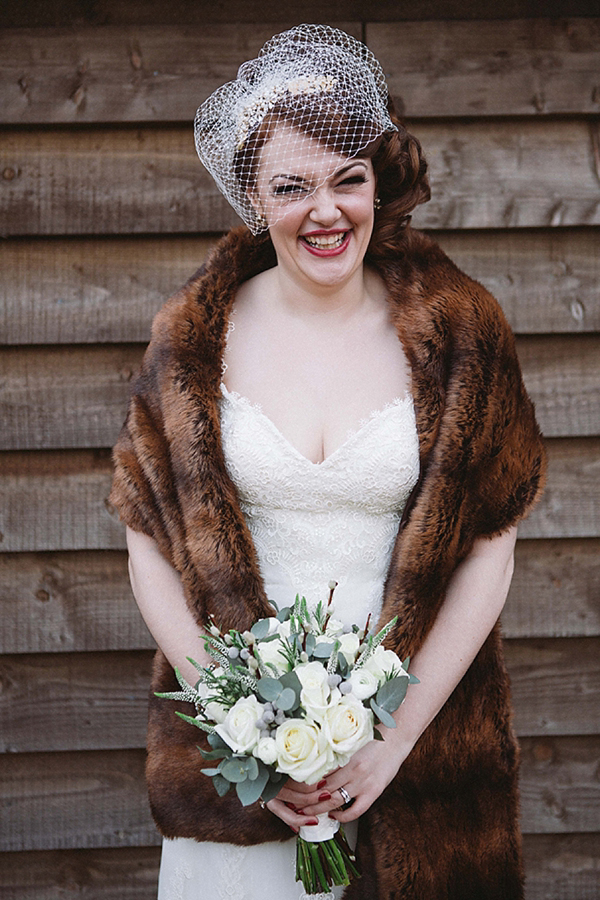 "We bought Craig's suits and the suits for the rest of the boys from Tailor4less.
Crag didn't want to do tops and tails and wanted something tweed. It
was impossible to find anywhere to hire something from, and to buy them
here would have cost a fortune. We took a bit of a punt and ordered them
online, we did need to make some amendments (probably due to my rubbish
measuring skills) but they looked fab on the day.
We collected various
different neck ties from vintage stores and then let the boys choose
which ones they liked best. They all wore their own shirts and shoes.

"We styled the venue with lots of jam jars which I decorated with
the help of some of my fabulous friends. They were dotted all around
the venue with either flowers or candles in them.  I also collected a
few rustic looking trees which we dotted around and used some of my
Nan's old doilies to decorate table tops and windowsills. Also, as it
was Christmas, Dodford had set up a number of massive Christmas trees
which looked fantastic.
I also wanted there to be plenty of pictures
of my mum around, but without it looking like a shrine so made a photo
gallery. The gallery included loads of old wedding photos from both
sides of the family and I hung them up in an old vintage suitcase."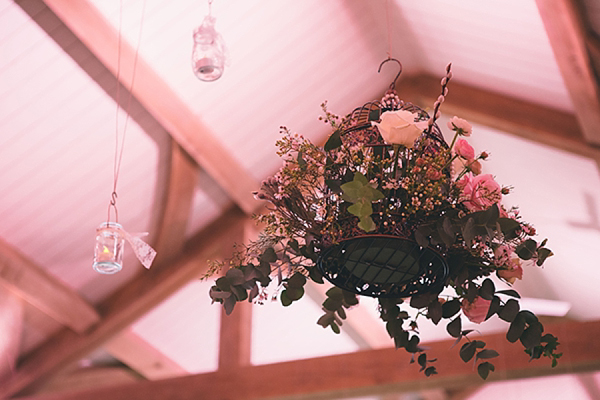 "My brother bought our wedding cake for our wedding present
– it was a blooming amazing creation from Choccywoccydoodah. I bake
cakes myself, just as a hobby, but didn't want the pressure of making
our own. However, I also didn't really want to spend a lot of money on
something that I felt I could do myself so when my brother offered to
get us a cake from Choccywoccydoodah we jumped at the chance!"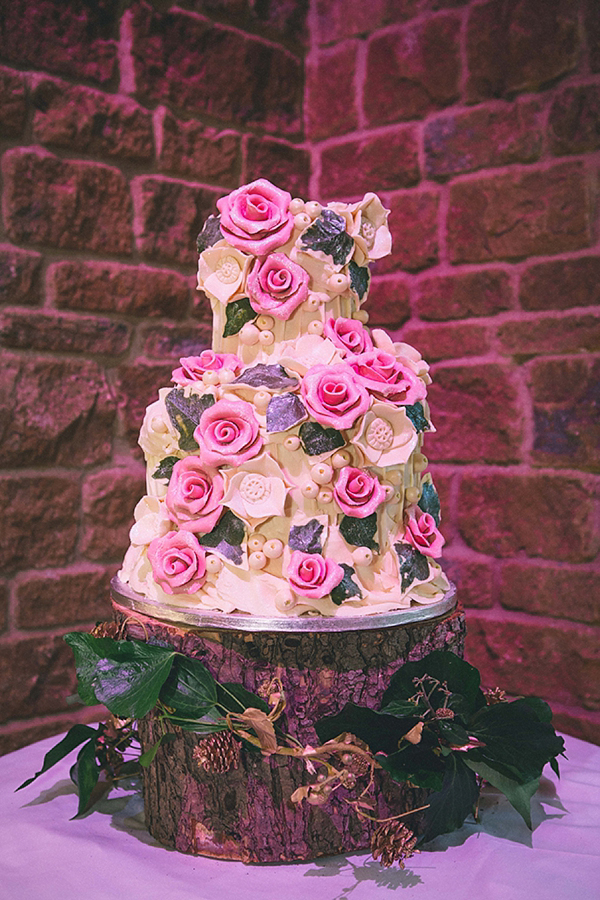 "Beccy Goddard was our photographer
– and hiring Beccy was by far the best choice we made. Beccy used to baby sit me
when I was a kid – It was really cool to have someone who we felt
comfortable with and who knew the family, it just made the whole day go
so smoothly. Beccy also knew my mum pretty well, and it was really
lovely to have her there with that in mind.
Beccy's pictures are just fantastic and we are so chuffed with them. I knew that
the photography was going to be a really important part – as they are
the only thing that you get to look back at to remind of just what a
fantastic day it was. I cannot thank Beccy enough, every time I look at
the photo I just have a giant grin on my face!"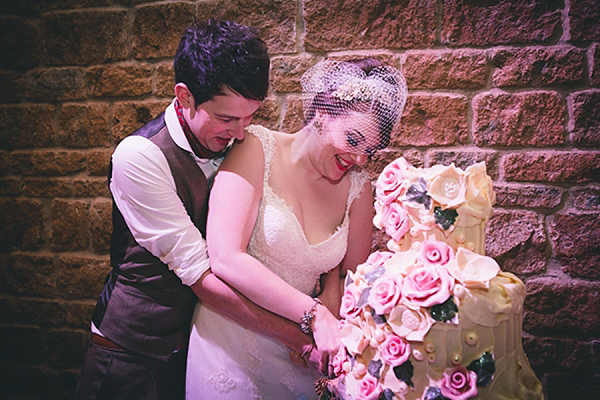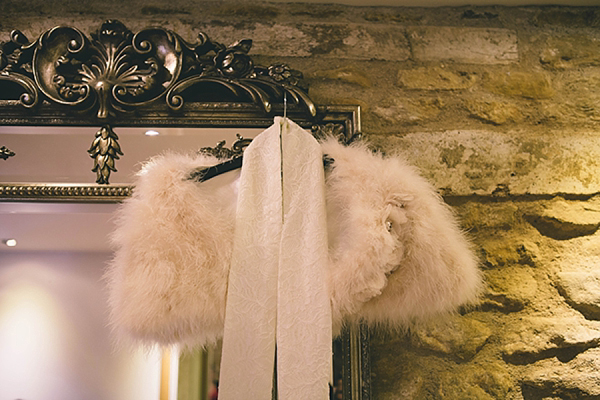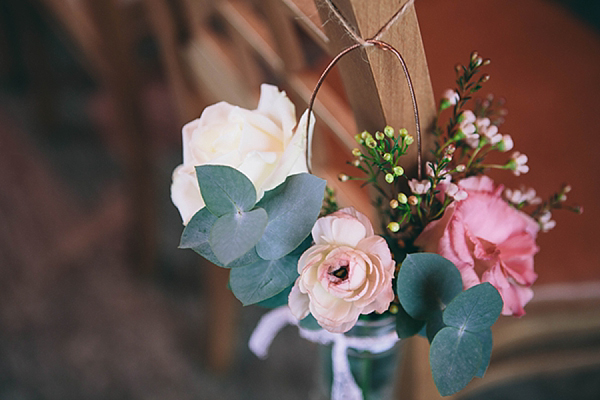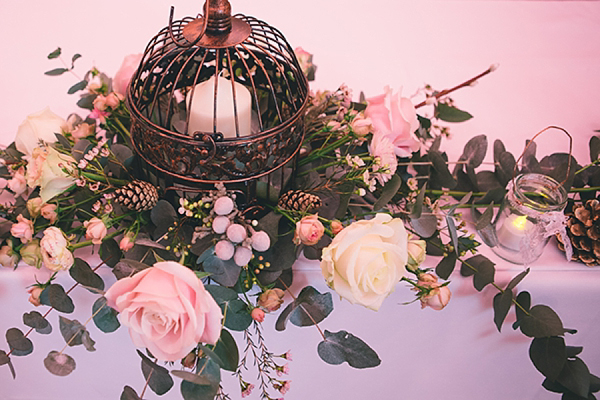 "My shoes were from Vivienne Westwood and were a wedding present from one of my bridesmaids, Faith..."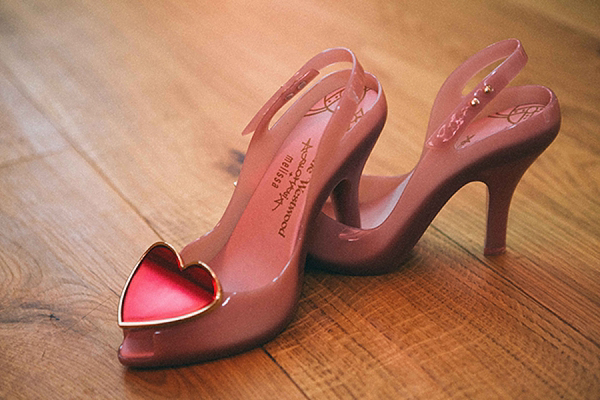 "Aimee Garner
was my make up artist. Aimee is really lovely and easy to get on with
and did a fantastic job. I loved my make-up and it stayed put all day!"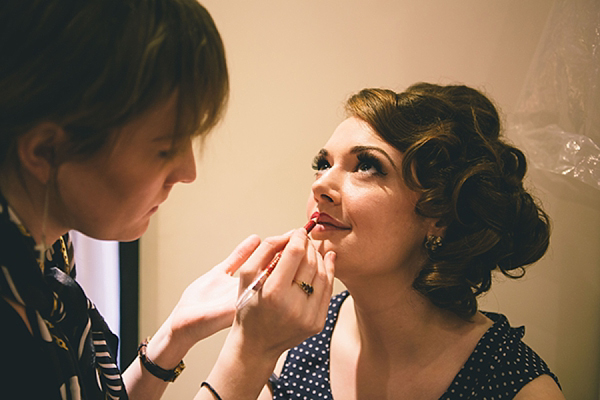 "We visited Dodford Manor
when it was still in the process of being built. At that time is was
just a dilapidated barn, and we had to view it wearing hard hats!
However, the gorgeous countryside and setting just sold it to us.
Annabelle and Simon, the owner's of Dodford ,were so excited and
enthusiastic that it was completely infectious – we just knew the venue
was going to be gorgeous so pretty much booked it there and then! We
were not disappointed  – Annabelle and Simon have done an amazing job of
renovating the old barn and the new buildings are just as fantastic. It
was great seeing the progress of the venue being built and when it was
finally all finished we were blown away."
"It was Craig's 30th birthday the day before our wedding
so as a surprise I hired him a vintage Porsche 911 Carerra – its his
"mid life crisis car" so thought I would give him chance to give it a
whirl!"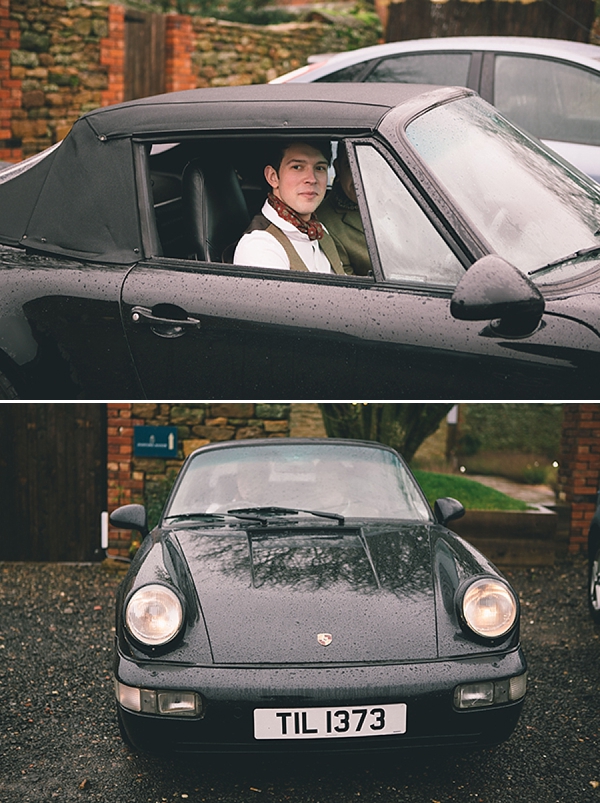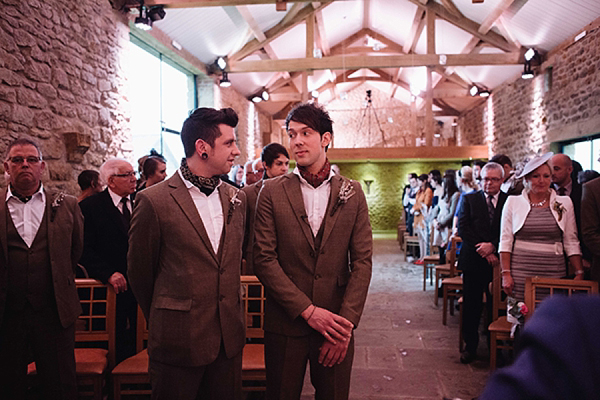 "My Dad walked me down the aisle to Nicest thing by Katie Perry.  My favourite part by far was the ceremony. It was so
amazing to walk into the room and see everyone that we love all there
and the man of my dreams at the end of the aisle!"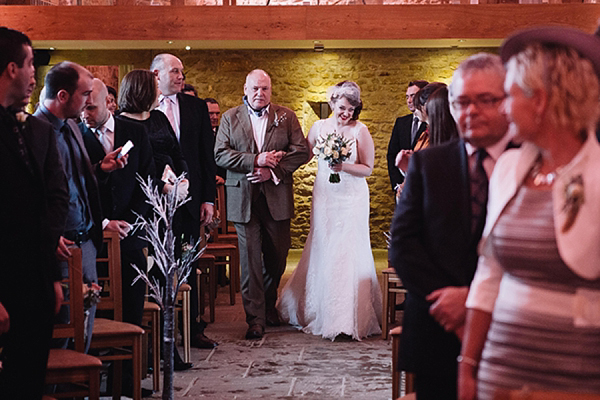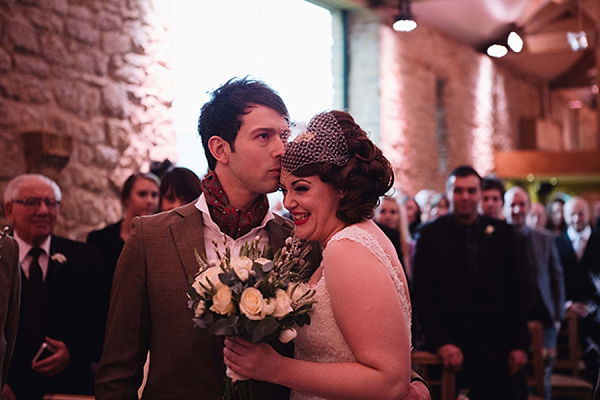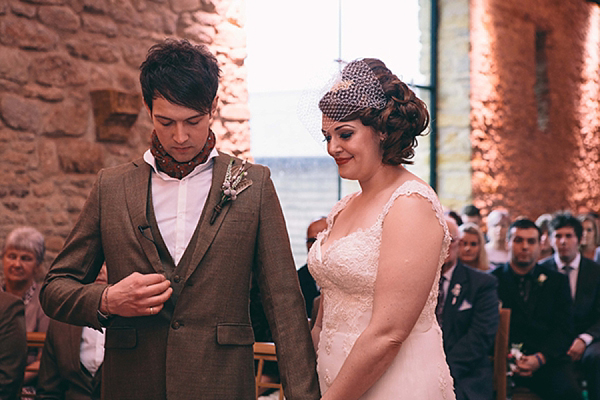 "Craig and I wrote our own vows. Generally we are not really the
"soppy and gushing" type but on this one day, we really wanted to put
our own words into the ceremony. It was important to both of us that
what we said actually meant something personal and having been together
for so long – thought it was about time that we actually said these
things out loud. I am so glad we took the time to do this as it really
was worth it. We now keep a copy of each of our vows in our "happily
ever after" ring bearers case – just in case we ever need to be reminded
of how we felt on that day.
I was really surprised that
Craig was so emotional on the day, it must be about the first time I
have seen him cry and having been together for so long and been through
so much together it was really sweet. Makes me want to do a little cry
just thinking about it!"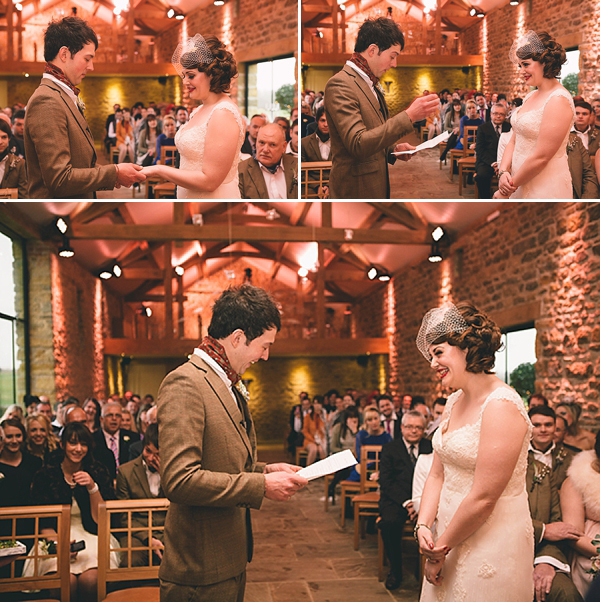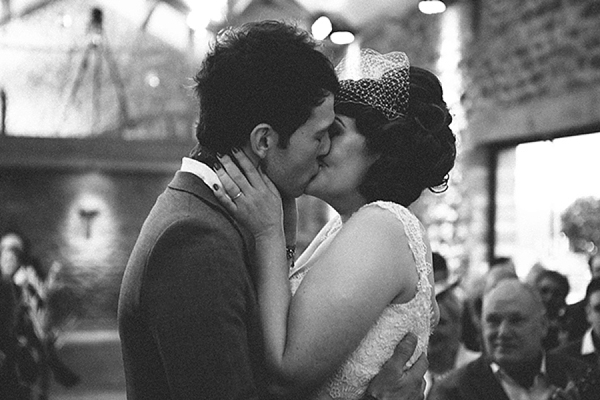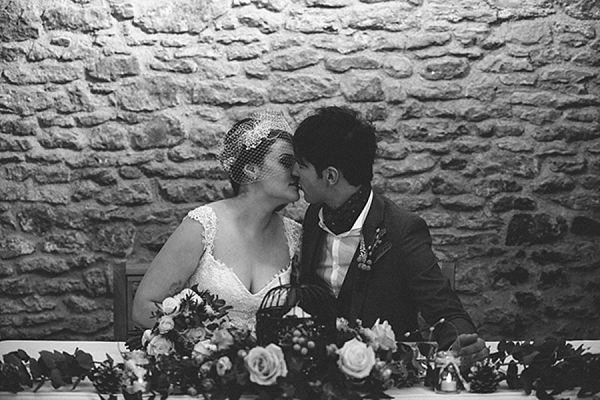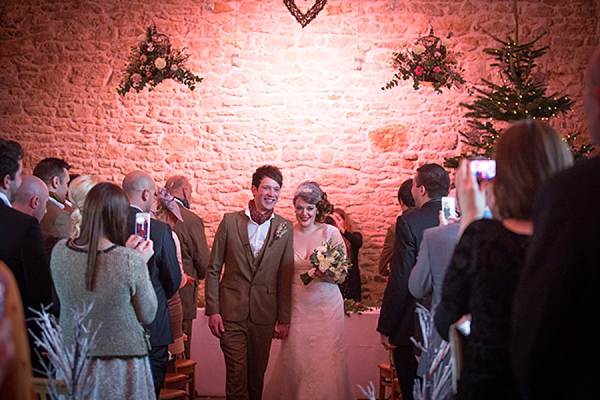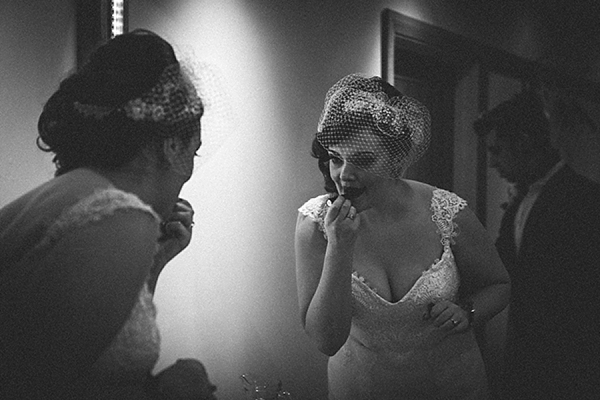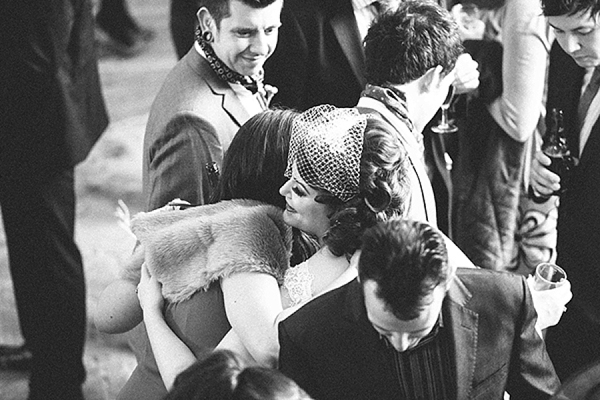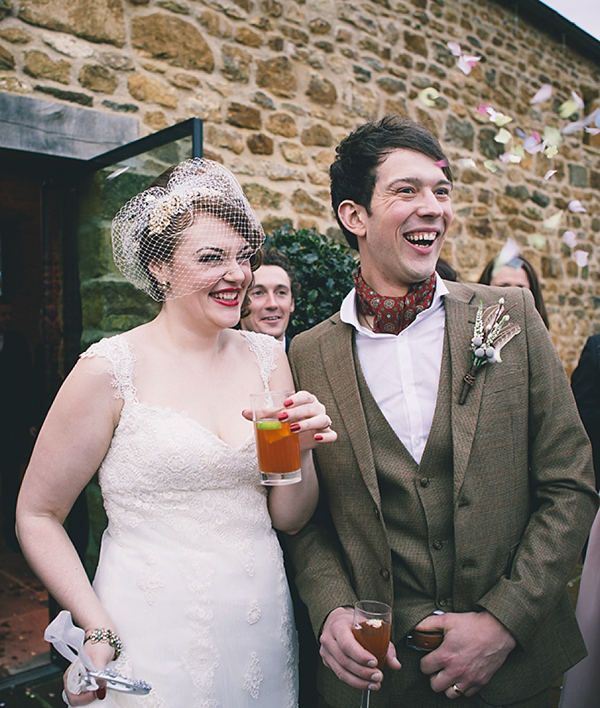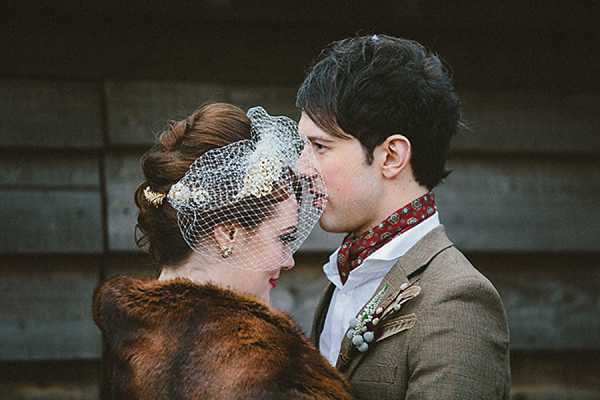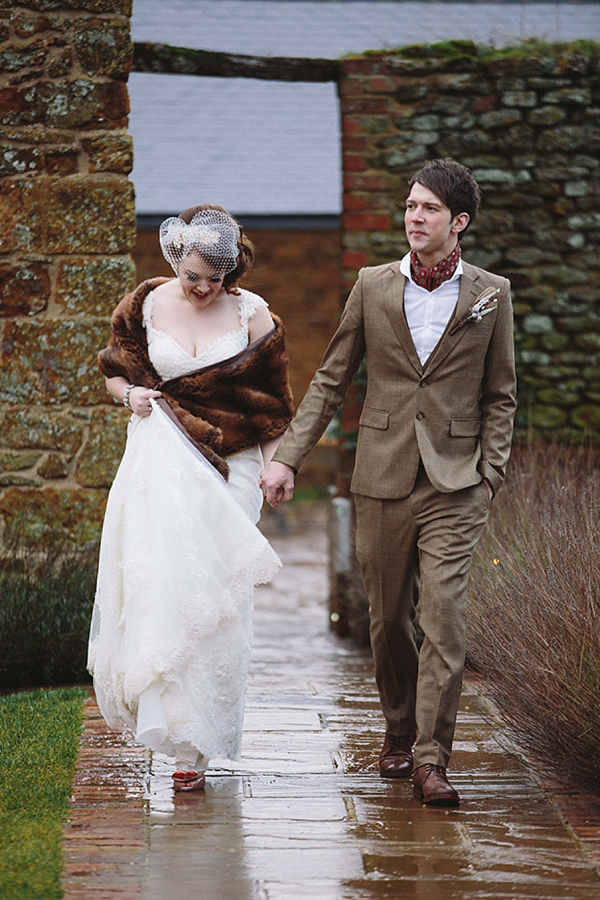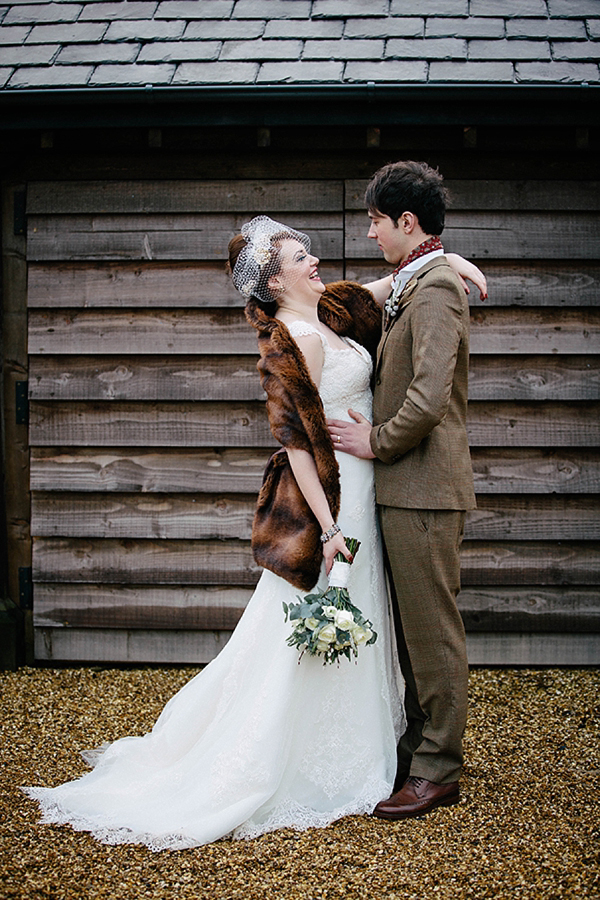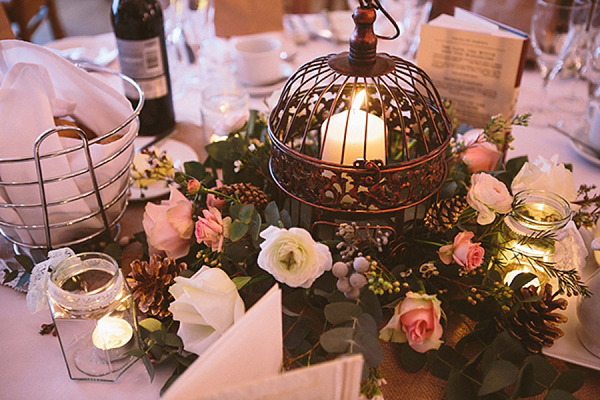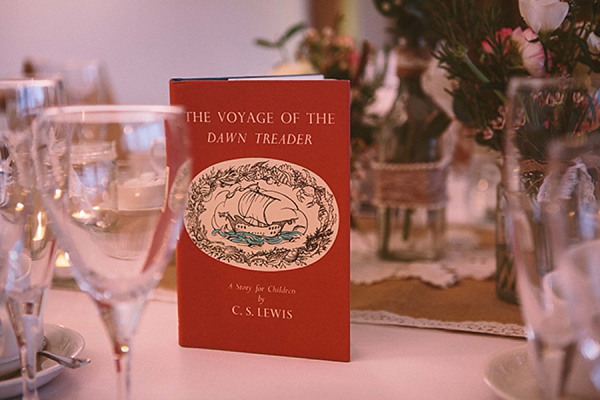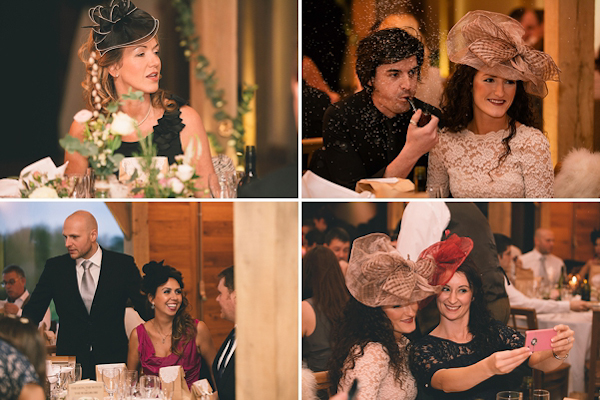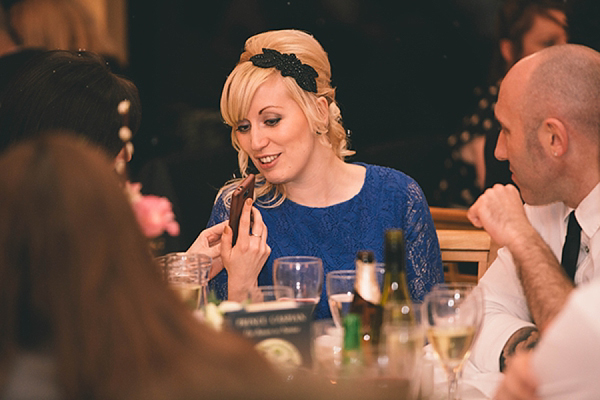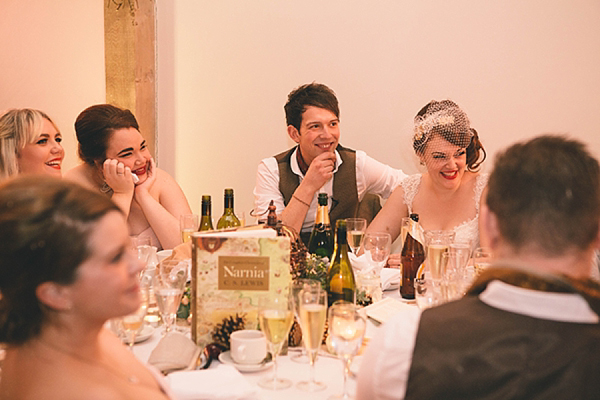 "We also hired The Mighty Booth Booth
and Emily's best travelling sweet shop (www.emilysbest.co.uk/) to
entertain our guests in the evening. The guys from Mighty Booth were
great fun and everyone loved it and we have a great photo guest book
with some fab photos and messages from our guests too. The girls from
Emily's best were fantastic too – and we now have the "Hills say fill
your face" sign that was on the shop in our Kitchen which always makes
me smile whenever I see it."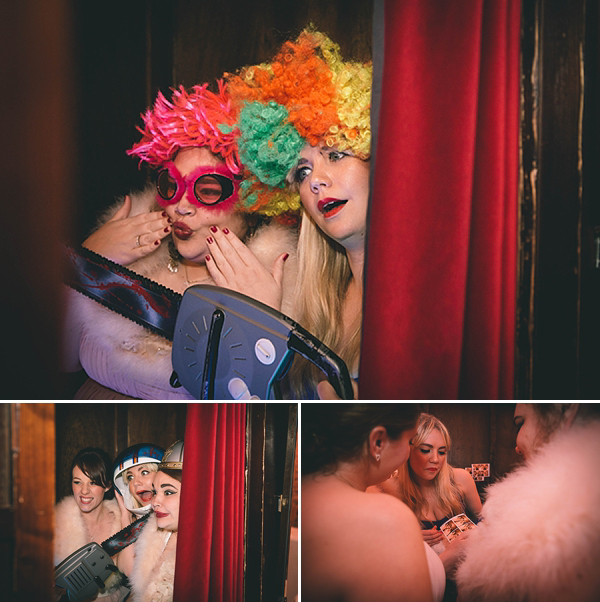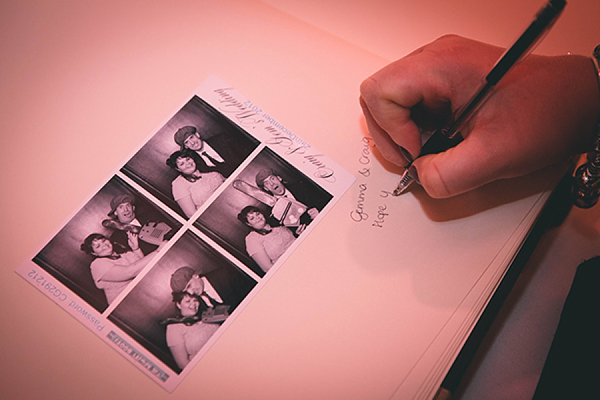 "Our friends are in a band called 'The Muntjacs'.  Our DJ – CJ the
DJ – is also a family friend. They play at all of our family events (we
hold a family fun day in memory of my mum every year) and so it was only
right that they entertain us on our big day. They were all fantastic as
always!"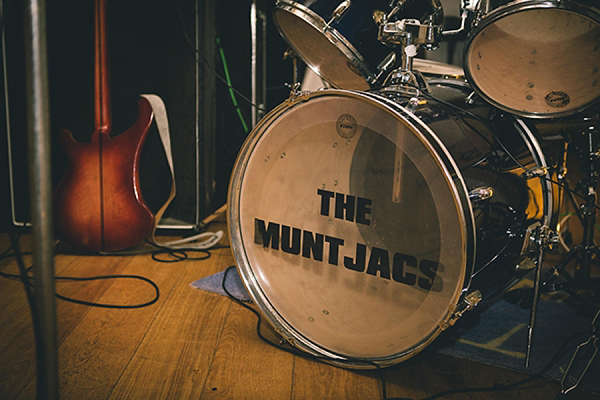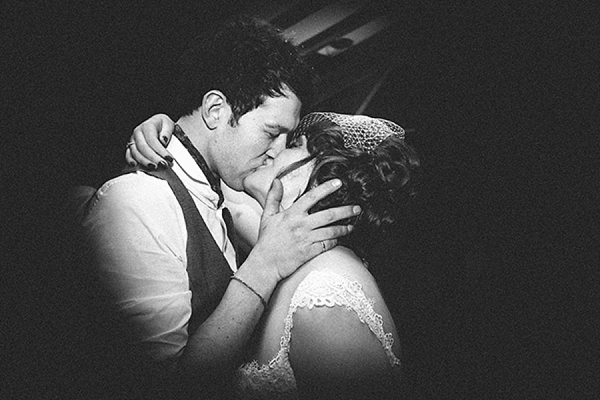 "Our first dance was to 'Baby' by Devendra Banhart. Its really
quirky and sweet but without being too sloppy or slow. We wanted to have
a laugh for our first dance and the lyrics make both of us giggle!
Words of Wedded Wisdom…
"Just enjoy it! The little things that you get stressed out about
on the lead up really don't matter on the day. The most important thing
is having all of your friends and family and all those that you love
most all around you. I literally don't think I stopped smiling all day!
Finally, I loved Love My Dress and was absolutely addicted on the lead up to the wedding – it was the only thing that kept the post wedding blues at bay in January!  I loved getting to purve over all of the gorgeous weddings, I love the fact that there is so much variety and all sorts of tastes are catered for. I also think the discussion posts and 'life and love' articles with advice are brilliant."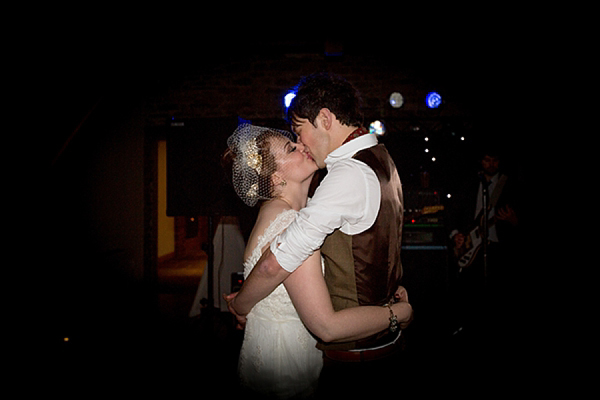 I love to start the day full of smiles – thank you so much Beccy Goddard for sharing these sweet images of two childhood sweethearts! And thank you too Craig and Gemma for so generously sharing details of your wedding day to inspire our readers.
Those of you looking for more winter wedding style, go here.  We also have lots more features of brides wearing Pronovias gowns and pretty birdcage veils in their hair.
I love Beccy's laid back vintage style, how about you? 
With much love,
Annabel

Photographer – Beccy Goddard
Venue – Dodford Manor
Wedding Dress – Pronovias, Adela and I bought it from Serendipity Brides in Weedon
Veil/Headpiece – Vintage
Headdresses
Brides' shoes – Vivienne Westwood
Bride's accessories – Mum's engagement ring and locket
Groom's Attire – Tailor4less
Bridesmaids – Light in the Box + shrugs from Debenhams.
Flowers – Charlotte Ayre from Olney in Milton Keynes
Cake – Choccywoccydoodah
Transport – for the groom, a hired vintage Porsche 911 Carerra
Entertainment – The Muntjacs
Catering – Catering Company – Jenkinsons Caterers
Makeup Artist – Aimee Garner
Photobooth – The Mighty Booth Booth