Good morning ladies and gents. Thank goodness I'm starting to feel some semblance of normality – returning to a reasonable state of health after a week of being utterly wiped out (me and my entire family) by the bugs and viruses doing the nations rounds this past week has made for a pretty rough time! So I'm starting this week with a sense of much-missed vitality.  Hoping you're all feeling fantastic too 😉
Last year, I happened to feature this bride who opted to wear a Kooples blazer with her wedding dress – a stroke of fashion genius not oft sported by brides.   Well all that's about to change.  For I'm sure after seeing how fabulous Mhairi looks here in her gorgeous Biba blue sequinned jacket that many more brides are going to be wanting to keep their shoulders warm with something equally as stylish.
Joe and Mhairi (who tells me she visited Love My Dress every lunch break) tied the knot on 29th December 2012, at Oran Mor in Glasgow…
"In London, Mum and I found the gorgeous Biba blue sequinned jacket
which you featured on another bride on the blog. I fell in love with
idea of wearing a blue jacket and bought it immediately. A few days
before the wedding, I was picking up some bits and bobs for the day when
I popped into Glorious and I came across a deep blue velvet Whistles jacket,
2nd hand for £25! I bought it as well and decided the night before that
I would wear it as it was better suited to the dress and would actually
keep me warm.  It was such great find and I'm sure I'll find an excuse
to wear the Biba sequins in the future!"
Love My Dress Wedding Blog – Photography Copyright (c) 2013, Neil Thomas Douglas supported by Zoe Campbell
Isn't that fabulous?
"My bridesmaid dresses were from Coast.
I'd told the girls that they didn't have to wear the same dress or
colour and that I'd like to get them something they could see themselves
wearing again. Siobhan found the dress for herself and Laura tried it
on when I told her about it and liked it as well so it was a happy
coincidence!  I thought the girls looked fabulous."
"I really didn't know what to do about my shoes. I find getting
shoes in France very difficult as shoes are made for small feet here! In
the summer I'd bought a pair of nude slingbacks from Marks and Spencers
for a wedding outfit in a fashionable size 7 ½! I wore these to the
dress fitting and thought they looked fine with with dress and knew they
were comfortable.
I got some cute little shoe clips from Melle Cloche in Glasgow
to jazz them up. You can see the shoes a lot in photos so perhaps I
should have put more time into finding a fabulous pair, but I was
happier not worrying about getting a new pair."
"My dress was Crystal by Jenny Packham.  I bought it on a trip back to Scotland from Panpan Bridal Edinburgh.  I tried on a lot of dresses! Mainly because I was panicking a bit
about the time to get one, but also because it was lot of fun. I knew I
didn't want to look too much like a traditional "bride", I wanted to
look glamorous and feel comfortable. I did consider wearing a red or
nude dress, but how often can you get away with wearing a long white
dress in life? I thought I wanted something with lace, but the only
definite was that I didn't want strapless. I've loved Jenny Packham's
designs for years and didn't imagine that I would get the chance the try
on one of her dresses, let alone buy one."
"It was a complete fluke finding the dress. I was back in Scotland
for my friend's wedding in July, and had made an appointment at Panpan Bridal as I was passing through and had read good reviews (and I knew
they had Jenny Packham dresses so was desperate to try one on!) When I
tried on my dress I loved it, the silk lining felt amazing, I loved the
crystal detail and the style was perfect for me. I knew once it was on
it was a Jenny Packham due to the way the skirt gathered and fell at
bottom, but hadn't realised that it was a sample for sale and was only
£500.
It needed alterations and a professional dry clean, but I went for
it. I was happy, and could buy it there and then – job done! Li the
owner of shop was lovely, agreeing to keep the dress with her in the
shop while I went back to France, organising the dry cleaning and
flexible with the dress fittings."
 
"Joe and I met at uni and have been together for 7 years.
After a year living apart because of studies and work, Joe joined me in
Paris. We'd been living in Paris together for 5 months when I was lucky
to get a very romantic surprise proposal by the River Seine. A few days
after we got engaged, I was speaking to my mum about wedding ideas and
the Oran Mor came up.
A few phone calls later meant that we took a
booking for 7 months time! I'm really glad that we organised the wedding
within the year, it's not difficult if you're flexible with what you
want to do.  Apart from a few priorities, we were just happy to do what
we could within our budget and timescale."
"We chose  Glasgow to get married because
we met there, lived there and still love the city dearly. The Oran Mor
is a beautiful venue in a great location and we loved the idea of
planning the wedding from abroad without having to worry about scouting
the area because we know it so well. The Oran Mor
was beautifully decorated with murals by Alasdair Gray, a novelist and
artist.
We're both literature graduates and Joe did his dissertation on
Gray, it was a perfect place for us. So that we could invite as many
people as possible we decided to have a buffet instead of a full sit
down meal, and I think it worked really well. The Oran Mor were
fantastic, any questions or requests we had were no problem so we didn't
have to worry about anything, I would happily recommend them to anyone
as they know exactly what they are doing."
"I was very relaxed about the flowers, knowing the December
is not the best time of year for choice of blooms, I just wanted some
pinks and purples with some thistles. Our friend Jill offered to arrange
all the flowers for us, she sent us a message one day to say she'd like
to do it which was wonderful of her! We bought the flowers the day
before from a well known market seller on Byres Road.
He was quite taken
aback when we told him the flowers were for a wedding the next day and
told me I was lucky to get any! As it was just after Christmas, he
showed us some fresh flower wreaths he needed to get rid of, perfect for
the tables. We cut a deal and bought the lot including bouquets for
special guests for £120. Jill did an amazing job and even made the
buttonholes for the men."
"My hair band was a lucky find from Anthropologie
on shopping trip to London with my Mum. We'd gone in to look at a
jacket and saw these simple headbands on sale, I think it was only £19
at the till. I love it and am looking forward to wearing it again in the
summer!."
"I'd looked high and low for a pair of vintage style drop earrings with royal blue or sapphire stones, but just couldn't find them anywhere. These were a lovely alternative, with a hint of blue in the crystal and so nice to get them as a gift from parents.
Joe must have been listening to me going on about blue all the time
(and may have been in cahoots with my parents) as he bought me this lovely bracelet which my Dad gave to me for him on the day."
"We wanted to find another way to involve our family and
friends, so asked some of them to make cakes for us, instead of having
one big cake. They did an amazing job! Our cake table looked so
delicious and was a real talking point throughout the evening. We had
ginger cake, fruitcake, chocolate cake, Mars Bar cake, the list goes on!  We also had a 'Cheese Cake' from Marks and Spencers, which tasted
and looked great and was good value for money. I loved our little lego
bride and groom with their Eiffel Tower.
On top of making Christmas Dinner that week, my mum also made around 500 squares of Tablet for favours (if you've not heard of Tablet – she is a legend!"
"I didn't want too much decoration as the venue is already
stunning and I think there's a risk of going overboard. We got all of
our decorations from our friend Heather who runs Make Believe Events.  She gave us her Candlesticks, table
runners, table confetti etc. She runs an excellent business and is
extremely helpful, for example when I asked her for Snowflake Confetti,
she didn't have any but said she would find some! If we had been
organising the wedding over a longer period or perhaps weren't as
confident about doing things on our own Heather would be fantastic
wedding planner, she really knows the market and has very competitive
prices compared to a lot of other companies in the area.
The only other decor that we had was a projection of a live
Twitter feed, using the hashtag #joeandmhairi on the wall above the bar.
This was on throughout the meal and the dancing, but turned it off
during the speeches! Joe and his best man Paul made this and I so glad
they did, it was another talking point, and as I'm sure you can imagine
was very amusing. Lots of funny comments were made ranging from Joe
being a lucky man to song requests for the DJ, as well as lots of luck
from guests and some from those who couldn't be there.   Paul didn't stop there, he also made us a little timelapse video (for as long as his battery lasted) which is great!"

"The flower girls dresses were from Monsoon (in different colours than the ones this season) the two older girls in the same shade as the bridesmaids and the youngest looking delightful in white. I bought them all little necklaces with snowflakes for wee gifts (not available anymore, but some lovely things all the same)."

"My veil was a loan from my lovely friend Helen. She was so generous
to offer it to me and it really set off the whole outfit. I didn't
think I'd want a veil, but I'm so glad that I wore one, it was so
beautiful. She got it from Rosina Brown in Stocksfield (who she loved
and where she got her own fabulous dress from Rosina Brown Bridal."
"Our photographer was Neil Thomas Douglas, and his second shooter for the day was Zoe Campbell. They were phenomenal.
We
met up with Neil before the wedding and got on really well with him. We
hadn't considered the implications of having the wedding at 4pm in the
depths of winter, but Neil immediately came up with plans for how we
could combat this. His photos are gorgeous, we didn't really give him
much to go on, just left him to it and we love what he has produced. He
even coped well with a grumpy me telling him we didn't have time for any
more photos!
We loved doing some alternative poses and that Neil kept
things as informal as we wanted to. I would strongly recommend either
photographer if you're looking for some lovely people who know how to
capture moments beautifully."

"One of the first things we did after we got engaged was write a
list of priorities for the wedding. We wanted a ceilidh, to have as many
of our family and friends there as possible, to have lots of fun, not
to spend a fortune and to actually get married! These guided us
throughout the planning and I think it really helped to know what we
cared about.
In terms of the look, our colours and theme came from Joe's
design for our invitations, he used a poem we found called A Winter
Wedding by Gael Turnbull and made snowflakes out of Eiffel Towers! We
went from there with the rest of the stationery and everything else just
fell into place."
"I booked Sorelle
(Anne Marie and Julie) for the hair and make up. I told them I wanted
red lipstick and my hair look glam, they did the rest and I loved it!
They took inspiration from the dress and knew that I was aspiring for a
classic, film star look. The girls are a good laugh and were great to
have around. It was a real indulgence for me to have them but it was
such a treat and they did such a fantastic job that it was worth it."
My snowflake nails were by my sister's best friend Caroline the night before, they were my favourite accessory of the day."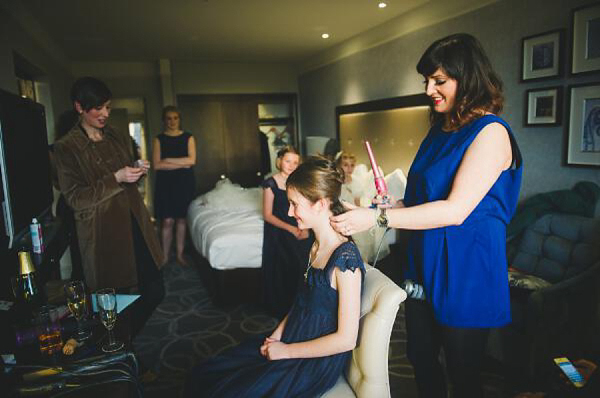 "Joe thought that as my outfit was a secret then it would
be fun (for him!) to keep his a secret as well. This meant lots of
sneaking around with his sister and best man and avoiding probing
questions from me. He's never been keen on kilts so when I saw his
outfit I couldn't believe it, I thought he looked fantastic, the colours
were perfect and it just all fitted in perfectly. I was very impressed,
even more so when I found it it was all second hand! His kilt is from W Armstrong and Son in Edinburgh and he and his best man got their jackets from Mr Ben in Glasgow.

He is particularly enthusiastic about the service he got in Mr Ben, as
they gave him a lot of guidance on the colours and overall look of the
outfit. After they told him to get his jacket altered he went to his talented friend Andrina for help as she runs her own bridal alterations business."
"My lovely Dad gave me away, we walked down the aisle to our excellent piper Dan Nevans playing Shoshanna's Lullaby. 
 'Getting married in Scotland gives you quite a lot of freedom
with what you do with the ceremony. The readings, the vows and the
prayers were all chosen in collaboration with our celebrant Tony Bryer,
an old colleague of Joe's and we had a lot of flexibility as we weren't
marrying into one church. He was wonderful at guiding us through what
others had done before us and understanding what wanted. In the end of
the ceremony was a mixture of Celtic, Church of Scotland and Poetic
wording. I loved every word of the ceremony,  particularly when we
exchanged our rings:
Joe –  My ring is a symbol of love never ending.
Mhairi – Mine is a circle of our sweet belonging
The rings are placed on each other's fingers
Joe – A circle of gold in joy and in sorrow.
Mhairi – A circle of gold today and tomorrow."
"We had two readings in our ceremony, The Journey by Christine de
Luca, read by Joe's sister and Song of Songs Chapter 2 (10-13), 8 (6-7)
read by my uncle and godfather. The Journey followed from where A
Winter Wedding (from our invitations) had begun and felt a good fit. The
chapters from Song of Songs are beautiful, they speak about love, hope
and commitment. 
My sister's gift to us was a
recording of one of our favourite songs The Good Years by Edwin Morgan
and Karine Polwart which we played while family and friends lit candles.
You can listen to it here. I can't listen to it without welling up! It is wonderful."
"We wanted guests to bring their kids, but didn't want them to be
bored so all the children attending were given party bags made by our
friend Heather who runs Make Believe Events. They were filled with toys, coloured pens and a few sweeties and went down a storm. She did a great job!"
"We chose to dance to a traditional Gay Gordons rather than
something slow for our first dance as it's fun and everyone could join
in. When we entered the venue for the first time as a married couple, we
did a lap of the room to Gonna Fly Now, the theme from Rocky, which was
hilarious and made everyone laugh!"
 "Joe's school friends were our much wanted ceilidh band and our
friend from Uni Rik aka Dj Troutfish provided the tunes. Everyone was up
dancing which we were really happy about and Rik's choice of music was
hilarious yet appropriate – a mix of school disco and uni anthems
(depending on your age). Think along the lines of The Police, Whigfield,
Gangnam Style  and PJ & Duncan – lots of fun!"

Words of Wedded Wisdom…
"My advice is to do the bits about weddings that you like and
throw away the rest. Why bother with all the fluff and branded weddingy
stuff if you don't care about it? We took most of the decisions together
and shared the work depending on our strengths. It's stressful managing
a 180+ guestlist in any sphere of life, let alone for something you're
organising in your spare time! We had a spreadsheet we called  The
Wedding Master Plan, you can find lots of templates online which are
really helpful. Don't revisit decisions once you've made them, move on
to the next thing on your list. If something isn't working or you can't
find that perfect thing, change your idea and use what's available or
drop it, no-one will notice anyway. And enjoy it all! It's fun (well
most of time) and totally worth it. 
I visited Love My Dress every single lunch break – I also looked
up a lot of the suppliers, and enjoyed the make up tutorials a lot.
As for my favourite part? Highlights included the Twitter wall, glow sticks, our
promises and vows, the Gay Gordons, photos taken at a bus stop, seeing Joe
in a kilt, all the cakes, all the cheese, doing a speech, tablet
favours, Troutfish tunes, and GETTING MARRIED, a Gangnam style-off with
under 10s, seeing all the smiling faces and feeling the love in the
gorgeous Oran Mor.   That pretty much sums it up!  I
wouldn't change anything, just would worry less about what people were
expecting and that people were just happy to be there and help out."
What a lovely way to start the week.  Huge congratulations to you Joe and Mhairi – your wedding photographs are so lovely and full of joy – your photographers Neil Thomas Douglas and Zoe Campbell have done you proud!
Readers, if you would like to see more brides wearing Jenny Packham, go here. 
With much love on this somewhat snowy Monday morning everyone – check back later for a lovely giveaway.
Annabel
Photographer – Neil Thomas Douglas supported by Zoe Campbell
Venue – Oran Mor in Glasgow
Wedding Dress – Crystal by Jenny Packham via Panpan Bridal Edinburgh
Brides Veil – Rosina Brown Bridal
Brides' shoes – Marks and Spencers + shoes clips via Melle Cloche in Glasgow
Bride's accessories – hair band via Anthropologie + vintage style drop earrings
Groom's Attire – W Armstrong and Son in Edinburgh + Mr Ben in Glasgow + Scrabble cufflinks from All Things Brighton Beautiful
Birdesmaids Dresses – Coast
Flowergirls – Monsoon
Styling + Decor – Make Believe Events
Flowers – Via  a friend
Cake – Cheesecake via Marks and Spencers +  cakes made by friends
Entertainment – Celeidh via a friend
Rings – John MacIntyre and Sons
Hair Stylist + Makeup Artist – Sorelle