To start the day with something rather gorgeous – Genevieve & Matthew tied the knot on 7 April this year at the In & Out Club (Naval & Military Club) at St James Square in London and photographer David Jenkins, who's work I've been featuring for over two years now, was there to capture it all.  Are these images not dreamy and gorgeous? David is such a talent behind the lens.
Genevieve looked utterly resplendent in her David Fielden wedding gown, chosen because it was stylish, different and comfortable – and her white blazer from The Kooples.  Who does that? Wear blazers with their wedding dress? I bet a whole lot more people now for sure after seeing Genevieve. It just works so well. This wedding is city-chic and elegance personified…
"I wore a vintage influenced dress by David Fielden, which I altered to make almost entirely backless. The dress was light and easy to wear and dance in which made me very relaxed throughout the evening. 
I also wore a white blazer from The Kooples, which I wore to and from the venue. The straight edges of the blazer gave the outfit a very modern, urban look in contrast to the vintage style elsewhere.  We were very much inspired by a 1920's, Great Gatsby style party."
Love My Dress Wedding Blog – Photography Copyright (c) 2012, David Jenkins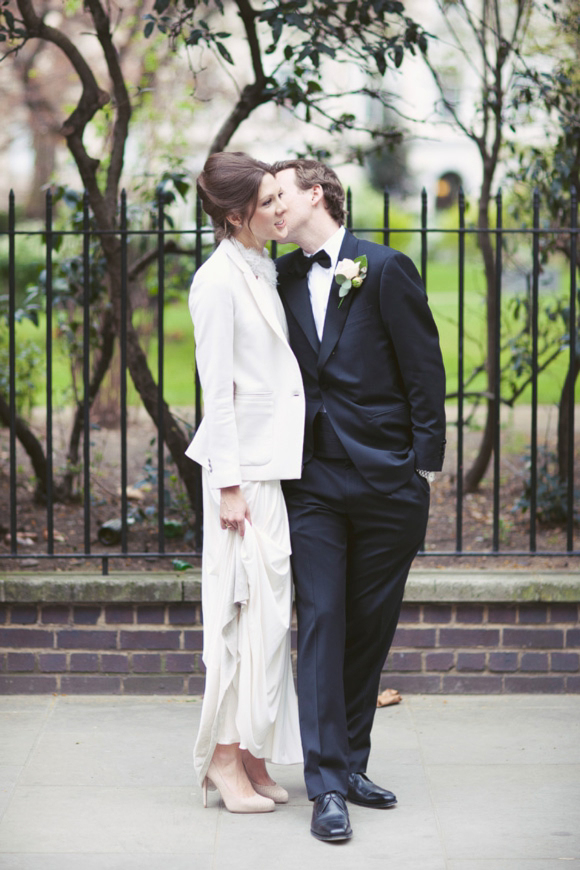 "Despite both of us being from Toronto, Matt and I chose to host our wedding in London, our home together for the past four years. We wanted our wedding to reflect the excitement and elegance of the city."
We chose the central London venue, The In And Out Club, not only because it is a beautiful English club, but it would also host our civil ceremony, reception, a seated dinner and dancing all under one roof. Guests were free to roam the grand house and find tucked away parties in different rooms. There were leather sofas by the grand fireplace in the bar where dancers could rest their feet and girls could slip out of high heels…" 
"For the ceremony I wore a birdcage veil which was custom made by Vintage Rose. We arranged the chairs in a semi-circle which felt really intimate and small despite there being 108 people. The ceremony was short and sweet which both Matt and I appreciated as well as our guests..."
"The dress code was black tie, which I think looked fantastic in the venue…"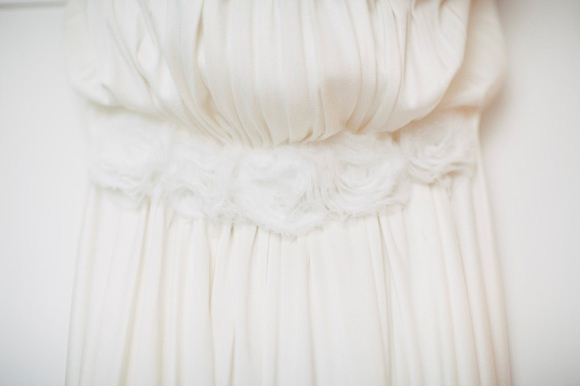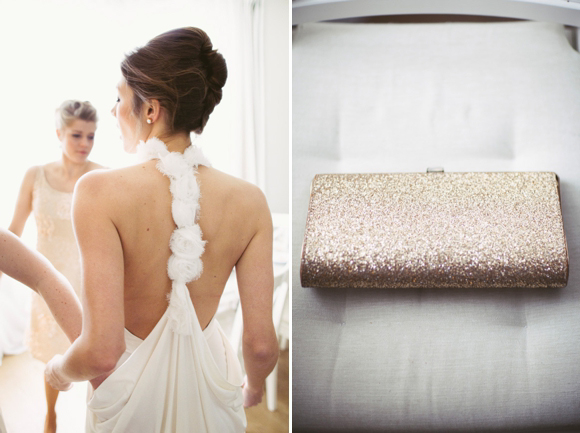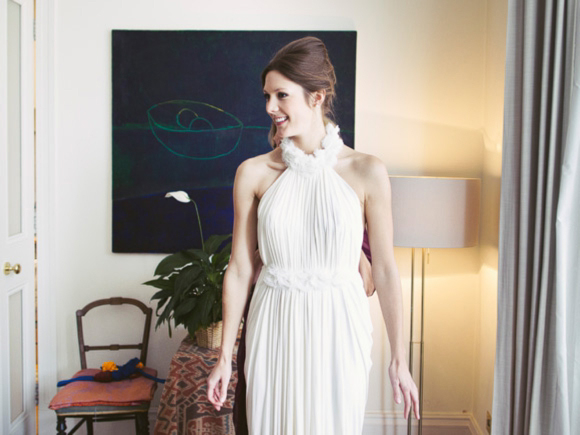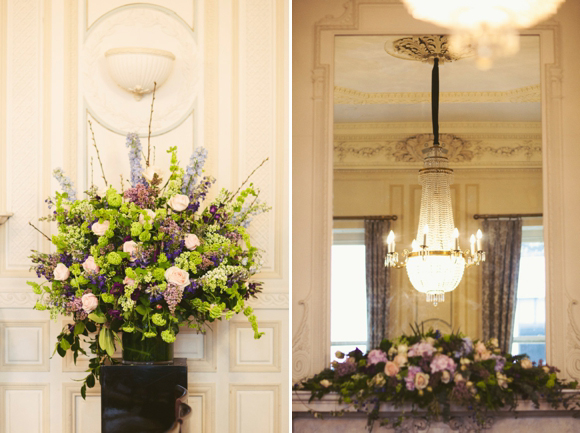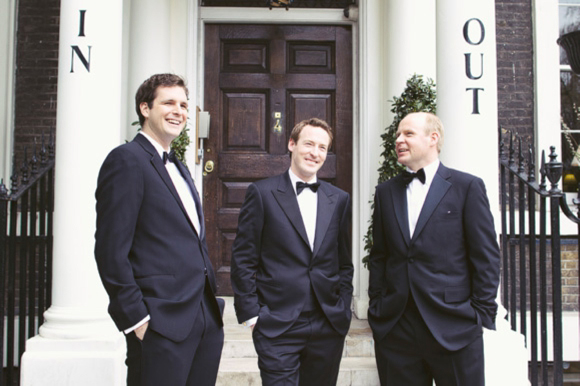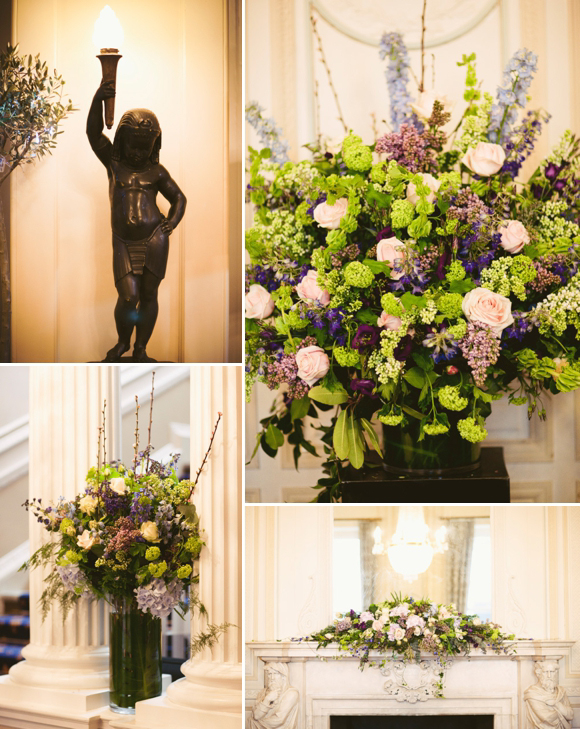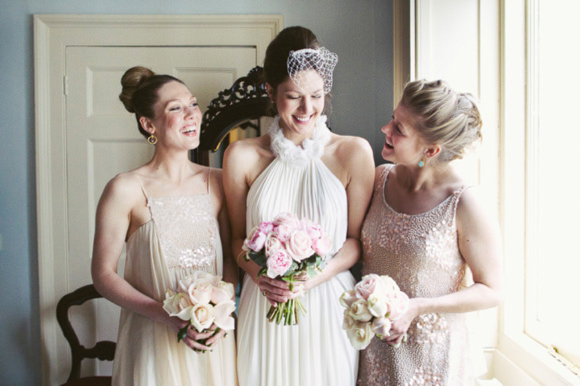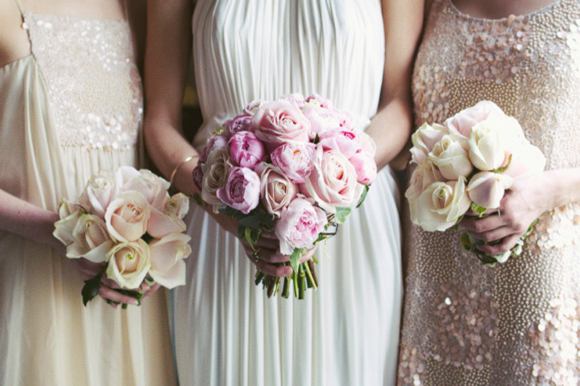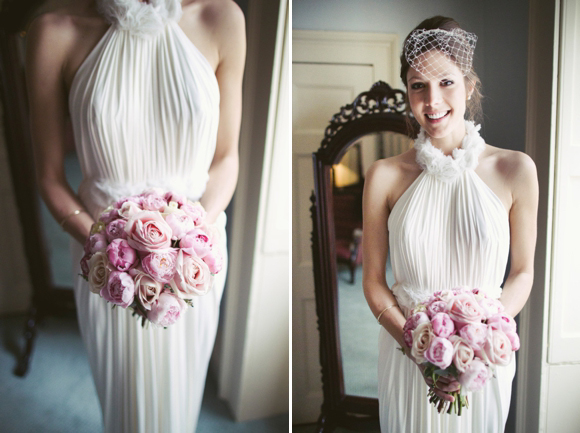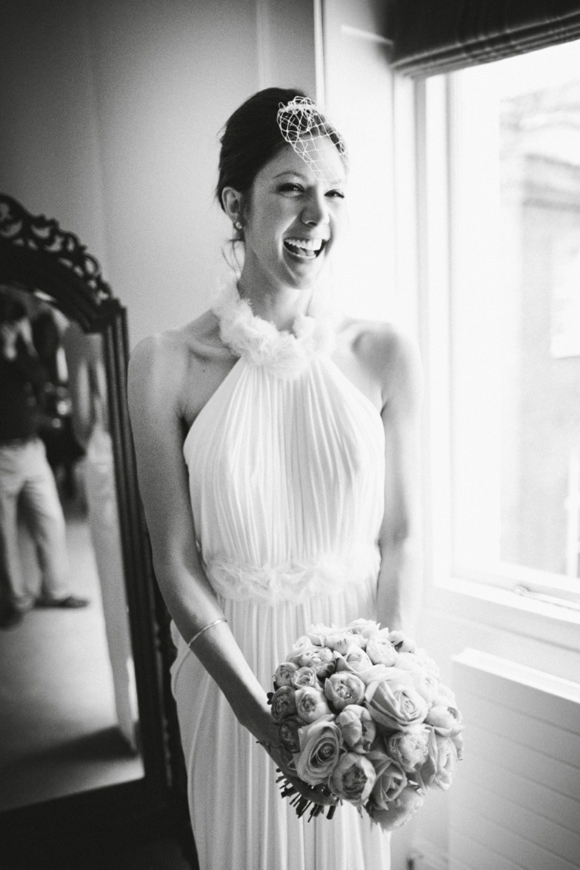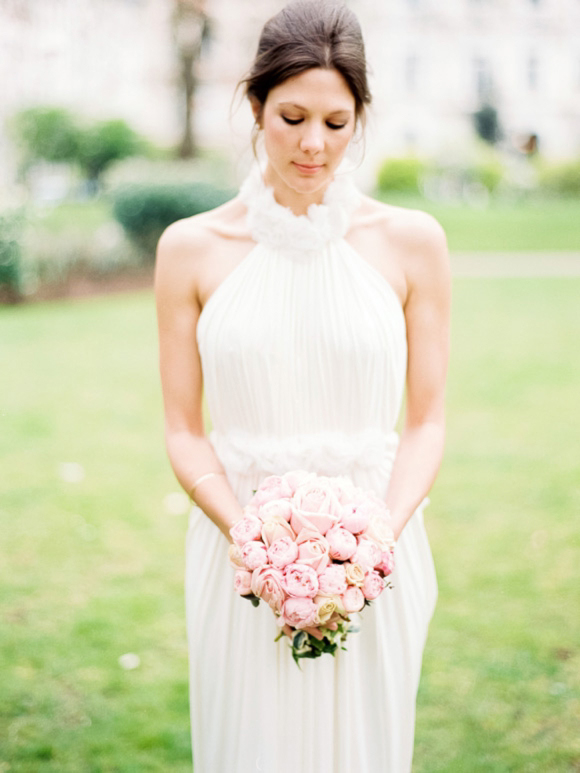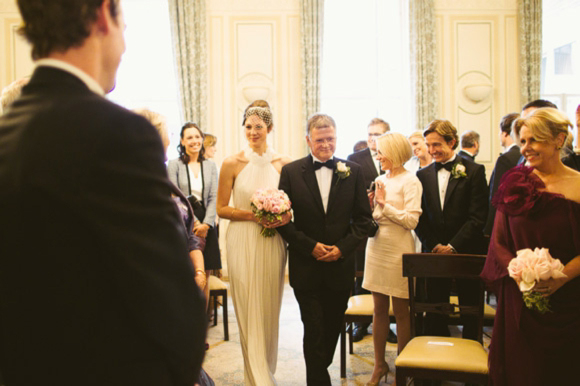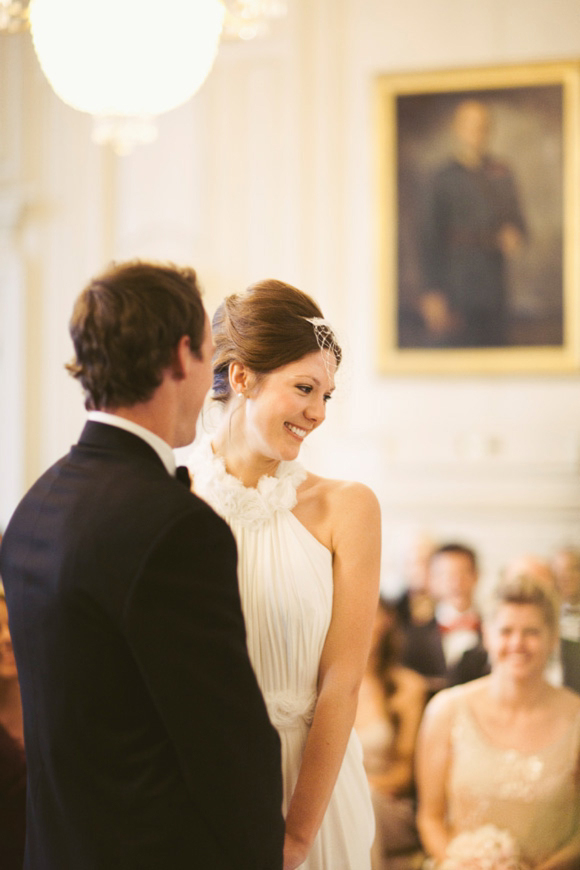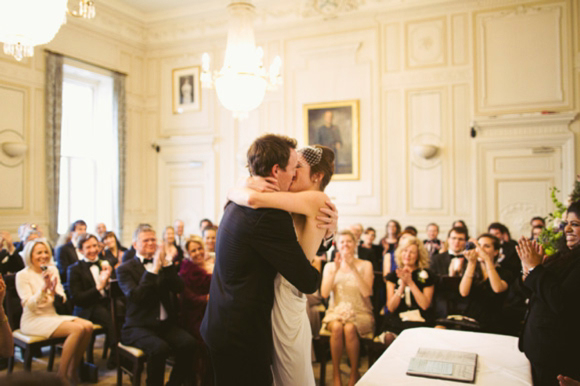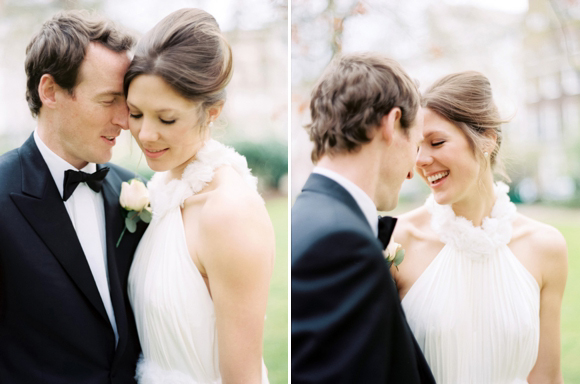 "For place cards, I hand gilded gold eggs and my mother wrote each
person's name on card which we tied to the eggs with ribbon…"    
"We chose the venue, The In And Out Club, St James Square, London, for the privacy and intimacy as it offered
exclusive hire and a beautiful setting. The entire wedding from
ceremoney to sit down meal to dancing could all be hosted in various
rooms throughout the house. It truly felt like an elegant party in
someone's home which would not need the fuss of hired catering
equipment, tables and chairs…"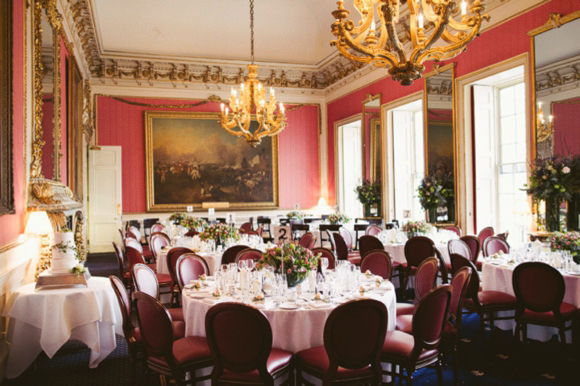 "I loved the portraits on the wall and the elegant rich colours. Set
with massive amounts of flowers and candles this would be a romantic
spot in the beautiful St James Square near Piccadilly Circus.
The venue is a spectacular place, but like many London clubs it is a
bit tired and frayed around the edges. While this is certainly part of
the charm, we needed grand flowers to showcase the venue.  Moyes Stevens of Moyes Flowers did a fantastic job with the flowers creating
something truly unusual and bespoke to the venue. We had a few large
displays around the club which made the rooms feel even more glorious
and elegant. For the tables, I preferred low arrangements so guest could
see over each other and conversation would not be interrupted. I chose
tulips as they are one of my favorites and perfect for a spring wedding.
My bouquet was a mixture of pink roses and peonies…"
Words of Wedded Wisdom…
"Choose a venue that is beautiful on it's own that way you can spend
more time and money on a few decorative elements that are really
important to you – I chose to spend a lot on flowers which really made
an impact on the venue and I spent a lot of time hand crafting gold eggs
and illustrating each name card. I didn't bother with smaller points
like a programme for the ceremony, or hiring cars to take me to / from
the venue – a black taxi works perfectly in London!
I could not recommend more highly to convenience of a city wedding
close to home where your guest (even out of towners) can tour the city
by day and arrange their own transport and accommodation easily.
I would also say be comfortable in your dress so you can dance and enjoy your party all night!"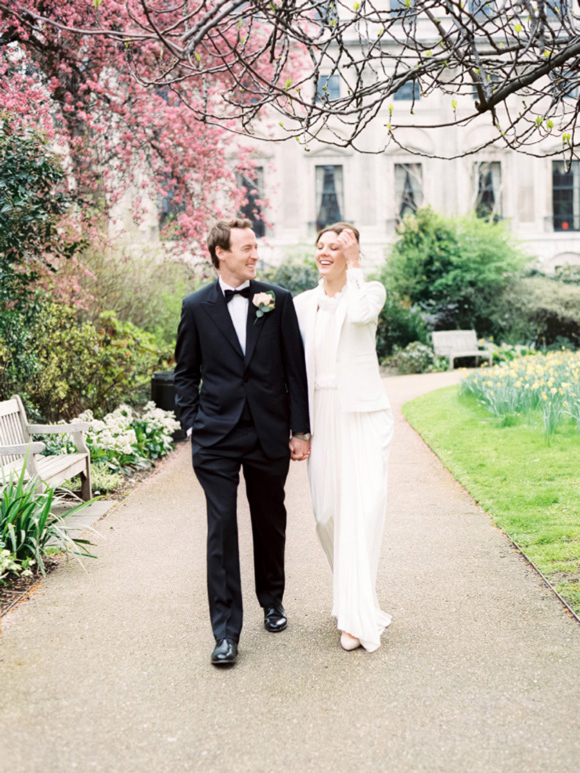 Super chic and stylish – I'd love your thoughts on this wedding dress and blazer combo…. who has been inspired?
You can see much more from the talented lensman David Jenkins on Love My Dress right here. Also check out our David Fielden pages.
Love Annabel
Photographer – David Jenkins
Venue – The In And Out Club, St James Square, London
Brides dress – David Fielden
Brides blazer – The Kooples
Brides shoes – Dior
Brides Veil – Vintage Rose
Brides Accessories – Oversize pearls from Gilda's Tryst
Grooms Suit – Custom made tuxedo
Bridesmaids Dresses – David Fielden + nude high heels
Florist – Moyes Flowers
Entertainment – Benoit and His Orchestra
Hair Sylist – George's Salon, King's Road, Chelsea