Good afternoon.  Today is all about offering you a taste of beautiful alternative wedding day style – starting out with this bride in her The Kooples blazer and David Fielden wedding dress, and ending now with bride Kate in her Collette Dinnigan dress and self-made black fascinator – utterly sublime
Makeup Artist Kate Radford and her Husband Paul tied the knot on 26 February 2011 taking inspiration from the colours black and white, and the 1940s.  These photographers were submitted by their hugely talented photographer, Nikole Ramsay.  The wedding took place at Fairfield Amphitheatre in Fairfield which is an open air space with a bluestone amphitheatre overlooking the Yarra River in Melbourne, Victoria Australia, followed by a reception was held at The Fitzroy Town Hall, Fitzroy in the Reading Room which is the original library.
So many elements of this wedding are beautiful – those little boys, the cute dog, but the dress wins it for me…
"Collette Dinnigan
is an amazing Australian designer, world renowned for her stunning
gowns.  It was my second marriage, I was nearly 40 years old and already
had two children so I didn't want to look too traditional! This dress
was elegant and stylish and made me feel fantastic!"
Love My Dress Wedding Blog – Photography Copyright (c) 2012, Nikole Ramsay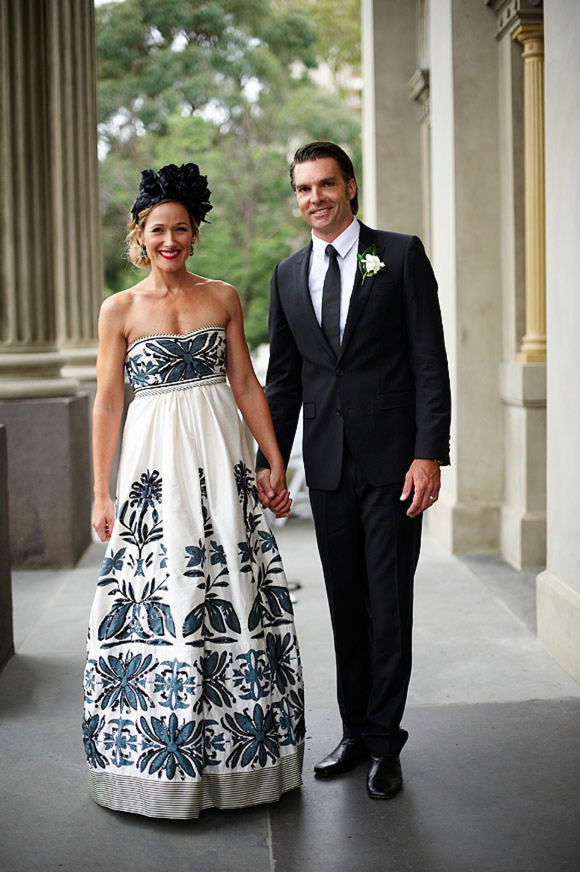 Being a Makeup Artist, Kate knew just how to apply the perfect red lip, look at that smile!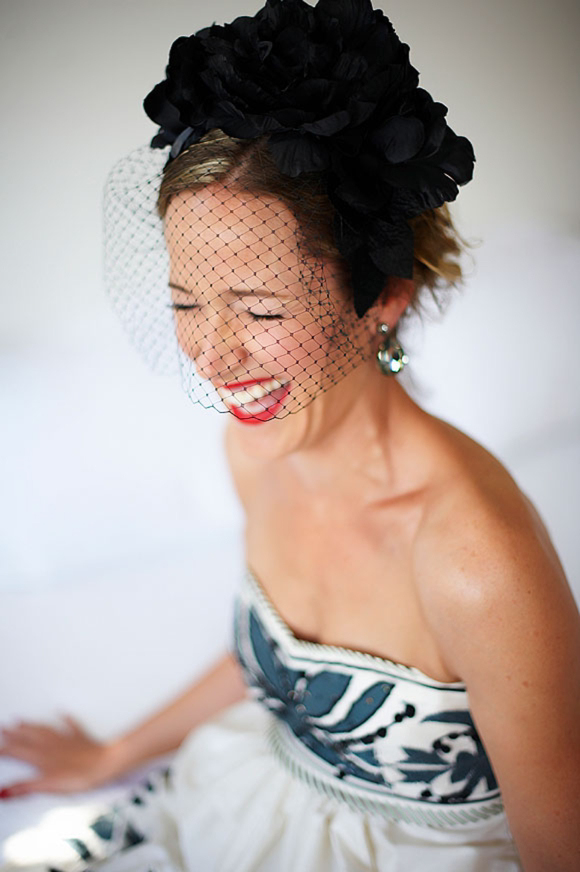 "My two sons, Kit 9 years and Darcy 5 chose their own
outfits – black trousers and vests with white shirts and grey converse
sneakers…"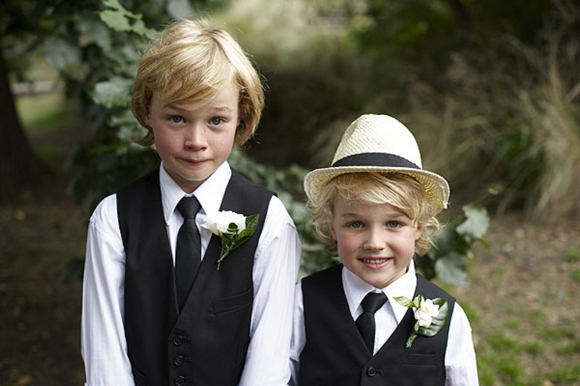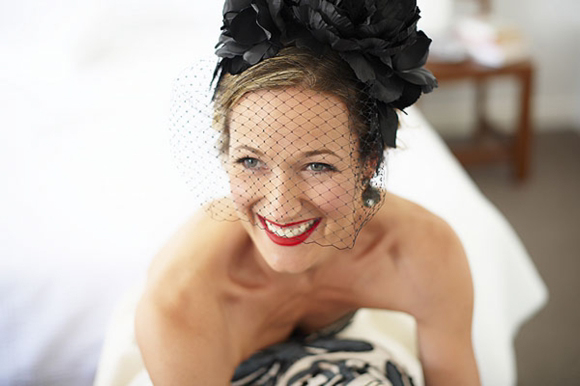 "We had met 16 years ago, travelled the world together, had two
beautiful children, renovated a house etc etc…by that stage marriage
wasn't really on the cards. So I was taken completely by surprise when
Paul proposed out of the blue at the dinner table with our kids sitting
with us.
It was very sweet and funny and the kids were so excited to
think they could be a part of the celebrations. They think it's pretty
cool they got to see their mum and dad get married…"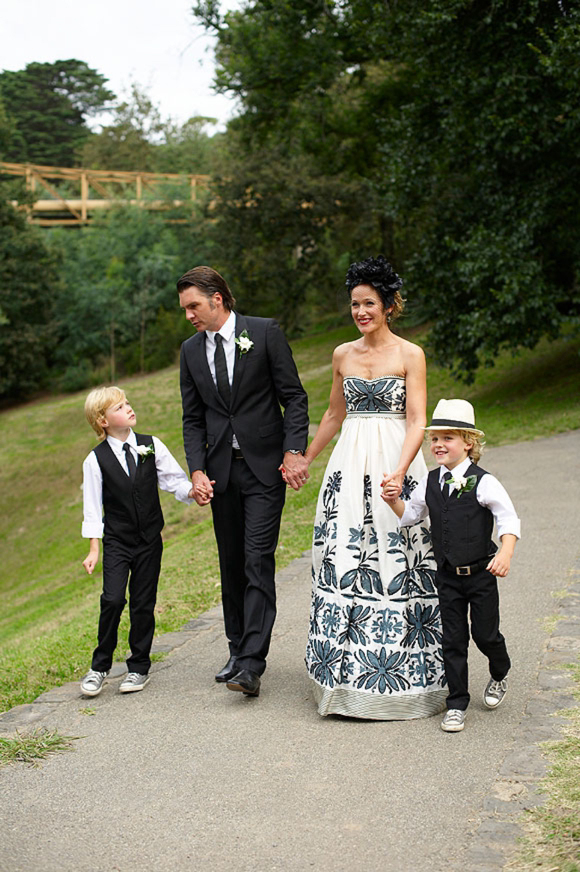 "Paul didn't have any groomsmen but our 16 year old dog was waiting
with him at the ceremony. She had a spa that morning and a new black and
white collar and lead to match the rest of our outfits!"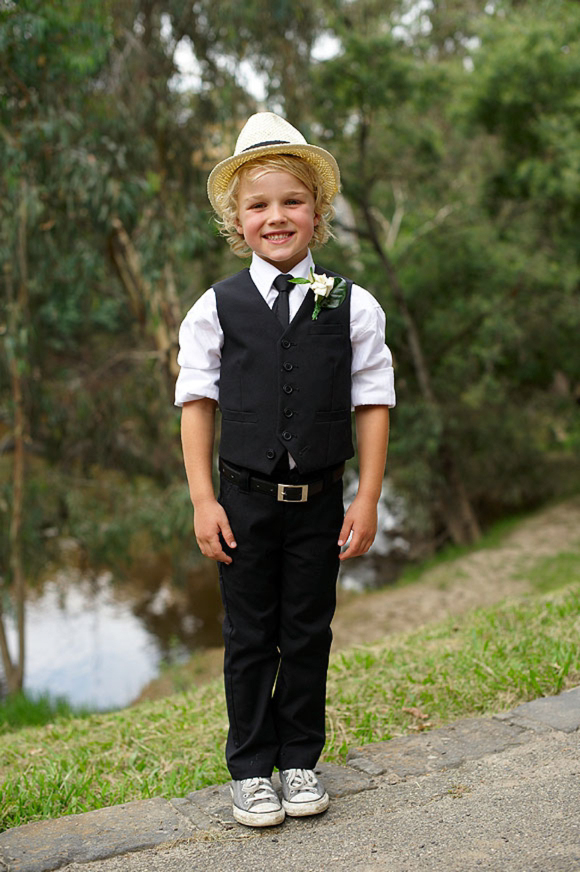 "I made my bouquet….search all over Melbourne for white hydrangeas! 
We had white gardenia's with camellia leaves for the boys button holes.
And the flowers at our reception were all arranged by me and some
girlfriends on the day.
I chose all white flowers of about 12 different
varieties and clumped them together in vases of all different shapes and
sizes.."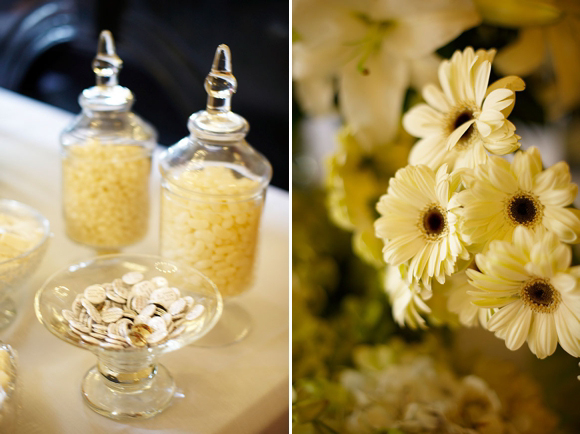 …….adorable alert!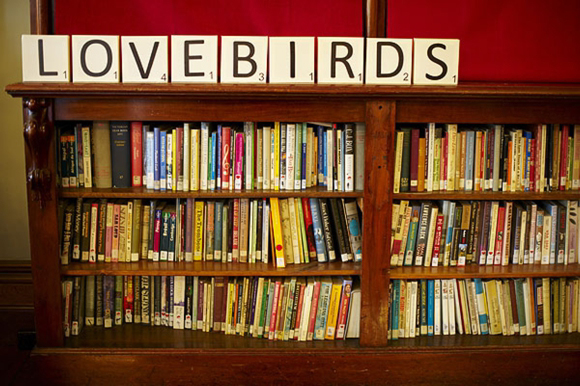 "Our photographer was the exceptionally talented Nikole Ramsay.
Nikole has
an amazing ability to capture candid moments with such beautiful and
unique style. We were absolutely thrilled with the photos from our
wedding…"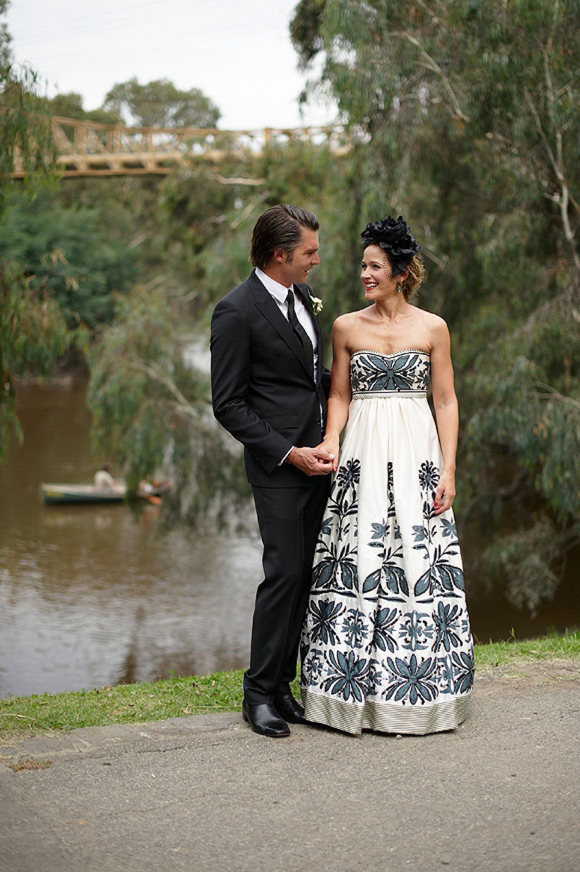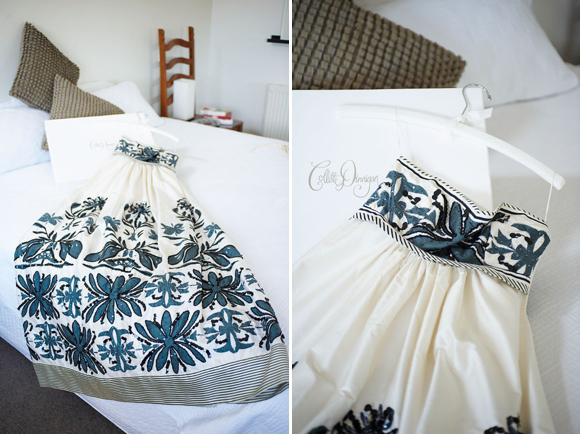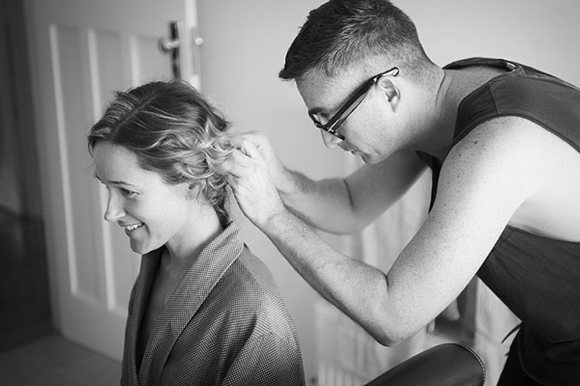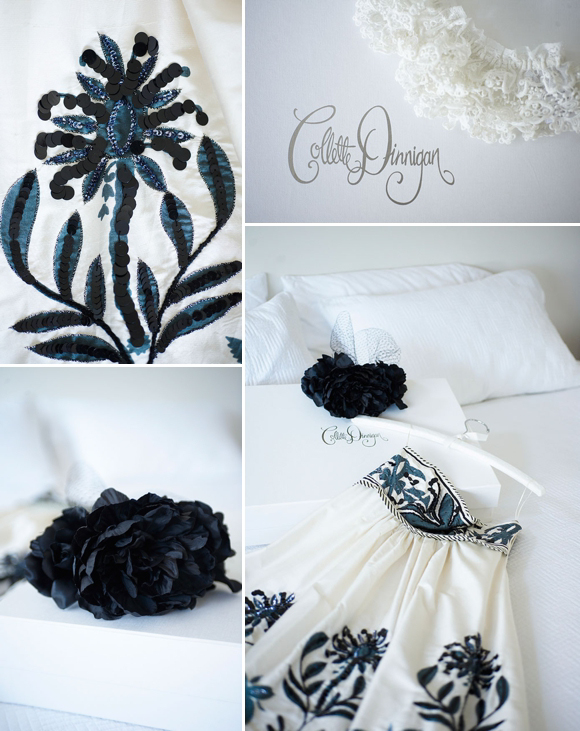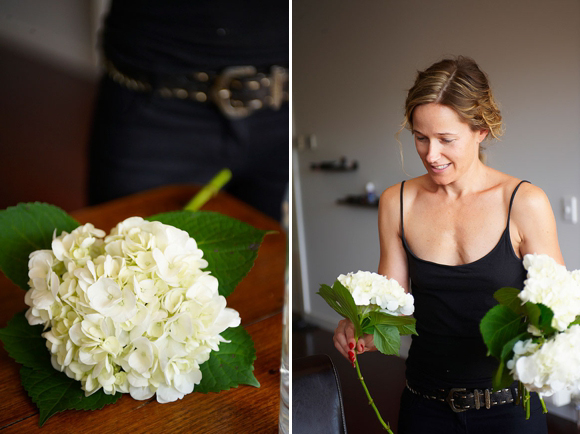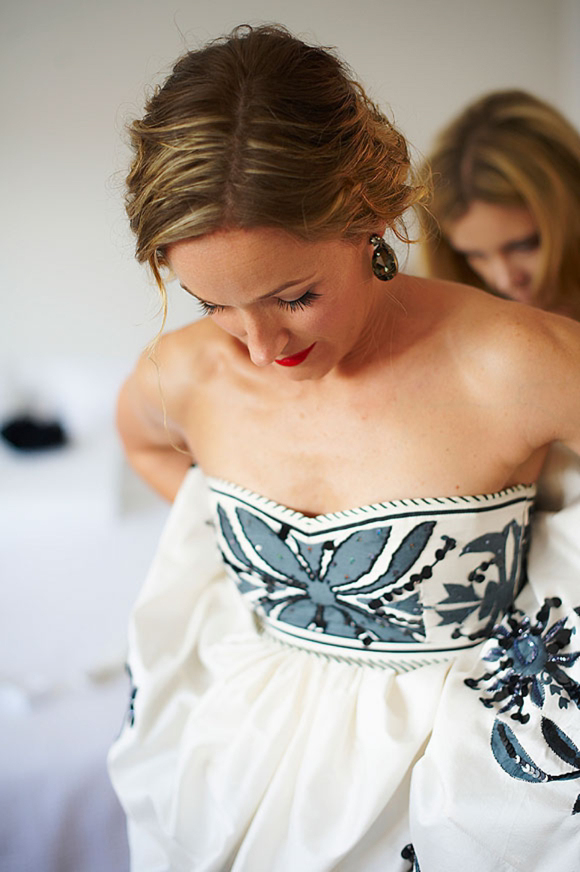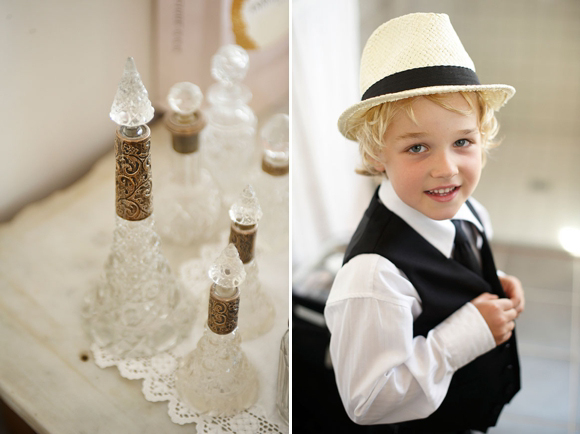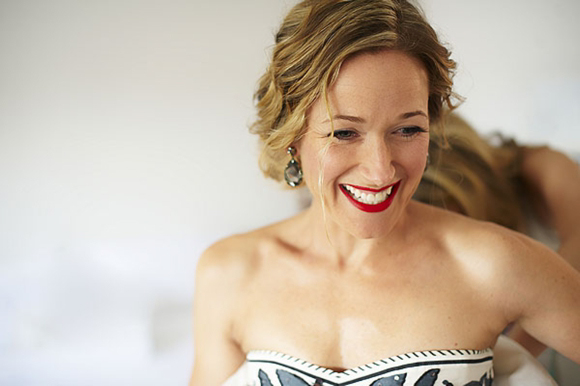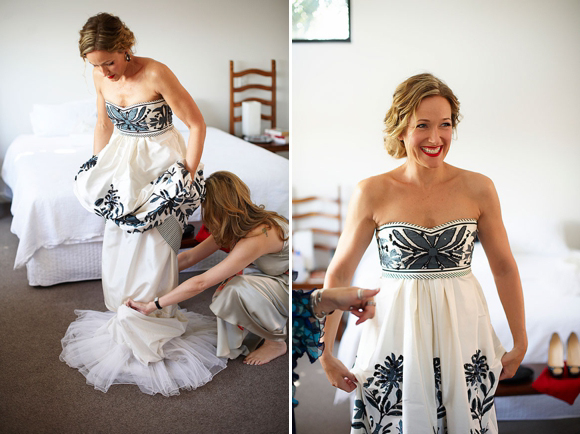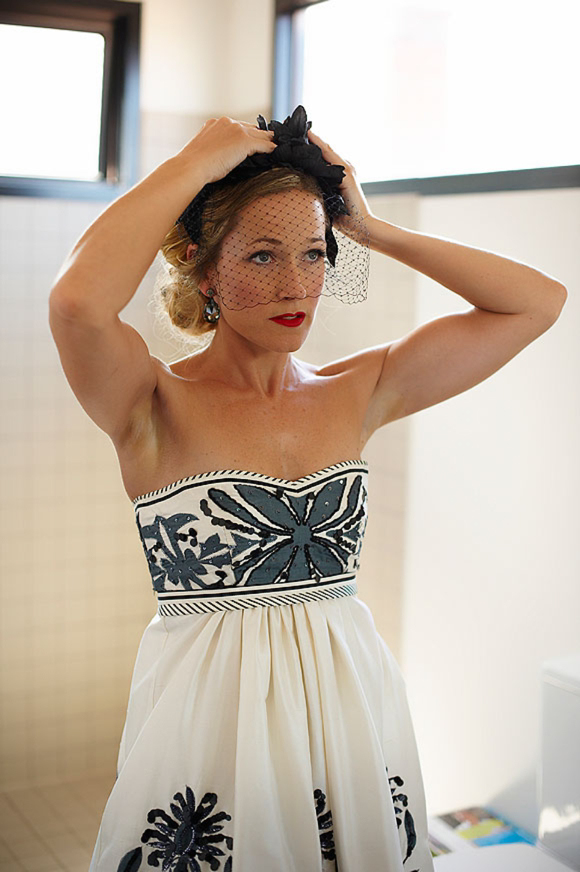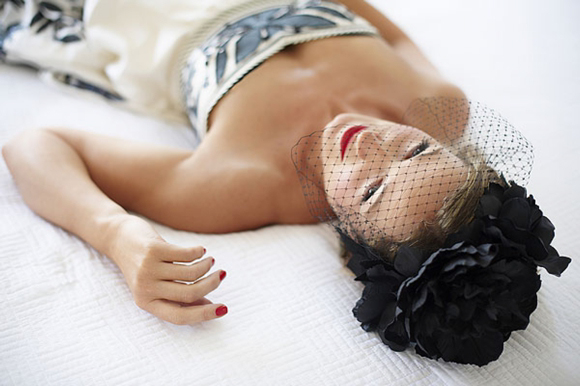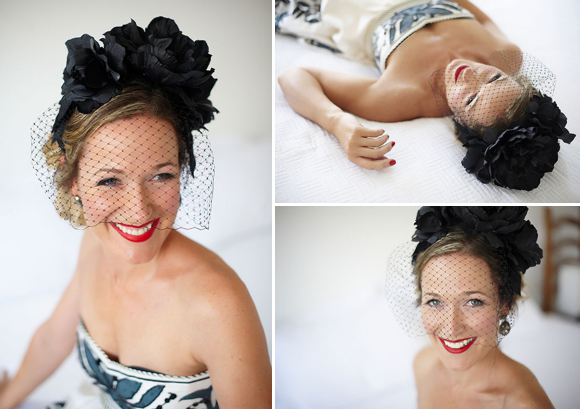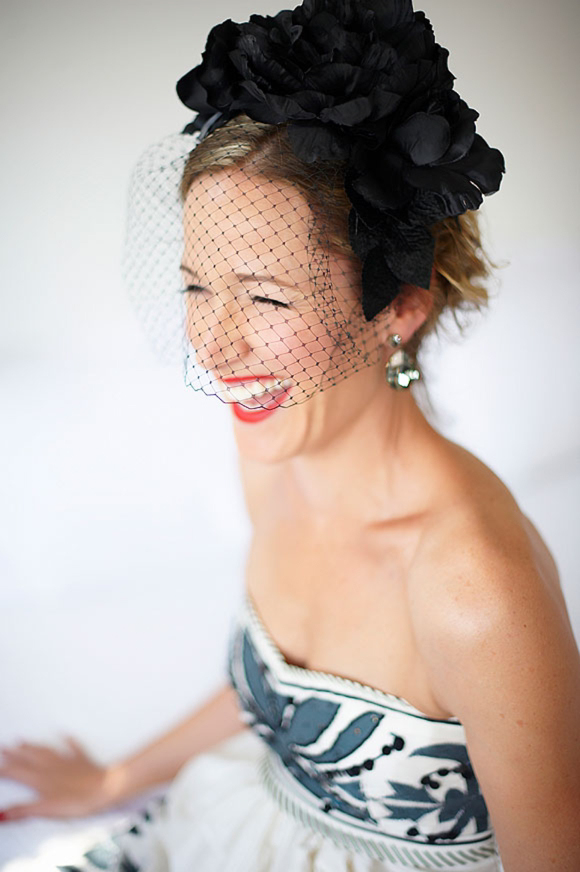 "My two beautiful sons walked me 'down the aisle' My father had
died 18 months before and my mother when I was only 21, so it was all
about our kids and our family being together…"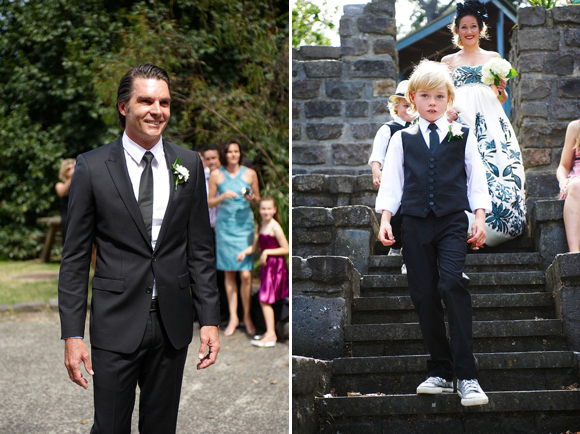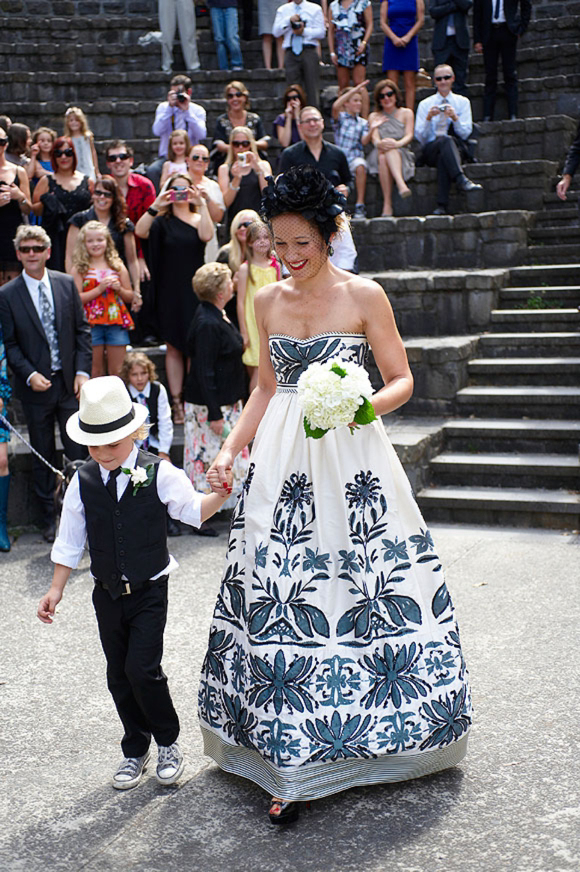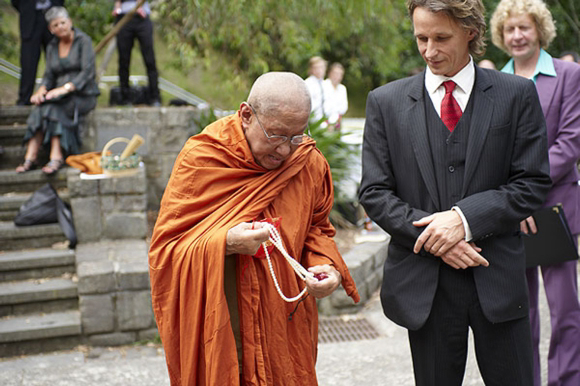 "We had a civil celebrant marry us and a Buddhist Monk bless us and
our children. We'd been together for 16 years, had two children and
neither of us are particularly religious..."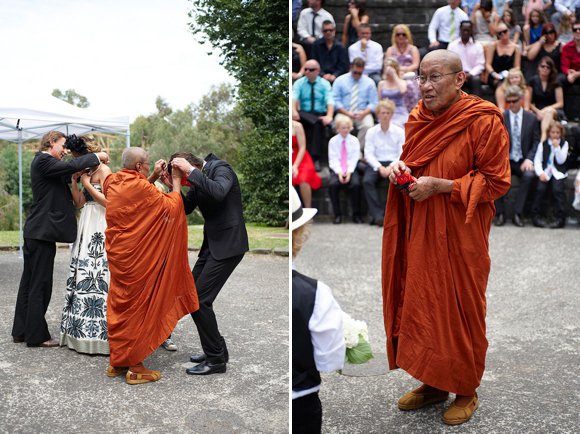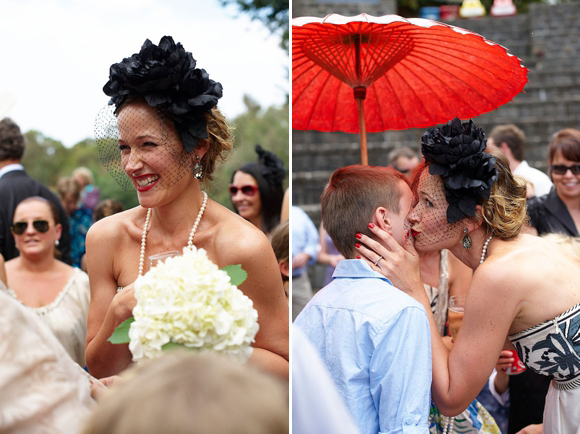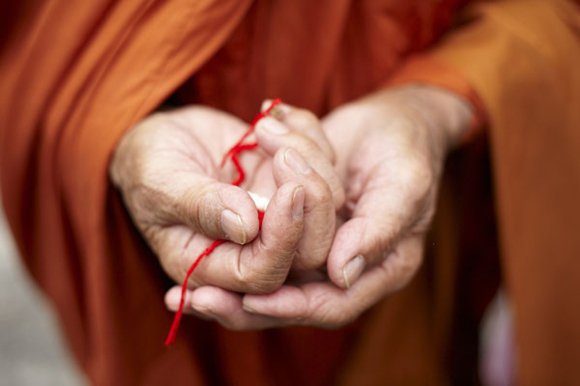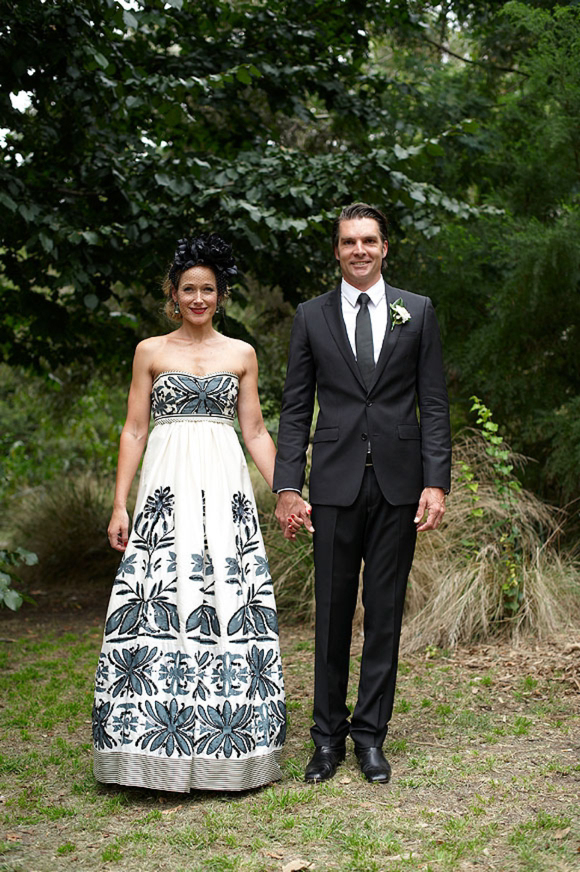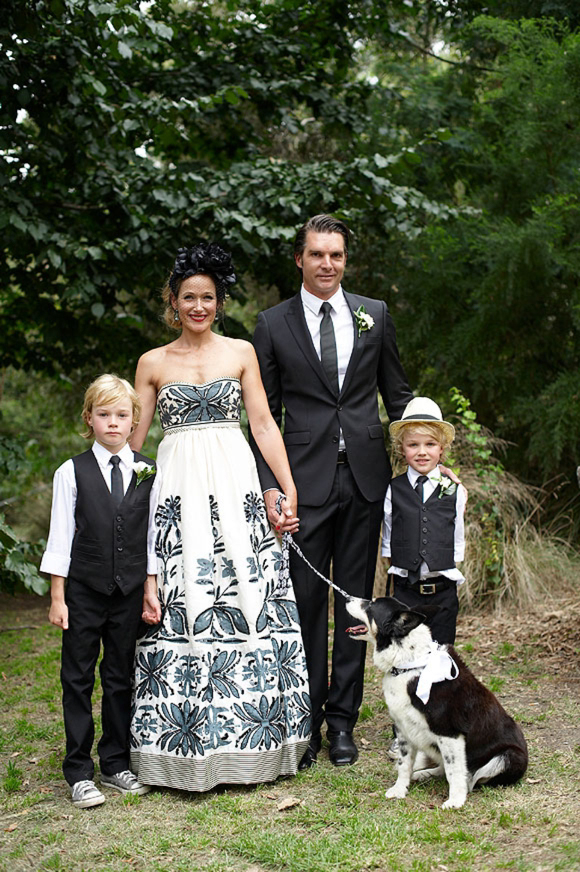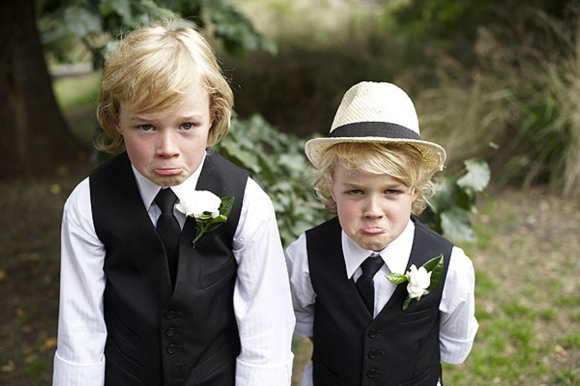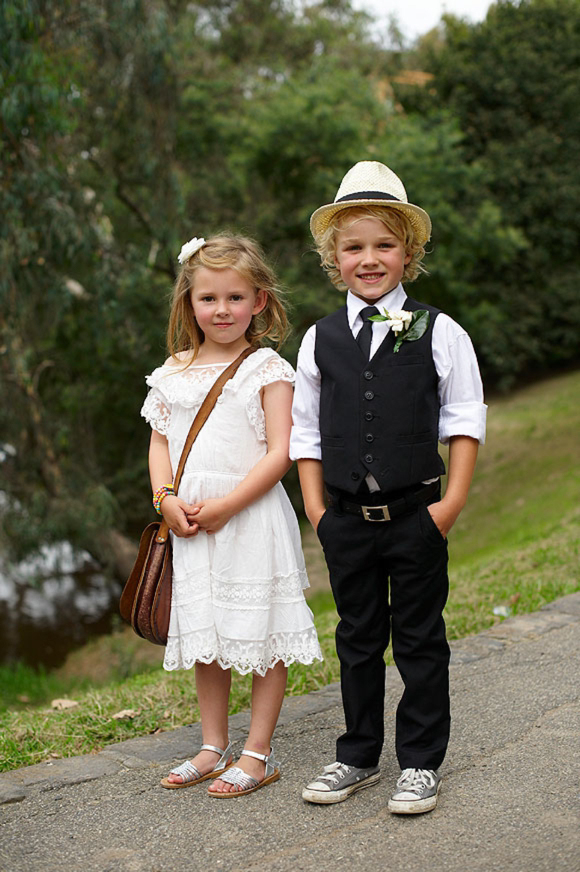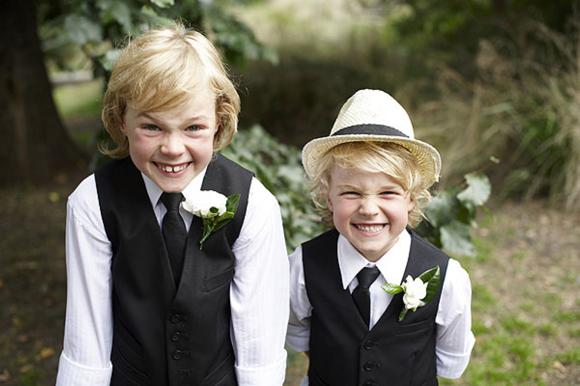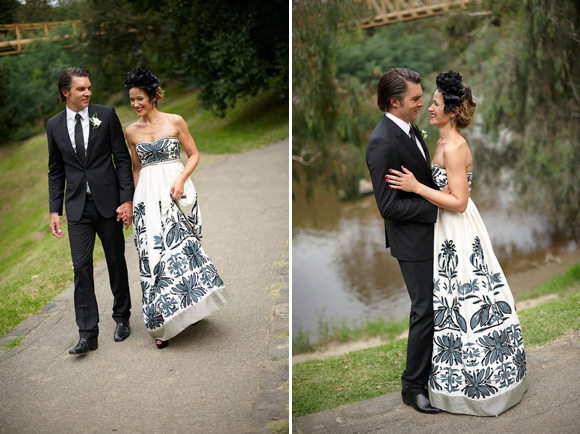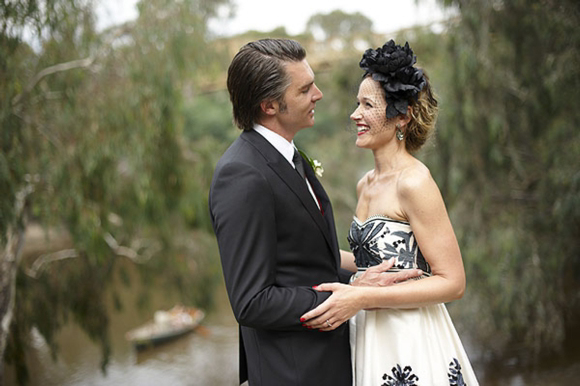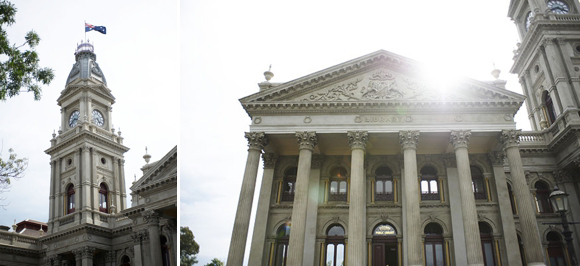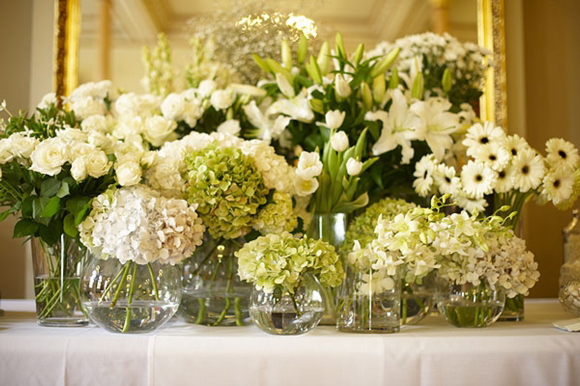 "We had a white chocolate croquembouche with a simple thick
grosgrain ribbon around the bottom. Made by Eiffel Tower cakes. It's my
favourite cake and we served it as part of dessert…"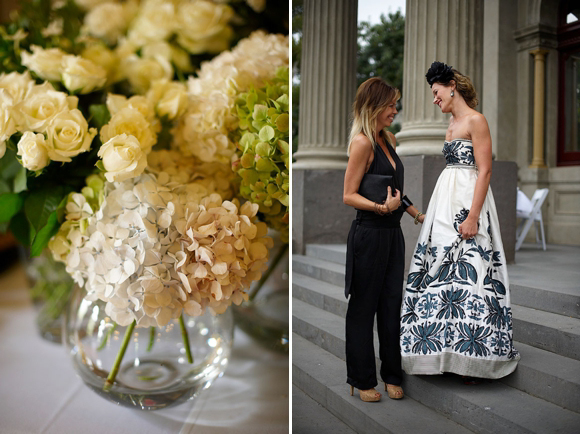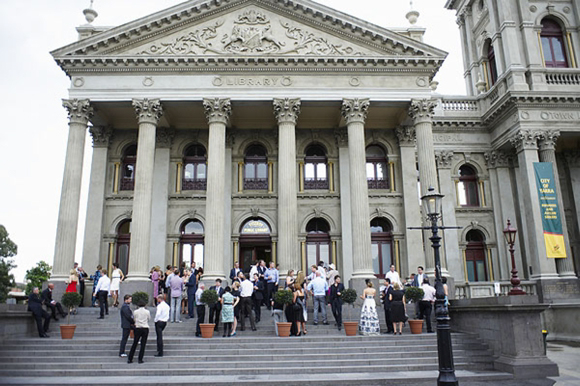 Words of Wedded Wisdom…
"Enjoy it – don't stress
the little things, make lists, write down your speech, I thought I'd
remember what I wanted to say but didn't!"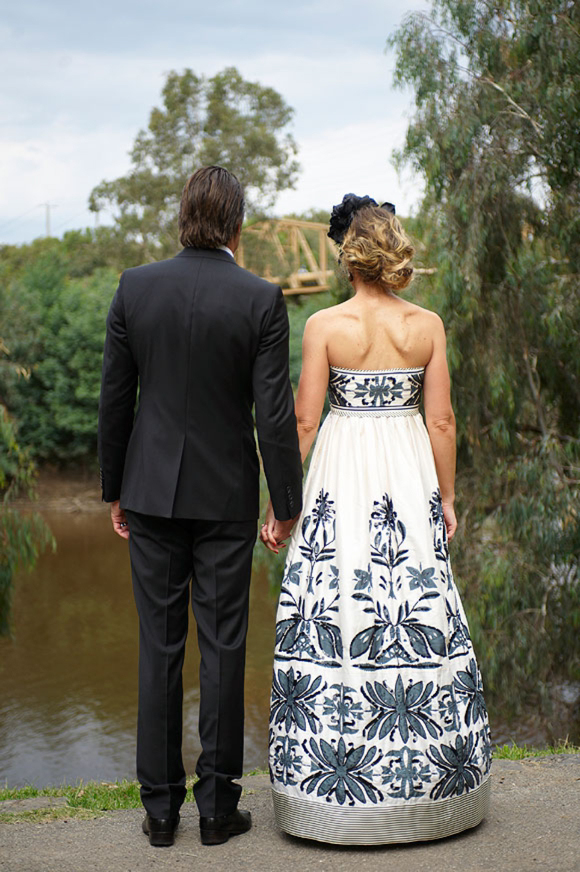 This bride clearly knows her own style so well – talk about how to pull of the wow factor in a non-traditional wedding dress!
Huge thanks to Kate and Paul for allowing me to share their wedding with you today and many thanks to the lovely Nikole Ramsay too – Nikole shoots weddings in Australia and her former home the UK – drop her a line if you are interested in chatting to her about taking your wedding photographs.
Now, who has Collette Dinnigan dress envy?
So much love all,
Annabel

Photographer – Nikole Ramsay

Venue – Fairfield Amphitheatre + The Fitzroy Town Hall, Melboure, Australia

Brides Dress – Collette Dinnigan

Bride's Fascinator – made by the bride

Brides Shoes – Louboutins

Brides accessories – French Swarovsky crystal Earrings from Tessori Bellini in Brunswick, VIC Australia

Grooms Suit – Black Calibre suit and white shirt, black tie

Bouquet – made by the Bride