Afternoon my loves. You didn't think I'd sneak away without featuring a wedding today did you?  Katy and Paul tied the knot on 15th December at St Mary's Church, Astbury, followed by the reception at Sandhole Oak Barn in Congleton, and I love their wedding for all it's sweet simplicity.
There's is a story of love, romance, and hard earned gym sweat…
"Paul and I met at work over a treadmill. That's right.  Over a treadmill! ☺  I was a student at the time – and  Paul was trying to teach me all about cardiac rehabilitation.  I was far more interested in learning about what Paul got up to on a Friday night.  Needless to say we went out for a meal, and the rest is history.
We got engaged at Peckforton Castle in Cheshire.  Paul arranged a weekend away to celebrate the first day of my maternity leave before the birth of our beautiful little girl Martha Rose.  We were engaged for two years before our big day.  We always wanted a Christmas wedding, as Martha was 2 this year, it seemed the perfect time."
Love My Dress Wedding Blog – Photography Copyright (c) 2013, Alex Davies Photography
"I wore Jenny Packham's Eden dress, which I purchased from Amy Louise Bridal in Nantwich, Cheshire.  I
love anything Vintage and always knew my dress would reflect this.  I
tried on a few traditional dresses, but the moment I tried on my dress I
knew I had to have it. The  style, the beading, the detail – just
beautiful. 
I returned to the store with both my mum and sister in tow,
and came away a proud owner of a Jenny Packham Eden.  A Mum always knows
best!"
"I have a great love of VW beetles and it was my one and only choice of transport to and from the church. The vintage VW I travelled in was supplied by a friend."
"We never really wanted a particular 'theme', and we wanted it to be
festive without being too 'Christmassy.'  We wanted the wedding to
reflect our personalities, relaxed and slightly 'quirky!'.
I fell in
love with my 1920s inspired beaded wedding dress the moment I tried it on and the rest followed
on from there. We chose a Christmas wedding as it is always a special
time of year for us.
I had two flowergirls.  Our Beautiful daughter Martha Rose, and our
beautiful niece Emily Kate.  The both wore an Ivory Dress from
Debenhams. Their silver sequin ballet pumps were from monsoon.  They
wore a gorgeous ivory fur coat also from monsoon." 
"We chose a tiered Victoria sponge for our cake, decorated with
seasonal berries and fresh flowers.  We were looking for an alternative
to a traditional wedding cake, and came across Kay at Kay's cakes,
Newcastle-u-Lyme, through our florist.  The cake was exactly what we
wanted and was very fitting for our seasonal wedding"
"We choose our venue, Sandhole Oak Barn in Congleton because to us, it was perfect. A beautiful setting and everything that we were looking in a venue for our Christmas wedding.
The invitations and order of service were lovingly hand made by
myself and then printed by my dad. We chose to have vintage brown
postcard invites wrapped with natural twine and a painted wooden heart. 
The invites and the order of service both displayed a winter oak tree. 
This was styled on the memorable oak tree at Sandhole Oak Barn. The
table plan was a personalised chalk board made by Butterfly Daisy,
Market Drayton. 
I hand finished it by writing all of our tables and
guests on it. It was then decorated with fairy lights – you can never
have too many fairy lights!"
"Our photographer was Alex Davies. 
The moment we saw Alex's work, we knew we had to have her photograph
our wedding.  Her style is just beautiful and exactly what we were
looking for.  Alex is so friendly and relaxed- she  put us at ease
immediately.  Alex managed to capture the atmosphere of our day
perfectly.  Our photos are stunning and we can't thank her enough."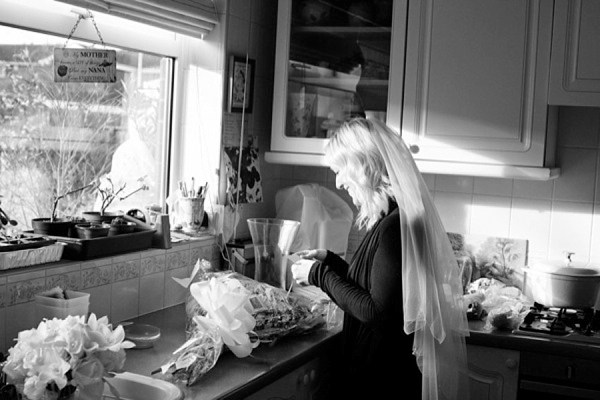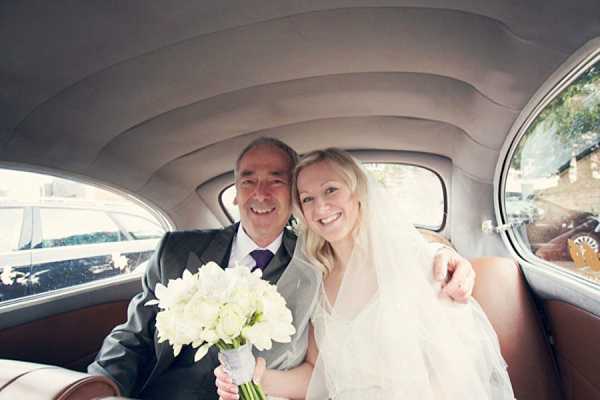 "We chose a religious (1 Corinthians 13 ) and a non-religious
reading – 'Love is a temporary madness' (from Captain Corelli's mandolin
by Louis de Bernieres).  Two readings that are simple but say everything."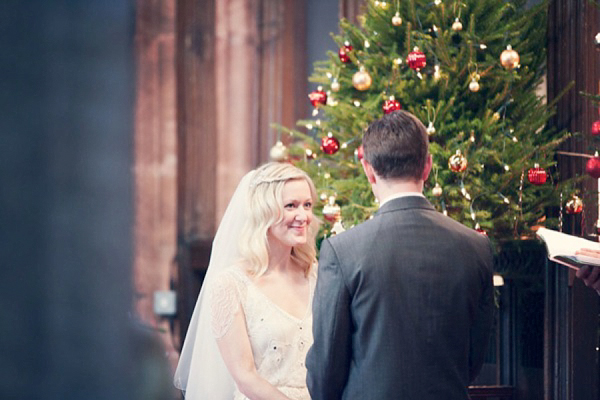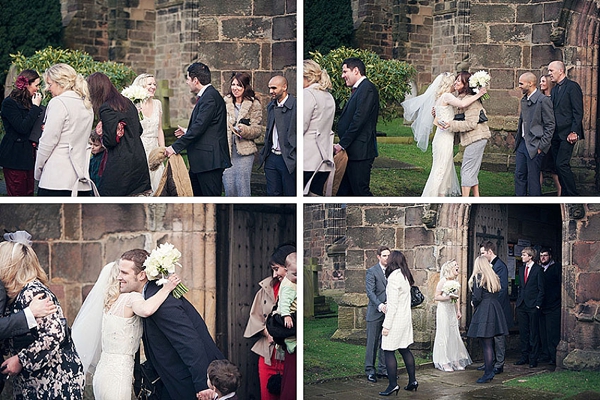 "We chose various things to style the barn, our love of fairy lights
became very apparent! Hanging hearts, love blocks. Christmas wreaths,
candles and lanterns. Sandhole Oak barn decorated the barn with a
beautiful Chirstmas tree.  Venue Perfection provided our chair covers
decorated with silver ribbons dressed with vintage brooches."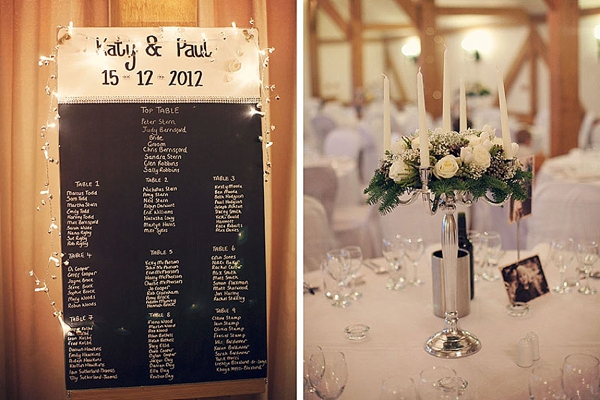 "I  handmade personalised hanging Wooden heart name place
settings that doubled up as a favour.  I regretted the idea, 100 hearts
down the line, (and 3 days to go before the wedding!) but I was really
happy with the final result.  I know they ended up on lots of Christmas
trees."
Words of Wedded Wisdom…
"Remember that this is 'your' special day – so do it your way.
 Everything was simply amazing.  We couldn't possibly pick a favourite part, the whole day was perfect.  Everyone
who knows us will tell you that we are extremely laid back, relaxed and
last minute – but perhaps we could have been slightly more organised
and Paul may have made it to the rehearsal if he hadn't been buying his
shoes at 4pm the day before our wedding!"
Simple, honest, and very lovely. Congratulations to you Katy and Paul, and a huge thank you to photographer Alex Davies for sharing these photographs today.
You know, Jenny Packham' is one of the most popular designers whose creations grace the pages of this blog, you can see lots more brides looking graceful in her designs on Love My Dress here too.  Jenny Packham Eden fans, what say you? How will you be wearing your dress on your wedding day – with a lovely shrug like Katy here? What about your shoes and a veil?
With much love,
Annabel
Photographer – Alex Davies Photography
Venue – Sandhole Oak Barn in Congleton
Wedding Dress – Jenny Packham's Eden dress via Amy Louise Bridal in Nantwich, Cheshire
Brides Veil – Joyce Jackson Veil
Brides Shoes – Rachel Simpson Mimi
Brides Hair Accessories – Vintage style hair slide
Grooms Suit -  Austin Reed
Flowergirls – Debenhams
Florist - Fleurescent Wedding Flowers, Alsager, Cheshire
Transport – VW Beatle supplied by a friend
Catering Company -  Top Table Wedding and Events
Hair Stylist – Rebecca Hemmings at Socio hairdressing, Newcastle – u -Lyme, Staffs.
Cake – Kays Cakes