"I can definitely see some of my future brides appearing on Love My Dress in the Decoupage collection. These dresses would feel so perfectly placed in an English manor or out in a beautiful garden. I hope that Love My Dress readers enjoy, and remember, these gowns will be available with our stockists beginning in August, so patience, lovelies!"
Claire Pettibone

Good morning lovelies – was your weekend good? Mine was brilliant! Can't wait to share details with you about The Wedding Institute on Sunday, it was one of the most brilliant little wedding fairs I have ever been too (I tried to Instagram as much as I could whilst manning my stand, but will be blogging about it all very soon), and I so very much enjoyed meeting with my readers. Wonderful stuff 😉
So, today we're going to feature 3 posts, lunch time treat/mini post coming up at noon and the first of our real weddings this week showing up at 2pm.  Right now, I'd like to take you for a walk through the latest hot of the catwalk designs from one of my most favourite ever bridal wear designers. 
Last week, at New York International Bridal Week (that's the biggest US bridal trade fair where designers go and showcase their new collection to trade buyers and press), Claire Pettibone, designer of all gowns that are ethereal, elegant a touch dream-like, launched her new Decoupage range.
All designs by Claire Pettibone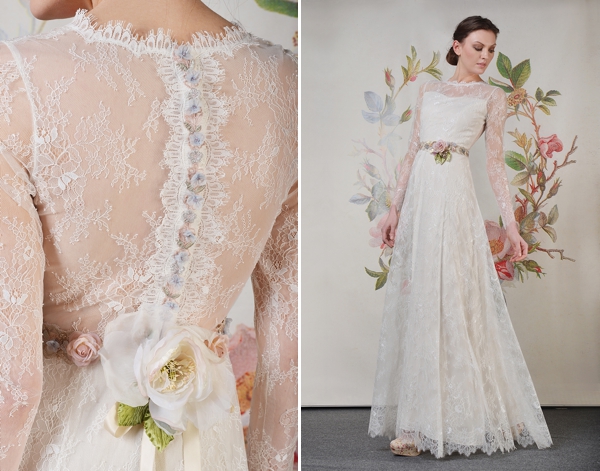 Regular readers of Love My Dress will be well aware of how much I adore this US born designer. I have featured many brides wearing her gowns and have interviewed Claire here.  But for those not familiar with this designer who started her career in lingerie design but, longing for a new creative expression, set out to establish a line in bridal wear inspired by enchanting childhood memories of nature, I must stress that there is no other designer quite like Pettibone.  She has a strong signature style – everything she creates is incredibly pretty.
The Primrose gown below,- a classic Claire Pettibone design featuring vintage French embroidery, a lace neckline and velvet waist with detachable tulle train.  Just in love…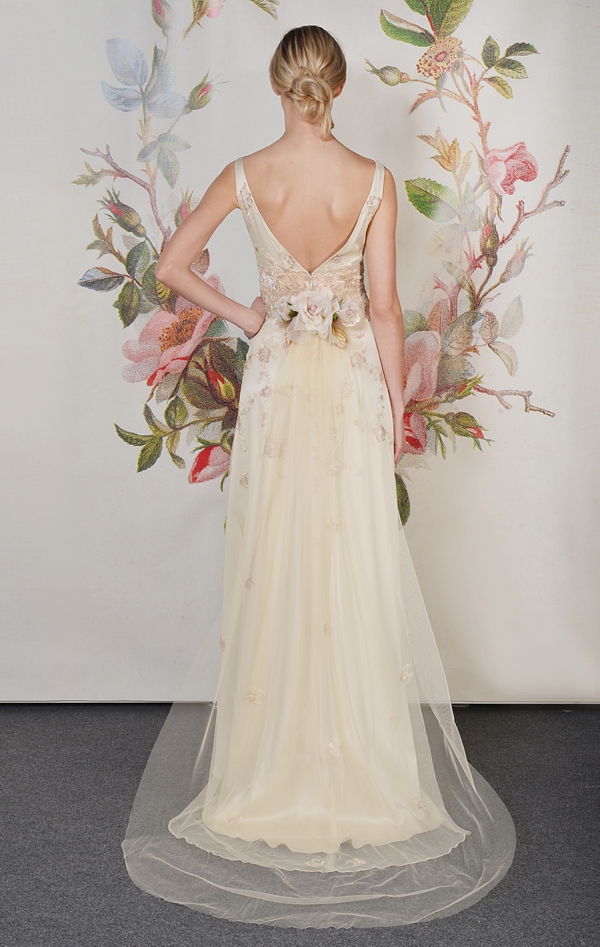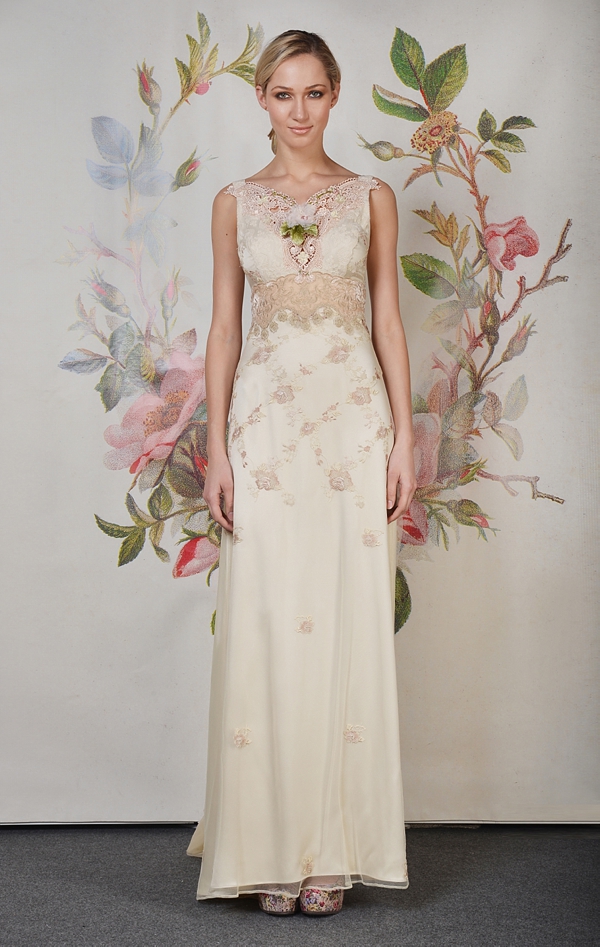 Oh Abigail, how I love thee with thy pretty silk A-line silhouette and floral lace and appliqué flowers and capped sleeves…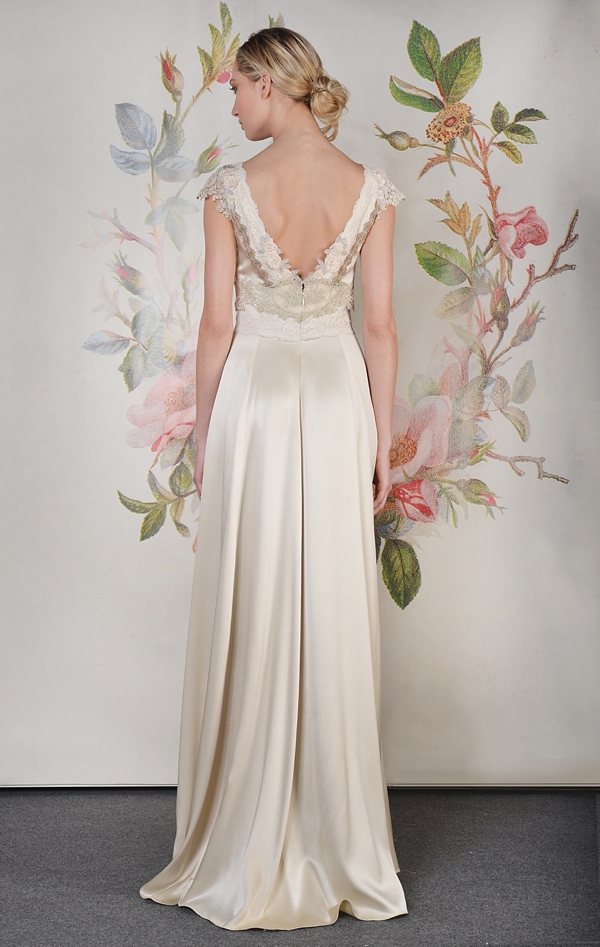 The Antoinette gown gown features a striped cameo motif and a floral silk ribbon lace-up back, lined in platinum silk.  Imagine this with a cathedral length veil made from the lightest of silks. Just lovely.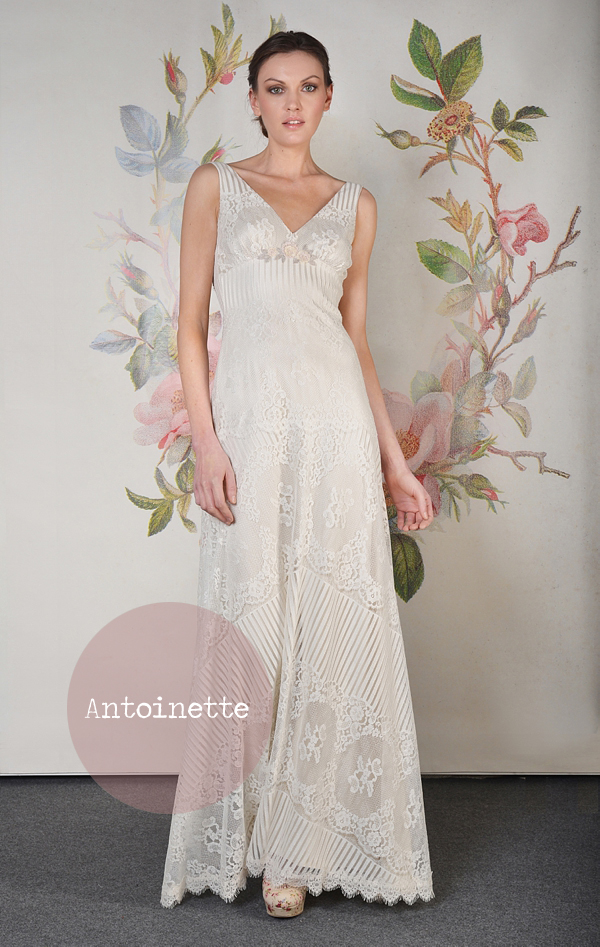 The Delaney is one of my favourite gowns in the Decoupage collection – I adore the long, sheer tulle sleeves and the vintage lace insets that feature on the bodice…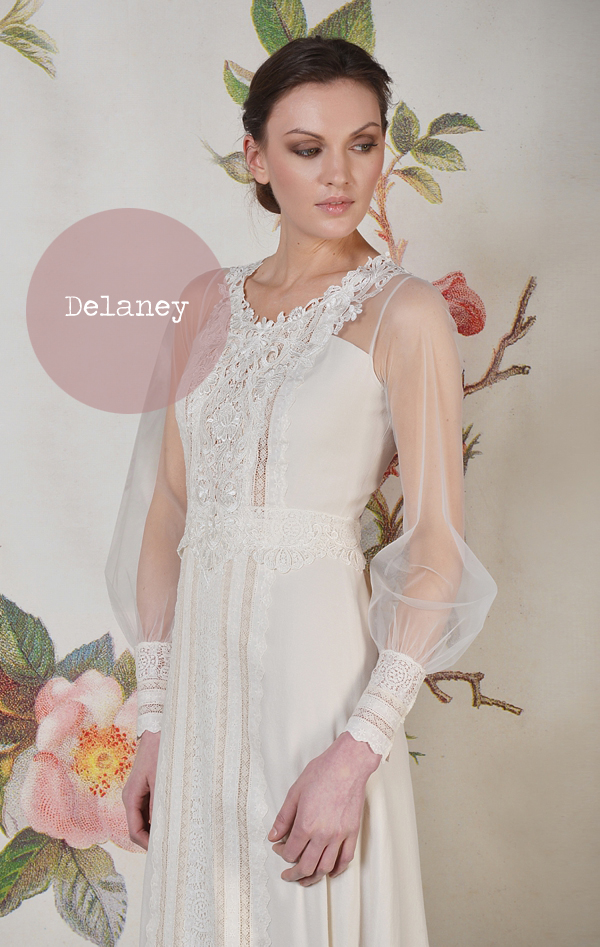 I love the Estelle design – this chic linen dress with long sleeves whispers of 70's inspired glamour…
Florentine is an elegant ivory lace design featuring a delicate tulle train and silk flower…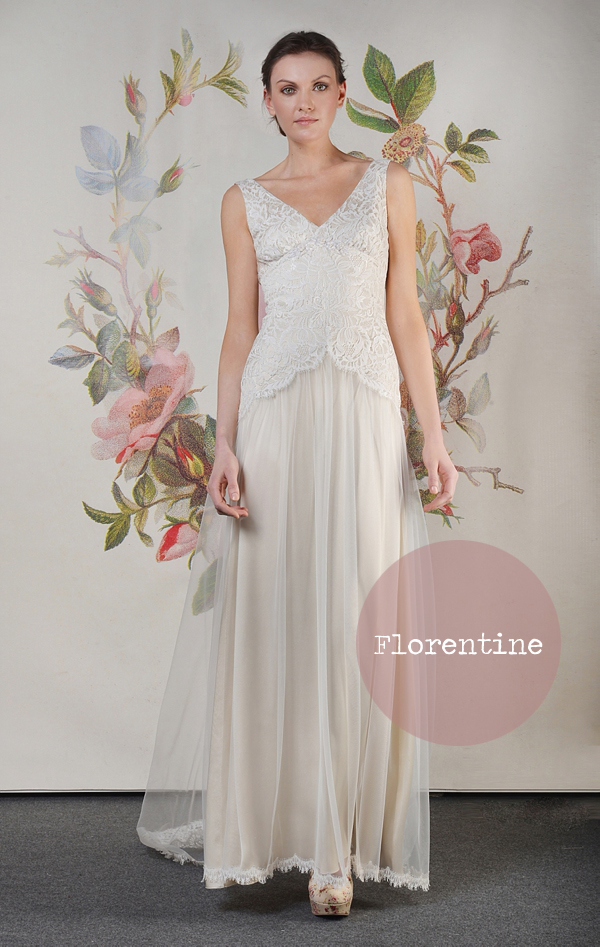 Oh what a pretty gown Glady's is – it features a low lace peplum and cameo sheer back embellished with organza flowers, quite delightful…
The Wren gown features the prettiest lace capped sleeves and open back…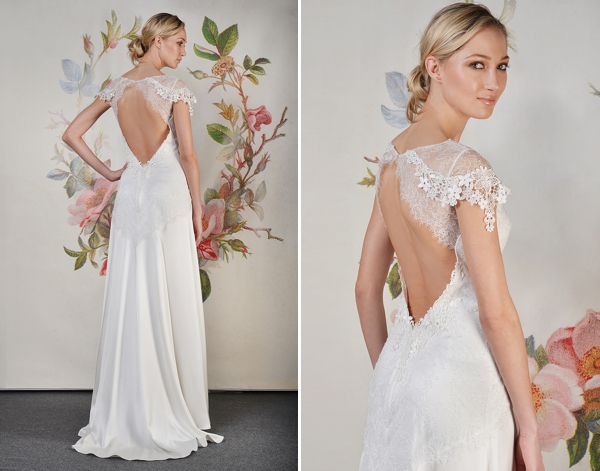 Absolutely beautiful as per usual when it comes to the talented Claire Pettibone.  Claire Pettibone stockists can be found here (stockists will be carrying designs from the Decoupage collection from August this year – that's a mere 3 months to wait to try one of these beauties), though I highly recommend Blackburn Bridal Couture as a great starting point. 
I need to know though, which is your favourite design, and why?  Me? I'm going for the Charlotte gown, because of how beautiful that lace bodice looks with it's pretty flower on the back.  I'd love to wear this gown with a Juliet cap veil or flowers in my hair.  Mmmm, time to renew my vows perhaps?
See you again at lunch time folks,
Annabel