Our second real wedding of the week was submitted by Laura Babb, who I had the pleasure of spending some time with recently as we both exhibited at The Zoe Lem Vintage Wedding Fair. I have never seen an exhibition space quite like Laura's looked on the day – it was incredible, like walking in to someone's cosy front room – I'm not even kidding – sofas, mid-century storage units and shelves full of kitsch ornaments – a retro hoover – a pink flamingo! You name it!  Fabulous creative use of space and objects to entice her potential clientele in for a conversation about their wedding photography. Smart lady.
Here are two of Babb Photo's clients who needed little persuasion when it came to booking Laura to shoot their special day.  Michelle and Bryn tied the knot on 16th February 2013 at Buckland House in Buckland Filleigh, Devon. I love how relaxed and elegant Michelle looked in her Jenny Packham design…
"My dress was the Foxglove design, by Jenny Packham.  It was
the first and only dress I tried on, I'd spent time looking around
bridal shops but nothing caught my eye.  I knew what I didn't want more
than what I did want and all I knew was that I had to feel like me. 
Jenny Packham did that for me and in fact so much so that Bryn's mum is
making a different coloured under-dress for it so that I can wear it
again."
Love My Dress Wedding Blog – Photography Copyright (c) 2013, Laura Babb, Babb Photography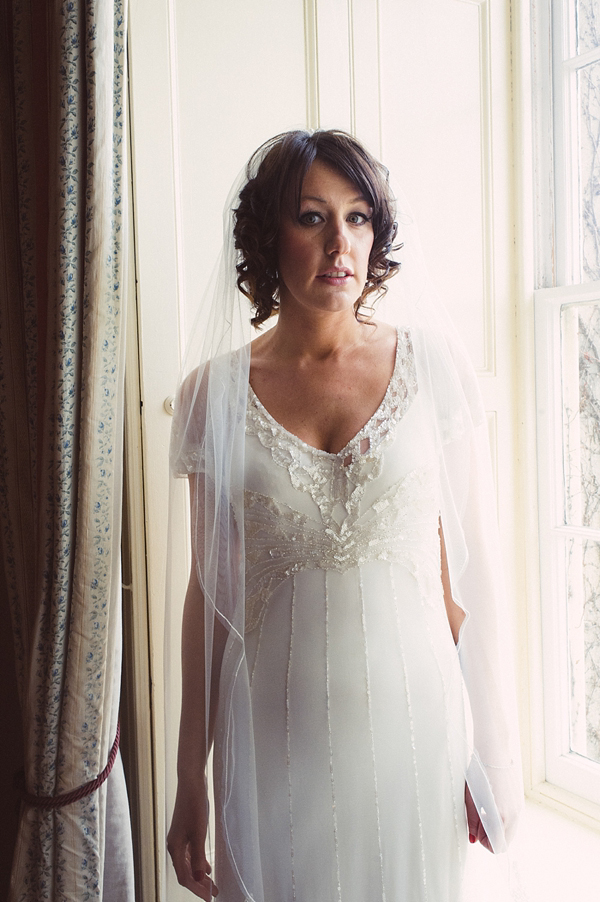 "Both Bryn and I are into the same music and we'd bumped into each
other at a few gigs in Nottingham and got chatting, a good few drinks
and several dates later and the rest is history.  We'd
been together three and a half years when we got engaged whilst on holiday
travelling around Croatia.  Bryn had waited until we got to the beautiful
island of Vis to propose after we'd been out for food to this gorgeous
and beautifully lit lobster restaurant where little boats could actually
row right up inside.  The proposal was totally unexpected despite my
numerous hints over the years. 
Bryn had been diagnosed
with Chronic Kidney Disease about a year before and we knew that he
would eventually need to have a transplant but was not sure when as he
was functioning very well on the little kidney function he had. 
We
planned to get married the following summer and we booked our wedding
day for June 2013.  After Christmas though Bryn's kidney function
dropped to the point where they were going to start proceeding towards a
transplant and what is fantastic is that his mum has offered to donate
one of hers.  The doctors said the process could take up to six months and
so we did not want to risk it happening around the same time as the
wedding so we brought it forward to February – giving us just 5 weeks to
plan everything."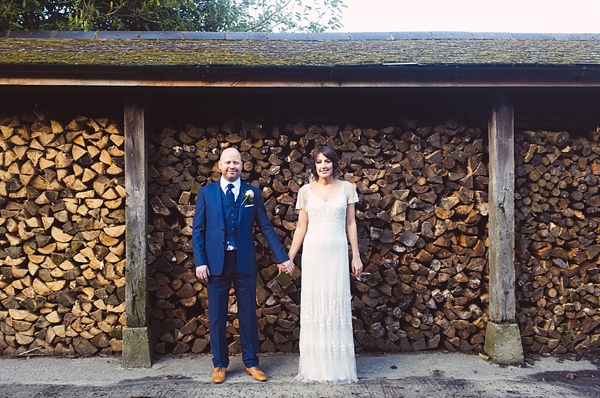 "The Groom, Father of the bride and groomsmen all wore Paul Smith suits and shoes.
My hair was done by Bryn and his mum who are both hairdressers. 
Make up, I chose to do myself because I'm a bit of a control freak when
it comes to things like that.  However if I had my day again, I would
definitely hire a make up artist."
Let that be a warning to book in a trial with a makeup artists soon, all brides!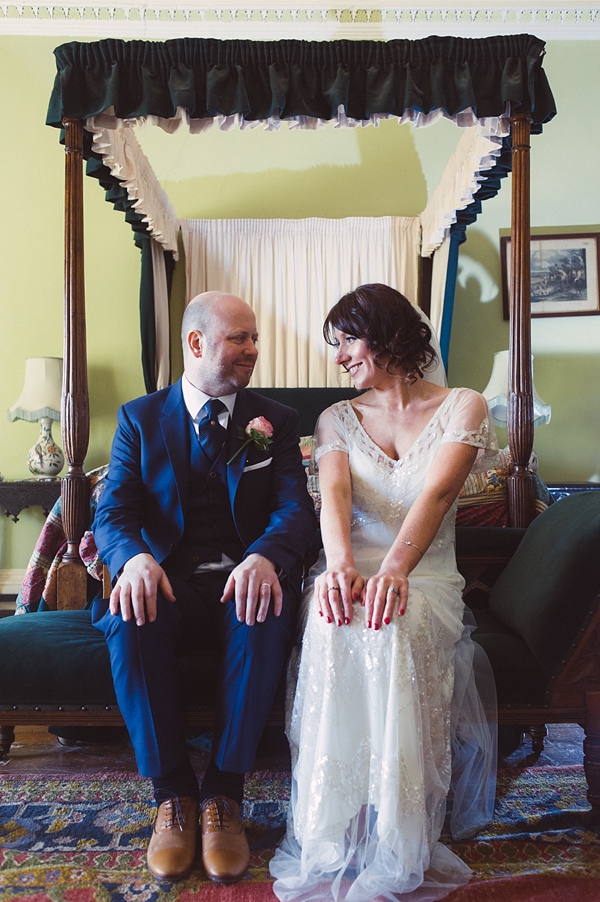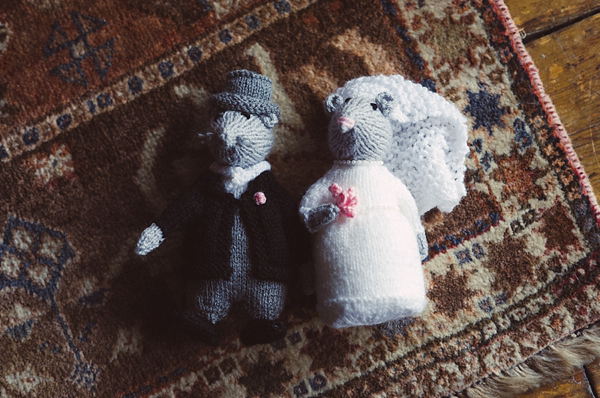 "There wasn't anything in particular that inspired our day but I
wanted it to be a collection of the things we love our friends, family,
nice wine, lots of food, tea, teacups, teapots, cake and cake stands.  I
do love the 1920's and anything that looks pretty and antique.
I knew that I wanted something 1920's style – like ballroom dancing
shoes and the Rachel Simpson – Mimi again was the first and only pair I
tried on."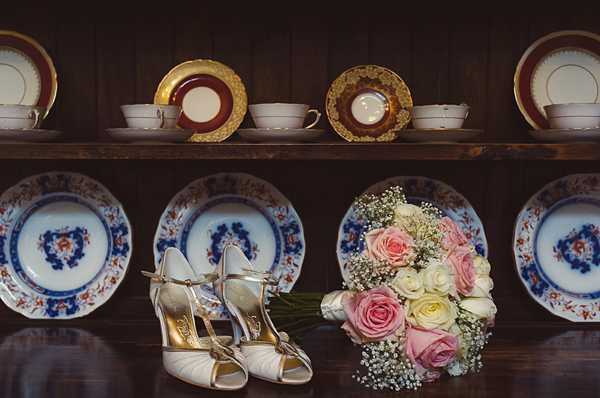 "With the wedding a matter of weeks away Bryn's mum sorted all the
flowers out for us.  I'd sent a few pictures of the sort of things I
wanted including colours.  I was disappointed that I would not be able
to have lots of lavender because of the time of year and had to change
my bouquet to pale roses.  I also wanted lots of gypsophila.  Bryn's mum
picked up buckets of flowers and we arranged them ourselves in vases.
All the flowers were from West Country Wedding Flowers."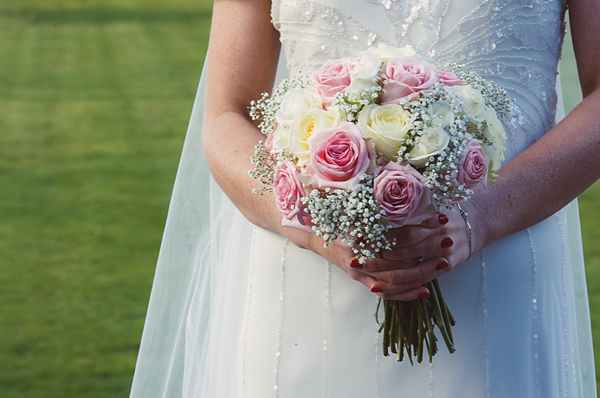 "Both Bryn and I live in Nottingham but knew that we wanted to get
married in Devon.   It is such a beautiful part of the UK and Bryn's
family live down there.  I was searching for venues in Devon and wanted
somewhere relaxed that we could bring in our own caterers, booze and
have exclusive use of.  We found a few venues that we liked the look of
however when I found Buckland House
I immediately fell in love with it.  I knew it was our venue even
before coming to look around just from the photographs.
When we did it
confirmed exactly what I thought. It was very grand without being
stuffy.  It felt like a really unique venue with lots of character and
exactly right for throwing a big party which is what we wanted to do for
our wedding day."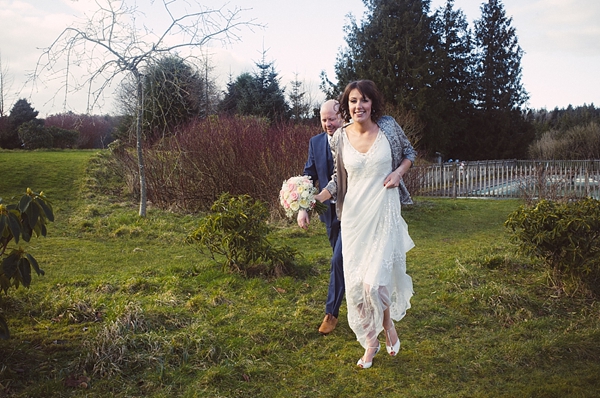 "We knew that we didn't want a wedding in a hotel where everything
was done to us or for us.  I genuinely wanted to do everything myself
from setting the tables, arranging the flowers to laying out the
afternoon tea (to be honest if I could have run our bar and waitressed
too I probably would have).  We were lucky enough to have all our family
and Scoff Catering on hand to staff the day and help it to run smoothly
so chose not to have a wedding planner."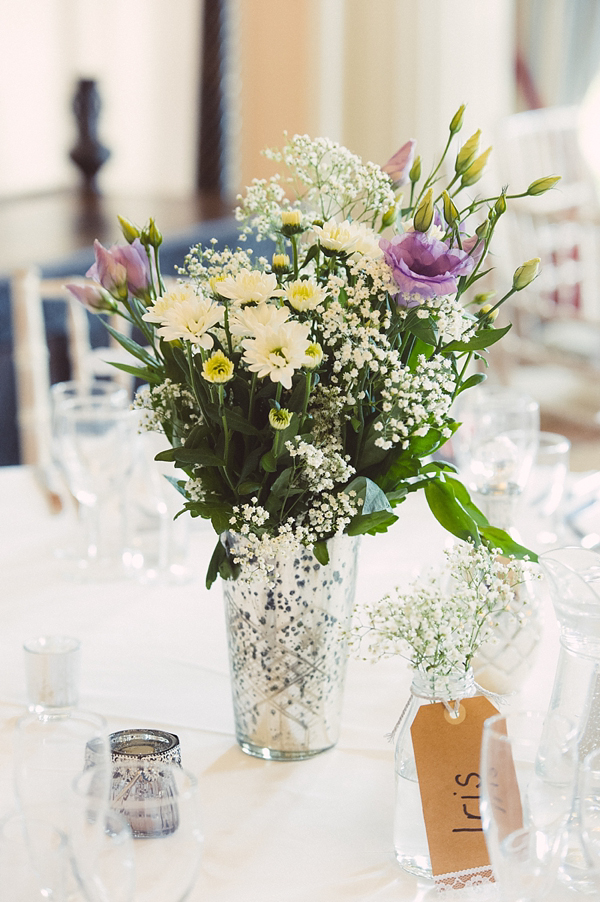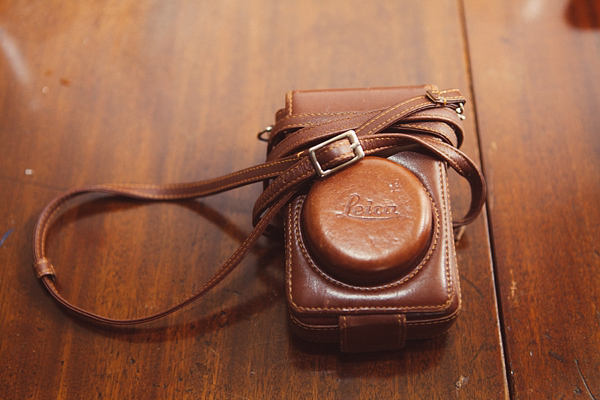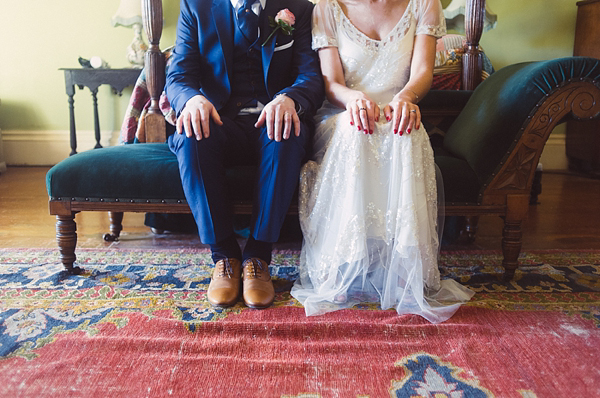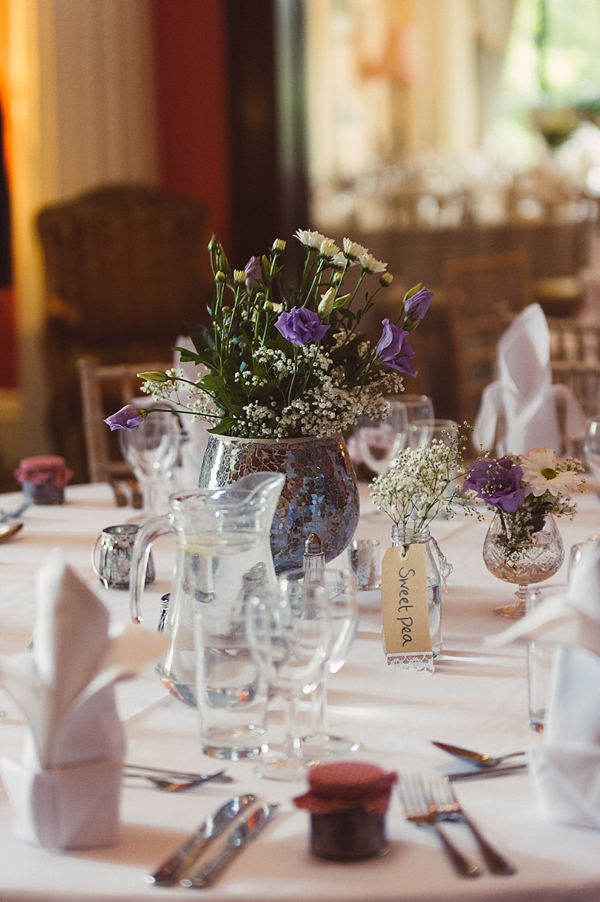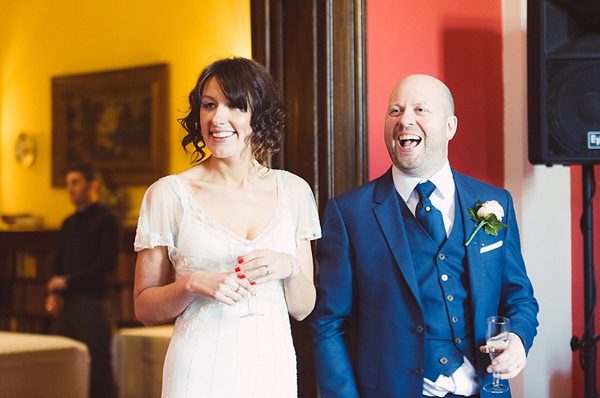 "I don't like wedding cake and have been to so many weddings where
the cake just gets wasted.  We opted for a take on afternoon tea in the
style canapés and so decided to cut the cake early and serve it as part
of that.  It went down really well and all got eaten.  Bryn's mum made
the cake for us.
Scoff Catering
catered the whole wedding weekend for us including Tapas on the Friday
evening for everyone staying at Buckland House, the breakfasts, wedding
dinner.  The only thing that Bryn wanted was a hog roast and we had one
of those in the evening done by Scoff.  The food was absolutely
beautiful and we were lucky we could pick the menu exactly as we wanted.
We were very well fed and all the guests were invited back to Buckland
House on the Sunday for lunch and bloody marys."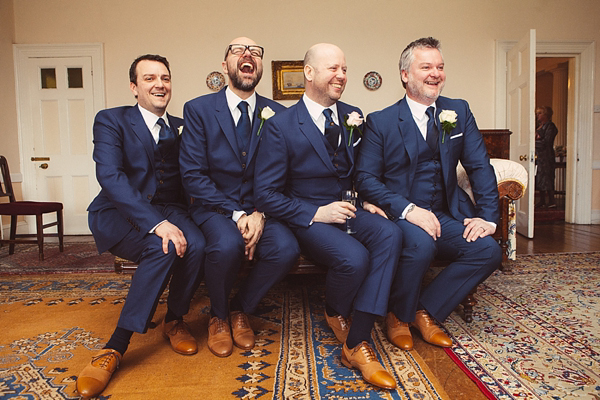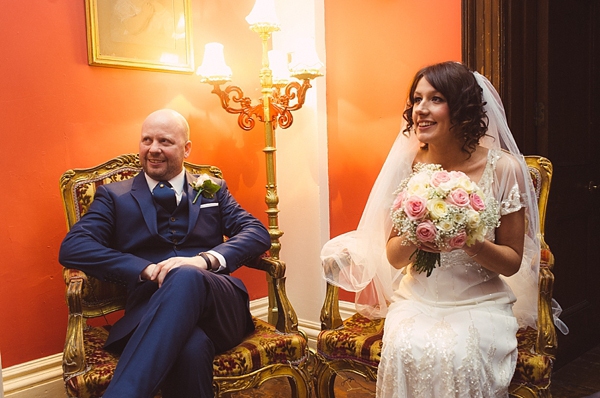 "This was the most difficult thing to sort in the little time that
we had.  I was originally going to have them made but there was no time.
My Maid of Honour's dress was from John Lewis.
 I
loved the bridesmaid dresses as soon as I saw them however they were in
the sale and I had to ring every store in the country to get them in
the correct sizes."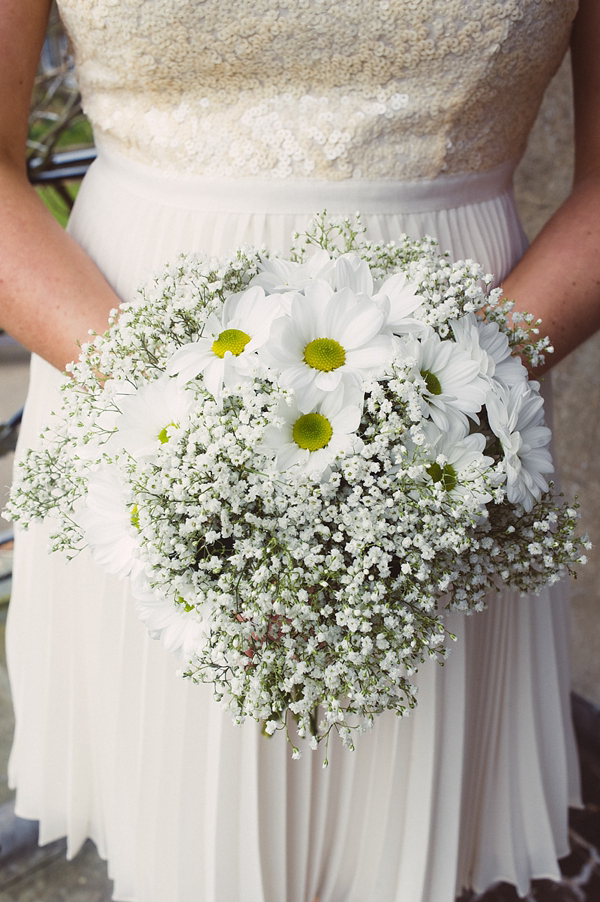 "Our photographer was Laura Babb  I'm
really into photography myself although quite lacking in talent so I
knew what I was looking for in our wedding photographer.  When I saw
Laura's work I immediately knew that she would portray the creative and
quirky feel that we wanted.  She did more than that though she created
our story for us which will enable us to look back on our special day."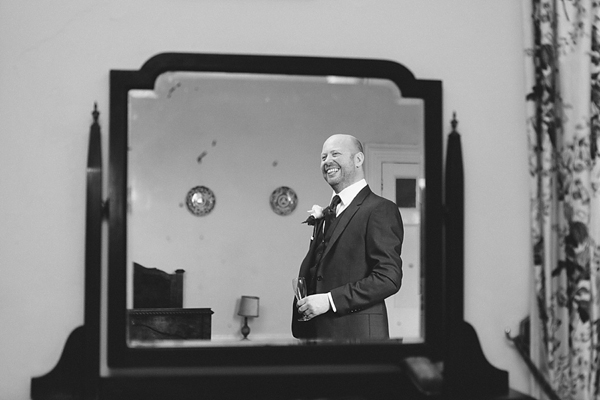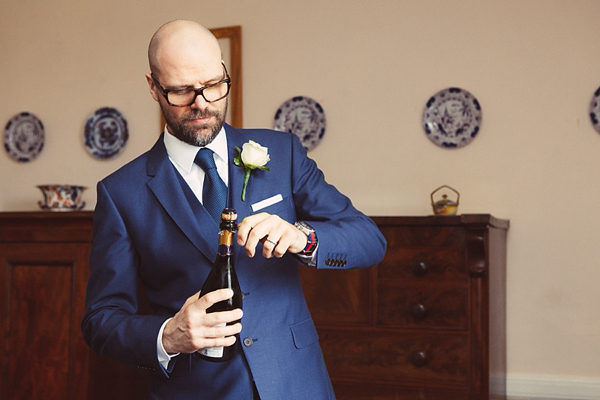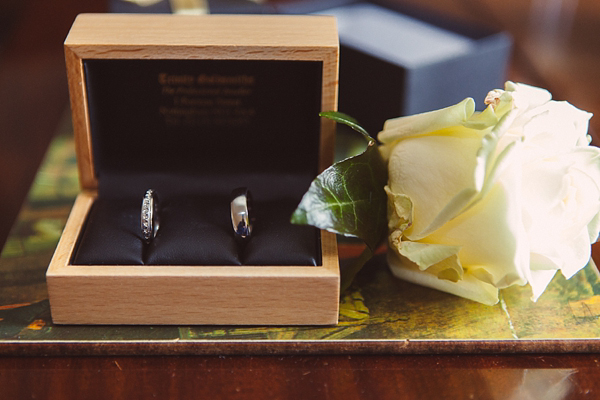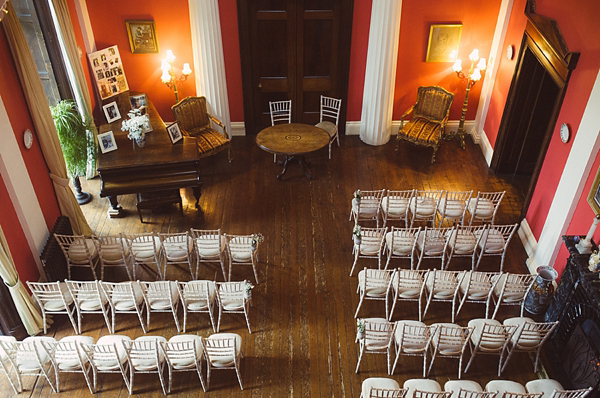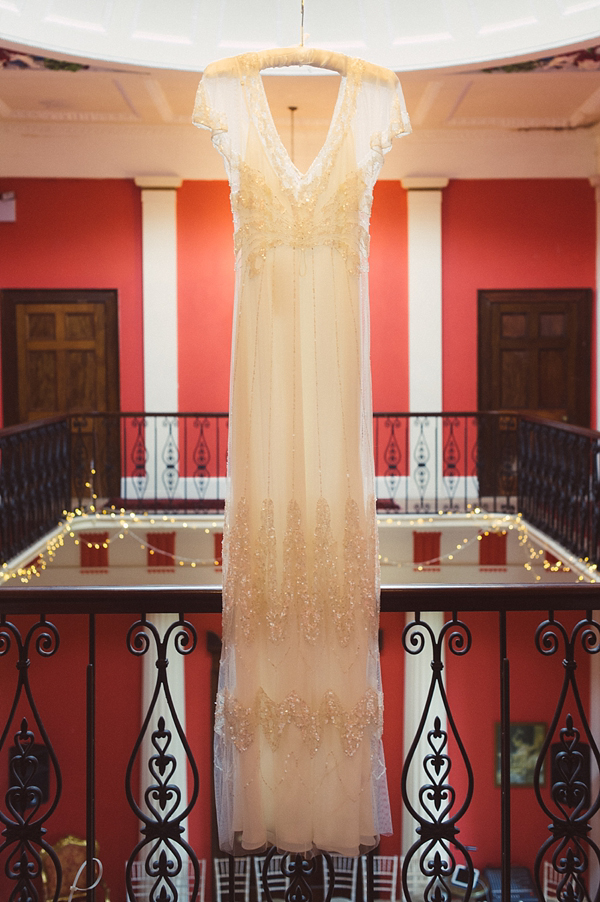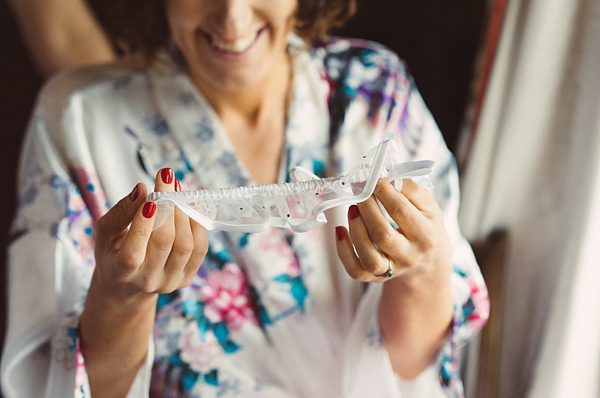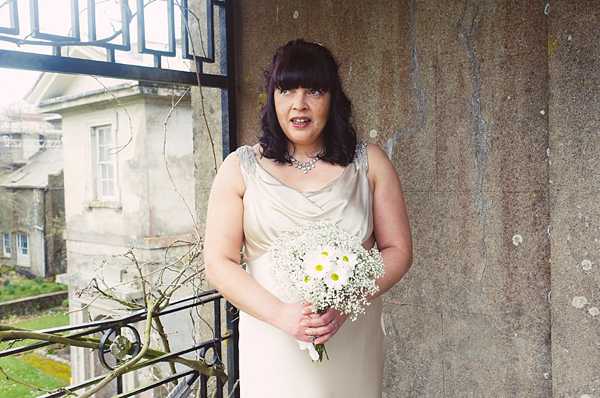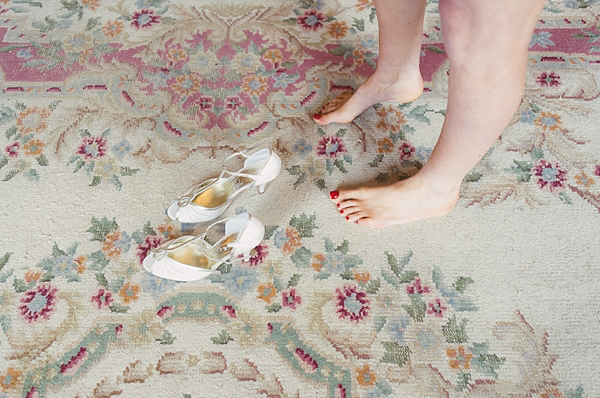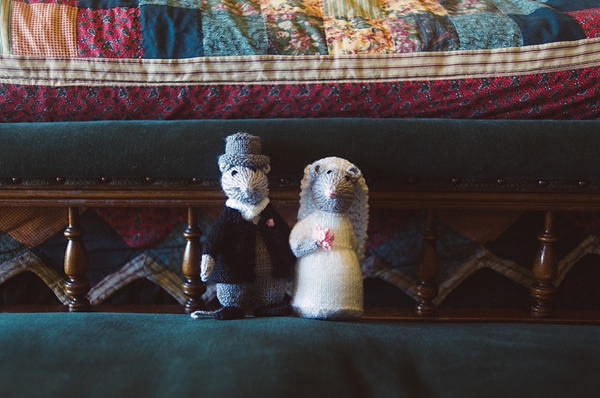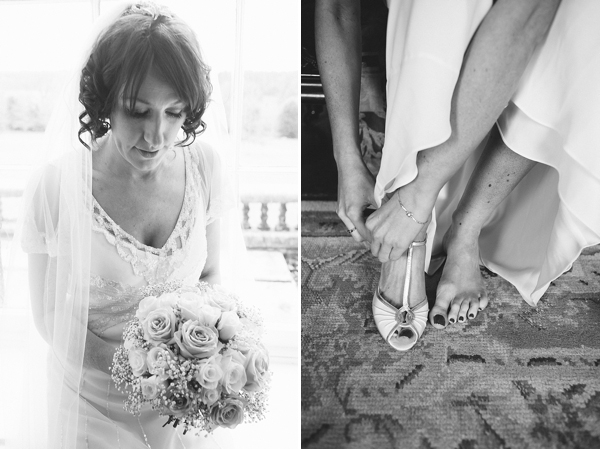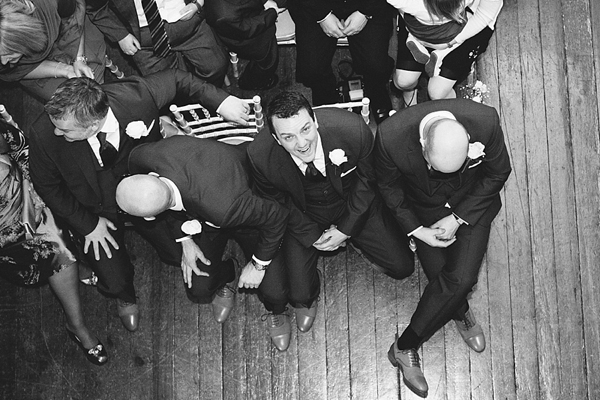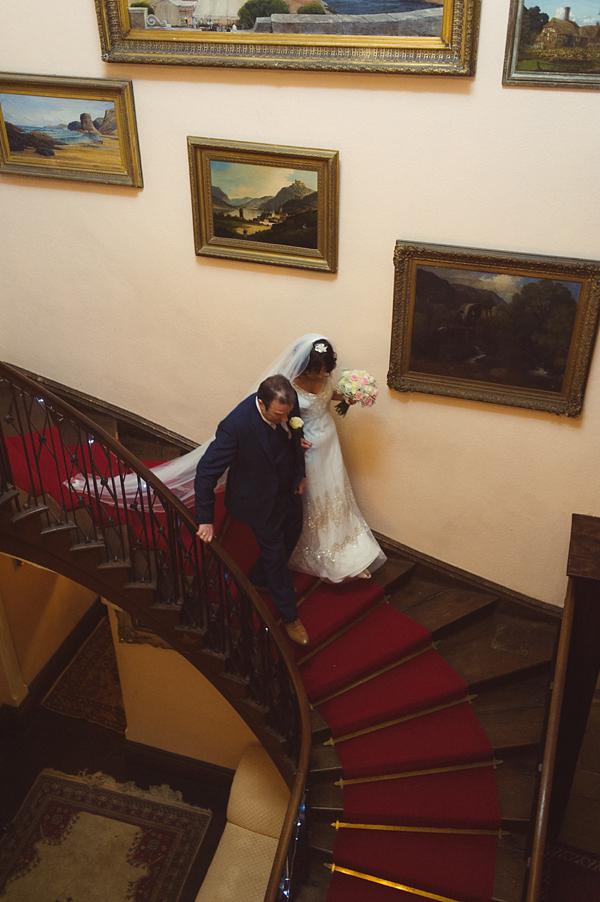 "My Dad gave me away.  We walked down the aisle to 'It feels like home', by Chantal Kreviazuk. 
I
asked my friend Stacey to read 'This day I married my best friend'
which I felt was very fitting for us because Bryn is my best friend
first and foremost.
I've always loved Shakespears sonnets and my favourite is 116
Let me not to the marriage of true minds
Admit impediments. Love is not love
Which alters when it alteration finds,
Or bends with the remover to remove:
O no! it is an ever-fixed mark
That looks on tempests and is never shaken;
It is the star to every wandering bark,
Whose worth's unknown, although his height be taken.
Love's not Time's fool, though rosy lips and cheeks
Within his bending sickle's compass come:
Love alters not with his brief hours and weeks,
But bears it out even to the edge of doom.
If this be error and upon me proved,
I never writ, nor no man ever loved
My
final reading was an extract from the novel The Notebook (Bryn would
not have liked this and actually will only now find out that it was a
quote from this but it really struck a chord with me."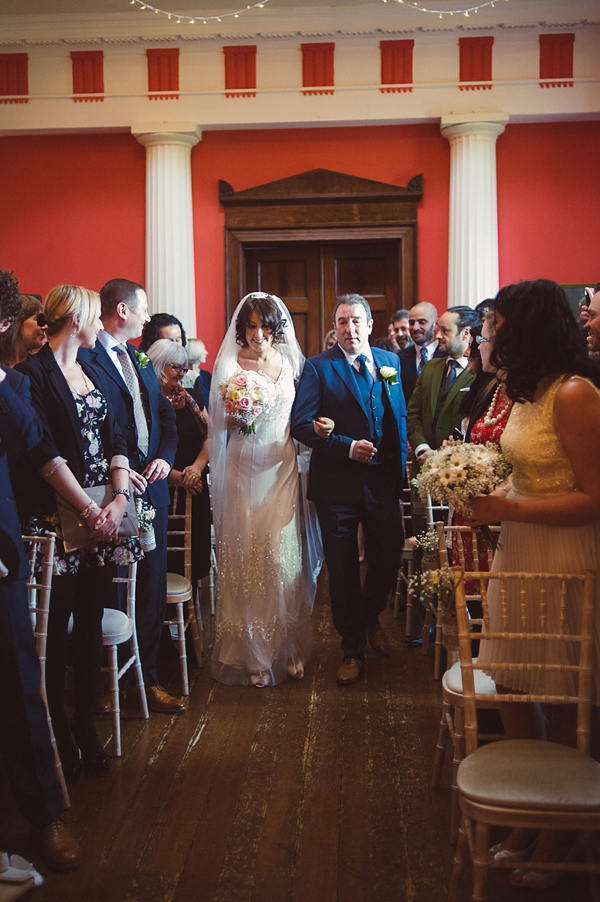 "Originally I planned on having a Victorian wedding band but
unfortunately we didn't have the time to source one.  We ended up
getting both our rings from Trinity Goldsmiths in Nottingham and
(fortunately for Bryn who hates shopping with me) was the only shop we
went in."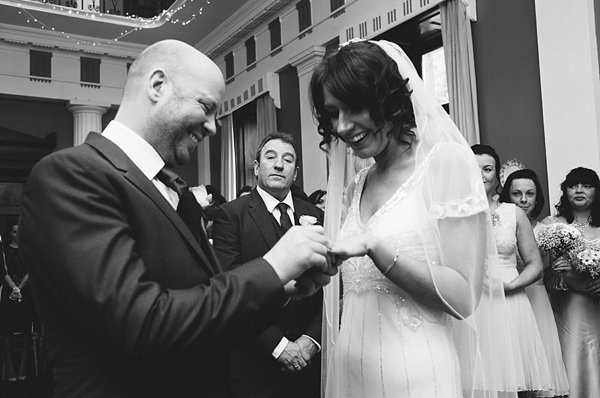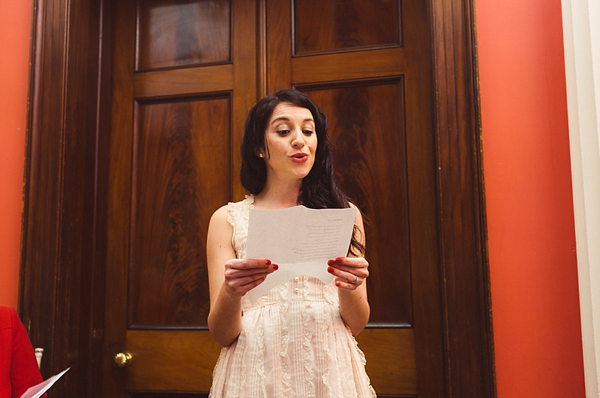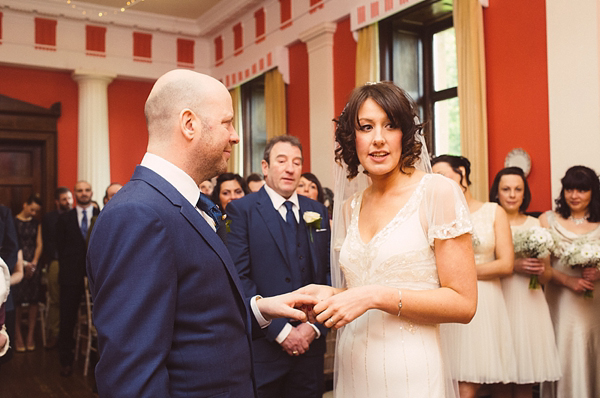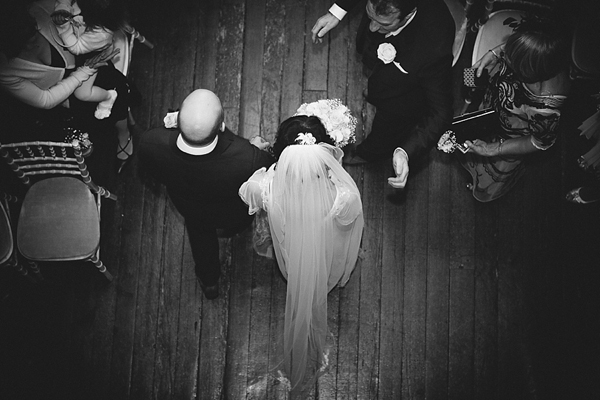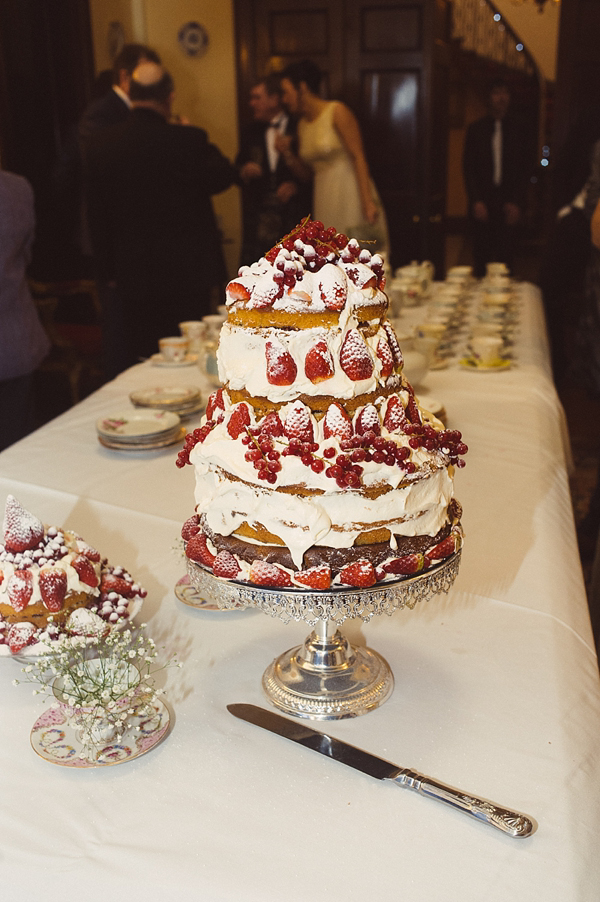 "I felt that Buckland House
was so beautiful in its original state that it didn't need to be
overdone with decoration.  I just knew that I wanted the tables to look
pretty with a mix of silver candelabra's and mercury glass tea lights to
create a romantic feel combined with flower displays in mercury and
silver glass vases.  My mum made the chair ends with jars, hessian and
lace."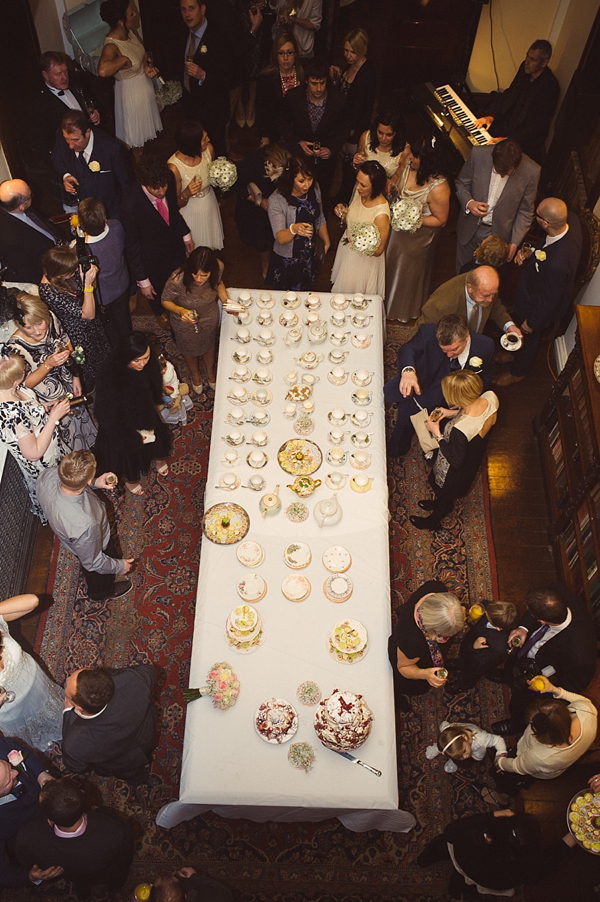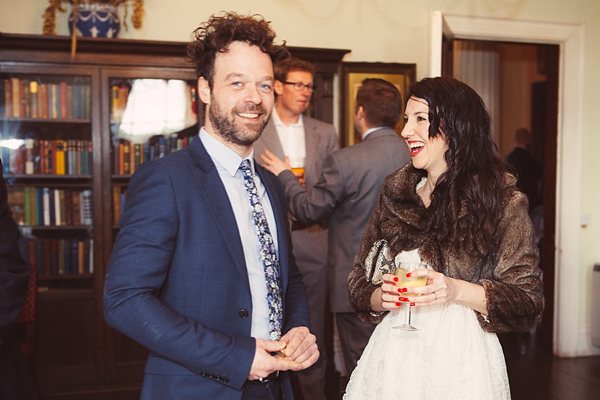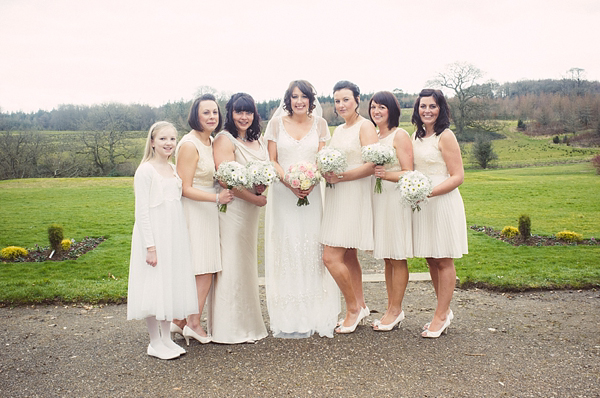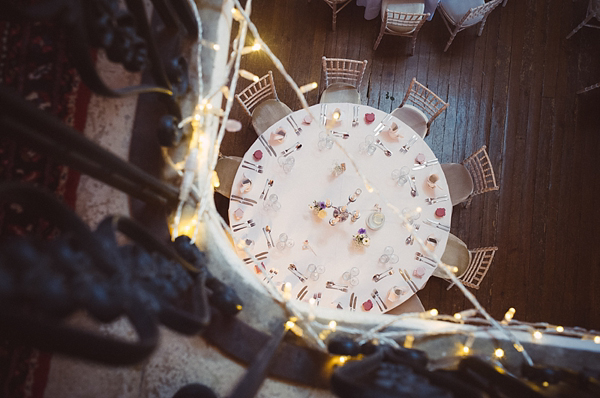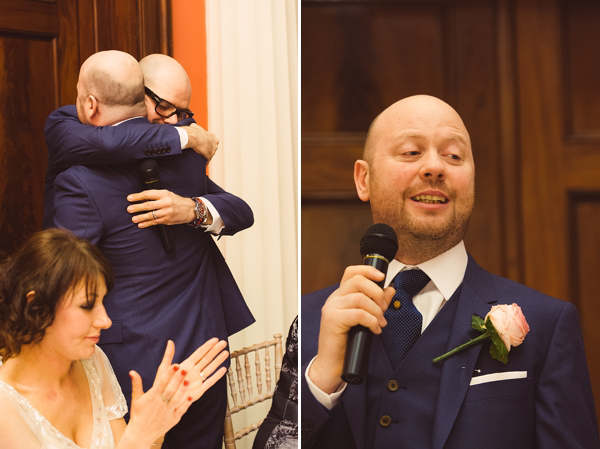 "We had a pianist playing during the afternoon tea drinks
reception and during the evening meal and my parents as a surprise had
booked a bag piper to pipe everyone in as they arrived to Buckland House as a celebration of the Scottish side of the family.  My Dad was to be
our resident DJ for the evening as he DJ's a lot of weddings and events
back in Nottingham.
Bryn and I managed to grab half an hour together during the
evening to reflect on the day which was lovely on our way back to join
in with the party we looked over the balcony to see the dance floor in
full swing.  We couldn't help but laugh at what had started out a lovely
civilised day by this time looked like absolute carnage – the whole
contents of the dressing up box i'd put together was in the middle of
the dance floor and everyone was walking round in Keith Lemon masks,
moustaches, top hats and feather bowers totally oblivious to us looking
down upon everyone."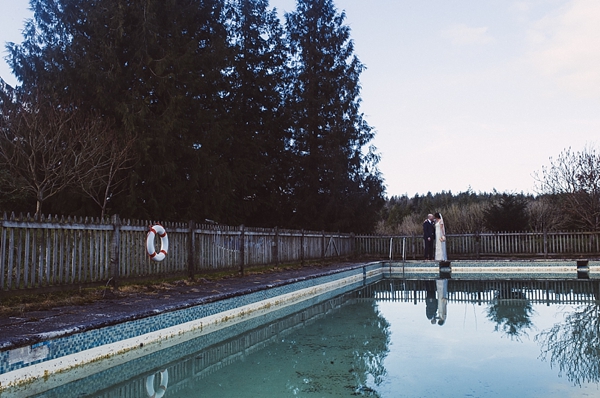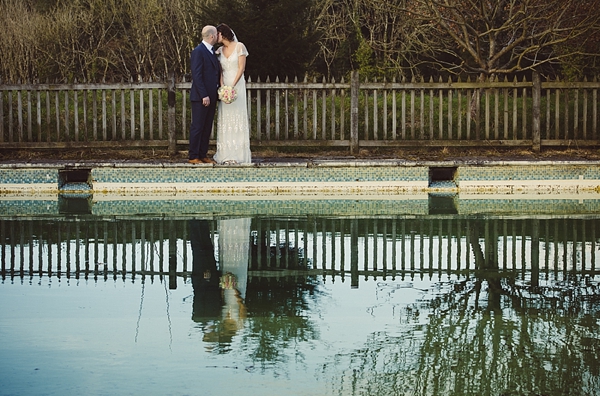 Words of Wedded Wisdom…
"You know I did not
stress one bit about the wedding despite the fact that we had so much
going on and only five weeks to plan and organise everything – I was
totally of the view it will be what it will be.   I was also comforted
by the fact that both our families did so much to help it totally took
the pressure off.  All I wanted was for us to be married and have an
amazing party with all our gorgeous friends and family celebrating
everything we love…good food, good music and good wine! 
The
morning of the wedding however (having had absolutely no sleep) I'd
turned into bridezilla which was not me – I was emotional, and was
displaying weeks of repressed stress and totally worried that things
would go wrong – and things did go wrong but after we were married I
didn't care.
Oh, and we picked two songs to dance too, the first was 'At Last' by Etta
James and the second was 'Time of The Season' by The Zombies -  just
because it is such a good damn cool and sexy song and it makes me wanna
dance.  They are also possibly one of the most underrated bands ever!"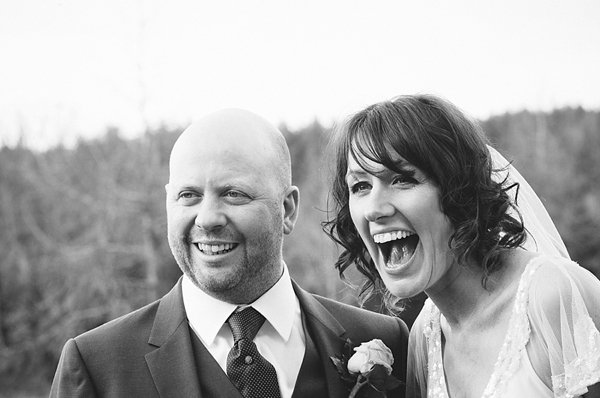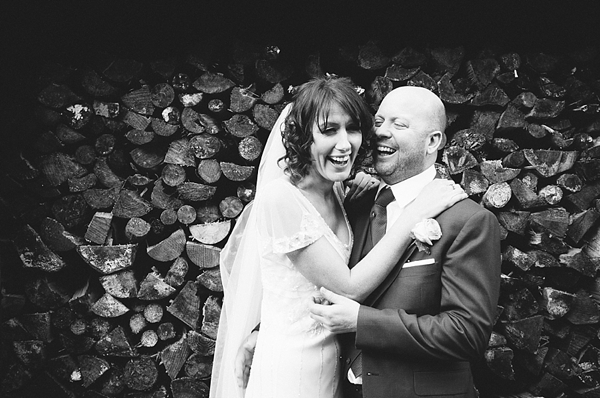 Such a charming day, and such a joy to see this couple so happy after having had to endure health issues – I am so happy for you Michelle and Bryn – thank you both so much for sharing your joy on Love My Dress, and as always, huge thanks to Laura Babb of Babb Photography for so kindly sharing her photography.  You can see more from Babb Photography on Love My dress here, and more Jenny Packham brides here. And if you're after a stylish wedding day pair of heels, you'll not do wrong to scour the pages of our brides wearing Rachel Simpson.
As always, we'd love to see some of your comments below.
Thank you so much all, have a lovely afternoon,
Annabel

Photographer – Babb Photography
Venue – Buckland House in Buckland Filleigh, Devon
Wedding Dress – Foxglove, by Jenny Packham
Brides Veil – Via James in Nottingham
Brides Shoes – Mimi by Rachel Simpson
Bride's accessories – bracelet, gift from parents
Groom's Attire – Paul Smith
Bridesmaid dresses – John Lewis + Coast
Flowergirl Dresses – Monsoon
Flowers + Cake – The Groom's Mum
Catering – Scoff Catering